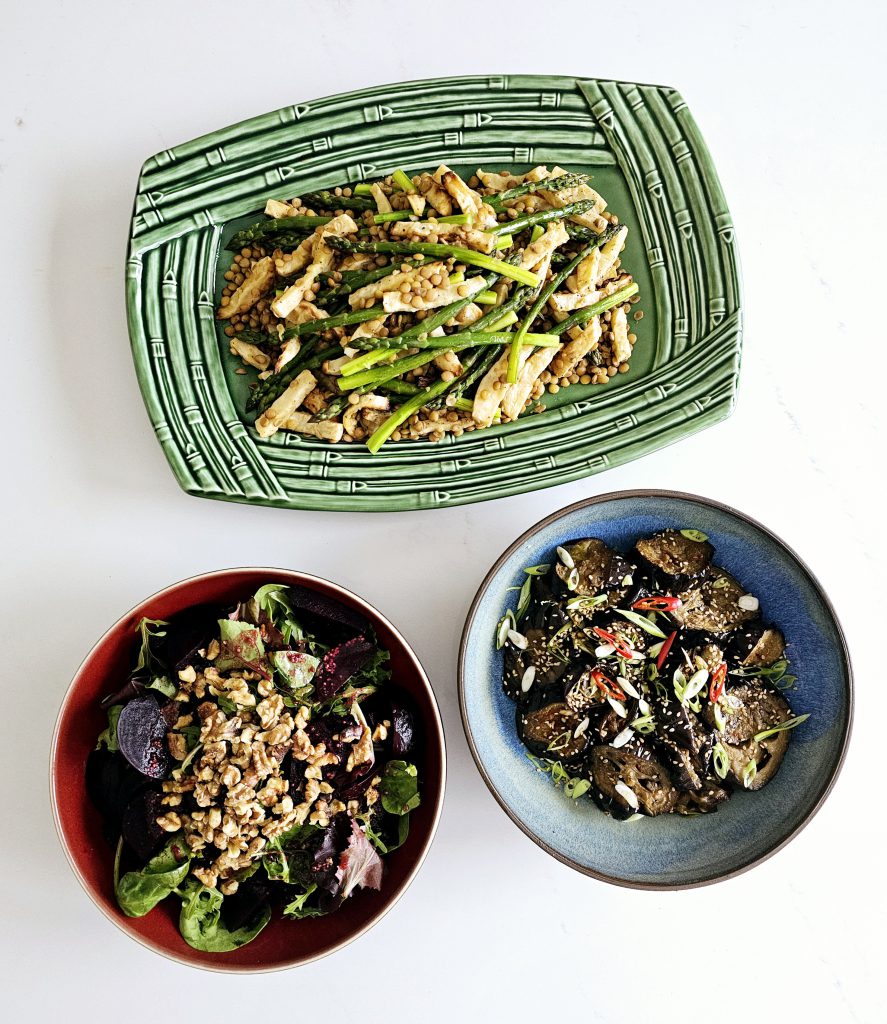 Any night is a good night to see the children for dinner. I am happy to spend time in my kitchen whether it is the weekend or the beginning of the working week. Tonight I made three salads, a beef curry, some rice and a pistachio bundt with fruits for dessert.
Need I say it? It is raining as I write. I know some men have Man Caves where they try to hide away from the world. But you can't get away from the rain! After nearly 40 years of living in England, I have come to accept (but not entirely embrace) it.
The three salads are very simple to make, provided you use the oven to roast the main vegetables of aubergine, celeriac, beetroot. Recipes follow for each salad, with a photo at the beginning of the recipe.
Salad Number 1: Roasted Aubergine with a Soya and Maple Dressing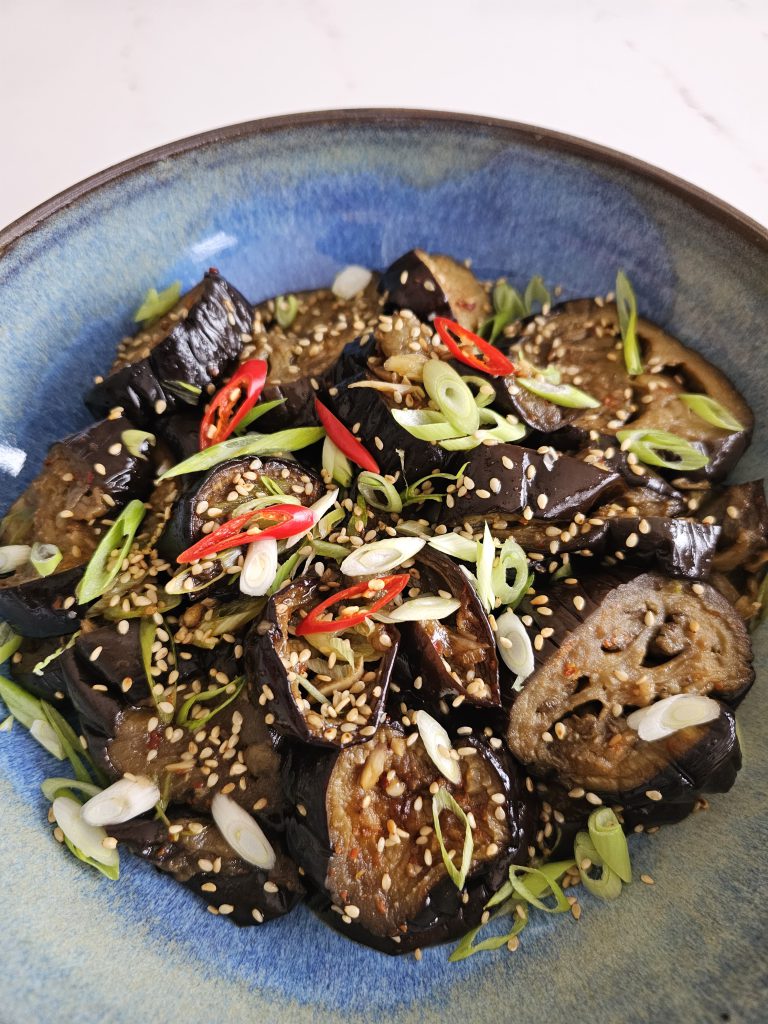 Vegetable: 3 large aubergines, olive oil
Dressing: 2 tablespoons soya sauce, 1 tablespoon sesame oil, 1 tablespoon maple syrup, 1 teaspoon gochugaru (Korean chilli powder)
Garnish: spring onions, sesame seeds, red chilli
How To:
Preheat the oven to 180C fan.
Cut the aubergines widthways into 2 cm slices.
Line a baking tray with greaseproof paper and drizzle on some olive oil.
Place the aubergine slices on the tray in one layer. Drizzle over more olive oil. Roast for 40 minutes, turning over once.
Whilst the aubergines are roasting, mix the dressing in a large mixing bowl.
When the aubergines are ready, tip them into the bowl and toss them gently in the dressing.
Place the aubergines on a serving plate and garnish with some sliced spring onions, sesame seeds and sliced chillies.
Salad Number 2: Roasted Beetroot with Salad Leaves and a Sherry Vinegar Dressing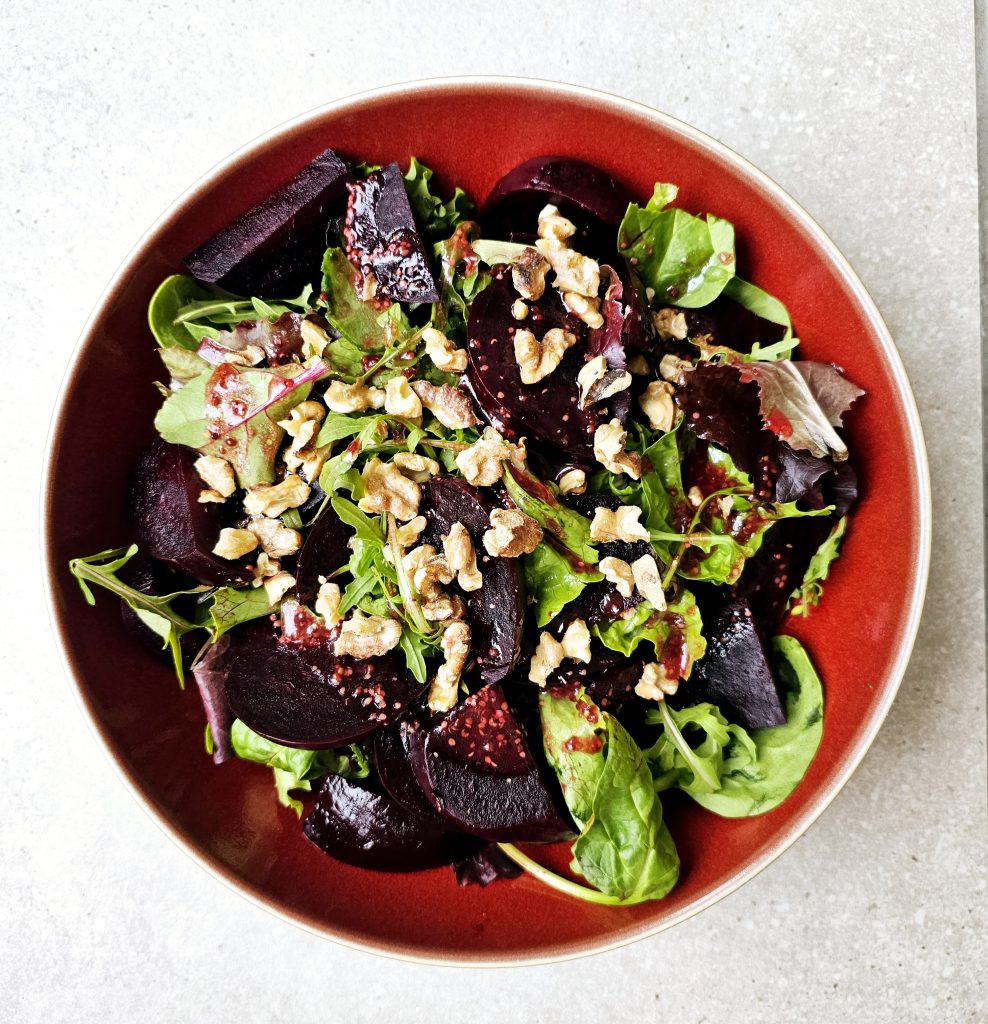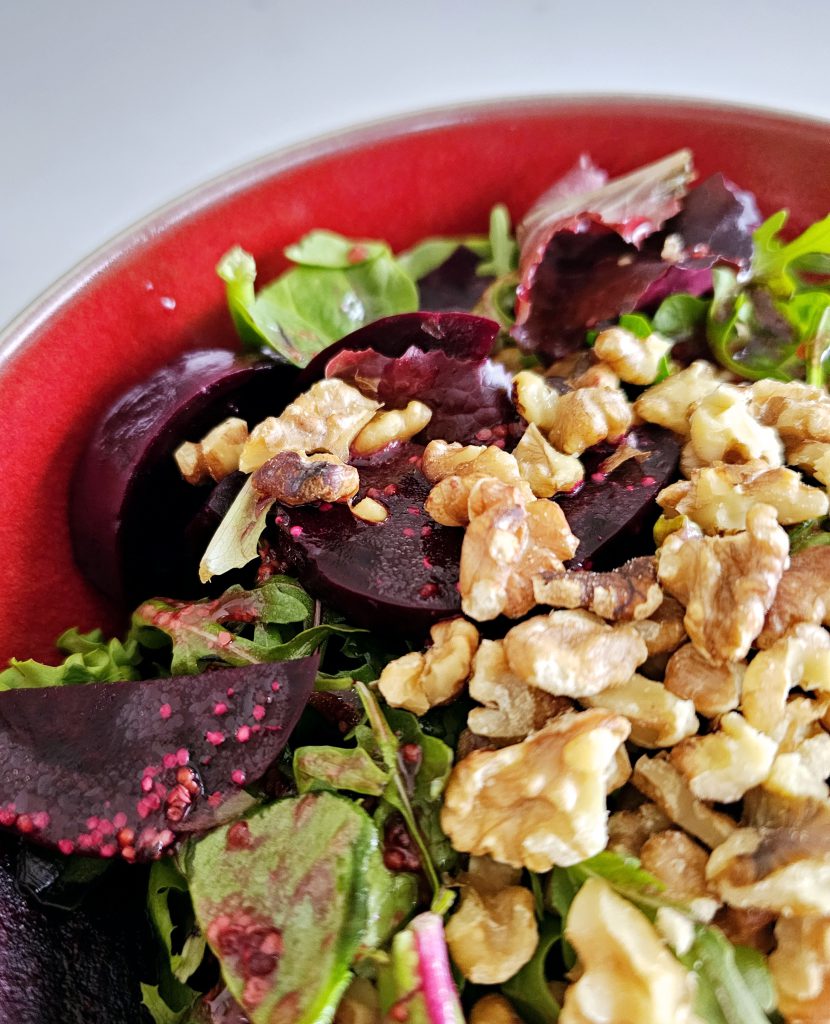 Vegetables: 4 medium sized beetroots, a handful of mixed salad leaves
Dressing: 2 tablespoons olive oil, 2 tablespoons sherry vinegar, 1 teaspoons honey, 1 teaspoon wholegrain mustard
Garnish: toasted walnuts
How To:
Preheat the oven to 180C fan.
Clean the beetroots if they look muddy. Wrap each beetroot in a piece of foil and place in a small roasting tin.
Roast for 40 minutes or until the beetroots feel soft enough for a knife to pierce through it without much resistance.
Cool the beetroots then scrape off the skin with a small knife.
Slice each beetroot in half, then each half into even sized wedges (as thin or as thick as you like).
Place the salad leaves in a serving bowl, add the sliced beetroot, whisk the dressing ingredients and pour over.
Garnish with some chopped walnuts.
Salad Number 3: Roasted Celeriac with Green Lentils and Asparagus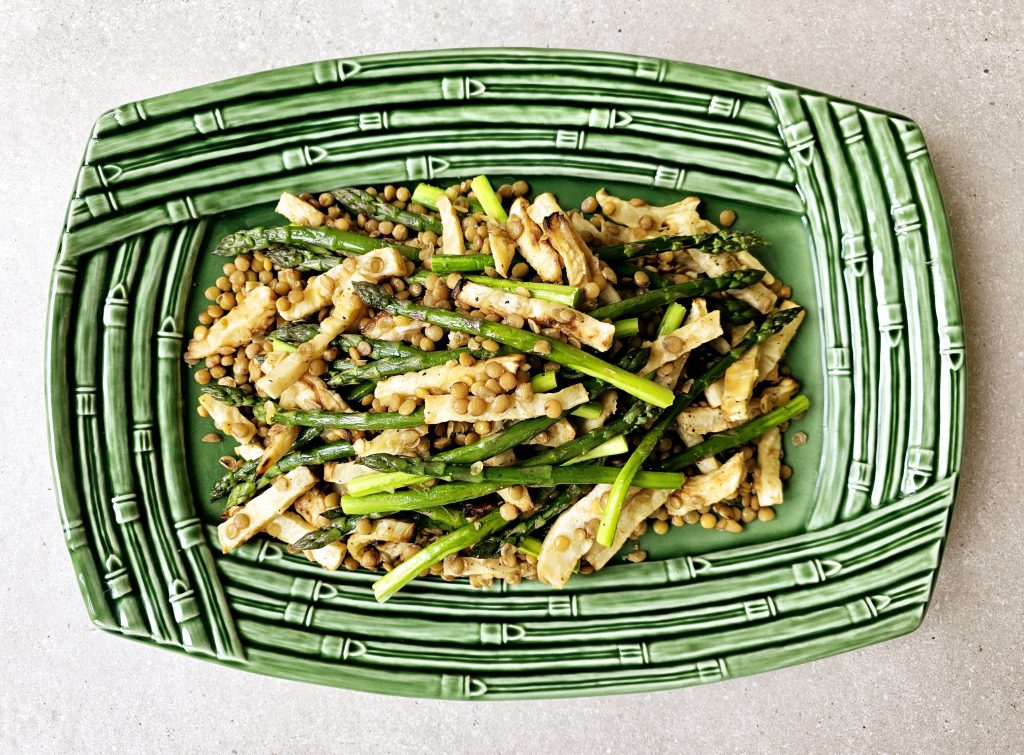 Vegetables: 550 g (peeled weight) celeriac, 150 g green lentils, 350 g thin asparagus spears, olive oil
Dressing: 3 tablespoons lemon juice, 2 tablespoons cider vinegar
Garnish: some chopped flat-leaf parsley and toasted chopped almonds would not go amiss, but this time the salad was fine without them
How To:
Preheat the oven to 180 C fan.
Please see the original recipe here, and simply add some asparagus which have been roasted at 180 C for 10 minutes. This time of the year make sure the asparagus are locally grown.
Confit Garlic and Mushroom Rice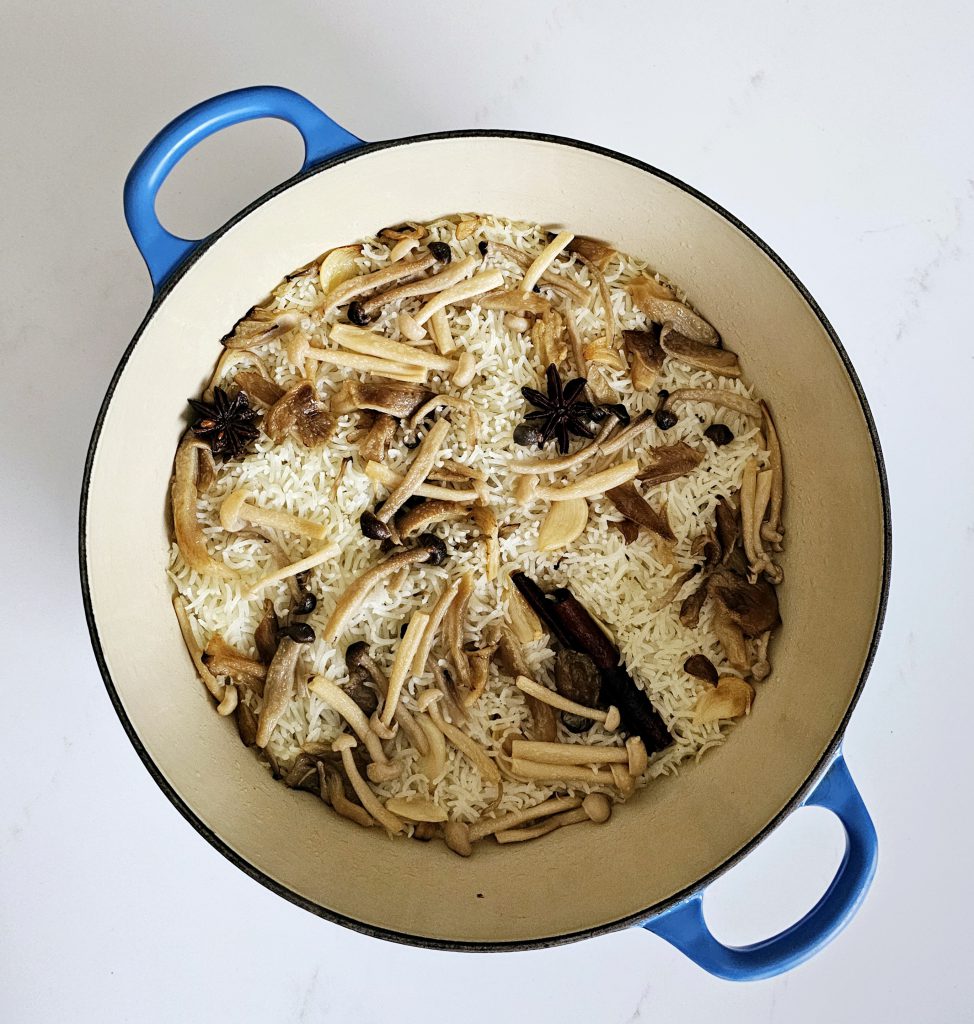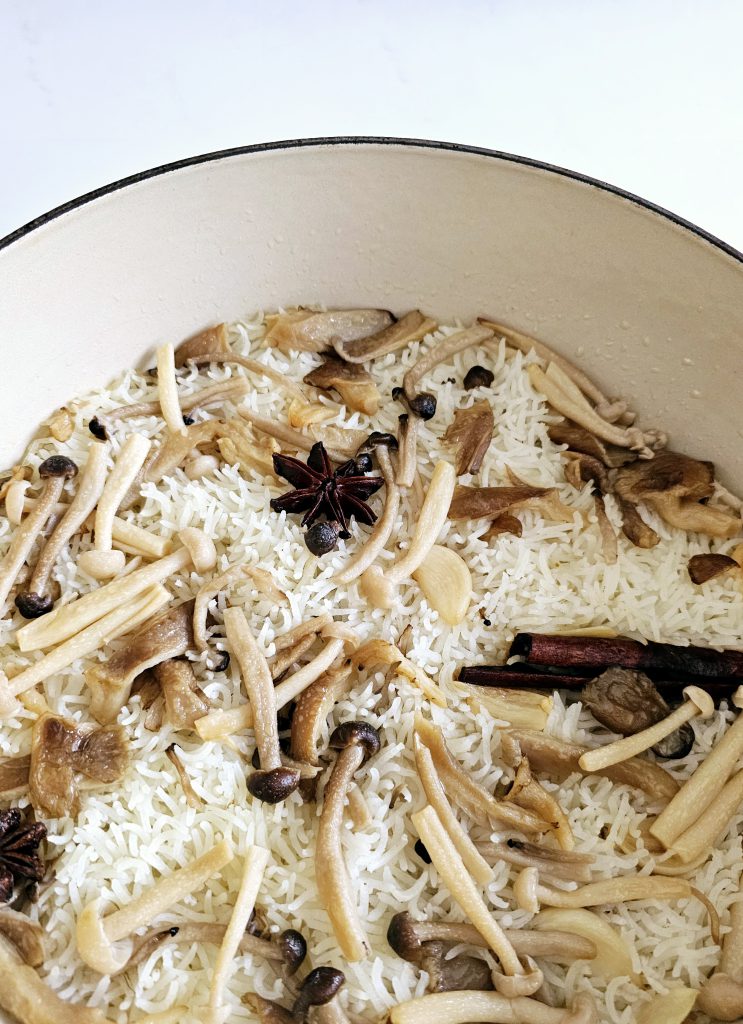 Rice: 300 g basmati rice (soaked for an hour if possible), 8 large garlic cloves, 6 tablespoons olive oil, 200 g sliced mixed mushrooms, 1 stick cinnamon, 3 whole star anise
How to:
Preheat the oven to 180C fan.
Please see the original recipe here. I make this rice a lot and today I used mushrooms. I have also added cherry tomatoes, courgette and bell peppers at other times.
Place the garlic and olive oil in a large oven-proof pot (I used Le Creuset) and cook over a low heat until softened.
Turn up the heat a little, add the mushrooms and sauté this for around 2 – 3 minutes.
Tip in the drained rice, add 600 g boiling water along with the cinnamon and star anise.
Give everything a gentle stir, cover the pot and place in the oven for around 35 minutes, until the rice is cooked.
If you have an inkling that your guests might be running late, switch the oven off after 30 minutes and leave the rice covered until everyone is ready to eat. This rice dish is very forgiving in this way.
Dessert: Pistachio Bundt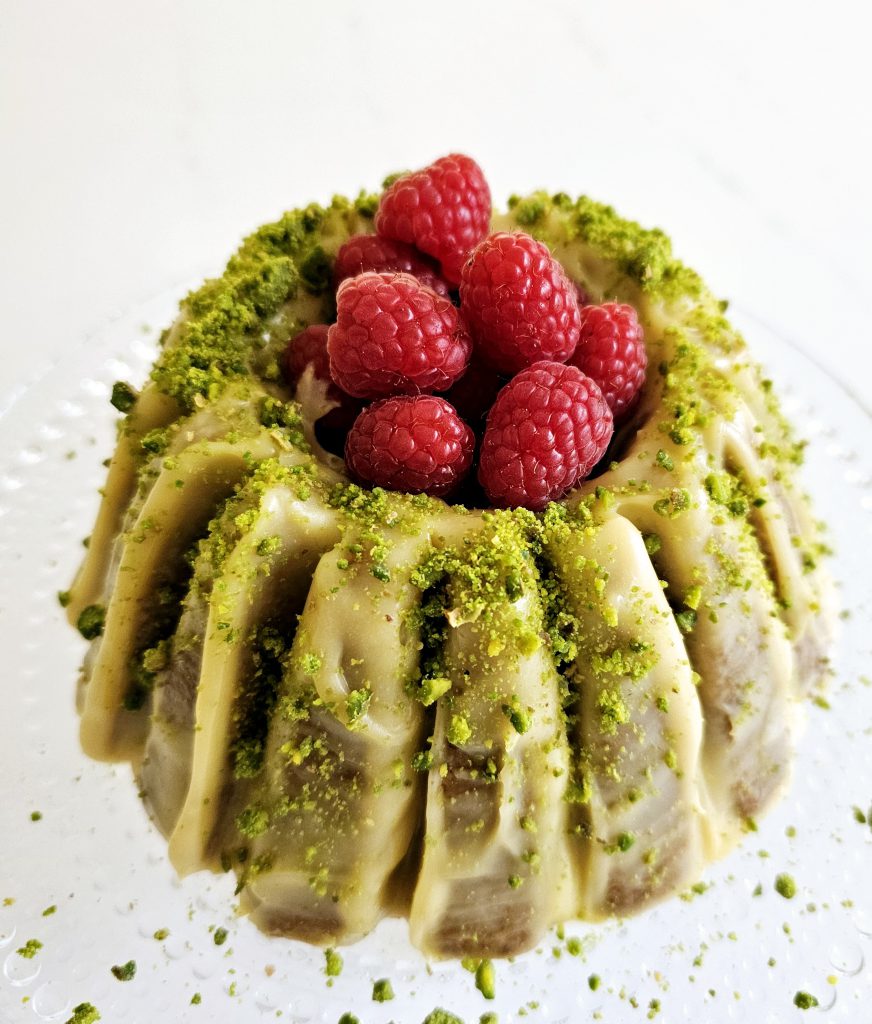 Recipe in a separate post, as it is a bit more detailed. Need I say it? I love cakes baked in bundt pans.
PS: I left out the beef curry because I had a lot to do, and used a ready made paste. But the tip is to use beef short ribs and cook this in a pressure cooker for one hour. Remove the meat from the bone, cube the meat, reduce the sauce, skim off the fat, return the meat to the sauce-turned-gravy and serve to your guests.