Happy Halloween…Pumpkin is the only one laughing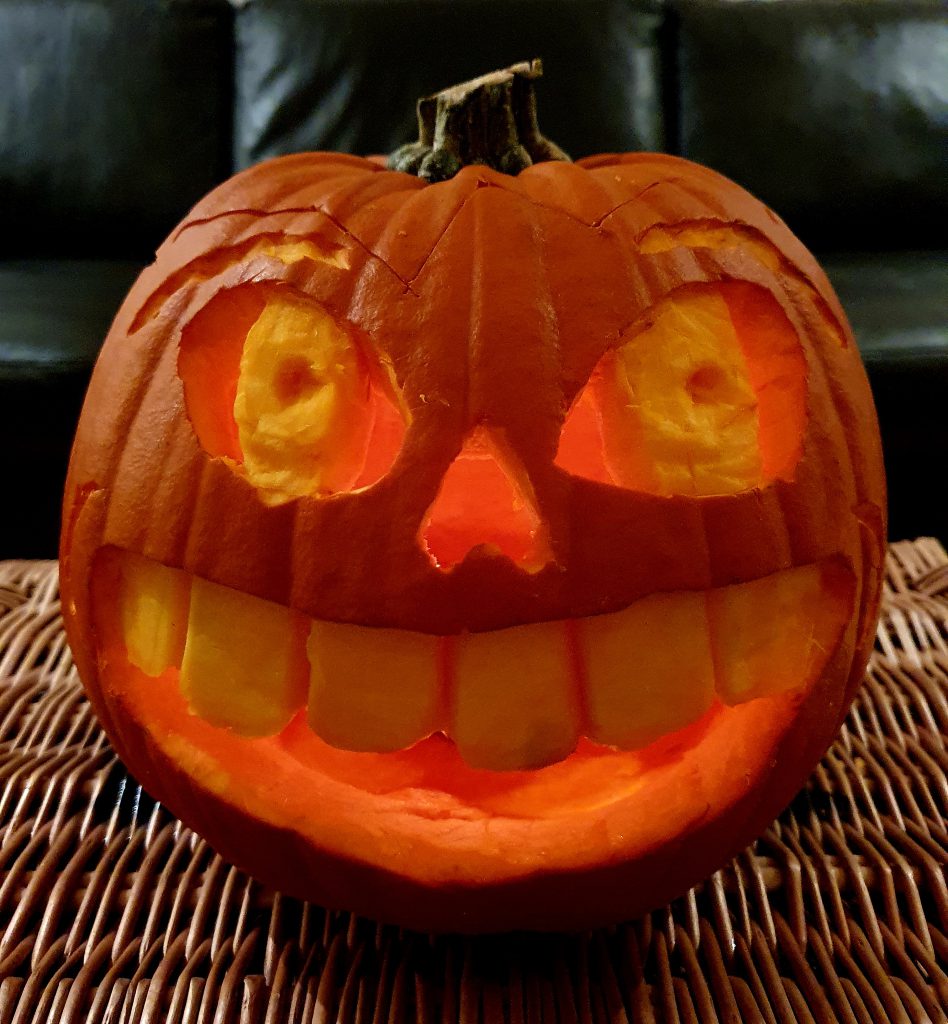 I am trying hard not to turn into a female version of Victor Meldrew.
Let's start with restaurant seating which I find hard to fathom. Last night I had a vegan dinner at The Gate and was put on a table next to the kitchen which had an entrance but no door, so I could hear the loud banter of the kitchen staff and the louder clanging of crockery being washed. I had to set a good example to Junior 2 who was my dinner companion so I asked to be moved to another table. Don't put up with other people's nonsense and noise when you are paying for a meal.
Today I had lunch at Shoryu Ramen and had reserved a table at 11.30am, when the restaurant opened. The restaurant was of course empty (and I knew it would be empty for another hour) but we were seated in a corner near to a staff door and my back was squashed uncomfortably next to a wall. I had invited Niece Number 2 and a student friend for lunch and so I put up with it.
I have things to say about the strange wine and wafer offering at church communion. Informed that it was gluten-free wafer and alcohol-free wine, I wondered if it would be better to give us that childhood favourite Ribena. Then I did some research into these offerings and indeed it is grape juice that replaces the wine. An example is here. It was just so fiddly and awkward opening the packaging.
I have things to say about the 80% of passengers who do not wear face masks on the London Underground. Thinking about it I also have things to say about the waitress in Shoryu Ramen who did not wear a face mask but instead wore a Halloween outfit (short skirt, one black stocking, one red stocking, face painted like a ghoul. Why?…)
For dinner I thought it best to stay home and do things my way. I said to my family that I would find something in the fridge to make a salad with, and this is why this dish is called Something Salad.
When starting out on the salad I was reminded of Christina Tosi's Compost Cookie, which others call Garbage Cookies, because you simply threw in anything you had into the cookie mix. I would not advocate this approach to the salad as you do not want the flavours to fight each other. It's best to use vegetables which do not have assertive flavours, then bind them all together with the sesame dressing. This makes a large salad for 4 to 6 people.
For the Salad:
1 x 700 g onion squash, peeled, cut into cubes and roasted in a bit of olive oil until cooked
1 x 400 g block of very firm tofu, cut into thick slices and pan-fried in sunflower oil until brown and crispy
150 g sugar snap peas, blanched for 1 minute then refreshed in cold water (I used cucumber but would not recommend it as it turned soft in the dressing)
6 – 8 large leaves from a head of radicchio salad, sliced thinly
2 x Romano peppers, deseeded and sliced into small pieces
1 x large red dessert apple, core removed and sliced into small pieces
1 x ripe avocado, peeled and sliced into small pieces
Prepare the vegetables in this order as it starts with what needs cooking and ends with the apple and avocado which discolour as soon as it is peeled.
For the Dressing:
60 g toasted sesame seeds, finely ground in a coffee grinder or for 30 seconds/ speed 10 in a Thermomix
4 tablespoons soya sauce
3 tablespoons maple syrup
2 tablespoons rice vinegar
2 tablespoons sesame oil
Place all the ingredients in a jar and shake well. You can also use a shop bought sesame dressing.
For the Topping:
50 g walnuts, toasted and broken into small pieces
50 g cashew nuts, toasted and split in half
30 g toasted sesame seeds
For a bit of heat add some pickled red chillies, around 2 tablespoons. Or do what Junior 2 did and eat it with some kimchi on the side.
Start by roasting some firm fleshed squash, like kabocha or onion squash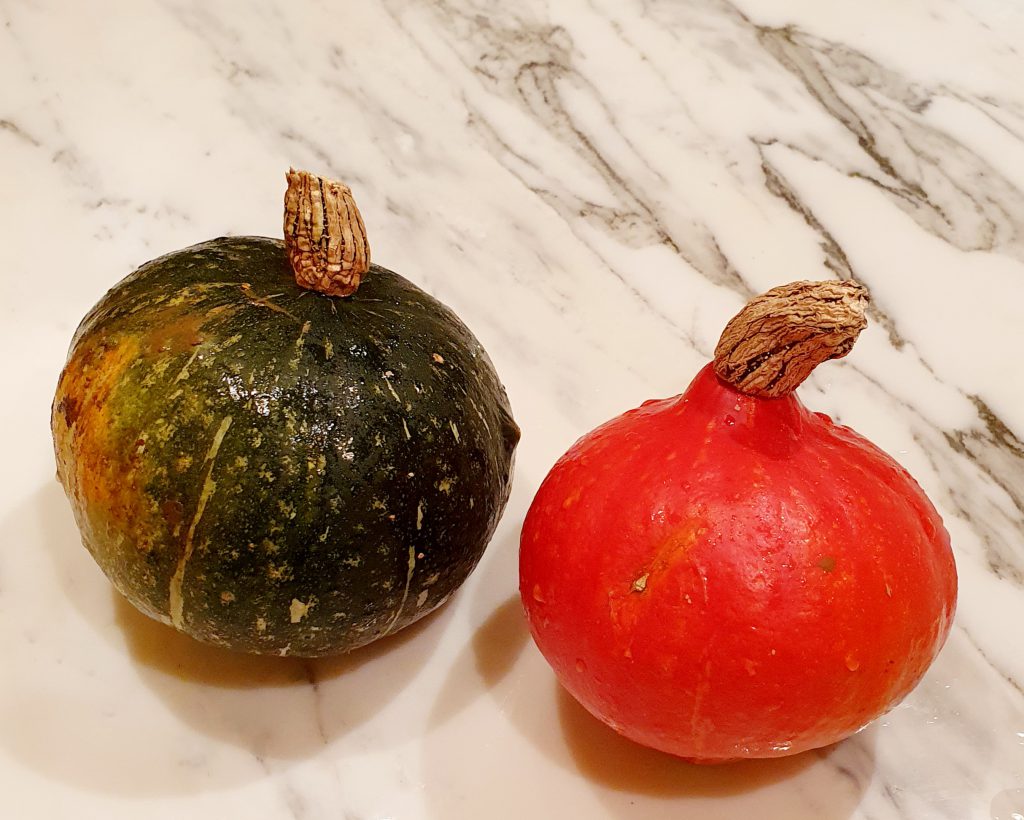 Prepare all the other ingredients one by one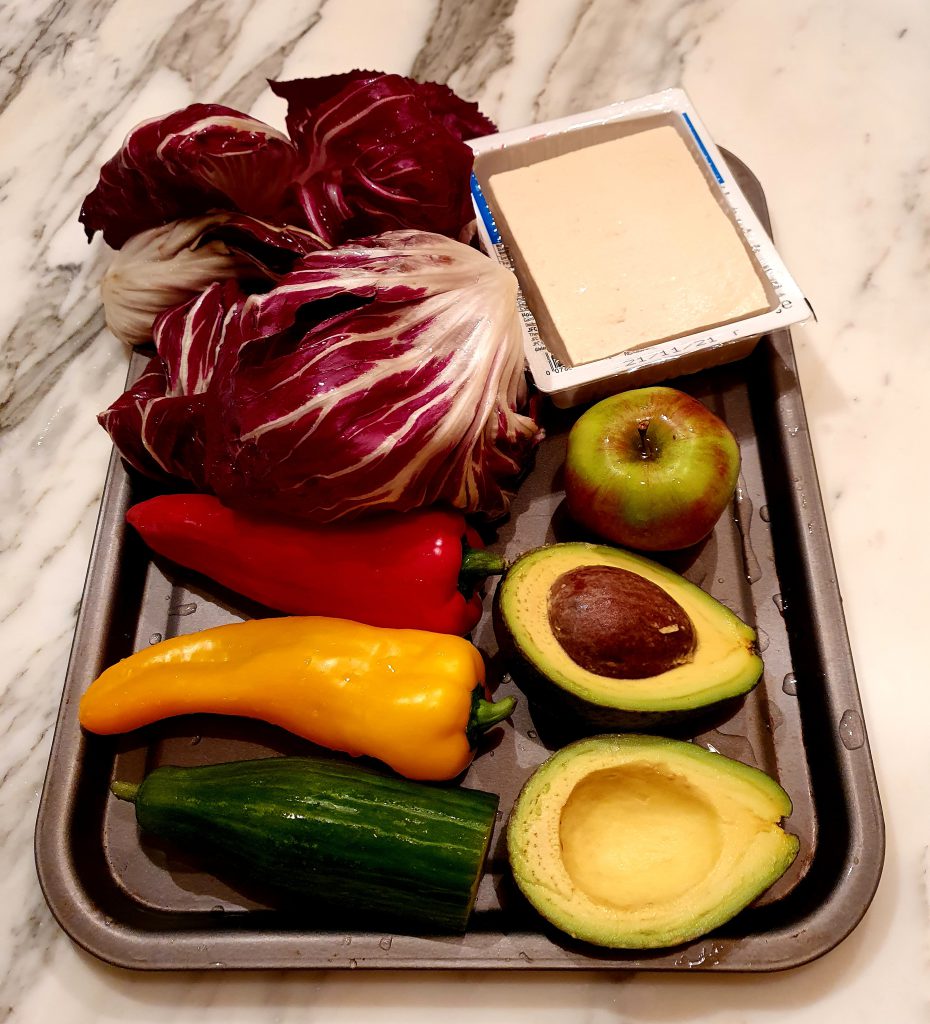 Assembling the salad and toppings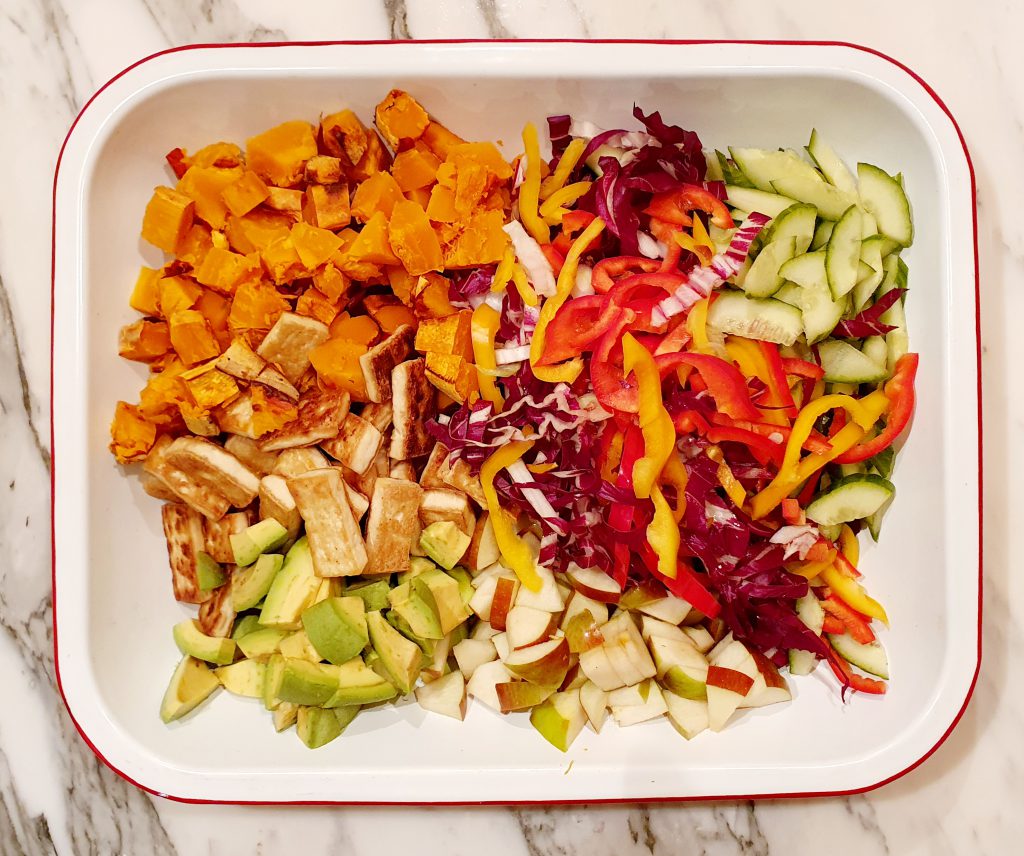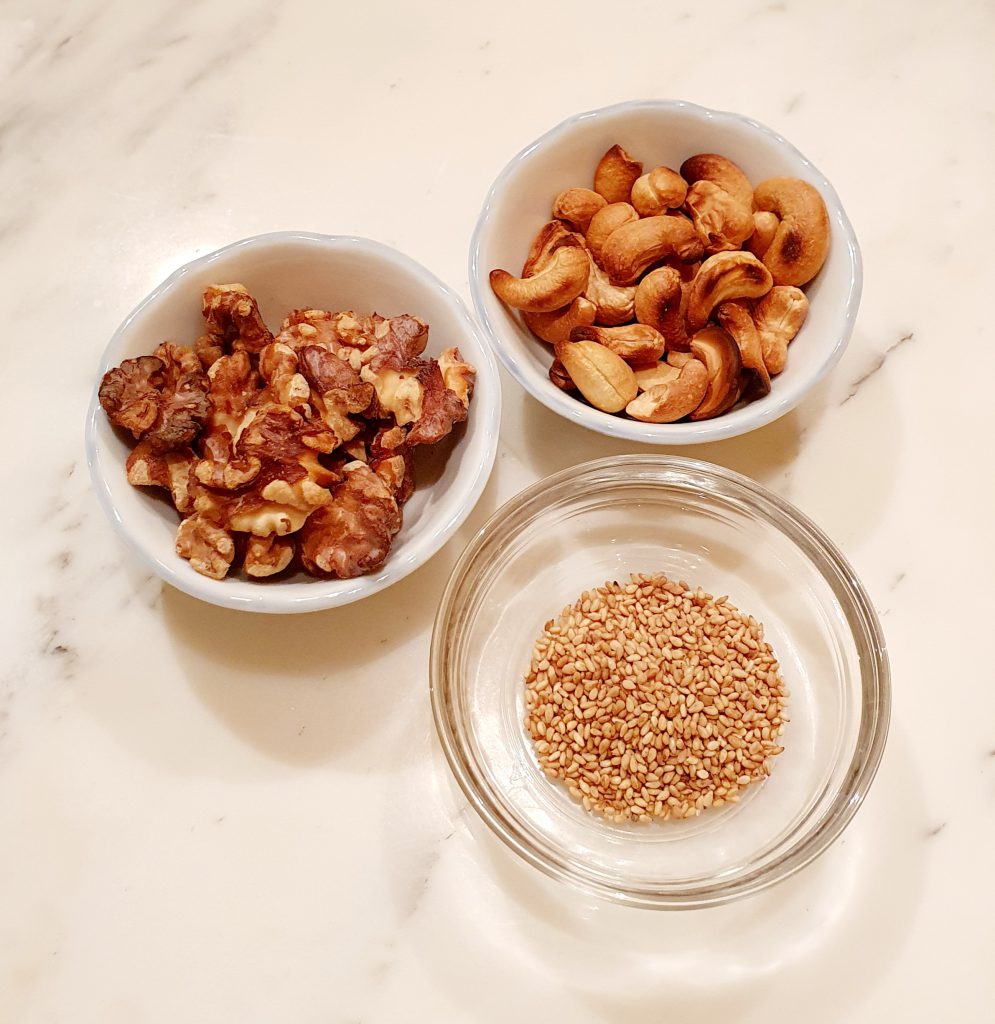 Bon Appetit!