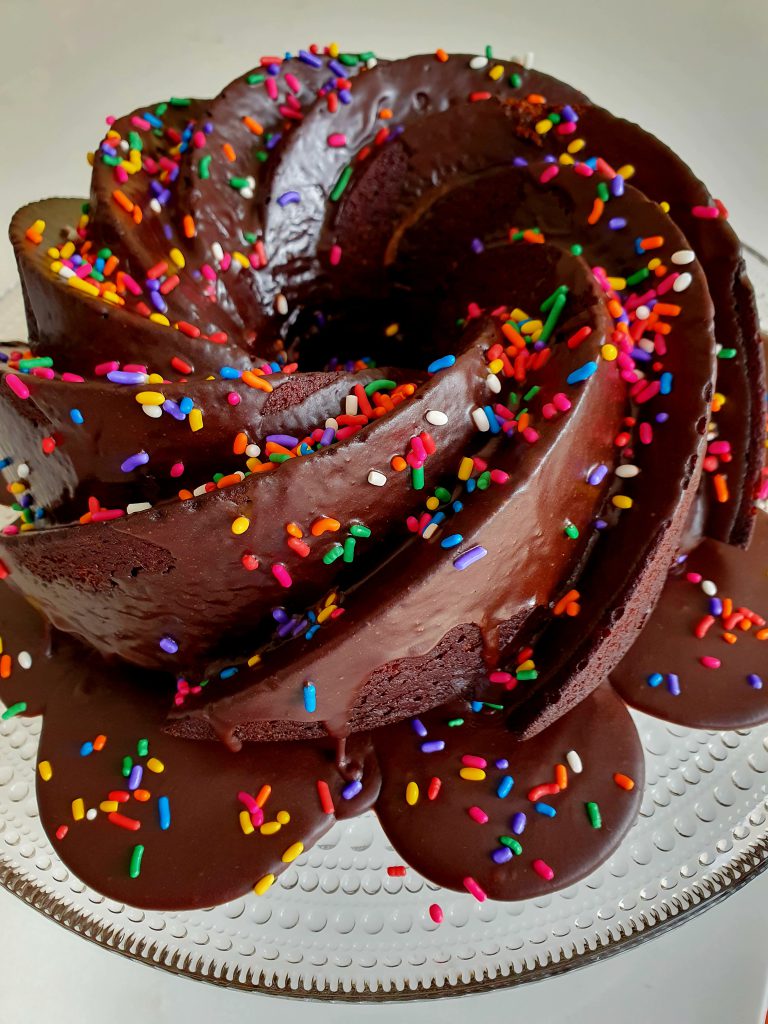 Happy Birthday to everyone with February birthdays
(Travel notes on Penang, Ipoh and Singapore resume after this cake break)
There is a very funny scene in My Big Fat Greek Wedding where the Greek parents are presented with a gift of a home-made bundt by the American parents. The Greek parents do not know what to make of this. It's like when Chinese friends serve a whole fish, head and tail included, at dinner to Western friends. Not everyone is prepared for the cultural inclusivity of such gestures.
When it comes to bundt tins there is only one manufacturer to look for, which is Nordicware. I try very hard every time I come across a display to not pick up another tin. The fancy moulded shapes mean that the cakes come out ready to be served with minimum fuss or decorating.
I bought a small (5-cup) lotus bundt pan in Singapore's Takashimaya last week and could not wait to use it. I chose this design as it looked easy to slice thin slices from it for sharing. In the event we finished most of the cake over a dinner with Juniors 1 and 2, and I decided to make another one in my larger (10-cup) heritage swirl bundt pan.
Welcome to my latest bundt pan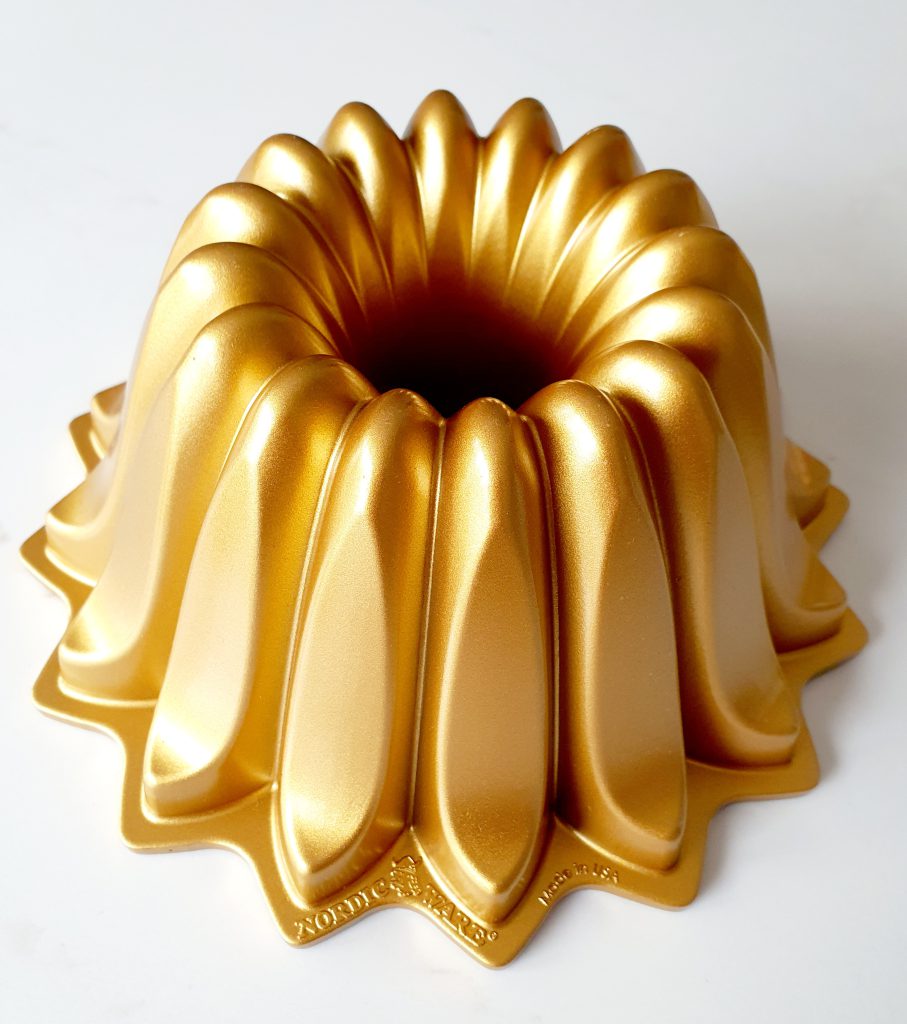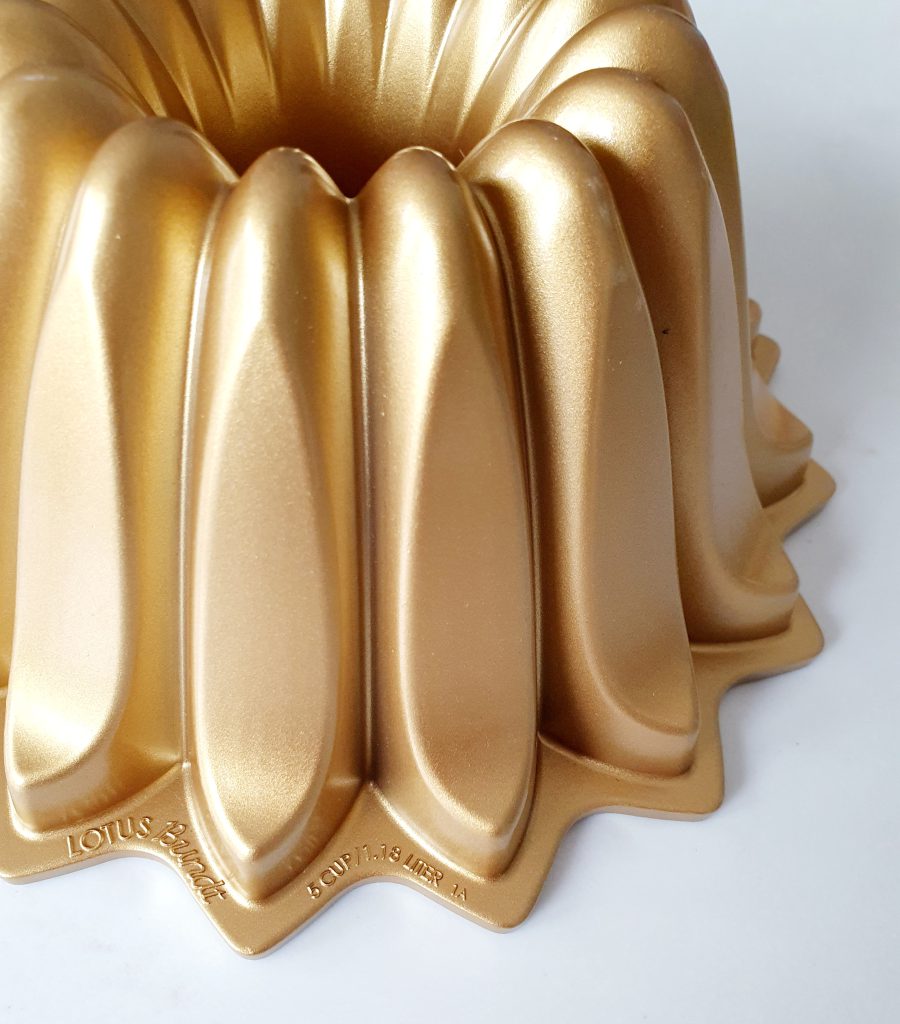 This recipe is adapted from a dedicated bundt recipe book which will expand your bundt repertoire. The original cake is called Chocolate and Almond Olive Oil Bundt and is on page 66 of the book. As the cake uses olive oil instead of butter it is dairy-free, but please use a non-dairy substitute to oil the pan before using.
For the Bundt:
15 g each of softened butter and sifted cocoa powder, to line the bundt pan
100 g chocolate chips, 70% cocoa content (I use Callebaut)
30 g cocoa powder (I use Cacao Barry)
50 g boiling water
200 g self-raising flour
50 g ground almonds
100 g unrefined caster sugar
50 g light brown soft sugar
½ teaspoon fine seasalt
175 g extra virgin olive oil
4 large eggs
75 g mascarpone cheese
1 teaspoon vanilla extract
For the Frosting:
200 g icing sugar
25 g cocoa powder
4 tablespoons milk
1 teaspoon vanilla extract
You will also need a 10-cup bundt pan. The recipe can he halved to fit a smaller 5-cup pan.
How to Make:
Preheat the oven to 170°C/ 155°C fan.
Brush the softened butter evenly over the entire inside of the pan, taking care to fill every corner. Sift over the cocoa powder, moving the pan around to coat evenly. Remove the excess cocoa by turning the pan upside down and giving it a tap (do this over a sink).
Melt the chocolate chips and set aside to cool. Since installing my new Gaggenau induction hob I have become very bold and now melt chocolate directly on hob in a pot, using a 1.5 (warming) setting. You can use a double boiler or the microwave on a low setting. Just remember that chocolate seizes and forms a clump if it is heated on too high a temperature. If that happens you need to start again.
Make a paste with the cocoa powder and boiling water and set aside to cool.
Sift the self-raising flour, ground almonds, caster sugar, light brown soft sugar and salt into a large bowl.
In a separate mixing bowl (I used a Kitchenaid mixing bowl), whisk together the olive oil, eggs, mascarpone cheese and vanilla extract.
Add the flour mixture, along with the melted chocolate and cocoa paste. Continue whisking on a medium-low speed until you get a uniform batter.
Pour the cake mixture into prepared tin. Level the surface and bake in the oven for 55 minutes (40 minutes for the smaller tin) or until the cake bounces back when touched. A metal skewer inserted in the centre should come out clean.
Leave the cake to cool slightly in the tin before turning out onto a wire cooling rack to cool completely.
Make the frosting by sifting the icing sugar and cocoa together into a bowl. Add the milk and vanilla extract then whisk until smooth.
Pour the frosting over the cake and sprinkle over something colourful. The frosting will stick better if the cake has cooled down.
This cake is for Niece Number 2 who celebrated her birthday a few days back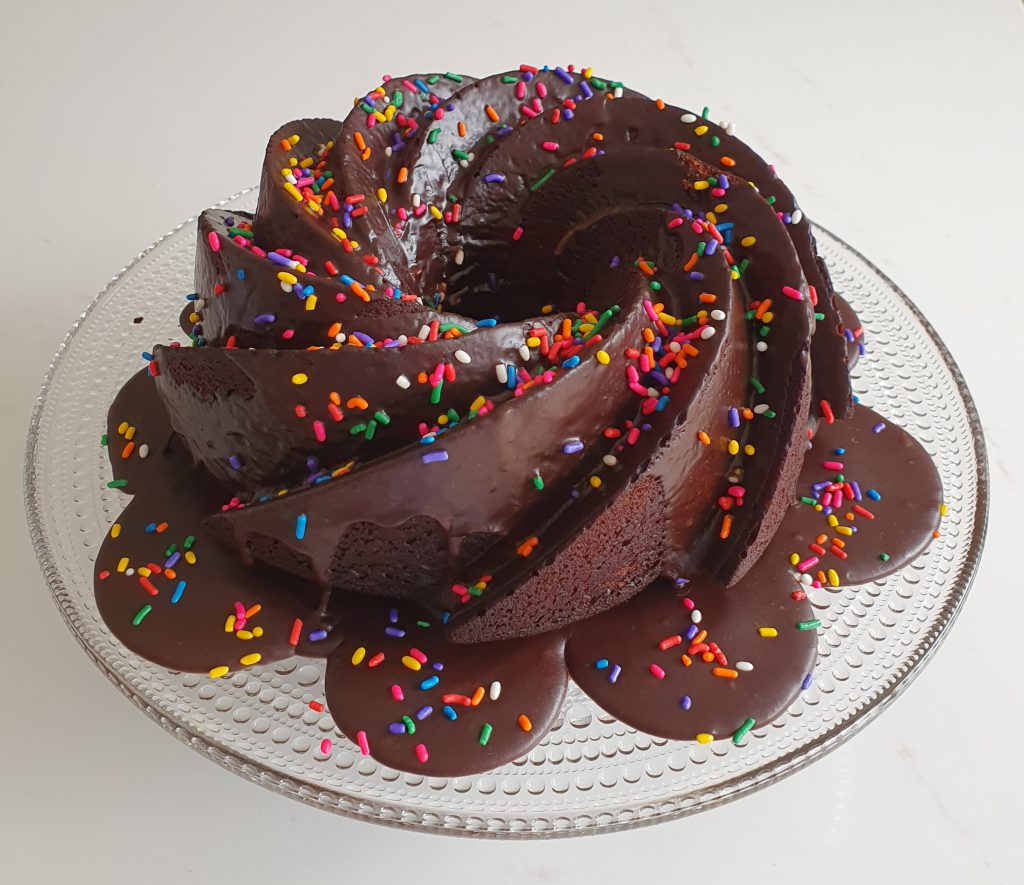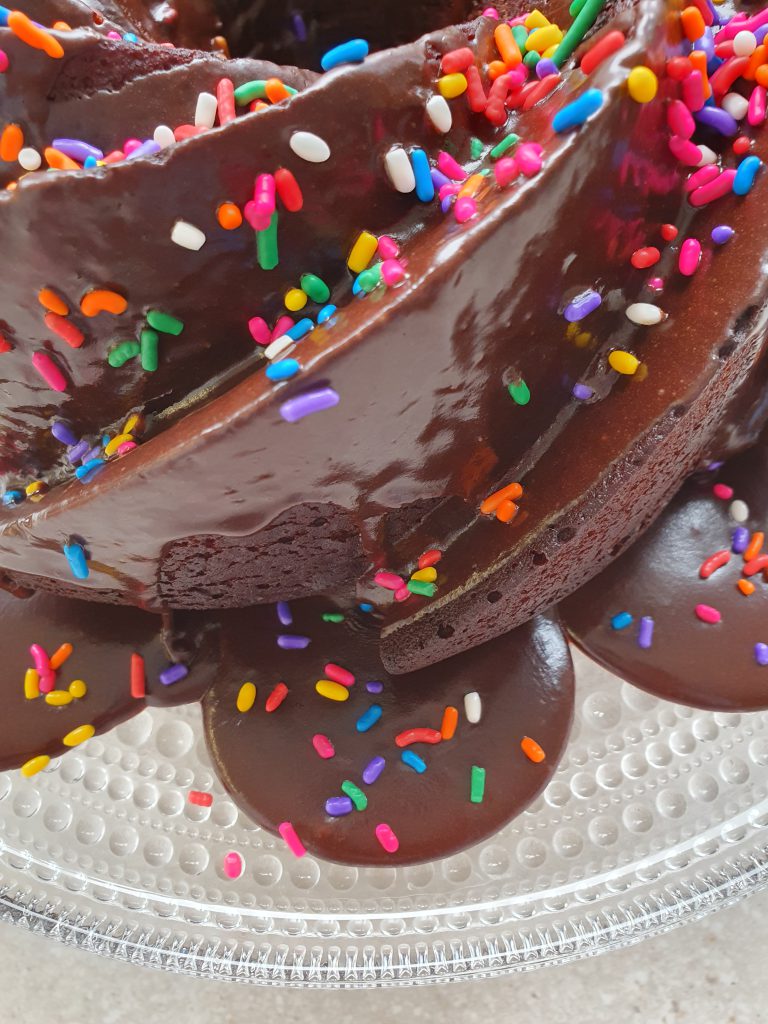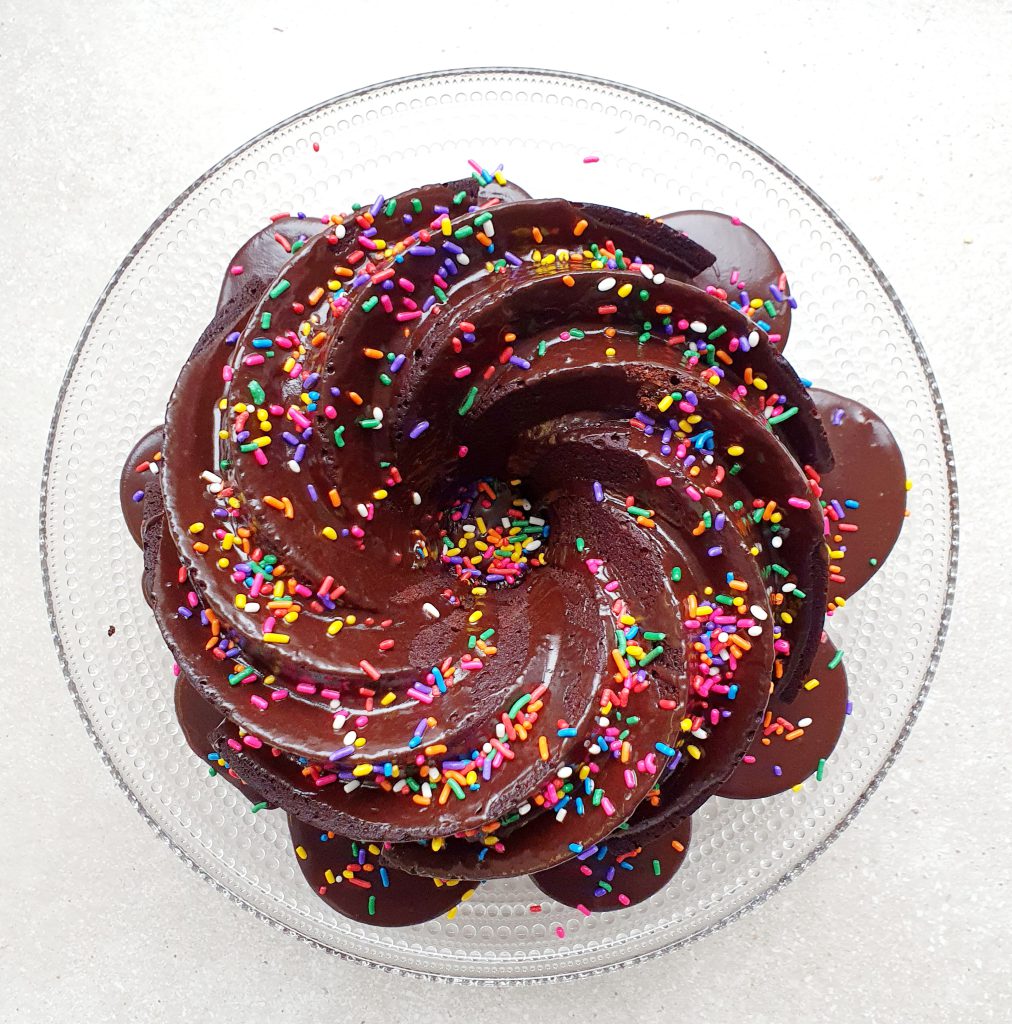 The first cake I made in the lotus bundt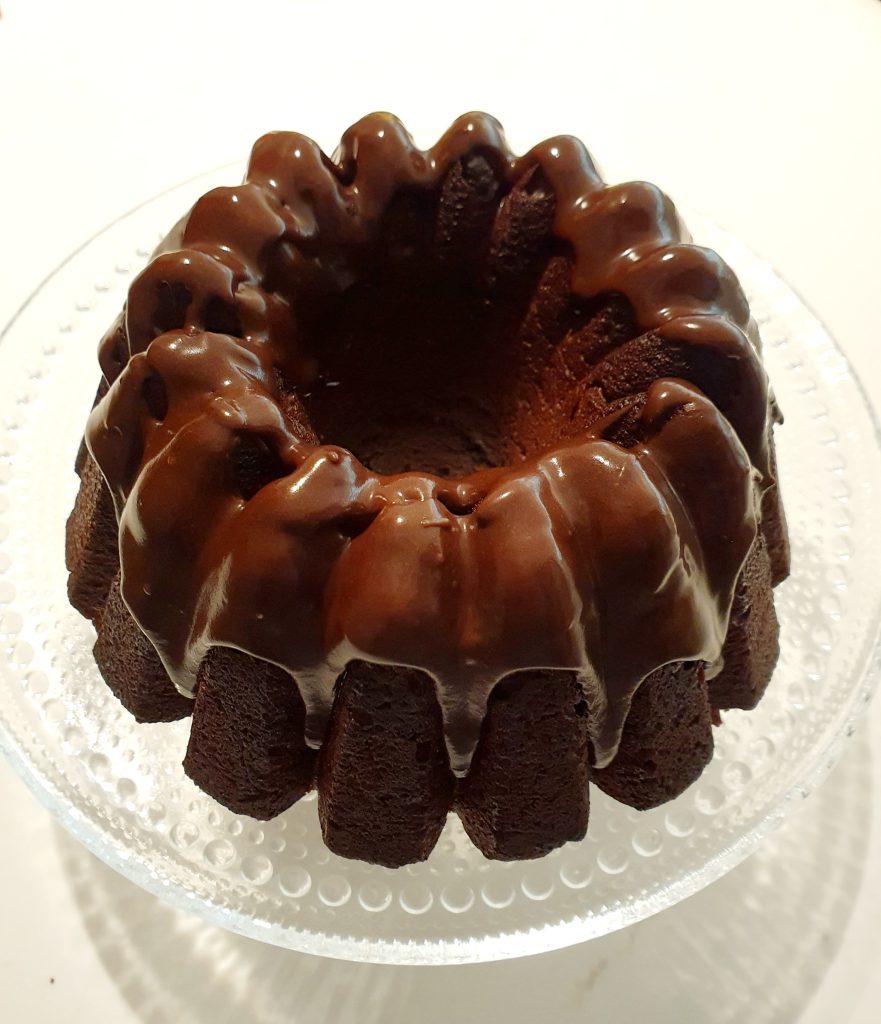 Tips:
When I asked the children how I could improve the cake Junior 2 said I should add some cherry jam. The recipe is here and you just need to a) omit the glace cherries and b) double the quantity for a 10-cup bundt pan. I might make this for a ladies' lunch I am hosting next week.
You need to butter and dust the pan (with flour or cocoa powder) extremely generously. The downside to having an intricate pattern is that the cake can stick to the pan, causing a lot of heartache when trying to release it after baking.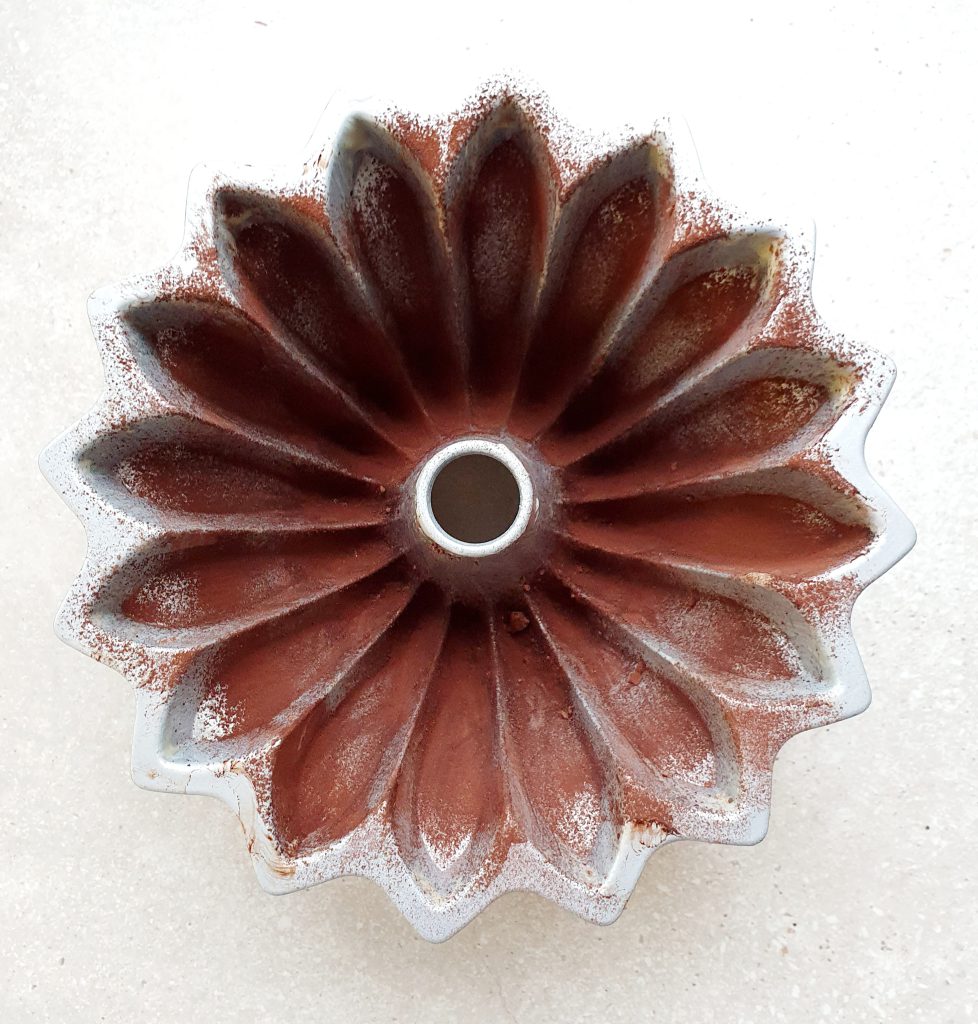 The Book
Bundt: 120 recipes for every occasion, from everyday bakes to fabulous celebration cakes, by Melanie Johnson, published by Ebury Press, ISBN 978-1529195545. The other cake from the book that uses olive oil instead of butter is the Rosemary & Citrus Olive Oil Bundt on page 21.