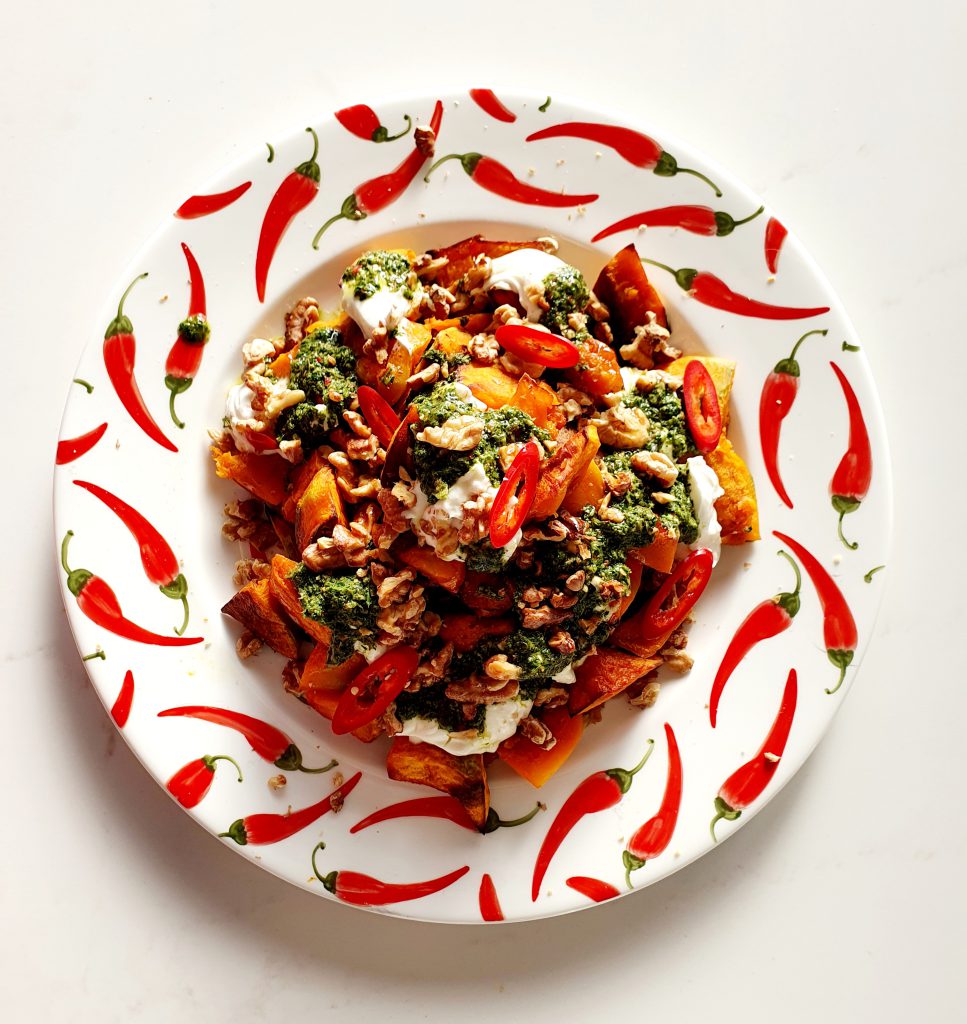 I was quite intrigued by this squash in my local supermarket as the name alone reminded me of something lovely i.e. the Crown Prince Hotel in Orchard Road, Singapore. I was thinking, as I peeled the squash, that I really have not visited many South-east Asian countries at all. I can remember two brief trips to Thailand and multiple trips to Singapore and that's about it. Even then I had not visited Singapore for 20 years until our first-trip-back in 2017.
The Crown Prince Hotel had one feature which was quite novel (at the time) which was an exterior bubble lift. You can see a photo here from the Singapore Heritage Board. I am not supposed to say this in the era of bespoke and boutique, but I actually quite like corporate hotels. Specifically, what I like is being able to see blocks and cubes and how things fit together.
On early trips to Singapore my mother would leave me in the toy department of Robinsons Department Store where I would build Lego houses. In the 1970s Lego only produced blocks and I only made tall houses with symmetrical windows and a central front door. I told the children that if I did not live in a London townhouse, my other choice would be a Georgian country house.
In preparing our daily lunches on weekdays I mostly think of bread and soup. However the squash was dense and suitable for roasting. I forgot to weigh it so the recipe is for any size squash you can find, and you simply add an amount of yogurt and herb sauce to suit. Other squashes such as butternut and kabocha will make good substitutes.
Crown prince squash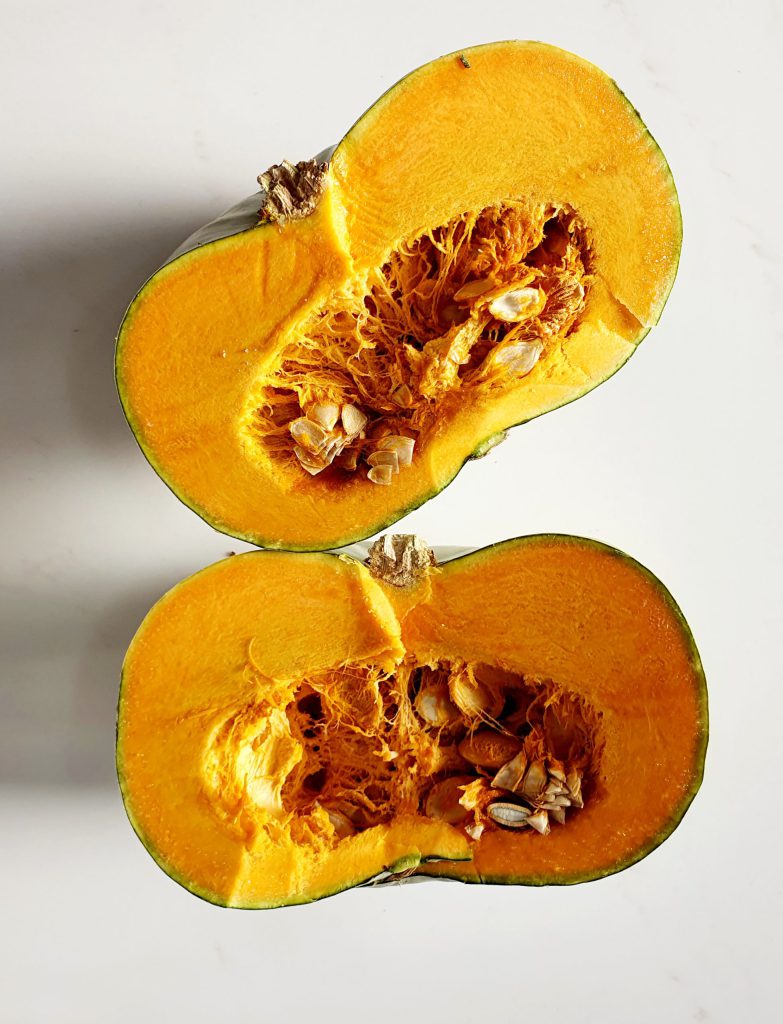 For the herb sauce: parsley, mint, chilli and lime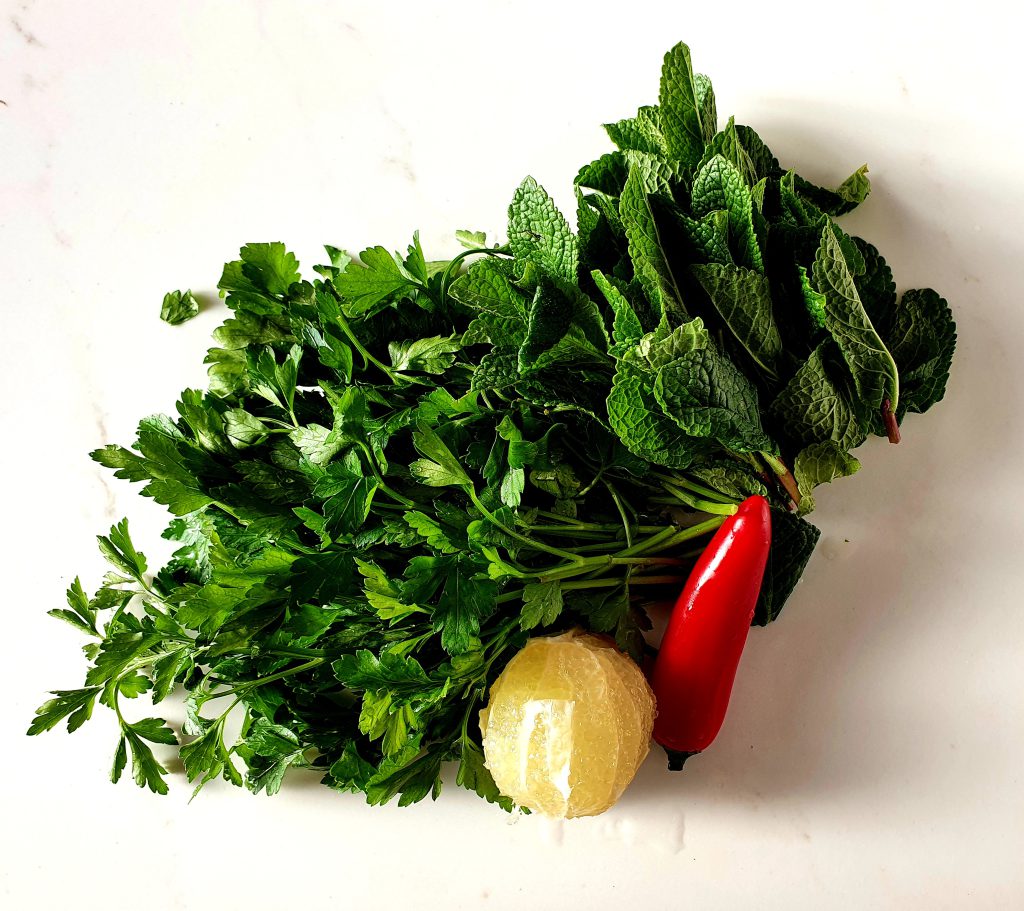 For the Roasted Squash:
1 crown prince squash, skin and seeds removed
Olive oil
Fine sea salt
Freshly ground black pepper
Greek or other thickened yogurt
30 g toasted walnuts, broken into small pieces
The skin of the squash will likely be very tough. Cut the squash in half from the stalk to its base. Lie one half flat on a cutting board and, using a very sharp knife, cut the skin off.
Cut the flesh into large pieces and place in a roasting pan.  Add some olive oil, salt and pepper. Bake in an oven at 200 C / 180 C fan for around 30 minutes until softened.
Place the cooked squash on serving plate. Spoon over dollops of yogurt and green sauce (see below). Sprinkle over the toasted walnuts, some olive oil and a few slices of chilli before serving.
For the Herb Sauce:
1 teaspoon ground cumin
½ teaspoon ground coriander
pinch of ground cardamom
2 cloves garlic
1 green chilli, deseeded (I only had red)
40 g fresh parsley, leaves and stalks
30 g fresh mint, leaves only
OR
30 g fresh coriander, leaves and stalk
1 lime, skin removed and cut in half
1 teaspoon fine sea salt
100 g olive oil
Place all the sauce ingredients in a food processor and chop until you get a fine sauce. In the Thermomix this is for 10 seconds/ speed 10. Scrape down the sides of the bowl. If the sauce is not fine enough repeat for 5 seconds/ speed 10.
Assembling the plate of squash step-by-step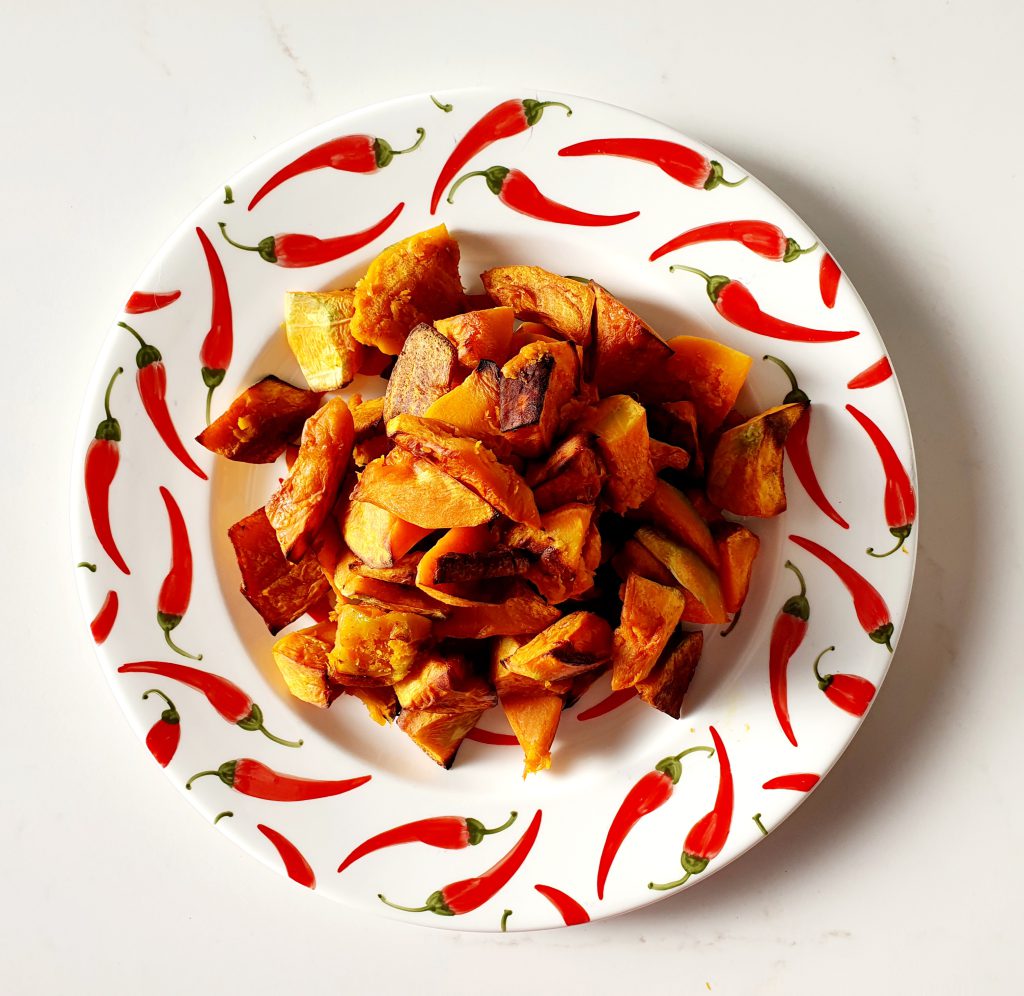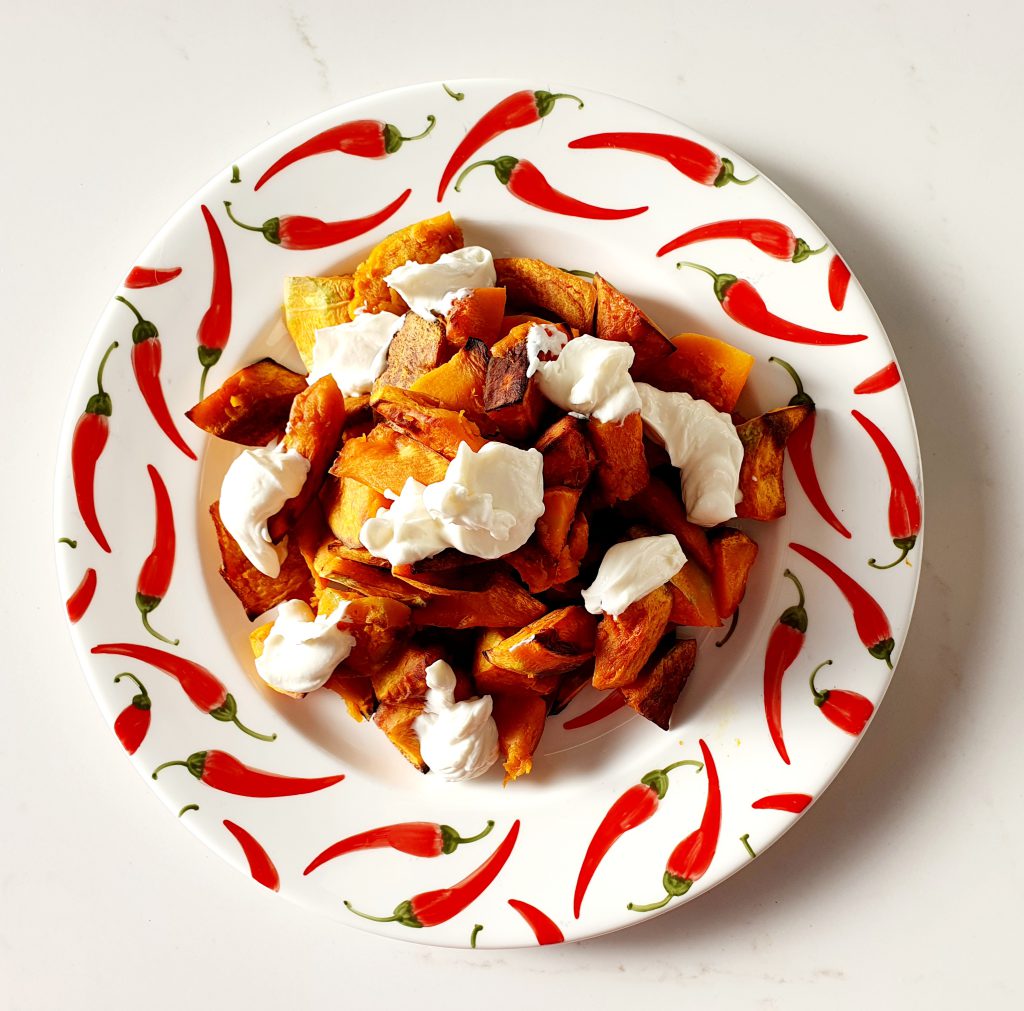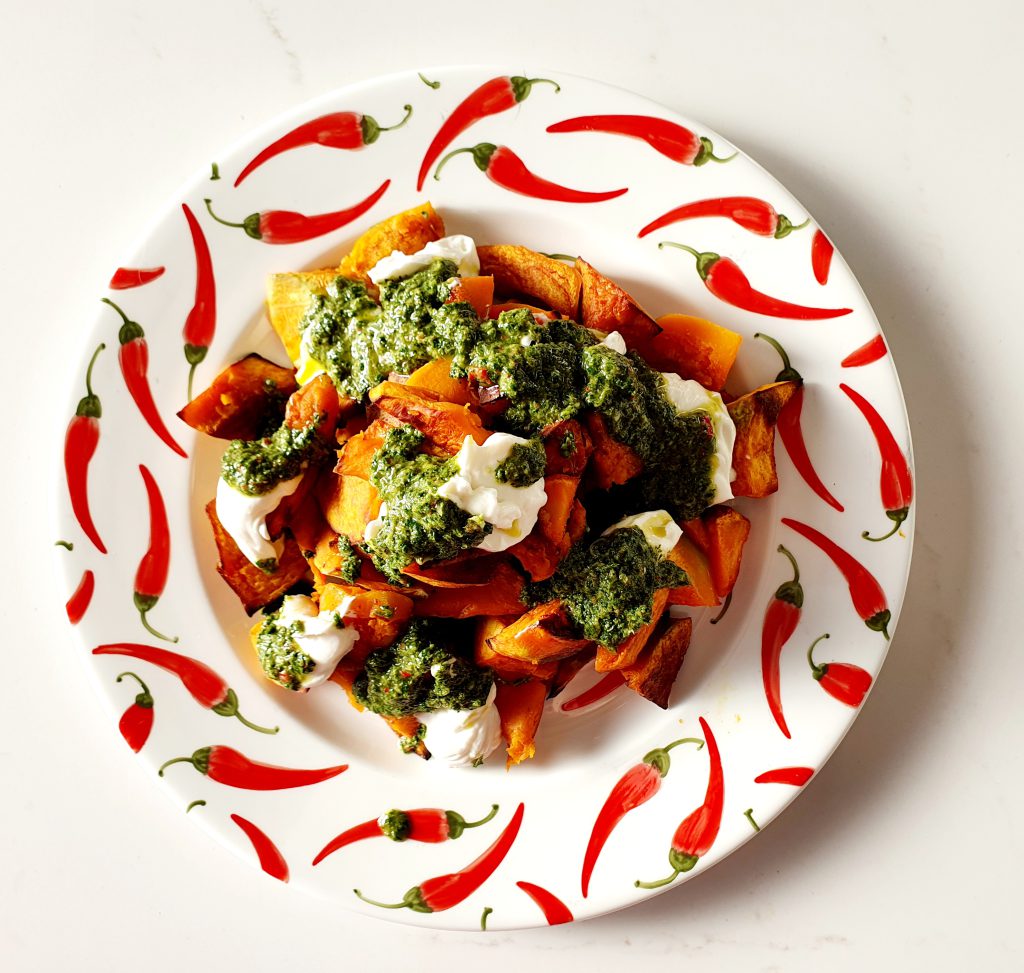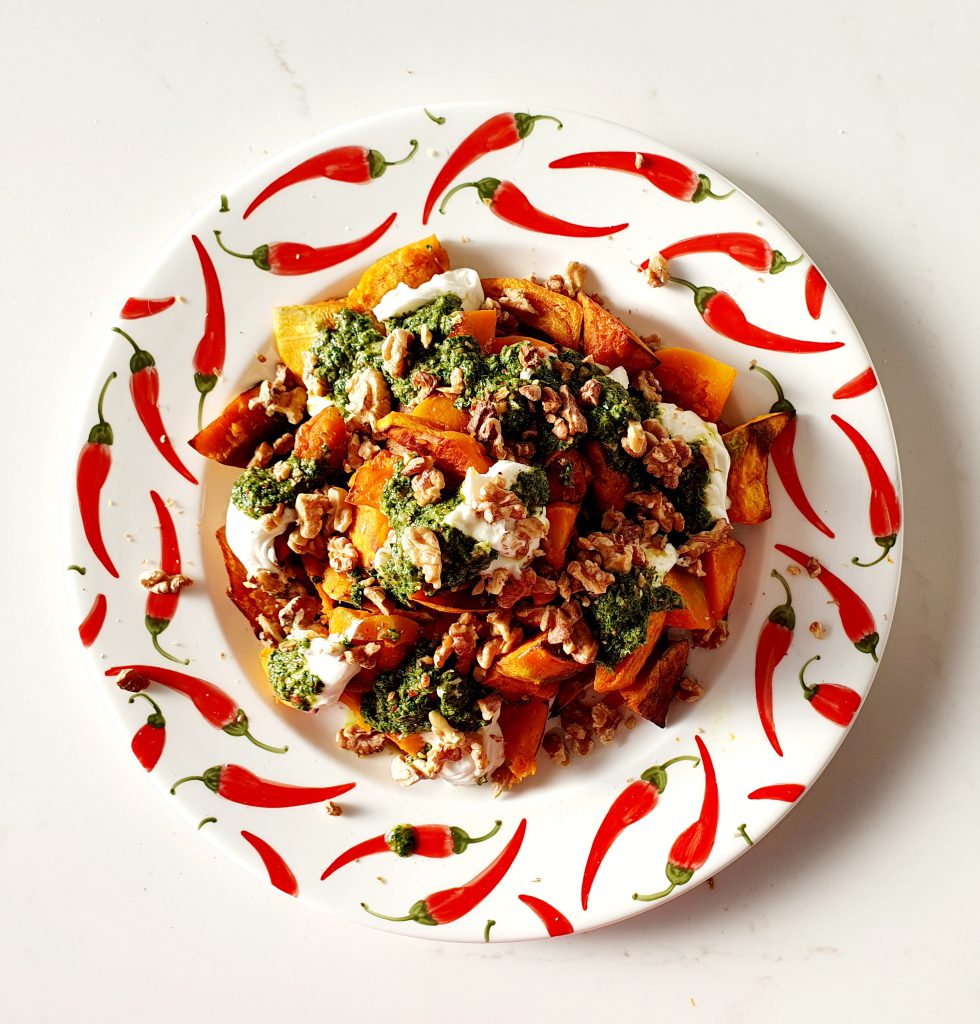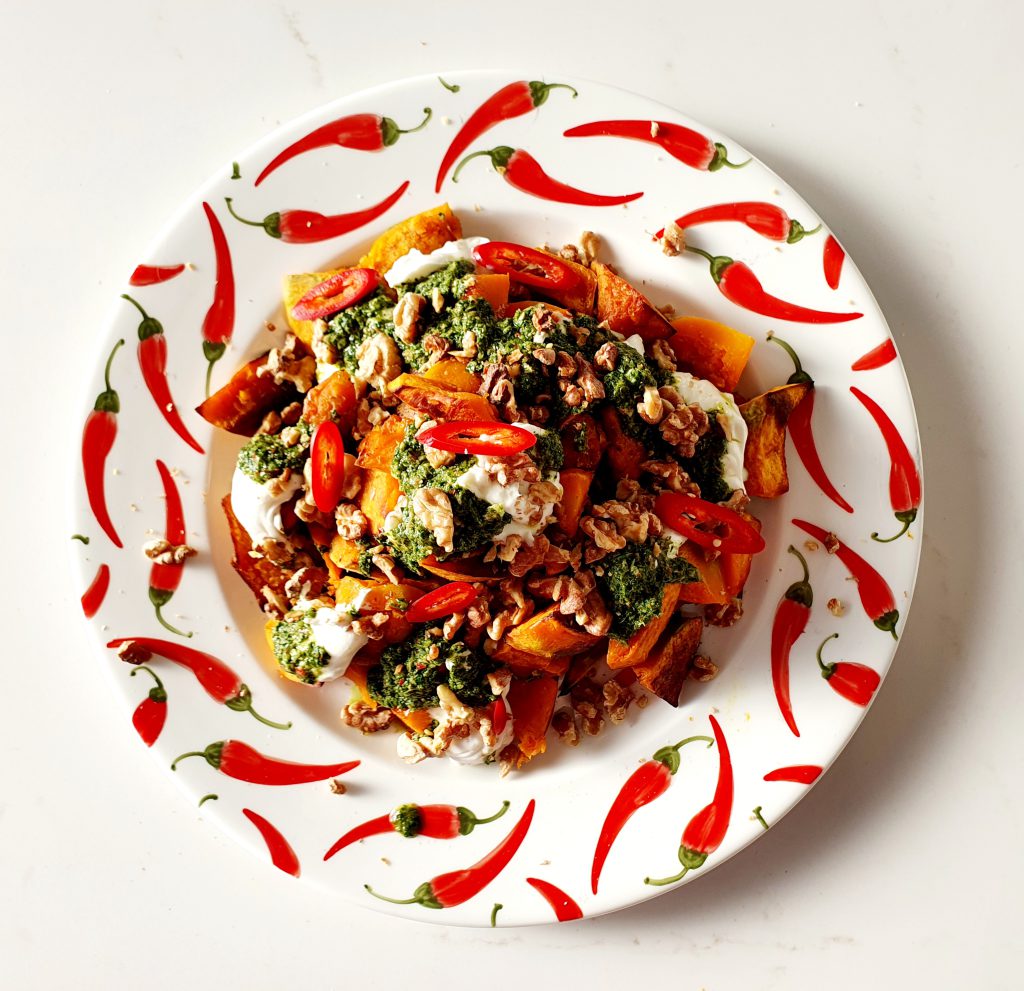 We ate the roasted squash with home-made focaccia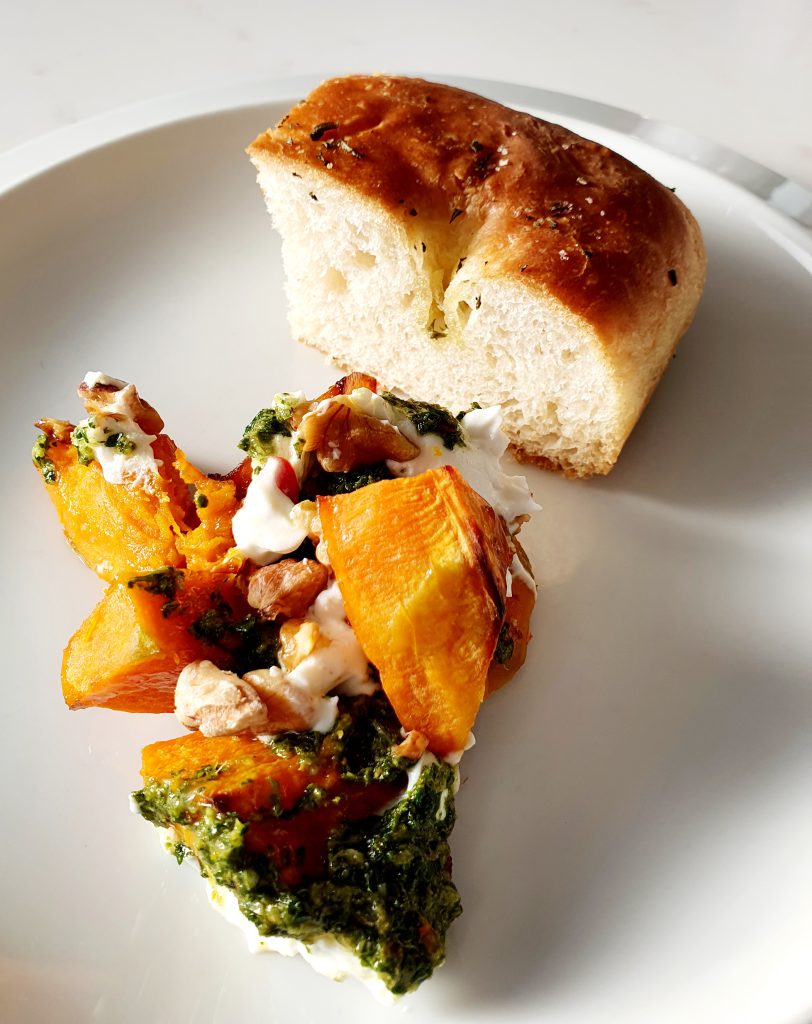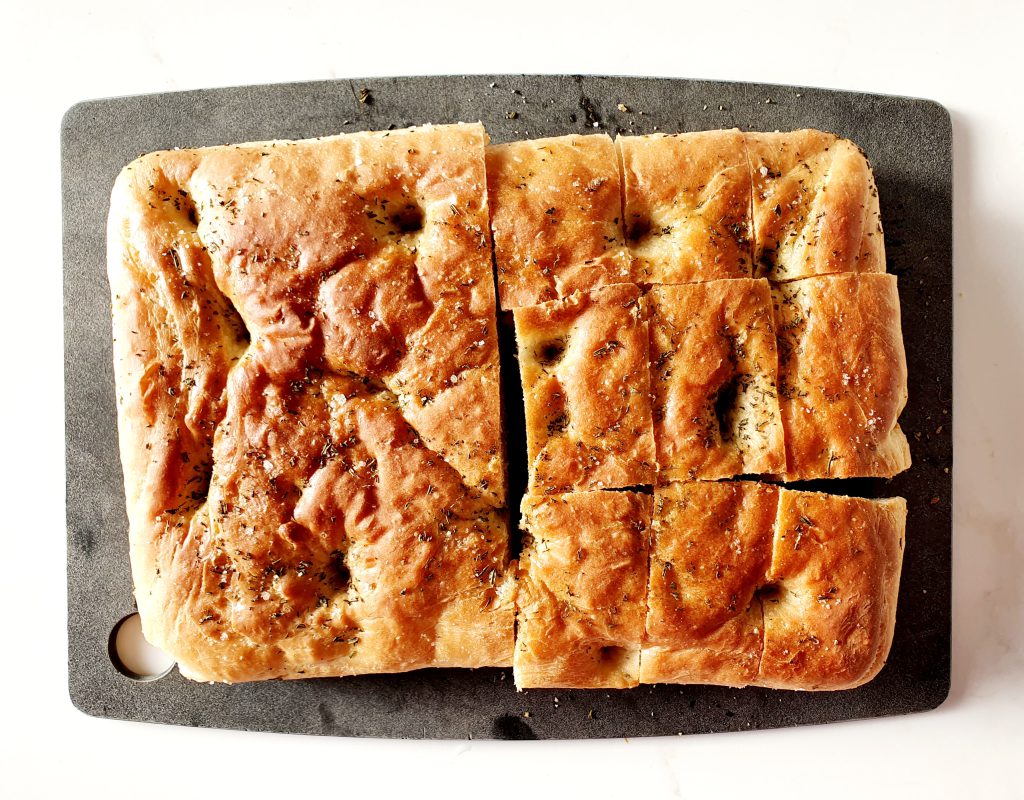 The Chinese New Year is just over two few weeks away. With foreign travel still a bit scary we are opting to stay put in London. The aim is to meet relatives for a Chinese New Year lunch, with the traditional Yee Sang. Last year we had to forego a big party so everyone is getting just a little bit excited about this one.