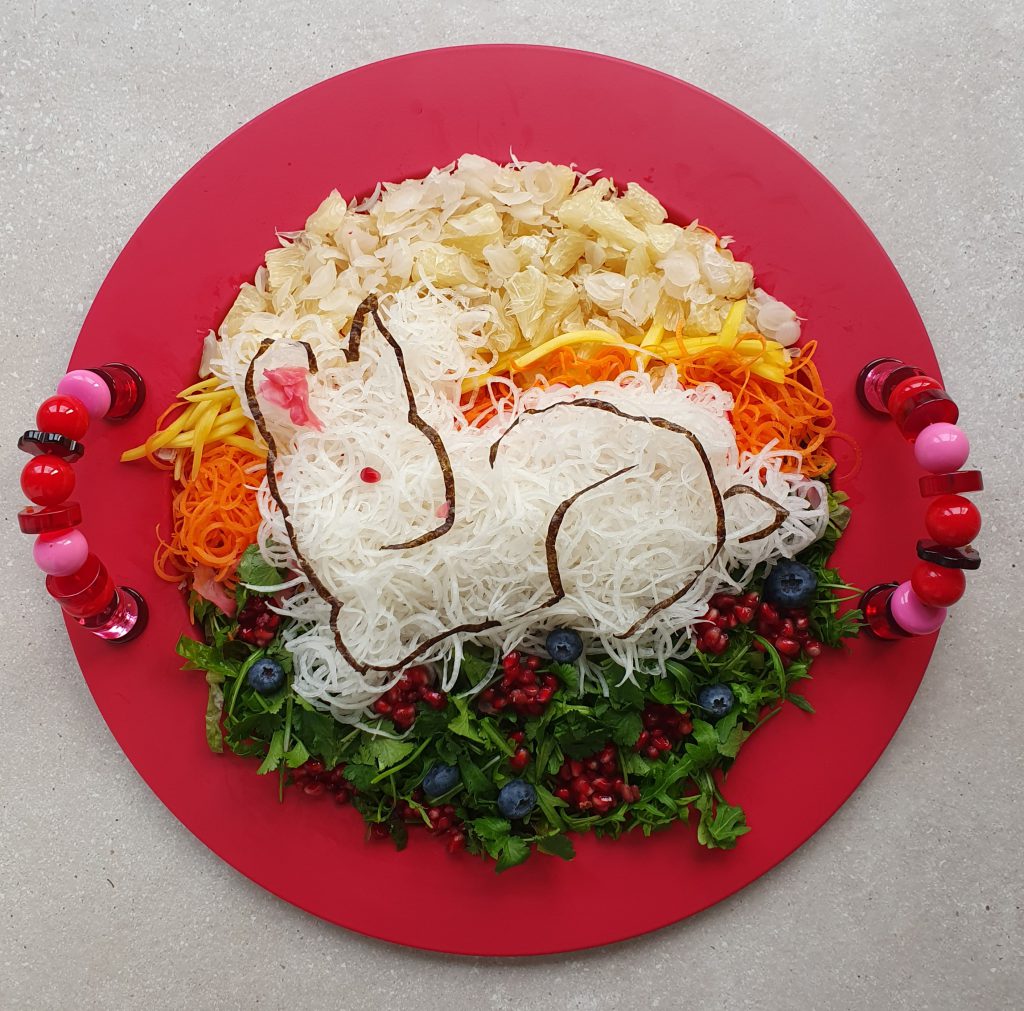 We love celebrating Chinese New Year, especially making 鱼生 yee sang for our extended family gatherings.
This year we needed to celebrate a week earlier here in London. Mr Gochugaru and I are travelling in a few days' time to the Far East for our first Chinese New Year away in three years. The last time we celebrated CNY with my parents in Kuala Lumpur was in January 2020, and a year later my father was beginning to get very ill from cancer.
I have written about our CNY celebrations mostly to share that whether it is a good or bad day, a happy or sad time, a dry or a bountiful season, every family gathering wherever it takes place in the world ought to be a happy one.
Previous new year celebrations and yee sang creations include Year of the Tiger in 2022, Year of the Lockdown Ox in 2021, Year of the Rat in 2020, Year of the Pig in 2019, Year of the Dog in 2018 and Year of the Monkey in 2016. We somehow missed a family gathering in the Year of the Rooster in 2017 due to my travelling but I recorded that it was Mr Gochugaru's 50th birthday in January that year.
This is the Year of the Rabbit according to Chinese tradition, and here is this year's festive art on a plate from the creative hands of Junior 2. She made up two platters of salad for an early CNY dinner hosted by Junior 1 and D-i-L (daughter-in-law). To give the shredded radish rabbit its outline she used a scalpel to cut out strips of nori seaweed.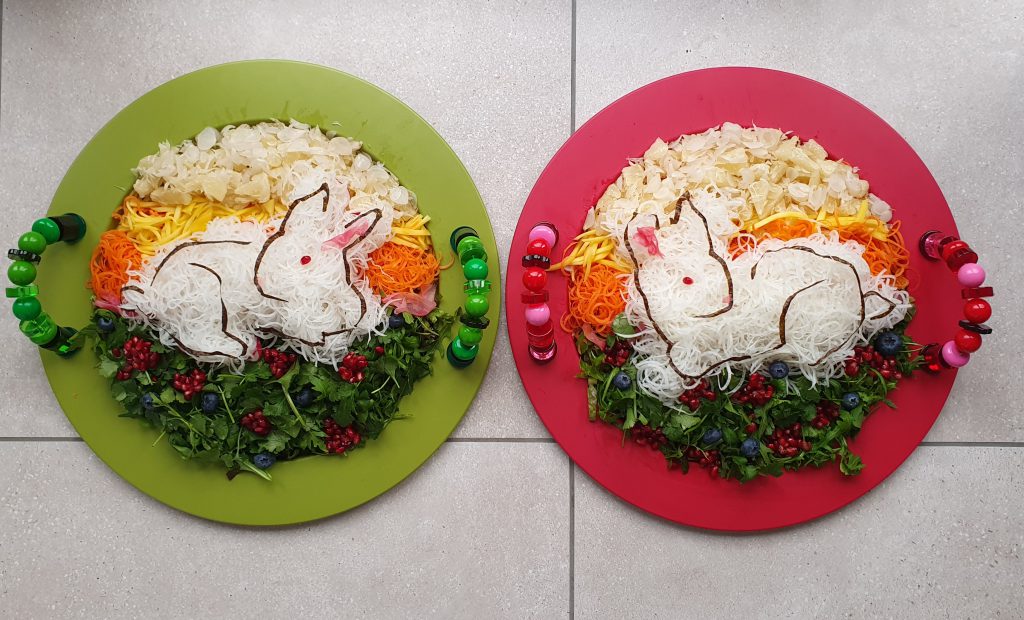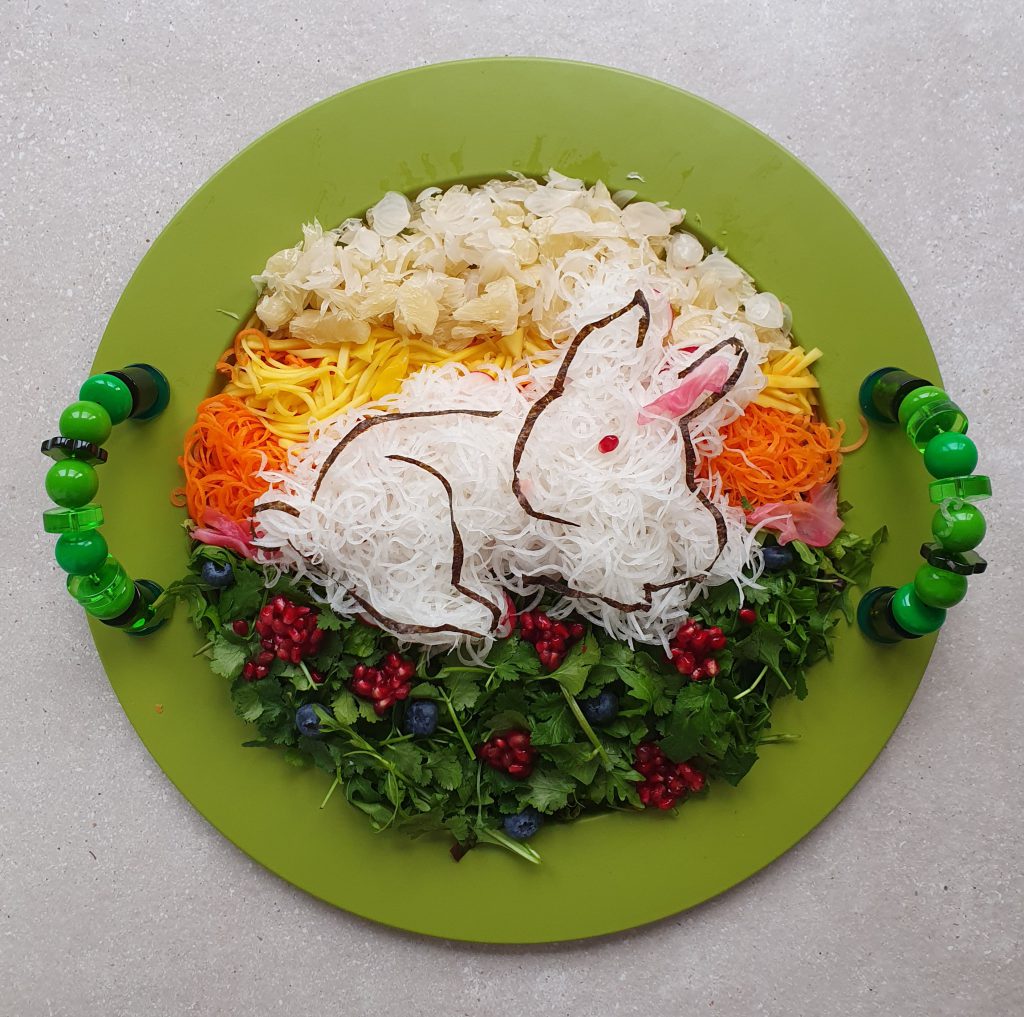 It is always worth writing up our family yee sang recipe again for new readers. We hope you enjoy making your own yee sang to celebrate with your family and friends wherever you are in the world.
Note: our family version of yee sang is vegan and oil-free. The vegetables are shredded fresh on the day, unlike commercial yee sang served in restaurants where most of the vegetables are dry, pickled or coloured and deep-fried. It takes some time to make this salad but it gives so much pleasure to everyone involved in the tossing of the salad to bring good fortune.
Yee Sang in a Nutshell:
The shopping list is long and made up of red and green salad leaves, carrot, daikon/mooli, unripe mango, pomelo, pomegranate seeds, fresh coriander, spring onion, pickled sushi ginger, pickled silverskin onions, roasted unsalted peanuts, toasted sesame seeds, red and green chillies, lime leaves, plum jam, limes and rice vinegar.
Yee Sang in Detail:
Wash and refresh one or two heads of red salad leaves e.g. radicchio, red oak leaf, red chicory or ruby gem lettuce. Sometimes we add green salad leaves e.g. rocket, little gem or butter lettuce. This will line the tray.
Start with sensible quantities of spiralized carrot, daikon/ mooli and shredded unripe mango. This will form the backbone of the dish. Sometimes we add finely shredded red cabbage.
For a burst of flavour add small quantities of peeled pomelo, pomegranate seeds, fresh coriander leaves and shredded spring onion.
For additional sweet-sour flavours add pickled sushi ginger and thinly sliced pickled silverskin onions.
For nuttiness add chopped roasted unsalted peanuts and toasted sesame seeds.
For real crunchiness slice some dumpling skin and deep-fry to make the crackers. I have found that gyoza dumpling skins are better for this wantan dumpling skins as they are thicker and puff up attractively.
Add sliced chillies (one red and one green) for a shot of heat.
Finally for the je ne sais quoi moment, add the secret ingredient of really finely shredded lime leaves. You need to take the centre stem off the leaf then place them in a stack and using your sharpest knife, slice them as thinly as you can.
For the Dressing (for a 6 person salad, so please double or triple as necessary)
200g plum jam
2 tablespoons lime juice
Lime zest
1/2 tablespoon rice vinegar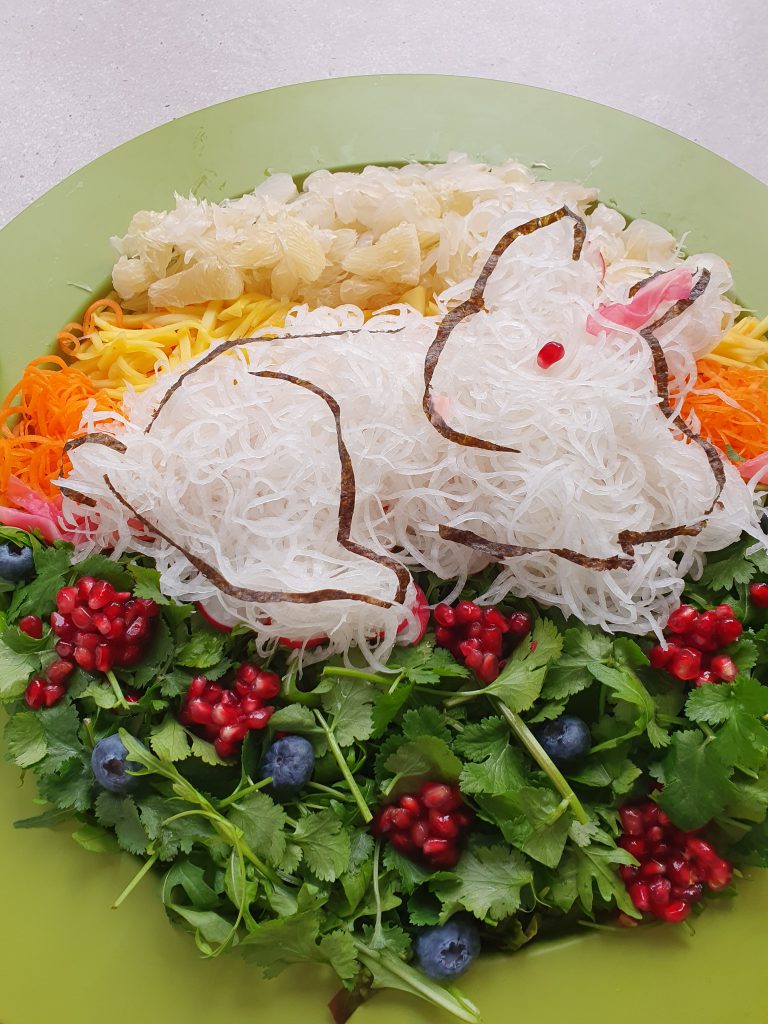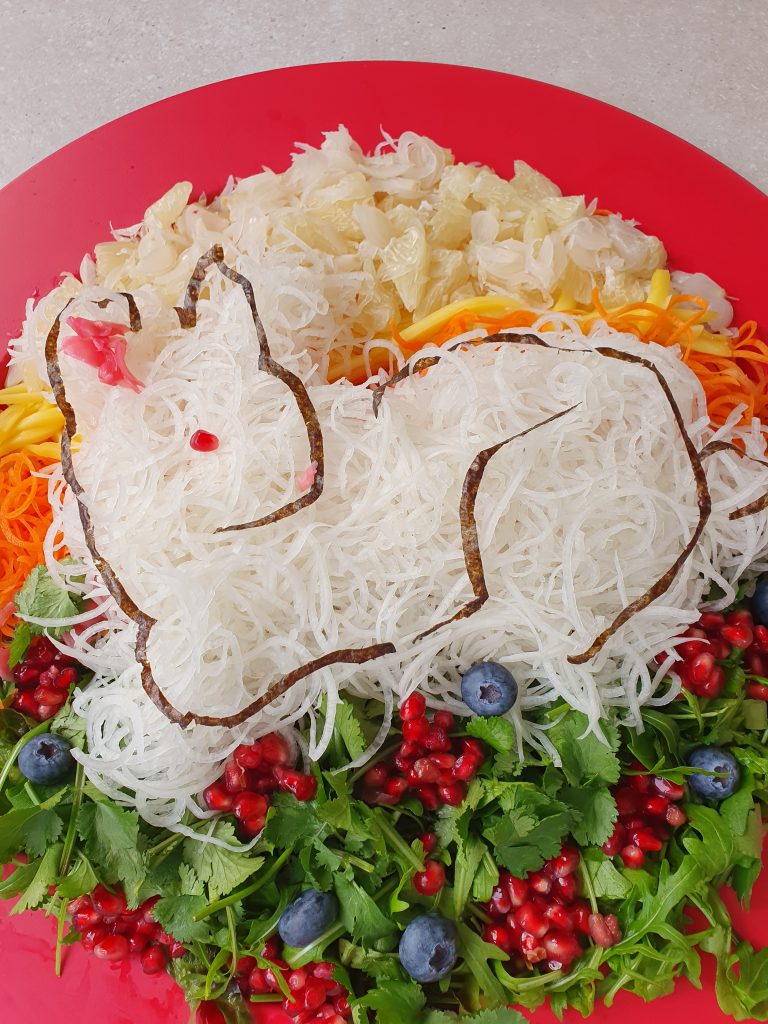 These extra long chopsticks were a gift from Accountant Friend (whose father was very good friends with my father). She visited three stores in Singapore's Chinatown in order to get together 10 pairs for us. We put them to good use at our dinner, where the long chopsticks were definitely more popular than the regular ones.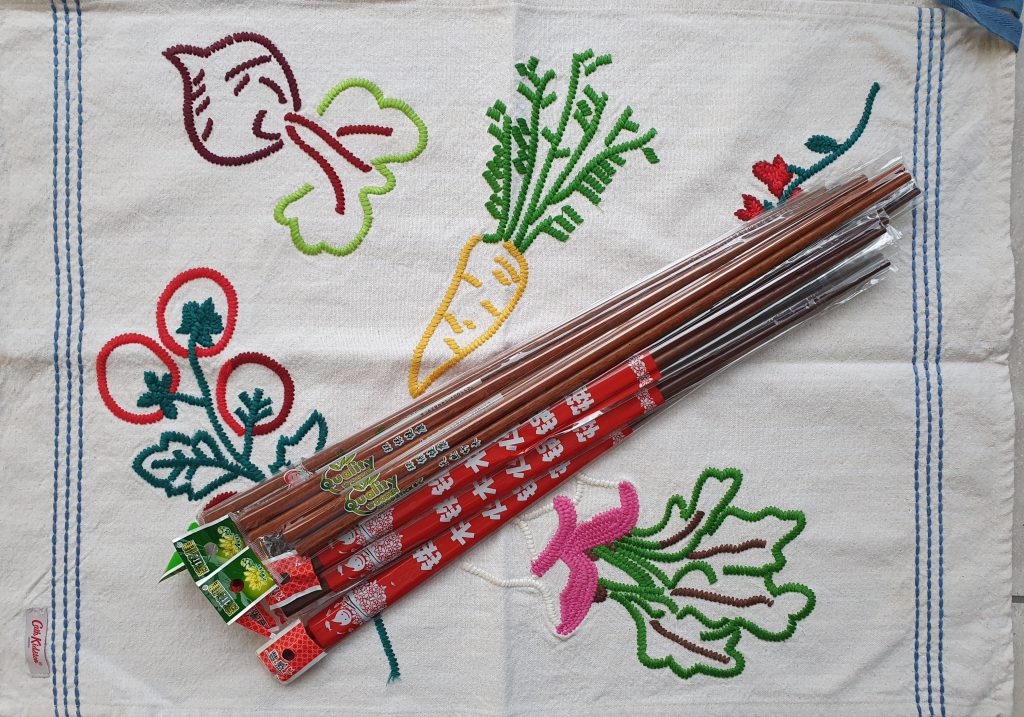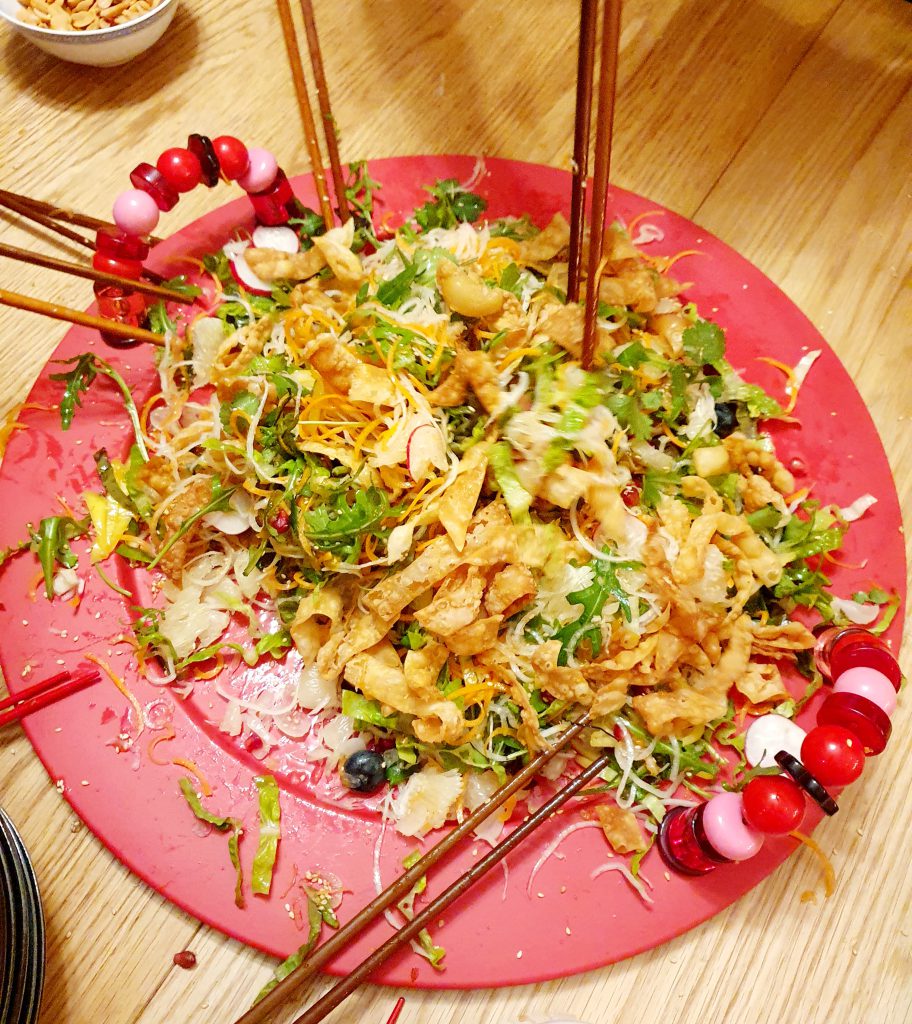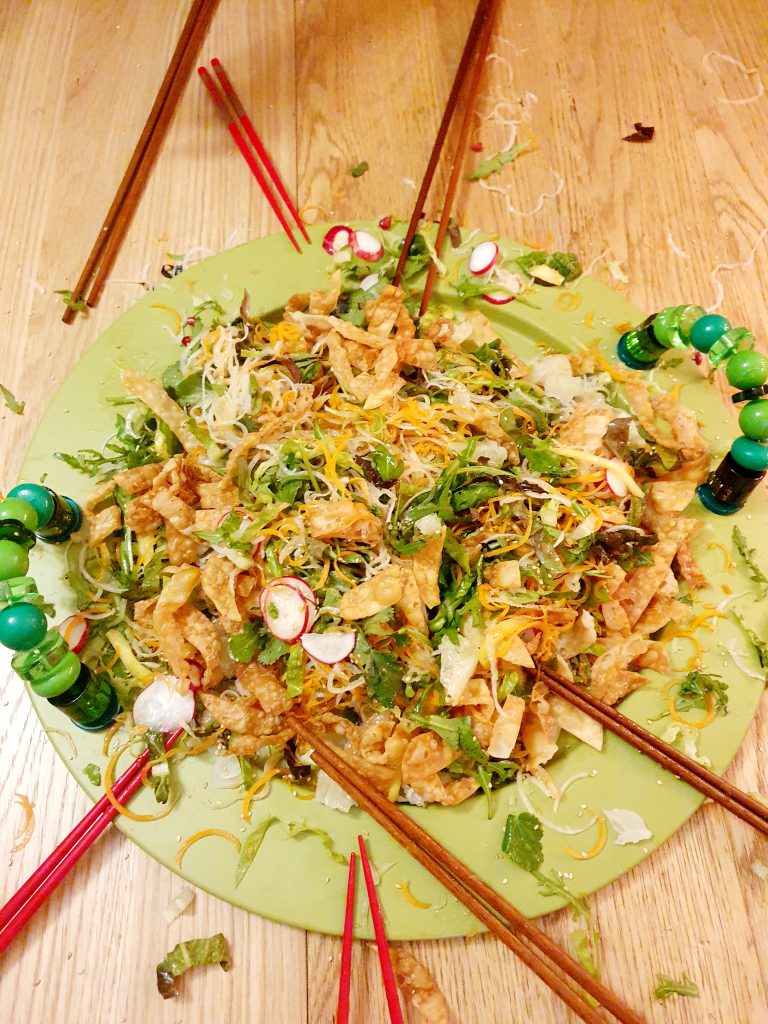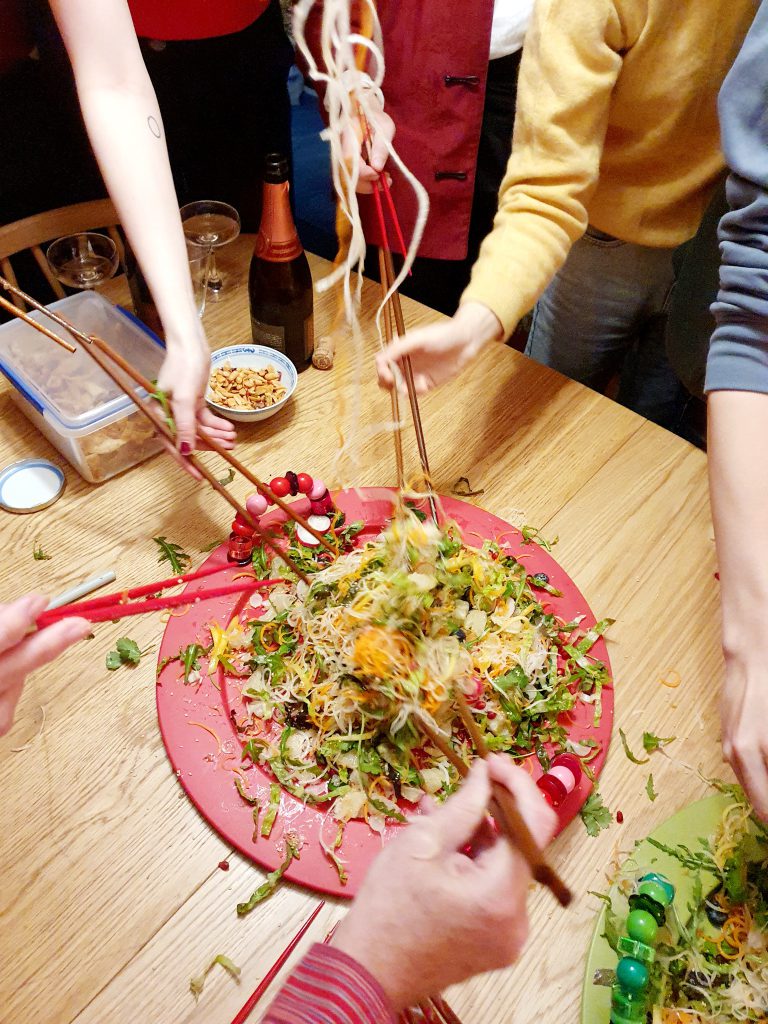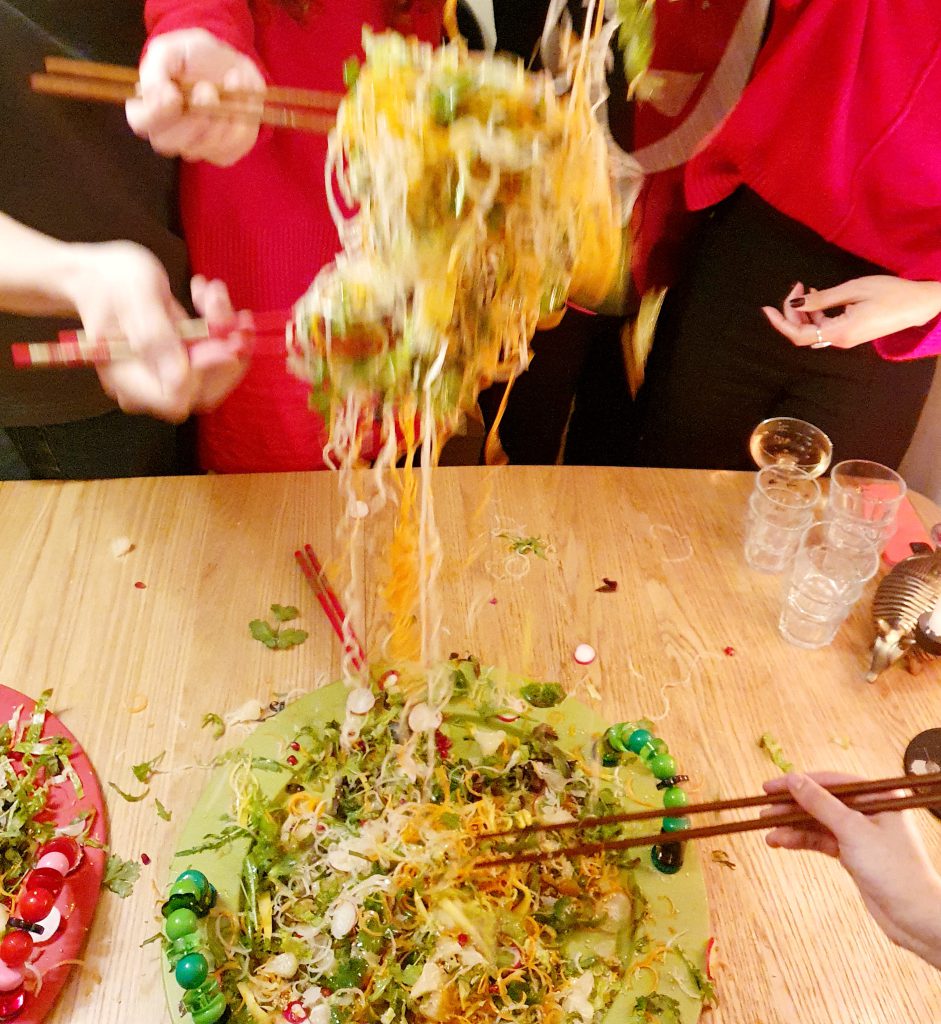 The weather forecast here in London is for more cold weather. Mr Gochugaru and I are looking forward to seeing some sunshine in Kuala Lumpur but more than that, to seeing our extended family. The next recipe is for a warming carrot soup and the post after that will be from Kuala Lumpur.