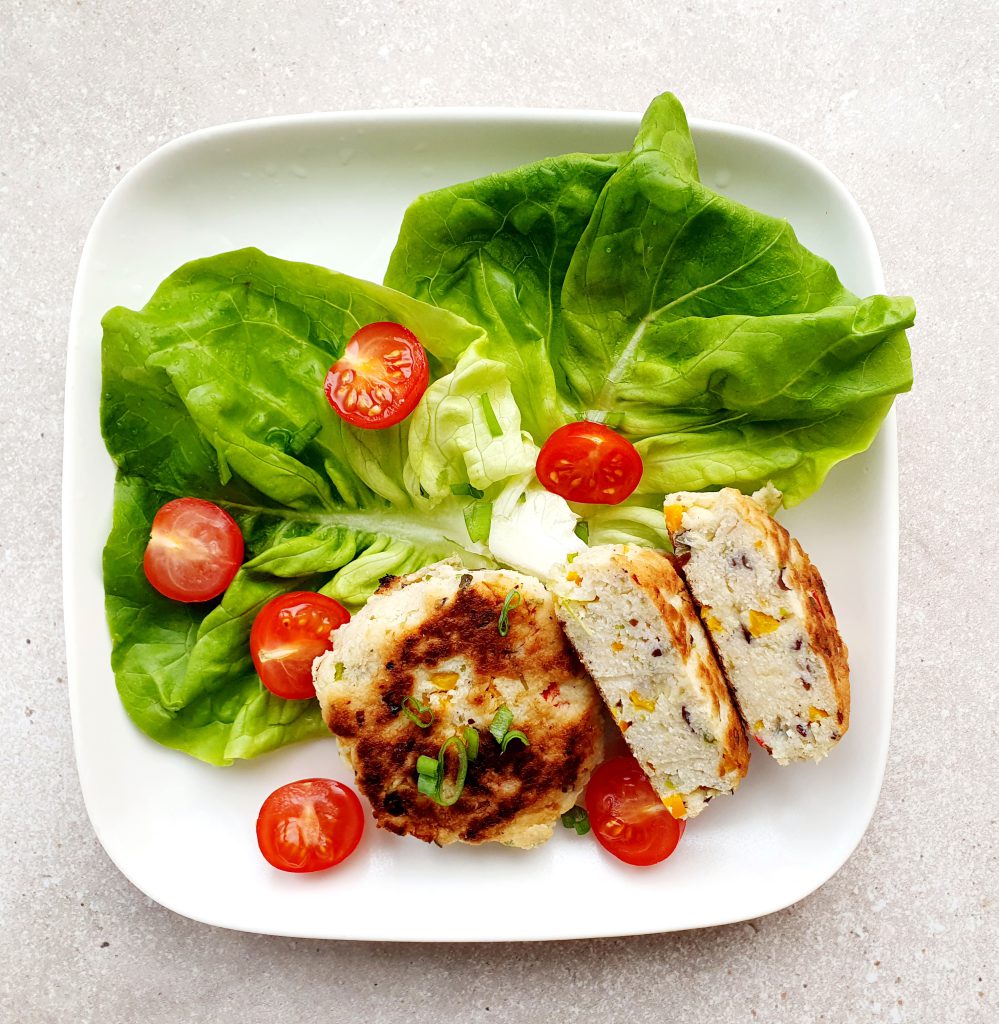 I am thinking of cake, of course, but Junior 2 came up with an idea to use the leftover soya bean pulp (okara) from our foray into making soya milk. I was unsure how the patties were going to turn out, but once we started we were quite inspired by what else we could do with the okara.
The taste and texture of the patties reminded me of mashed potato cakes, but a bit more dense and rich. I can see why okara is used as animal feed or plant fertiliser as it tastes as if it could be good for you. It is not marketable as it does not last in its fresh form for more than a day or two, on account of its moisture and nutrient content. If you are considering making these patties or using the okara in baked goods, please use it as soon as you can after making the soya milk.
Junior 2 found this recipe by a Malaysian vegan blogger. Looking through it, I would not mind making one or two vegan dishes from there. However I must say that whilst frying the patties I was already thinking of how I could turn them into salmon fishcakes or adding parmesan and bacon into the mix. And how about serving it for breakfast with a poached egg on top?
The leftover okara from making soya milk
Into the okara I added a yellow sweet pepper, spring onions, red chilli and seaweed flakes from the Cornish Seaweed Company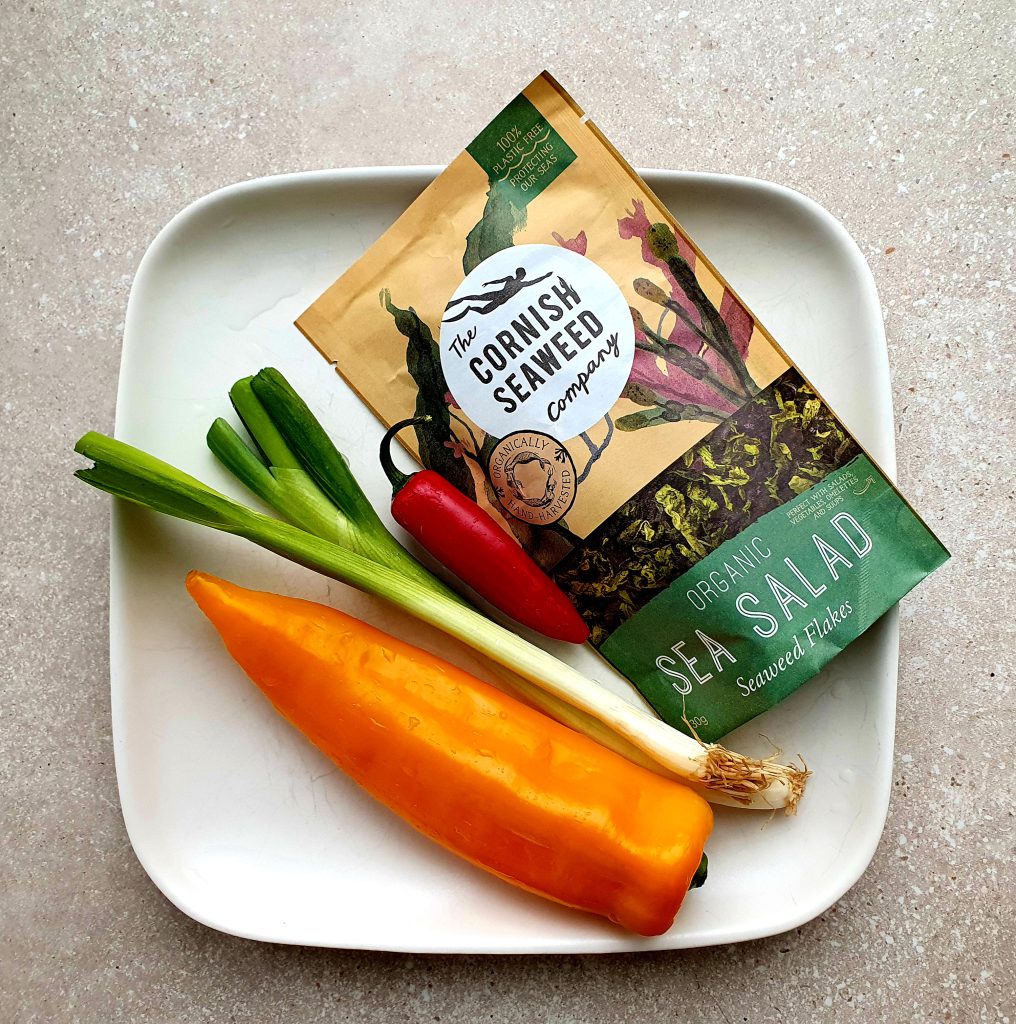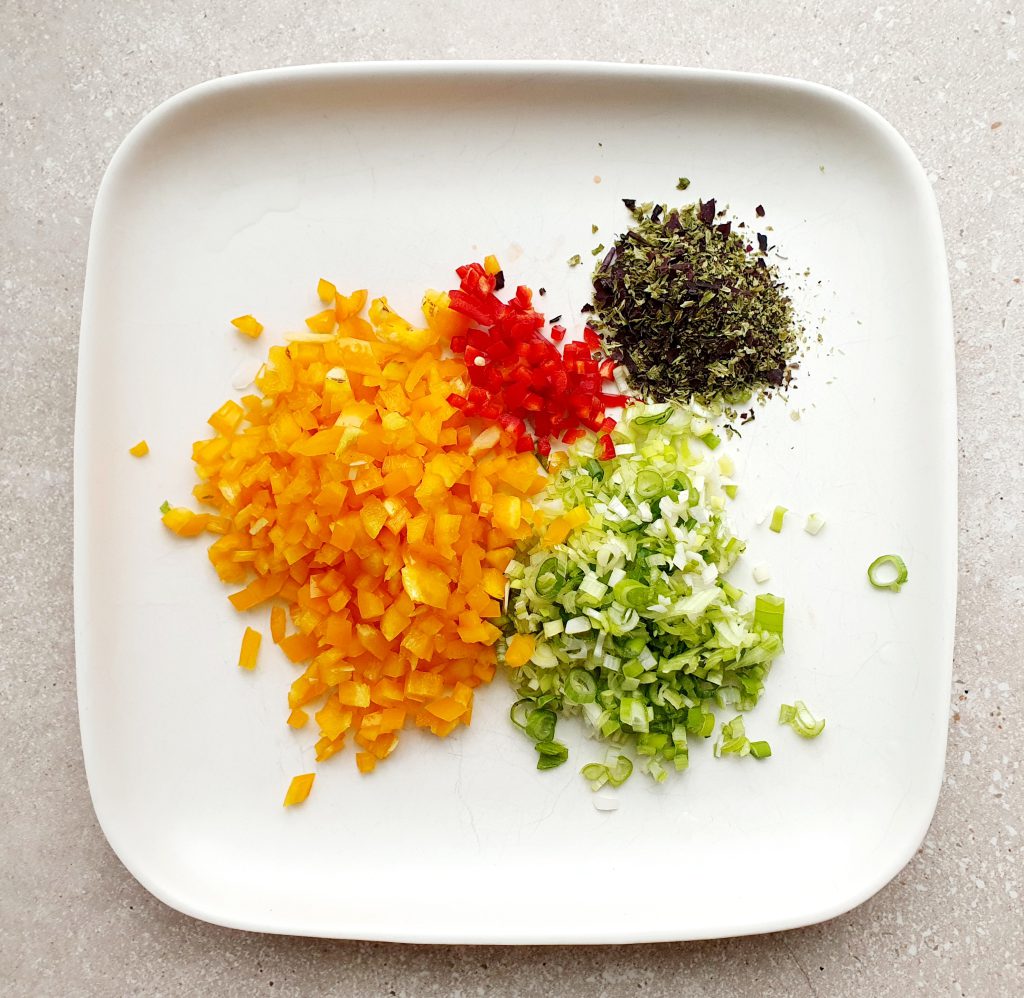 I made two batches of soya milk and each batch yielded around 350 g of leftover soya bean pulp. The recipe here uses 500 g of the pulp and makes around a dozen patties. I have given a recipe using 350 g of the pulp at the end of the post. You can get ready chopped seaweed (for eating, not cooking) in Korean and Japanese supermarkets.
For the Patties:
500 g okara (soya bean pulp)
90 g sweet pepper, finely diced
35 g spring onion, finely chopped
6 g red chilli, finely chopped
2 tablespoons chopped seaweed
100 g plain flour
20 g cornflour
1½ teaspoons salt
freshly ground black pepper
100 g water, plus more if needed
sunflower oil for frying
Sriracha chilli sauce and Kewpie mayonnaise to serve, because I had run out of Lingham's sweet chilli sauce
How to Make:
Place all the ingredients except the water and oil into a large mixing bowl.
Mix everything with your hand until well combined.
Slowly pour the water over the mixture and continue pressing / squeezing until you achieve a slightly wet paste.
To make even-sized patties, you can either weigh out the mix and divide by 12, or use a large ice cream scoop to portion out.
Shaped individual patties, place on a tray and let them rest for a few minutes in the fridge to firm them up.
When you are ready to cook, heat a thin layer of oil in a non-stick frying pan.
Gently place the patties in the pan and cook over a medium heat. Turn them over when the bottom is browned and continue frying until done. You may need to add a little more oil.
To ensure the patties were cooked through, we heated them in an oven at 150 C / 135 C fan for 20 minutes.
Before and after frying the okara patties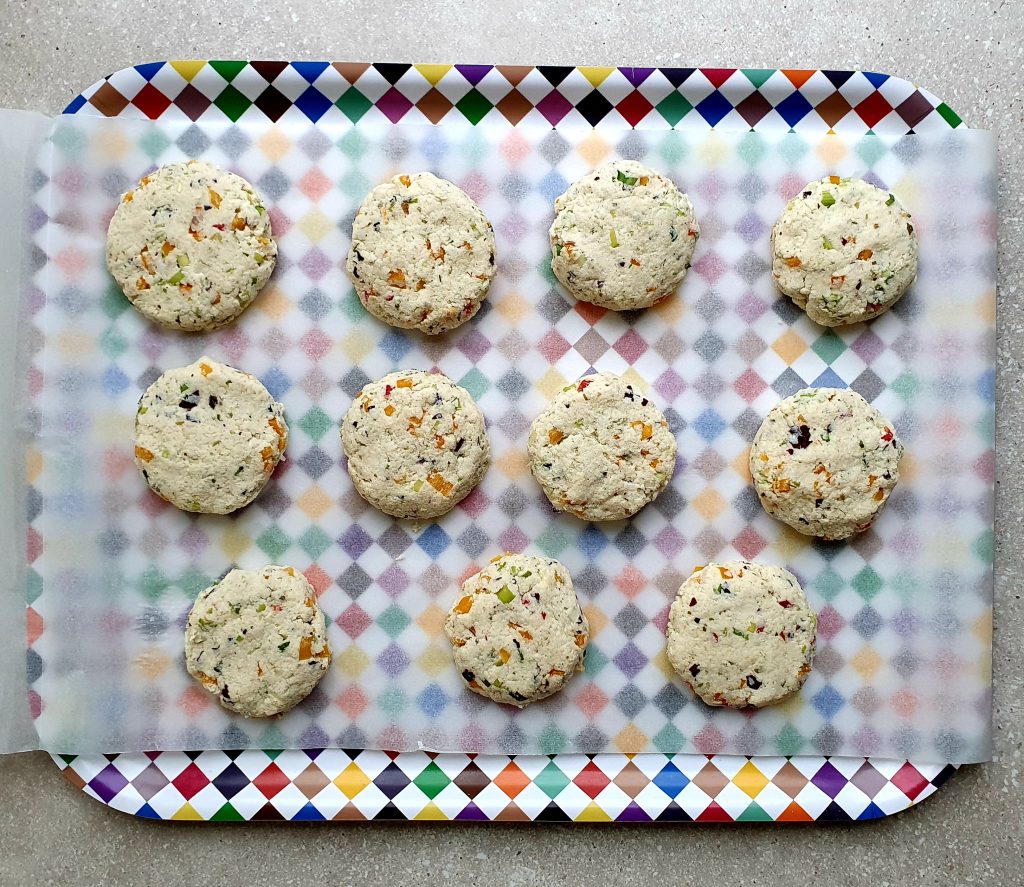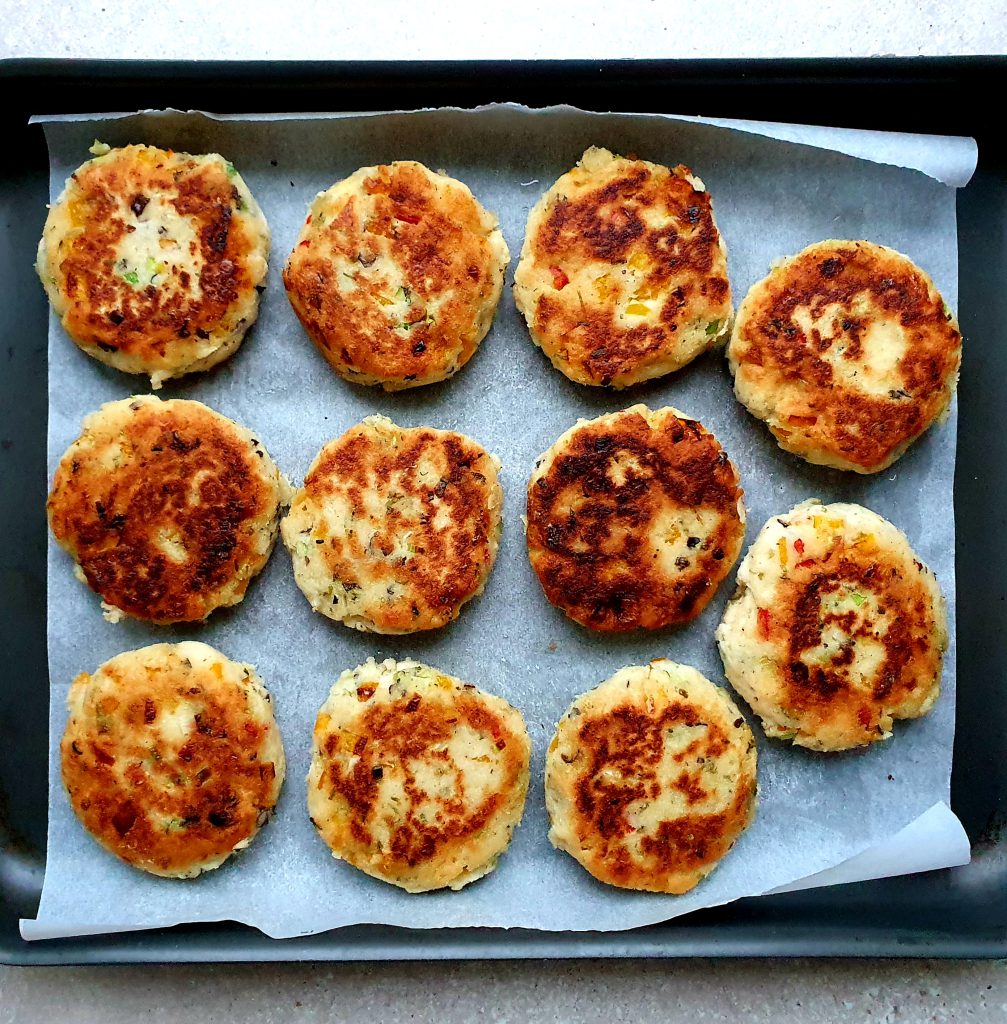 Here is the list of measurements if you are making the soya milk and have 350 g of leftover soya bean pulp, which will yield eight patties.
350 g okara (soya bean pulp)
60 g sweet pepper, finely diced
25 g spring onion, finely chopped
4 g red chilli, finely chopped
4 teaspoons chopped seaweed
70 g plain flour
14 g cornflour
1 teaspoons salt
freshly ground black pepper
70 g water, plus more if needed
sunflower oil for frying