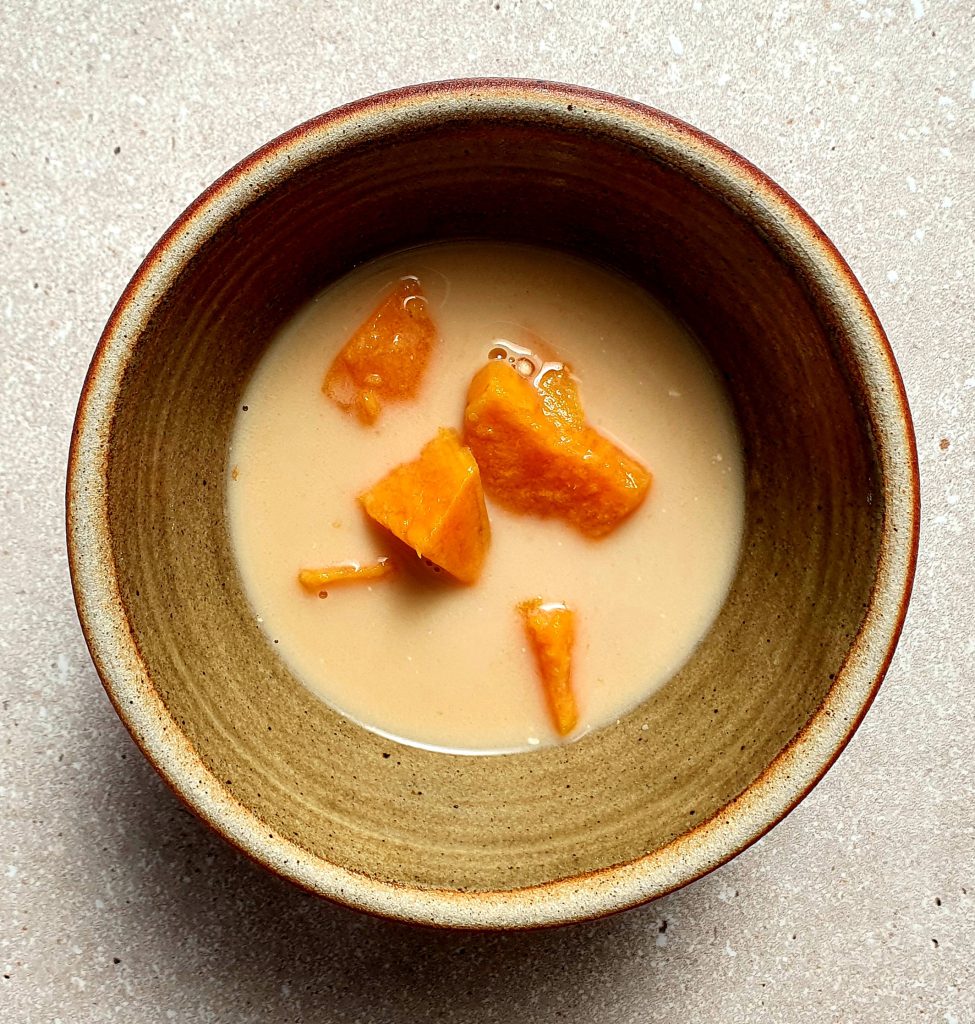 It is the First of April and I joke not: the weather is really cold here in London and we are not exactly impressed. Two weeks ago we had a flourishing show of cherry blossoms in Kew Gardens and I am concerned these will be gone by the time I head there again this weekend.
I found a sweet potato in the fridge, left by one of the children, and appropriated it to make something warm and comforting. Strangely enough, this sweet potato dish is what I often ate in Malaysia where the weather is a lovely 30 C all year round. People often wonder why the British went off colonising other countries. I think it really was because of the miserable weather back home.
The choice of starchy root here can be sweet potato or yam, and I have even made this with dense Japanese squashes like Kuri Squash. In Malaysia we call it bubur cha-cha which has a whiff of scandal but really, I think the cha-cha alludes to the mixed colours of both the white yam and orange or yellow sweet potato. Bubur means porridge.
After I made this I told Mr Gochugaru that it is wonderful to live in a tropical climate where the native plants throw up such lovely things that you can put together in a pot to make such a dessert. He did not say anything but headed back to his desk for his afternoon meetings. But now I know what he must be thinking: we also have such desserts in cold countries and we call them steamed pudding and custard.
As this dish is made with native (to me) ingredients I have given substitutes at the end of the post. As an aside, here is a helpful article on the difference between sago and tapioca pearls.
Sweet potato and sago pearls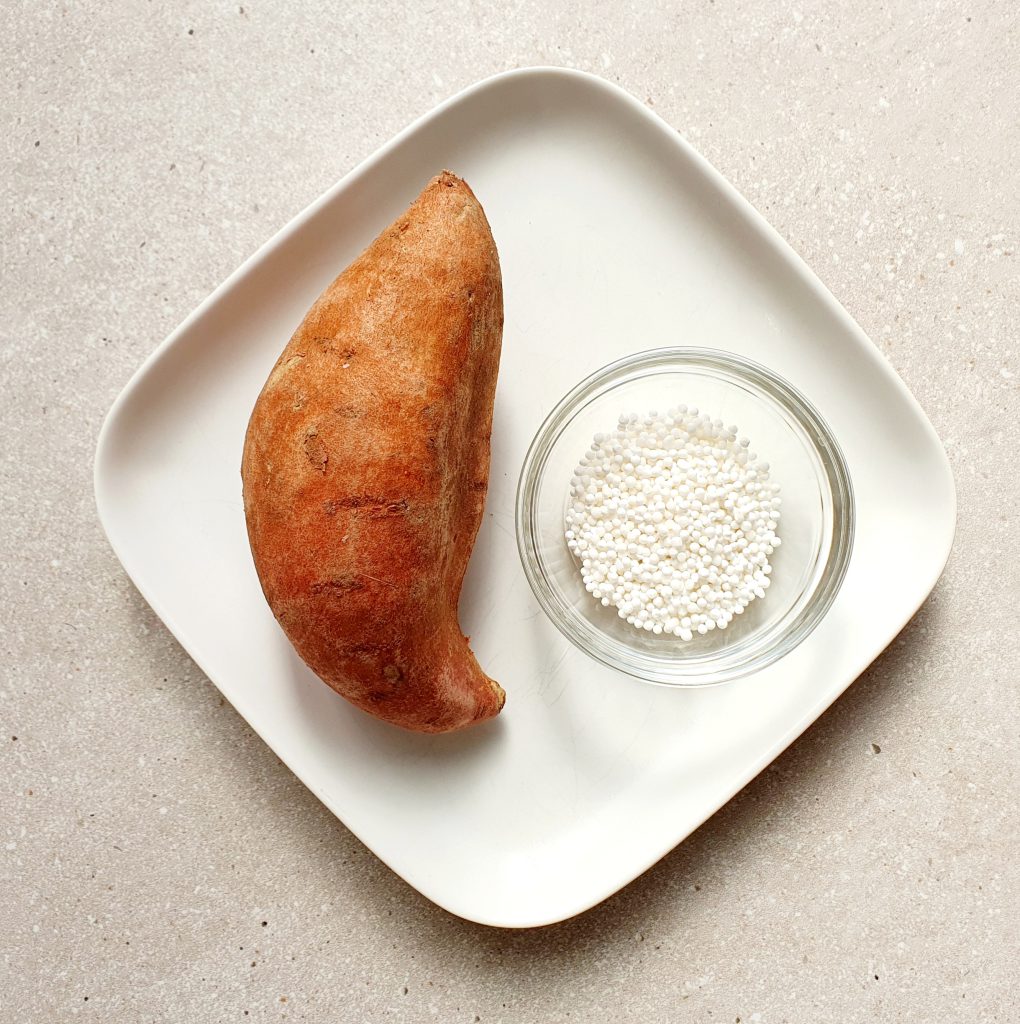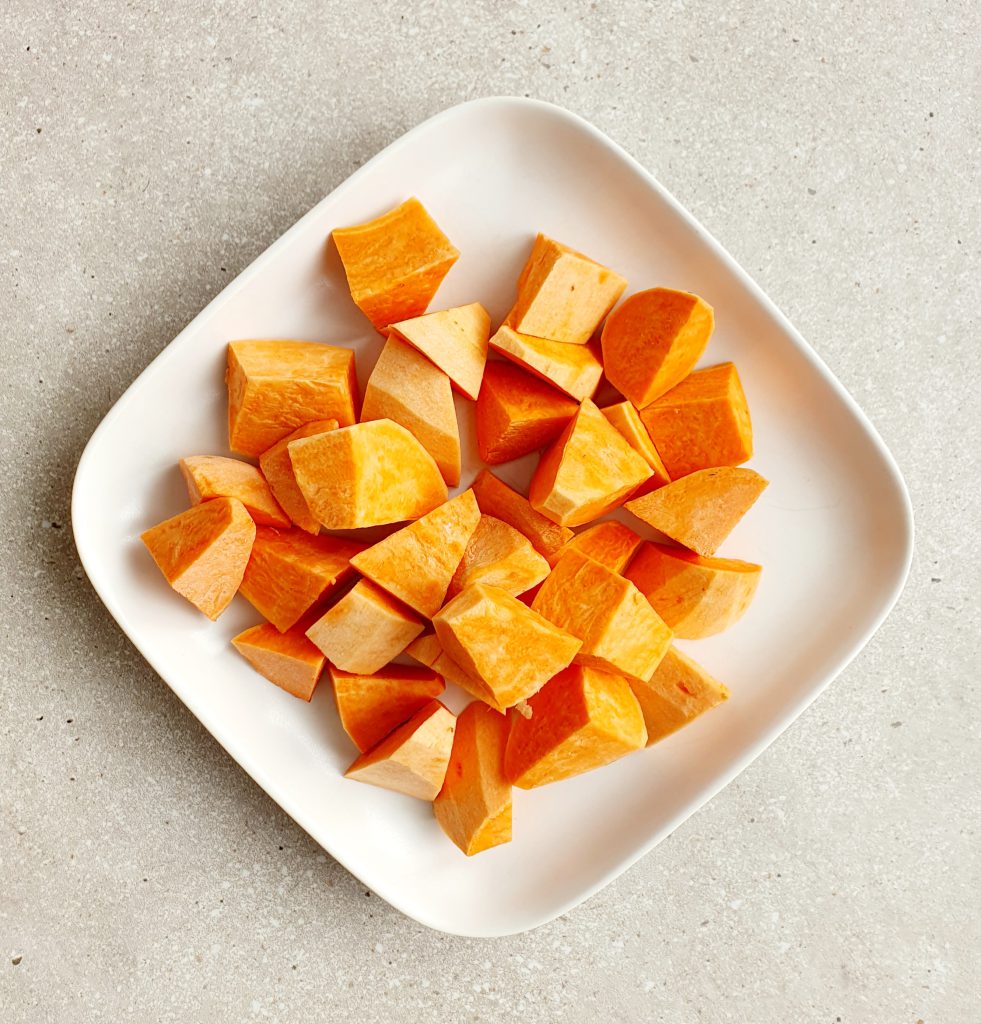 For the Bubur Cha-Cha:
300 g sweet potato
OR
150 g yam and 150 g sweet potato
500 g water
A few strips of fresh or frozen pandan leaf, knotted
30 g palm sugar / gula Melaka
2 tablespoons sago pearls, soaked in water beforehand
200 g tinned coconut milk (I always use Aroy brand if possible)
pinch of salt
How to Make:
Peel the sweet potato and/ or yam and cut into even-sized pieces, either cubes or more random shapes.
Heat the water in a pot to simmering point and add in the knotted pandan leaves.
If you are using yam, add this first to the water. Cook for a few minutes before adding the sweet potato, as yam has a denser texture and takes longer to cook. When you have checked that the yam is half cooked, add the sweet potato and sago (remove the soaking water first).
If you are using just sweet potato or Japanese squash, place this in the pot with the knotted pandan leaves and sago.
Simmer for around 15 minutes, pot uncovered,  then check to see if the potatoes have softened. It takes around 15  – 25 minutes to cook, depending on the size of the potatoes.
Add the palm sugar, coconut milk and salt towards the end of the cooking time.
Serve the bubur cha-cha hot or cold. I would eat it hot, and no doubt the British in Malaya would have eaten it cold.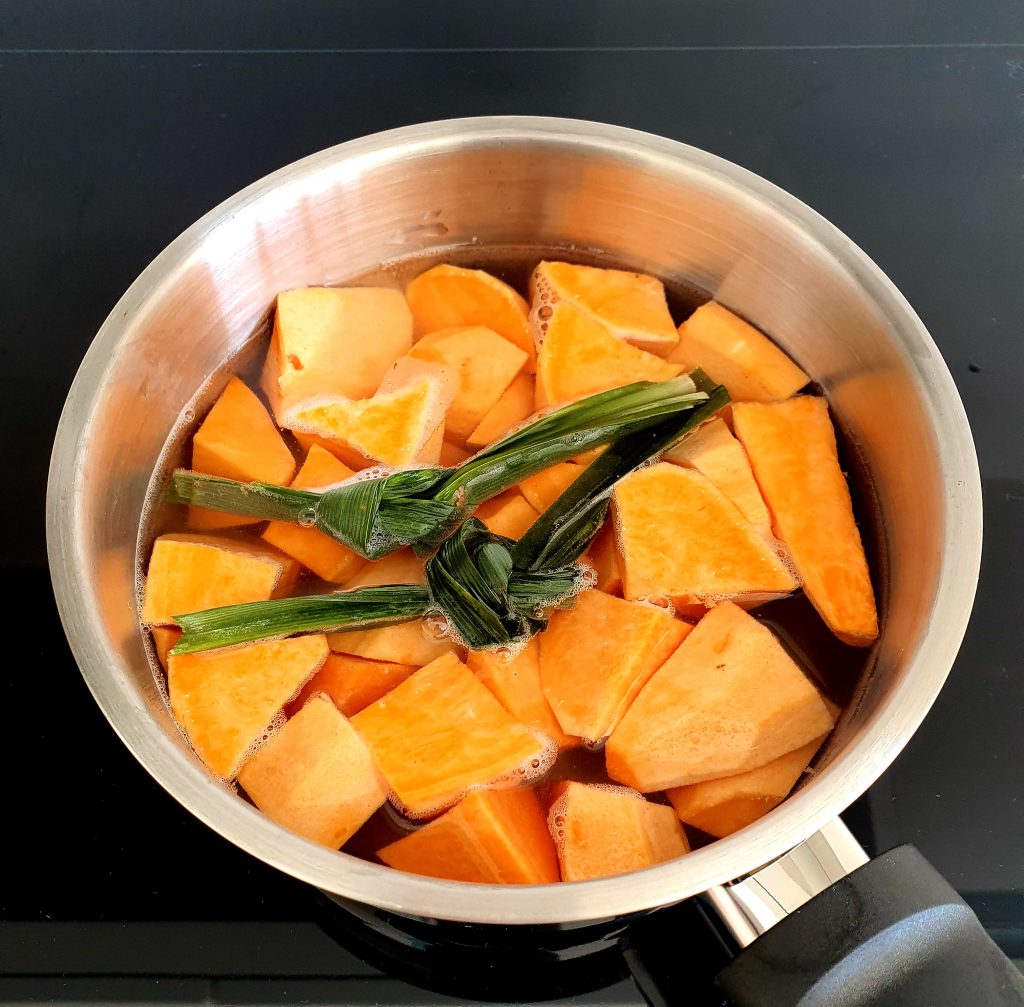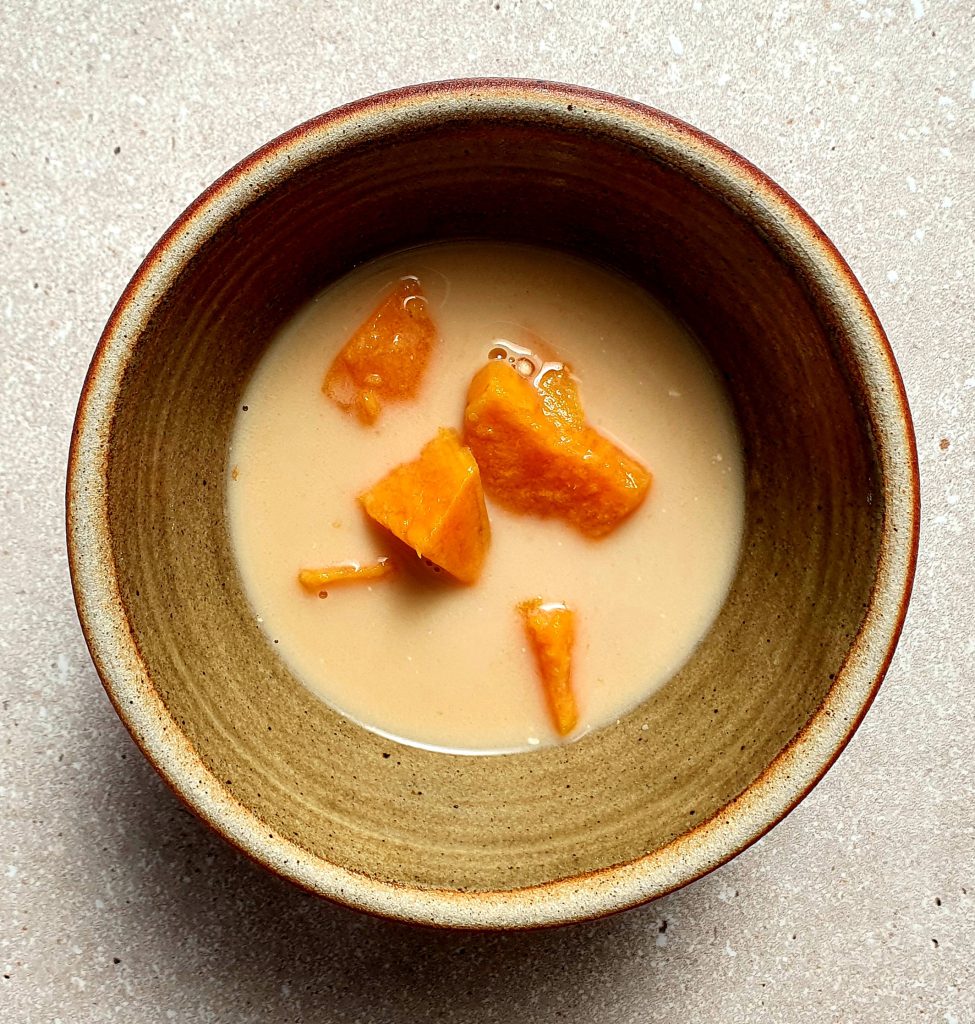 An alternative set of ingredients that you can source here in the UK:
300 g sweet potato
OR
300 g dense squash (not pumpkin)
500 g water
1 teaspoon vanilla extract
30 g coconut sugar or soft brown sugar
2 tablespoons sago
200 g tinned coconut milk or at a push if you are really desperate, evaporated milk