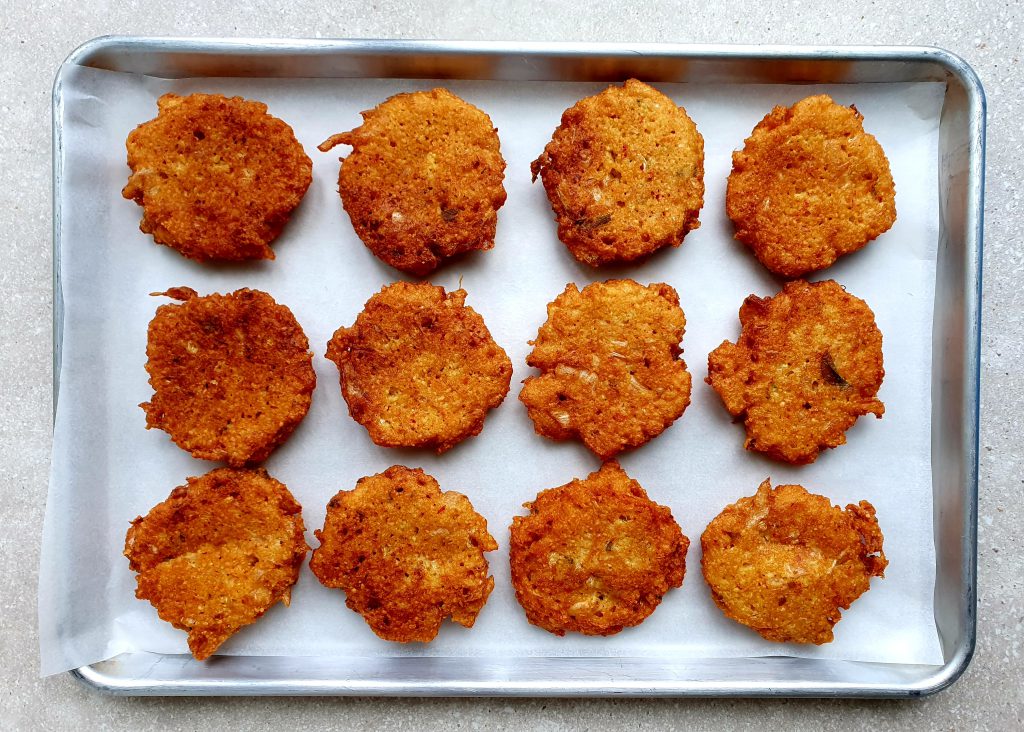 During previous trips to Seoul I spent a not inconsiderable time looking at the vendors Gwangjang Market making these 빈대떡 bindaetteok mung bean pancakes. What fascinated me was that the soaked and de-husked beans were put into a funnel which fed into two stone rollers. The beans were effectively 'stone-ground' as opposed to being ground in an electric blender. Ground meat and fresh bean sprouts are part of the pancake mix. Then there is Jongno Bindaetteok, with its giant pancakes designed for sharing, but if I think too much about Seoul I might feel a little sad about not being able to travel due to current restrictions.
We have made our version of these pancakes at home and it always flies off the plate. So much so that, like the Sesame Prawn On Toast, I have to serve half a portion first, let our guest eat some other good things, then bring out the other half portion.
It is the Chinese New Year and all round the world Chinese families are gathering together for family meals. It is a working day here in London and we have decided to gather next weekend as an extended family – with 18 of us. I will probably make some deep-fried wantons for the party, but if time is short these mung bean pancakes are very easy to make. An added bonus is that they can be made a day ahead and then reheated in a low oven. An added, added bonus is that if you use vegan kimchi this dish will delight members of your family who are vegan. The triple bonus is that I make it using the Thermomix, which helped me overcome the psychological barrier of not having a stone grinder. Happy New Year and may it be a year of bonuses for you.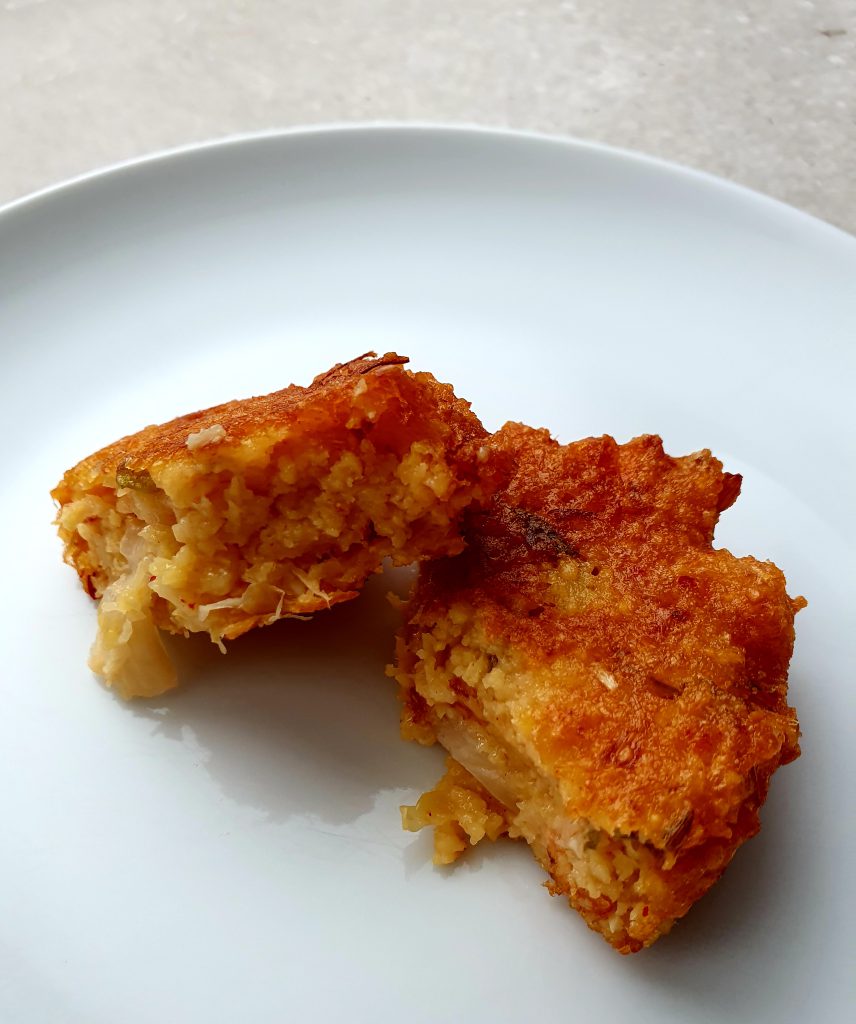 For the Pancakes:
300 g hulled mung beans, soaked overnight in plenty of water
15 g peeled garlic
20 g peeled ginger, sliced
30 g spring onions, cut into 3cm pieces
3 tablespoons kimchi liquid
150 g water
200 g cabbage kimchi, sliced thinly
30 g glutinous rice flour
1½ tablespoons sesame oil
1½ tablespoons soya sauce
¼ teaspoon fine sea salt
Sunflower oil for frying
I used my Thermomix but you can use a food processor just as easily with similar results.
How to Make:
Drain the soaked mung beans and leave aside.
Place the garlic and ginger in the TM bowl and chop 3 seconds/ speed 5.
Add the mung beans, spring onions, kimchi liquid and water. Blend 15 seconds/ speed 5. Scrape down the sides of the bowl, then blend again 15 seconds/ speed 5.
Add the sliced kimchi, glutinous rice flour, sesame oil, soya sauce and salt. Mix 10 seconds/ REVERSE speed 3.
Heat a large pan and add a good amount of oil. Drop large spoonfuls of the pancake batter (I used a large ice cream scoop) into the oil and fry on both sides until brown and crispy. The interior of the pancake remains moist and yielding – it is this contrast that makes the eating of it so attractive.
Continue frying until the batter is used up. Serve with a dipping sauce: mix 2 tablespoons soya sauce, 1 tablespoon rice wine vinegar, 2 teaspoons sesame oil, 1 teaspoon gochugaru (Korean ground red pepper), 1 teaspoon toasted sesame seeds and a pinch of sugar.
So many people have asked for this recipe that step-by-step instructions follow.
Mung beans: these are hulled, meaning that their skins have been removed. The first time I found them was in a mini-mart in Hong Kong, so now I look out for them in the Chinese supermarkets here in London. The packaging usually indicates that it is used in Indian cooking so you might need to look for them in the 'foreign foods' section. The beans are yellow in colour and are elongated, not round like e.g. yellow split peas. Soak the beans overnight in plenty of water, then drain before using.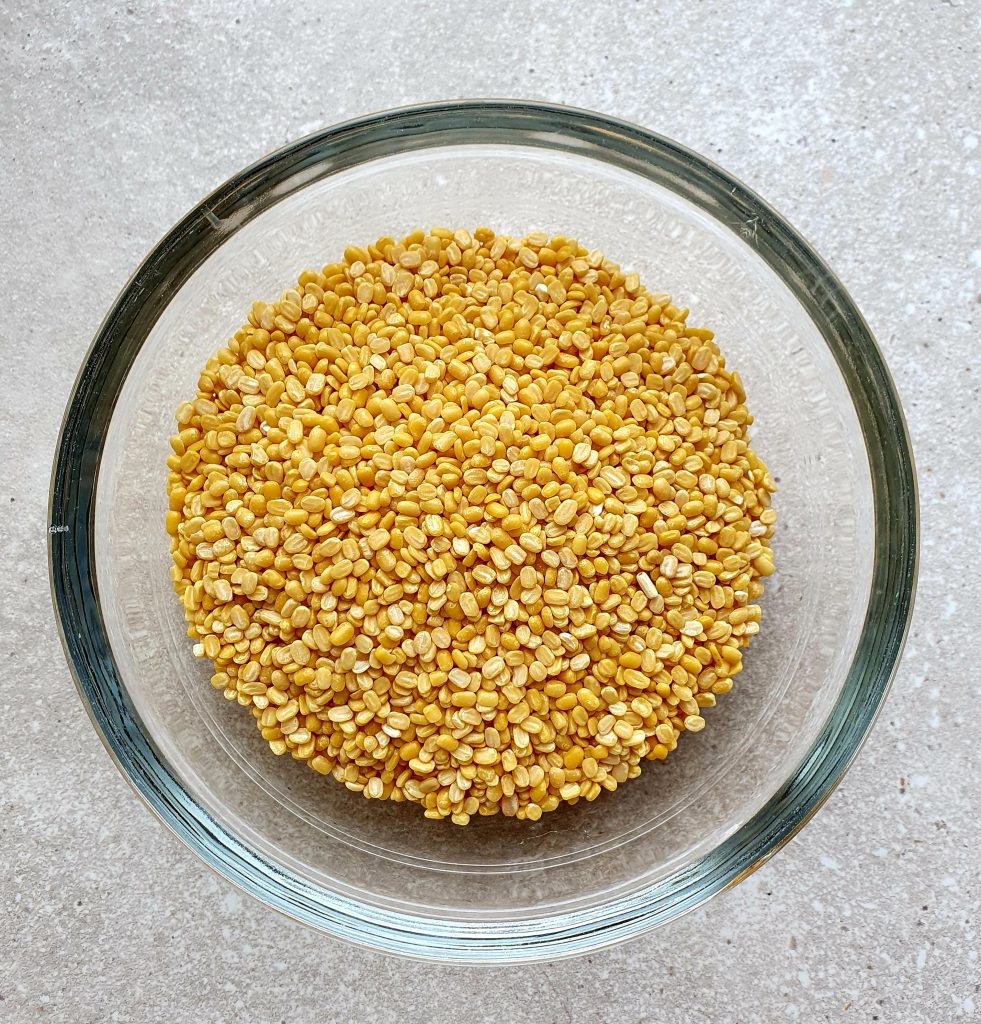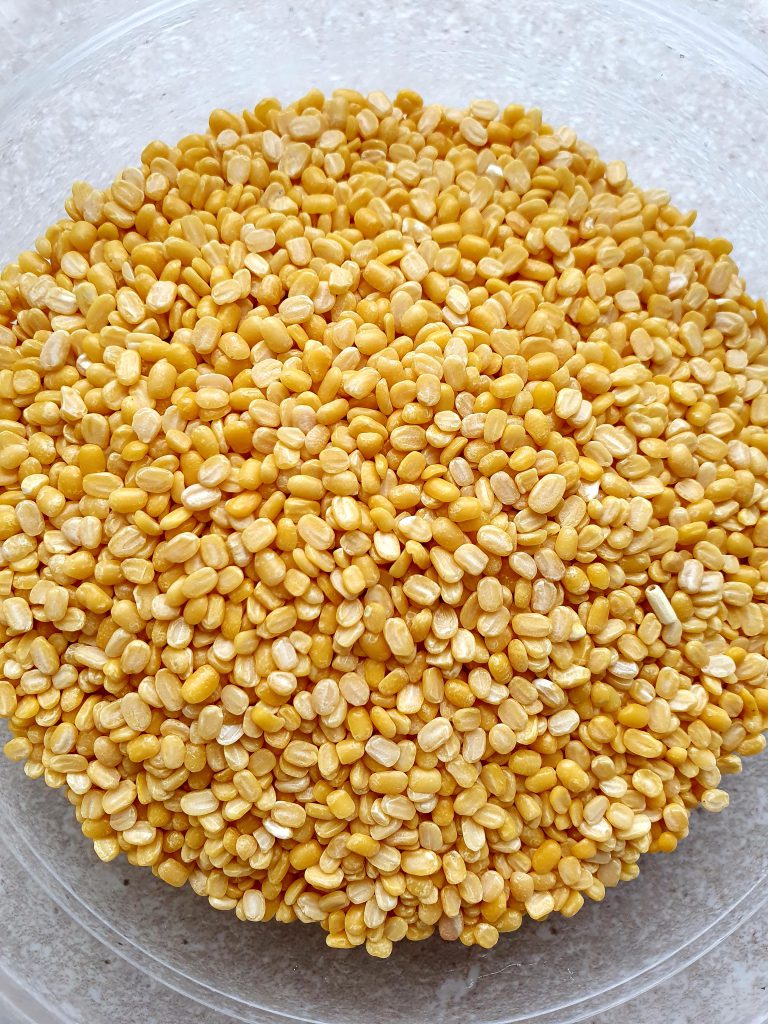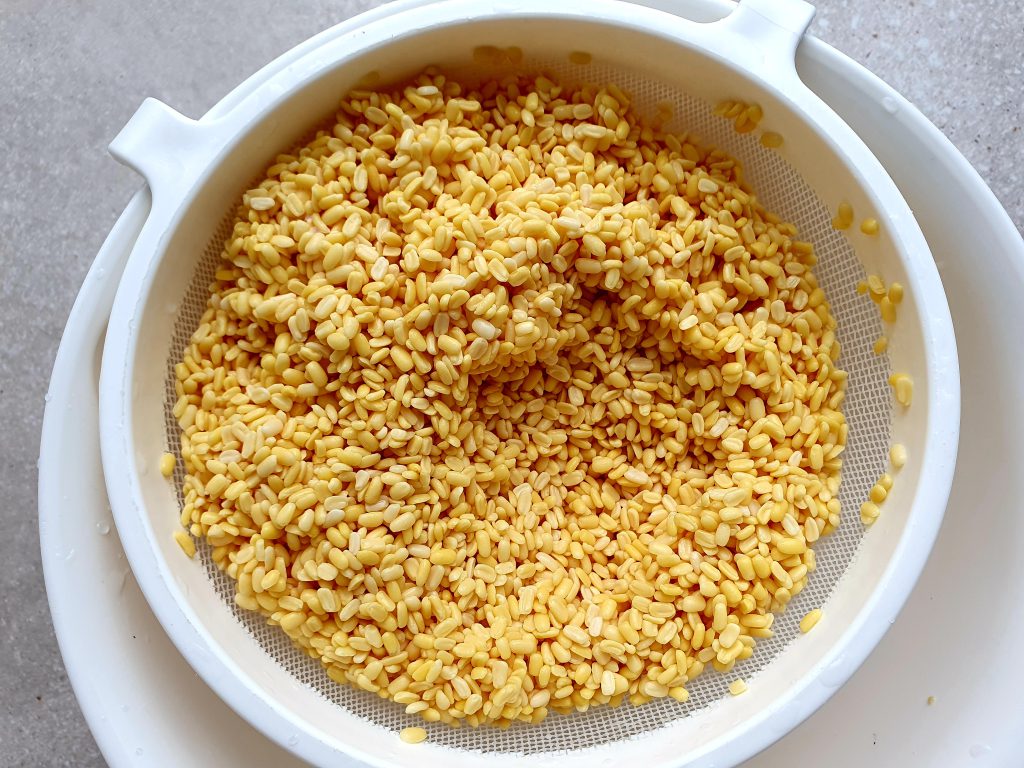 Kimchi: my favourite kimchi is made by CJ Foods under their Bibigo brand, but supplies even here in London are shaky. This time I bought Jongga kimchi and also a vegan one from  Vadasz  (pictured in the bowl). Pulmuone is a Korean brand that also make a vegan kimchi.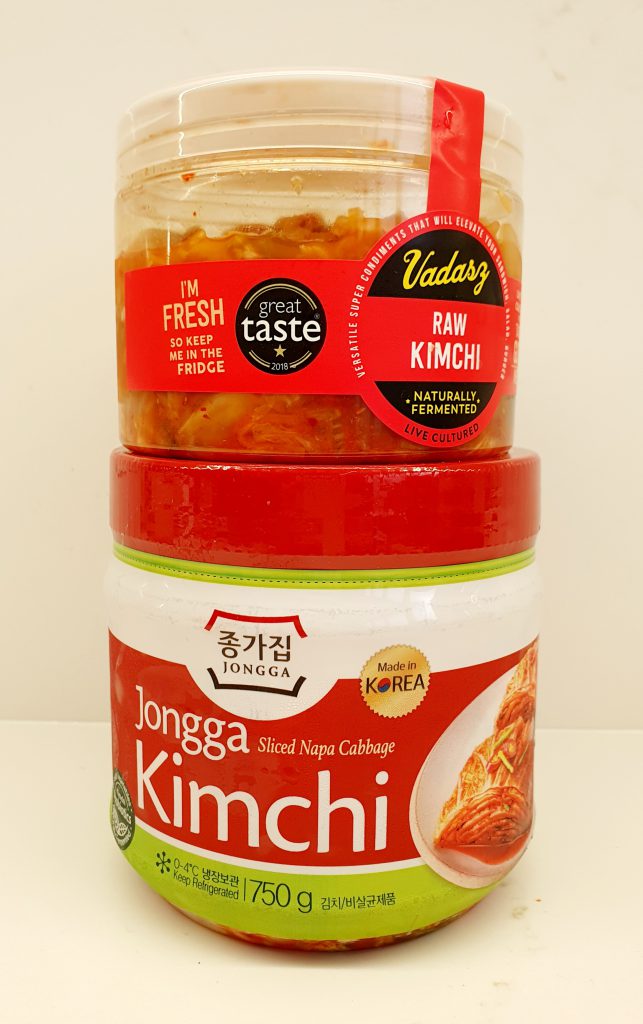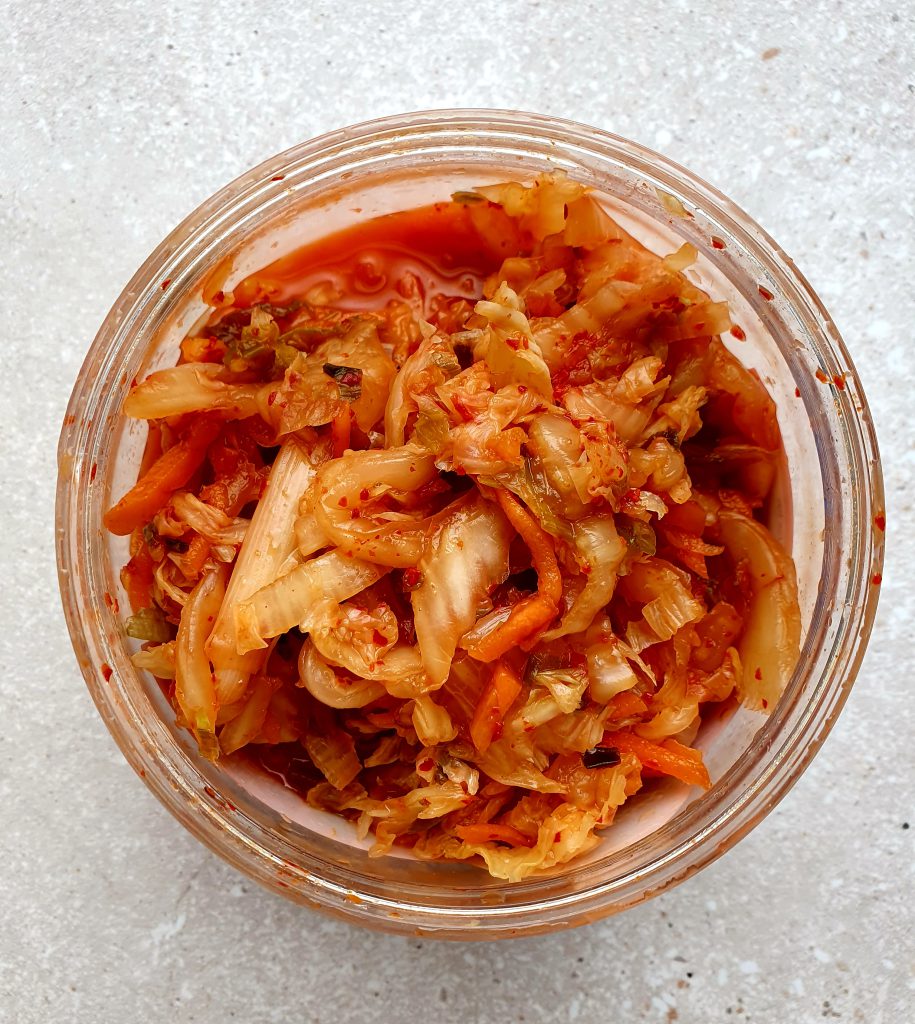 The other additions are garlic, ginger, spring onion and glutinous rice flour. For home-made flour, grind 60 g glutinous rice in the Thermomix for 30 seconds / speed 10. Use half now and keep the other half for another pancake session.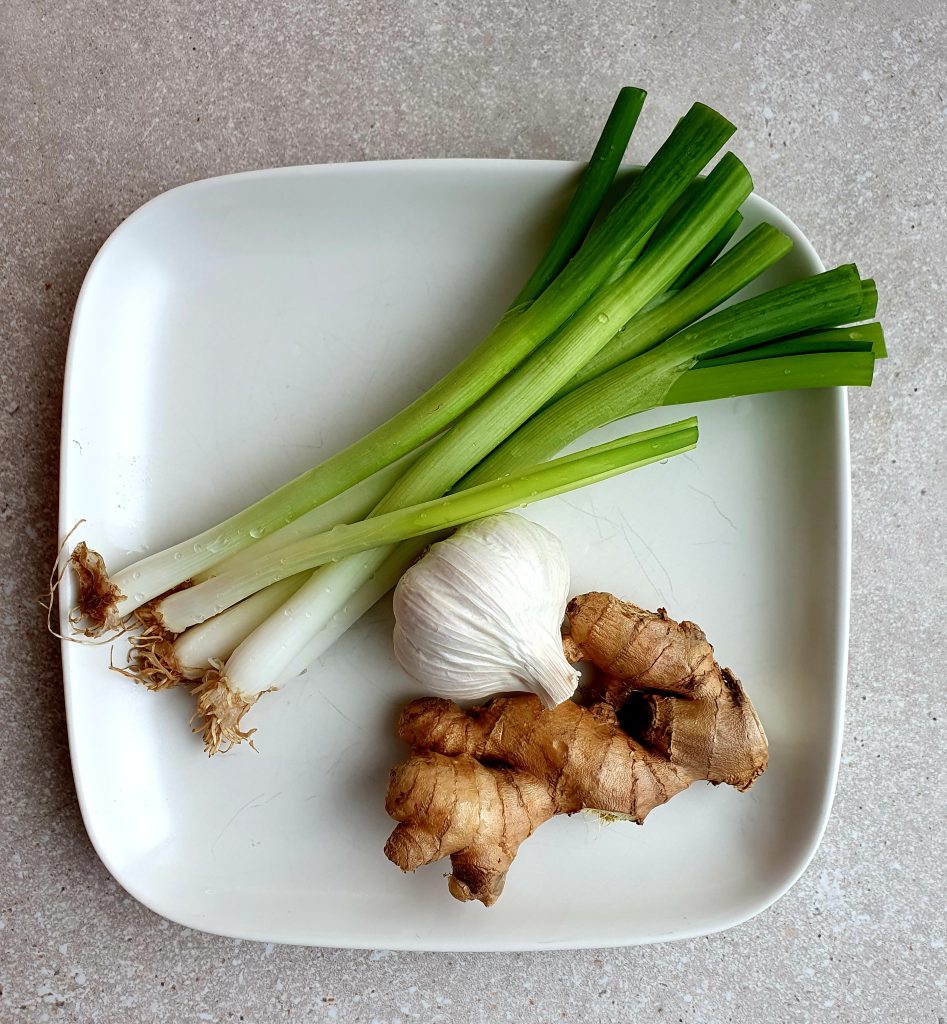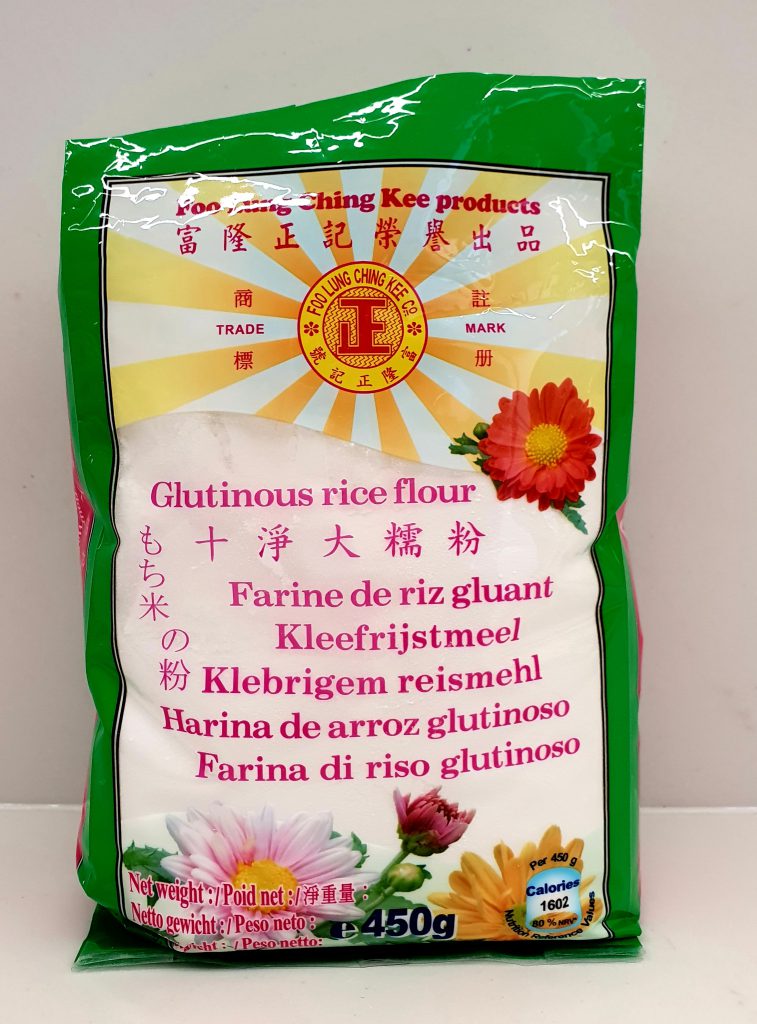 The ground mung beans before and after adding the kimchi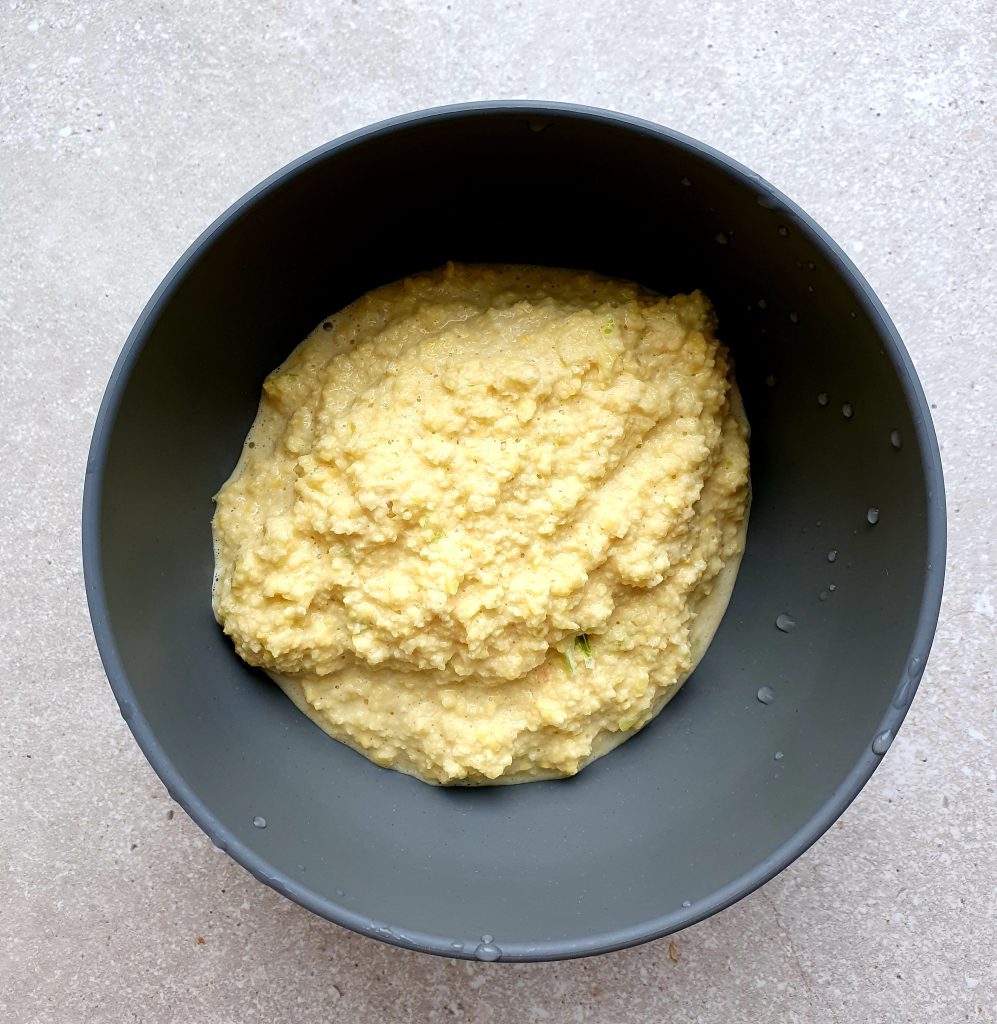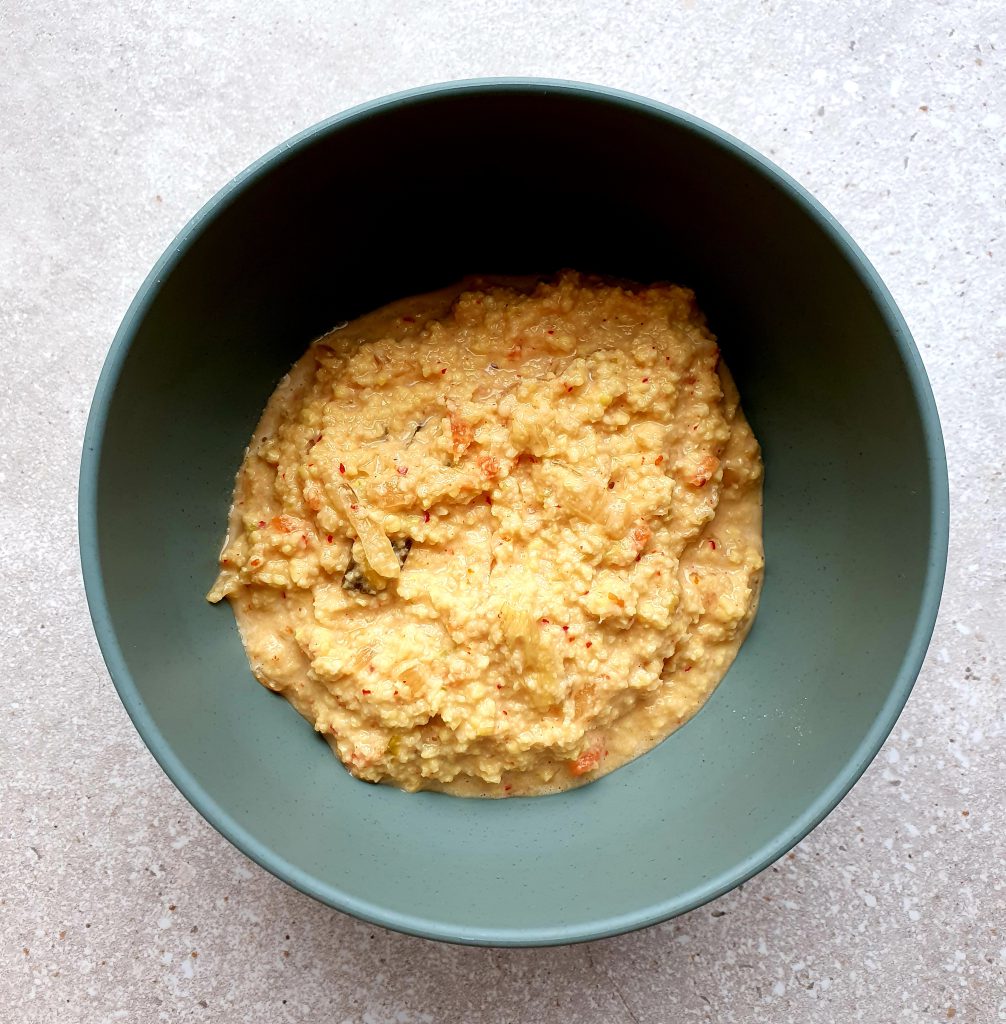 Drain the fried Bindaetteok on some kitchen towel, then place on a lined baking tray for reheating later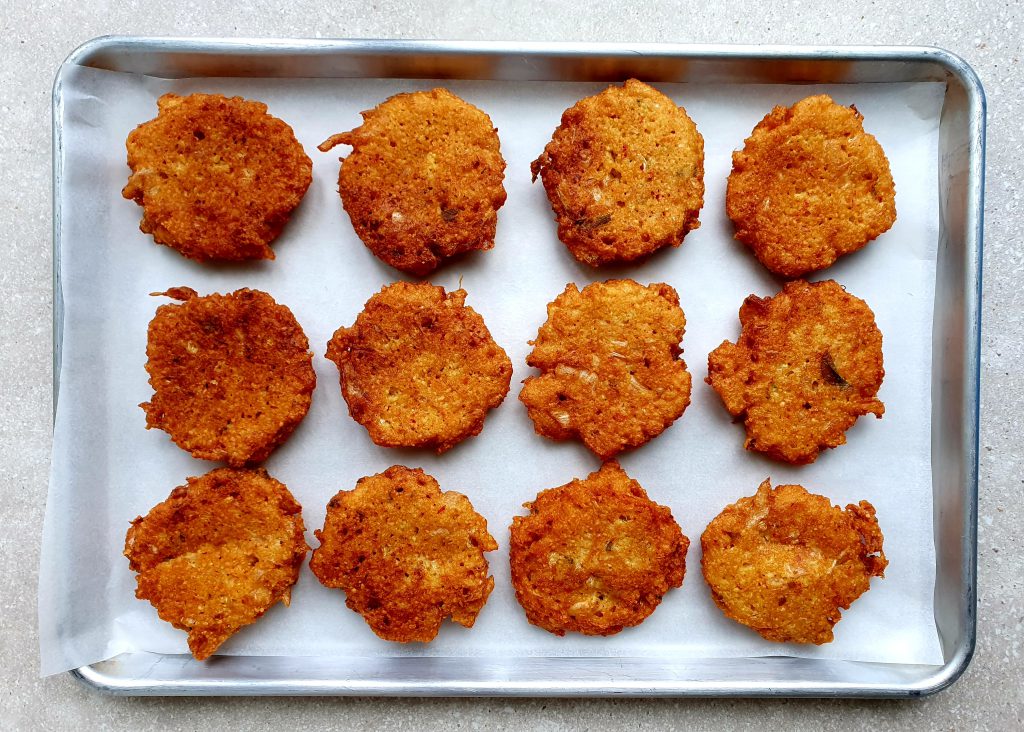 In the end, the pancakes went so quickly I only managed to get one photo on the plate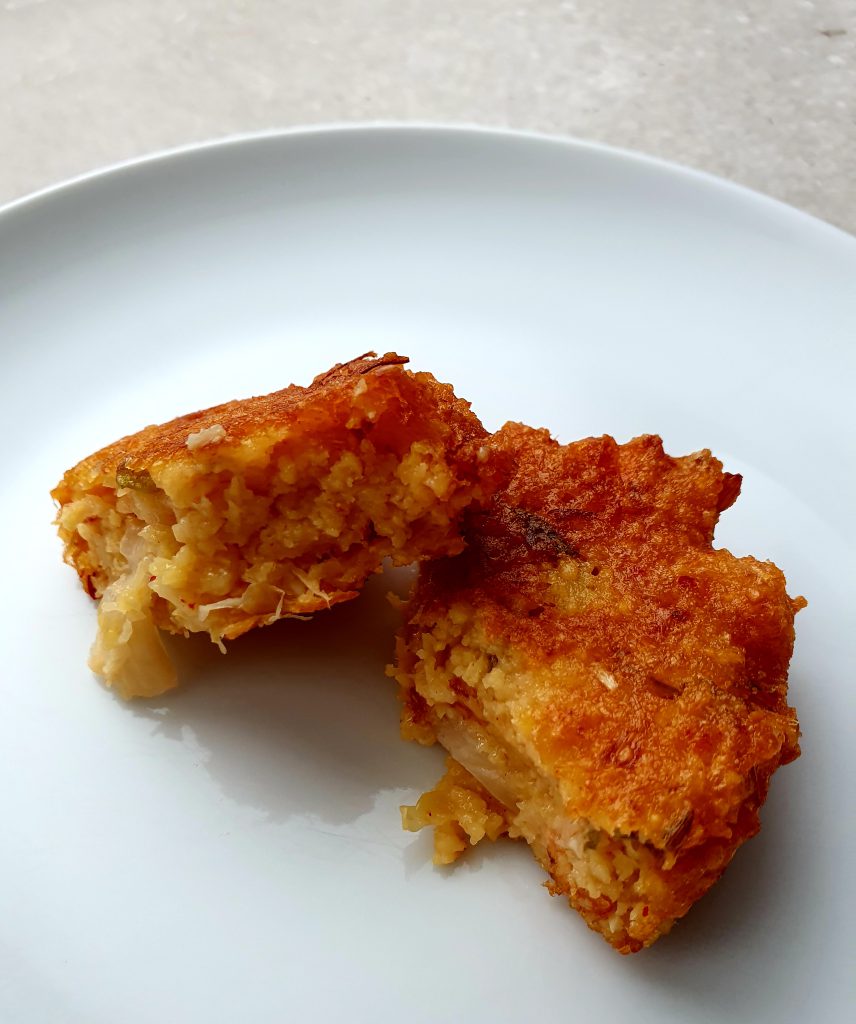 Finally, a confession: I own over a dozen Korean cookbooks, not counting Korean baking cookbooks. The recipe for bindaetteok feature in seven of the books and each writer has their own take and own story on their bindaetteok. After going through all the recipes here is my vegan version, which I am dedicating to Somerset Boy.