To be entirely honest, this is not so much the Hip List as it is a Mind the Hip List.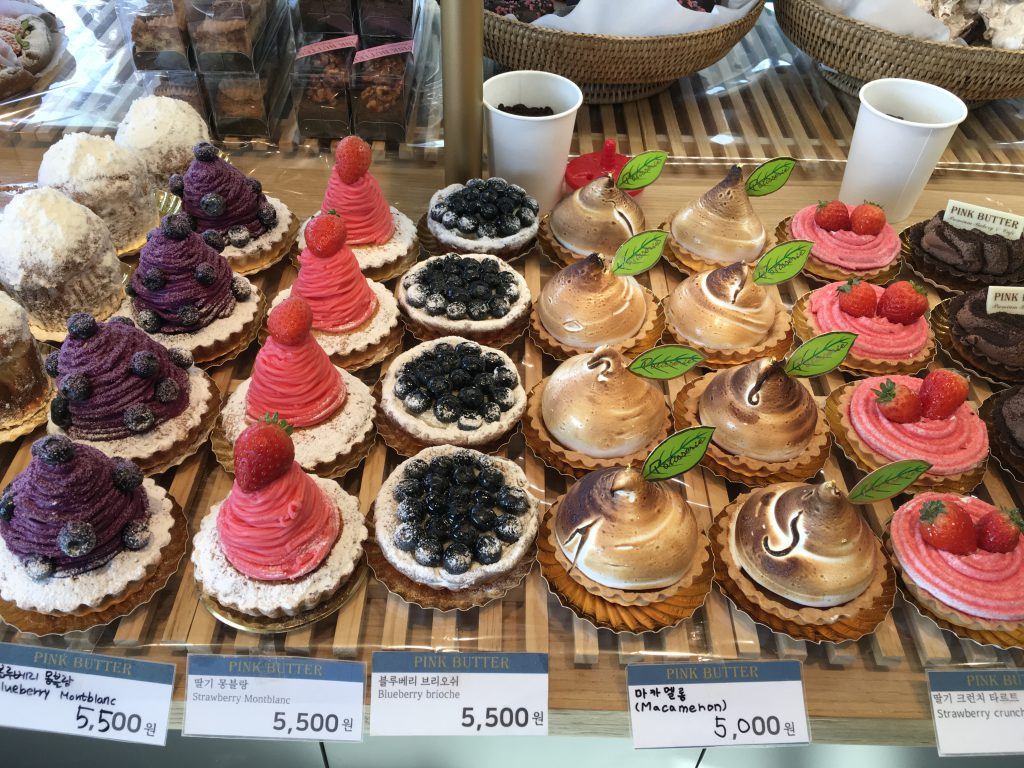 I have reached the age where if anyone asks which one of you really likes carbs, I would raise my hand in complete honesty. I grew up eating rice and noodles and I love bread. Even when faced with a cornucopia of delights like shellfish and meats at a buffet table, I would still head for rice first. My three favourite restaurants this year were Raymond Blanc's Le Manoir aux Quat Saisons, Alain Ducasse at The Dorchester, and STAY restaurant in Signiel Seoul, because the meal started with some exceptional bread.
Needless to say, I am not exactly slim. However, I have been through enough hospital visits to know that the most miserable thing in the world is to want to eat yet to not be able to do so. Some of the experiences were very sad. My thought is: as long as I can walk up a hill, and run for the bus, without panting then I am just going to enjoy the foods I can still enjoy.
There are some things I can now no longer eat without dire consequences to my gut. Happily, I can still eat cake, bread and pastry. To this end, Seoul is delightful. With only six days I hardly had time to scratch the surface. Here are photos from two places we visited.
I am slightly embarrassed to be writing about Passion 5 again but it is a wondrous place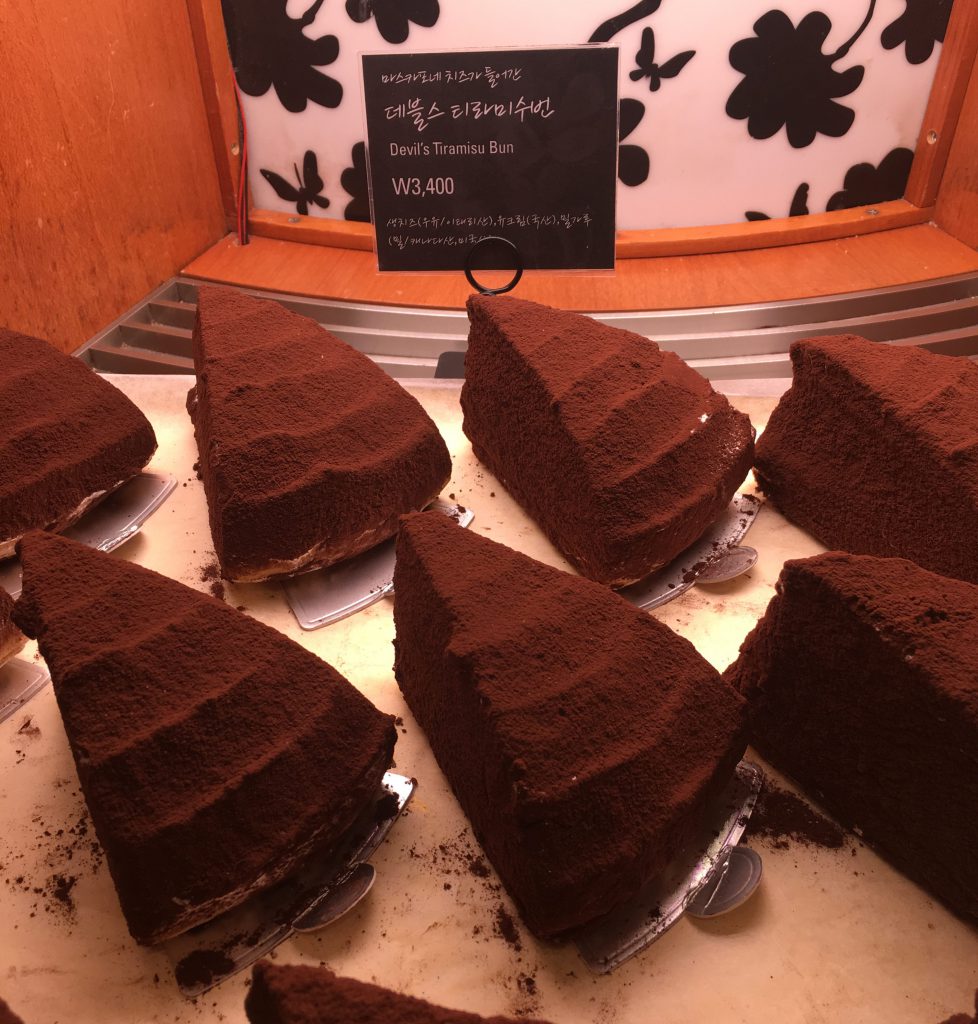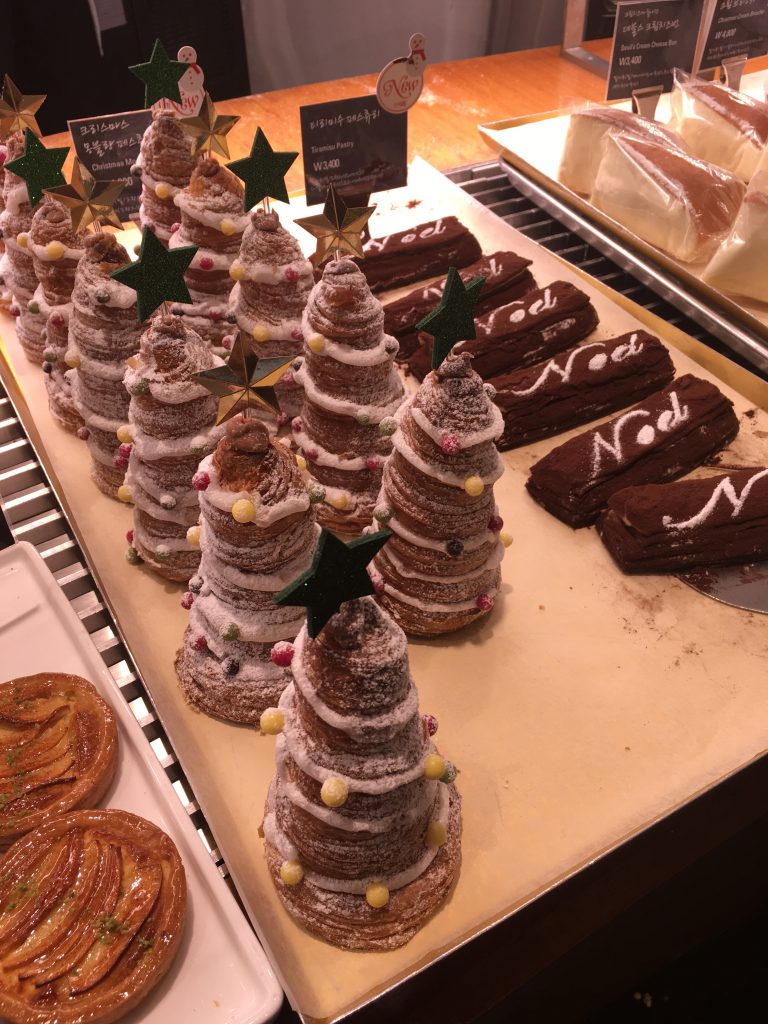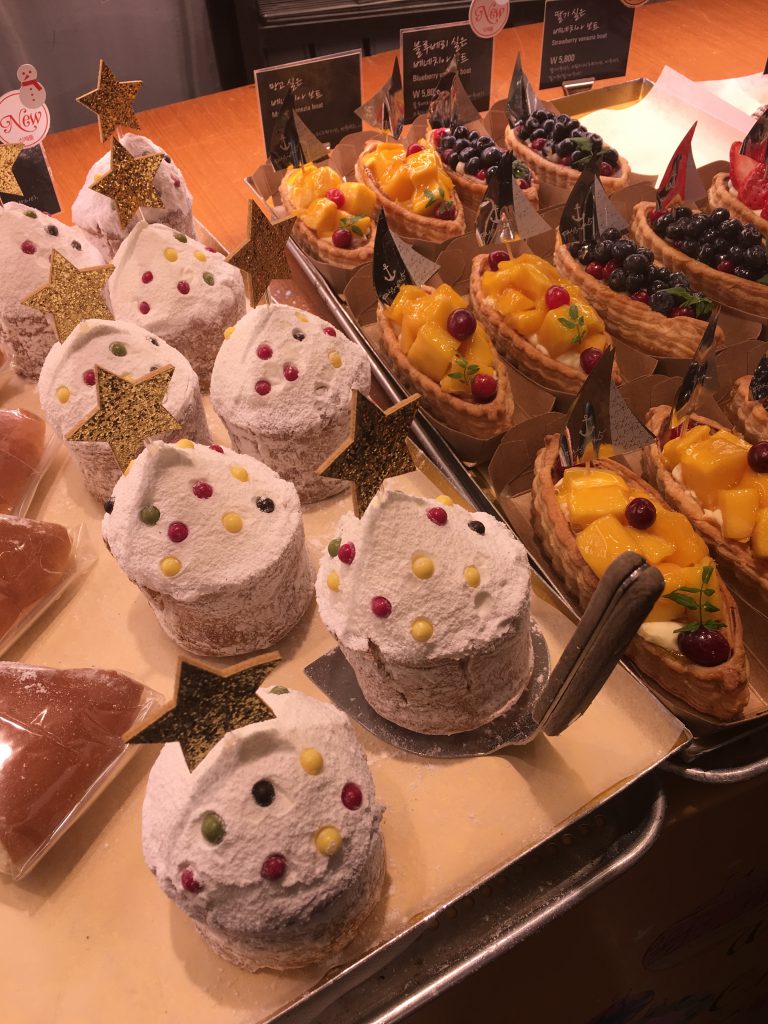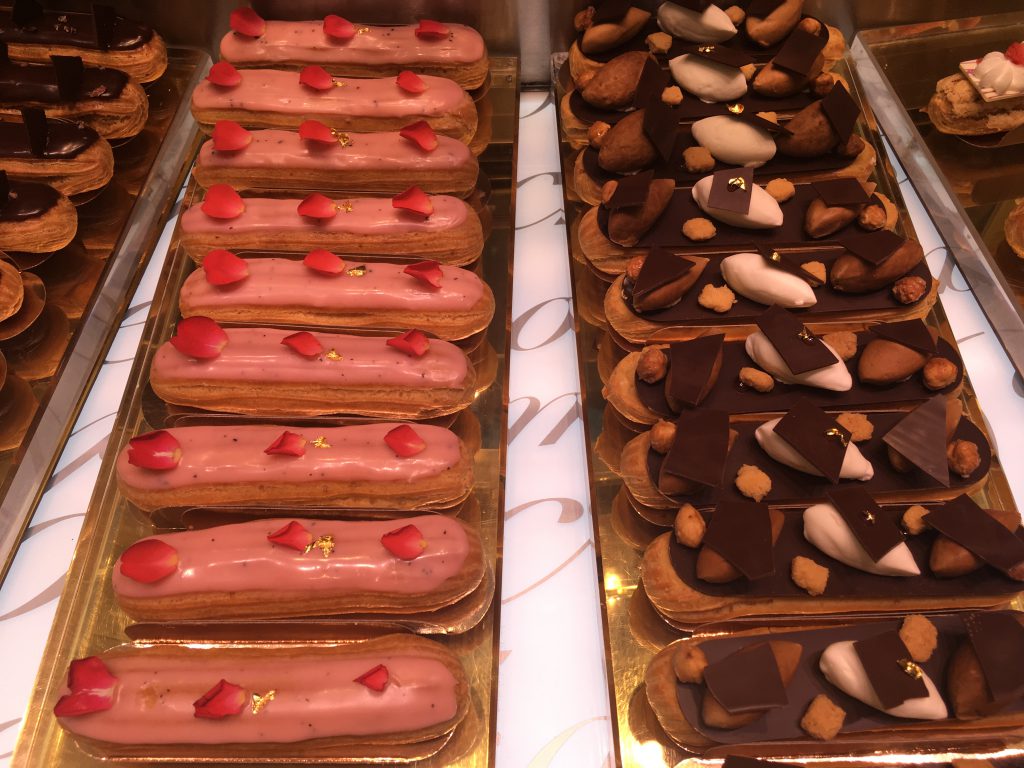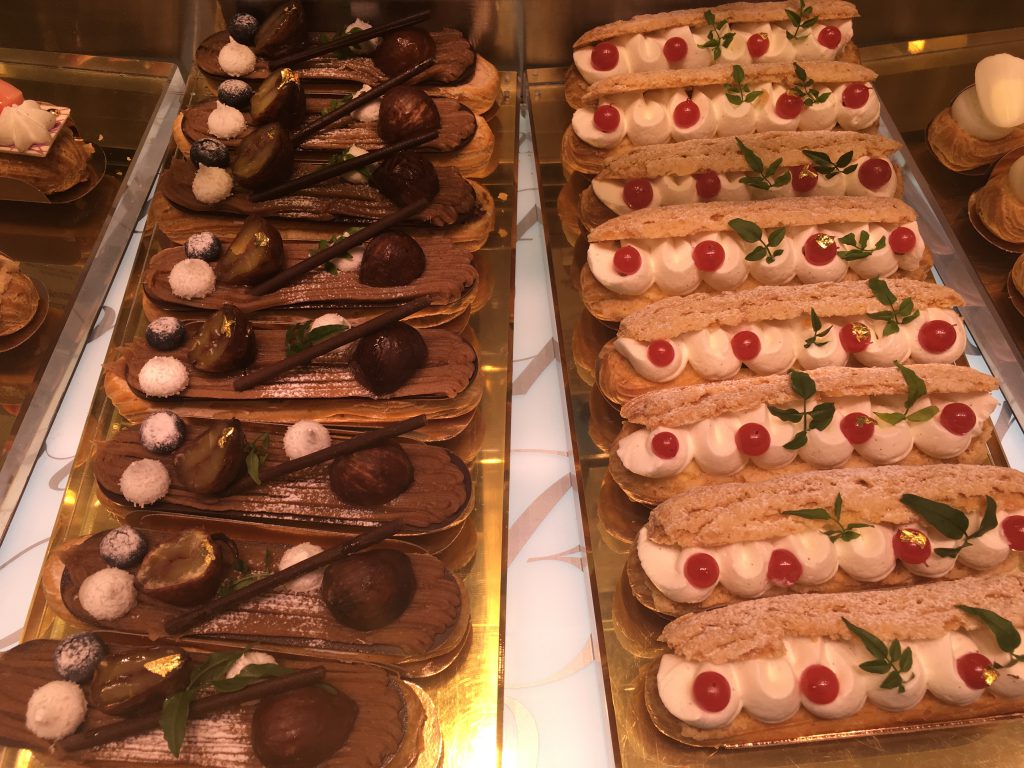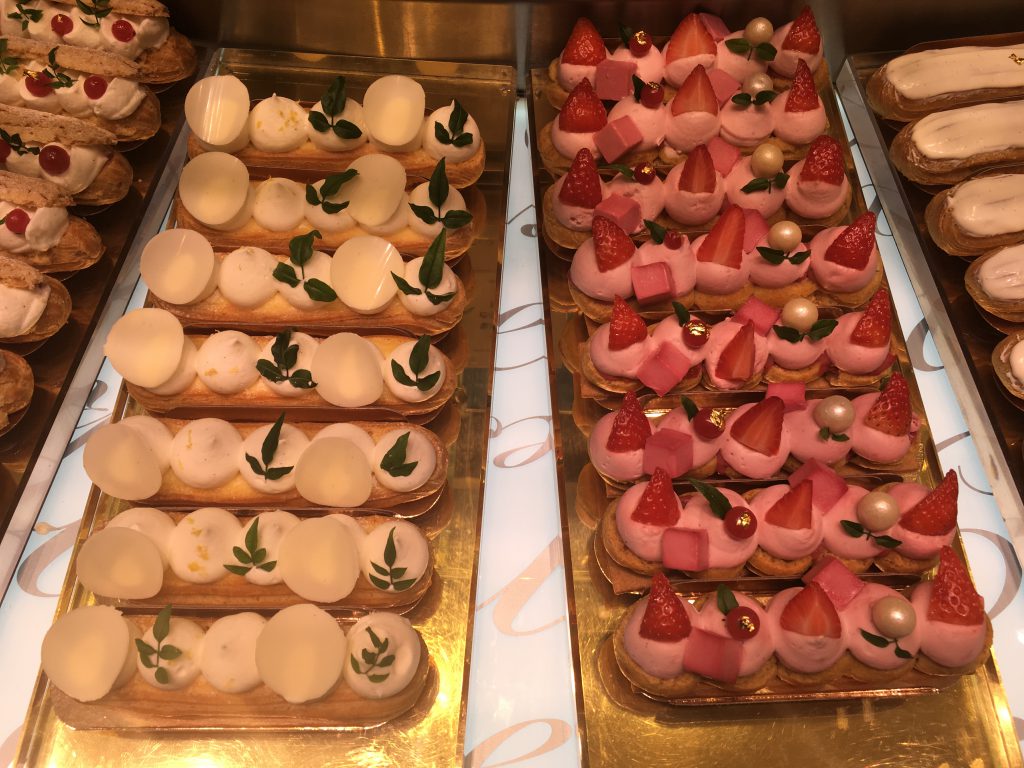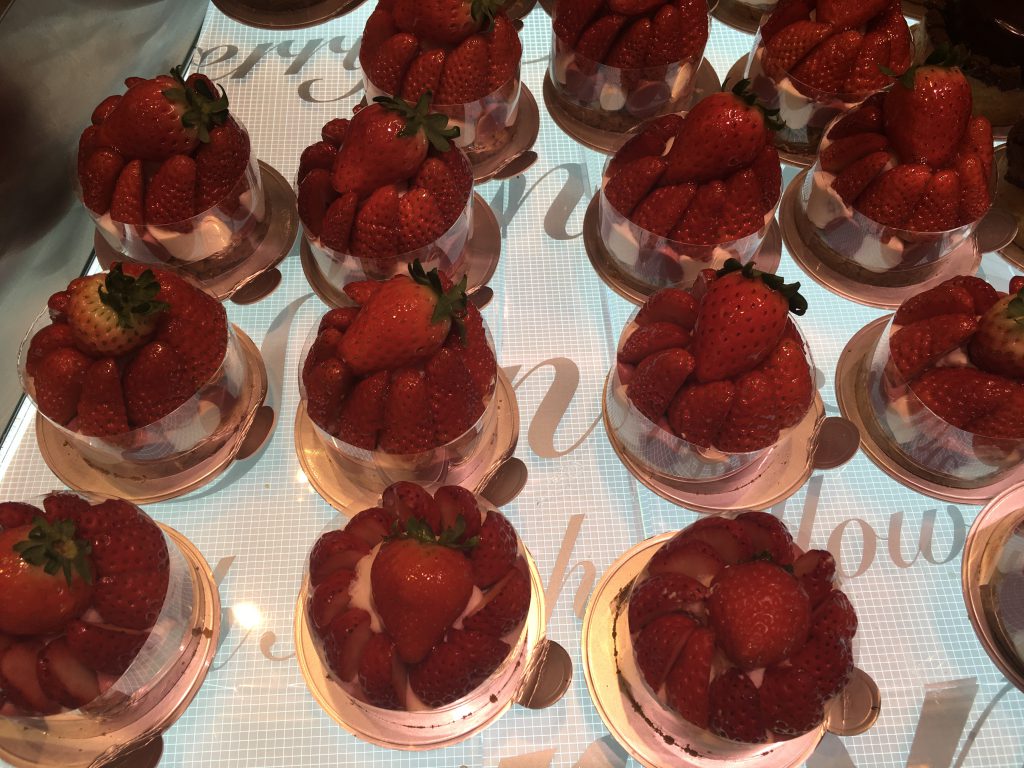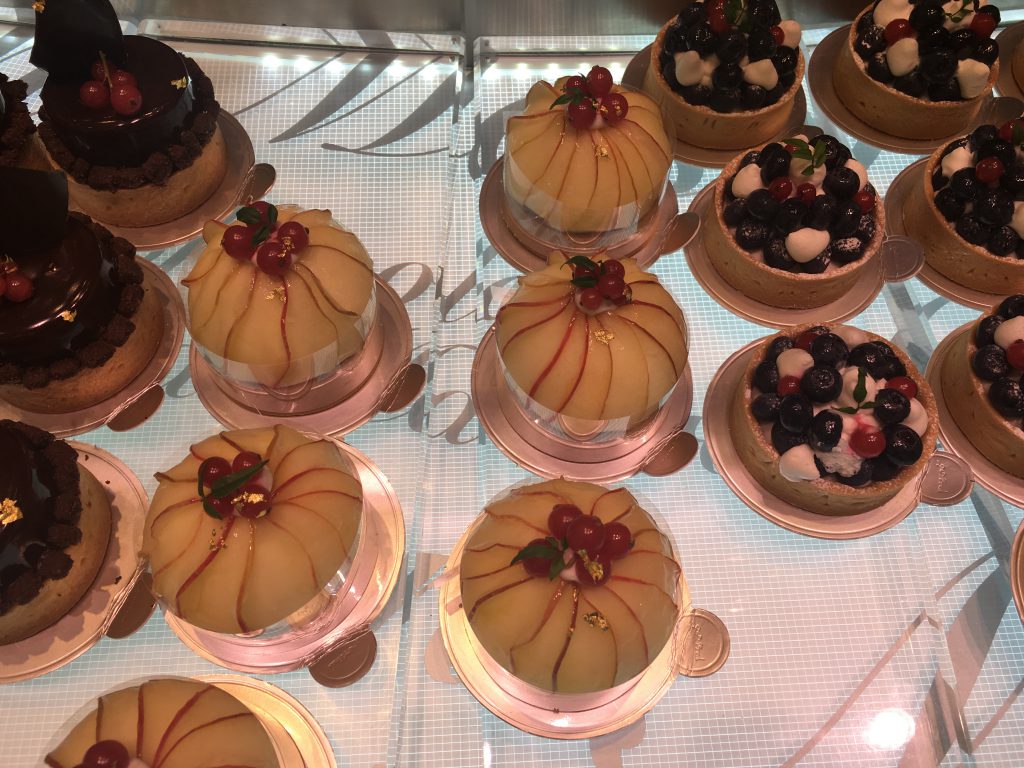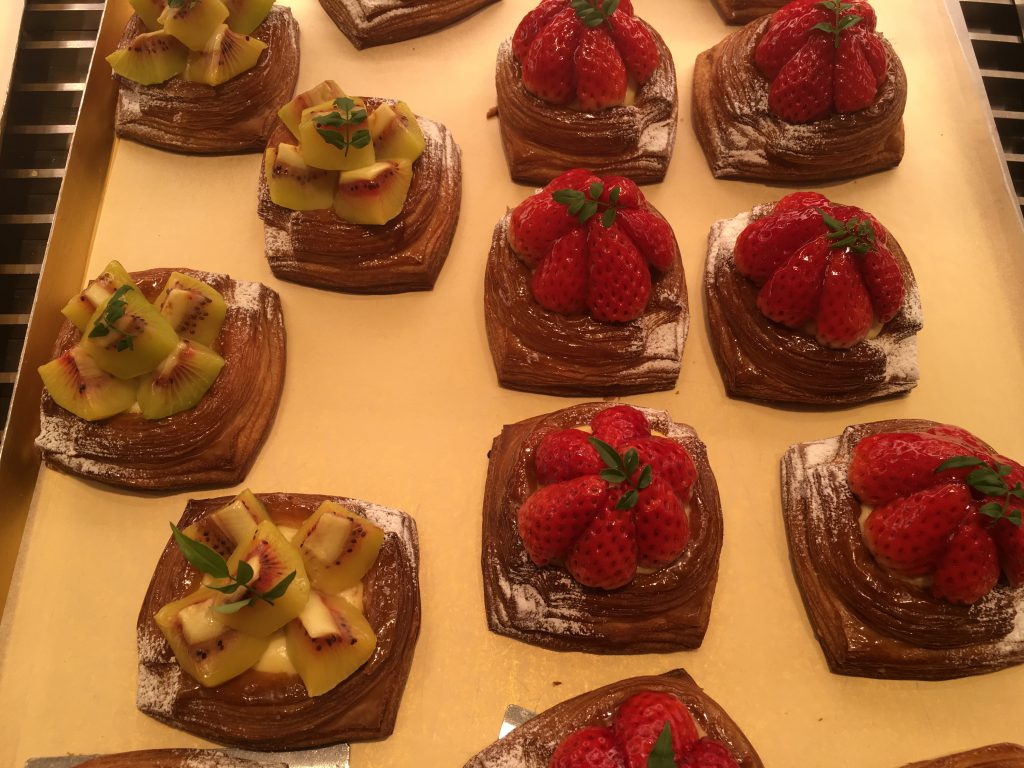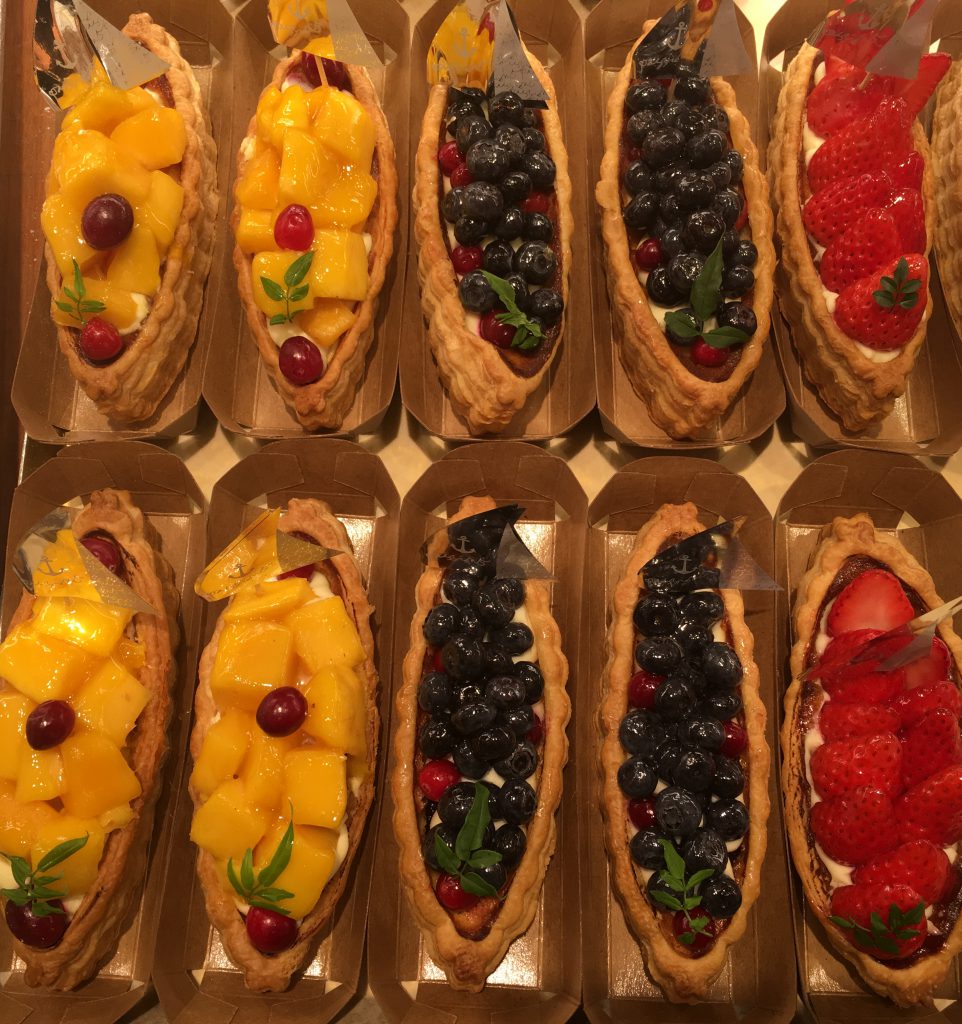 We discovered a new bakery called Pink Butter in Samcheong-dong, one of our favourite areas of Seoul. I did not actually eat anything here as we ran out of time and tummy space. However I thought I should still feature the photos as a reminder of what was available on the day we visited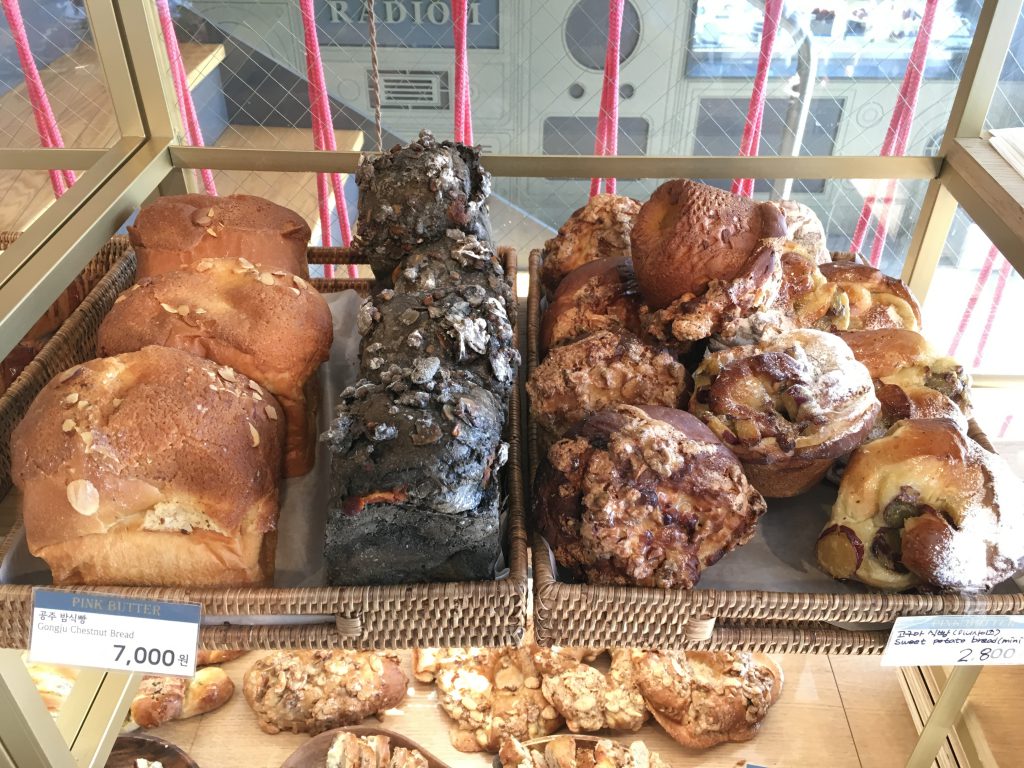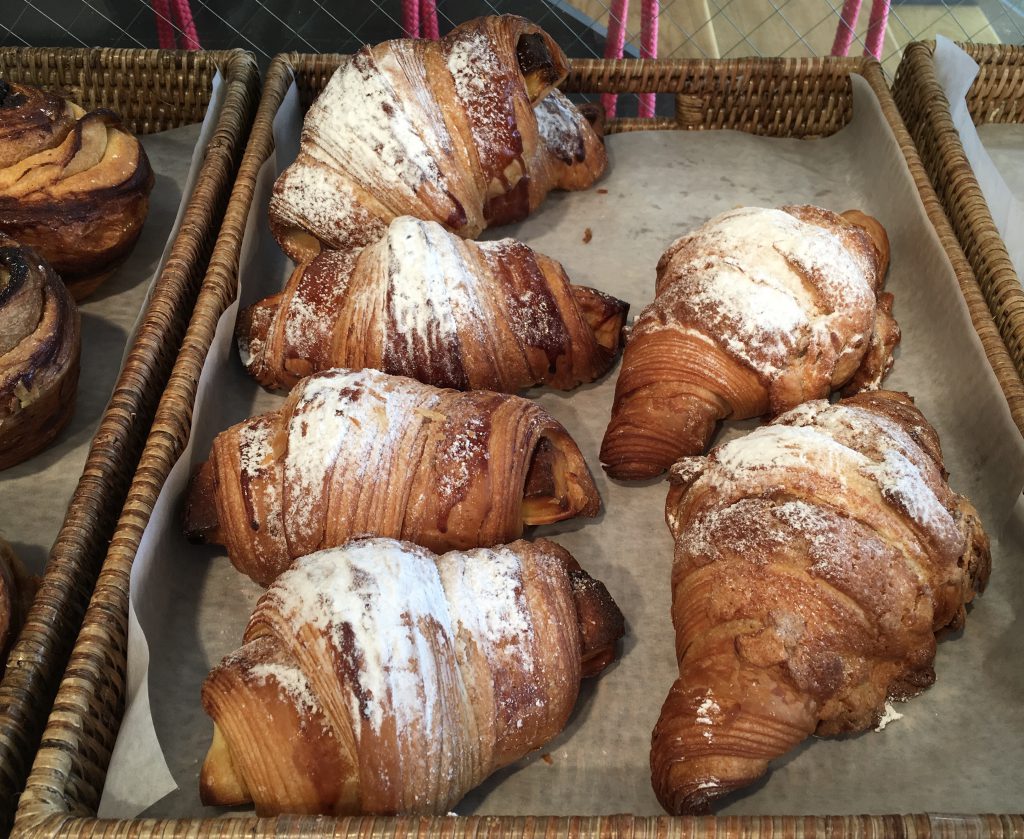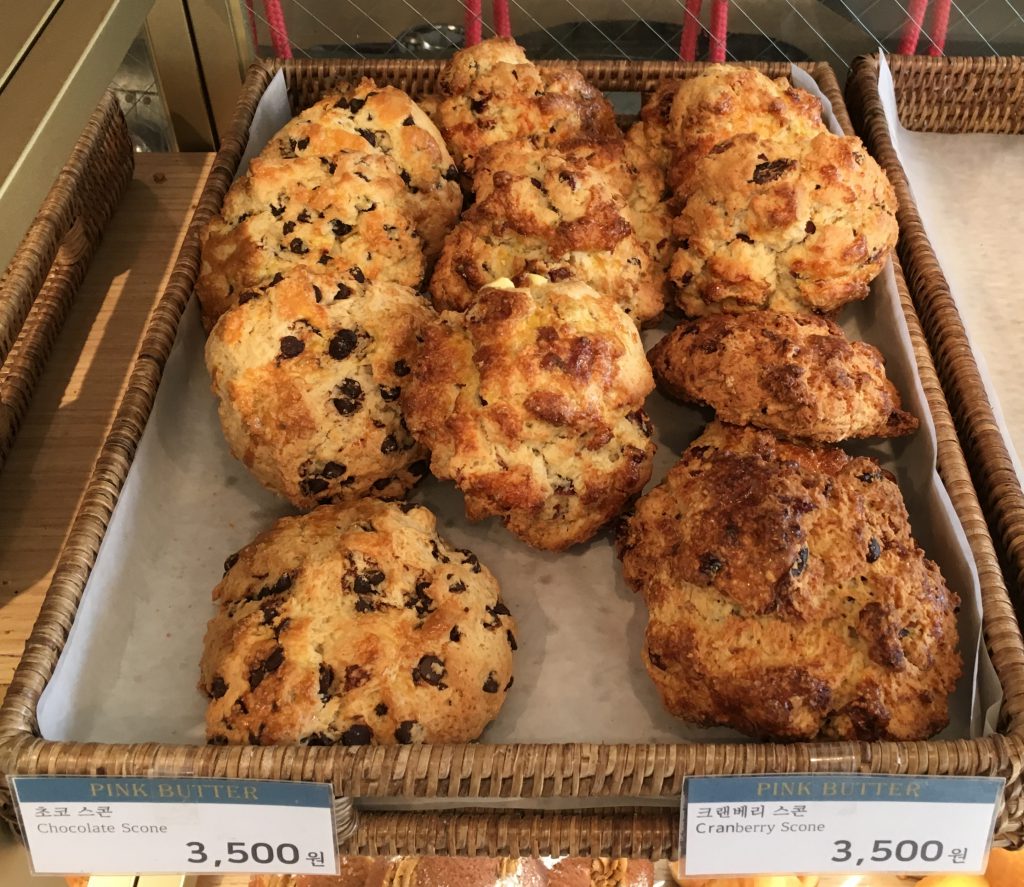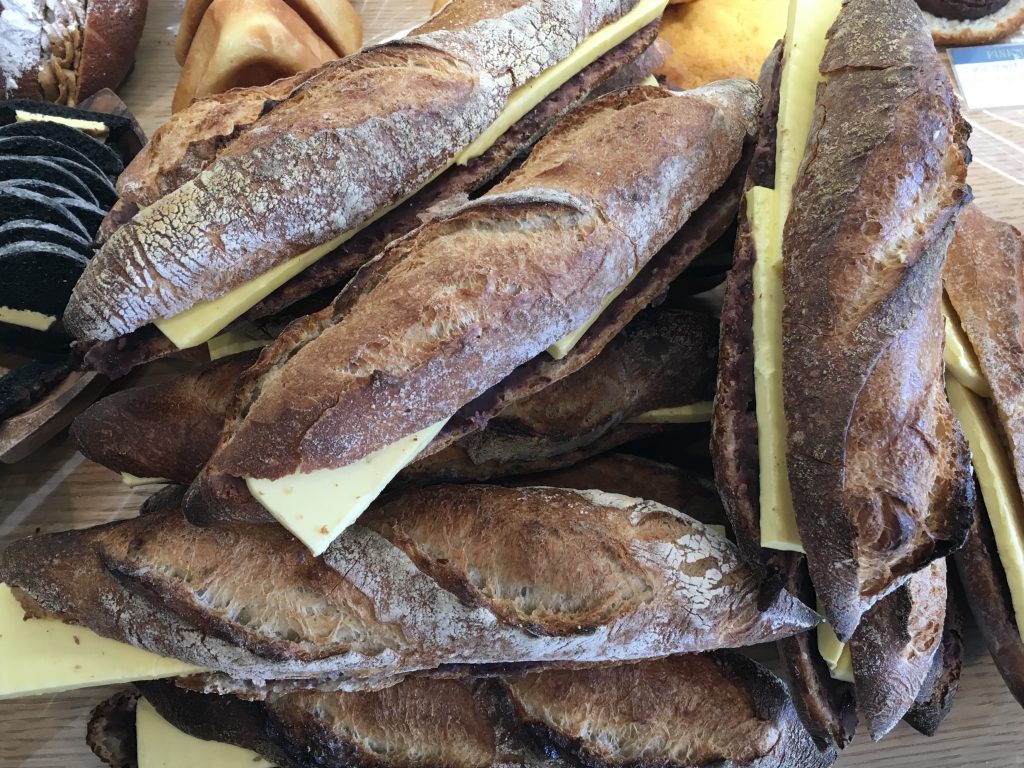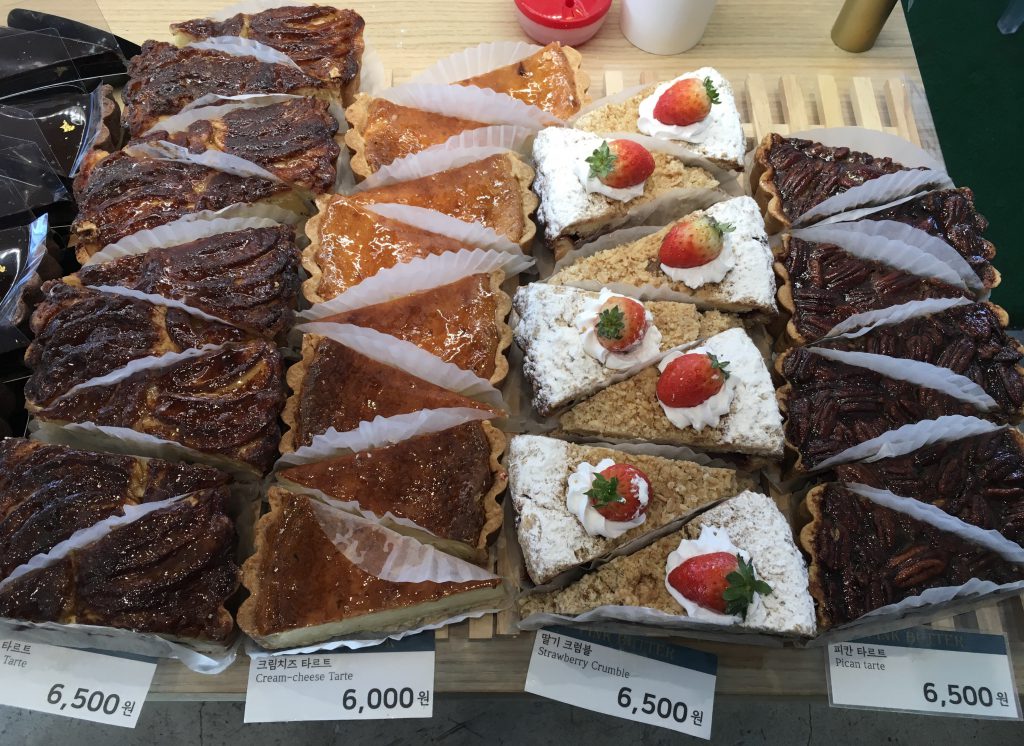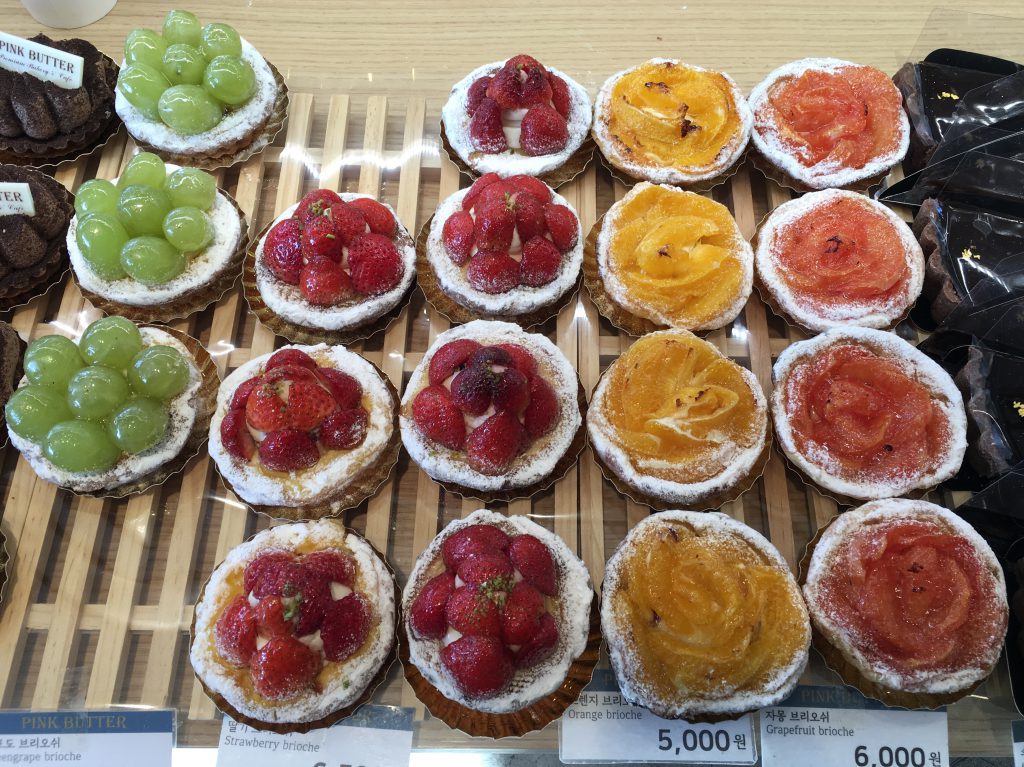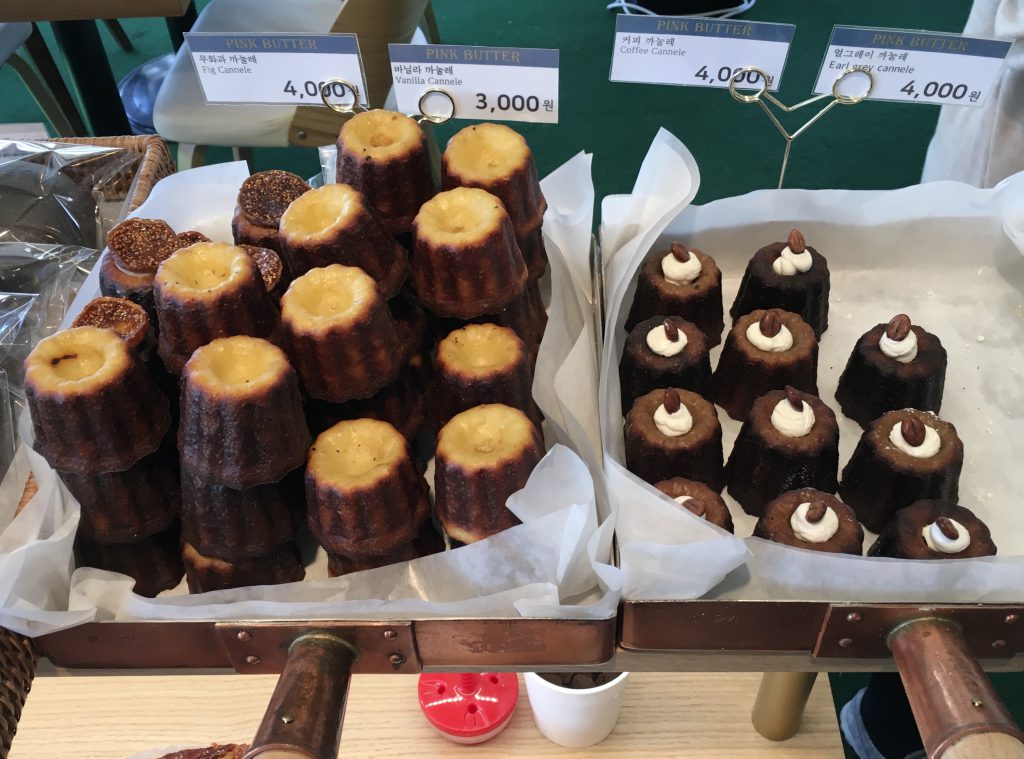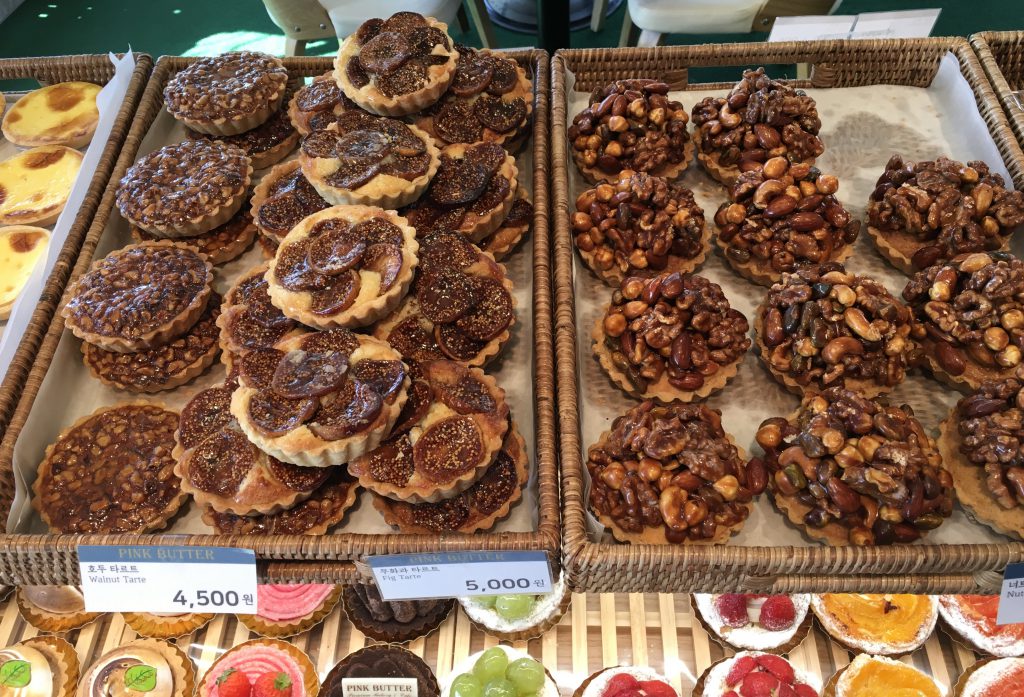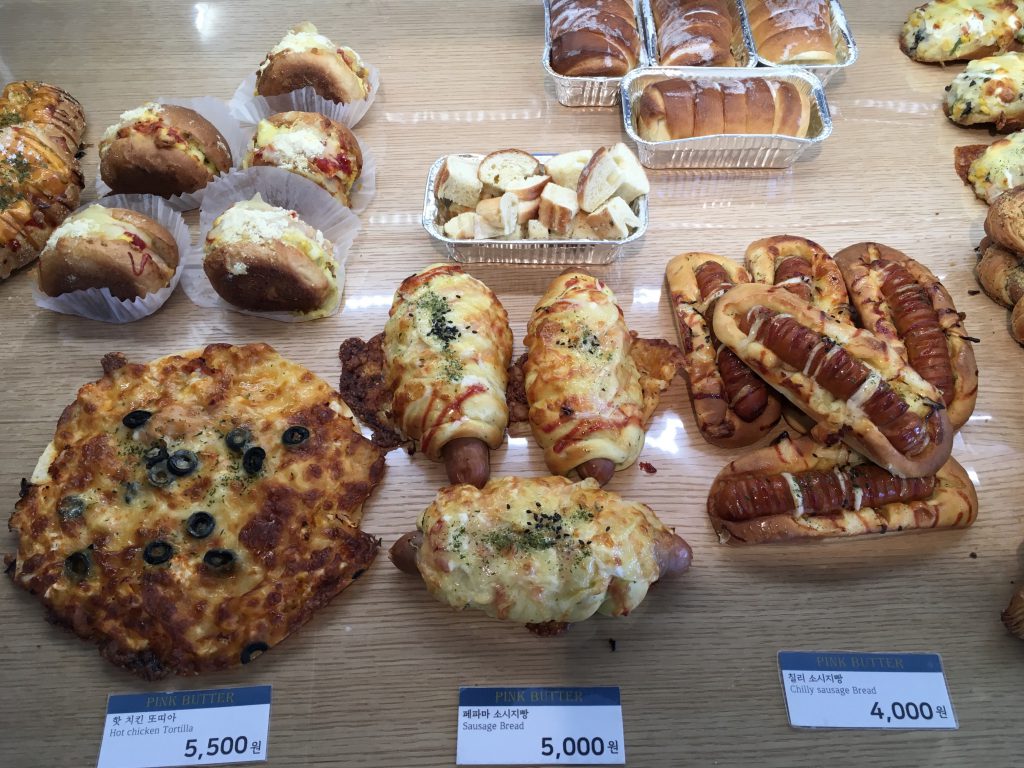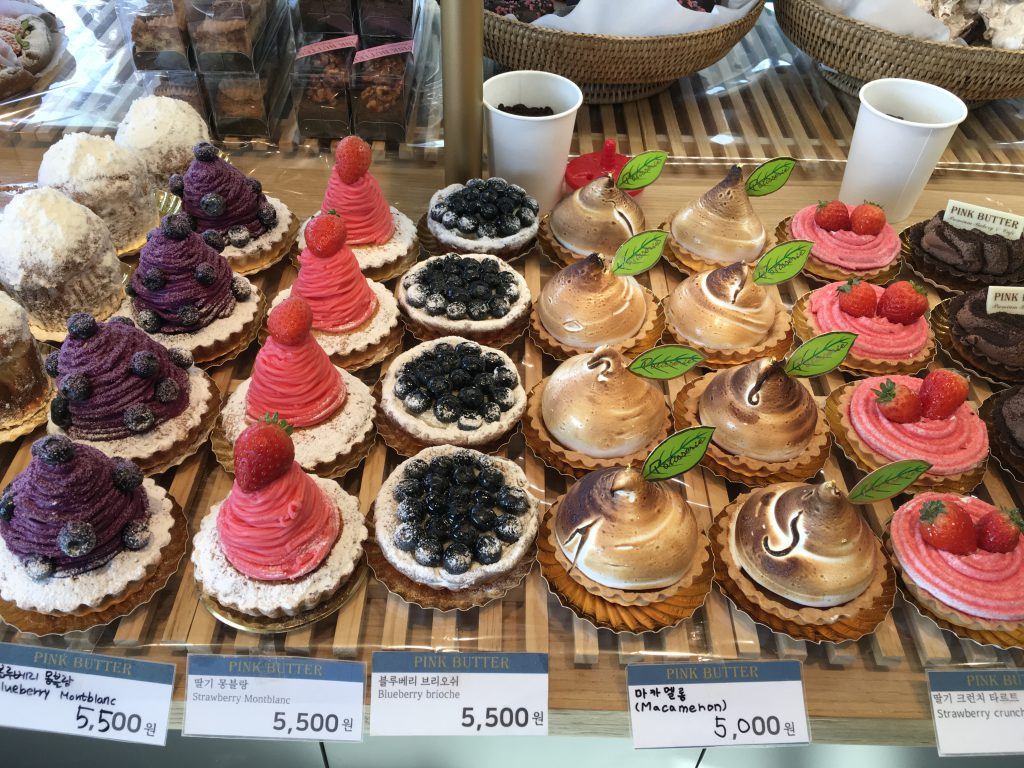 Two more places to mention around the area of our hotel which is near the main Sejong Daero.
One is the Secret Bar at the Four Seasons Hotel. Since its location is a secret you need to head to the Lower Ground Floor and walk around until you find the unmarked door. I do not drink much alcohol and cannot see the point of cocktails, so the whole concept is slightly lost on me. Nevertheless it is still a fun thing to attempt once.
The other place is Jongno Bindaetteok which is on a side street filled with local eateries and noraebang. Bindaetteok is made from soaked and ground dried mung beans, mixed with beanspouts, chopped kimchi and meat or shellfish before being shallow fried until crisp and crunchy on the outside, and soft and yielding on the inside. This restaurant is always packed so if you need to share tables just tuck your elbows in, smile politely and order as quickly as you can. The minimum order for bindaetteok is two pieces but you can mix and match between the three types of filling.
Each bindaetteok at Jongno Bindaetteok is around the size of a discus ie 18 – 22 cm, so you need to come hungry or with lots of friends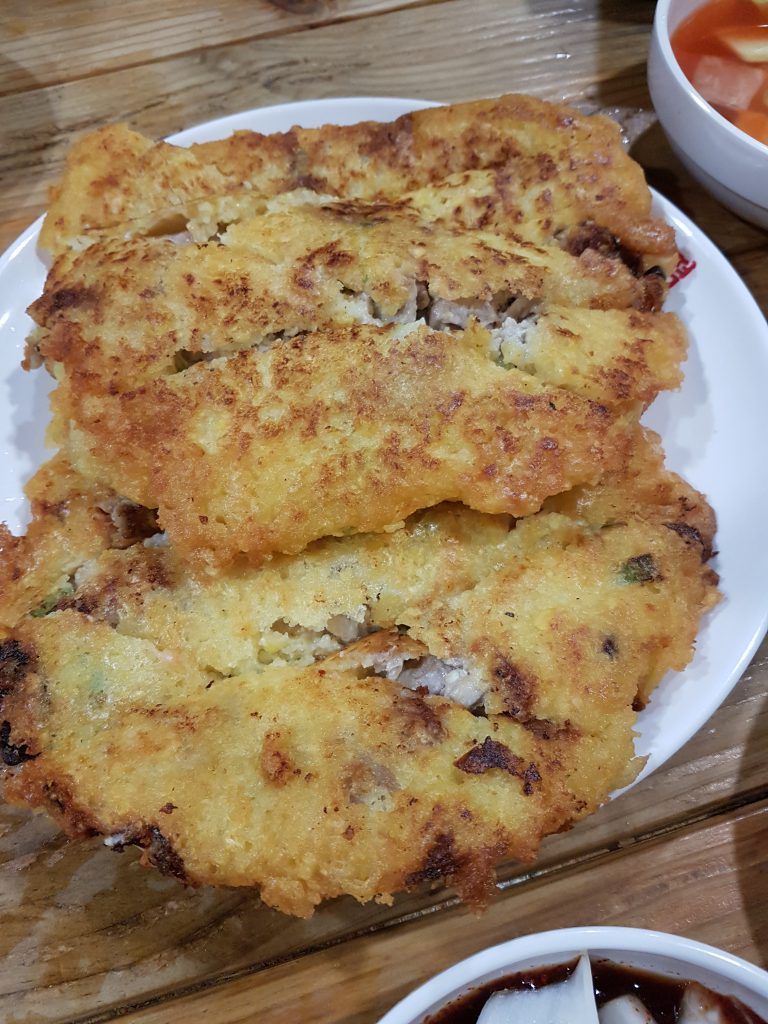 The simple menu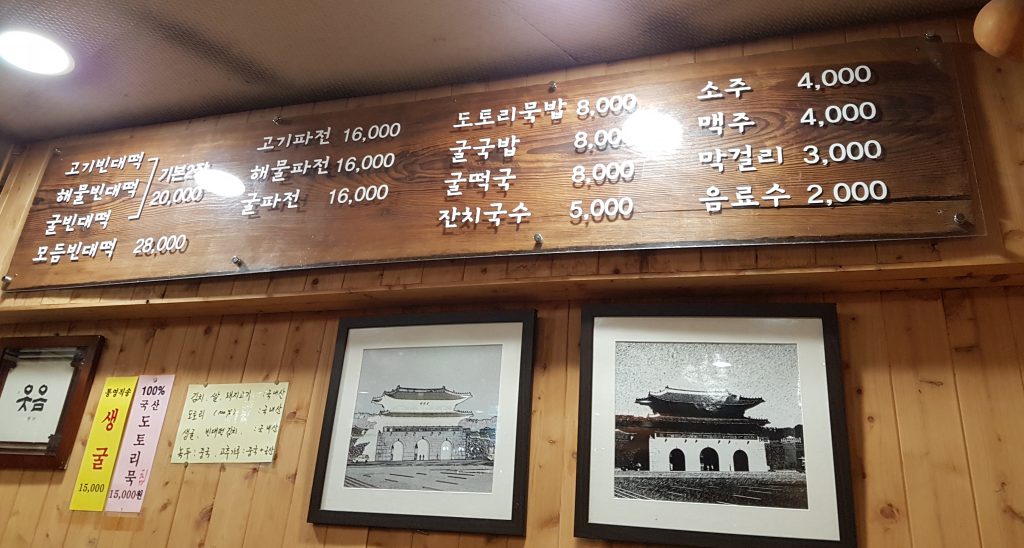 So you know what to order, here is the English translation of the Jongno Bindaetteok menu. The reason for this is that I used to struggle with local menus and the frustration at wanting to eat something but not knowing how to order spurred me on to work hard at my Korean. All prices are in Korean Won.
First column – bindaetteok for sharing
고기빈대떡 gogi bindaetteok:  bindaetteok with meat
해물빈대떡 haemul bindaetteok: bindaetteok with seafood
굴빈대떡 kul bindaetteok: bindaetteok with oysters
(all the above 기본 2 장 20,000: 2 pieces for 20,000)
모듬빈대떡 modeuum bindaetteok 28,000: a large platter of three types of the above bindaetteok
Second column – pancakes for sharing
고기파전 16,000 gogi pajeon: pancakes with meat
해물파전 16,000 haemul pajeon: pancakes with seafood
굴파전 16,000 kul pajeon: pancakes with oysters
Third column – individual portions of rice and noodles
도토리묵밥 8,000 dotorimukbap: rice with acorn jelly in broth
굴국밥 8,000 kulgukbap: oyster and rice soup
굴떡밥 8,000 oysters with rice cakes
잔치국수 5,000 janchiguksu: banquet noodles, because noodles were often served at important occasions like weddings and birthdays
Fourth column – drinks
소주 4,000 soju: the national alcoholic drink
맥주 4,000 maekju: beer
막걸리 3,000 makgeolli: milky and slightly sparkling rice wine. I once described it as tasting like slightly fermented Riesling.
음료수 2,000 eumryosu: general soft drinks
Addresses:
Passion 5: 272 Itaewon-ro, Hannam-dong, Yongsan-gu, Seoul.
Pink Butter Bakery is located in Cafe Radio M: 37-2, Samcheong-ro 2-gil, Sogyeok-dong, Jongno-gu, Seoul. This is very close to the Seoul (Gwanghwamun) branch of the National Museum of Modern and Contemporary Art, Korea. I had not realised that Radio M featured in one of my favourite dramas of the year What's Wrong with Secretary Kim?
Four Seasons Hotel Seoul: Saemunan-ro, Sinmunno il-ga, Jongno-gu, Seoul.
Jongno Bindaetteok's business card states their address as 15-7 Dangju-dong, Jongno-gu. More specifically, take the Number 5 subway line to Gwanghwamun and leave by exit 8. It is behind Sejong Cultural Centre. I did not take many photos but here is a really good post from Big Food Small World dated June 2011.
To end this fattening post, here is a photo of the Korean Fried Chicken we had on our final night. By some clever sleuth work we located a branch of Kyochon in the Hongik University area aka Hongdae, We figured, where would students want to hang out after a long day at the library? Whilst eating the chicken I thought back to one of our many previous fried chicken meals. Sadly ChiMc at Gran Seoul has closed its door for business but Gyeyeolsa in Buam-dong is still around. So much fried chicken, so little time.