Diary: sometime towards the end of our first week in Seoul.
I am losing track of time…
…and also losing track of meals.
According to a helpful leaflet I picked up at a local exhibition, Admiral Yi Sunshin's hobby was 'keeping a diary' which was also his personal treasure: My personal history that contains all of my precious moments and feelings.
His favourite food is listed as clear soup, pan-fried beef and fish, salted and fermented kimchi pickled in soy sauce.
Readers of this blog, which doubles up as a storage for recipes as well as a family diary, will know that I eat most things. However on any given moment, my favourite really is rice and chicken.
Koreans love their beef and pork and it can seem difficult to find chicken here unless it is fried chicken. Indeed this post is mainly about the new KFC for those of us who grew up in the Kentucky era. Big K now stands proudly for Korea and is affixed to anything hip, cool, dynamic and forward thinking: K-pop, K-drama, K-food, K-film, K-travel…
We start with Korean Fried Chicken. One favourite place in Seoul is 계열사 Gyeyeolsa in Buam-dong. It is open all week except on Mondays, from 12 pm to midnight. I like getting here by bus because the address is a bit vague. All it says on the business card is Seoul, Jongno-Gu, Buam-dong 258-3. Telephone: 02 391 3566.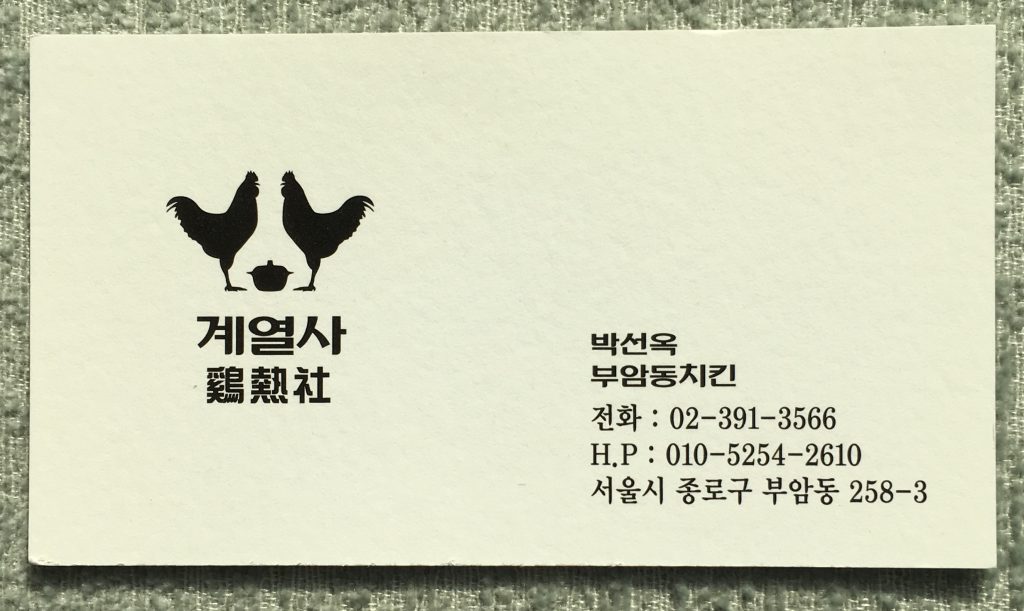 To get here by public transport, show the taxi driver the business card above or use Citymapper Seoul to link you to a bus route. The bus stop you need is called Buamdong Community Centre and some of the buses we know that take you here are 7010, 7012 and 7022.
As it happens, Gyeyeolsa is right opposite the famous 자하손만두 Jaha Sonmandu (dumplings) restaurant, whose address is equally vague at Buam-dong 245-2.
Gyeyeolsa serves only two things: plain fried chicken and and soft noodles accompanied by a green salad with apples and snails dressed with a spicy sauce.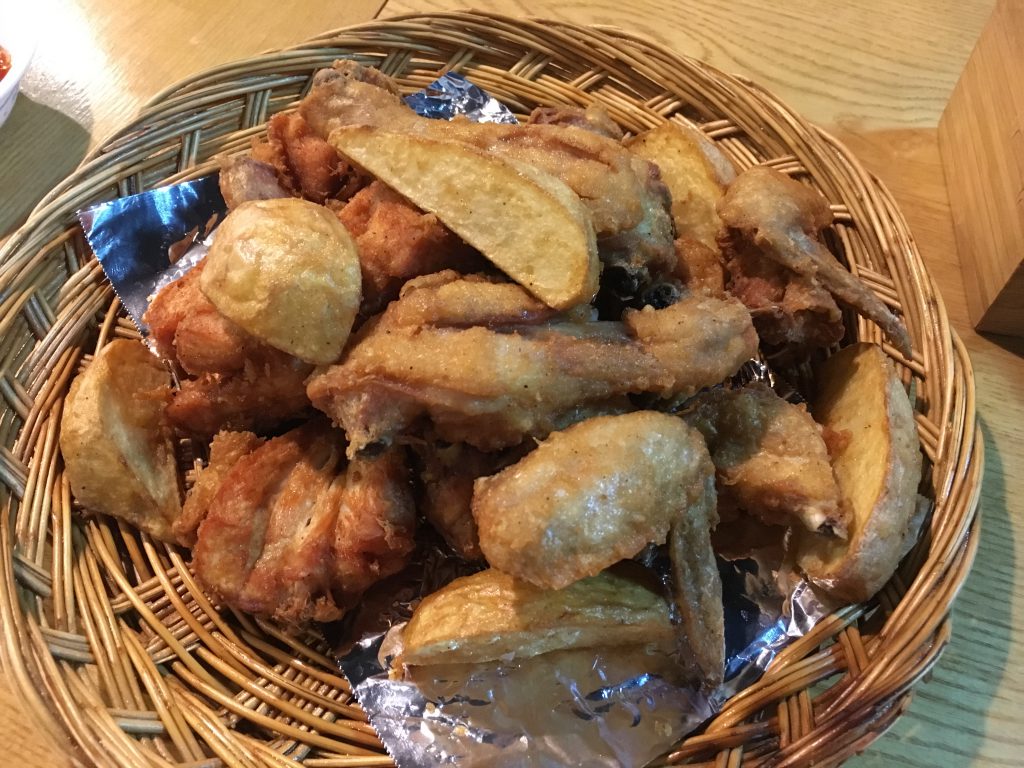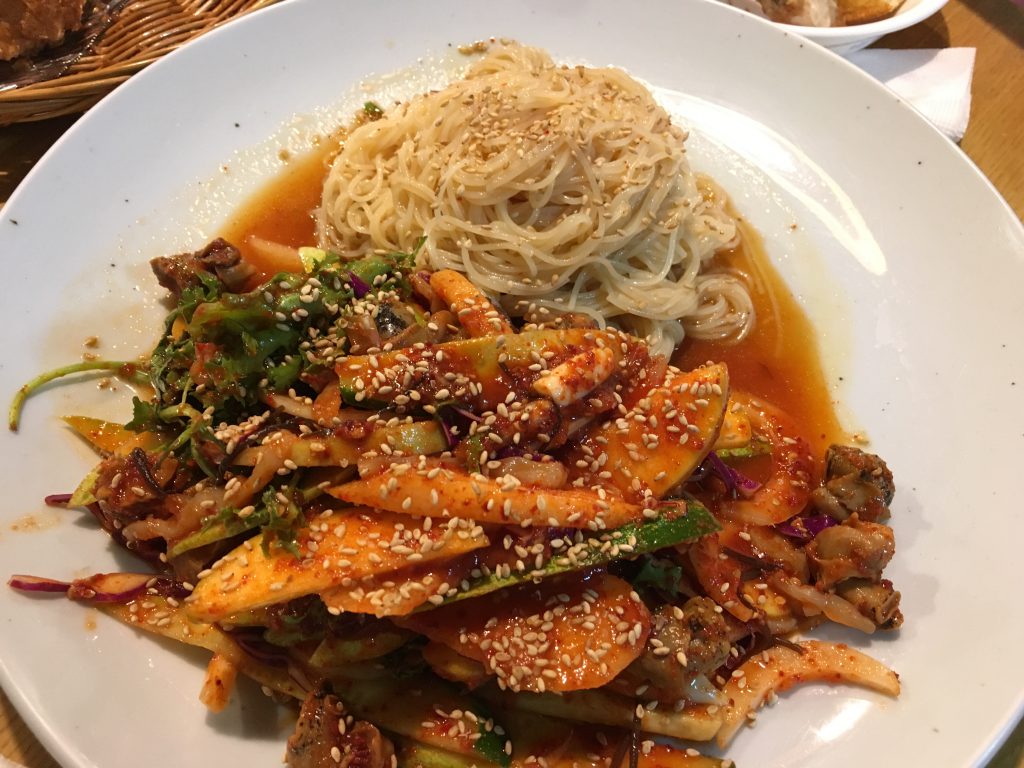 Another fried chicken place we rate highly is 치맥 Chi Mc which is a clever play on the words Chicken and Maekju (beer). Unlike Gyeyeolsa, Chi Mc serves fried chicken plain or coated with a sauce, as well as other snacks like grilled squid. And beer, of course. Their chips are first rate.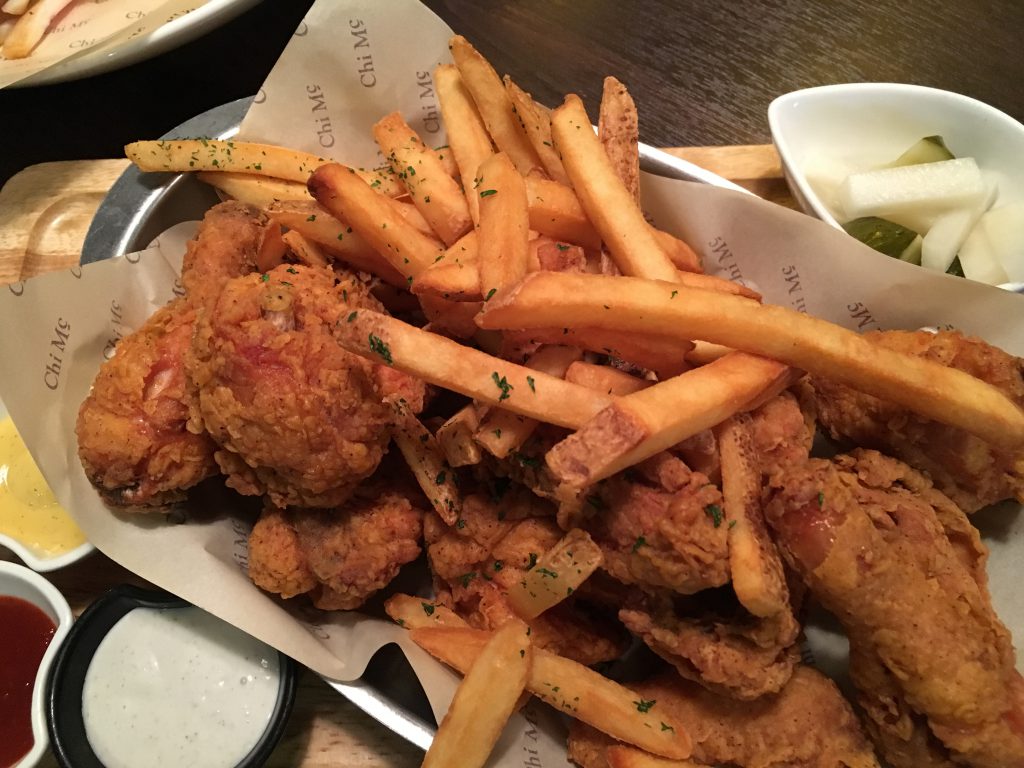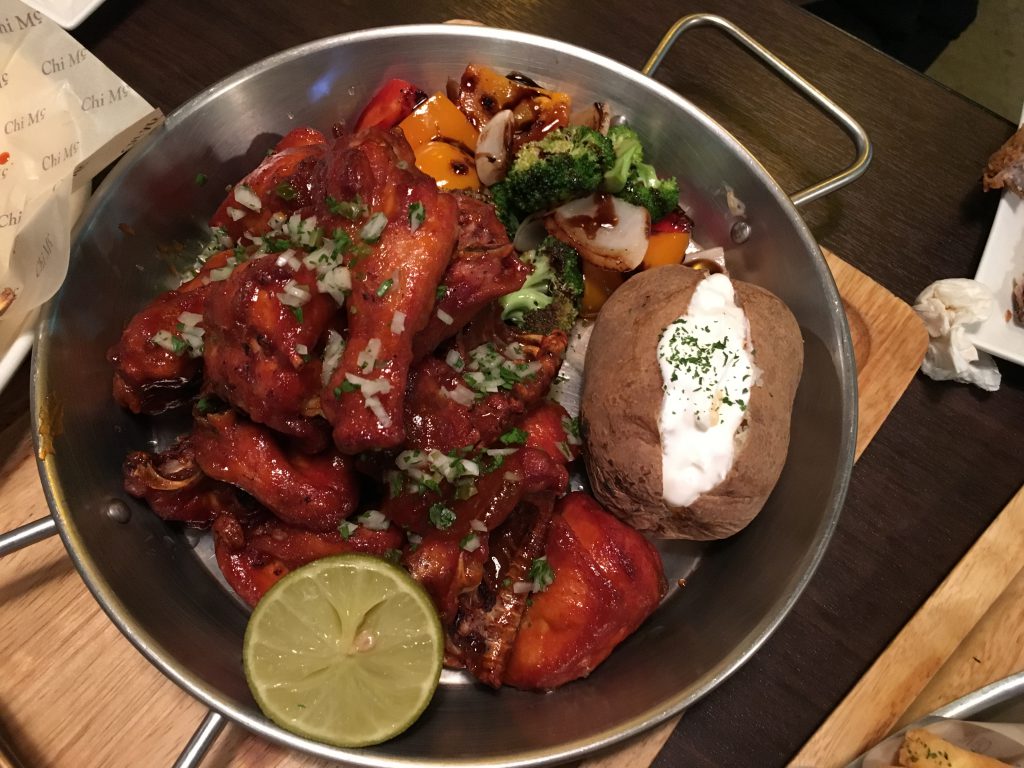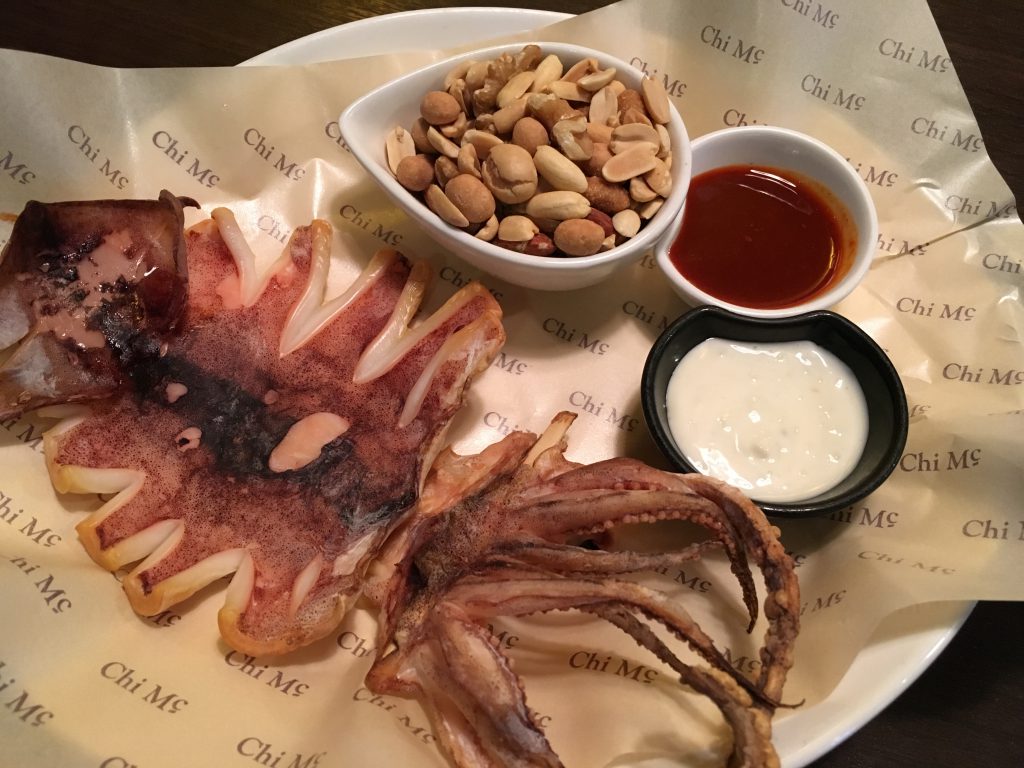 It is easy to locate Chi Mc, in the basement of Gran Seoul. Telephone 02 2158 7937. Nearest subway Gwanghwamun on Line 5.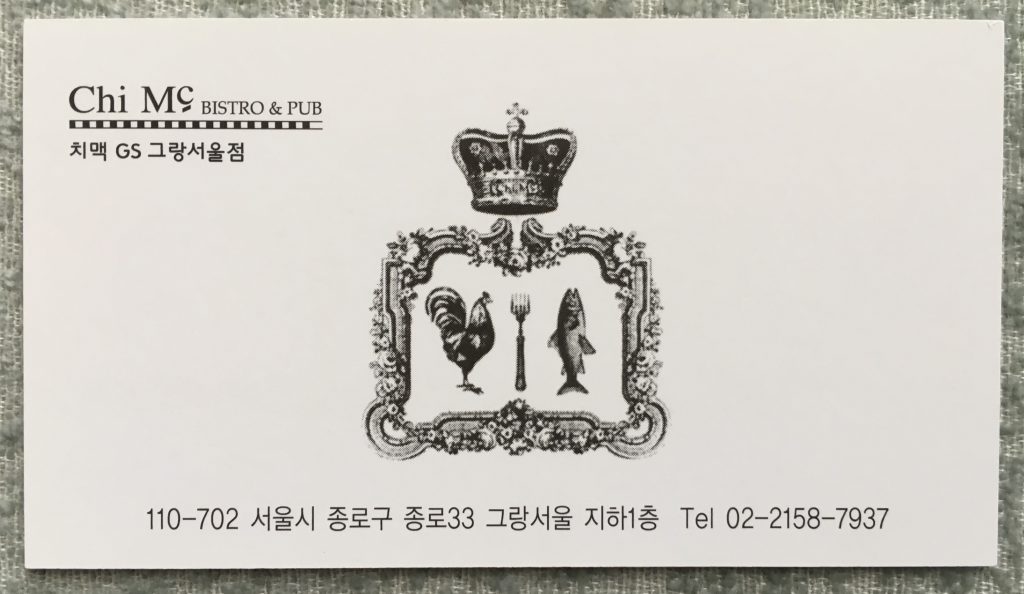 No fried chicken article can be complete without mentioning Kyochon Fried Chicken. There are branches all over Seoul and you can order on-line for delivery to your home, office, hotel, the park or indeed anywhere along the Han river. To order by phone it's best to get your hotel concierge to do this if, like me, your spoken Korean needs polishing. Different  branches have different phone numbers, so if you can't get one branch to deliver, ask the next closest one which might be less busy.
Kyochon has branches outside South Korea but I didn't rate the one in KL Pavilion Mall highly. Despite the welcoming smile of Lee Min Ho, there's something odd about non-Koreans shouting out  안녕하세요! automatically as you approach, The same goes for the Innisfree shop, also in the same mall.
Two more chicken dishes: Samgyetang (whole small chicken stuffed with glutinous rice and ginseng) and Andong Jjimdak (chicken pieces in a spicy stew with potatoes and dang myeon/ sweet potato noodles).
For the samgyetang I can recommend Korea Samgyetang in Gwanhwamun and Tosokchon near Tong-in Market. For the jjimdak, try 봉추찜닭 Bongchu Jjimdak in the basement of The-K Twin Towers, telephone 02 737 6981. All these three establishments are within walking distance of Gyeongbokgung, the palace and the subway station.
So we have chicken deep-fried, steamed in soup and stewed in a sauce. Just add a bowl of rice to reach culinary happiness.