Diary: 17 and 18 June 2016
I have been trying to find the time to read Han Kang's The Vegetarian.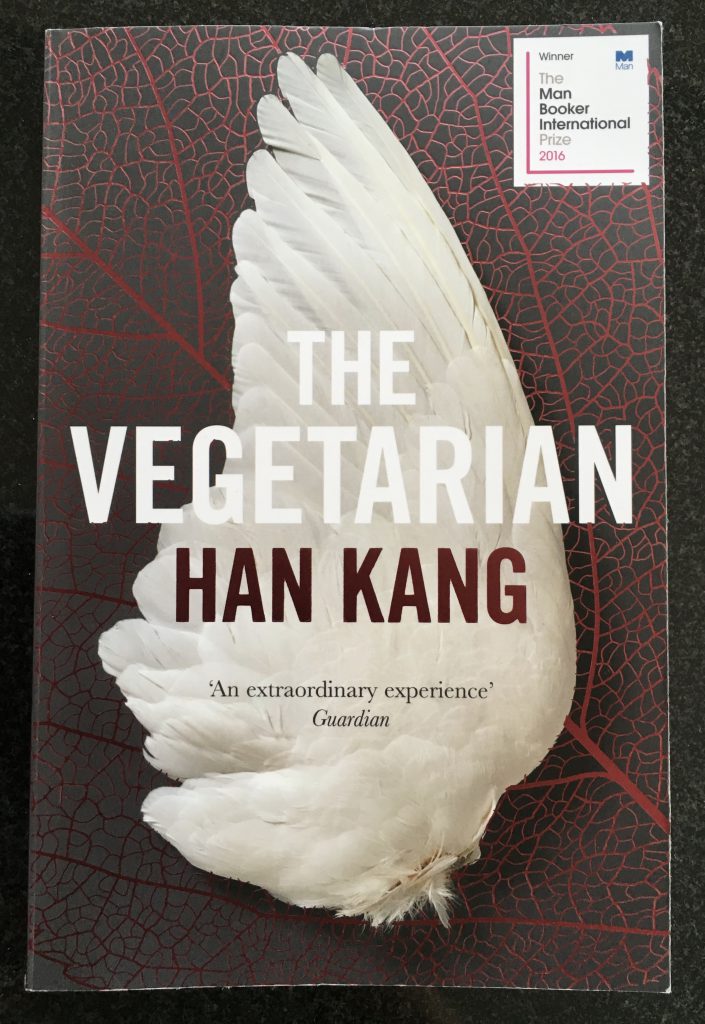 A 10 hour flight is a good place to start.
Mr Gochugaru and I are on our way to Seoul, to celebrate some significant birthdays in our family.
Before starting the novel and having read only the review in the New York Times, the details initially reminded me of Ruth Ozeki's My Year of Meats. That was nearly 20 years ago and at the time Mr. Gochugaru warned me that I was not to reveal any gruesome details and also, he was not going to give up eating meat.
We did try once, a very long time ago, to go completely vegetarian but lasted only six days.  Now we happily choose vegetables over meat as much as possible. To this end, Ottolenghi's recipes and eating more Korean food has helped immensely.
The novel chronicles the increasingly turbulent personal life of Yeong Hye who decides one day to give up meat. Her reason is simple: I had a dream.
The dreams are violent, incoherent, exhausting. I have considered whether this book is difficult emotionally to read, as there are some passages which can be considered graphic in its depiction of pain, whether mental or physical.
Having read the book in one sitting (and really, on an aeroplane, sitting is all I can do) I would say that the author is a genius in helping the reader explore the consequences of Yeong Hye's decision, using the voices of her husband, her sister In Hye and In Hye's husband. Each is given sufficient time to explain why and how this decision impacts their own stability or non-stability.
In the end, though, it is Yeong Hye who suffers the most, in body, mind and spirit. This really shines a light on how we can so focus on our own needs when those around us are suffering, without considering that the pain that the patient (or victim) is going through is considerably worse, and more than that, possibly incomprehensible.
Reading this book is not going to turn you into a vegetarian, and indeed there are several passages which mention some of our favourite Korean dishes. It is not a book about meat versus vegetables, but about control over your own life versus an external control imposed by another person, a peer group or by society as a whole.
On to real food. On very cold days in London my top fantasy is a steaming hot bowl of 순두부. It is summer here in Seoul but hot spicy tofu is still a good idea to get rid of jet lag.
Reading a previous account of Jaedong Sundubu in Bukchon, I realise that the helpful English menu should have been accompanied by helpful directions.
Better late than never and so here are the directions in English on how to reach Jaedong Sundubu in Bukchon, followed by an English translation of the menu.
Take the subway or locate Anguk Station on Line 3. Take Exit 2 and head north along Bukchon-to. You will reach a sign that says Bukchon-ro 2-gil. Turn right at this sign into an alleyway.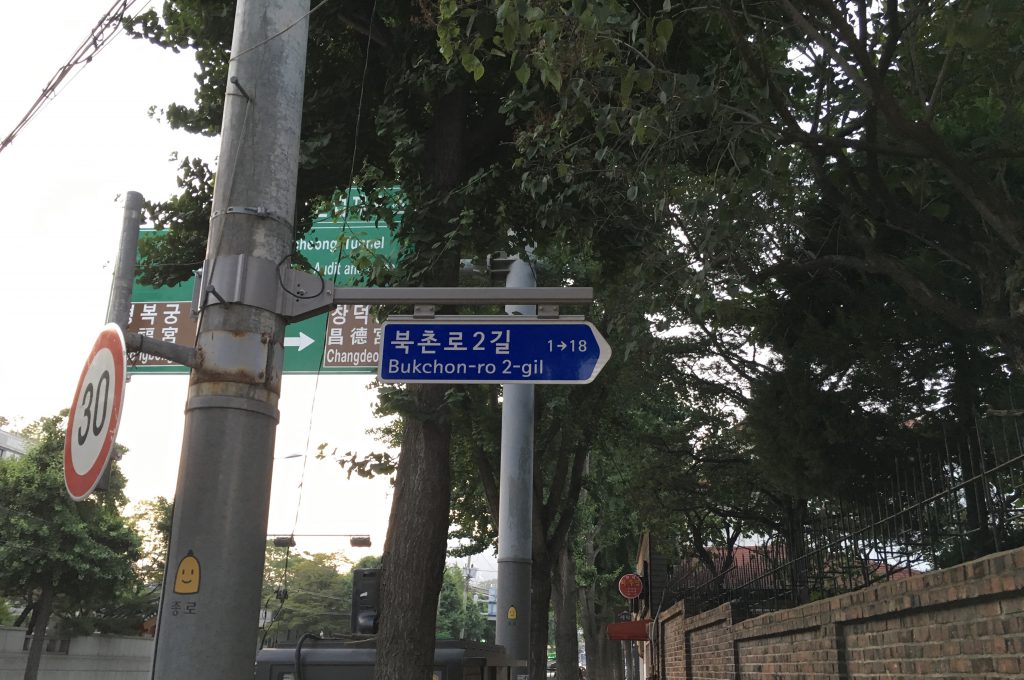 Along this alley you will see a yellow sign for the restaurant on the right hand side.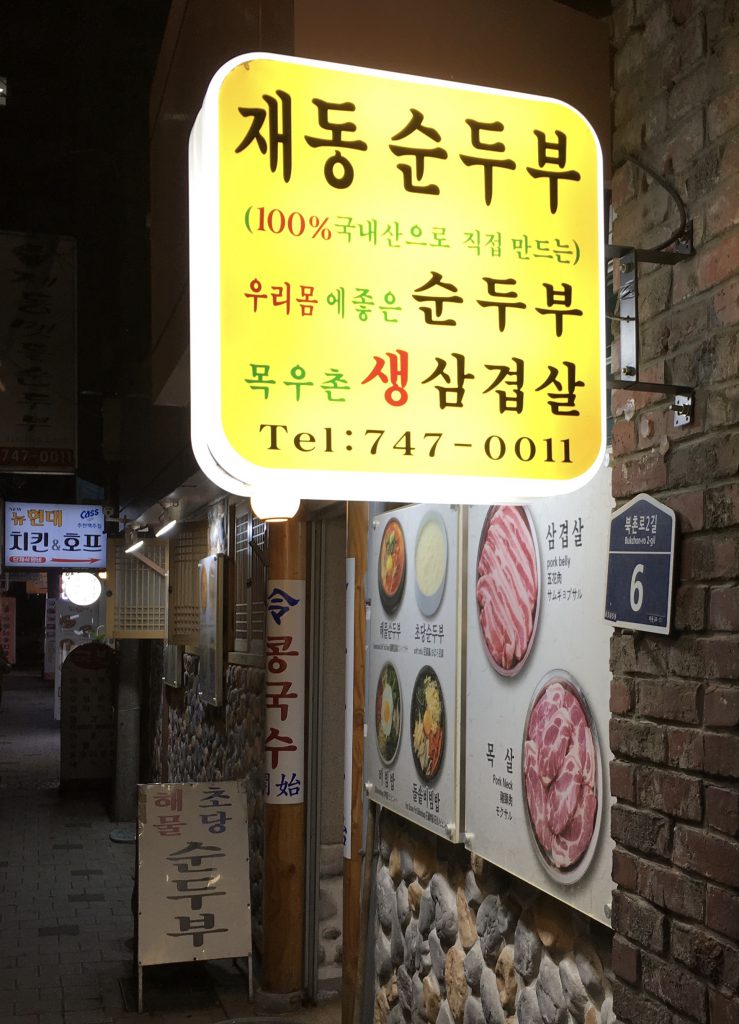 This is the Korean menu which is displayed inside the restaurant. As far as I know there is no English menu but there are pictures of the dishes on photos displayed outside the shop. The prices are correct as of 18 June 2016. If you do not speak Korean, just bring this article along and read the English equivalent to order your food.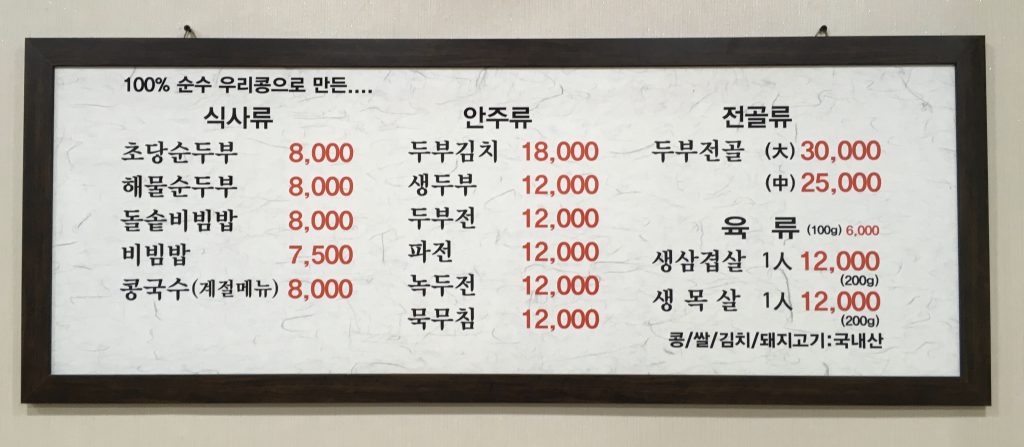 From the top left first column, these are all individual dishes for one person:
초당순두부 Chodang Sundubu: plain tofu with a chilli paste on the side
해물순두부 Haemul Sundubu: spicy tofu with seafood and an egg
돌솥비빔밥 Dolsot Bibimbap: Rice and vegetables in a hot stone bowl
비빔밥 Bibimbap in a normal bowl, the national dish of Korea
콩국수 Kongguksu: cold noodles in a cold soya broth, summer only
The rest of the menu items focus on pancakes, hotpots and barbecued meat, and a translation can be found in the previous article.
Chodang (plain) Sundubu and Haemul (seafood) Sundubu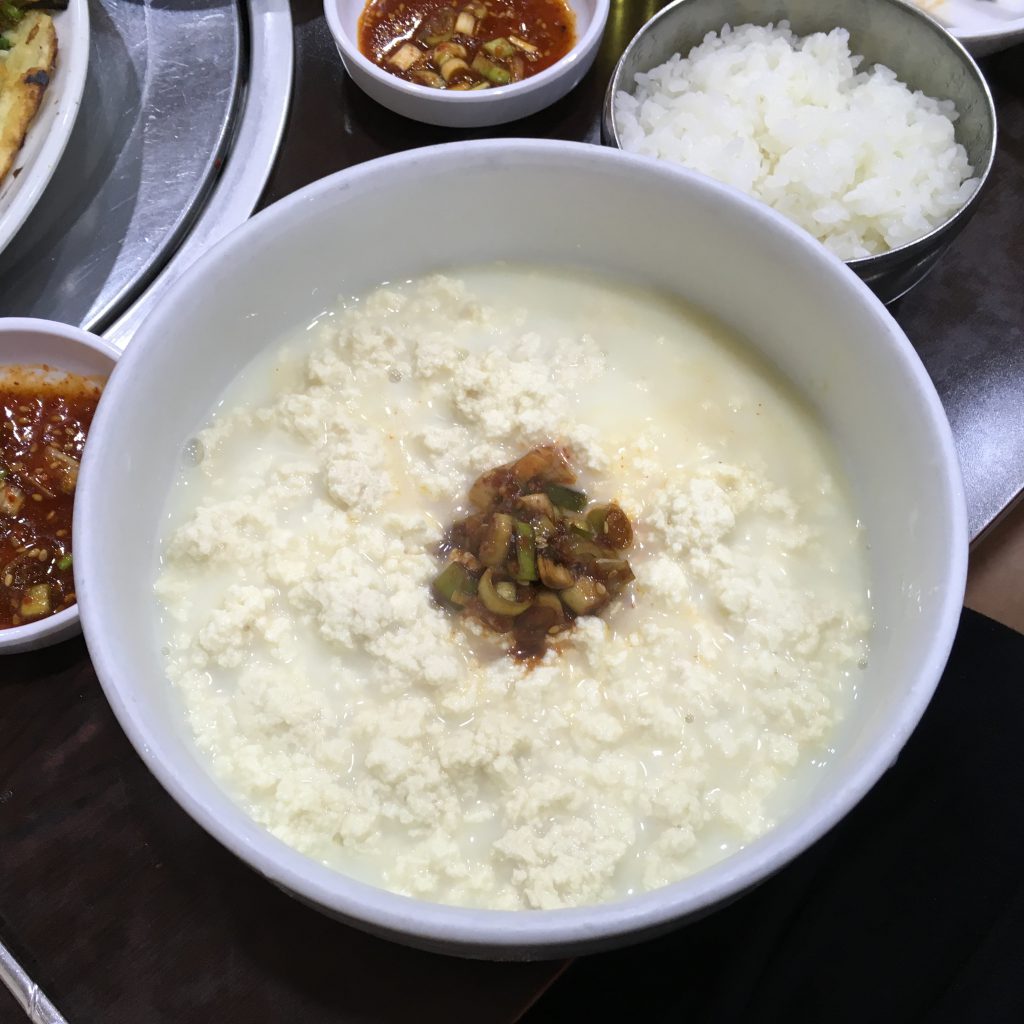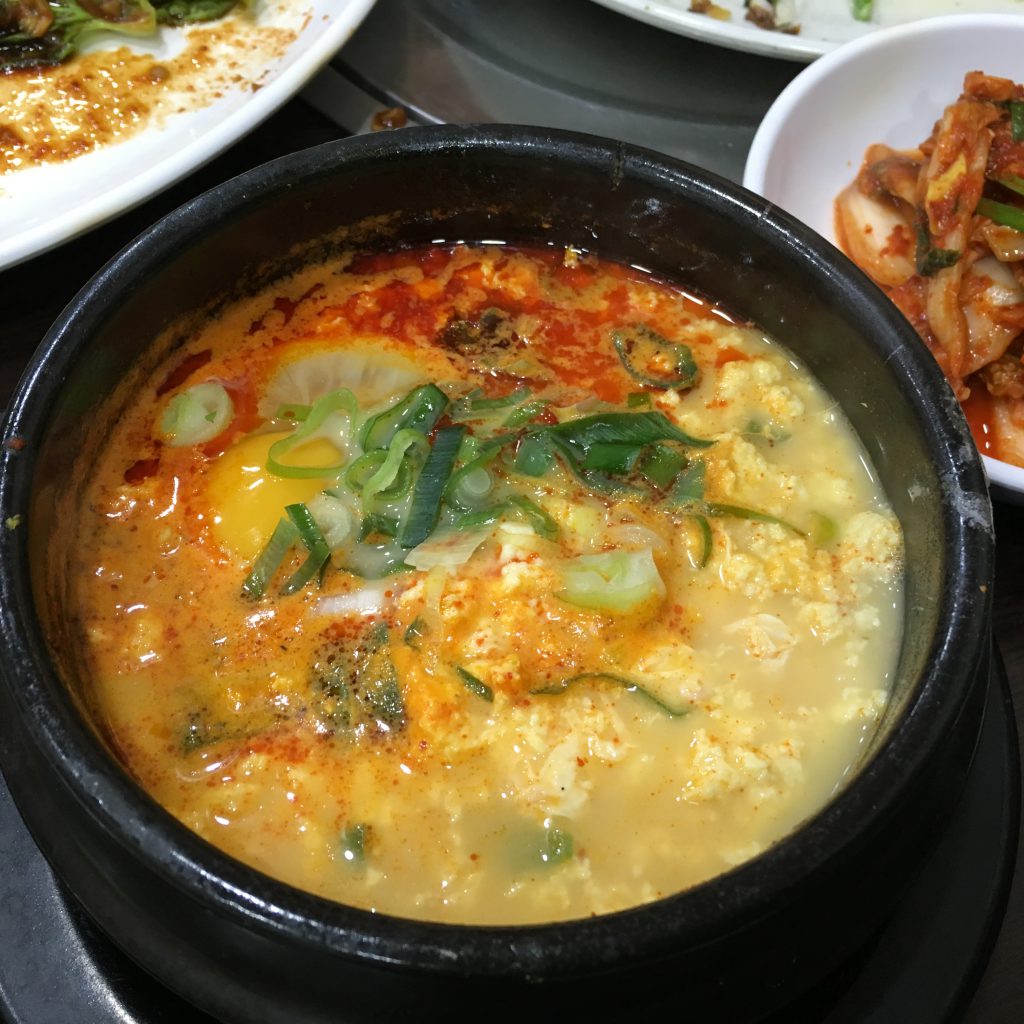 The banchan (side dishes) which are included in the price of your main course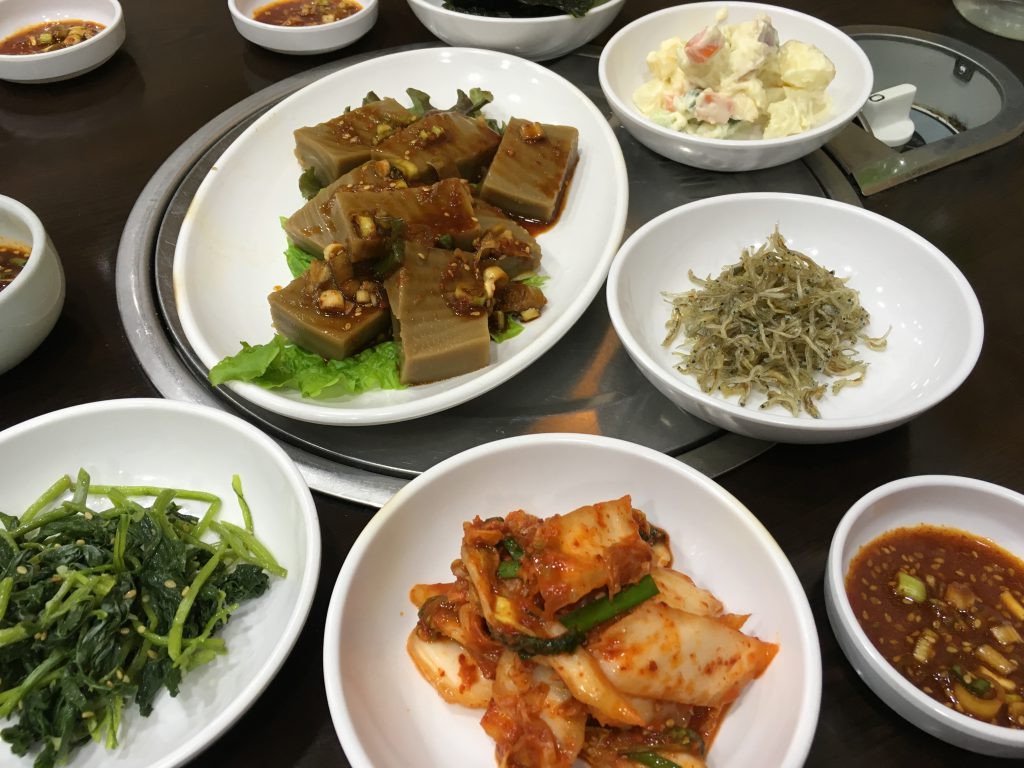 There is a lot to see and a lot to eat in Seoul. This trip coincides with an extremely busy time in our lives but the dates were dictated by everyone's availability. There are two families and 10 in our group this time. As ever, a home away from home is needed and we are so happy to be back at the Four Seasons in Gwanghwamun, which we consider the perfect hotel for the perfect city.