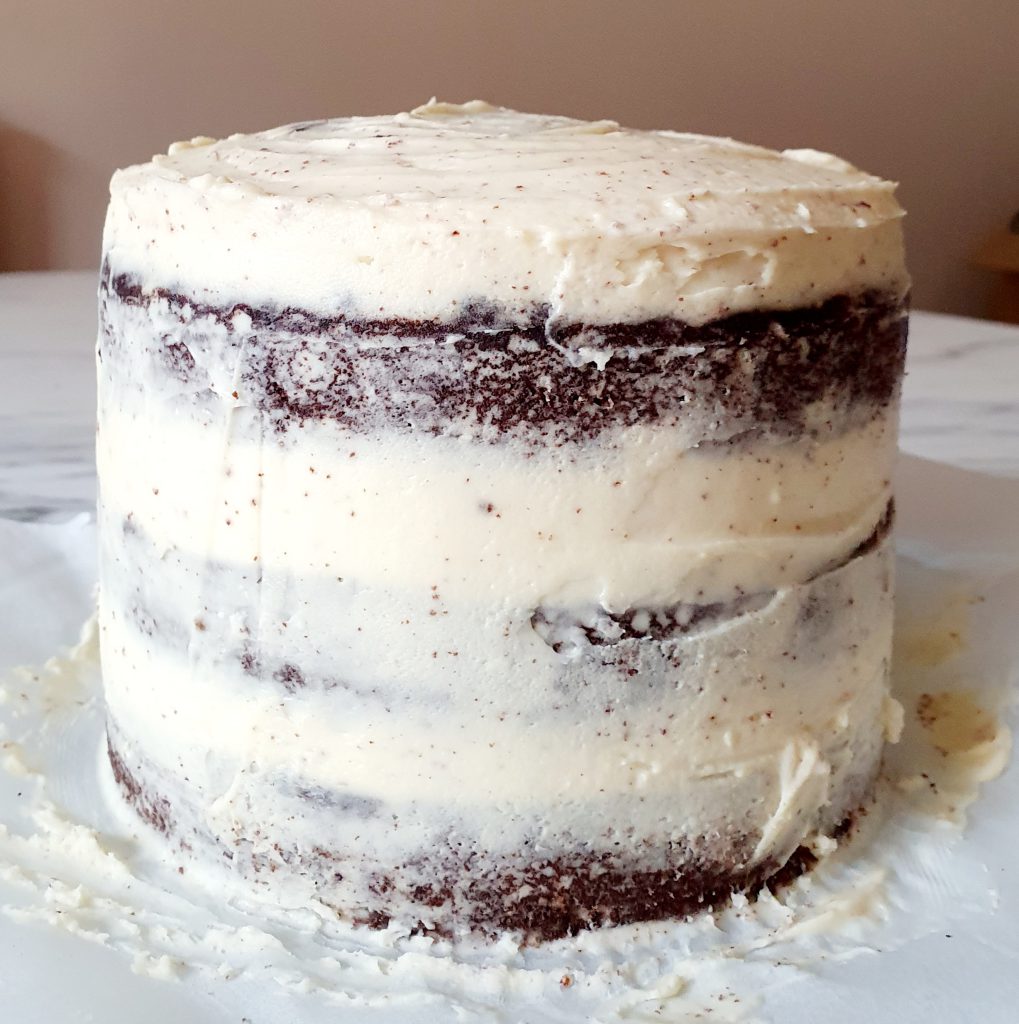 Our kitchen.
Our new kitchen.
Our new kitchen is an on-going saga.
And if I think about it I would lose even more sleep, so I am researching a new cake instead.
Junior 1 and DiL (Daughter-in-Law) are more than capable cooks and have invited us to several dinners at their house whilst our renovation works are ongoing. Last week DiL made a wonderful chocolate cake which we are still talking about. It was a large cake and I am not ashamed to say we actually asked to take the rest of it home with us that night.
The cake was a Devil's Food Cake by Stella Parks and the original recipe is here. I adapted the recipe slightly to make it easier to make smaller-sized cakes, and have used a cream cheese frosting instead of the chocolate Swiss buttercream. DiL added some ground spices to her cake batter (cinnamon, ginger, nutmeg and cardamom) and served it with a home-made blackberry sorbet.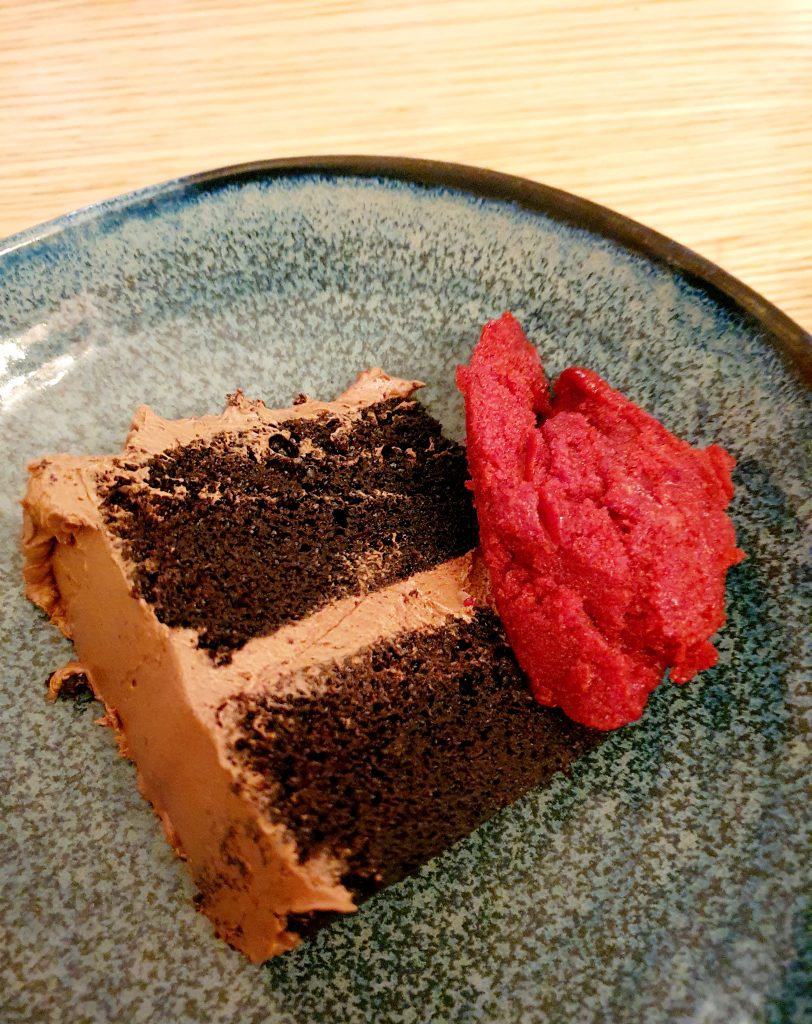 There are several chocolate cake recipes on this blog: Curly Whirly Birthday Cake, Chocolate and Raspberry Birthday Cake, Maltesers and Minstrels Chocolate Cake, Lockdown Chocolate Cake and Hazelnut and Chocolate Cake. Each of the chocolate cakes is special but there is still room for one (or three) more.
When we ate it after lunch, Junior 2 said that this might just be her new favourite chocolate cake, replacing the ever-loved 'Nigella Cake'.
This is a generous cake, suitable for birthdays and other celebrations.For smaller cakes, use the table below to find a better size for your occasion. The height of each cake tin should be around 5 cm. 11-cm sandwich cake tins might be difficult to source, in which case use one taller cake tin and slice the cake into three parts before icing. I mostly get my cake baking tins from British bakeware company Silverwood.
ANNOUNCEMENT
HOW MUCH TO MAKE
 CAKE TIN SIZE / TEMPERATURE + TIME
19 March 2020

Prime Minister Boris Johnson says the UK can turn tide of coronavirus in 12 weeks

Keep Calm and Carry On:

Make whole recipe

3 x 20-cm round baking tins

350°F / 180°C/ 160°C fan

Bake for 30 minutes

23 March 2020

PM announces the first lockdown in the UK, ordering people to stay at home

Comfort Eating:

Make two-thirds the recipe

3 x 18-cm round baking tins

325°F / 170°C/ 150°C fan

Bake for 25 minutes

14 September 2020

Rule of six – indoor and outdoor social gatherings above six banned in England

Inner Circle:

Make half the recipe (using just 1 extra egg yolk)

3 x 15-cm round baking tins

325°F / 170°C/ 150°C fan

Bake for 20 minutes

6 January 2021

England enters third national lockdown

All By Myself:

Make one third the recipe

3 x 11-cm round baking tins

320°F / 160°C/ 145°C fan

Bake for 20 minutes
As a seasonal pick-me-up I ordered the cocoa powder recommended by Ms Parks. A regular brand of cocoa powder like Green and Black's would be good too, but the colour is noticeably lighter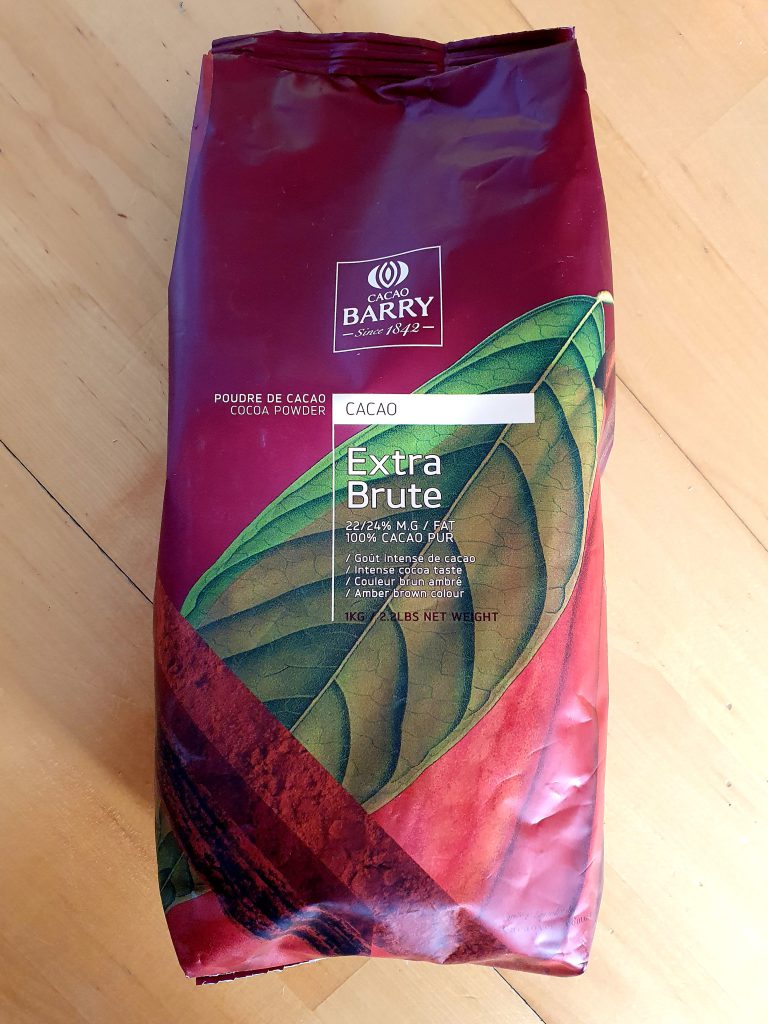 The resulting cakes were a rich dark colour…I might always use this type of cocoa powder in future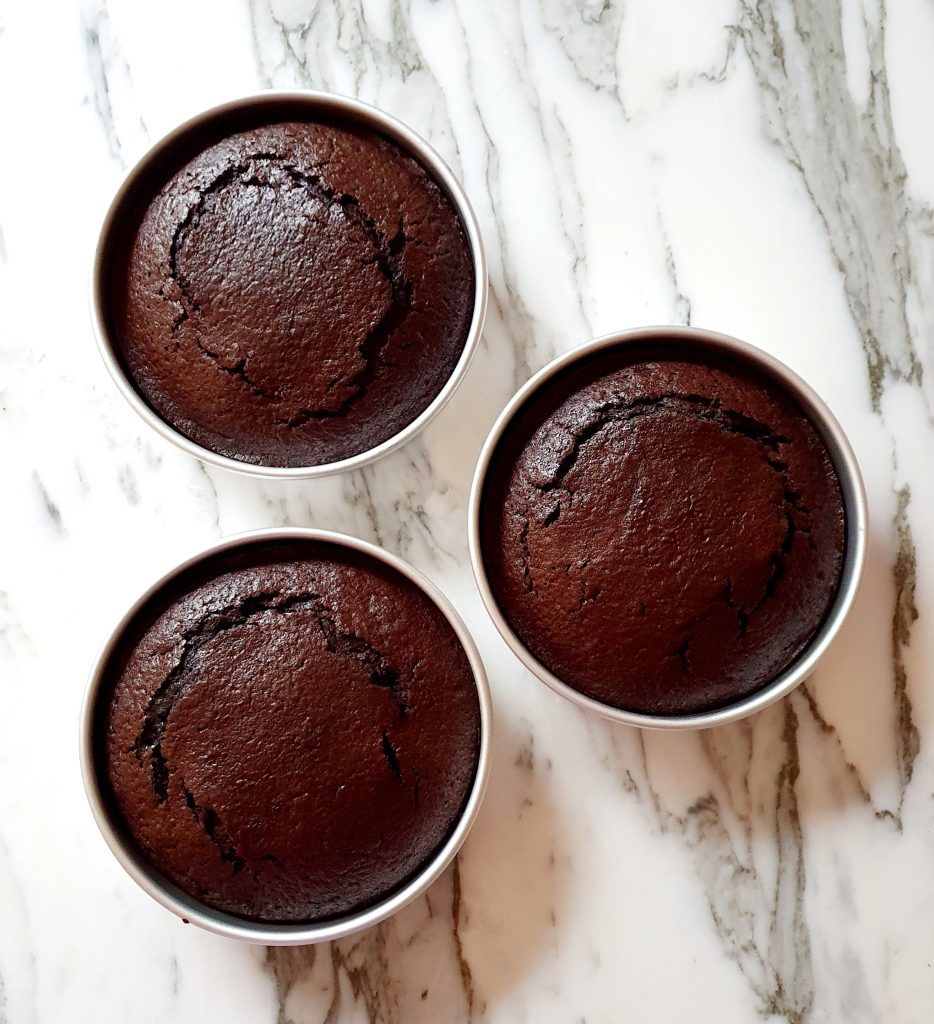 Mr Gochugaru joked that it was probably his Chinese birthday so we found one leftover candle and wished him an early Happy Birthday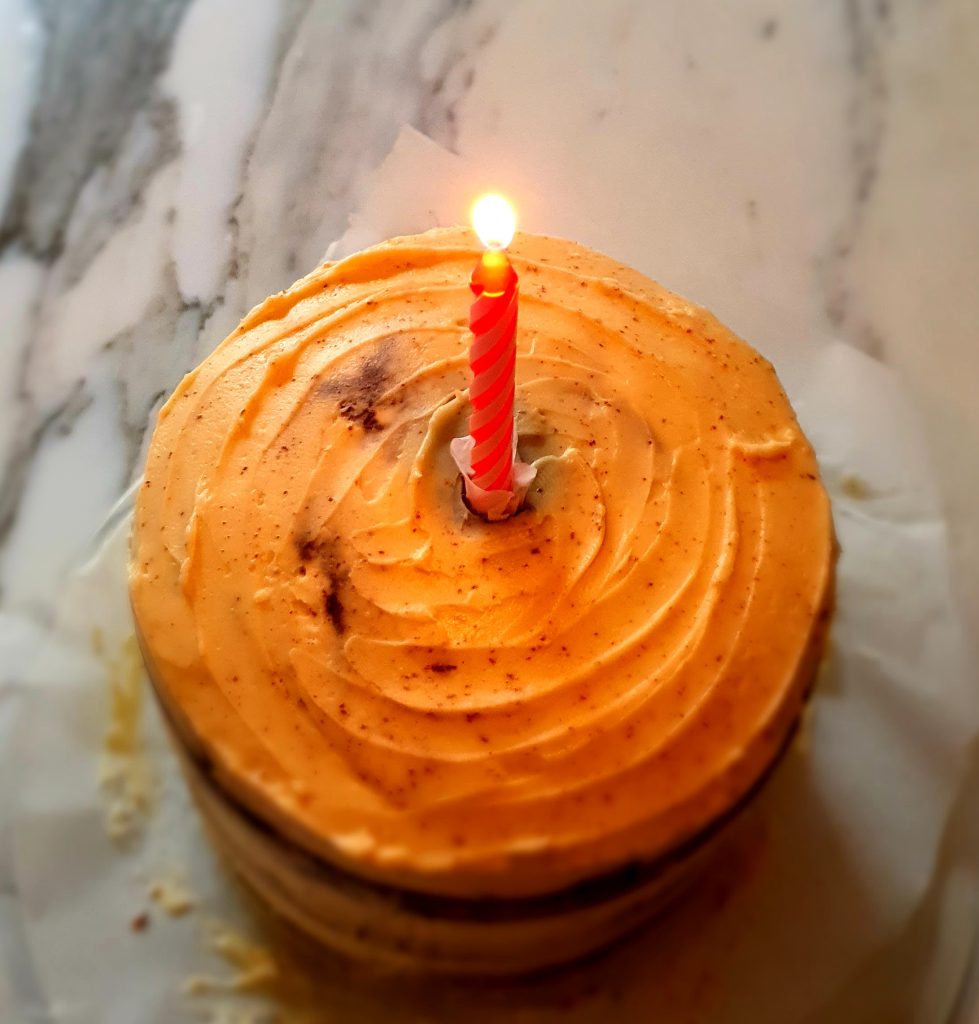 For the Chocolate Cake:
360 g unsalted butter, cut into cubes
360 g black coffee (I used 6 x Nespresso pods, strength 12)
180 g dark chocolate chips (around 70% cocoa solids)
270 g dark brown soft sugar
300 g whole eggs – around 6 large eggs – straight from the fridge
45 g egg yolks – around 3 – freeze the whites for a chiffon cake
1 tablespoon (3 teaspoons) vanilla extract
270 g all purpose/ plain flour
90 g Dutch-process cocoa powder, such as Cacao Barry Extra Brute
1 tablespoon (3 teaspoons) bicarbonate of soda
½ teaspoon fine sea salt
For the Cream Cheese Frosting:
270 g unsalted butter, softened (this is important)
540 g Philadelphia cream cheese
225 g icing sugar, sifted
1 tablespoon (2 teaspoons) vanilla extract
You will also need three 20-cm baking tins with a height of 5 cm each. I made this cake by hand as my KitchenAid is in cold storage. For the full amount of batter, a Kitchen Aid would make the mixing easier.
How to Make:
Preheat the oven to 350°F / 180°C. Grease and line the baking tins.
To make this cake quickly, it is best to line up the ingredients in order of when you need to use them (see tip below).
Place the butter and coffee in a large saucepan over a low heat. Once melted, remove from heat then mix in the chocolate chips. I used a large balloon whisk for this.
Add the sugar and mix until dissolved, then add the eggs, egg yolks and vanilla extract. Whisk everything again until thoroughly combined and smooth.
Sift in the flour, cocoa powder, bicarbonate of soda and salt. Continue to whisk or stir gently until you get a liquid batter.
Pour the batter into the prepared tins, making sure that each tin has roughly the same amount of batter.
Bake the cakes for 30 minutes, or until a cake-tester comes out clean. Leave the cakes to cool slightly in the tins before turning out onto a wire cooling rack to cool completely.
To make the frosting: beat the butter with the cream cheese for a few minutes until the mixture is smooth. Add the icing sugar, which must be sifted, and mix well.
To ice the cake: divide the icing into four parts. Place one part of the icing on top of each cake layer. Use the remaining icing to coat round the side of the entire cake. There may not be enough frosting to ice the side of the cake completely. This is apparently quite a trend these days and the type of cake is called a naked cake. This is quite odd as you would have thought a naked cake is a cake that is devoid of any icing or decoration.
After icing the cake, I realised it needed more frosting in the middle layers, so the recipe above makes enough to give a more generous cover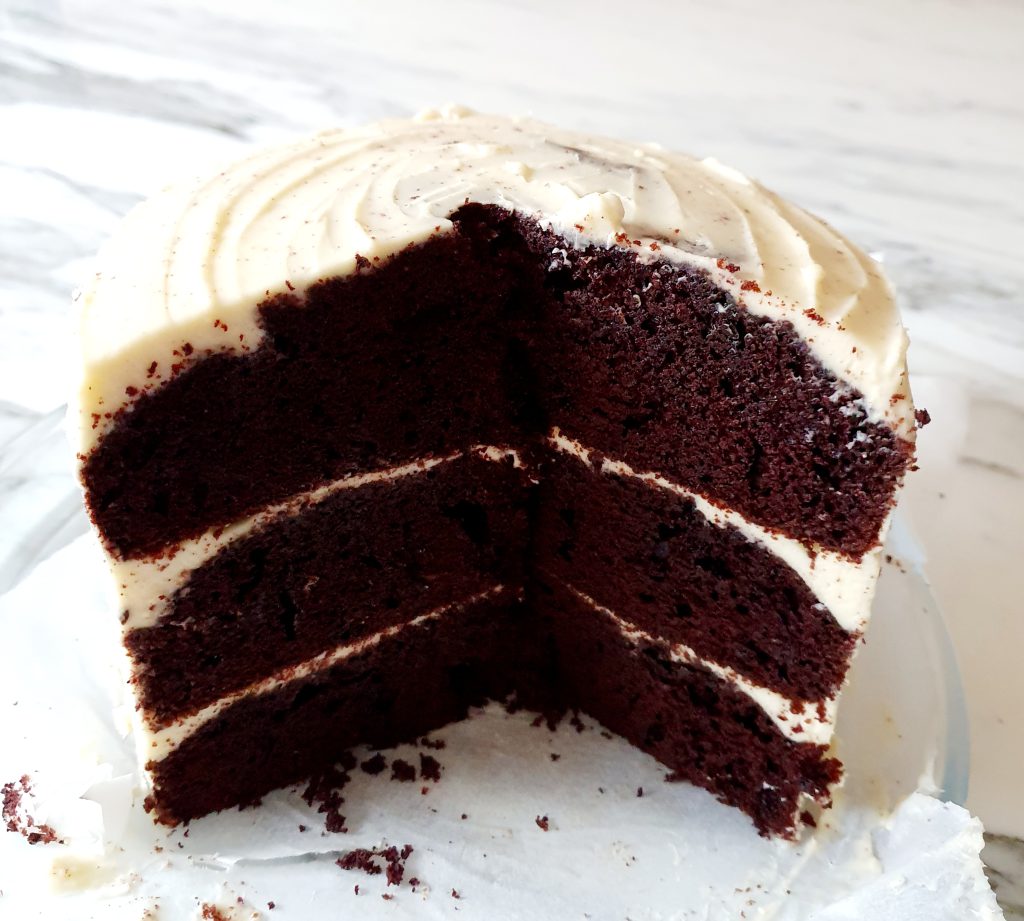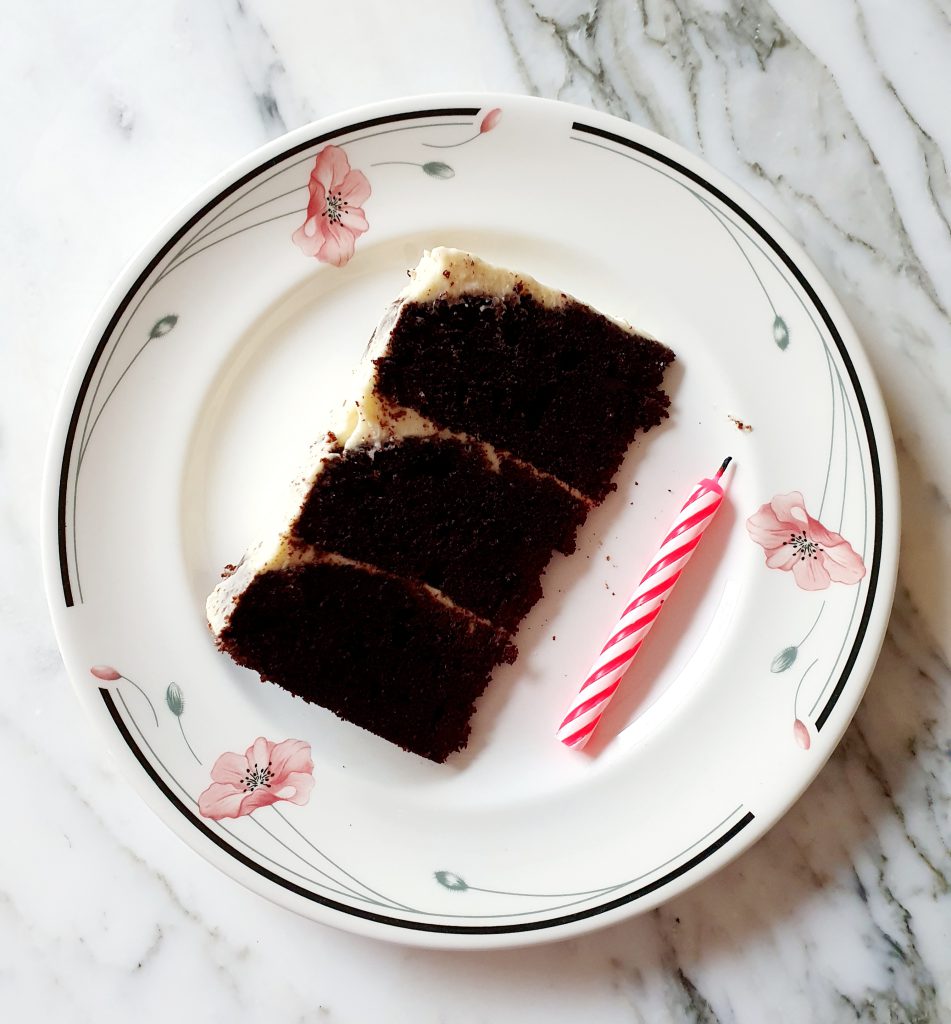 In the new year I want to spring back into cake action. My next chocolate cake should be a Brooklyn Blackout Cake. Who knows when we can travel to New York again? If this crazy pandemic rages on, I might need to call it a Brooklyn Lockdown Cake.
The Book
Bravetart: Iconic American Desserts by Stella Parks, published by W. W. Norton & Company, ISBN 978-0393239867. I would have bought it except the measurements are in cups or in pounds and ounces. If the UK government is serious about reintroducing imperial measurements, I would get the book then.
Tip
To make this cake quickly, it is best to line up the ingredients in order of when you need to use them. The bicarbonate of soda reacts instantly with the wet ingredients and bubbles start forming. Do not squander this aeration process as this is what makes the cake so light.
The order is: butter, coffee, chocolate chips, sugar, eggs, egg yolks, vanilla, flour, cocoa powder, bicarbonate of soda and salt. I actually weighed out the ingredients the night before baking and stored them in tupperwares. The eggs are used directly from the fridge.