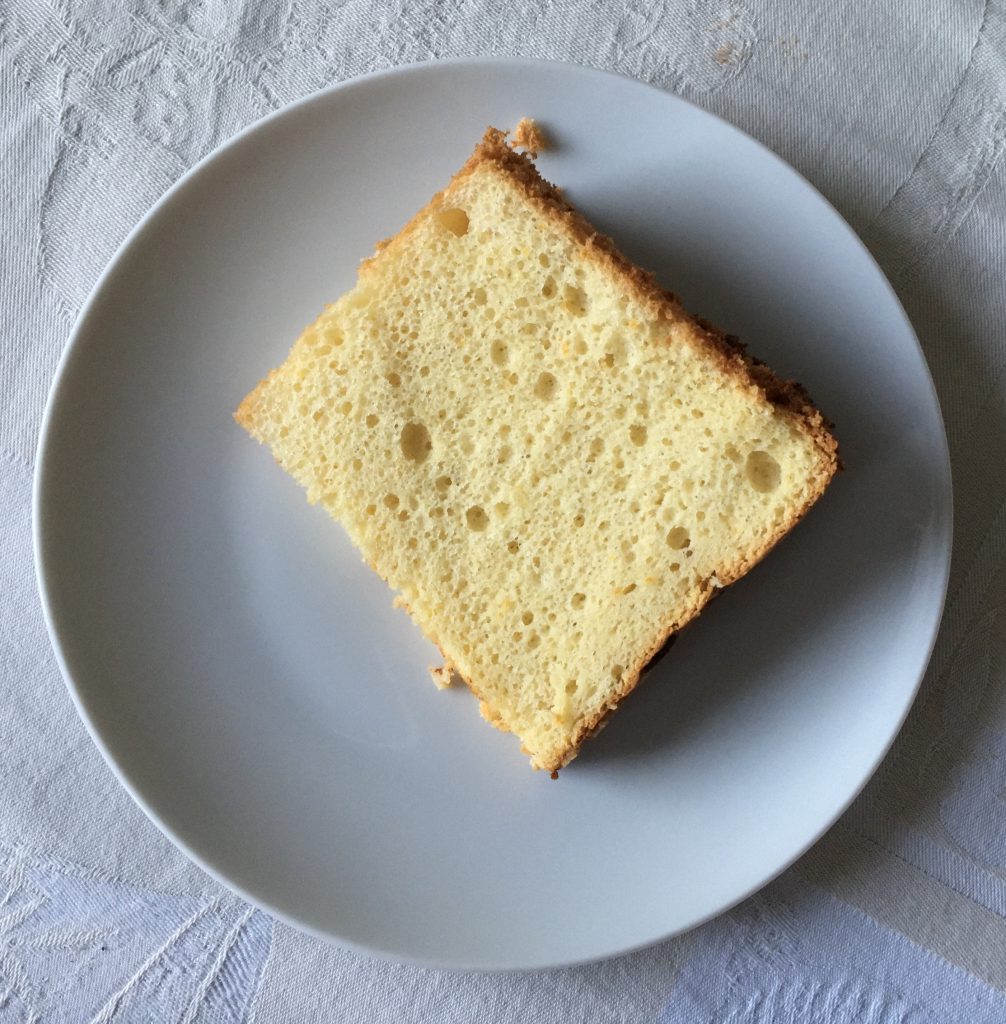 To be honest, I am not sure how to present a cake whose beauty lies in its simplicity and plainness. In our lunchtime discussion today I asked the children if I should add at the end of this post some ideas on how to dress up the cake and they said leave it as it is.
Then I asked if I should make a chocolate one and they said chocolate would be too heavy and the point of the cake is its lightness. They did say I should attempt the classic pandan chiffon cake next.
I have made this cake before from various recipes, in various baking tins and with various levels of success. I finally bought a proper Angelfood Pan from my favourite Nordic Ware and can say there is no looking back. The right-sized tin for this recipe measures 25 cm in diameter at the top and 11 cm in height.
The specialised tin has 'legs' which allows the cake to suspend upside down without being squashed after it is removed from the oven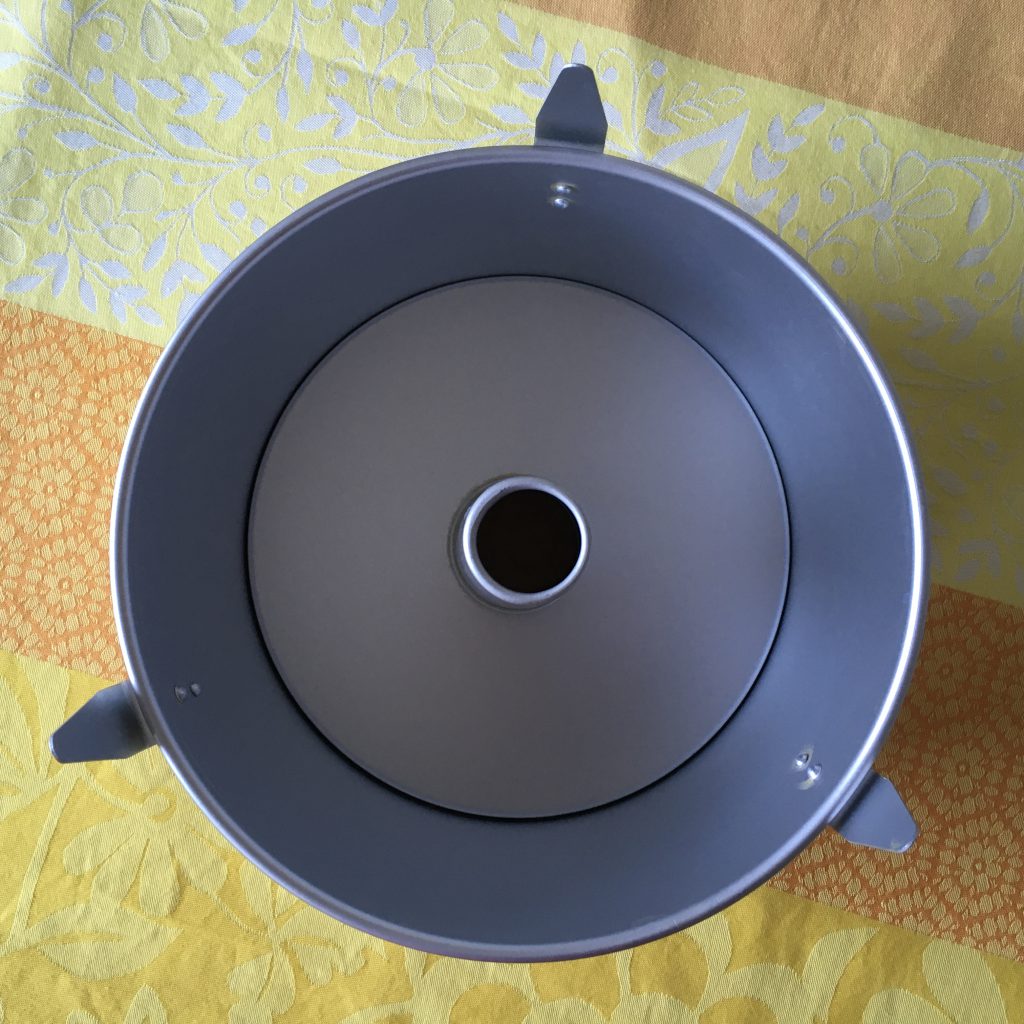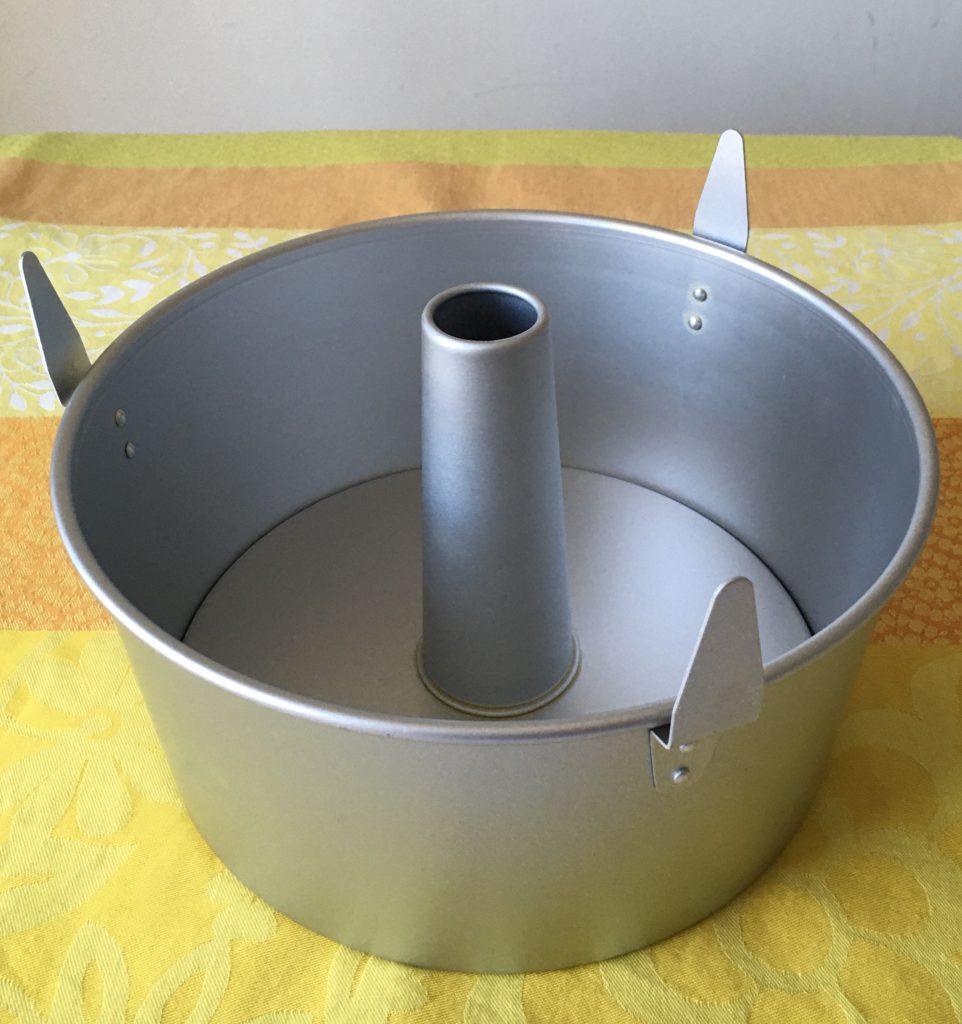 In our extended family, there is only one standard for chiffon cake and this is from Ipoh Auntie. Her signature chiffon cakes are the stuff of legend and if any of us were to throw a party and make a chiffon cake, everyone will ask is this recipe from Ipoh Auntie? If it is not, then they would want to know why. And if Ipoh Auntie were present, she would let you know why her cake is infinitely better.
The thing is, I have collected many chiffon cake recipes from Ipoh Auntie and from everyone she has given it to, and each time there are subtle changes. Sometimes the measurements are in cups, sometimes in ounces. Sometimes the brand of flour or oil, or flavouring, is different. Then I had another six recipes from various cake books.
In the end, I did what my buddy LSE Boy and I discussed we would do in such situations: we would write a spreadsheet. The conversation came about because he asked me how I came up with my definitive chicken curry paste. I said I put all my collected recipes down on a spreadsheet and averaged out the measurements whilst discarding the ingredients which were not standard.
LSE Boy's eyes lit up at the mention of spreadsheets and he gushed I looooove spreadsheets…in fact that is how we planned out our third year living arrangements.
So this is how I have come up with the orange chiffon cake recipe which I am happy to share with everyone, especially with LSE Boy whose birthday it is this week. Happy Birthday!
The essence of orange comes from grated orange zest and Boyajian orange oil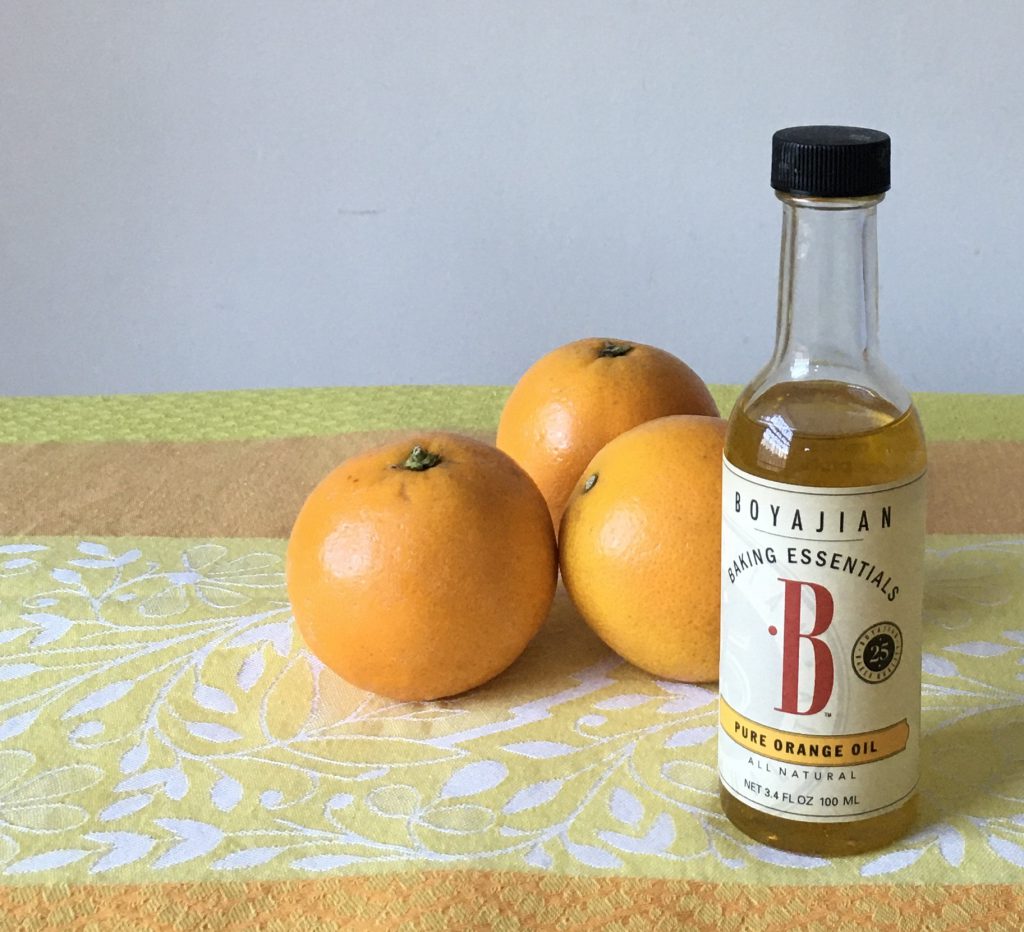 The many eggs used is balanced by using very little oil, with orange juice as additional liquid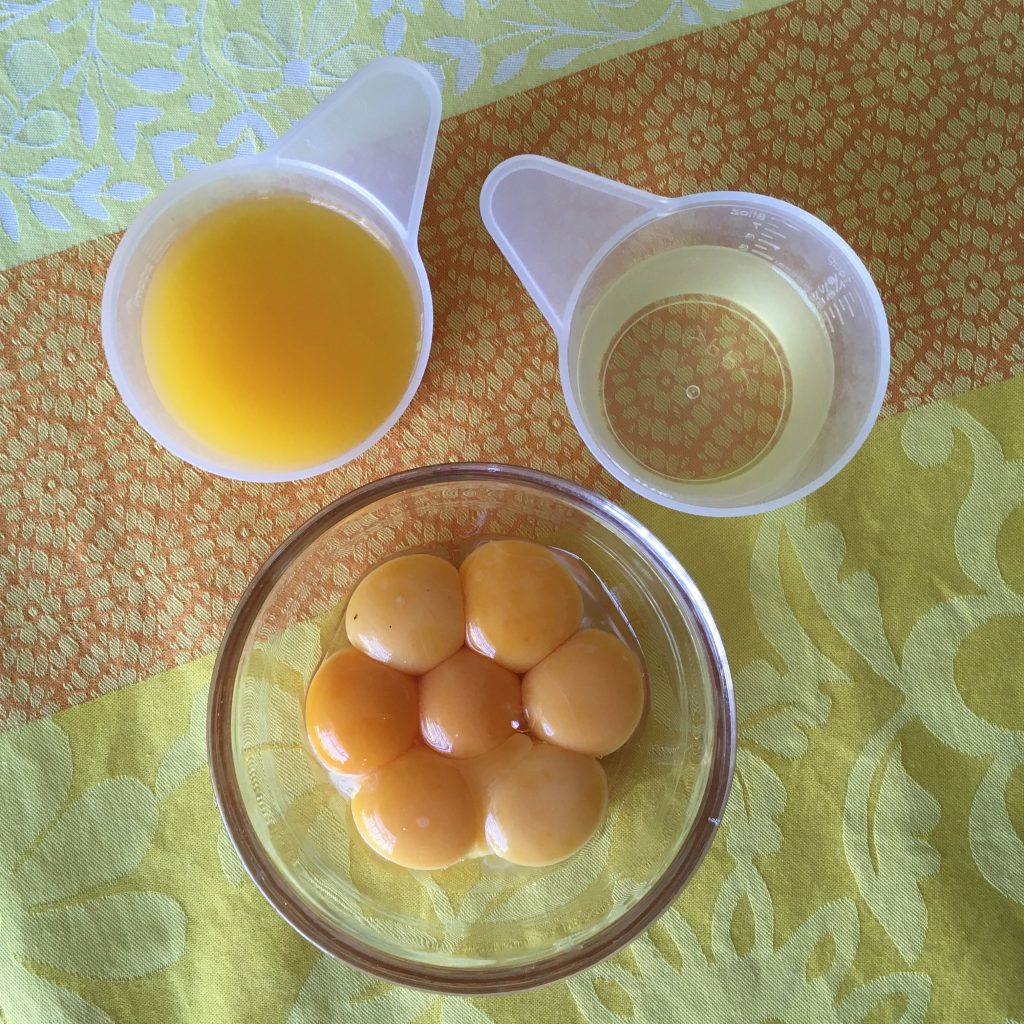 For the Cake:
(everything is weighed so it is fool-proof)
225 g self-raising flour
225 g unrefined caster sugar
½ teaspoon fine sea salt
125 g sunflower oil
125 g egg yolks (roughly 7 large egg yolks)
180 g fresh orange juice, sieved (i.e. no bits)
finely grated zest of 2 large oranges
1 teaspoon orange oil, Boyajian brand if possible
For the Meringue:
300 g egg whites (roughly 8 large egg whites)
1 teaspoon cream of tartar
45 g unrefined caster sugar
Equipment:
You will need a 25 cm Angelfood Cake Pan, sometimes called a Chiffon Cake Tin. The tin has to be left UNGREASED.
The same recipe will fill two smaller chiffon cake tins, each with a width of 17.5 cm and 21 cm. Bake the 21 cm cake for around 50 minutes, and the 17.5 cm cake for around 45 minutes. You can freeze one cake for another day.
I used my KitchenAid but you can also use a handheld electric beater.
You will need two large mixing bowls, one for the flour and egg yolks and another for the egg whites. If you have only one KitchenAid mixing bowl, use that to whisk the egg whites and use any other large mixing bowl for the flour and egg yolk mixture.
How to Make:
Preheat the oven to 325°C/170°C.
Sift the flour, sugar and salt into a KitchenAid mixing bowl, or a large mixing bowl.
Make a well in the centre of the flour and add the oil, egg yolks, orange juice, orange zest and orange oil.
Using a flat beater or a flex-edge beater (KitchenAid) OR a hand-held electric beater, gently mix the ingredients to form a smooth batter. Keep this aside whilst you prepare the egg whites.
Place the egg whites in a separate KitchenAid mixing bowl (or a large mixing bowl) and using the whisk attachment, beat on a high speed until frothy (KitchenAid speed 6 for around 30 seconds).
Add the cream of tartar and continue to beat until soft peaks form.
Sprinkle in the 45 g sugar bit by bit and continue to beat for about 3 – 5 minutes, until stiff peaks form. Keep watch over the meringue like a hawk so it does not overbeat, as the whites will then become dry and separate.
When the meringue is ready, fold it into the flour and egg yolk mixture, using a large balloon whisk or rubber spatula. Do this in stages, folding the meringue in gently until the mixture is well combined and there are no streaks of batter or meringue visible.
Pour the batter into the ungreased cake tin and bake in the oven for 55 minutes or until the cake bounces back when touched. A metal skewer inserted in the centre should come out clean.
Folding the meringue into the flour and egg yolk batter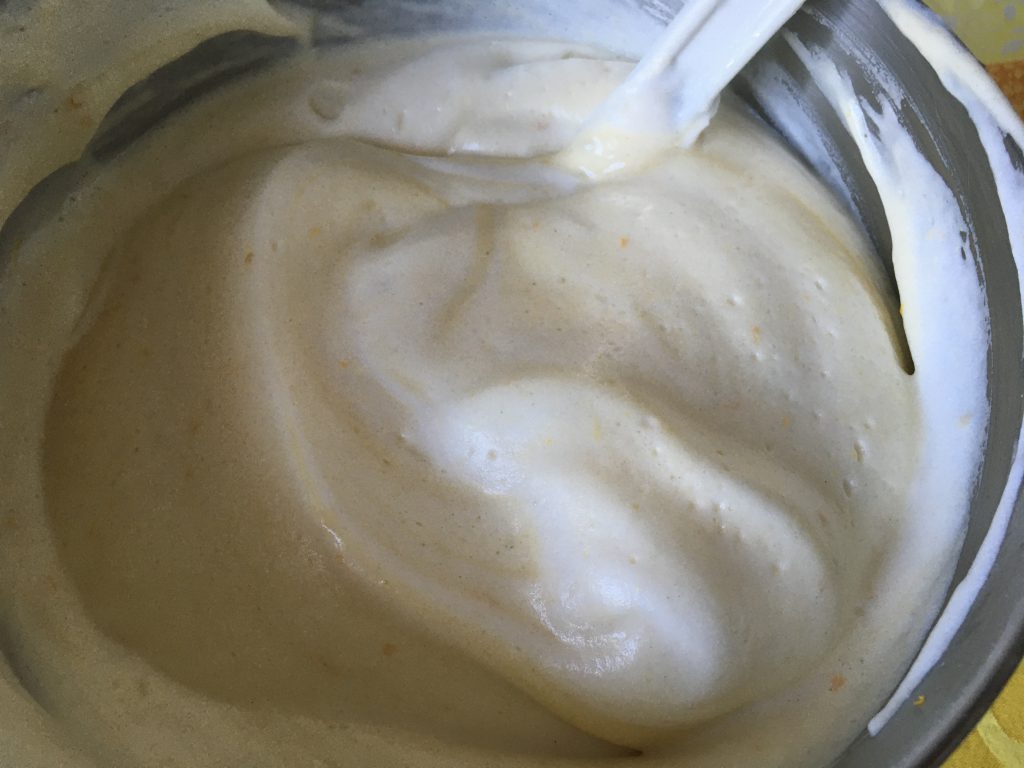 After baking: in stages
Remove the tin from the oven and immediately turn it upside down, resting the legs on a heat-proof surface. As it is ungreased, the cake will not fall out. It is this 'suspension' that ensures the cake does not sink as cools. The bubbles created by the beaten egg whites ensure its lightness. Set aside the cake to cool in the tin for at least 1 hour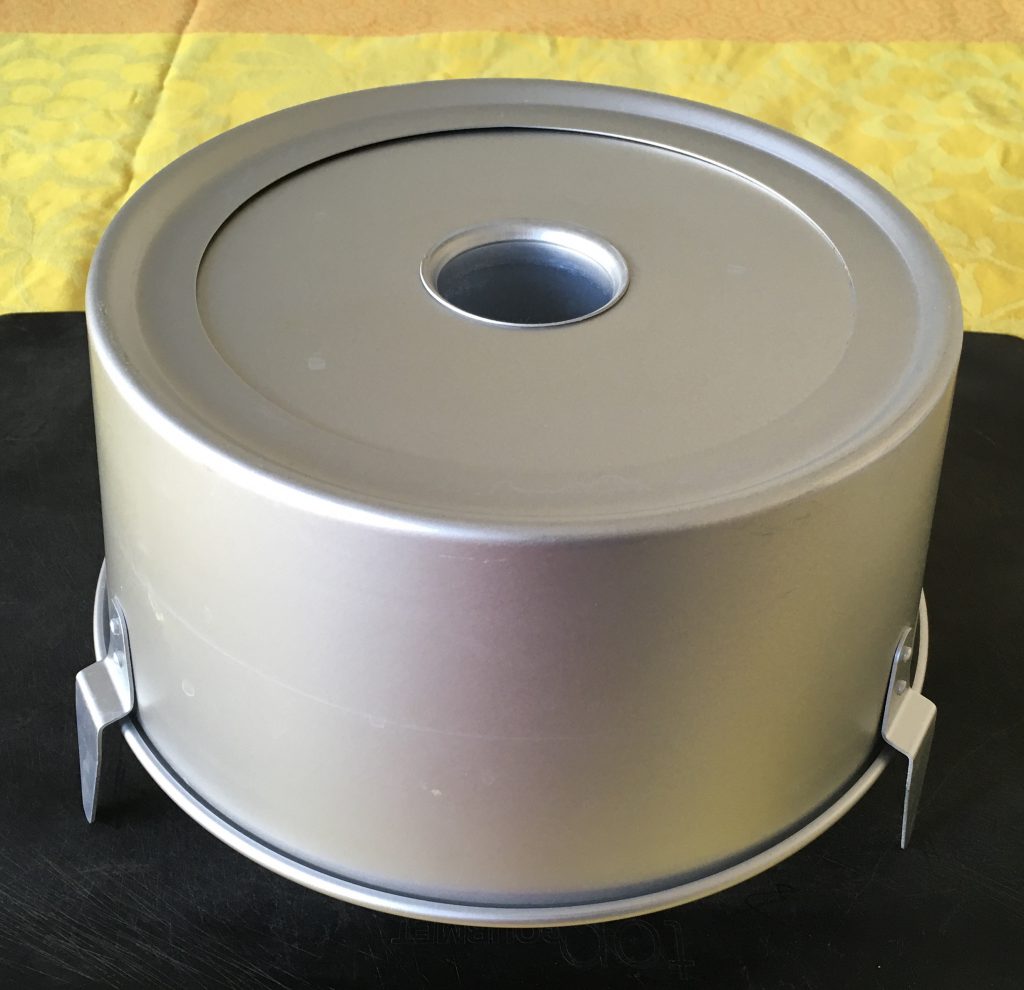 When the cake is completely cooled, turn the tin the right way up. Using a long metal or plastic spatula, loosen the cake from the sides and central tube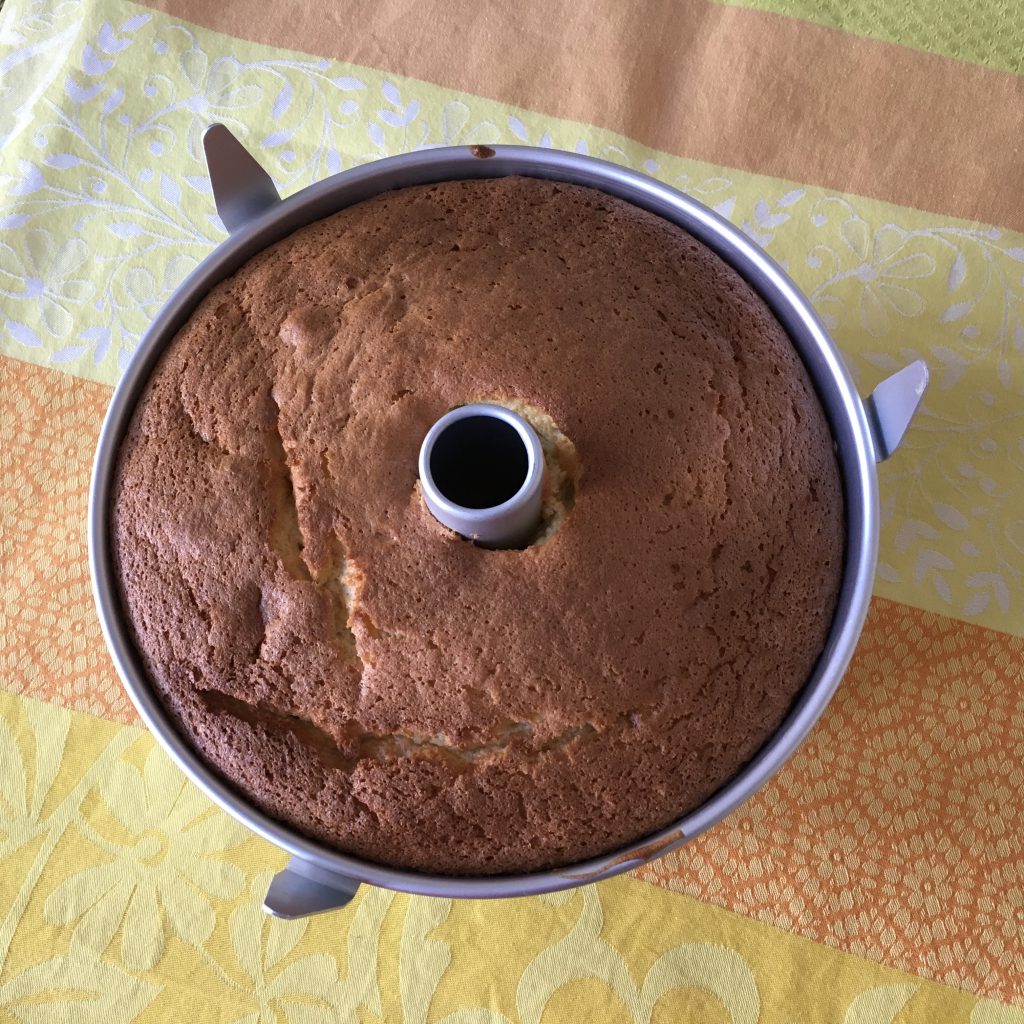 Remove the cake from the tin (it will still be attached to the base) and using a long metal or plastic spatula, loosen the cake around the base whilst it is till in an upright position. Turn the cake upside down on a large board or serving plate and it will fall down neatly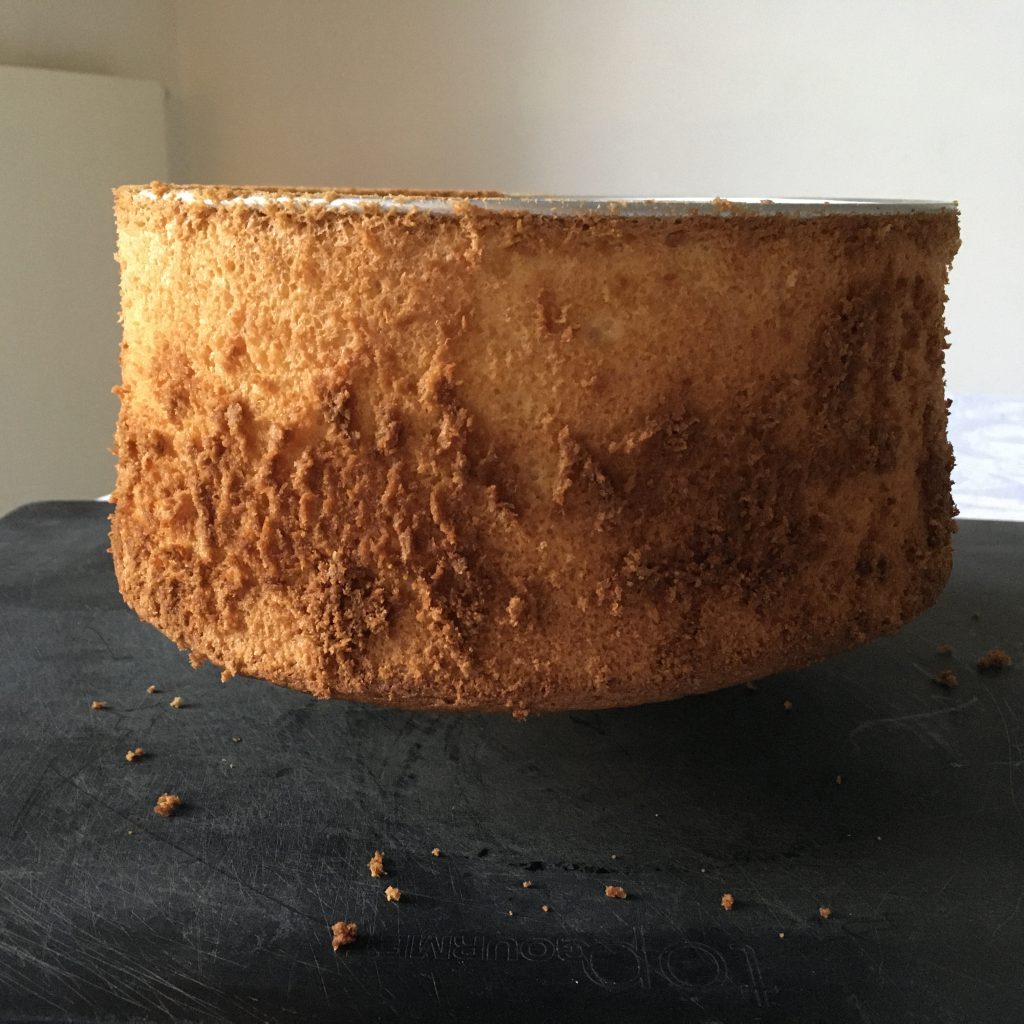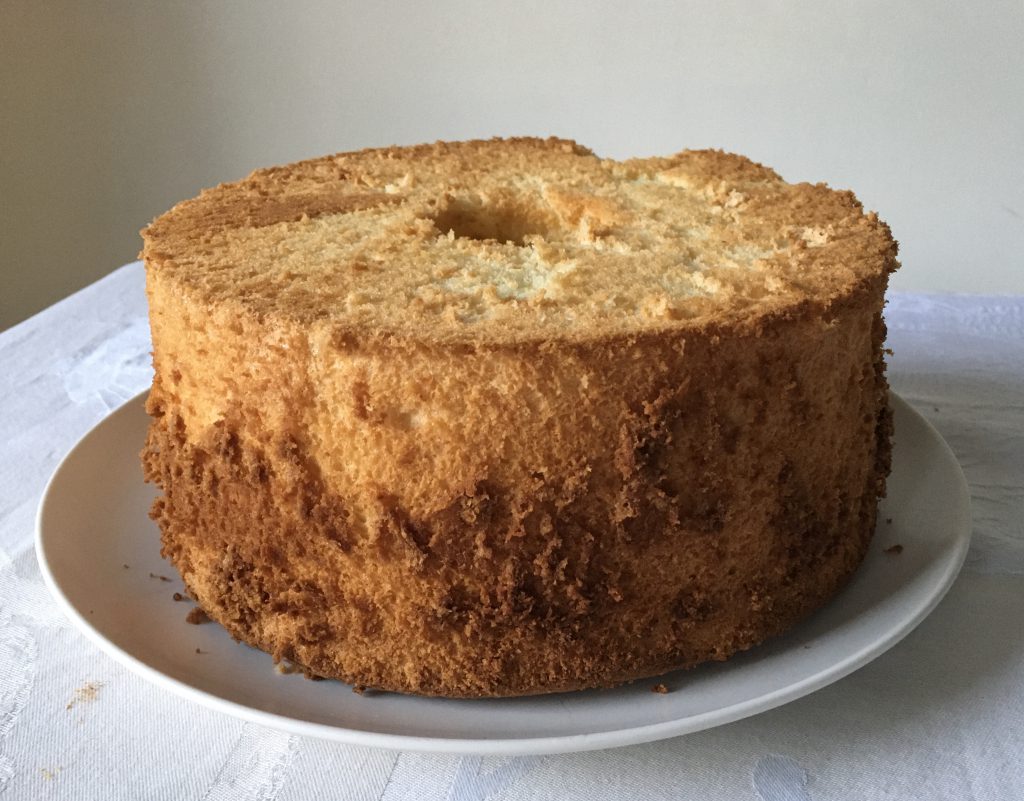 The cake could be neater but it scored very highly for its lightness and intense orange flavour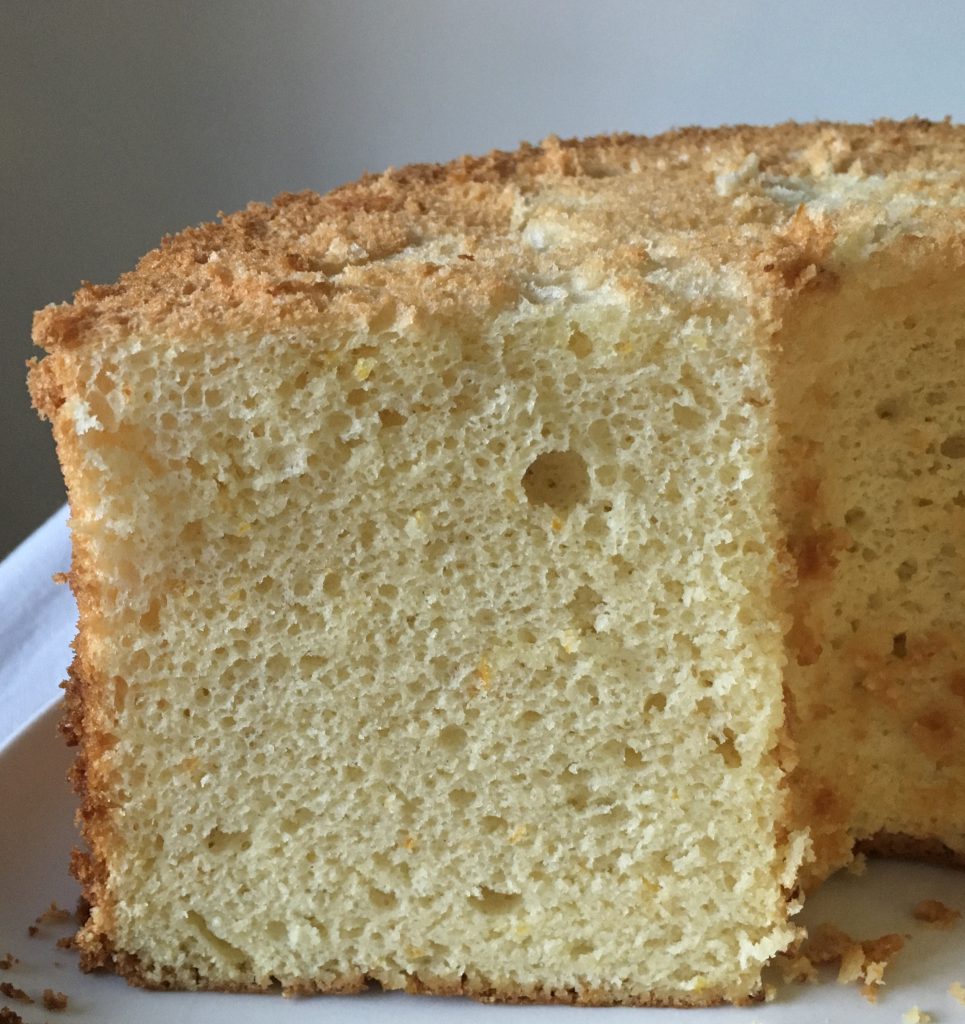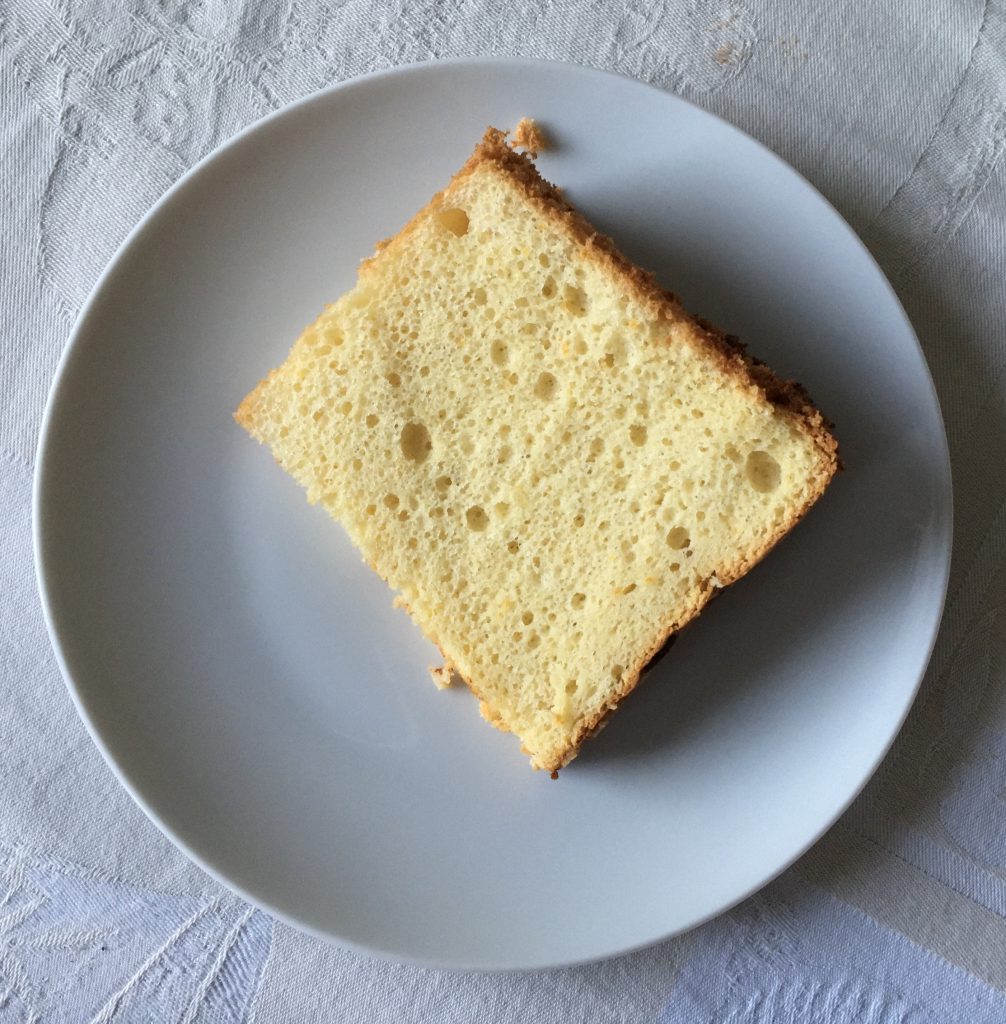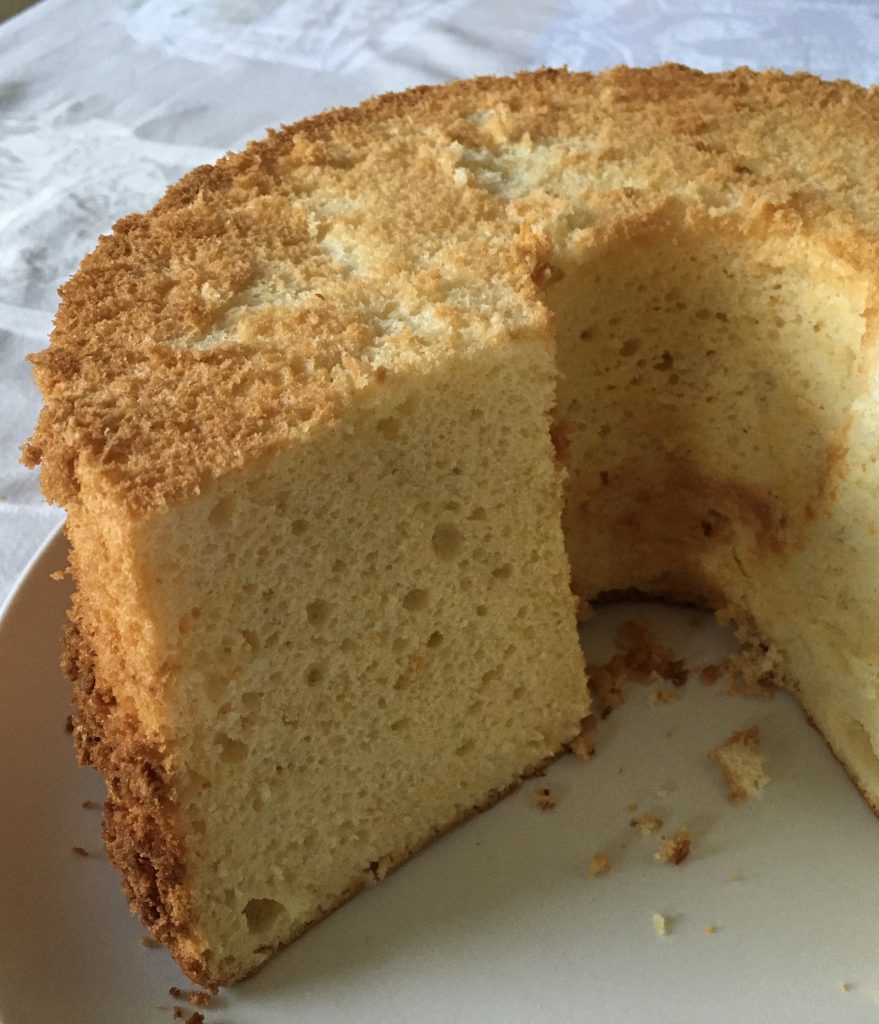 If, after making the chiffon cake, you would like to embellish it, I would suggest some raspberries and blueberries around the serving plate and a sprinkling of icing sugar and orange zest on the top of the cake. We had some leftover chocolate ganache and when eaten with this orange chiffon cake, Junior 2 said it was like eating Jaffa Cake.
This cake would be a very good one to make for a family gathering, especially during Chinese New Year when oranges signify gold. We worked out that the cake would cut into 16 – 20 thin slices which would be enough if everyone is full after a large family meal. It would be good too for picnics as it is easy to transport and easy to handle.