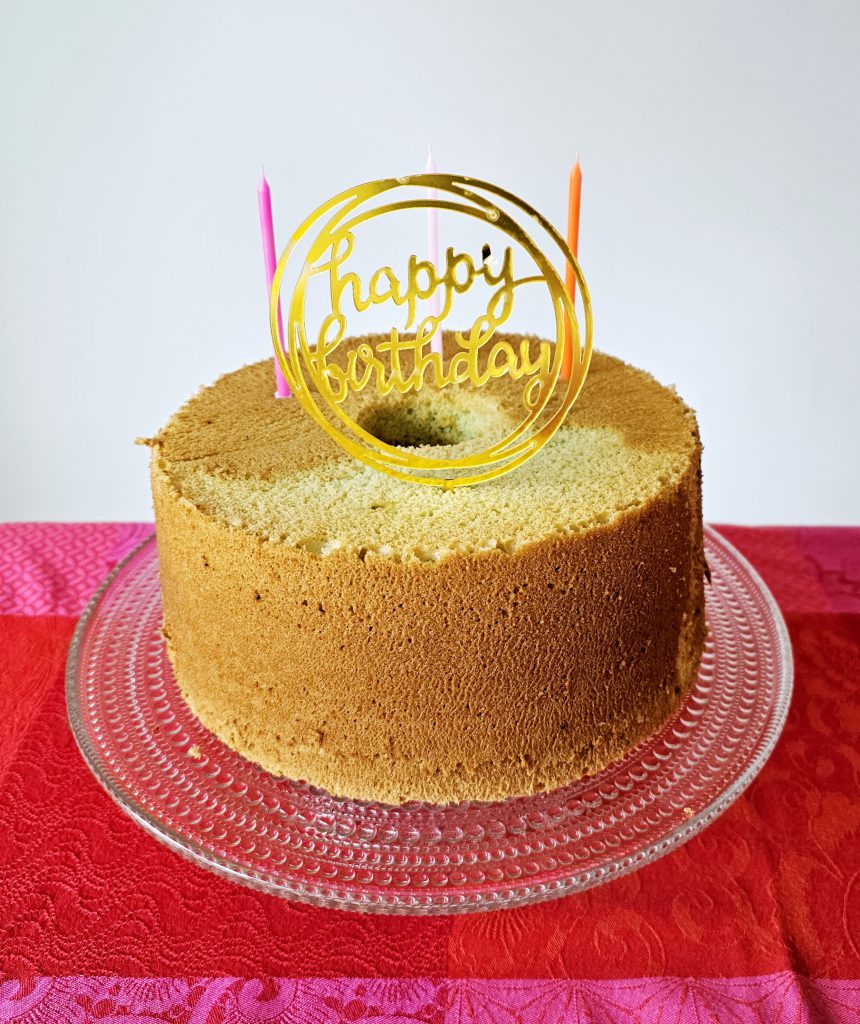 Happy Birthday to everyone with March birthdays
It has been a month since I posted my February birthday cake recipe. Life is continuously busy but I am a firm believer that humans are made to engage with work. Having something to keep me busy daily keeps me challenged and makes me happy.
I do need to write up my Singapore notes! Otherwise they will end up like all the other travel notes including our trips to the Scilly Isles and the New Forest.
The pandan chiffon cake recipe has been a hurdle, although I should not have made a mountain out of a molehill. The problem was not the lack of a reliable recipe, as I would base it on my perfected orange chiffon cake. The problem was always whether to use fresh pandan extract or to use pandan essence. In the end I made stab at it and used both.
We had a family lunch to celebrate Junior 1's 30th birthday, starting with Pommery champagne and sesame prawns on toast (fondly referred to as SPOT in our house).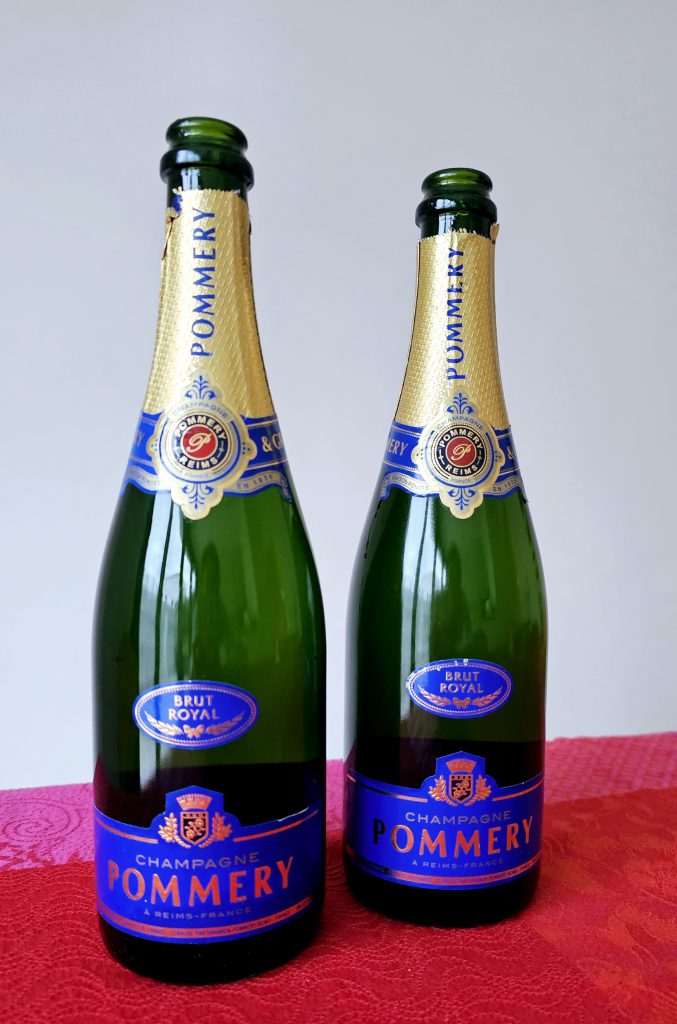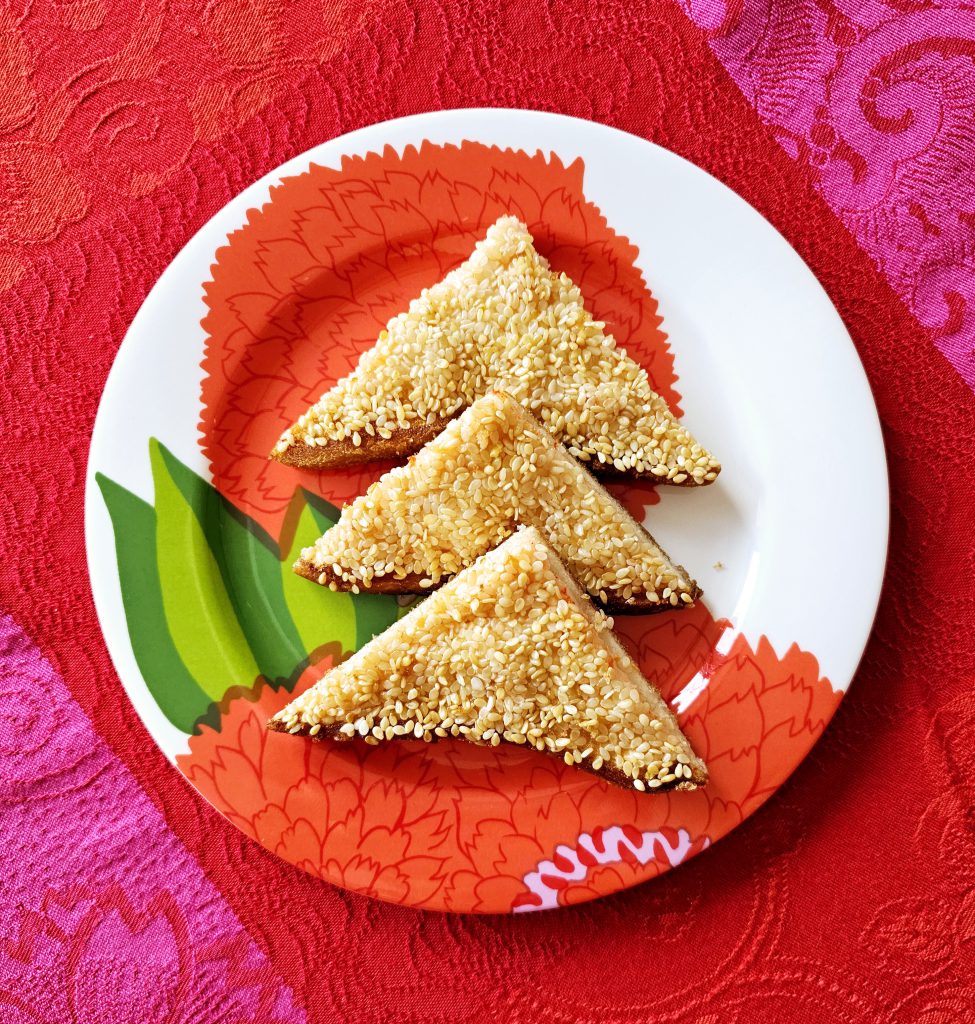 I am very fond of Pommery. The reason for this sentiment is that when Mr Gochugaru turned 30 (we are now both approaching 60), I organised a surprise weekend away at the newly opened Hotel du Vin in Winchester, with my in-laws roped in to look after the (then) very small Juniors 1 and 2.
When he saw his packed bag, Mr Gochugaru was more shocked than surprised and almost refused to go. On the way to the hotel he cautioned me never to pull a stunt like this again. I haven't, and we are still married.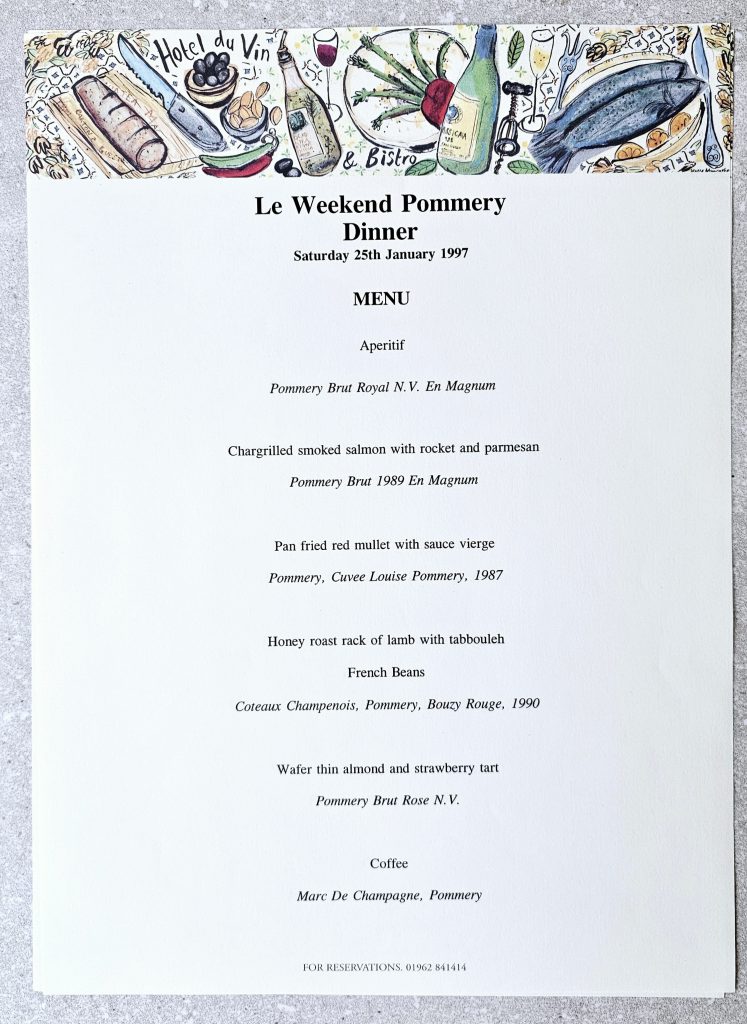 To extract the pandan juice from fresh pandan leaves, you have to blend a quantity of leaves with water, squeeze out the juice, pour into a container, wait for the thicker green extract to settle, discard the top pandan water then use the extract in the cake batter.
I was short of time and instead blended the pandan leaves directly with the coconut milk then squeezing everything through a cheesecloth, using it immediately to make the cake. Whichever way you use to extract some juice from the pandan leaves, you will still need to top up the flavour by using a shop-bought essence.
There are different brands of pandan essence but the one most bakers recommend, if you can get it, is Koepoe Koepoe (Butterfly) brand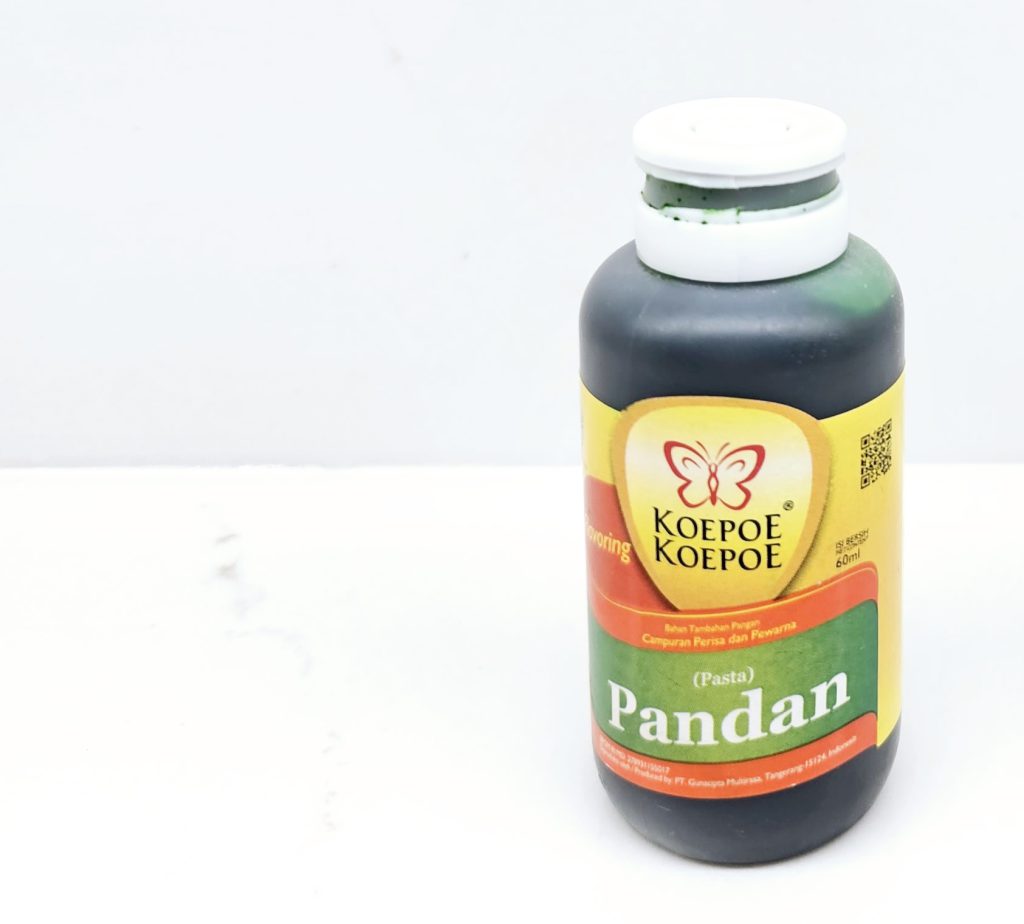 This recipe will make one large 25 cm cake, perfect for family parties. You can also divide the mixture and use two smaller chiffon baking tins, adjusting the baking time to reflect the smaller cake sizes.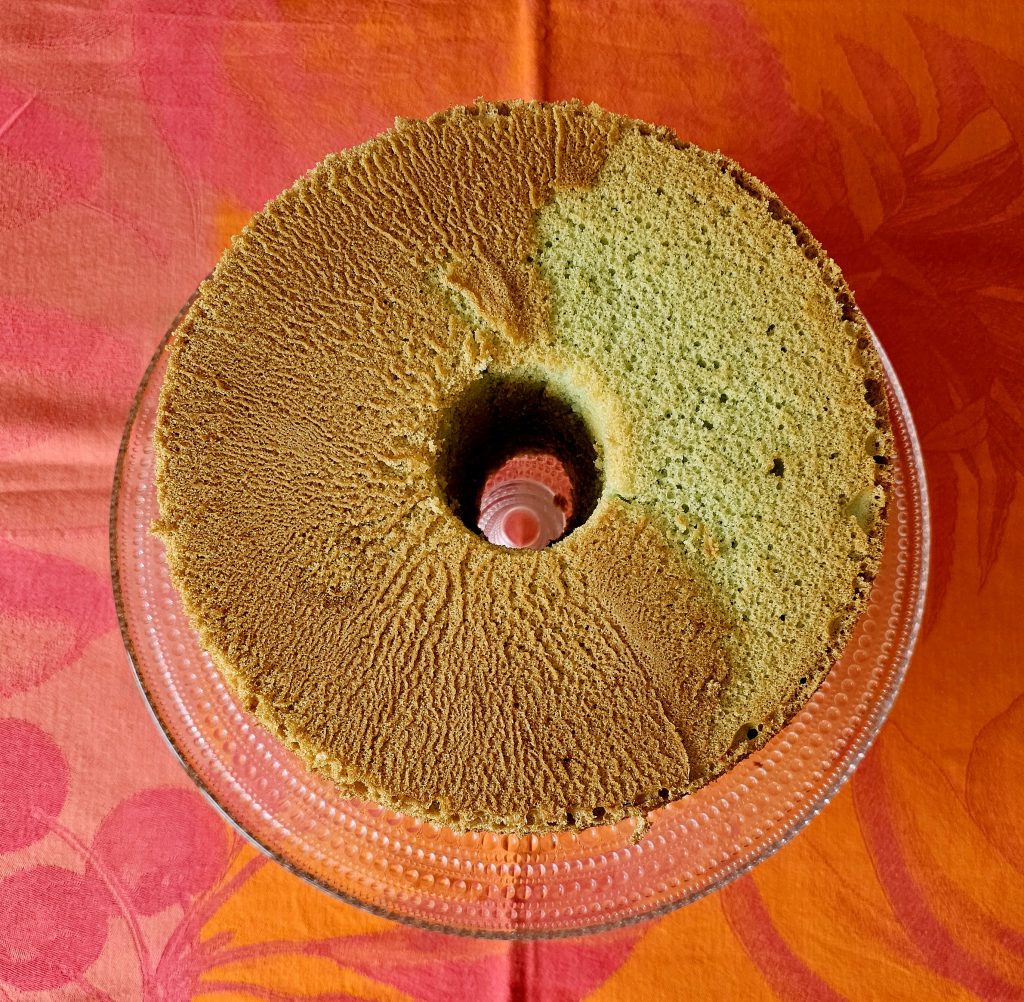 For the Cake:
(everything is weighed so it is fool-proof)
225 g self-raising flour
225 g unrefined caster sugar
½ teaspoon fine sea salt
125 g sunflower oil
125 g egg yolks (roughly 7 large egg yolks)
75 g fresh pandan leaves
200 g coconut milk (I use Aroy-D brand)
¼ teaspoon pandan essence, Koepoe Koepoe brand
For the Meringue:
300 g egg whites (roughly 8 large egg whites)
1 teaspoon cream of tartar
45 g unrefined caster sugar
Equipment:
You will need a 25 cm Angelfood Cake Pan, sometimes called a Chiffon Cake Tin. The tin has to be left UNGREASED.
The same recipe will fill two smaller chiffon cake tins, each with a width of 17.5 cm and 21 cm. Bake the 21 cm cake for around 50 minutes, and the 17.5 cm cake for around 45 minutes. You can freeze one cake for another day.
I used my KitchenAid but you can also use a handheld electric beater.
You will need two large mixing bowls, one for the flour and egg yolks and another for the egg whites.
How to Make:
Preheat the oven to 325°C/170°C.
Cut the pandan leaves into thin strips and blend with the coconut milk until you get a fine mush. Place this in a muslin cloth and squeeze out the pandan and coconut extract. Set aside.
Sift the flour, sugar and salt into a KitchenAid mixing bowl, or a large mixing bowl.
Make a well in the centre of the flour and add the oil, egg yolks, coconut and pandan extract and pandan essence.
Using a flat beater or a flex-edge beater (KitchenAid) OR a hand-held electric beater, gently mix the ingredients to form a smooth batter. Keep this aside whilst you prepare the egg whites.
Place the egg whites in a separate KitchenAid mixing bowl (or a large mixing bowl) and using the whisk attachment, beat on a high speed until frothy (KitchenAid speed 6 for around 30 seconds).
Add the cream of tartar and continue to beat until soft peaks form.
Sprinkle in the 45 g sugar bit by bit and continue to beat for about 3 – 5 minutes, until stiff peaks form. Keep watch over the meringue like a hawk so it does not overbeat, as the whites will then become dry and separate.
When the meringue is ready, fold it into the flour and egg yolk mixture, using a large balloon whisk or rubber spatula. Do this in stages, folding the meringue in gently until the mixture is well combined and there are no streaks of batter or meringue visible.
Pour the batter into the ungreased cake tin and bake in the oven for 55 minutes or until the cake bounces back when touched. A metal skewer inserted in the centre should come out clean.
After baking: in stages
Remove the tin from the oven and immediately turn it upside down, resting the legs on a heat-proof surface. As it is ungreased, the cake will not fall out. It is this 'suspension' that ensures the cake does not sink as cools. The bubbles created by the beaten egg whites ensure its lightness. Set aside the cake to cool in the tin for at least 1 hour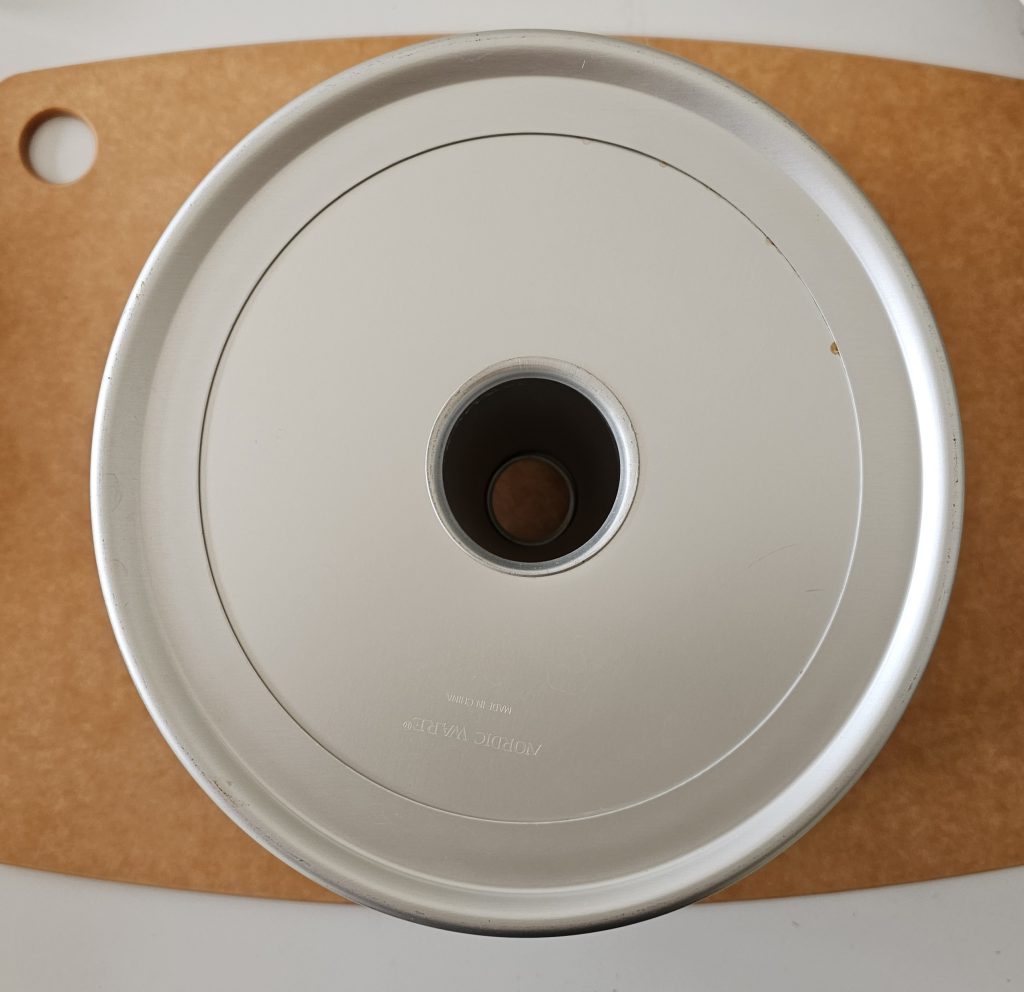 When the cake is completely cooled, turn the tin the right way up. Using a long metal or plastic spatula, loosen the cake from the sides and central tube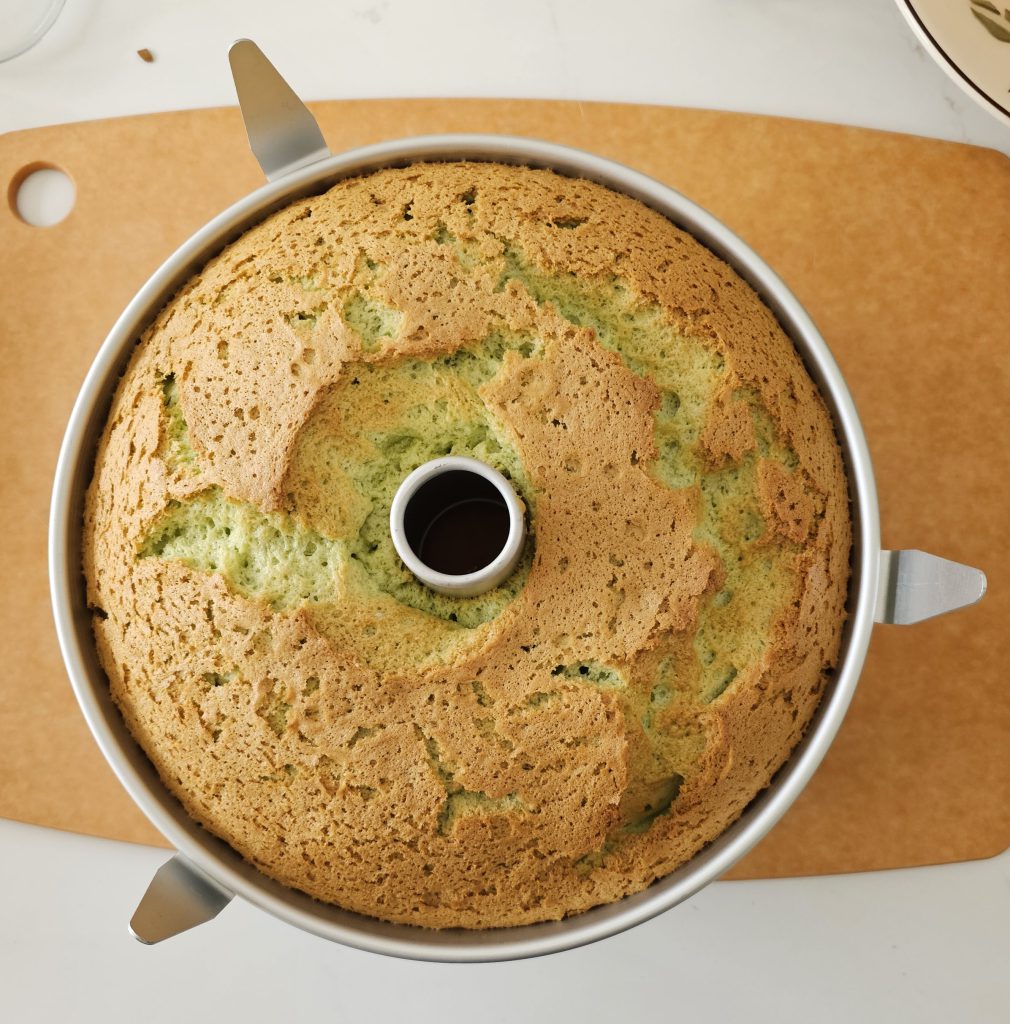 Remove the cake from the tin (it will still be attached to the base) and using a long metal or plastic spatula, loosen the cake around the base whilst it is till in an upright position. Turn the cake upside down on a large board or serving plate and it will fall down neatly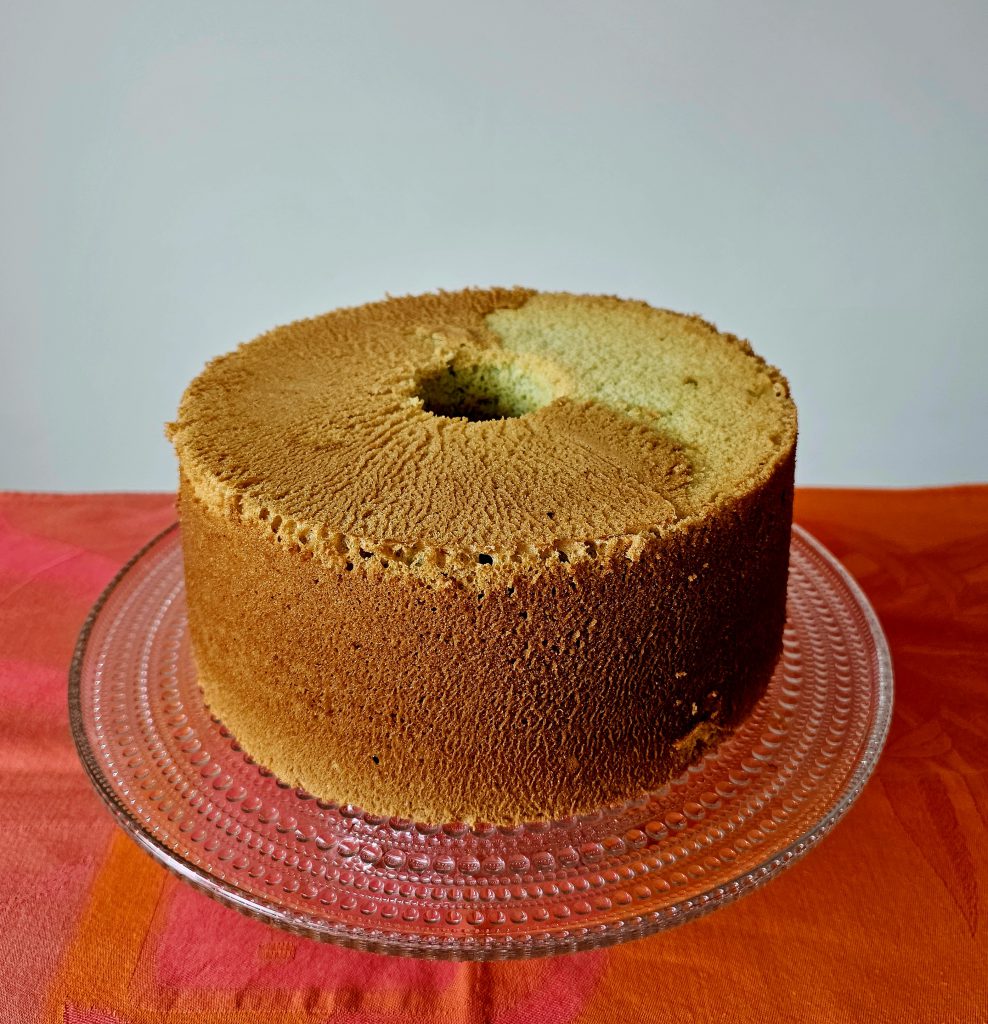 I served the cake plain but it would go well with some coconut ice cream or some 'salted caramel' sauce made with gula melaka and coconut cream. I don't have a recipe for either so this is a future project.
There was not much cake left at the end of our lunch…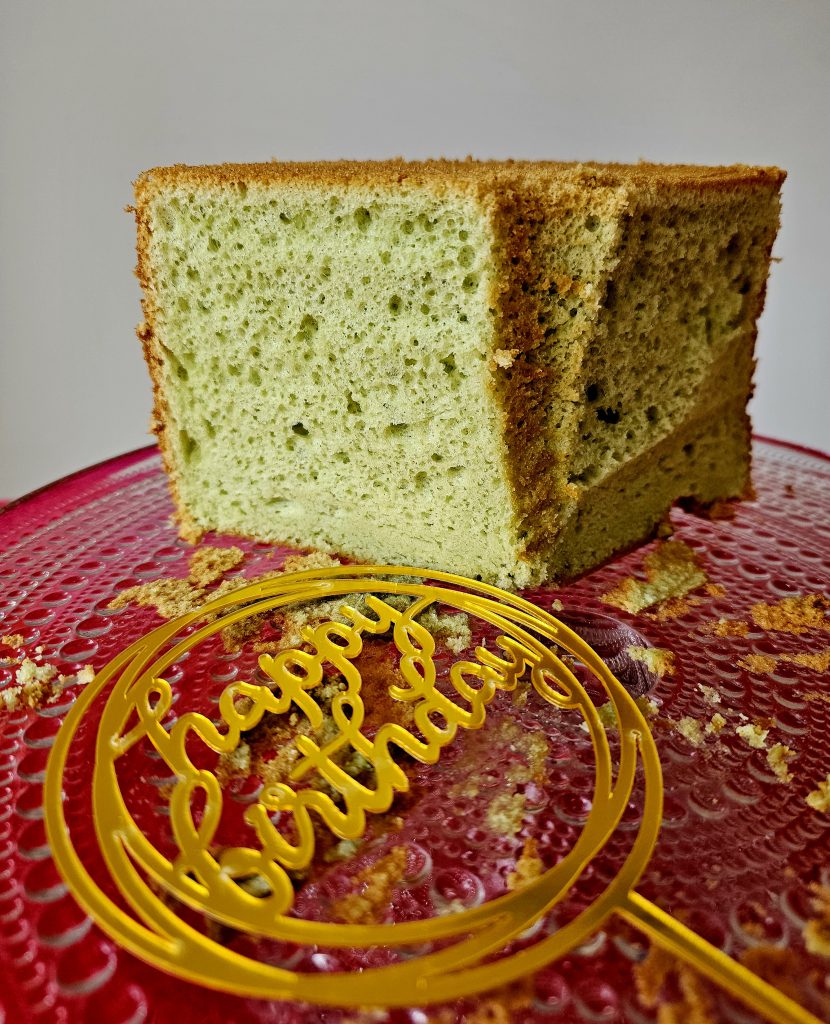 If you are like me, in your late 50s heading towards your early 60s, you will appreciate how fast time flies. In the past 30 years I have seen many happy as well as many sad events in the lives of those in my friendship and family circle. Looking back I was always so keen on organising everything down to the last detail but since the pandemic, and since my father passed away, I have allowed myself to loosen the grip on a lot of things.
I really think we need to accept that we may not be here tomorrow. I am always so relieved when I wake up in the morning and it is another new day. There are always things to do, but now I want to also say 'there is always another glass of champagne to drink'.
PS:
Our menu today (which hopefully someone can read in 30 years' time) was Pommery champagne, sesame prawns on toast, whole organic chicken poached in an aromatic soya sauce, grilled side of salmon, sweet winter slaw from Plenty by Yotam Ottolenghi, Vietnamese summer rolls with a hoisin-peanut sauce, rice with fried garlic and ginger and the said pandan chiffon cake. Thank you to Juniors 2 and 3 for helping with the cooking. Mx