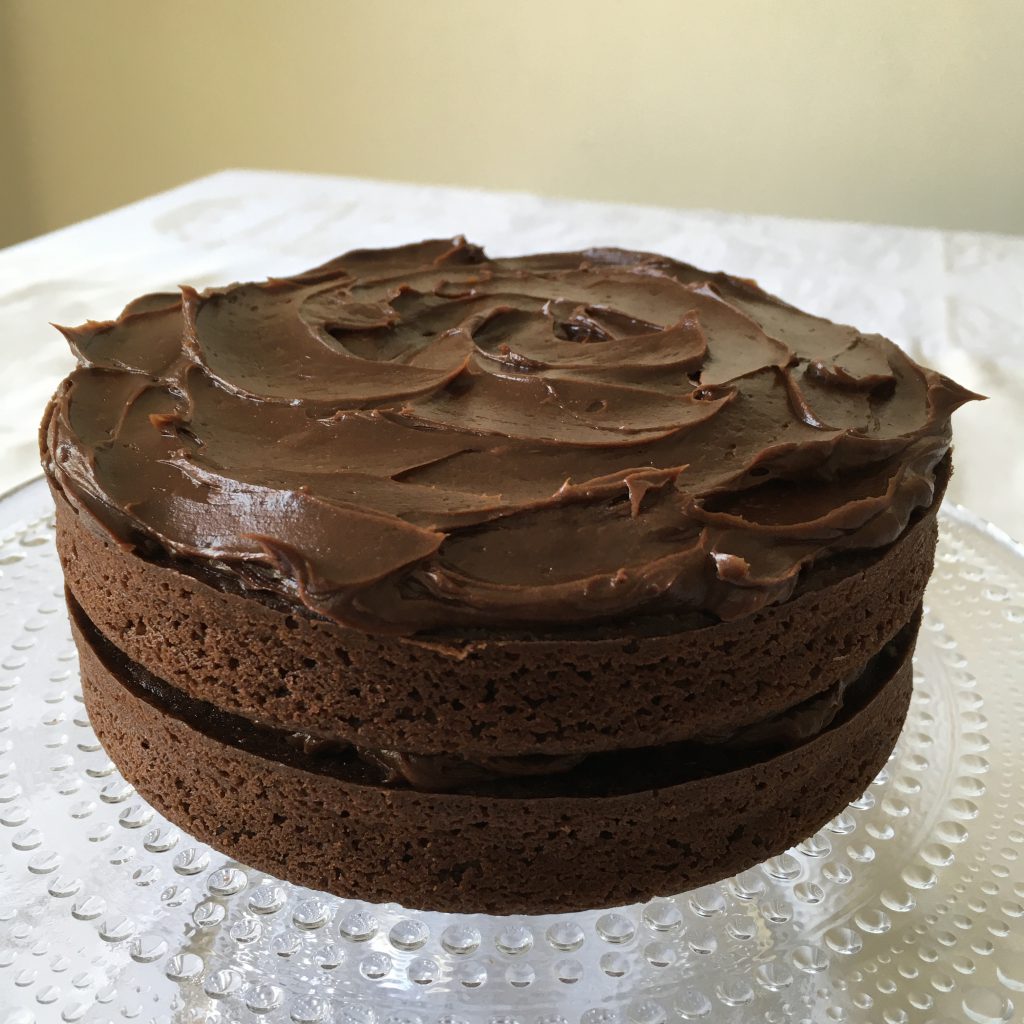 I am a huge fan of Yotam Ottolenghi because almost all of his recipes are designed to be shared communally. I have lost count of the successful dinners I have held where his dishes kickstarted conversations and aided conviviality around the dining table.
However we are in lockdown and have only ourselves for company so a little judicious downsizing is in order. I am hoping that downsizing the cakes I bake might eventually lead to the downsizing of my waistline. It is quite futile really…
This is a half-portion of a cake adapted from Sweet by Mr Ottolenghi and his pastry chef Helen Goh. I have called this Lockdown Chocolate Cake, but the children tell me that they will be calling it the chocolate cake that is not Nigella's because for most of their lives, I have used Nigella Lawson's chocolate cake recipe as their birthday cakes. I will definitely make this cake again because it provides a quick chocolate hit, but it will never reach the heights of ecstatic reception of that other cake.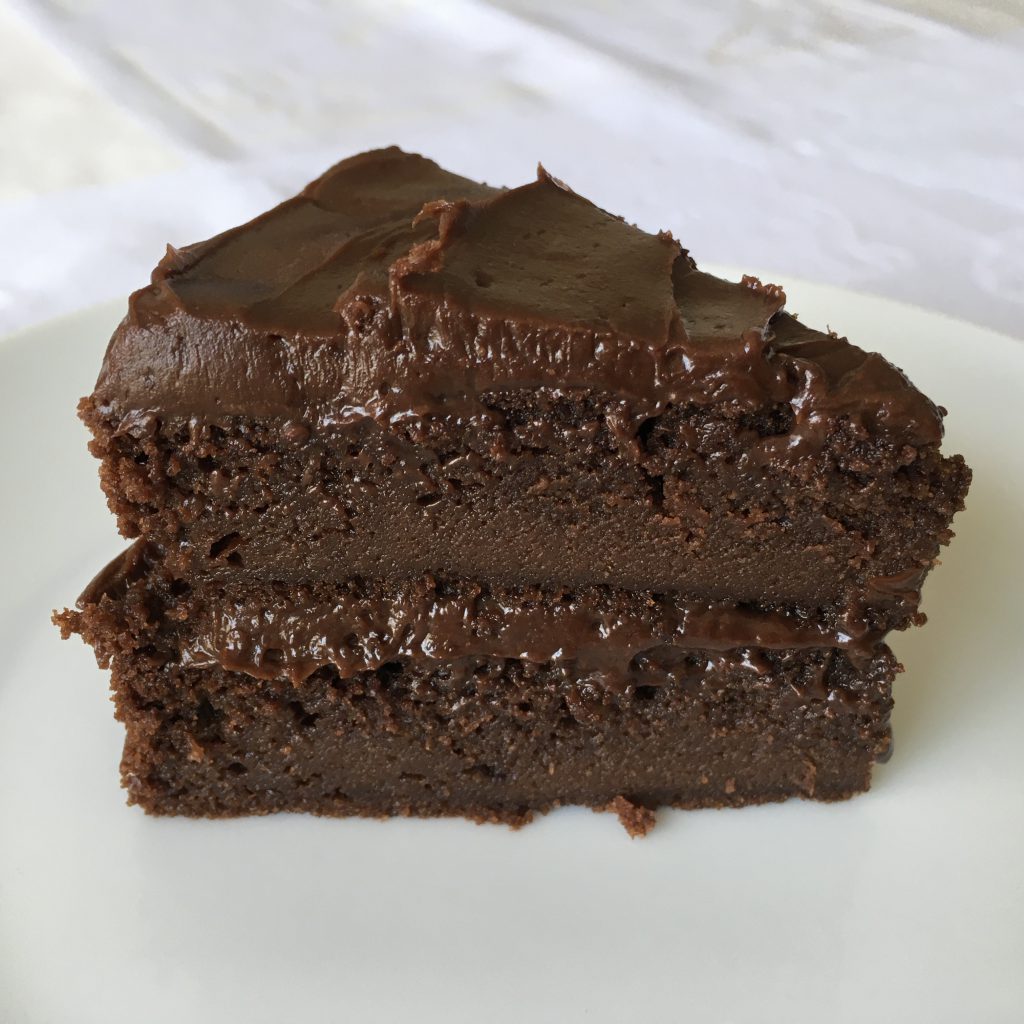 For the Cake (6 inch / 15 cm)
125 g unsalted butter, cut into 2 cm cubes and left to soften
100 g dark chocolate chips (70% cocoa solids)
2 Nespresso coffee capsules made up to 175 ml coffee
75 g unrefined caster sugar
1 large egg, lightly beaten
2 teaspoons vanilla extract
120 g self-raising flour
15 g cocoa powder
pinch of salt
You will also need two 15 cm baking tins. I made this cake by hand but it will be slightly easier with a KitchenAid.
How to Make:
Preheat the oven to 170°C/ 325ºF/ Gas 3. Grease and line the baking tins.
In order to make this cake quickly, it is best to first prepare the ingredients in groups as follows (see photos below):
Butter, chocolate chips and coffee
Sugar, egg and vanilla
Flour, cocoa powder and salt
Place the cubed butter and chocolate chips in a large mixing bowl and pour over the hot coffee. Whisk everything together until combined and smooth.
Add the sugar and mix until dissolved, then add the egg and vanilla extract. Whisk everything again until thoroughly combined and smooth.
Sift in the flour, cocoa powder and salt, and whisk until you get a liquid batter.
Pour the batter into the prepared tins.
Bake the cakes for 25 – 30 minutes, or until a cake-tester comes out clean. Leave the cakes to cool slightly in the tins before turning out onto a wire cooling rack to cool completely. Chocolate icing makes everything better and the recipe is at the bottom of the post.
Ingredients 1: butter, chocolate chips and coffee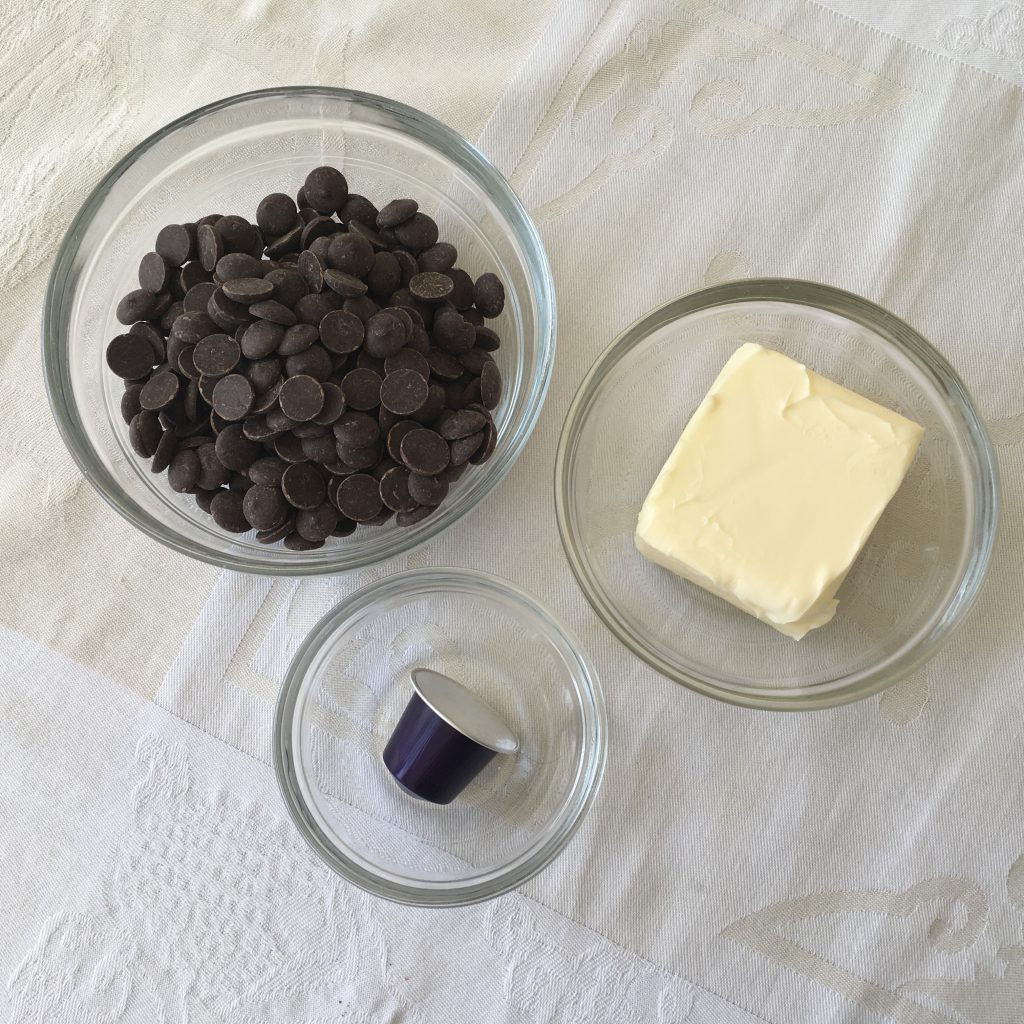 Ingredients 2: sugar, egg and vanilla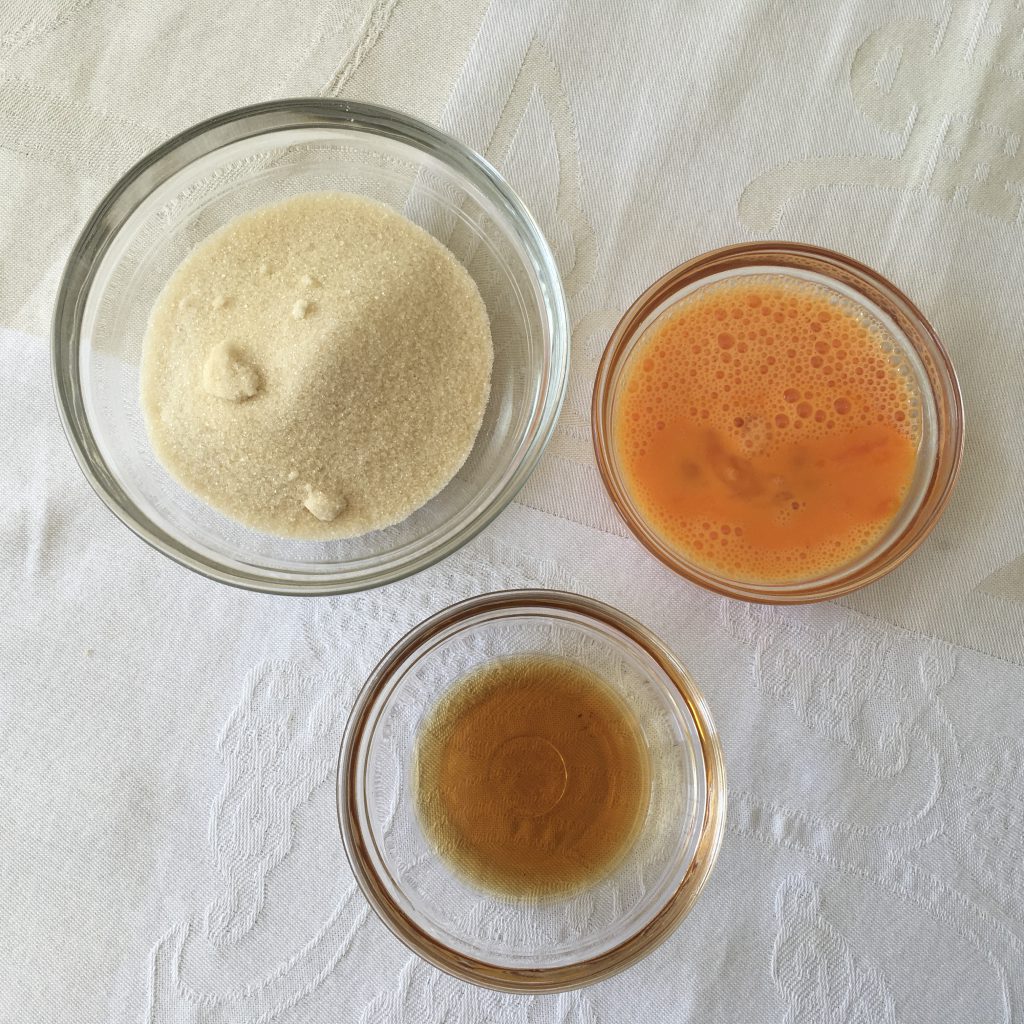 Ingredients 3: flour, cocoa powder and salt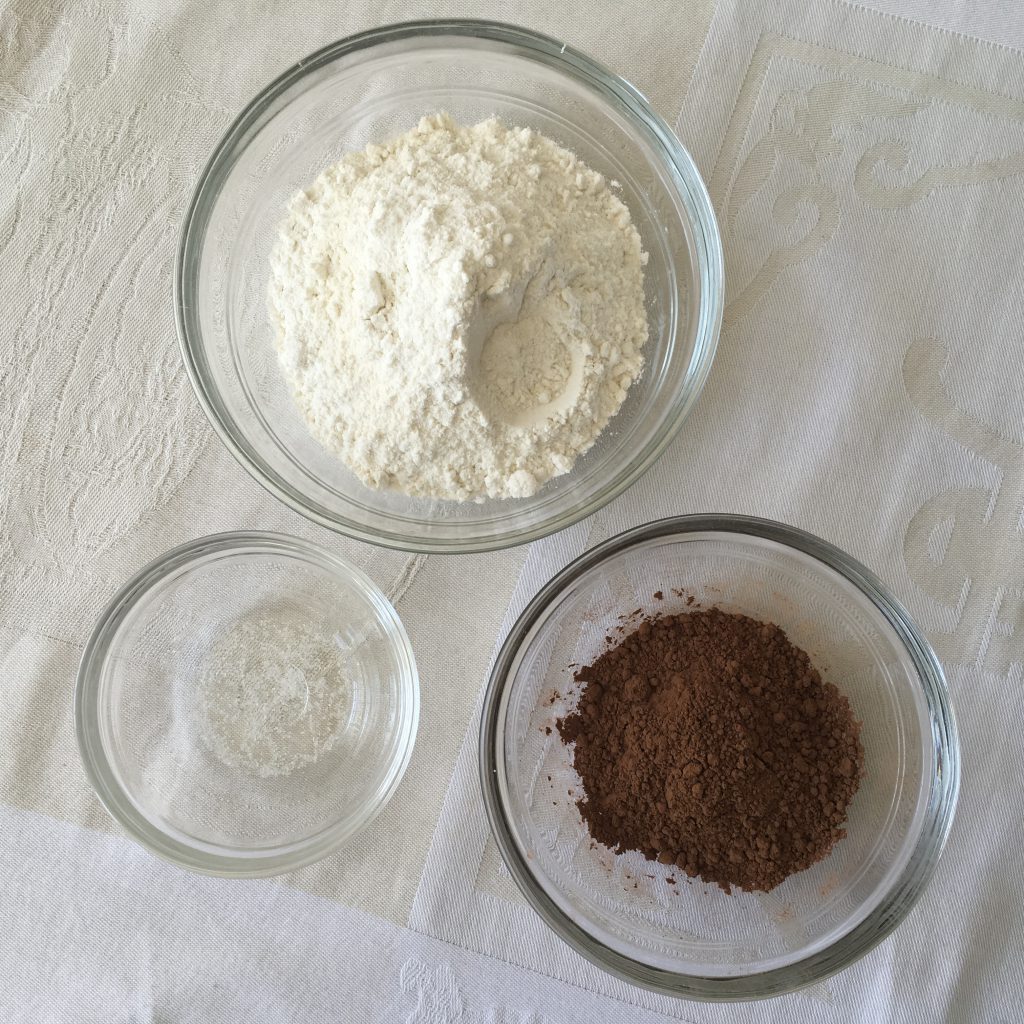 Step 1: pour the hot coffee over the butter and chocolate, then whisk until combined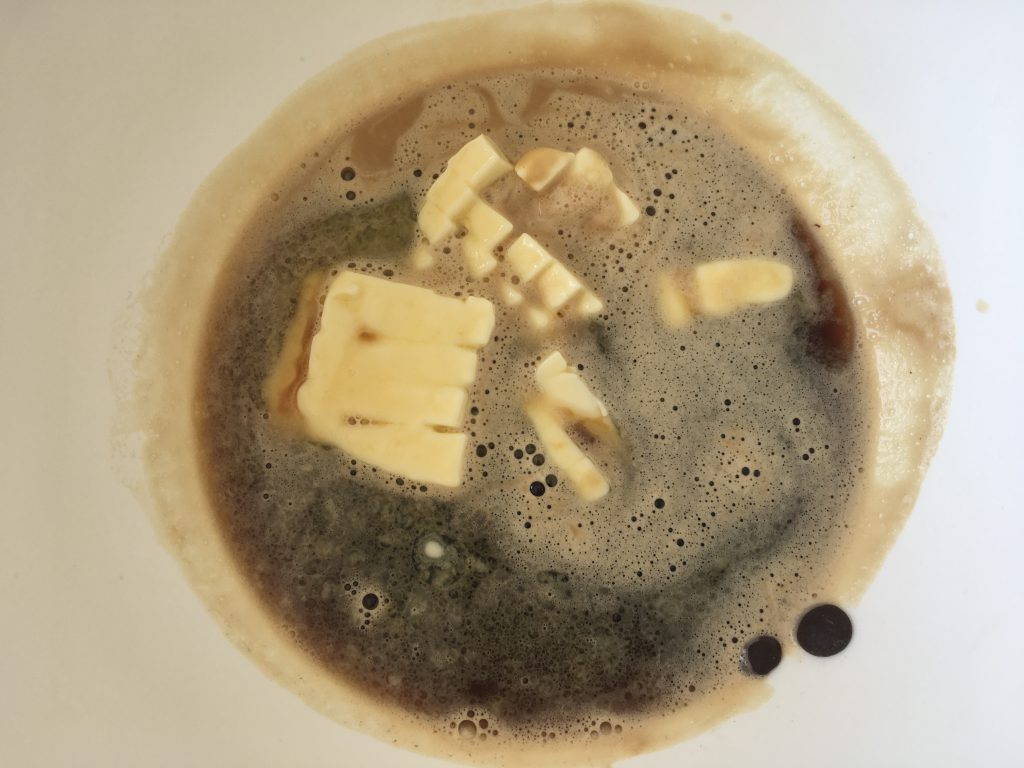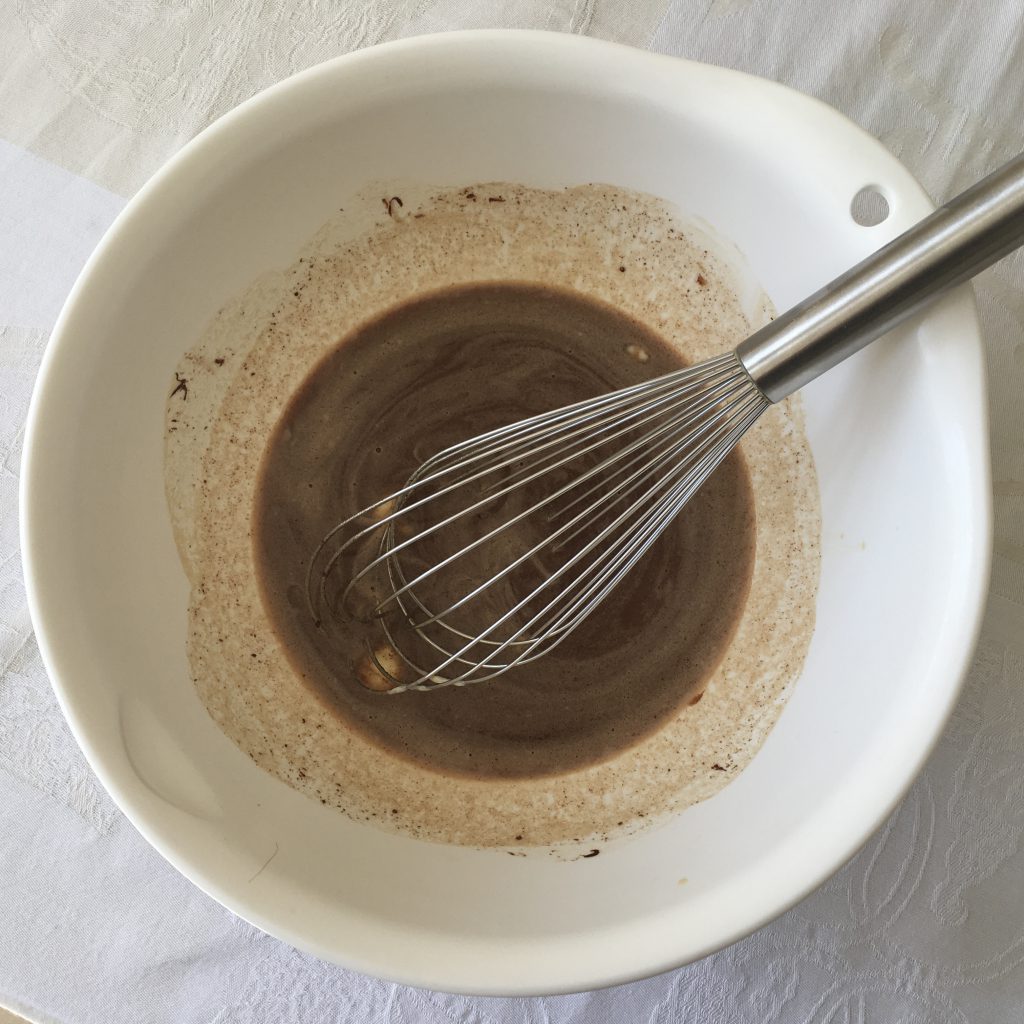 Steps 2 and 3: Add the sugar, egg and vanilla, mix, then sift over the flour, cocoa and salt. Mix everything to a smooth and liquid batter then pour into the baking tins and bake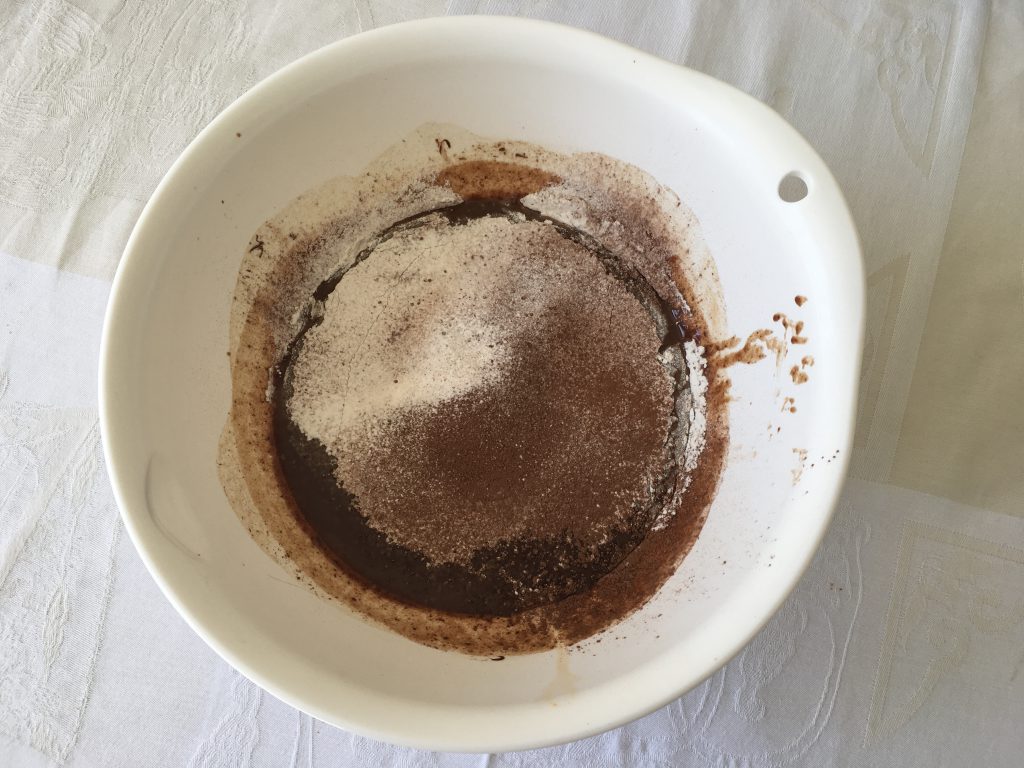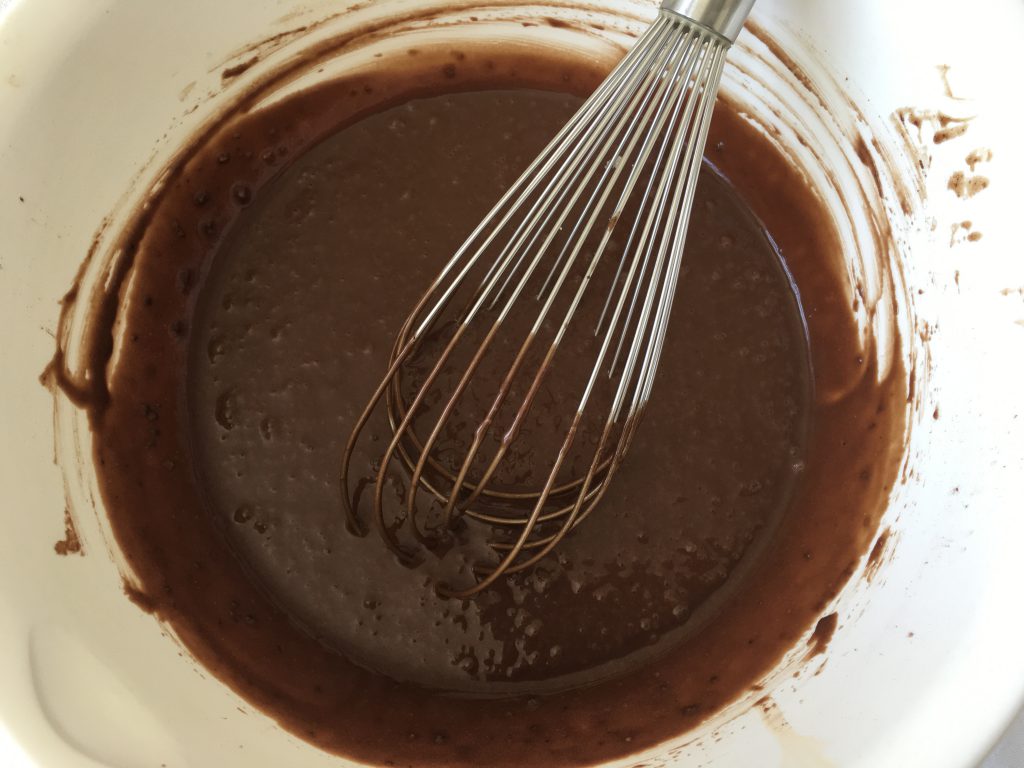 Step 4: cool the cakes thoroughly before icing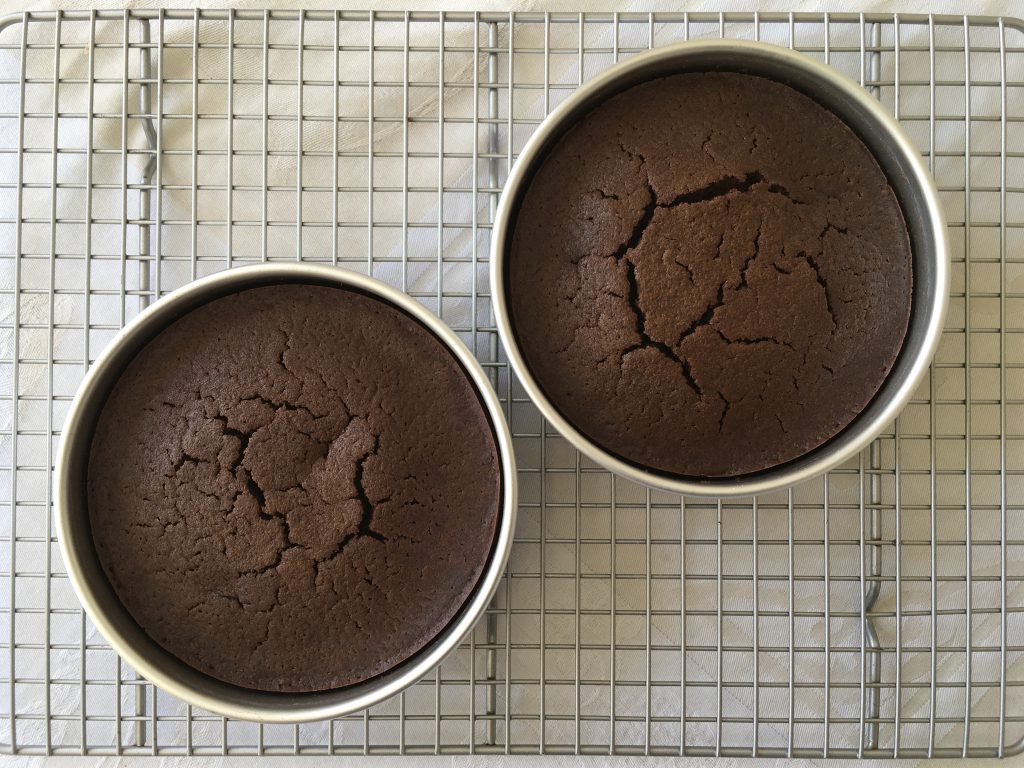 For the Chocolate Ganache:
100 g dark chocolate chips (70% cocoa solids)
100 ml double cream (48% fat content)
10 g golden syrup
10 g unsalted butter, at room temperature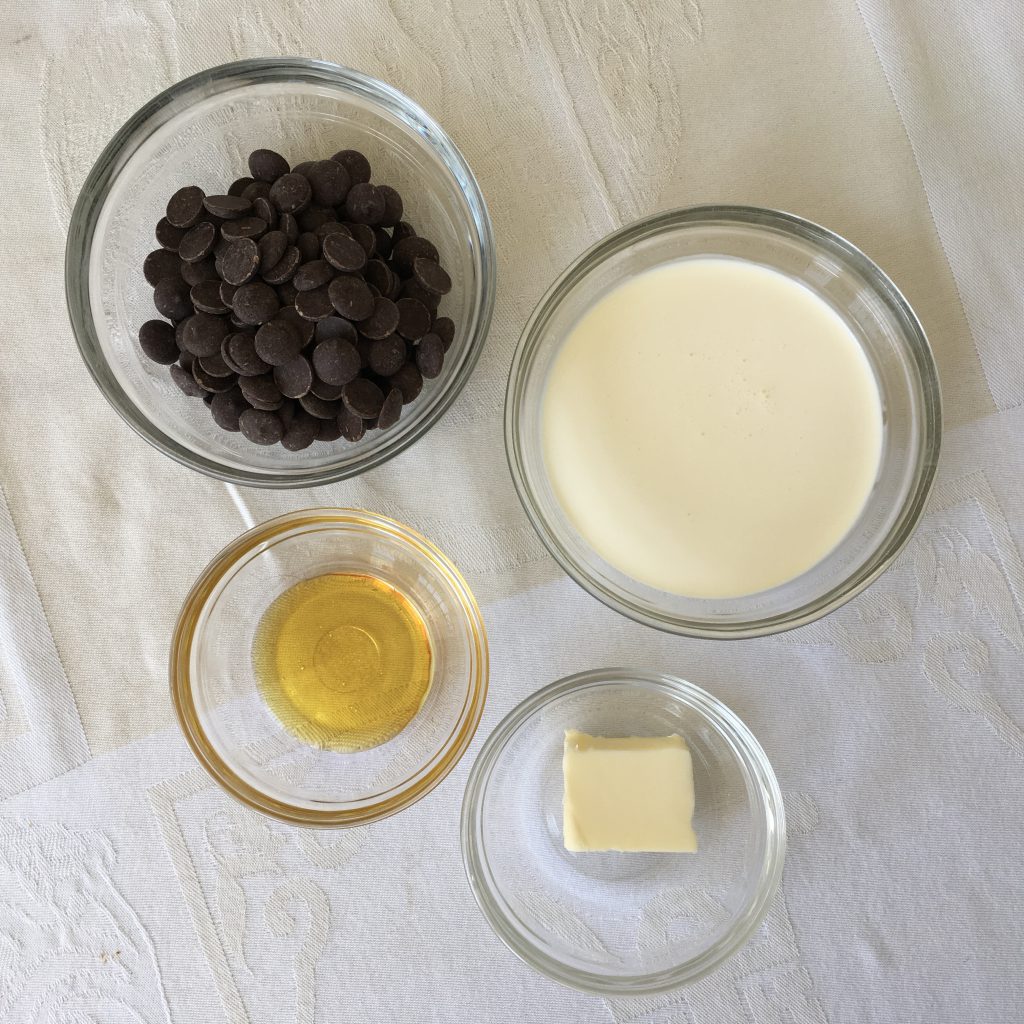 How to Make:
I made this by hand but it will be slightly easier with a KitchenAid.
Place the chocolate chips in a mixing bowl.
Heat the cream and golden syrup together in a small pan over a medium-high heat.
As soon as bubbles begin to appear, i.e. just before it comes to a boil, remove from the heat.
Pour the hot cream in a steady stream over the chocolate.
Whisk everything for around 10 seconds then add the butter. Continue to whisk until the mixture is shiny and smooth.
Cool the ganache completely, until it has thickened slightly, before using to ice the cakes.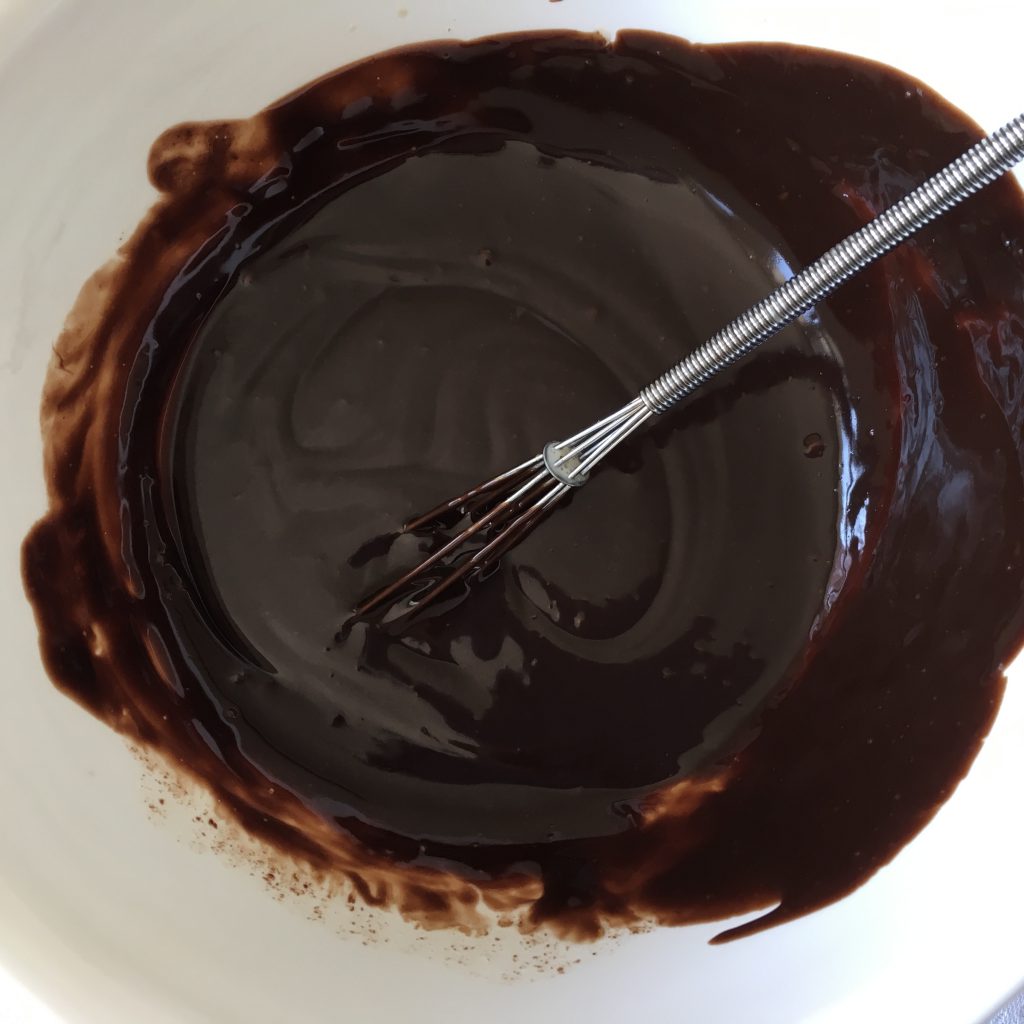 Assembling is easy, step by step: place one cake on a plate, spread over half the chocolate ganache, and repeat with the other cake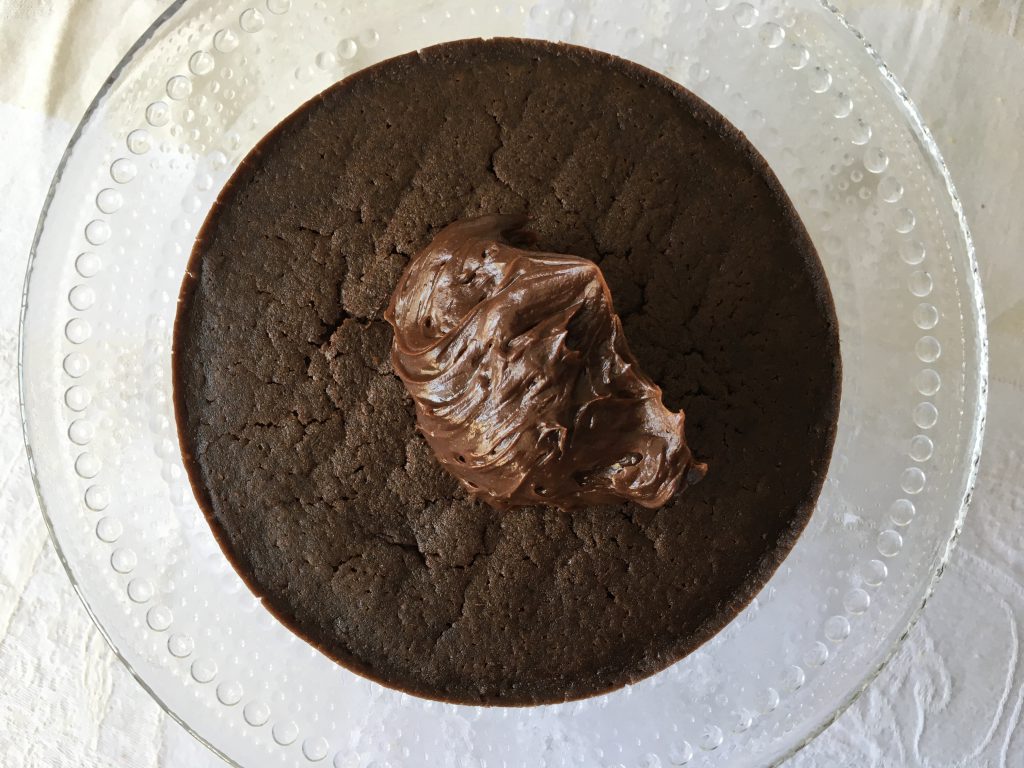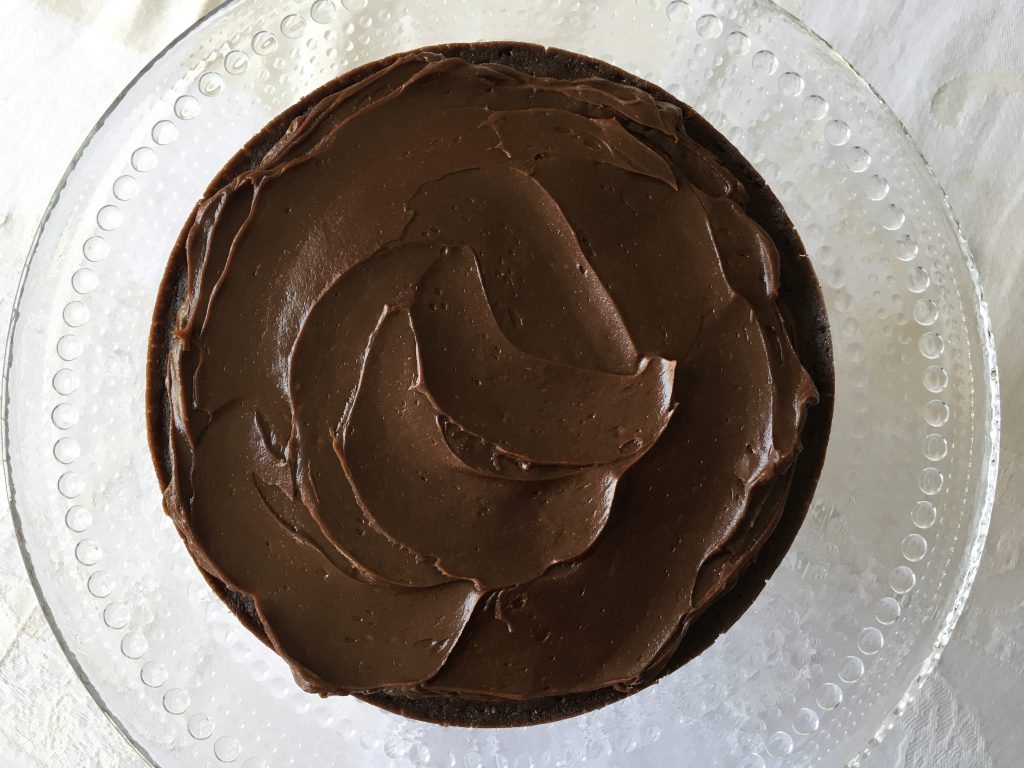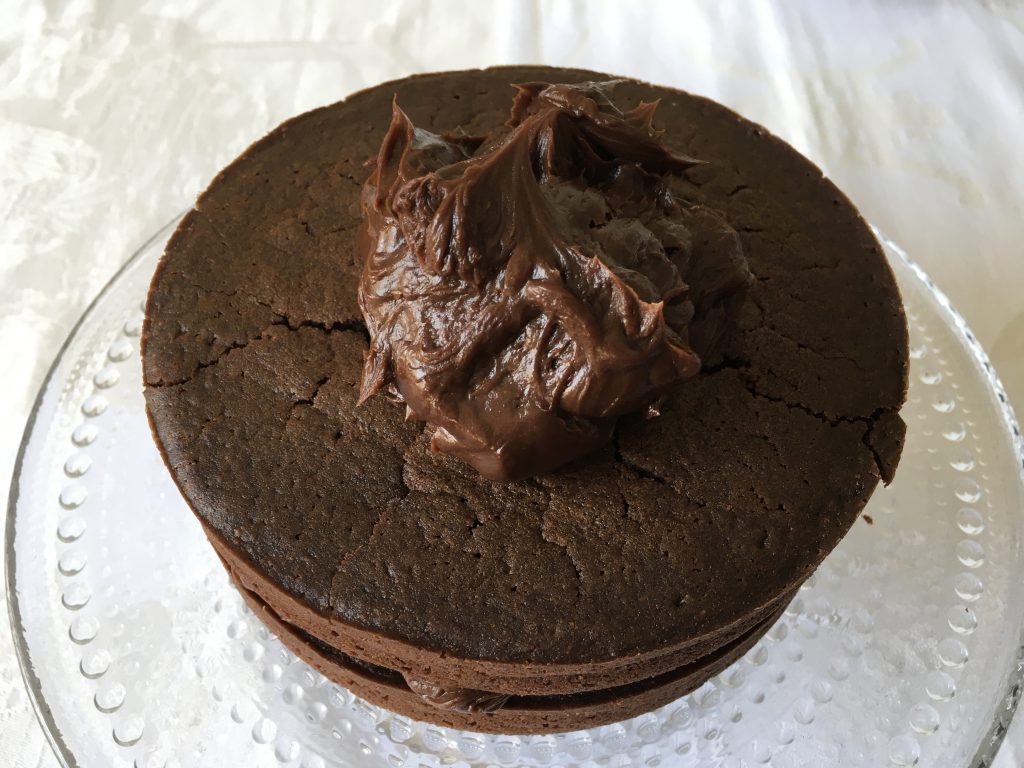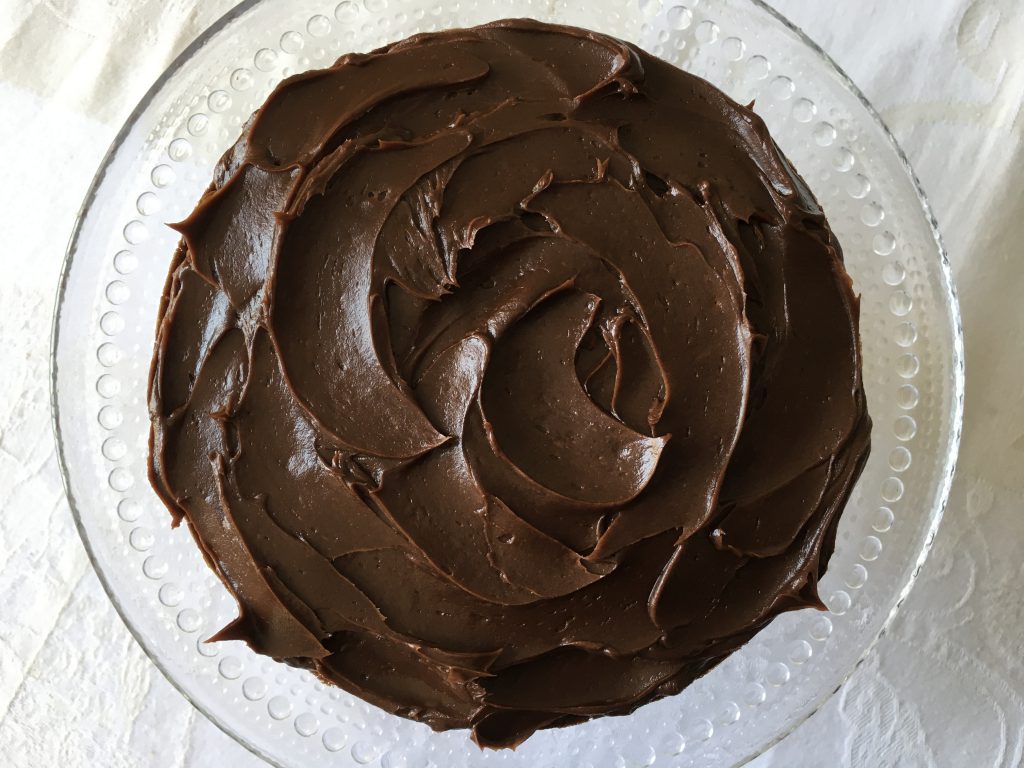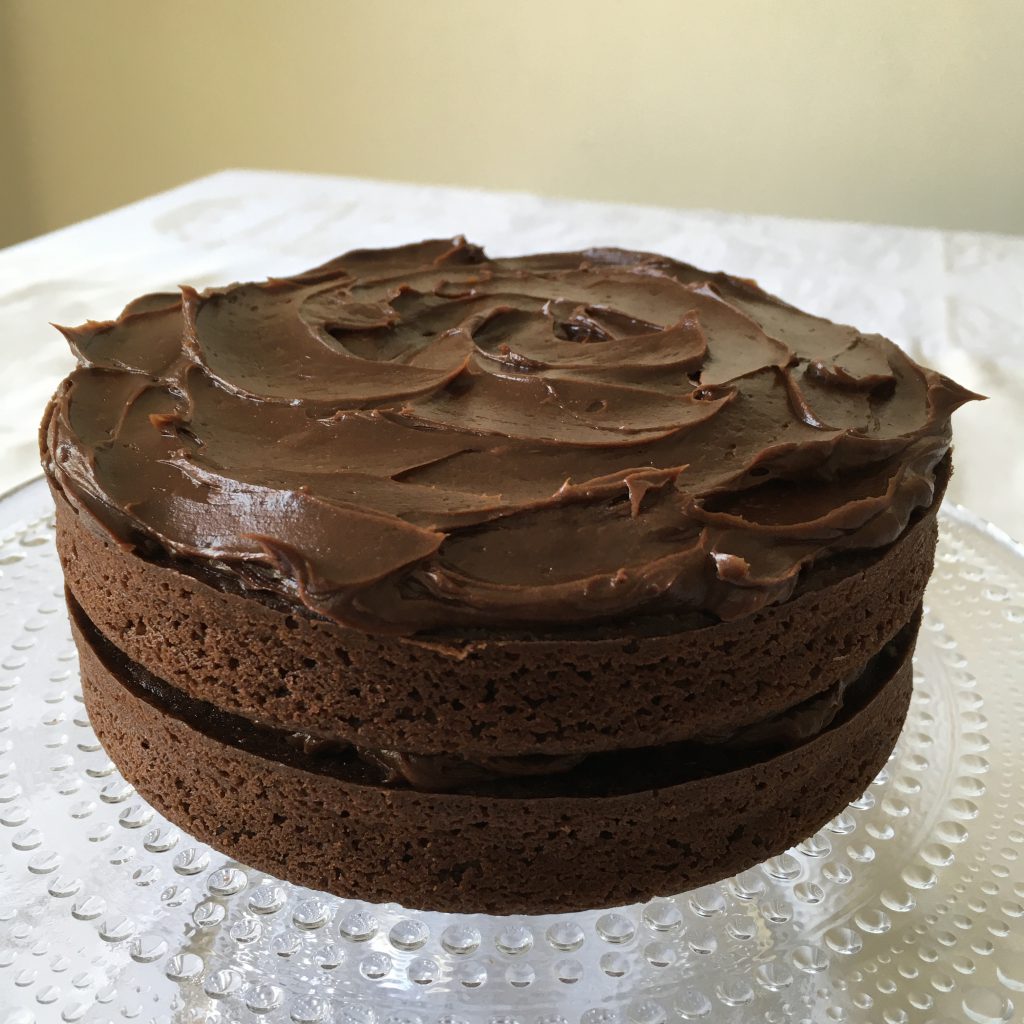 The cake serves six but there are four of us, so we cut it into eight pieces and ate this over two sessions
Mr Ottolenghi has some lockdown recipes here. The thing we eat most consistently in this lockdown is minestrone. It is such a satisfying, warming and nourishing soup. Made in the Thermomix it takes only half an hour from start to finish. Here is an earlier version before I had such fancy kitchen toys to play with. I hope you are keeping well and keeping safe wherever you are reading this from.