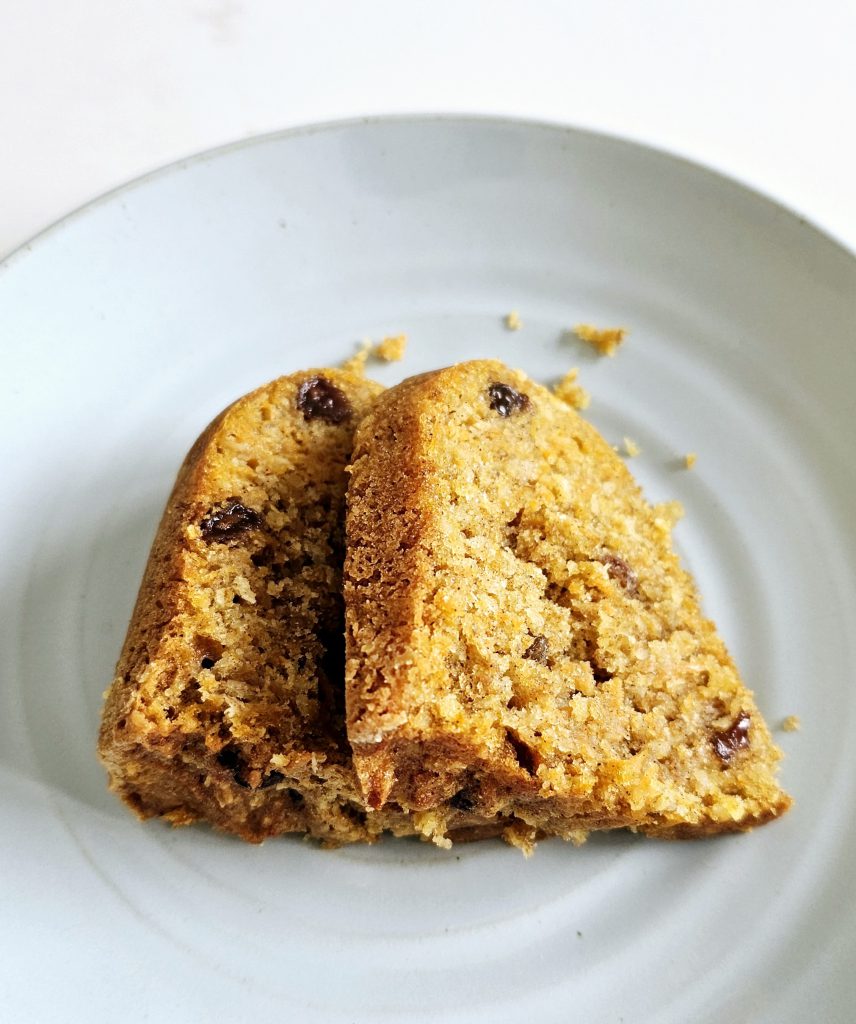 It has been an eventful weekend, and you can read about the coronation of King Charles III everywhere, and possibly forevermore. Our family has so enjoyed the extra day's holiday, which we spent mostly doing more Spring cleaning.
Taking inspiration from Britain's monarchy and its attempts to refresh its image, I have been refreshing my cake recipes by making them in Bundt pans. I used to write 'bundt' in previous posts but since reading that 'Bundt' is a trademarked word, I am using Bundt from now on.
I need to admit that I have quite a number of Bundt pans. The one I have been using a lot recently is the 6 Cup Anniversary Bundt Pan (gold edition). This is because its volume roughly equates to the volume of the 2 pound loaf tins I always baked cakes in. Like a loaf cake, the appeal of this Bundt pan is that its formed lines are a good guide for cutting even slices. At one stage when I was bulk baking for church and community events, I had six loaf tins. These Bundt pans are so crazy expensive here in the UK (but worth it) that I only have one of each type of pan. For now.
It is easy to slice from this cake following the lines of its shape…the dilemma is whether to eat a thin slice or a thicker slice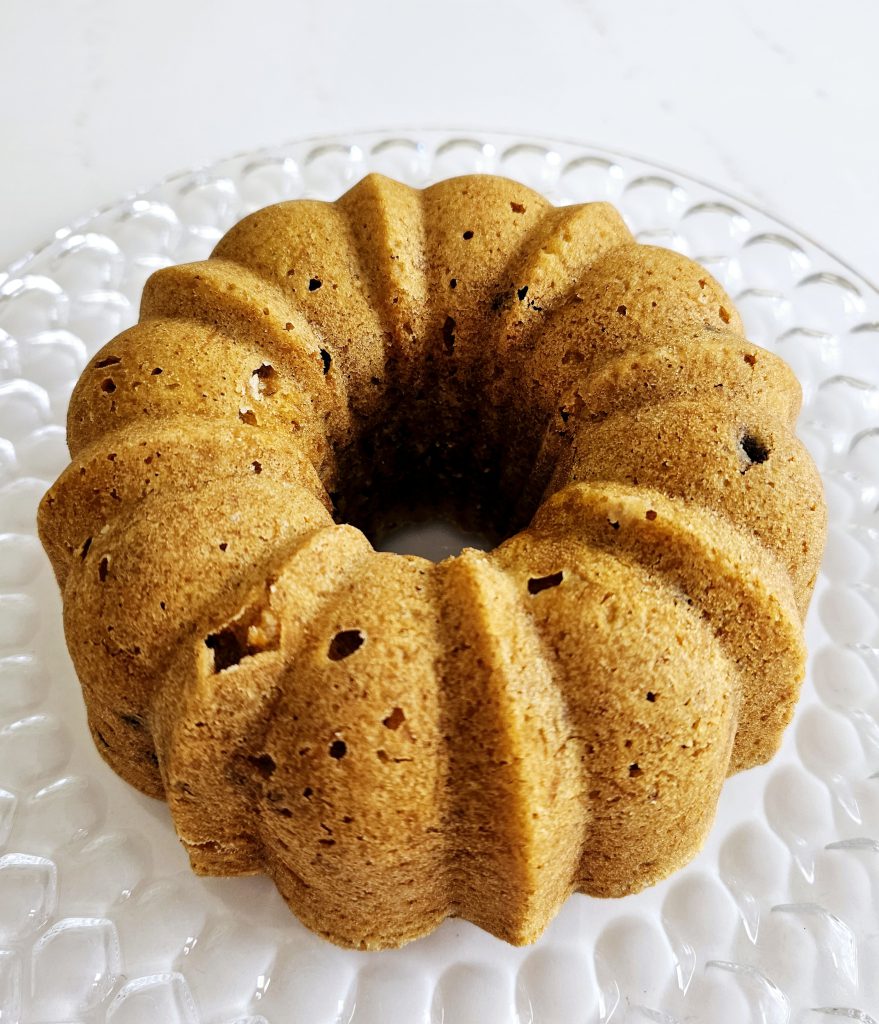 When reviewing the carrot cake recipe on which this Bundt is based, I realised that I don't often keep wholemeal self-raising flour. Today I used a combination of spelt and plain white flours, with baking powder as the raising agent. I used sultanas instead of raisins, and one other thought I had was that the grated zest of an orange would be a nice addition to the batter.
Everything should be weighed and prepared beforehand. The carrots were grated in a few seconds using my Thermomix Cutter (grate fine). For fine grating, I have found that large carrots grate better than small carrots, which tend to come out more watery. You can of course grate the carrots by hand or in a food processor.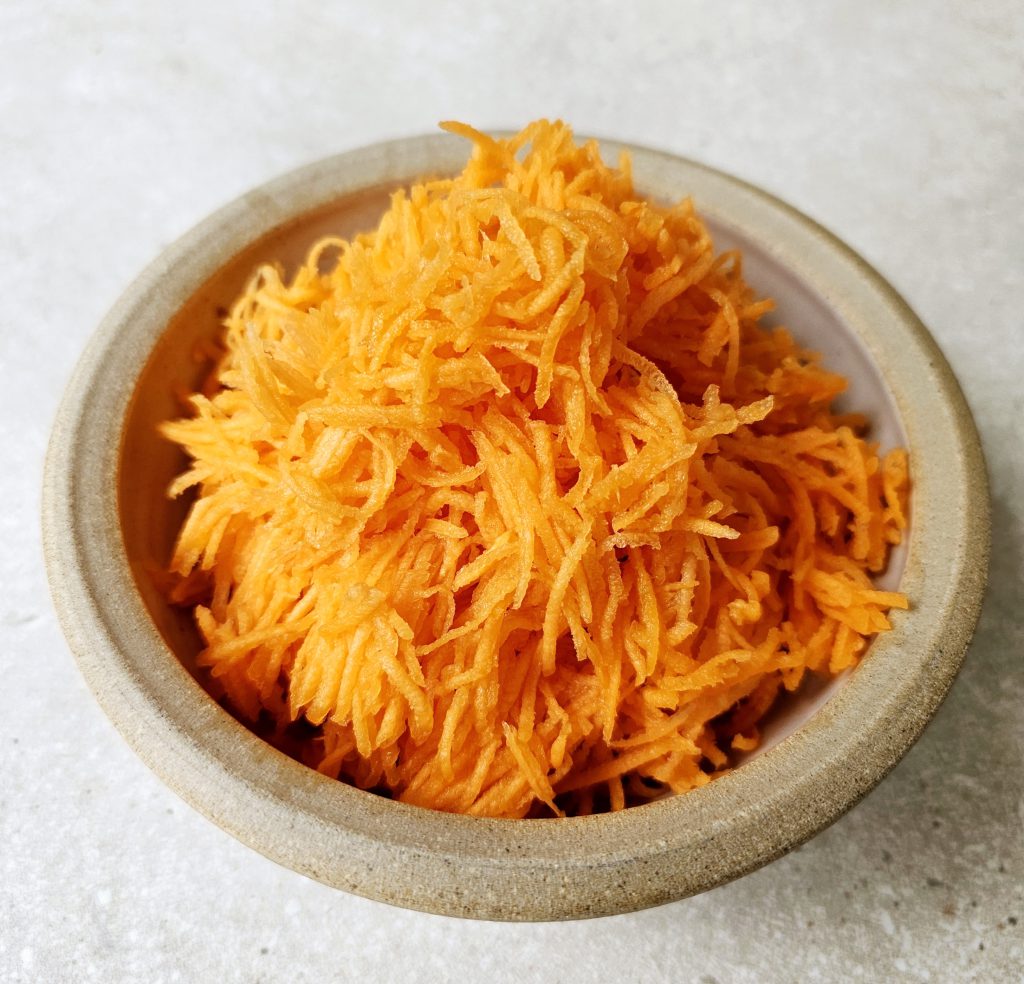 For the Cake:
3 large eggs
125 g golden caster sugar or light brown soft sugar
115 g sunflower oil
100 g spelt or wholemeal flour
50 g plain white flour
1½ teaspoons baking powder
1 teaspoon ground cinnamon
Pinch of fine sea salt
75 g sultanas
75 g desiccated coconut
265 g finely grated carrots
10 g each softened butter and plain flour to line the Bundt pan
How to Make:
Preheat the oven to 170°C/ 150°C fan.
Brush the softened butter evenly over the entire inside of the pan, taking care to fill every corner. Sift over the flour, moving the pan around to coat evenly. Remove the excess flour by turning the pan upside down and giving it a tap (do this over a sink).
Sift the flours, baking powder, cinnamon and salt together into a large bowl. Set aside.
In a large mixing bowl, whisk together the eggs and sugar until thick and creamy. Whisk in the oil slowly.
Add the flour mixture and, using a silicon spatula, gently fold into the whisked egg mixture.
Add in the raisins, coconut and carrots. Gently fold everything together until well mixed.
Spoon the mixture into the prepared pan.
Level the surface and tap the pan on a folded dishcloth to settle any bubbles. You can see in the photo above the little holes that form in the cake if you forget to do this.
Bake in the oven for 45 – 50 minutes or until the cake bounces back when touched. A metal skewer inserted in the centre should come out clean.
Leave the cake to cool slightly in the tin before turning out onto a wire cooling rack to cool completely.
The cake will slice into eight thin and eight thicker pieces – perfect for a sharing with friends, and perfect for picnics.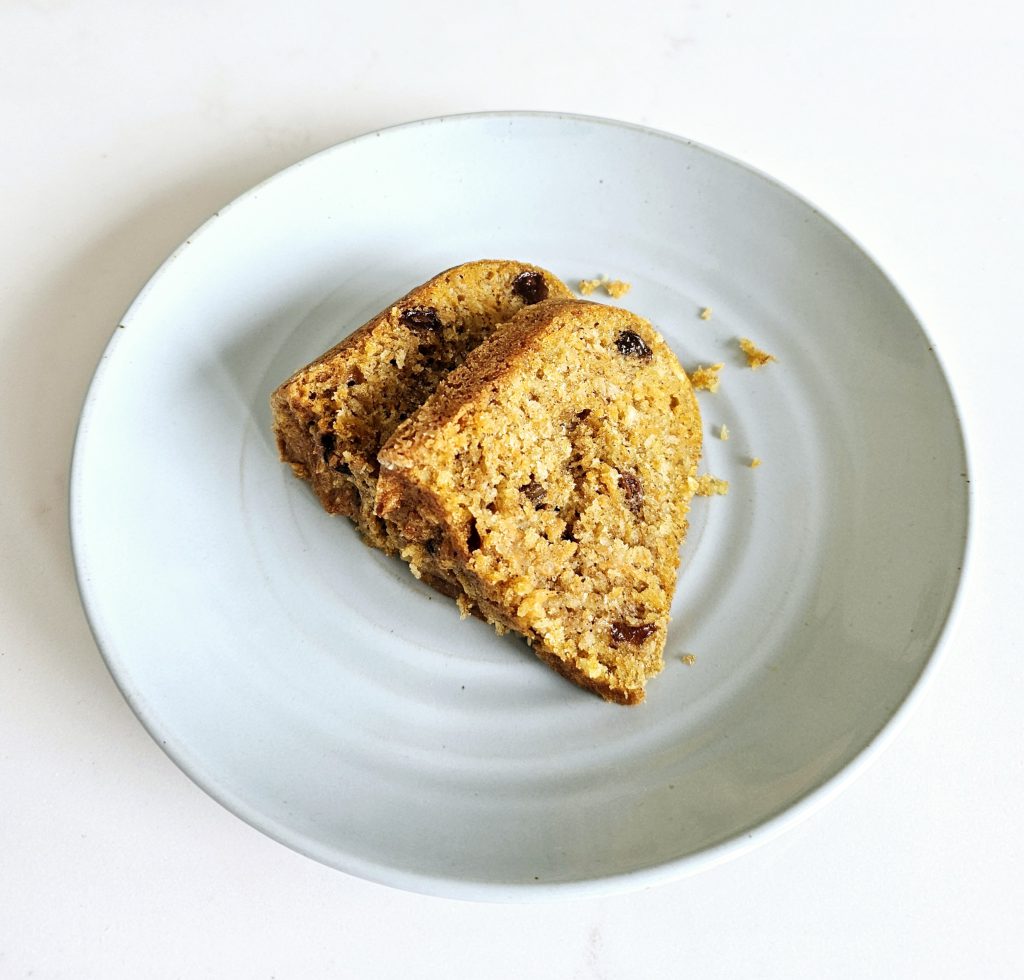 My next cake refresh would be the Date, Carrot and Coconut Cake, as I need to get through a box of Medjool dates. Originally planned for Sticky Toffee Pudding, a sharp warning from the doctor to reduce my sugar intake has resulted in the said dates (and sad dates) being literally left on the shelf. However, I hope to make a gluten-free version of the STP when we visit my in-laws next weekend. They can enjoy it, and I will just have a spoonful after dinner.