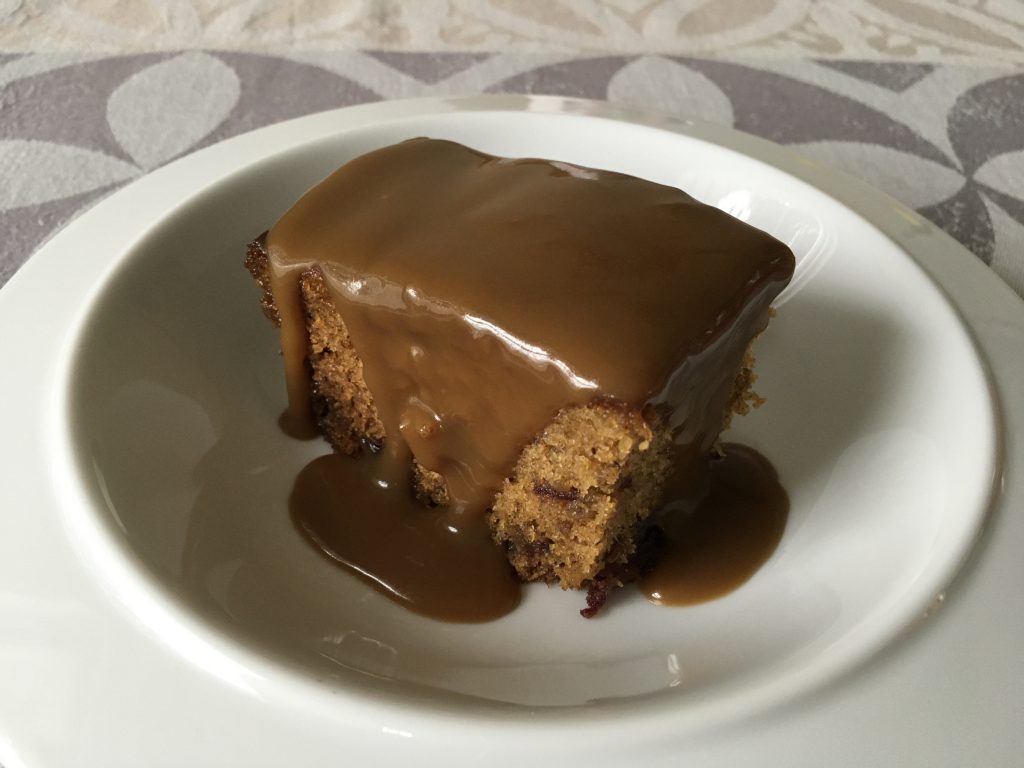 I don't know where to start. This recipe has been a long time in the making.
Sticky Toffee Pudding is very high on our family's list of delicious things to eat at the end of a meal. Tiramisu is the other one. There is also Pear and Amaretti Cheesecake. Anything with crumble, custard, chocolate and anything that can be served with clotted cream.
However, we really try not to have dessert too often. It is time consuming to make on a daily basis, and everyone from our doctors to the WHO tells us that we must not eat too much sugar.
That I have had this blog for six years and never once mentioned Sticky Toffee Pudding says a lot about the burden of writing about something everyone loves. I recalled one of my first encounters with eating it, at its no-2 spiritual home, John Tovey's Miller Howe. I had spent my 30th birthday here, after considering Sharrow Bay (STP's no-1 spiritual home) but avoiding it as it seemed too stuffy.
As you can see from the menus, only on the third night was I rewarded with the said pudding.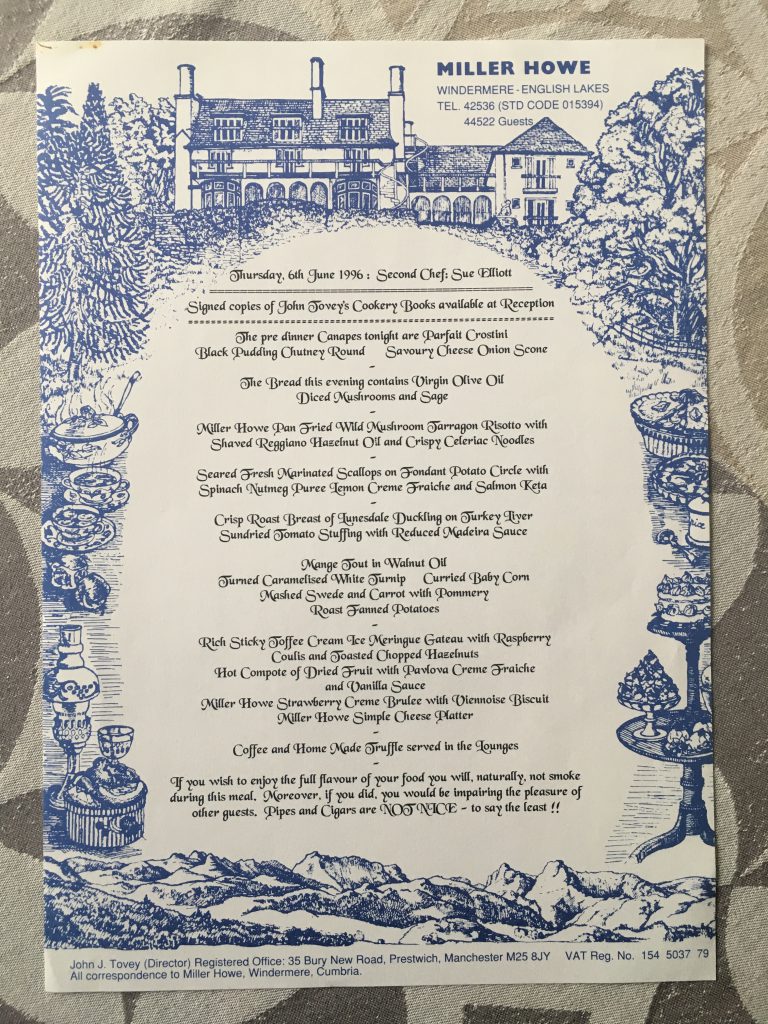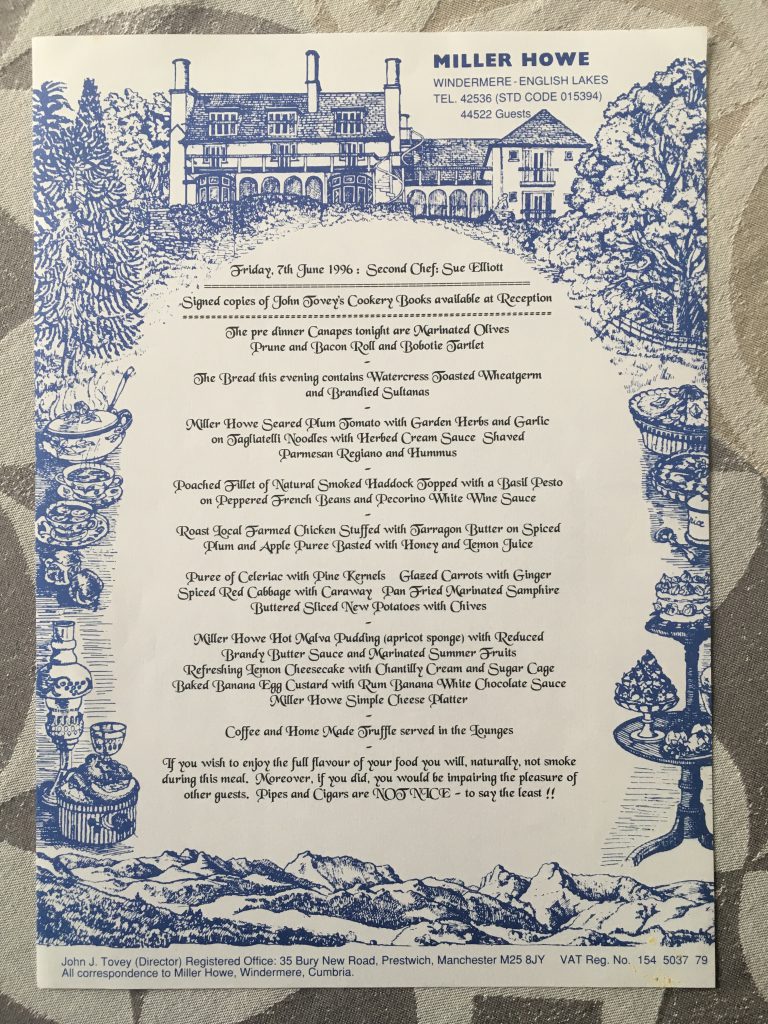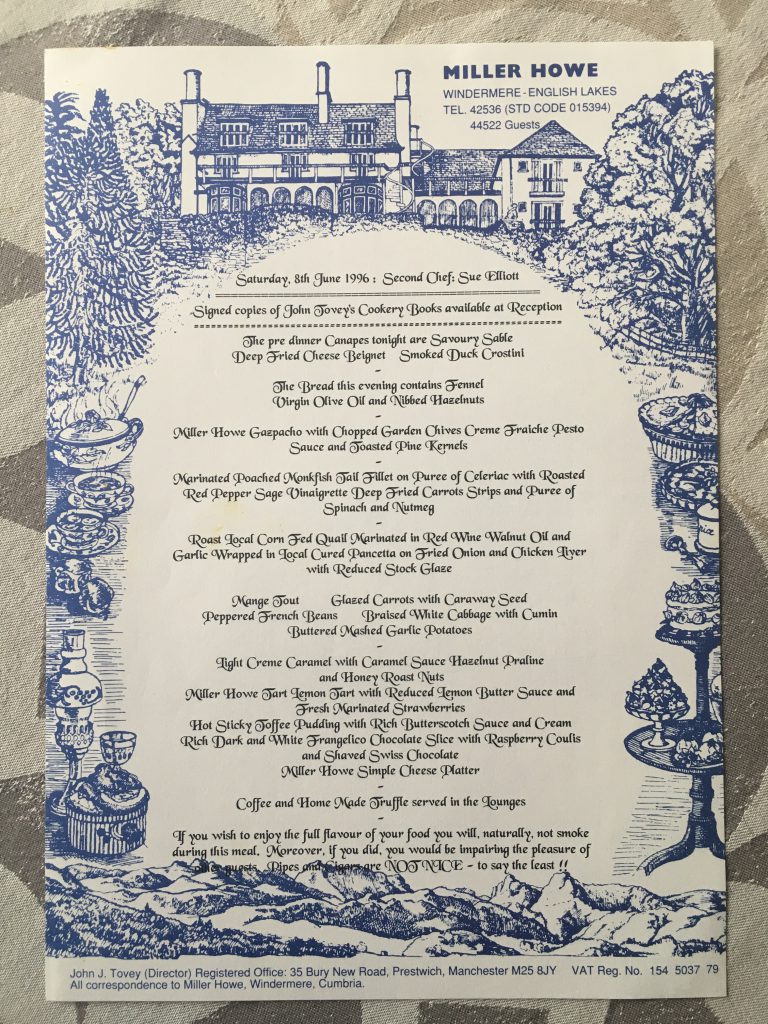 Since then I might have made the pudding several times but there was nothing distinctive about the recipes I used, and two things conspired to prevent me from trying too hard: you can often find it in restaurants and also ready-made from the Cartmel Village Shop.
In the end, what made me rise to the challenge was that Junior 2 whispered to Junior 3: You are going back to university tomorrow and BoJo says you can't come back during term…tell mum you want Sticky Toffee Pudding, she will make anything for you.
Aided and abetted by Mr Gochugaru, I had no choice.
In order to give myself a fighting chance I read up on the history of this pudding and also put several recipes side by side on a spreadsheet aka LSE Boy Method. After much research, I did it my way…in a Thermomix. It turned out so very well and I feel I can finally write down a definitive recipe for the family.
How can such simple ingredients produce such a delicious pudding?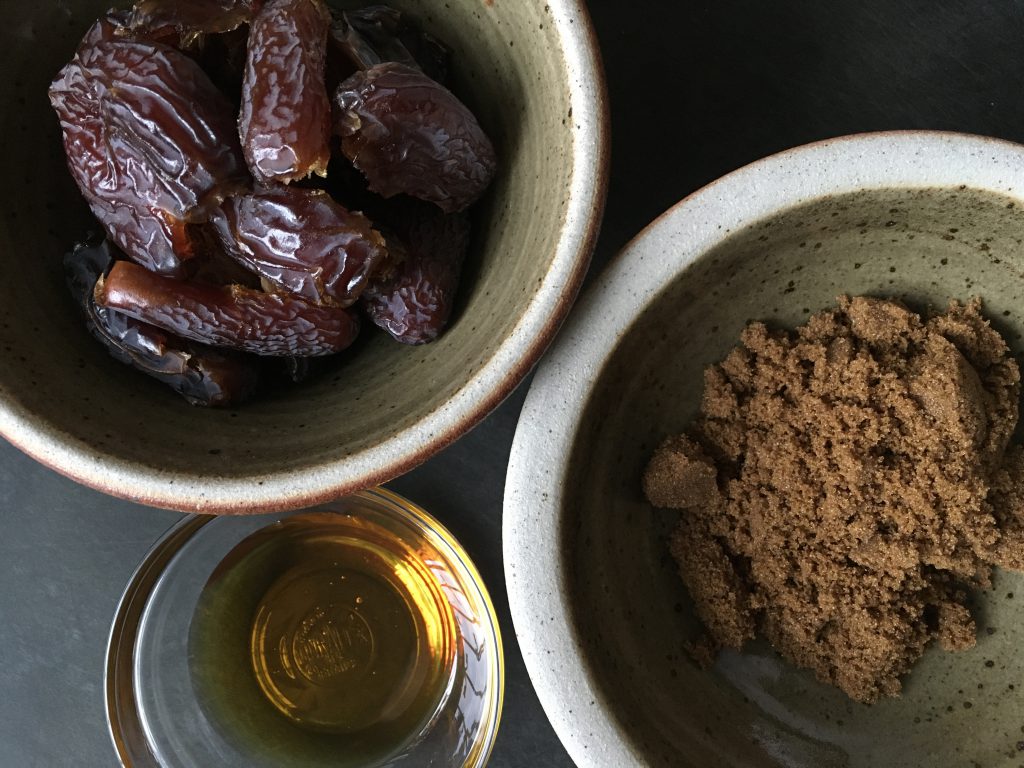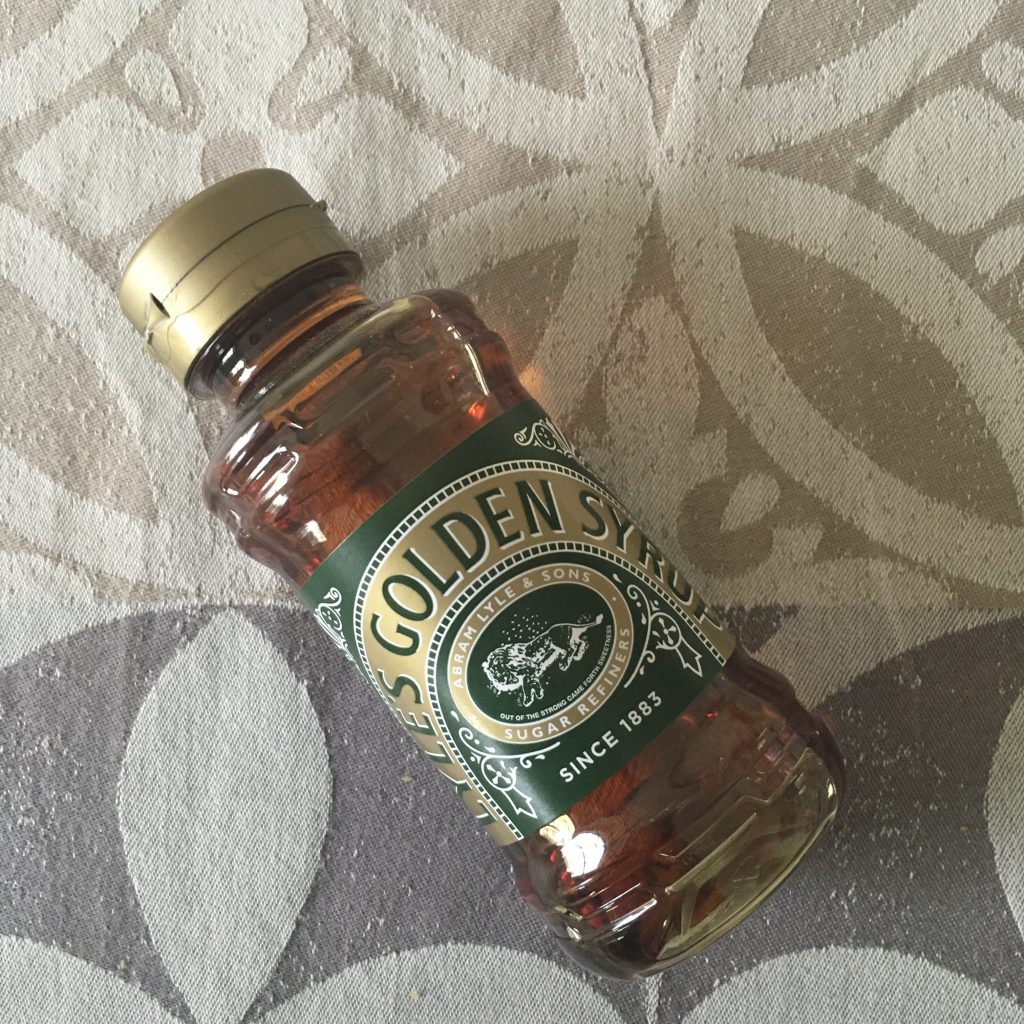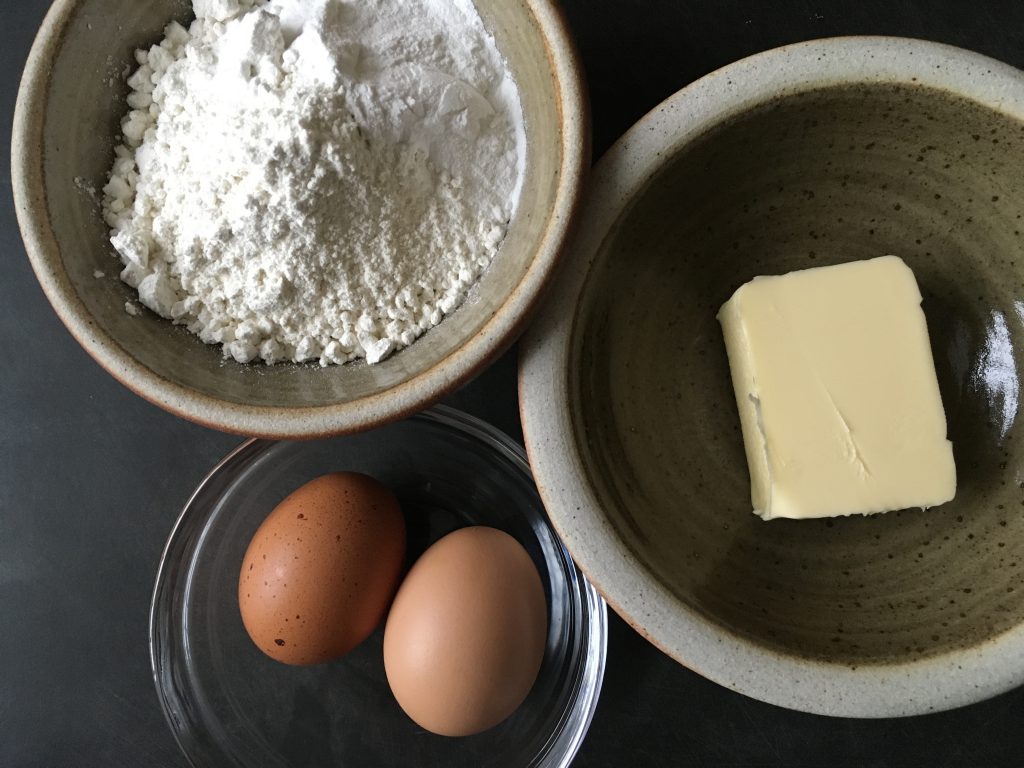 For the Cake:
200 g pitted dates, cut into small pieces
200 g water
1 teaspoon bicarbonate of soda
75 g unsalted butter, cut in cubes
30 g golden syrup
50 g dark muscovado sugar
2 large eggs, beaten
1 teaspoon vanilla extract
150 g plain flour
2 teaspoons baking powder
Pinch of salt
For the Toffee Sauce:
250 g double cream
125 g dark muscovado sugar
75 g unsalted butter, cut in cubes
50 g golden syrup
1 teaspoon vanilla extract
Large pinch of salt
You will also need a rectangular deep baking dish or baking tin measuring around 18 cm x 25 cm, with a depth not less than 7 cm. I used a Thermomix but the recipe is easily made without one, and simply with a mixing bowl, measuring jug, weighing scales, whisk and spatula. I would think you could even make it at Scout Camp if you steamed the pudding instead of baking it.
How to Make:
Weigh 200 g water in the TM bowl and heat 3 minutes/ 100°C/ speed 1.
When the water has boiled, add 200 g chopped dates and 1 teaspoon of bicarbonate of soda. Give everything a quick stir and leave this aside for 10 minutes (set a timer as a reminder).
Whilst waiting, butter the baking dish or tin you are using. Preheat the oven to 180°C/ 350°F.
After 10 minutes the dates would have softened. Add 75 g unsalted butter, 30 g golden syrup, 50 g dark muscovado sugar, 2 beaten eggs and 1 teaspoon vanilla extract.
Place a sieve over the rim of the TM bowl and sift in 150 g plain flour, 2 teaspoons baking powder and a pinch of salt.
Mix 10 seconds/REVERSE speed 5.
Scrape down the sides of the bowl, then pour the mixture into the baking dish or tin.
Bake in the oven for 35 – 40 minutes, or until the cake bounces back when touched. A metal skewer inserted in the centre should come out clean. The top of the cake turns quite brown but rest assured, it is not burnt.
Whilst the cake is baking, prepare the toffee sauce. Simply place in a small pot: 250 g double cream, 125 g dark muscovado sugar, 75 g unsalted butter, 50 g golden syrup, 1 teaspoon vanilla extract and a large pinch of salt. Simmer for around 5 minutes, stirring a little, until the sauce is slightly thickened.  Pour 250 g of the sauce into a serving jug and leave the rest in the pot, to pour over the cake later.
The toffee sauce can also be made in the Thermomix at 6 minutes/90°C/speed 2.
When the cake is ready, remove from the oven and prick the top all over with a skewer. Using a table knife, release the cake from the sides of the baking dish or tin.
Pour the reserved sauce over the cake and let this slide around its sides, in effect enveloping the cake with a layer of sauce.
There are 8 servings here. Bring the cake to the table and let everyone help themselves to a block of cake, because this is the kind of comfort food that needs no introduction and no ceremony. Serve with the extra toffee sauce.
I thought this was perfect enough but the children said it could be even better with some vanilla ice cream (!). Mr Gochugaru did not say it, but he was thinking of some extra clotted cream by the side.
Stages in the pudding: batter before baking, cake just out the oven, drenched in sauce, served with more toffee sauce as dessert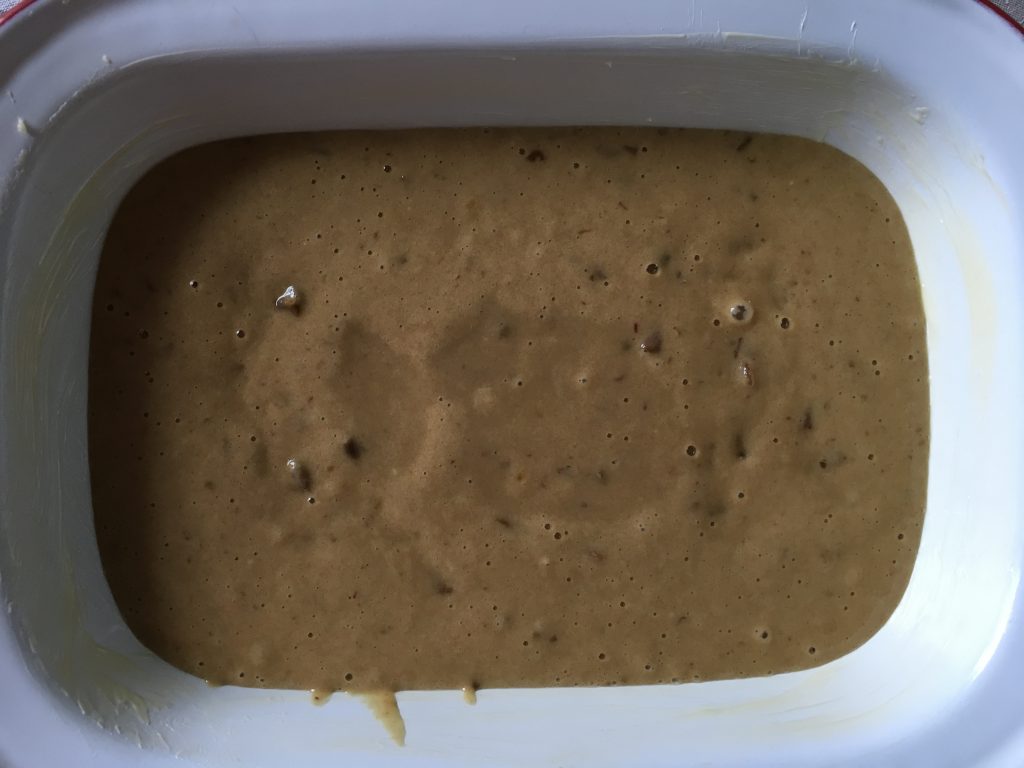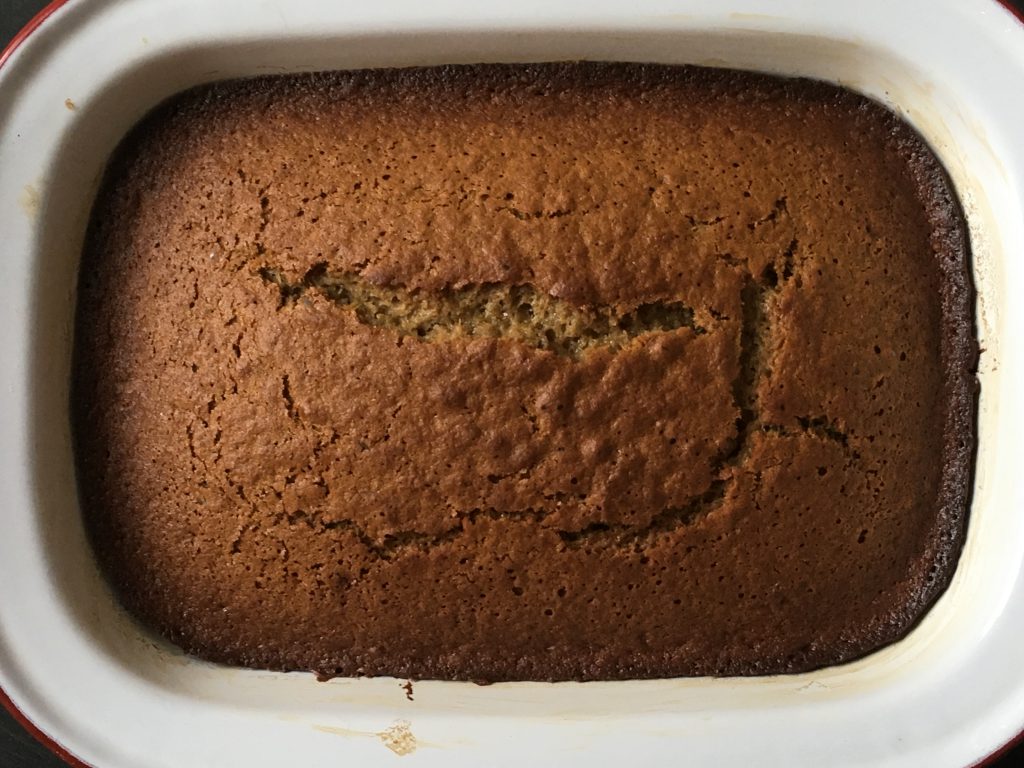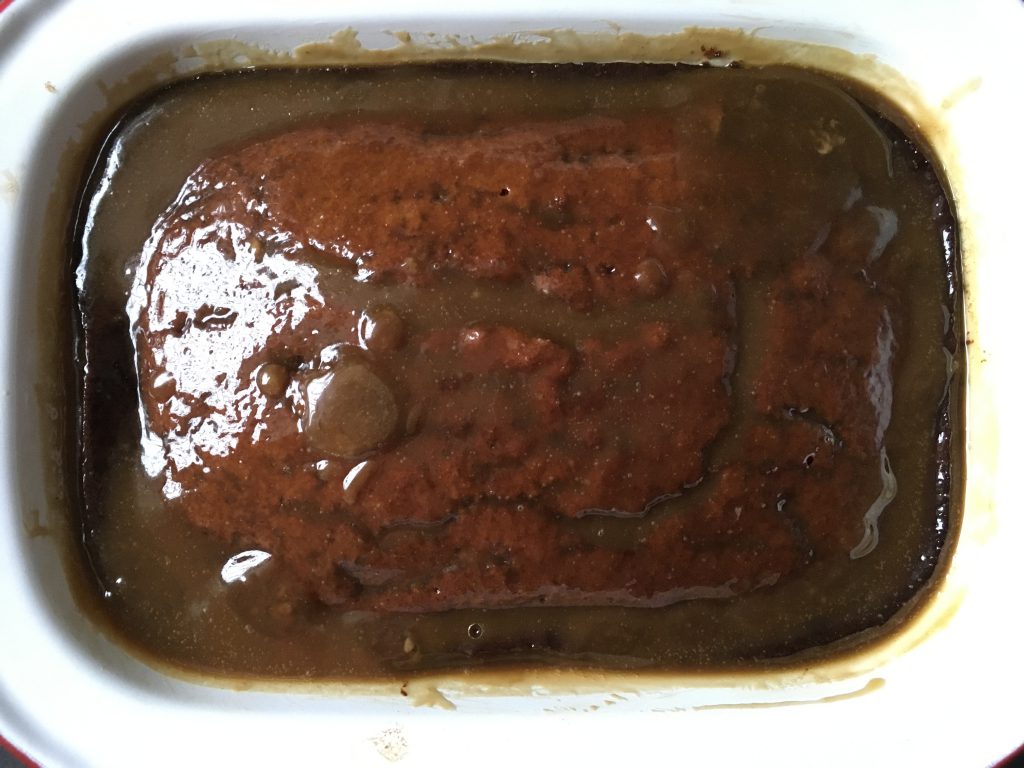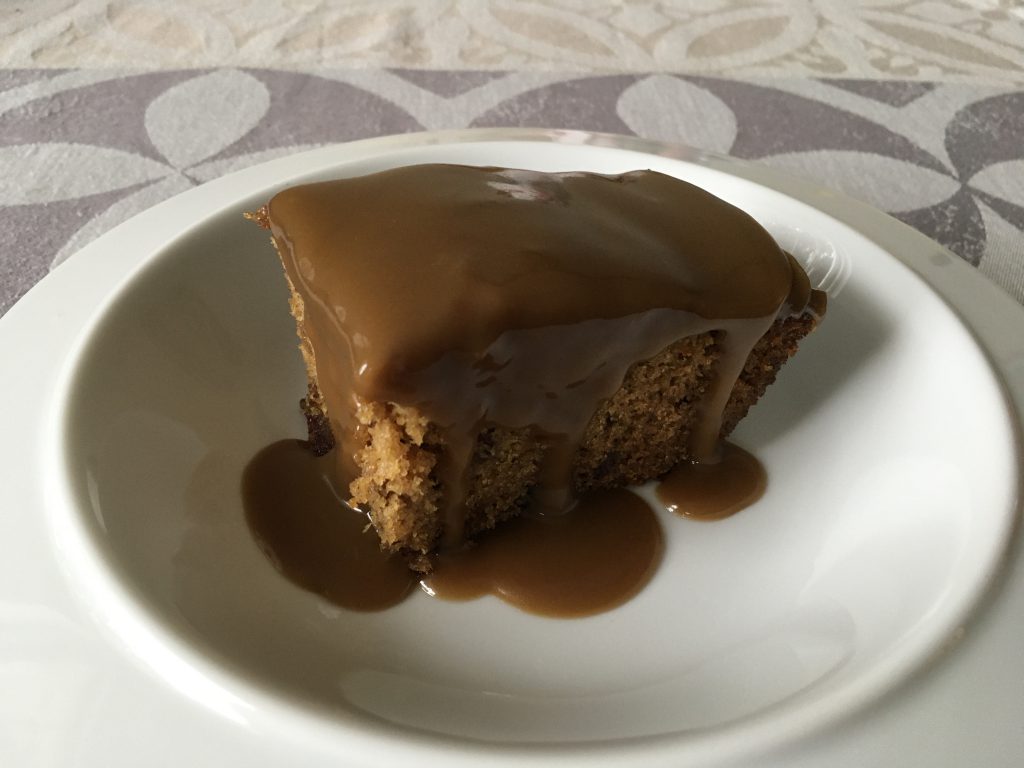 I made this recipe for my family and it is tailored to our particular needs, having one eye on the cake and one eye on our waistline. Many other home cooks and chefs have their own take on it. Besides the one by Simon Hopkinson which I mentioned earlier, there are recipes by Delia Smith and Nigella Lawson which are probably based on the one by Francis Coulson of Sharrow Bay. I would avoid Mary Berry's recipe as it does not contain dates, considered a key ingredient in the pudding. To my horror, Paul Hollywood uses marshmallows and Jamie Oliver uses Ovaltine.
Once you have made this, you will know what is lacking according to your own tastes. However, this is a good place to start as I have simplified the process. You can be confident of making this for the first time if you are new to Sticky Toffee Pudding.
It is not a coincidence that the pudding was a staple in two of the Lake District's best country house hotels of the time. It rains so much in that area, and it is raining for much of the week here in London. I think the cake was so well received because we needed some cheering up from the gloomy skies and gloomy news.