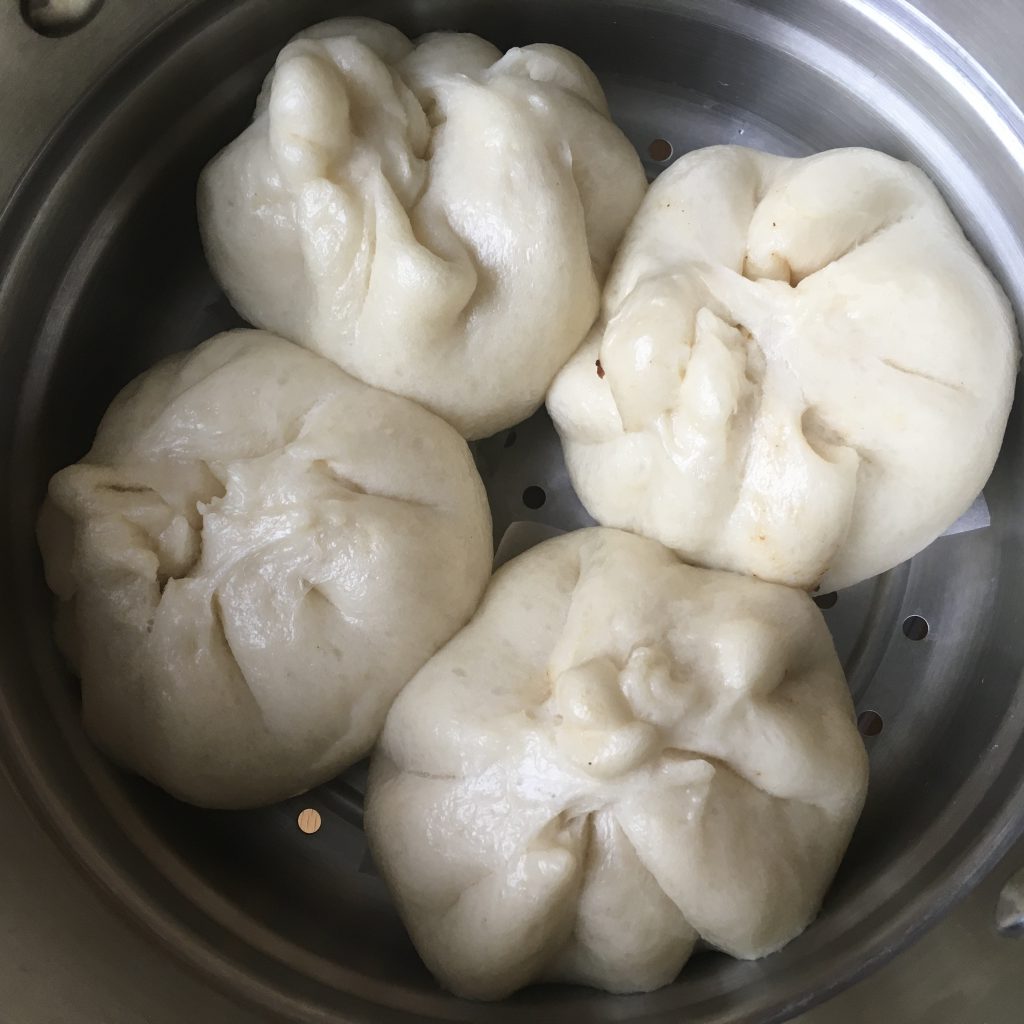 I have been meaning to post the recipe for bao dough for some time, having made it three times previously. It goes without saying that chopped up in-house char siu makes an excellent filling. Chicken curry would be another great filling but I need to post a recipe for that first. I love red bean paste but sadly no one in the Gochugaru household is as enthusiastic about it as I am.
Like char siu, everyone has their favourite char siu bao. For me, this spans a long line from my childhood eating bao at the Merlin Hotel in Kuala Lumpur, to sharing dim sum with college friends in London's Chinatown (New World, Golden Dragon, Joy King Lau) and then with my family mostly to Yauatcha. However my last visit to the latter just after lockdown restrictions were eased was such a disappointment I knew I had to make CSB at home.
You see, CSB is Junior 3's absolute favourite dim sum dish (next to siu long bao) and even when he was at primary school he would eat a whole basket of bao by himself. That's three baos on top of all the other lovely things. It's good then to have a recipe posted here for future bao parties. It is quite hard work but you get rewarded with a really delicious roast pork-filled bun, suitable for eating throughout the day, from breakfast to a midnight snack.
The dough recipe below makes 12 baos. I am really happy with the char siu and bao recipes, but admit to failing to work out how to wrap the dough around the meat filling. I just sort of placed the filling in the middle of a piece of rolled- out dough and shaped it into a bao as best as I could.
This is the bao when you twist the edges at the top, which looks more traditional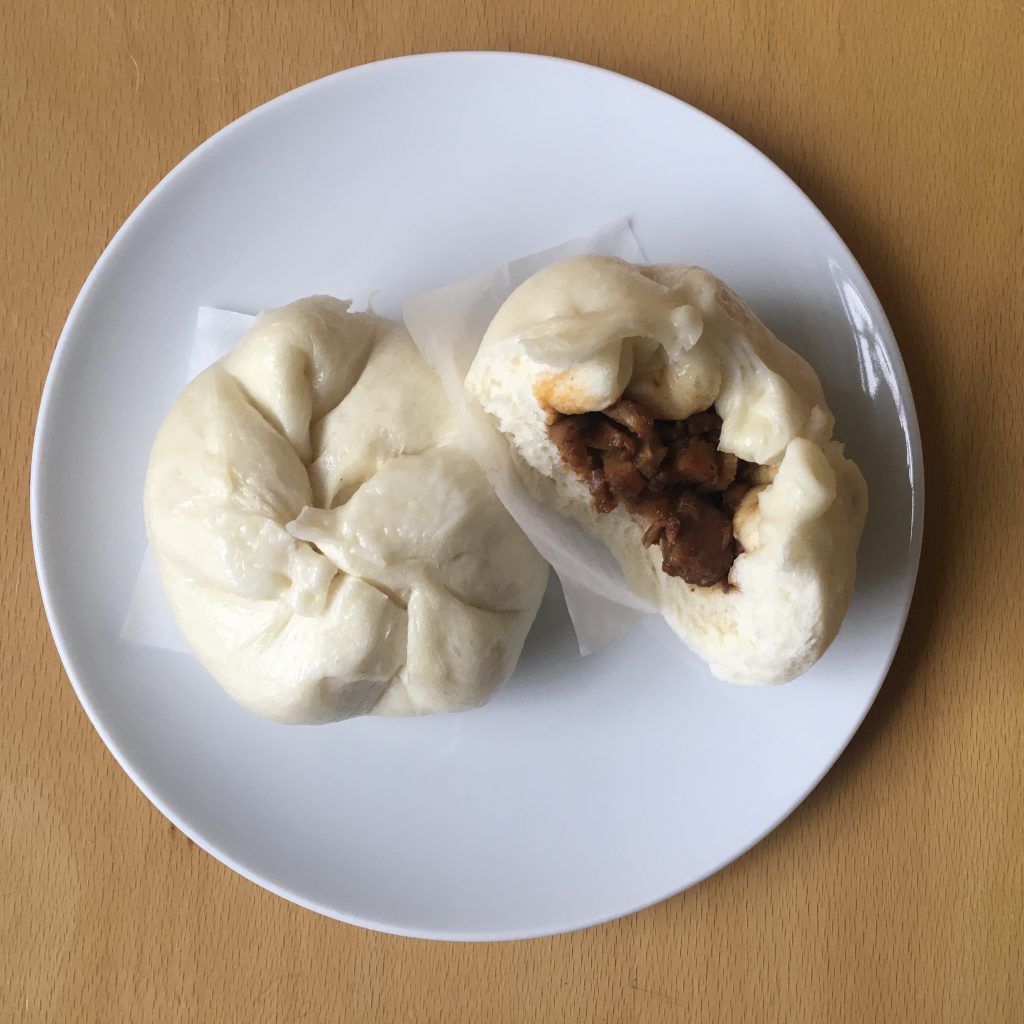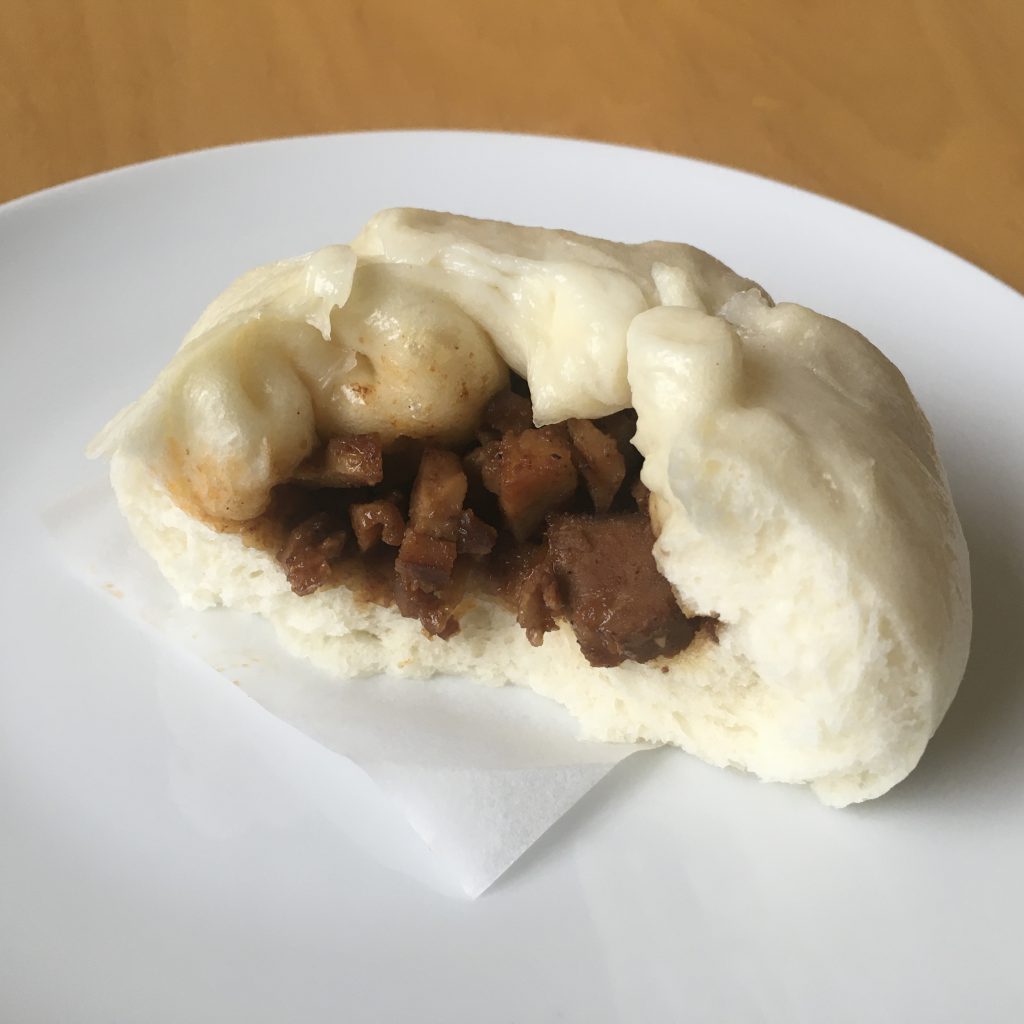 This is the bao when you twist the edges at the bottom in order to have a smooth top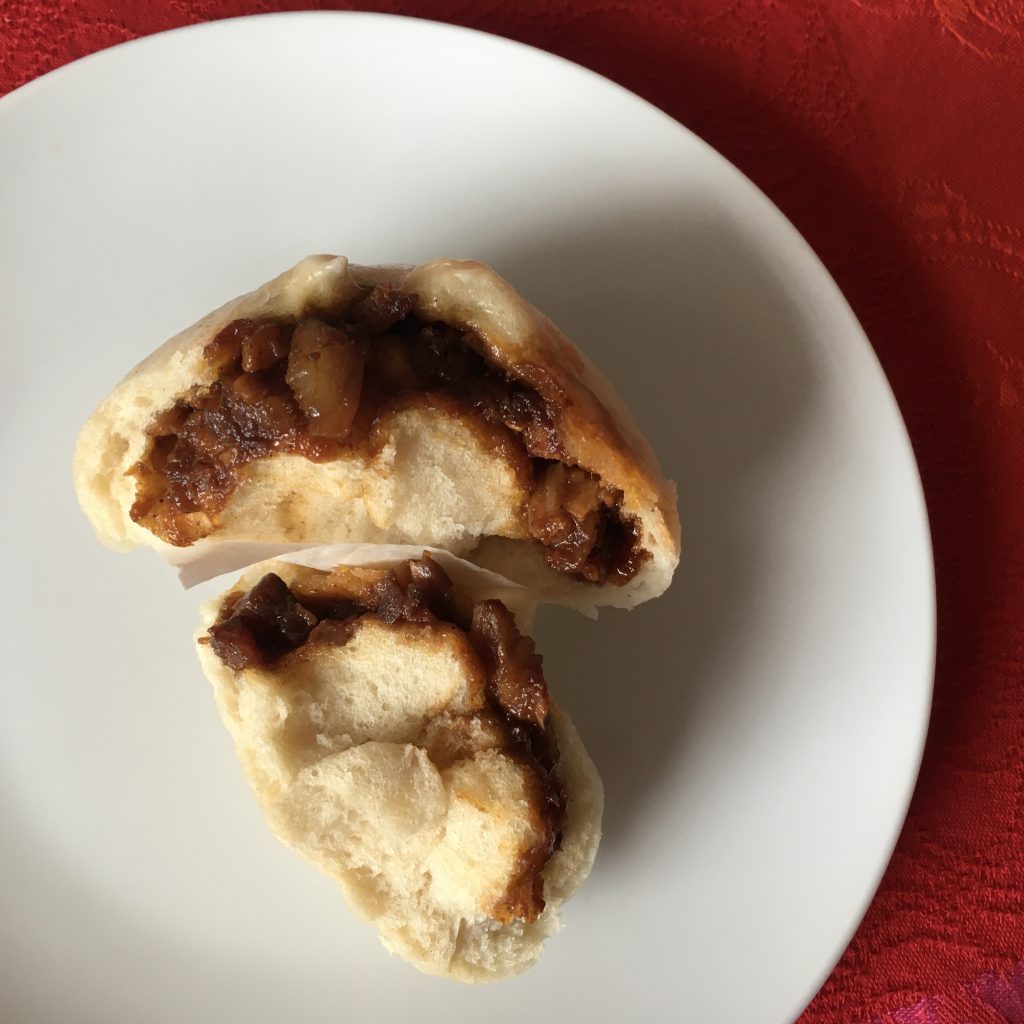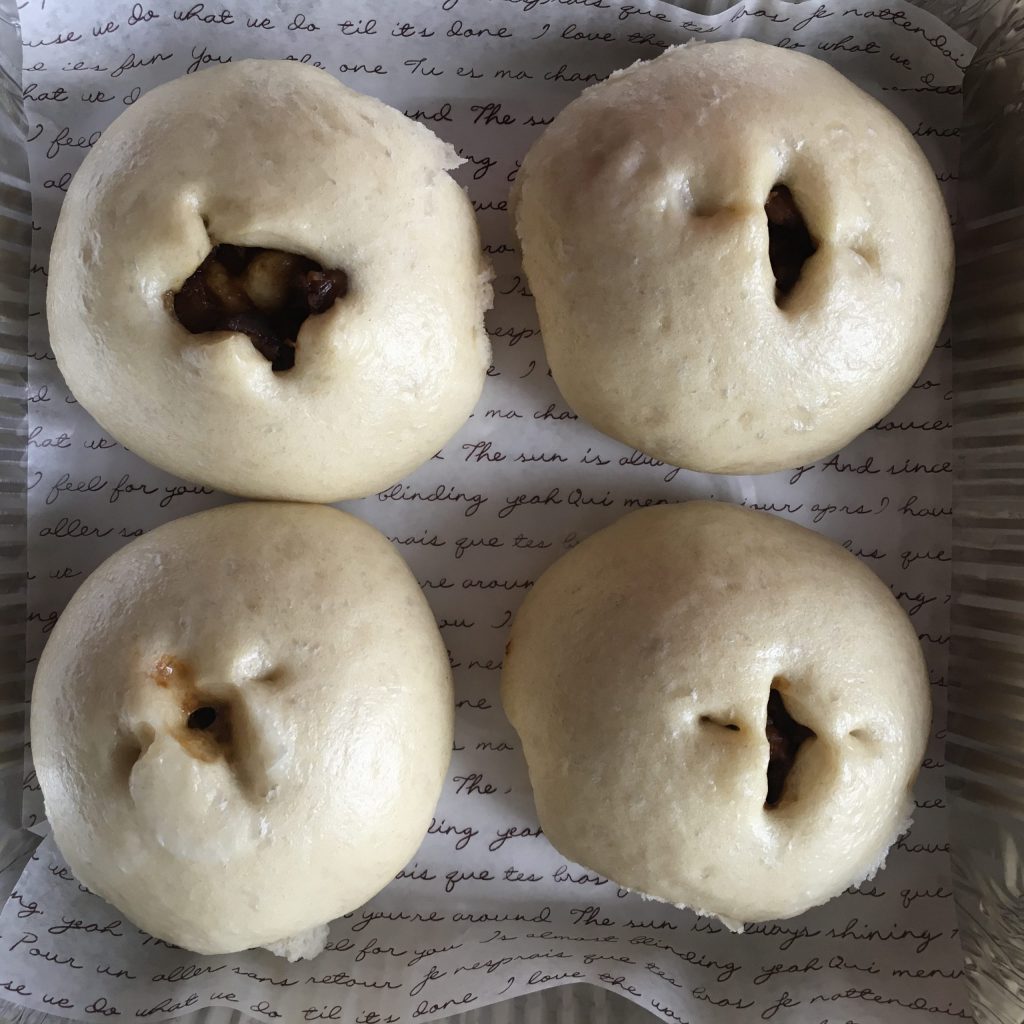 At the end of the day, the bao tastes the same whichever way you shape it. Specific advice for making CSB is to make sure the filling is not too dry. Everything else is quite simply a matter of following instructions and leaving yourself plenty of time to shape the bao for steaming. Finally, making bao is time consuming and you should only invest the time making it for yourself or your favourite people. Everyone else legs it to the nearest dim sum shop.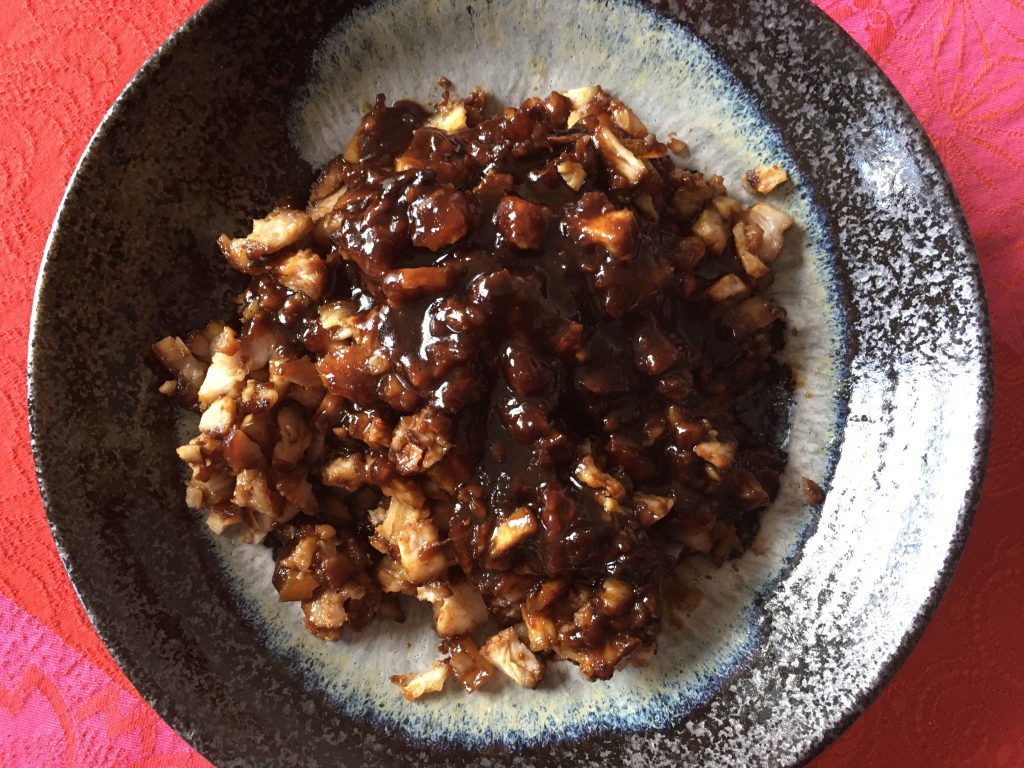 For the Bao:
225 g water
50 g milk
2 teaspoons yeast
40 g sugar
500 g bread flour
25 g sunflower oil
1 teaspoon baking powder
¼ teaspoon salt
Around 400 g cooked char siu
2 tablespoons chopped fresh coriander leaves
12 squares of baking parchment, 6 cm x 6 cm each
I used my Thermomix to make the dough, but you can use any bread-making method you are used to i.e. by hand, in a food processor or with an attached dough hook in the KitchenAid. For steaming, I have used a metal steamer over a pot, a traditional bamboo basket over a wok and also the Thermomix steamer. Any of the steaming methods are fine.
How to Make:
Lightly oil a large mixing bowl and a large piece of cling film then set aside.
Place the water, milk, yeast and sugar in the Thermomix bowl. Warm 2 minutes / 37 C / speed 2.
Add the flour, oil, baking powder and salt.
Knead 3 minutes / dough function.
Transfer the dough to the oiled bowl and cover with the cling film.
Leave the dough to prove until it has doubled in size, which takes around 1 to 2 hours depending on the kitchen temperature.
At the end of the rising time, divide the dough into 12 equal portions of around 70 g each. Form each portion into a dough ball and place on a lined baking tray. Cover with cling film and leave for around 30 minutes. The dough should puff up a little but not too much.
In the meantime, prepare the filling: chop the char siu into small bits, and then add enough of the char siu sauce to moisten it until all the meat gets a good coating of the sauce.  As a bonus flavouring, add some finely chopped fresh coriander. For some reason this is a taste I remember from a bao I once ate and liked.
After this time, roll each dough ball into a circle 12 cm in diameter.
Place 35 – 40 g of the char siu filling in the centre. As a guide, use roughly half the weight of the dough as filling i.e. if the dough is 70 g, use 35-40 g chopped char siu.
Gather the edge of the dough towards the centre. Wrap the dough into a 'dumpling' by tightly pinching or twisting the top of the dough together.
Place each bao on a square of baking paper and pop it straight into a steaming basket. Cover the steaming basket as you work on the other baos.
When all the baos have been formed, start heating the water for steaming. When the water has reached boiling point, the baos would have rested and be ready to face the heat.
Steam the baos for 20 minutes. It is very tempting to eat a bao straightaway after it has cooked, but please let it cool for around 5 minutes before biting into it. I have burnt my mouth more than once from the excitement of eating a freshly steamed pork bun. It is the stuff of childhood.
Stages in making Bao
The dough after its first rising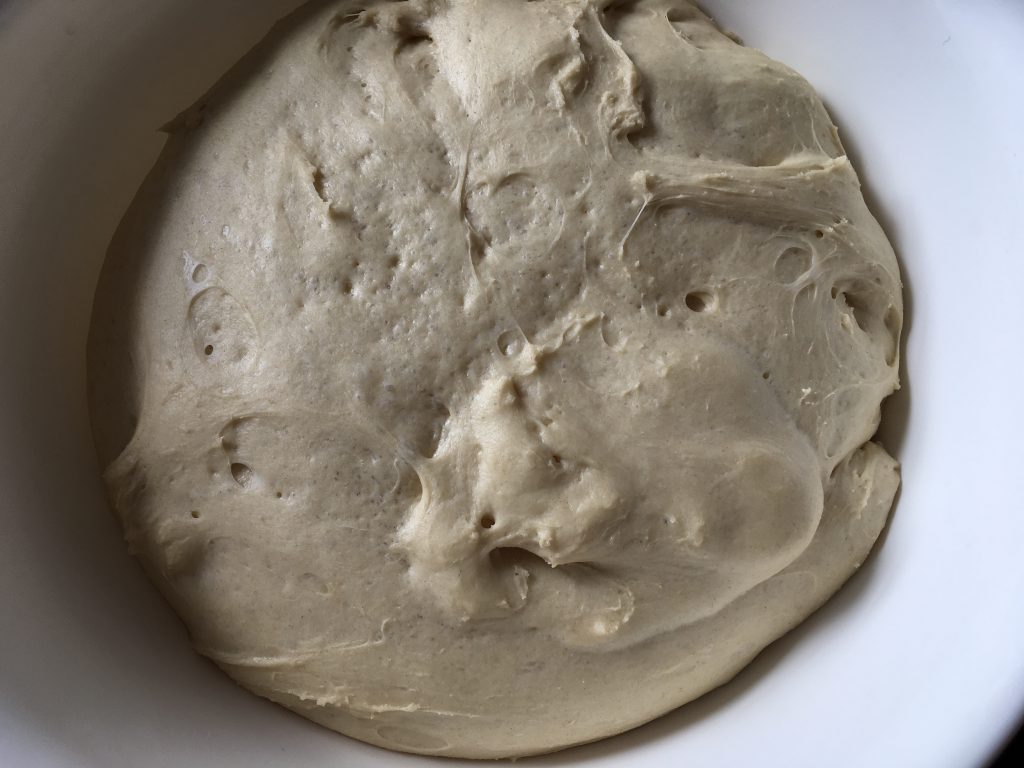 Formed into 12 equal dough balls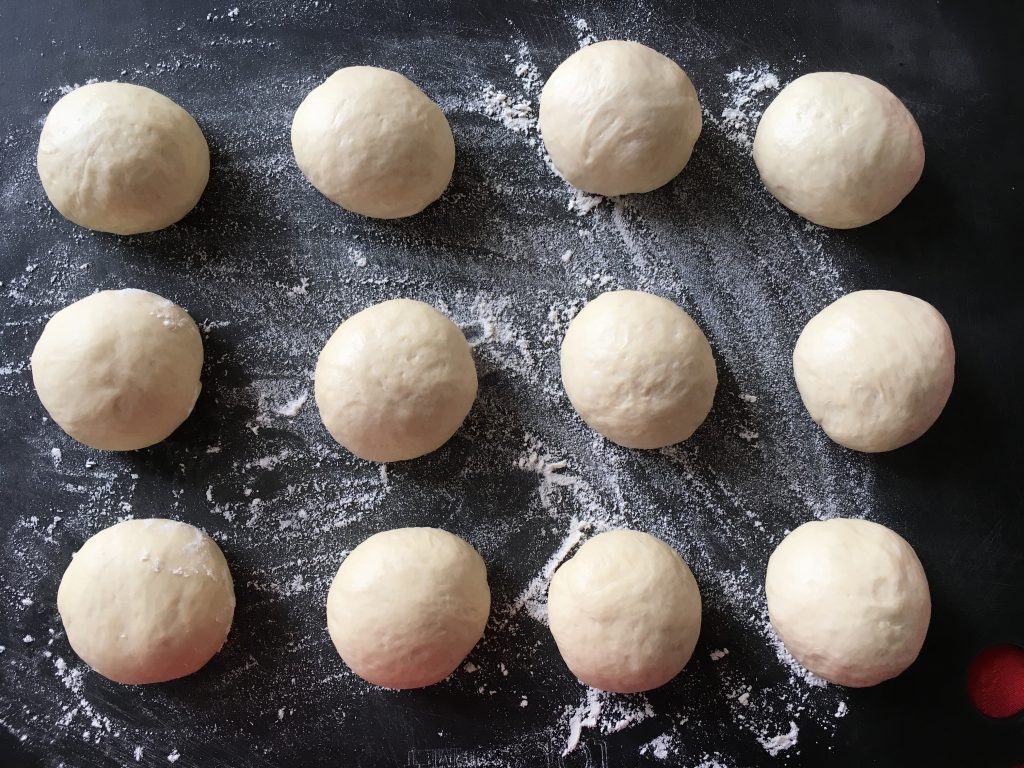 Rolled into a circle 12 cm in diameter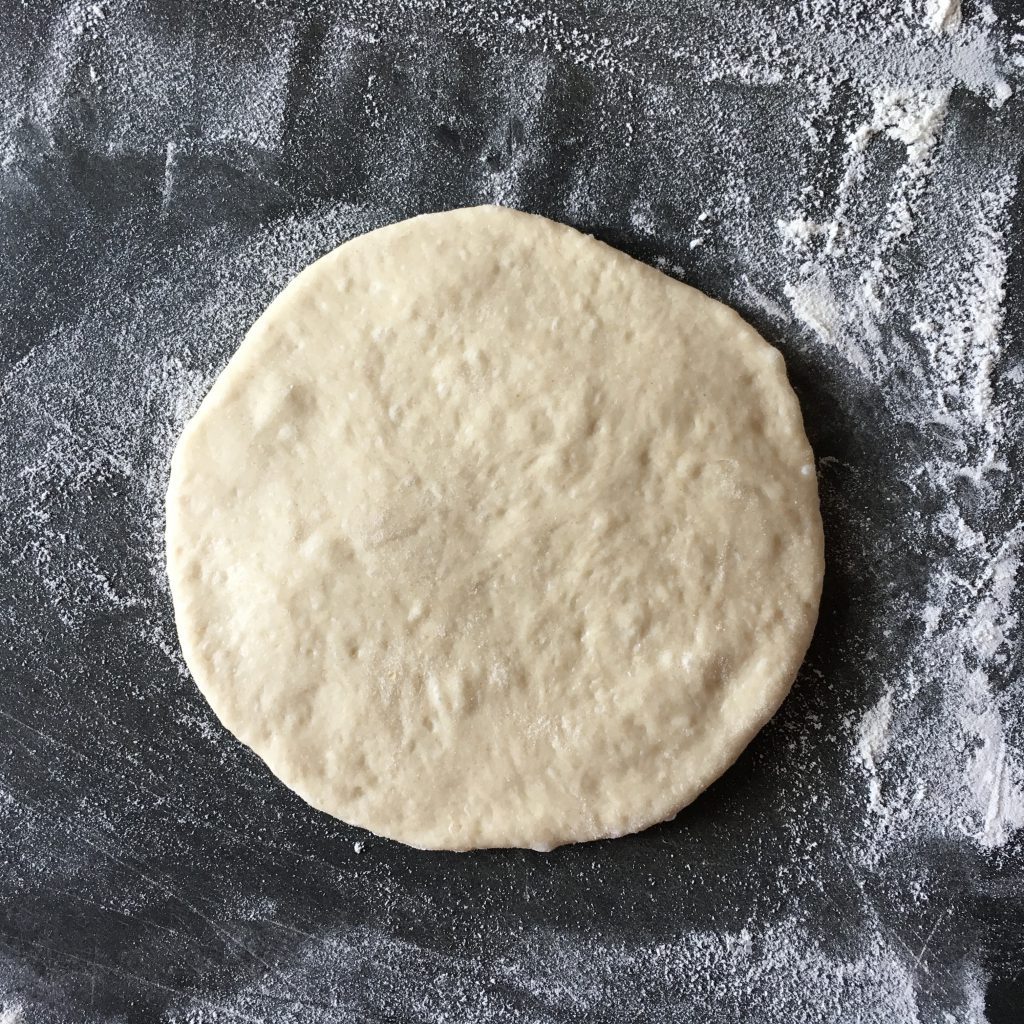 Filled with char siu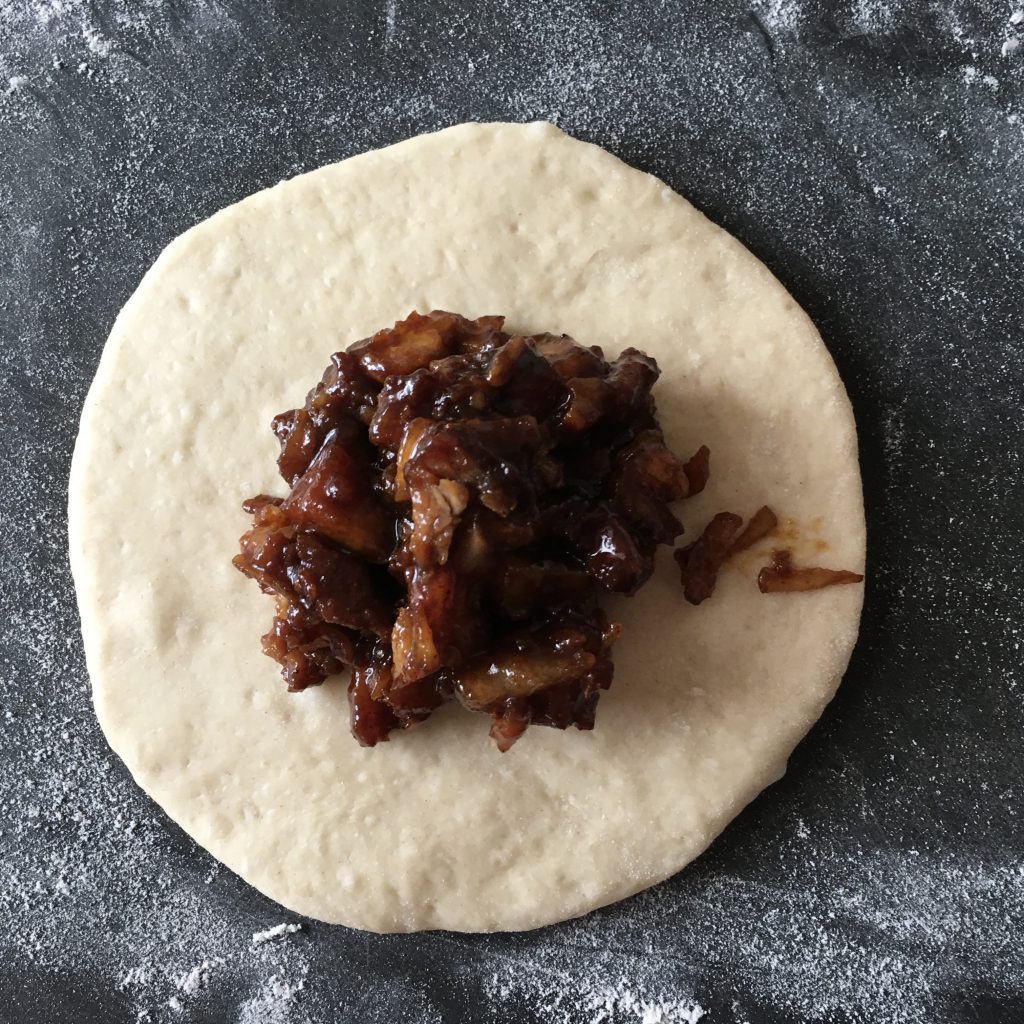 Shaped into a bao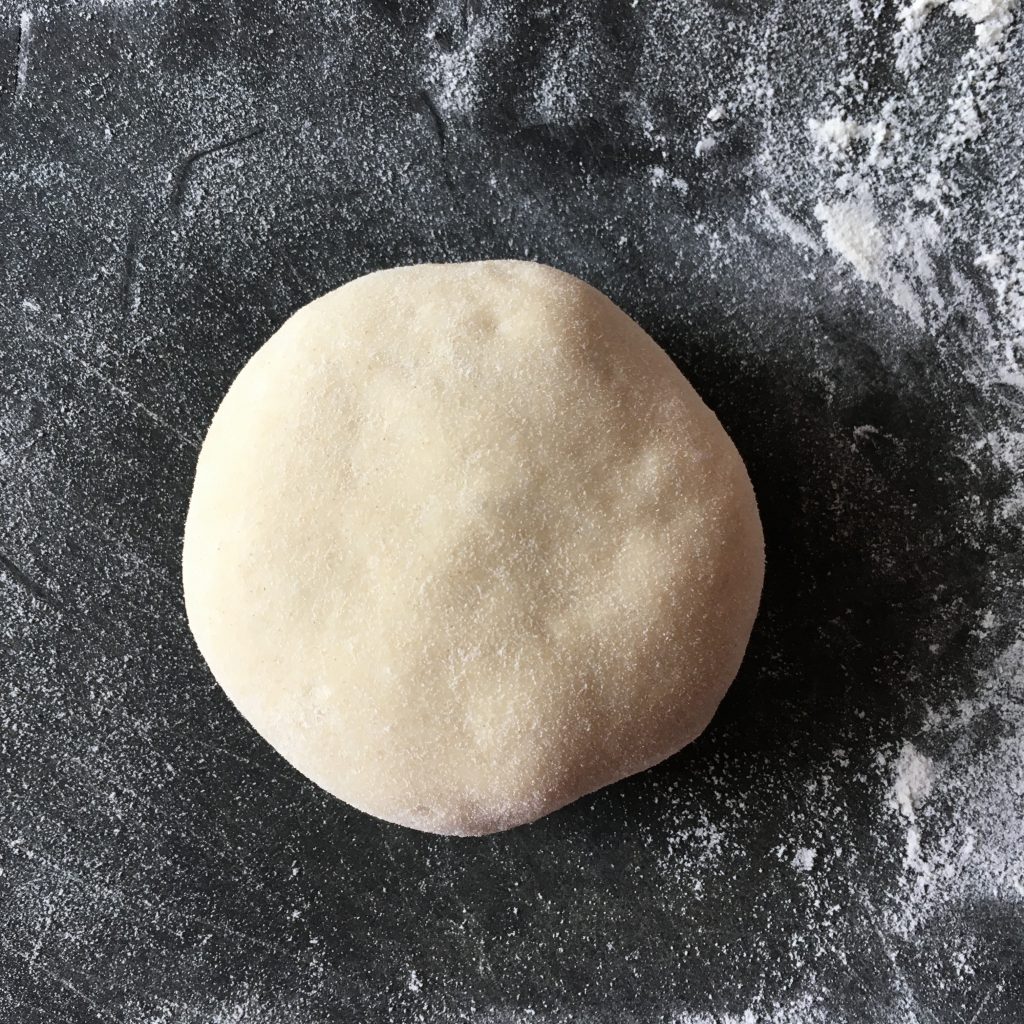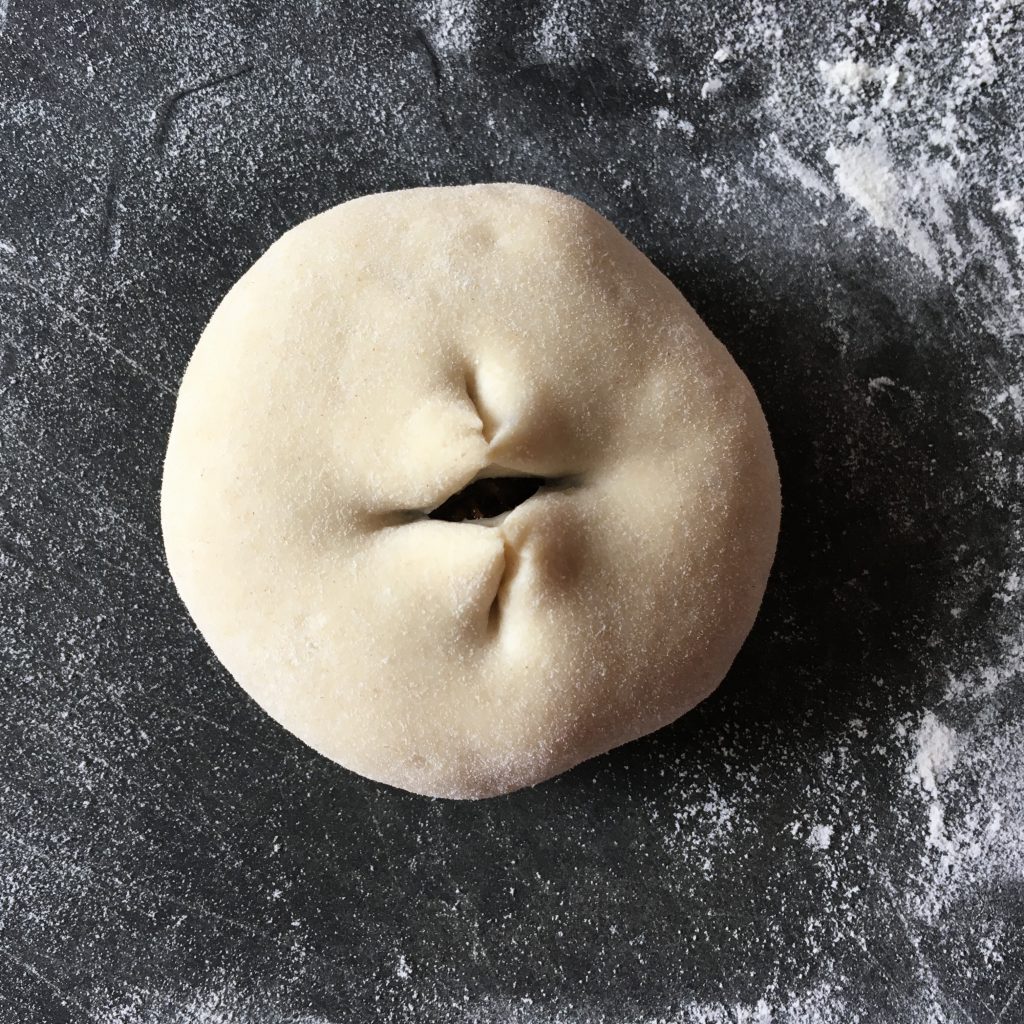 Placed in a steaming basket ready for cooking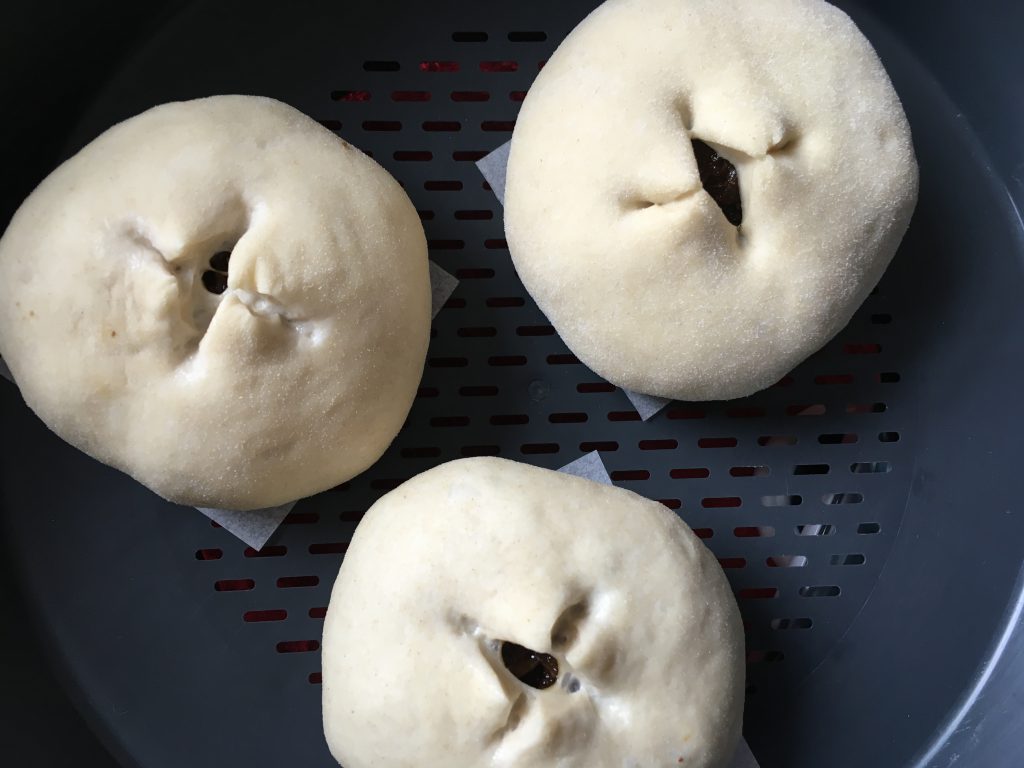 Fresh steamed buns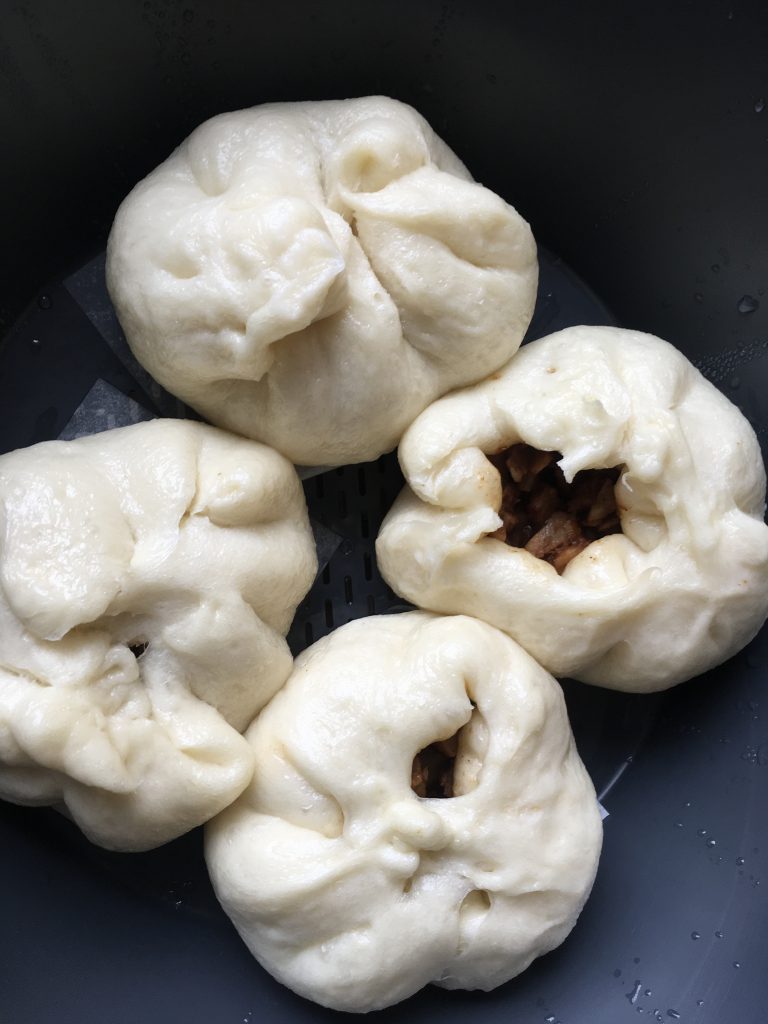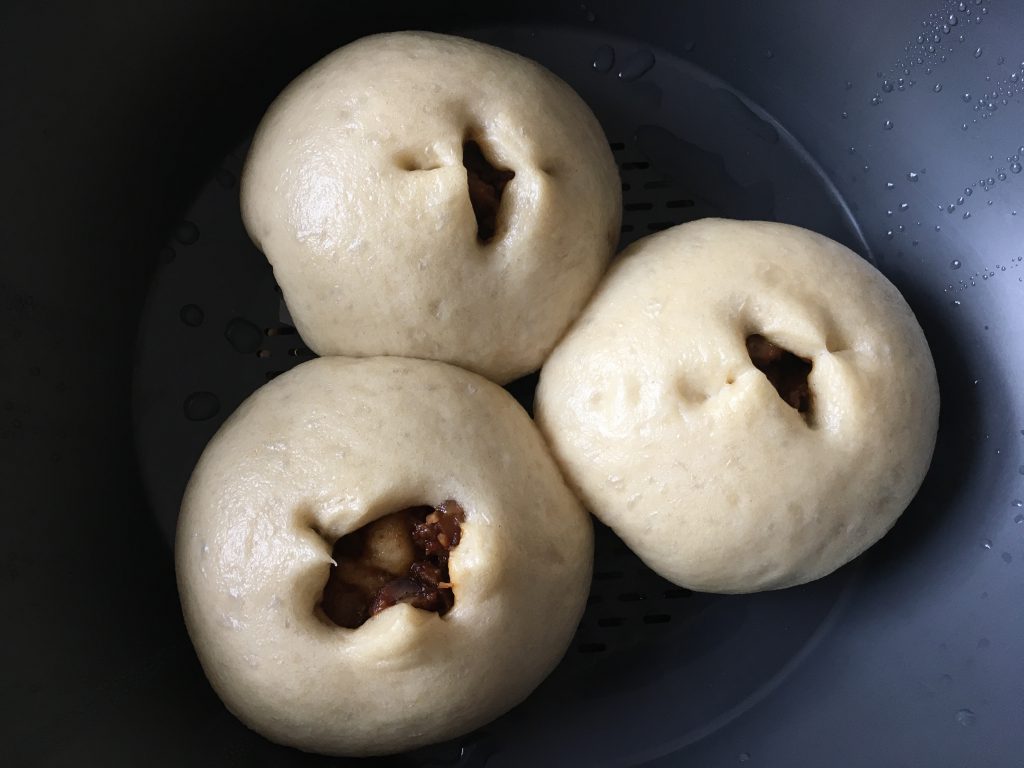 The texture of this bao 'bread' itself is firm so it can withstand being steamed again if re-heating. You can also microwave single bao for 20 seconds after sprinkling it with a bit of water. One thing that I have no answer for is the addition of baking powder. Some recipes use it and some recipes omit it. It did not seem to be harmful so I added it…just in case.