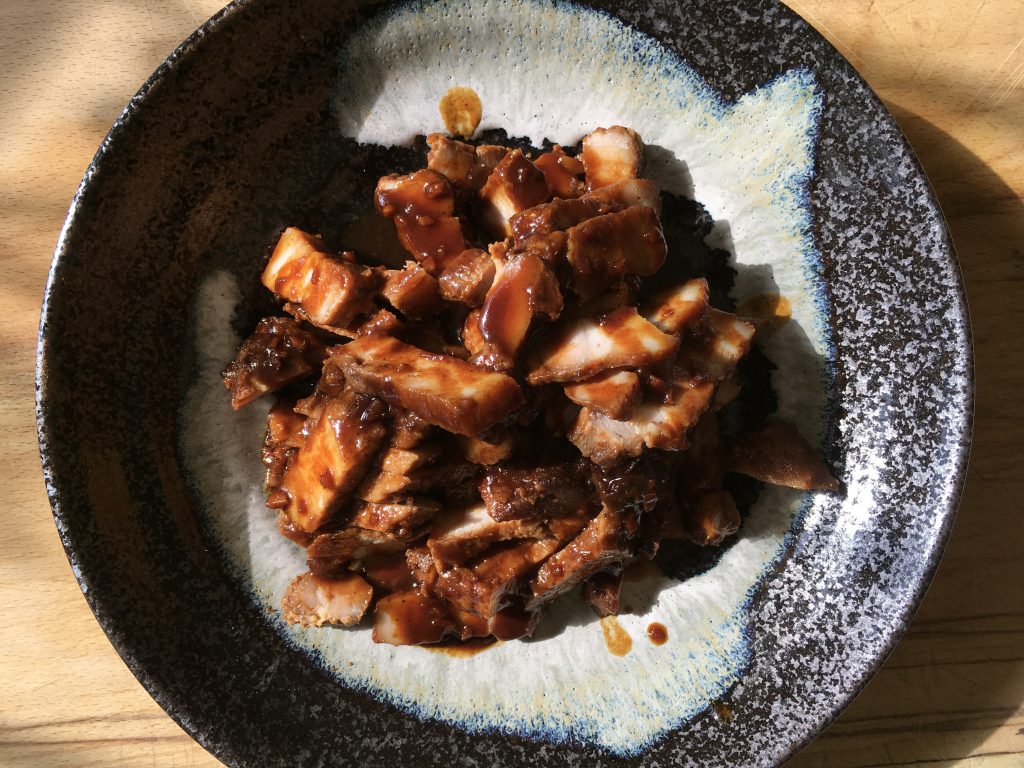 My very first attempt at making char siu, or Cantonese roast pork,  was from Yan Kit-so's Classic Chinese Cookbook. It was the first and only Chinese cookbook I owned and it served me very well for a very long time. I still consult it when I am unsure of a recipe from another book.
The recipe called for hoisin sauce and yellow bean paste which necessitated a trip to Chinatown, which was a very exciting prospect for me as a student. The char siu was tasty and simple to make, one of the hallmarks of Ms Yan's recipes.
I continued to make it intermittently throughout the years. Recently I came across a different recipe from another book and played around with the measurements. The result was also very tasty and I received a lot of compliments from the Gochugaru boys.
I have called it In-house Char Siu because char siu is such an emotive subject. Everyone has their favourite version: the one from that restaurant in Jalan Imbi, the shop in Bangsar, the stall in PJ Old Town. So I went to check if there is such a site as charsiu.com and actually you can still buy the domain name for around US$3,000.
No thank you, because I could buy several fat pigs for that price.
This char siu then is what I make for our family and it is not aiming to be a replica or even a version of any other char siu I have eaten before. It is simply, like all the other in-house recipes, something I would make day-in day-out as a simple dish for family dining.
When it comes to such a simple recipe, the key ingredients should be as good as you can get. I try to get Pearl River Bridge dark soya sauce, Kikkoman light soya sauce and the rice wine that comes in this bottle. This Shaoxing rice wine is a bit like Lingham's chilli sauce or Heinz's tomato ketchup, that is to say, if they change the packaging I would be lost since I only reach out for the bottle and do not care to read the label. I have used different brands of hoisin sauce: Amoy is thick, Lee Kum Kee is thinner in consistency.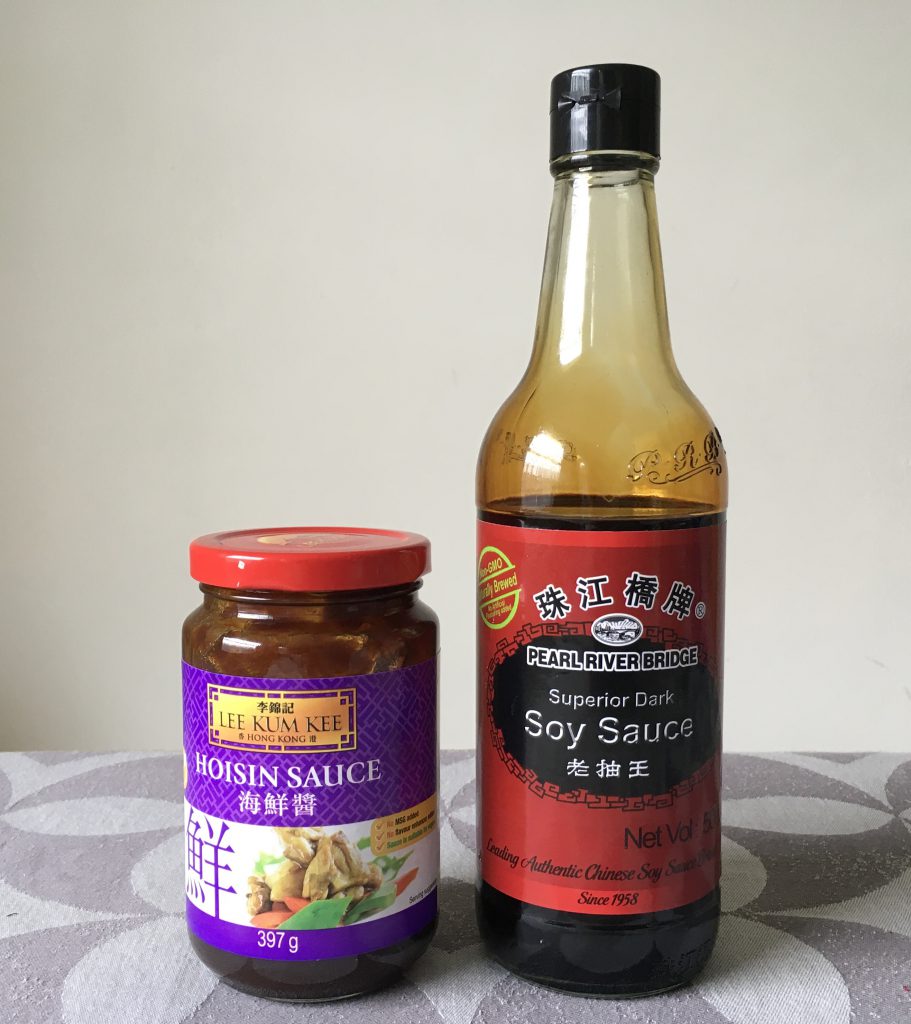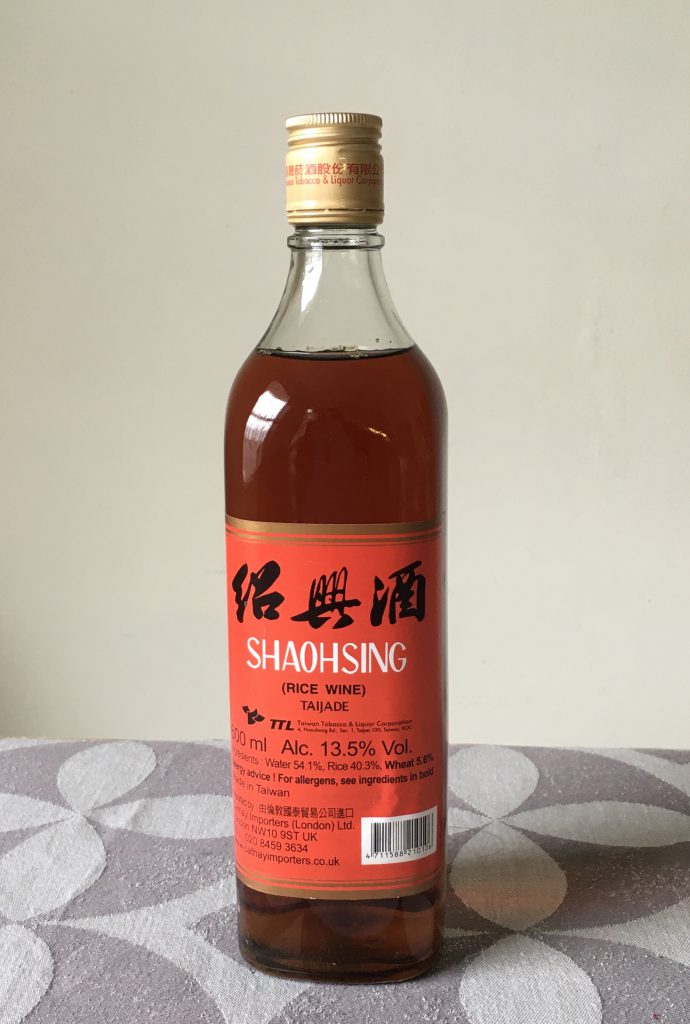 The cut of pork is up to you. I have seen recipes using pork tenderloin, neck, belly, shoulder and even cheek. I tend to use pork belly which either comes in a slab which needs slicing, or in pre-cut strips. Fat content is a matter of personal choice but generally I find that men don't worry about this sort of thing. In fact King's College Boy said the fattier the char siu, the better. I don't know how he remains so slim.
Three stages of belly pork: freshly unpacked, marinating and laid out on a rack for roasting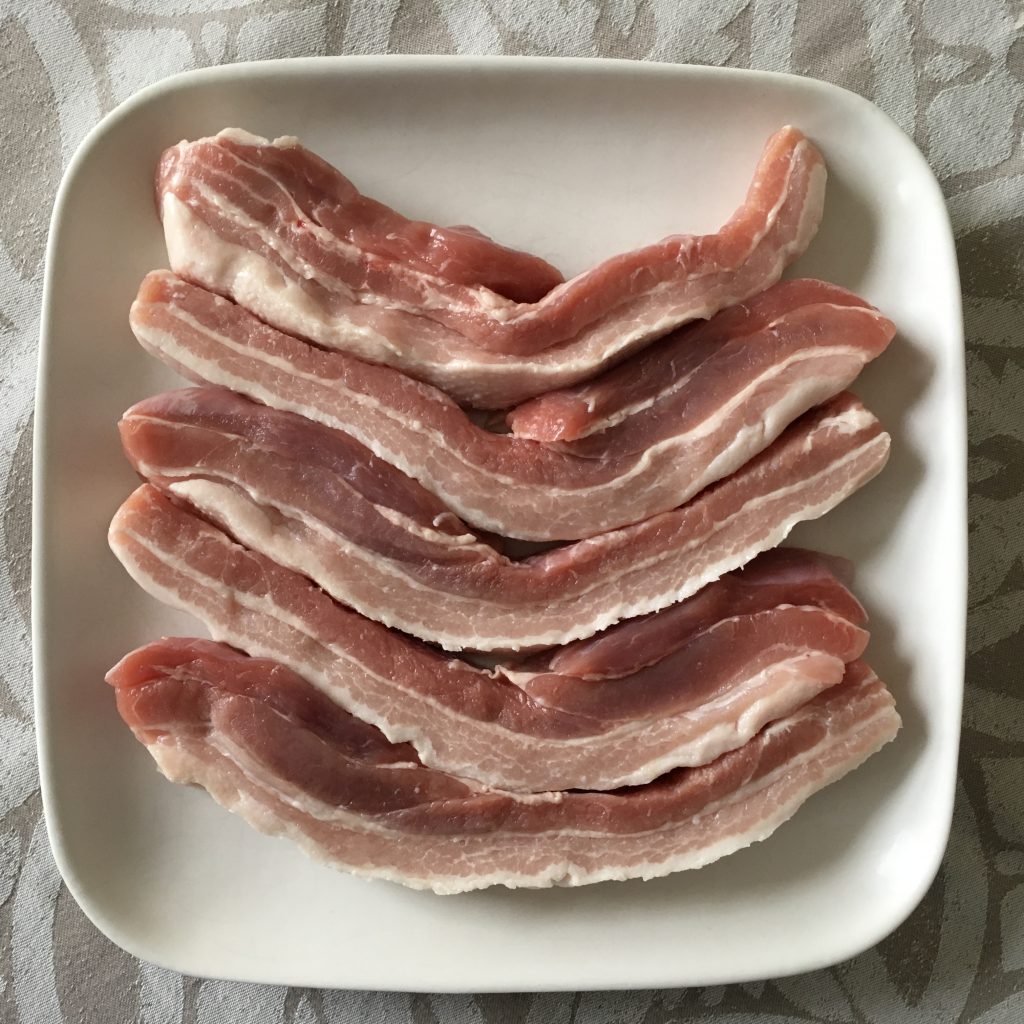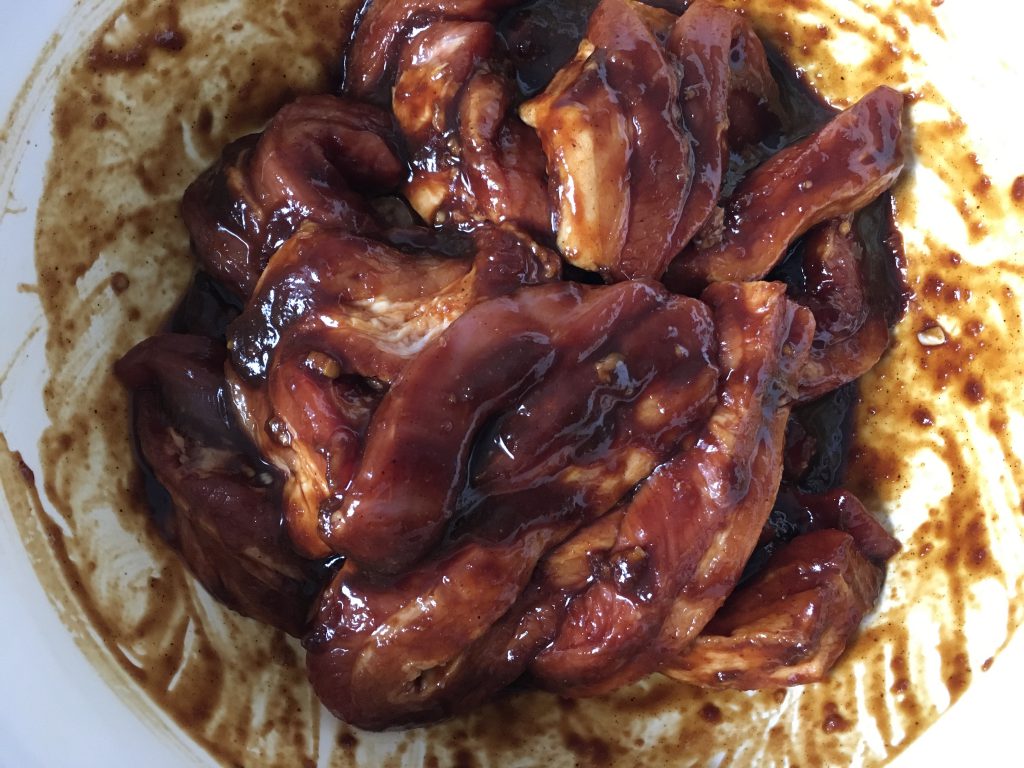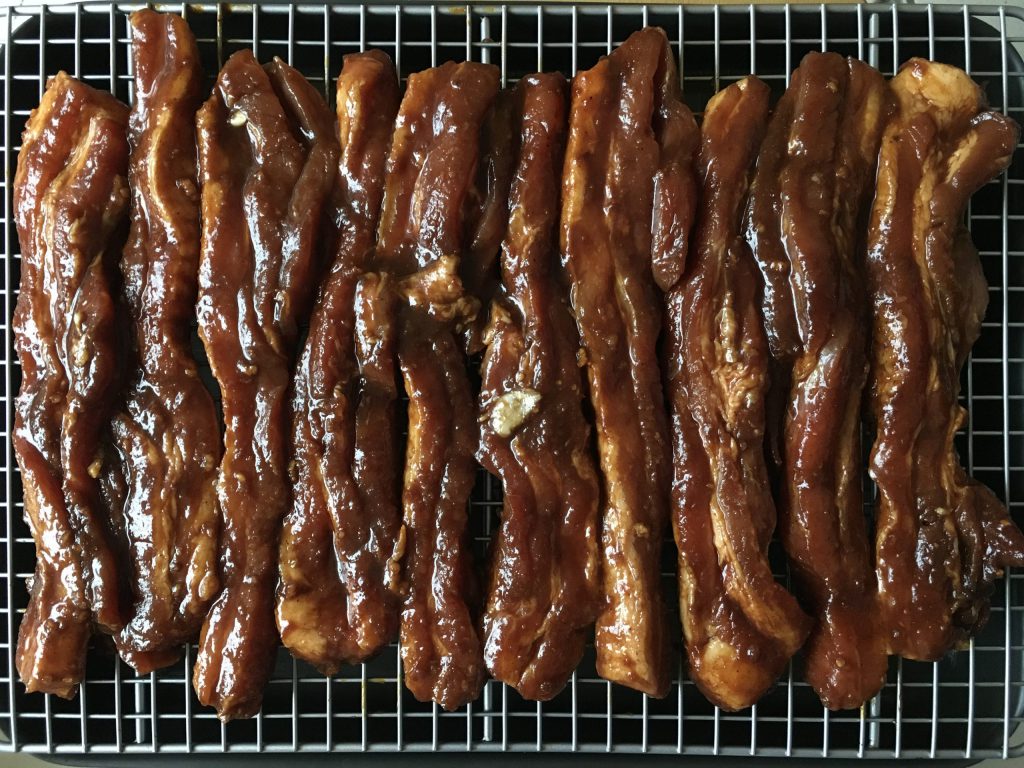 For the Char Siu:
1 kg skinless pork belly strips, or other slightly fatty cut of pork
2 tablespoons runny honey, for brushing at the end.
For the Marinade:
2 teaspoons grated fresh ginger
4 cloves garlic, finely chopped
6 tablespoons hoisin sauce
4 tablespoons runny honey
2 tablespoons light soya sauce
2 tablespoons Shaoxing rice wine
2 tablespoons unrefined caster sugar
1 tablespoon toasted sesame oil
1 tablespoon tomato puree
2 teaspoons dark soya sauce
1 teaspoon five-spice powder
½ teaspoon ground white pepper
How to Make:
Place all the marinade ingredients in a large bowl and mix well. Add the pork slices and coat evenly with the marinade. Set aside for 1-3 hours, turning the pork over occasionally if you can remember to do so.
When you are ready to cook the char siu, preheat the oven to 200 C.
Place a wire rack over a baking tray. Fill the tray with a layer of water, which prevents the dripping sauce from burning. Place the pork on the rack, and reserve any marinade for later.
You can roast the pork low and slow, in which case reduce the oven temperature to 160 C and roast the pork for 1½ hours, turning over after 45 minutes. If you are short of time then roast the pork at 200 C for 20 minutes each side (40 minutes in total). Baste the pork with the marinade from time to time.
At the end of the cooking time, brush the honey over the pork and grill on a medium heat until the fatty bits blacken a little. Turn over the pork and repeat the brushing and grilling.
When the pork has taken on a good colour and good level of 'char', remove the tray from the oven.
Place the pork on a plate to rest whilst you deal with the sauce.
Pour the water from the tray into a pot and stir in the rest of the marinade. Simmer the sauce until it has thickened, skim the fat off and set aside. At this point check if you would like to adjust the taste of the sauce as some people like it sweeter, some people like with a touch more soya sauce.
By now the char siu would be ready for slicing. Place the sliced pork on a serving plate, drizzle over some of the sauce and serve with cut cucumber slices and some plain, steamed rice.
Any leftover char siu can be made into char siu bao (next post), used in soup or dried noodles, chopped into fried rice or even stuffed into a baguette to make Vietnamese banh mi. Thinking about it, I should make more the next time in order to freeze some for later use.