Seoul Diary Spring: Day 1
A first post from Seoul where we have hit the ground running.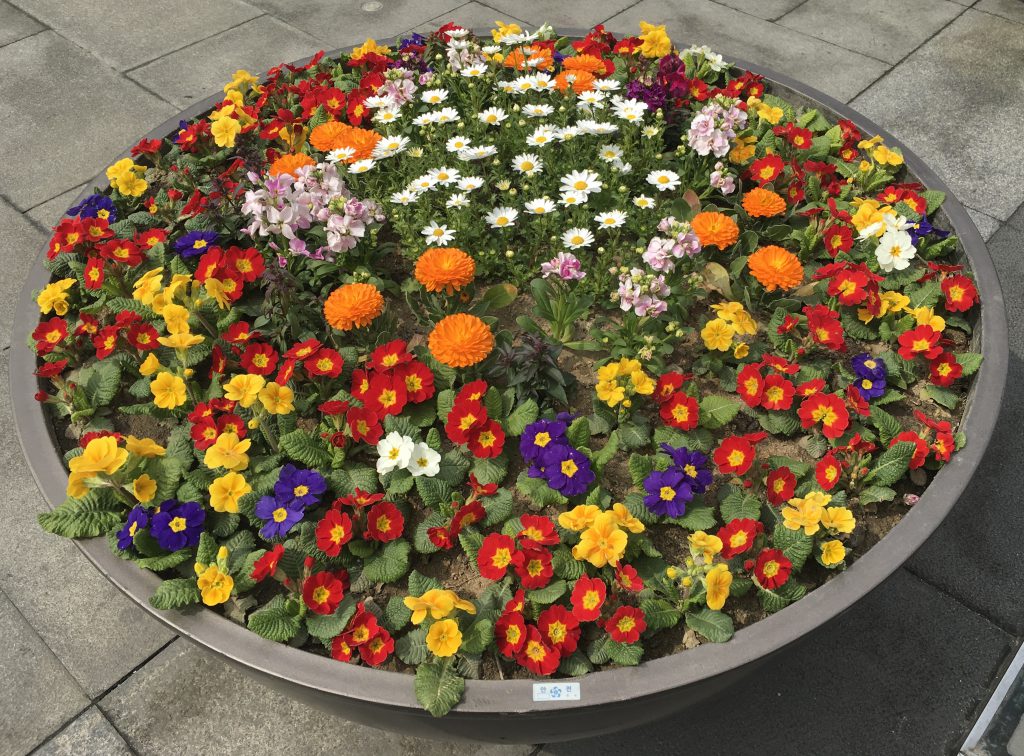 We love Seoul, this is undeniable.
We have been thinking about this holiday for nearly two years. Our planned trip in Autumn last year was cancelled due to Junior 3 breaking his collar bone. At the time, the surgeon said: it has been a dry season hasn't it? Meaning that when you fall hard on solid ground there is nothing to cushion the fall and your bones take the hit. Mud, as it turn out, is good.
There are no worries of solid ground this term as the weather has been very wet. The boys have been warned that tomorrow's school charity walk will be muddy. Maybe the problem is now slipping and falling. There is no middle ground, is there?
Exit from Incheon Airport was extra fast this time and we managed to clear customs, retrieve our luggage, exchange money and get a local SIM card within a time that made us quite breathless. Then to be more like a local (since we have to practise our Korean) we took a local taxi to the hotel.
Our first meeting of the day was with Singapore Sister. Now, I don't have a sister in Singapore just as I don't have a sister in Seoul. There is only KL Sister and HK sister by blood. But since these great ladies (whom I met through church in London) share the same sunny outlook in life, they should join this extended family.
Singapore Sister and her family are here for one more day so this has to be a good catch up, and where better to start the day but at Terasosa Coffee? I can even order in Korean now, although to be honest cappuccino is also cappuccino in Korean. That's cheating.
We talk about what each our three children are doing, about eating out in Seoul and about this wonderful area called Gwanghwamun, where both our hotels are located.
Later on we walk to Insadong for a bowl of handmade dumplings at Gaeseong Koong Mandu. Filled with meat, tofu and chopped greens, the dumplings were light and the broth was soothing.
I took a picture of the menu to work on vocabulary later, to keep my mind busy when jet-lagged. I later looked up previous notes to see I had eaten here in August 2015 (and also in June 2016) and the prices have gone up a bit.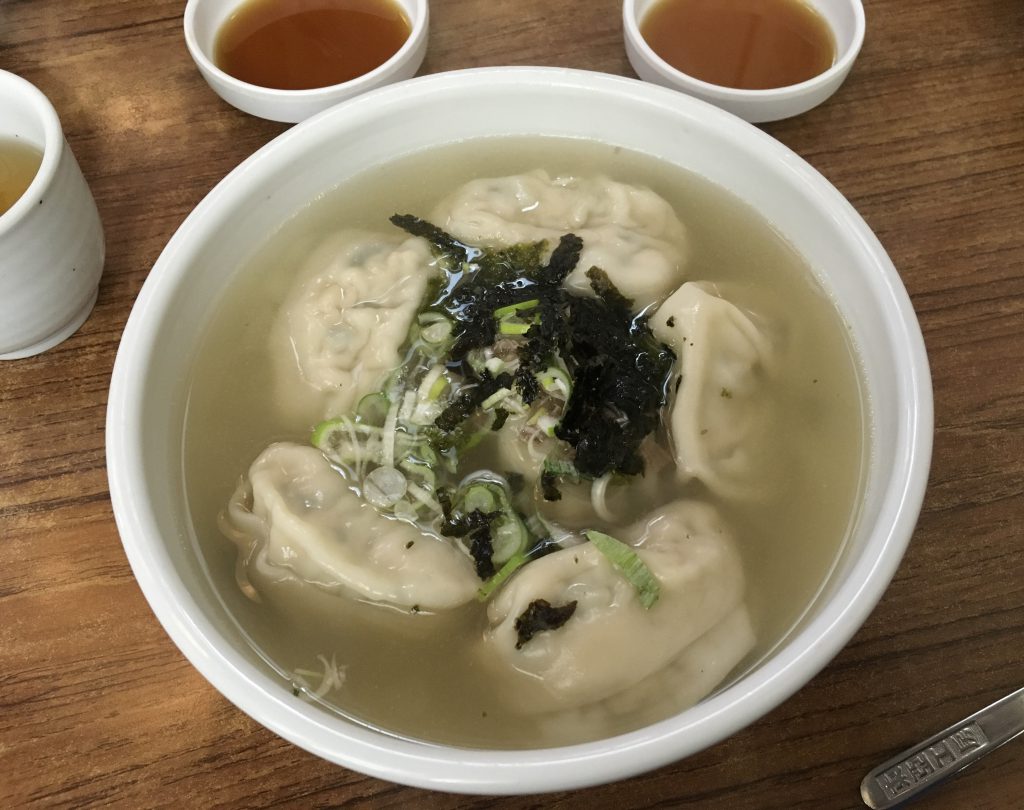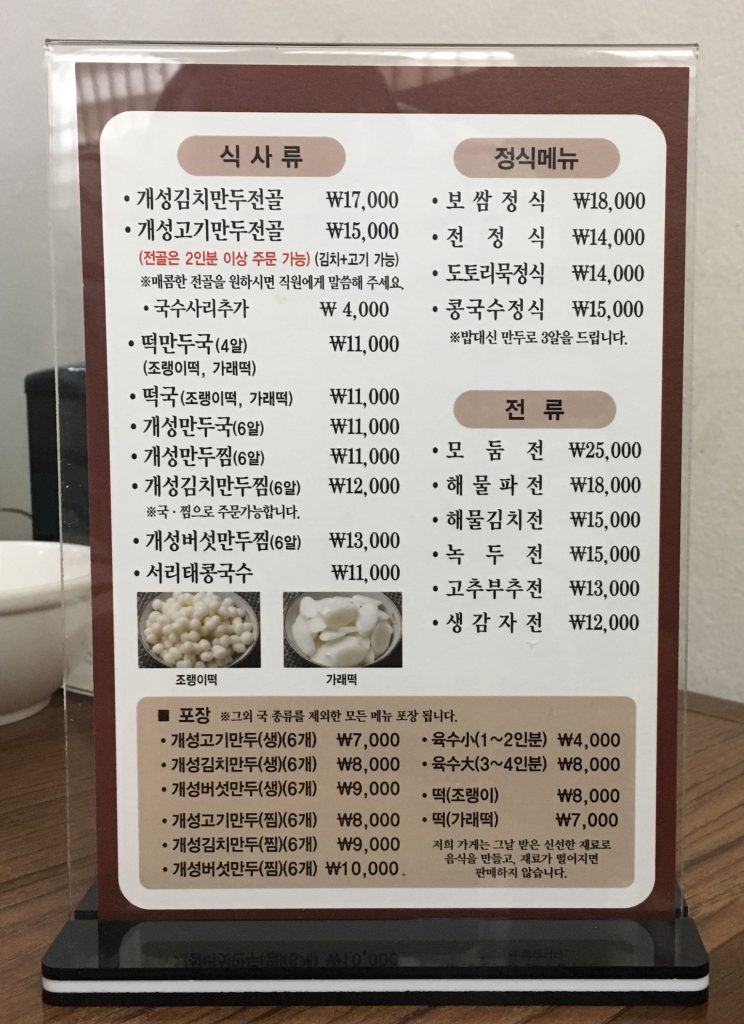 Afterwards we do a bit of unpacking and then I had a cup of pine nut tea with Seoul Sister at the hotel coffeeshop. More catching up about where the children are moving to later this year. It seems that we will be spending our summer helping with relocation…so a parent's work is always ongoing.
A walk up to Samcheongdong provides an opportunity to stretch our legs and to work up an appetite. We will need this because dinner is at Bukmakgol whose speciality, indeed its raison d'etre, is a dish called stone-age or caveman ribs.
I grew up watching and loving Hanna-Barbera's Flintstones. Well, the beef ribs here would have made Fred Flintstone very happy. As an indication to size, we asked Joy, aged 16, to place her hand near the ribs for comparison.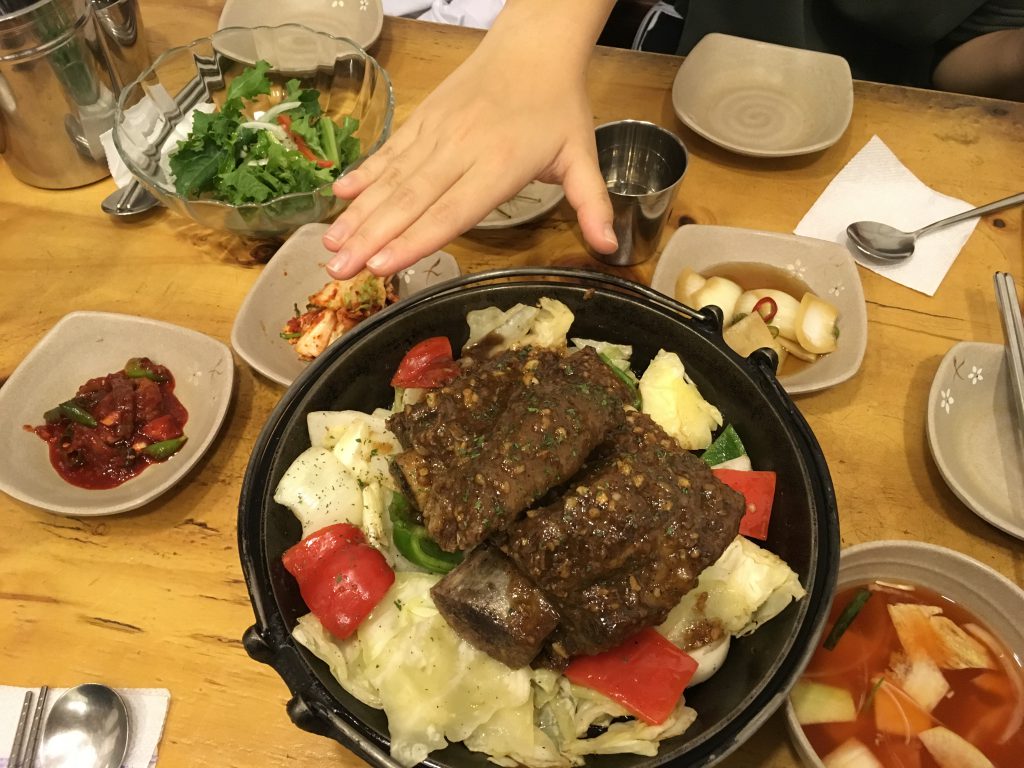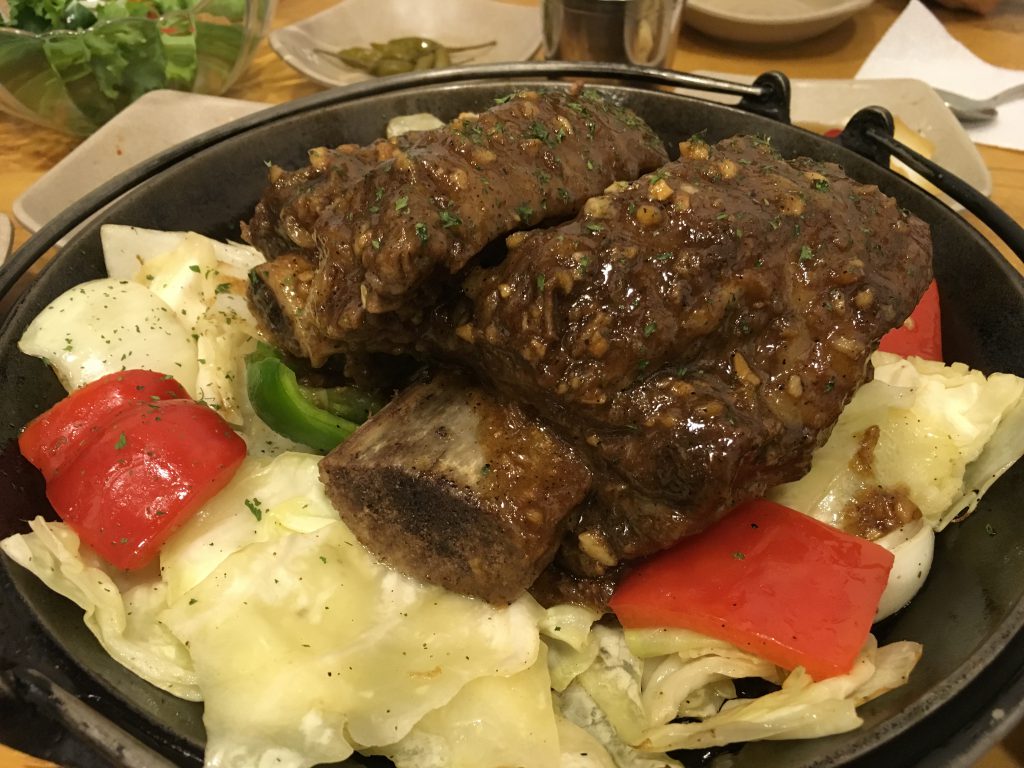 In order to eat it, a pair of tongs and scissors are issued and it is neccssary to cut through the meat into smaller pieces. The ribs come covered with a slightly sweet and garlicky soya-based sauce and when we bit into it, we all agreed that the tender meat was definitely something we would remember.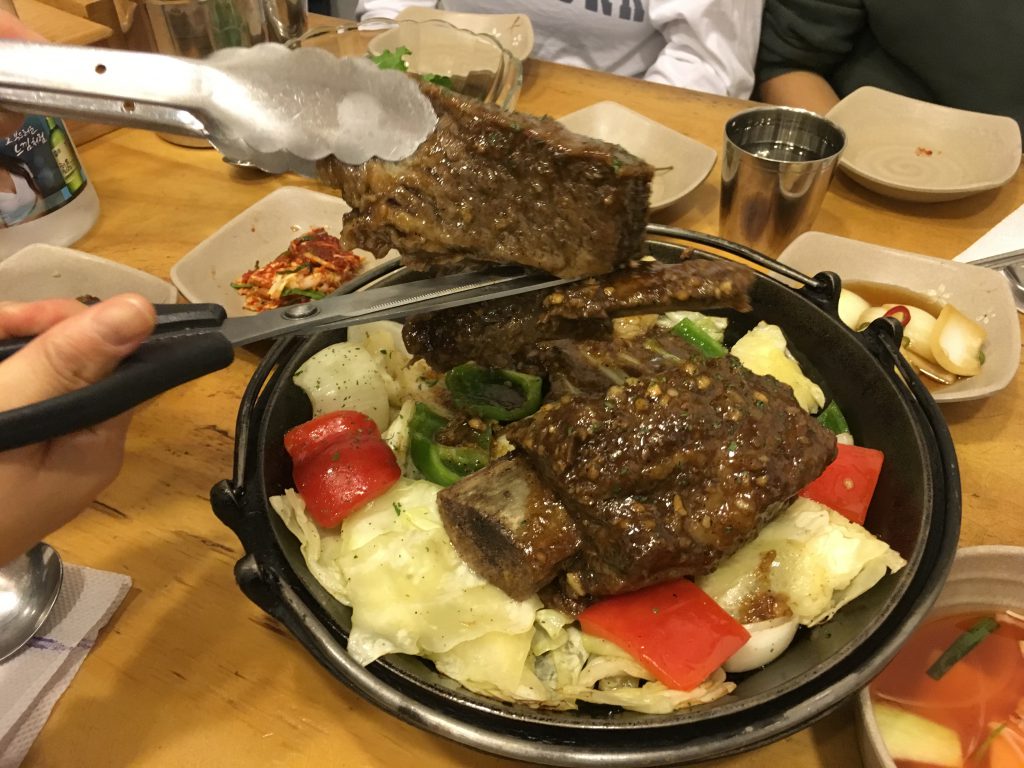 We also ordered a large plate of bossam (simmered then sliced belly pork) which you eat with the lightly pickled shredded onions and deep-fried garlic pieces it comes with, and some tender seafood dumplings and crisp mungbean pancakes.
We stuck to drinking water hence the general hushed level of conversation at our table. In the other rooms, groups of office workers were bonding over ribs and bottles of soju. They sounded very happy. Fred and his stone-age friends would have had a rousing time here.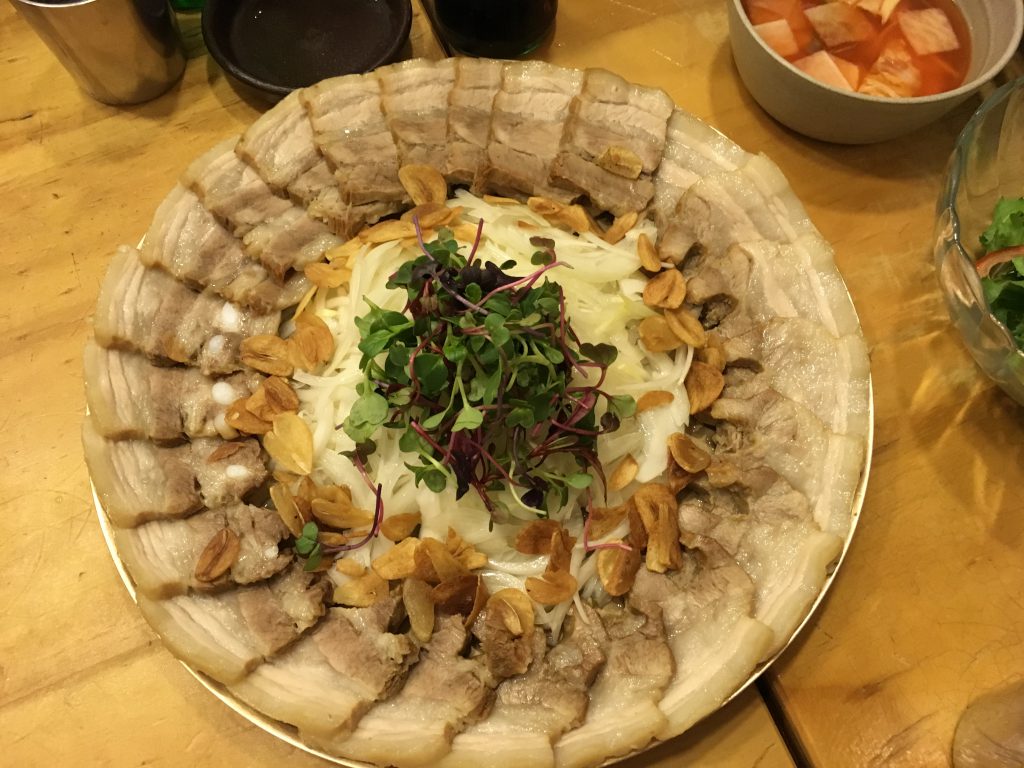 One thing we talked about was Hawker Chan's 1-star Michelin soya sauce chicken. It was a year ago when we had breakfast in Smith Street market in Singapore with Singapore Sister but at the time, the stall was shut. In December Mr Gochugaru and I managed to try this when we visited with Seoul Sister and her daughter. Singapore Sister said she has yet to try it (new resolution).
Later, as I was considering this wonderful city that never sleeps, I realised that I still had  15 minutes to run round the corner to get an ice cream from Godiva. This has been a running joke: I like their soft and swirly ice cream but despite my best intentions, I falied to eat it in London (too cold) and Kuala Lumpur (ran out of time).
However an inner voice said I should eat something green and fresh instead. Also, Samsung Health recorded that today I walked for 175 minutes over a distance of 12.5 kilometres in 16,652 steps. Despite that, because it was more an amble and not a run, only 635 calories were burned. Therefore an ice cream is out of the question.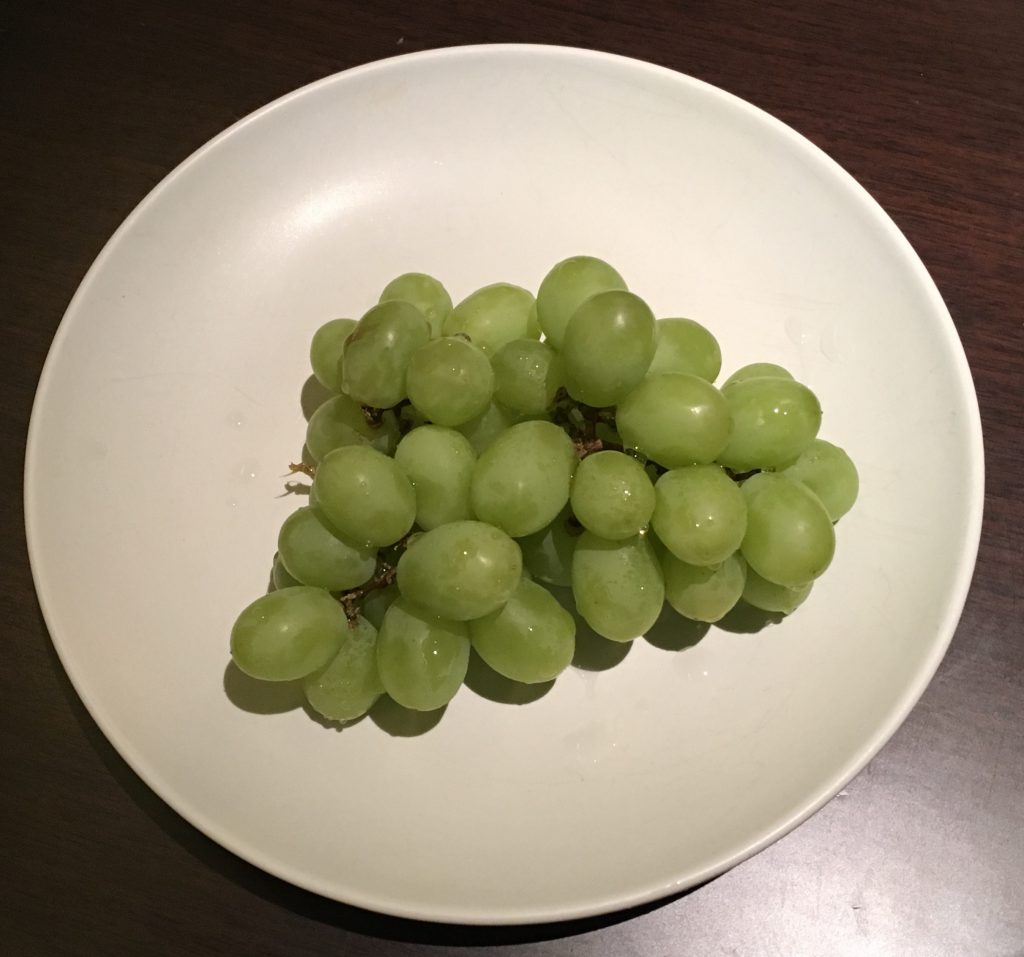 We end the day by exchanging a late night text with Network Friend (as in, mobile phone network). Network Friend is a family friend of nearly 25 years who now works part of the time in Seoul. We were going to have drinks after our respective dinners but he is in Gangnam, south of the river and we are north of the river.
The River Han, like those ribs, is big and wide so it is a trek to cross it. We decide that we will meet up another time, perhaps in London.
Our first day is over and the next day beckons. We still have a long list of things to see, eat and do and we will need to be Running Man and Running Woman.
Addresses: will be provided soon.