Take that look off your face…
…eating out in Singapore is really very good.
Malaysians have two favourite hobbies: the first is eating, and the second is telling Singaporeans how much better-tasting food in Malaysia is.
Singaporeans have two favourite hobbies: the first is eating, and the second is eating in Malaysia because it is so much cheaper across the causeway.
Thanks to Travel Couple's recommendations, we ate at some choice restaurants during our stay in Singapore. The question is whether we broke the bank. The answer is, and I say this despite wanting to erase the memory completely, that the most expensive and hyped-up meal in my entire history of eating out in South-East Asia was in Kuala Lumpur. This was the night before I left for Singapore so I can definitely say that actually, dining out in the island is not only a real pleasure but that the prices are reasonable given the quality of food and level of service.
We started with the most delectable satay at Violet Oon's Satay Bar and Grill in Clarke Quay. There are long-standing couples who have dinner à deux and worry if they have anything left to say to each other. There is no fear of this happening here because once the satay arrives, the dilemma is how to talk with your mouth full. Simply put, Mr Gochugaru and I could not get over how this was the satay we had been dreaming of all our lives. Three weeks later, we are still gushing over the grilled chicken skewers and peanut sauce. Needless to say, this will be our first stop on subsequent trips to Singapore.
I am embarrassed to say that we were so taken in by the satay that I didn't even take a photo. Next time maybe.
On Saturday morning we were shown round Smith Street Market by our friend June and her family. Oh yes, we love the English street names that Singapore has kept intact. June said we should try the one Michelin-starred Liao Fan Hong Kong Soya Sauce Chicken Rice and Noodle. This was going to be exciting but unfortunately the stall was closed for three days. There was a notice, though, that the owner has expanded his business from a stall to a restaurant.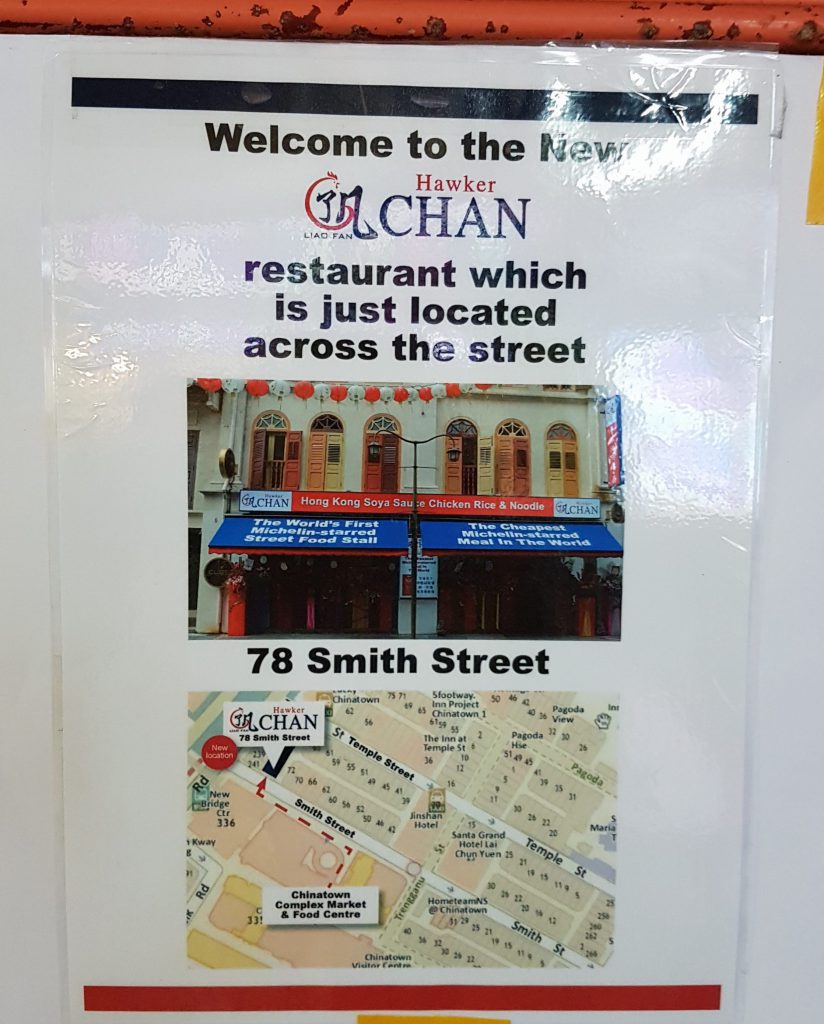 We sampled other stall food including porridge with minced pork, fishball noodles, fried turnip cake, steamed glutinous rice wrapped in bamboo leaves and another hawker's soya sauce chicken. I loved it all. It was a taste of my childhood. My children must come here.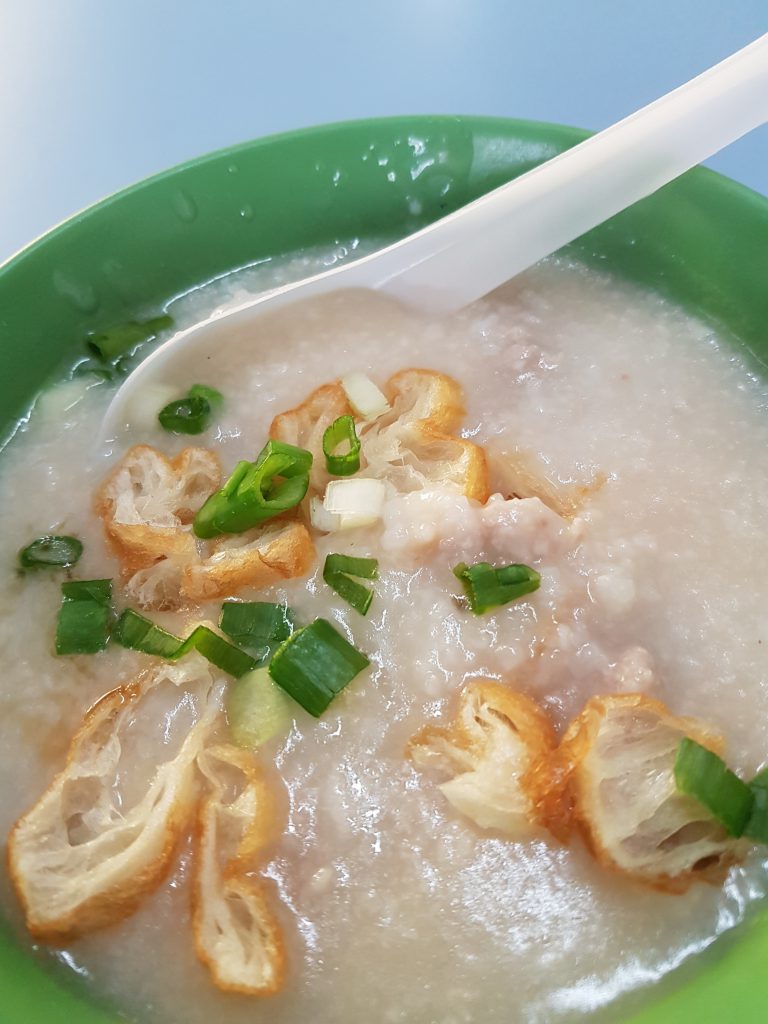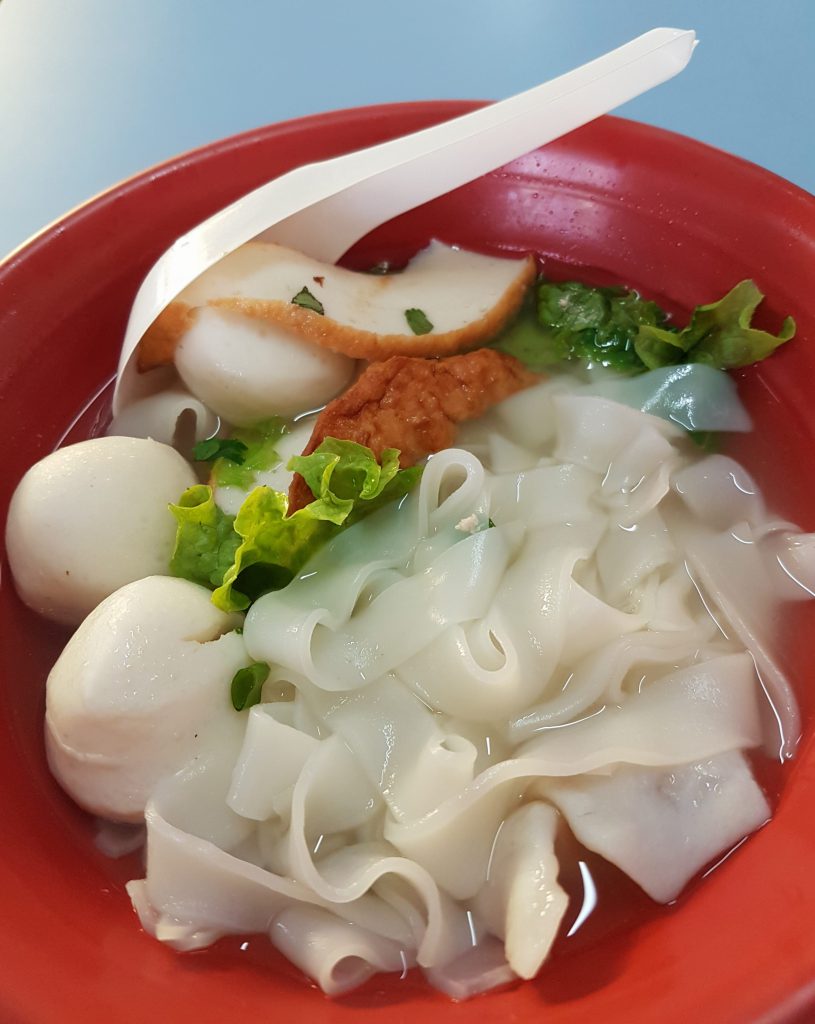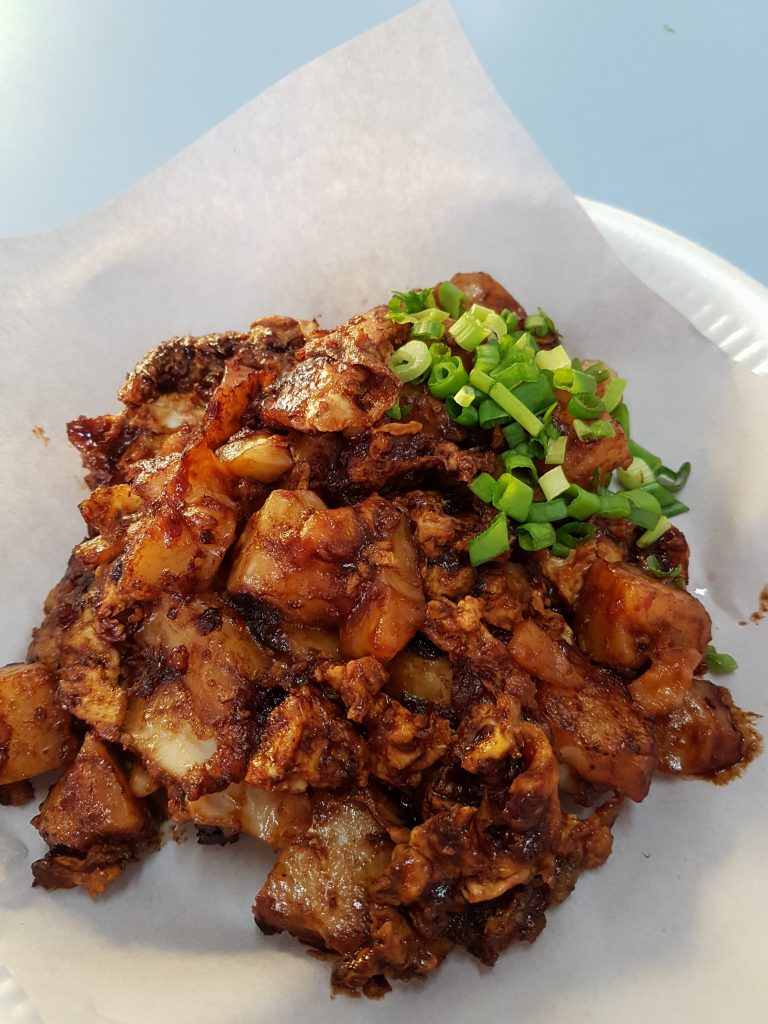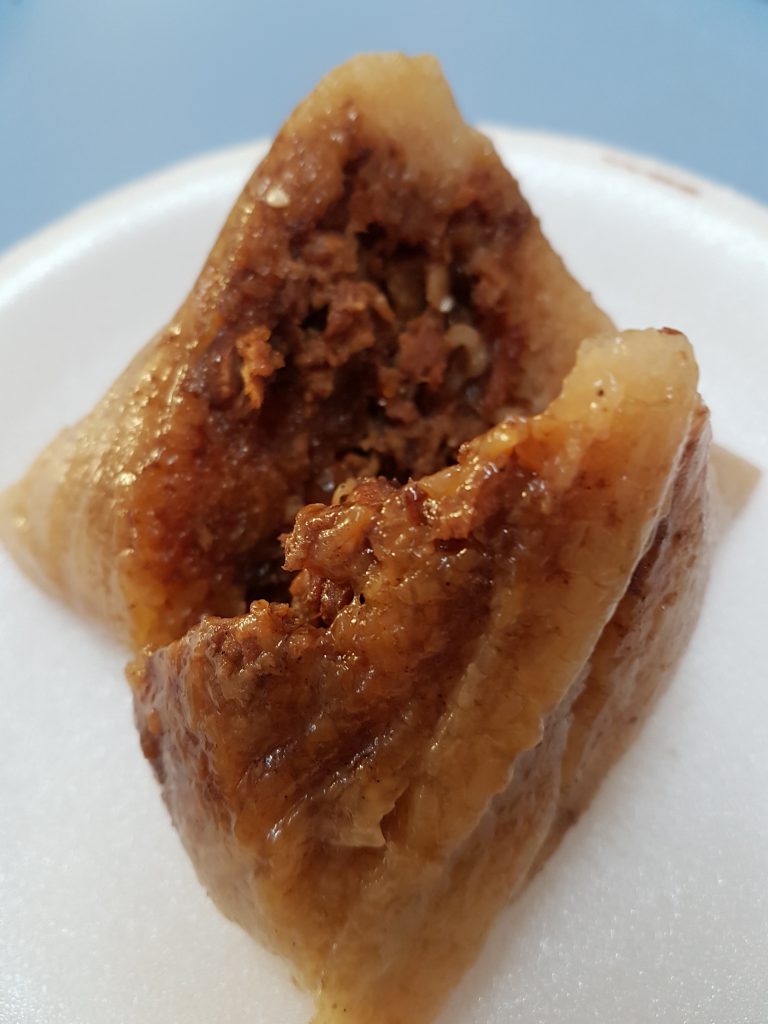 Like most traditional wet markets, Smith Street Market has different levels. The fresh produce market is on the lowest floor, with clothes and household goods sold on the floor above and finally the food stalls are on the uppermost level. Being in the heart of Chinatown, the market is really a one-stop shop as far as Chinese decorations are concerned.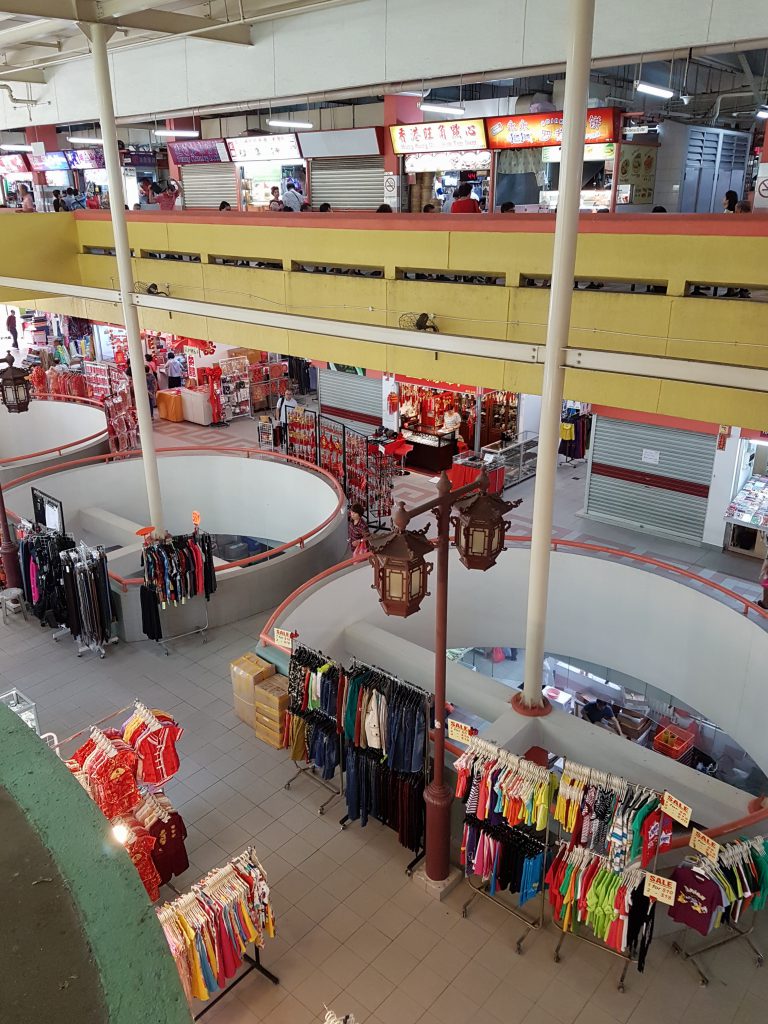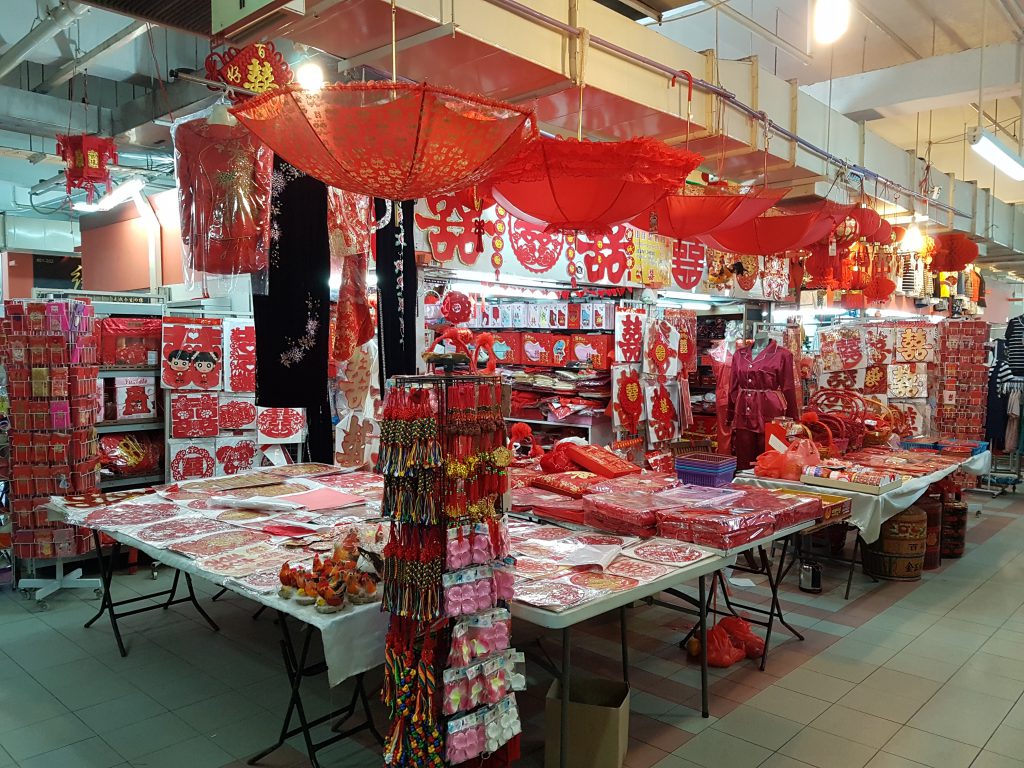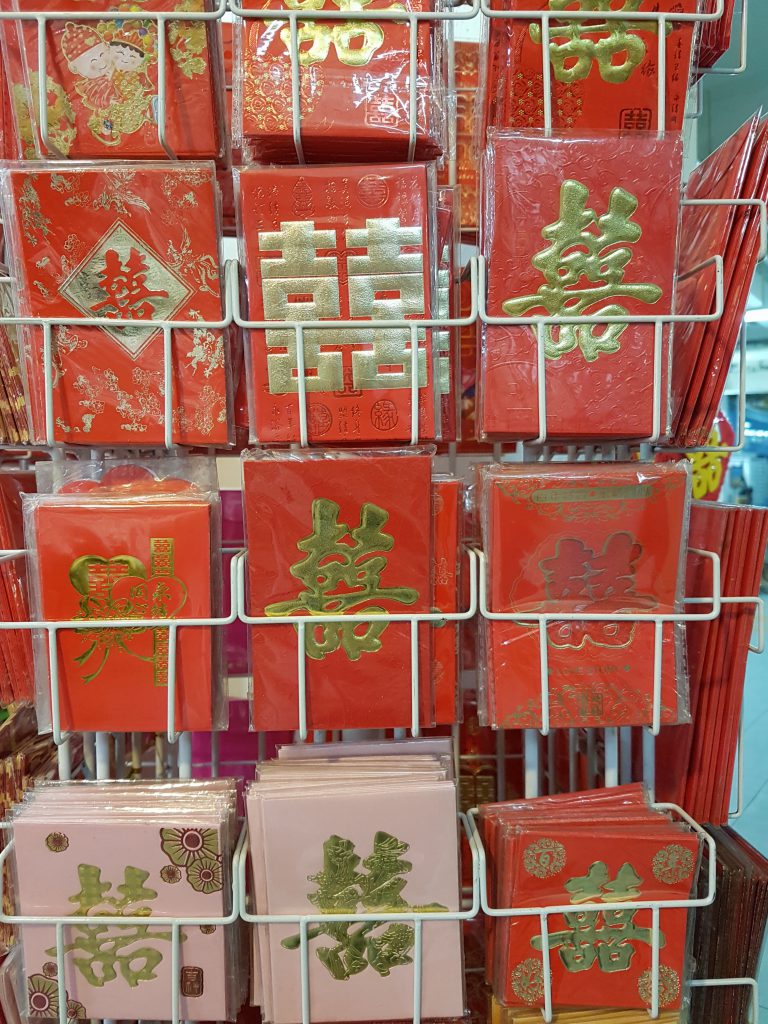 In the evening we celebrated Investment Banker Friend's 50th birthday at Jacky Yu's Xi Yan Private Dining. We had dined previously in Jacky's first private dining room in Wanchai, Hong Kong, and it was lovely to experience this again. Beautiful food, beautiful friends and a very memorable evening.
Parma ham, smoked salmon and asparagus green salad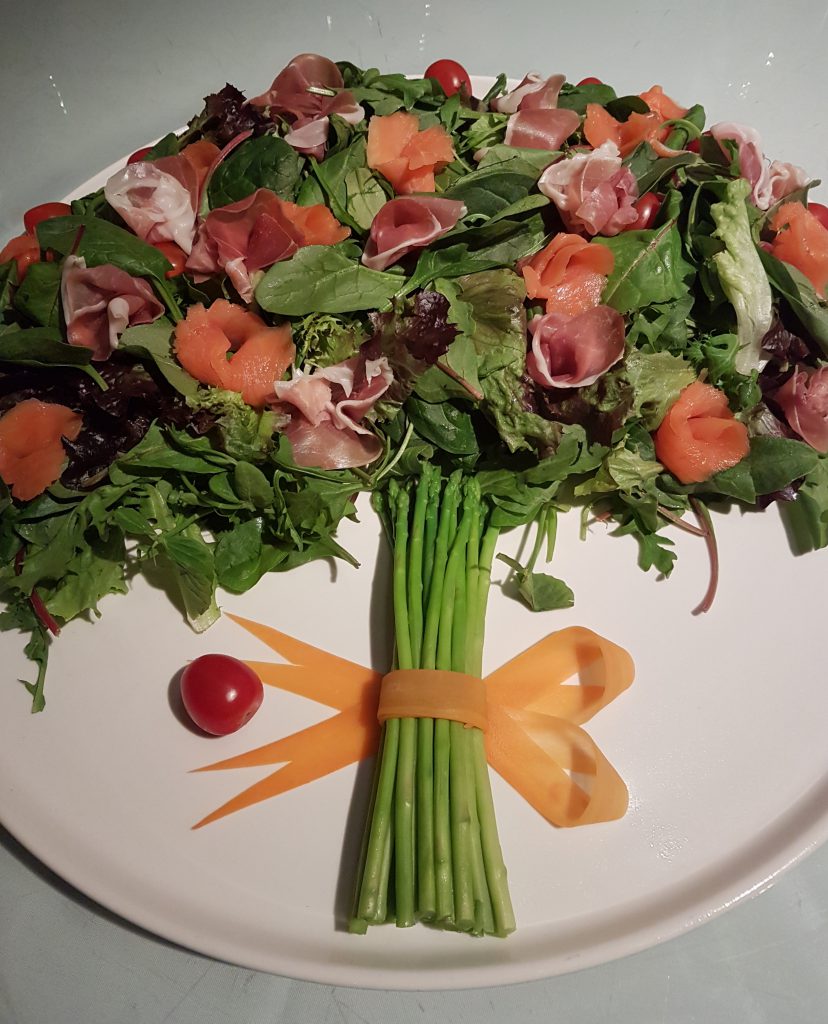 Pagoda dongpo pork belly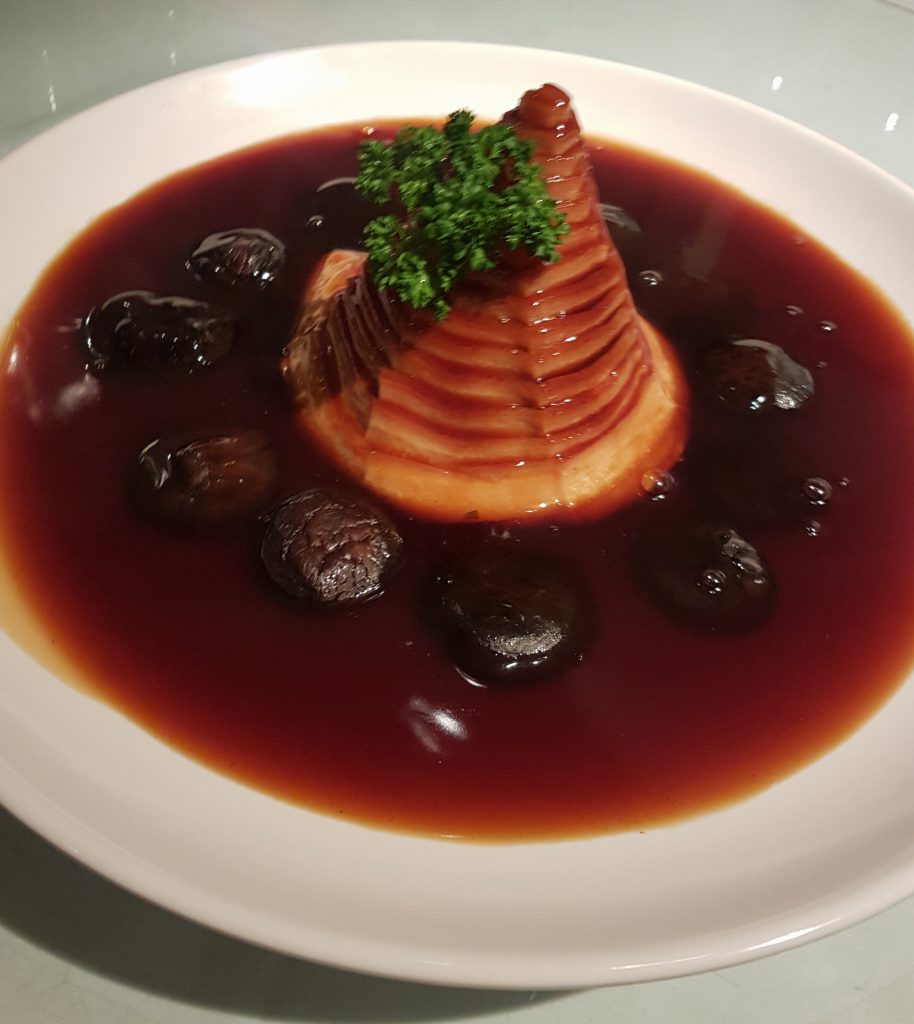 We had two further dinners at Labyrinth and Candlenut. I am not sure why Labyrinth is so named but maybe it is a nod to Maze (where chef Jason Atherton started when he was with Gordon Ramsay). When they were very young the children and I had discussed before the difference between a maze and a labyrinth, and here is the answer.
Labyrinths have a single continuous path which leads to the centre, and as long as you keep going forward, you will get there eventually: so we were presented with a series of playful but intelligent twists on local Singaporean dishes and at the end, we found the centre in the form of a chocolate egg which when cracked, contained our dessert. It looked like an egg but tasted of coconut and mango. The soya sauce element was palm sugar syrup and the ground black pepper was ground black sesame seeds.
'Bak Chor Mee' which is actually Hokkaido scallop with noodles made out of squid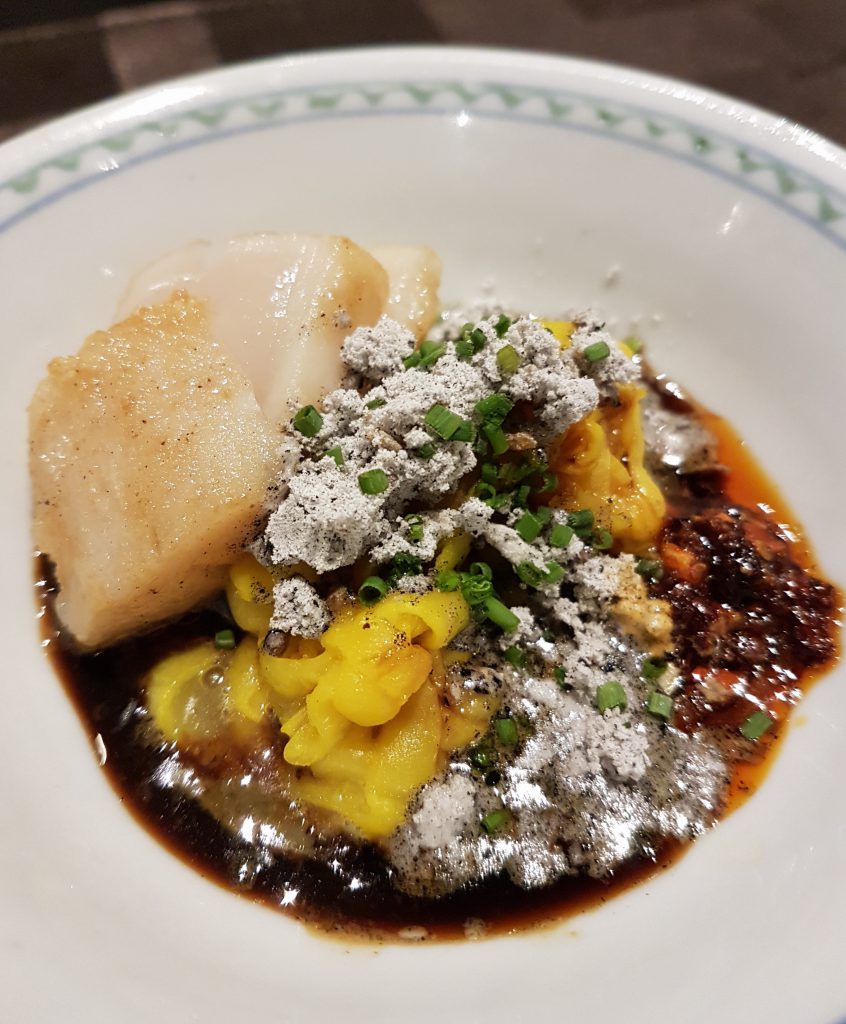 'Old Chang Kee Currypuff'…but not as you know it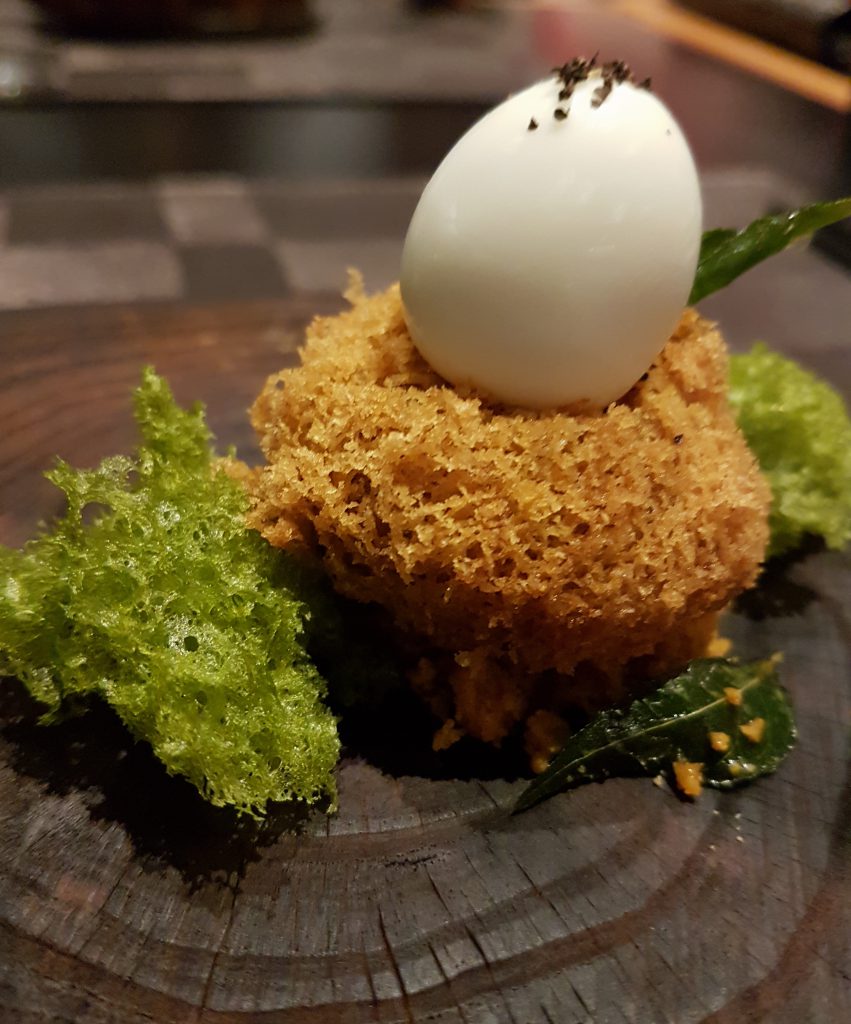 'Siew Yoke Umami Rice' but the rice may not have been rice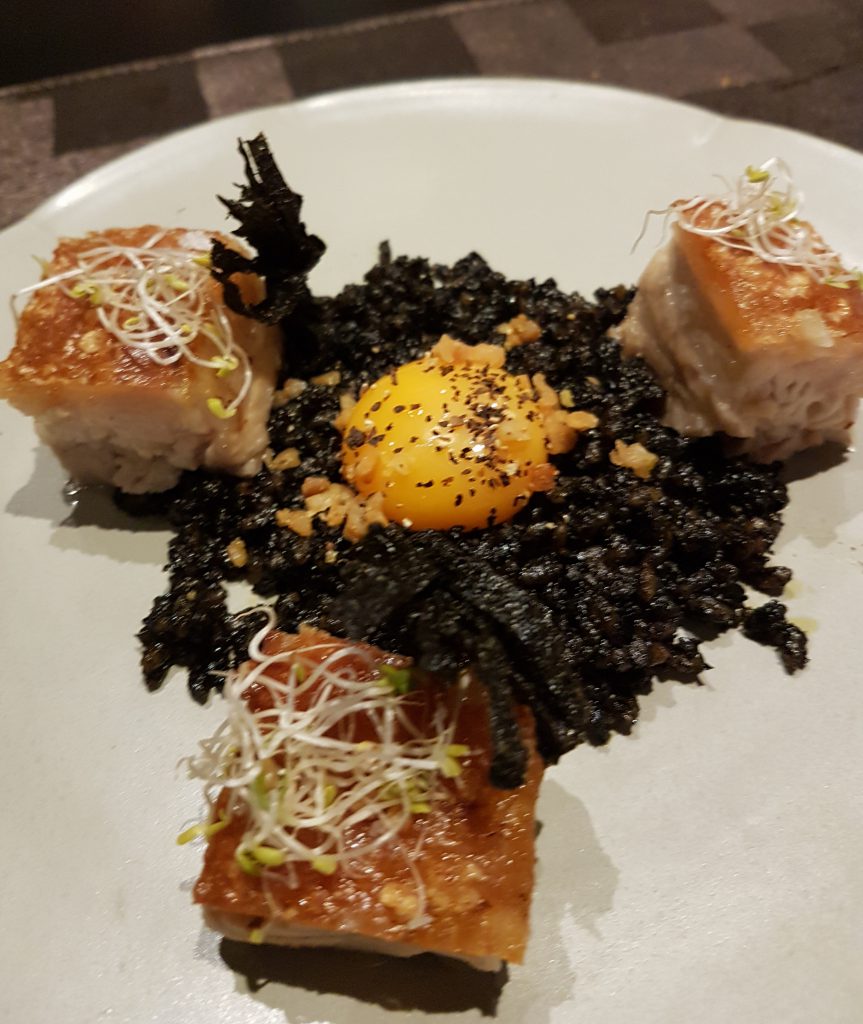 'Soft Boiled Eggs'…no trip to the kopitiam will ever be the same again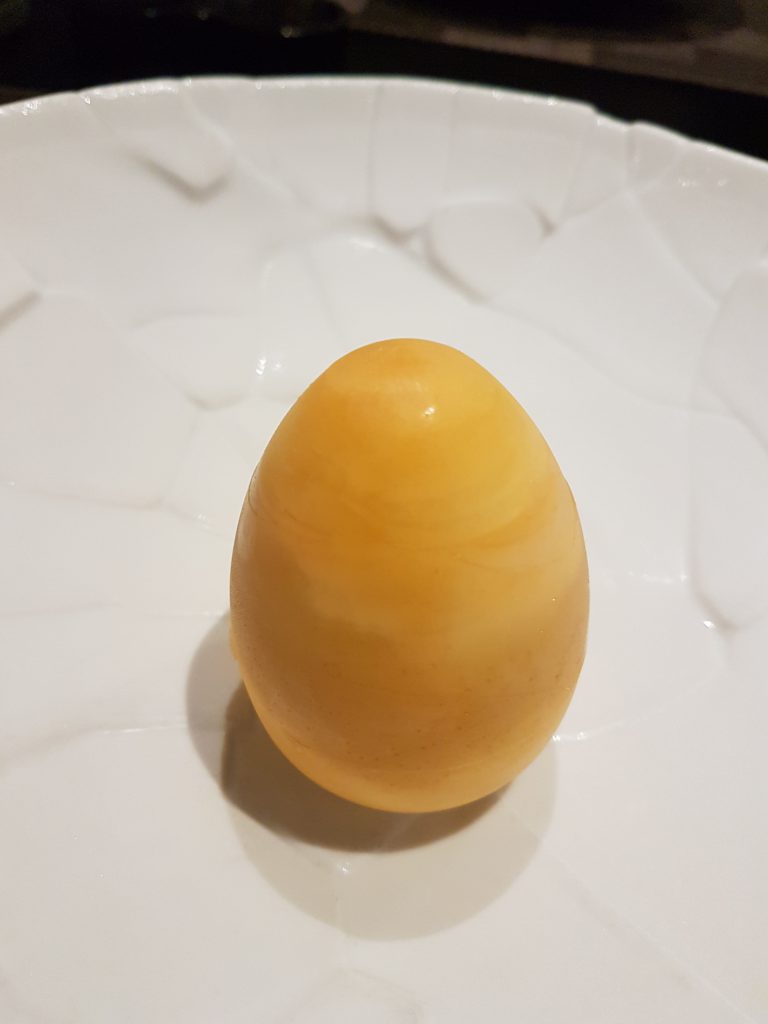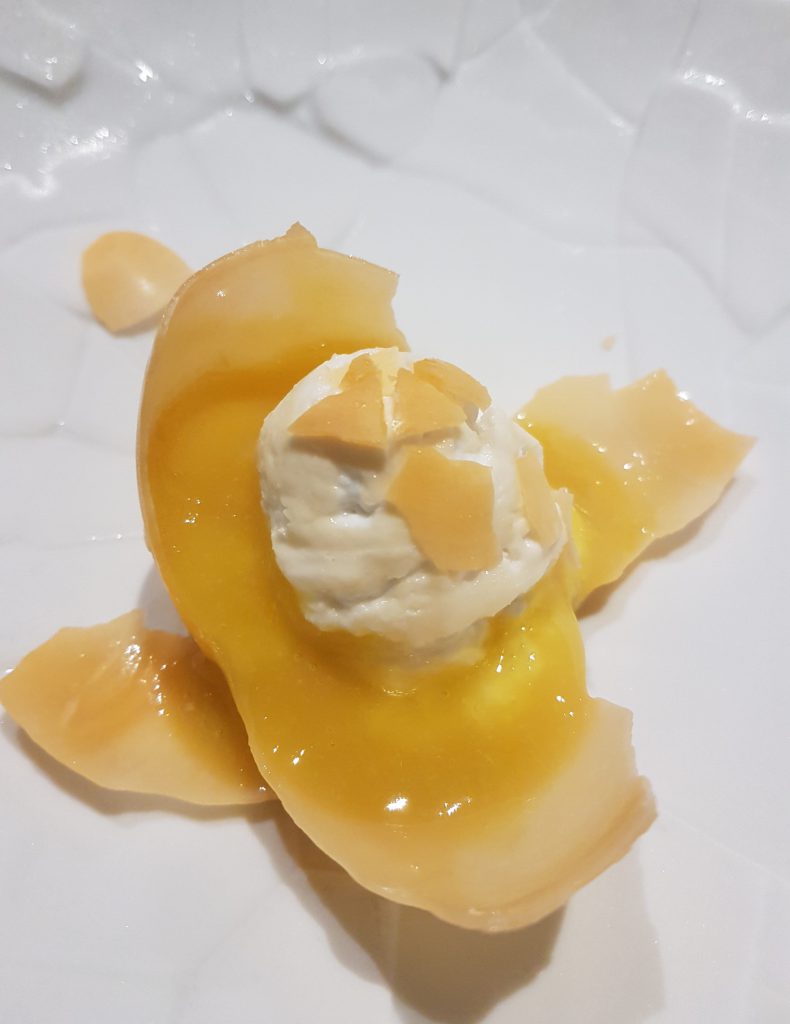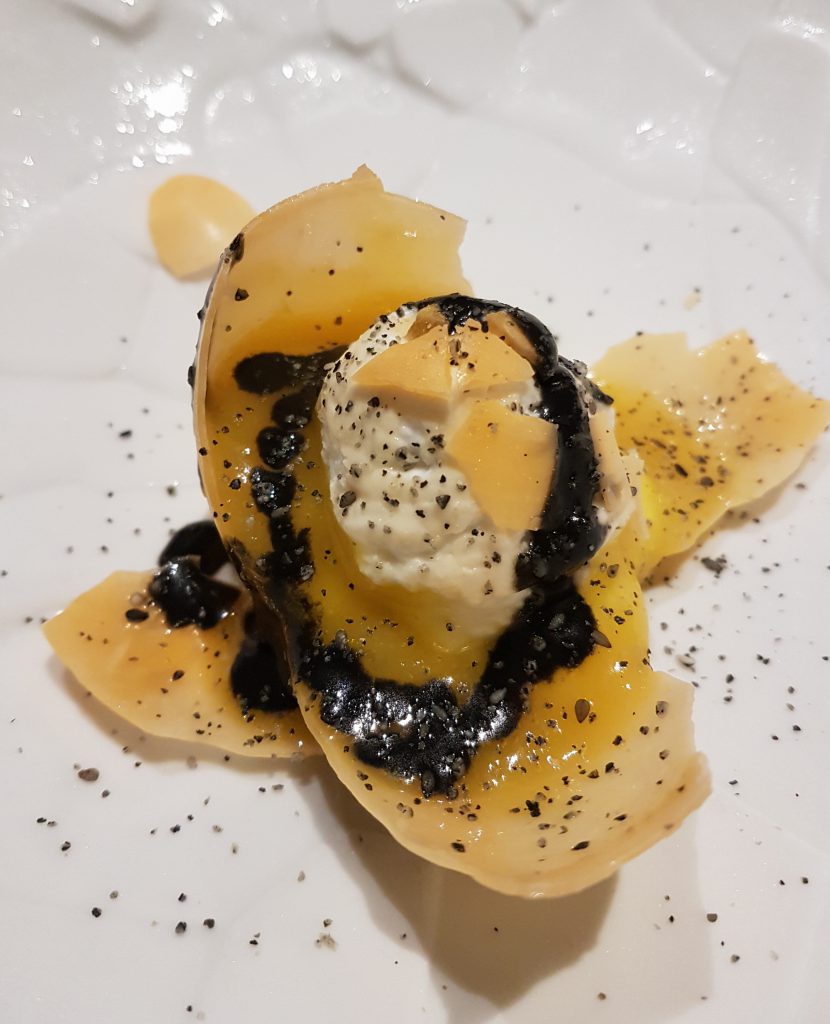 Candlenut is named after the nut used in Peranakan cooking to thicken curries. It is possible to substitute macadamia nuts for it, and at a stretch you can use cashew nuts too. The restaurant is part of COMO Dempsey in Dempsey Hill, the former British army barracks in Singapore.
Due to the insufficient lighting in Candlenut, the photos did not come out well and it would be a disservice to the wonderful dishes if I were to include them here. However I can show you a photo of something quite unique I picked up at the COMO Marketplace. Both the light and dark soya sauces are from Kwong Woh Hing, the last remaining soya sauce brewery in Singapore and as such it has a cult status and a niche market.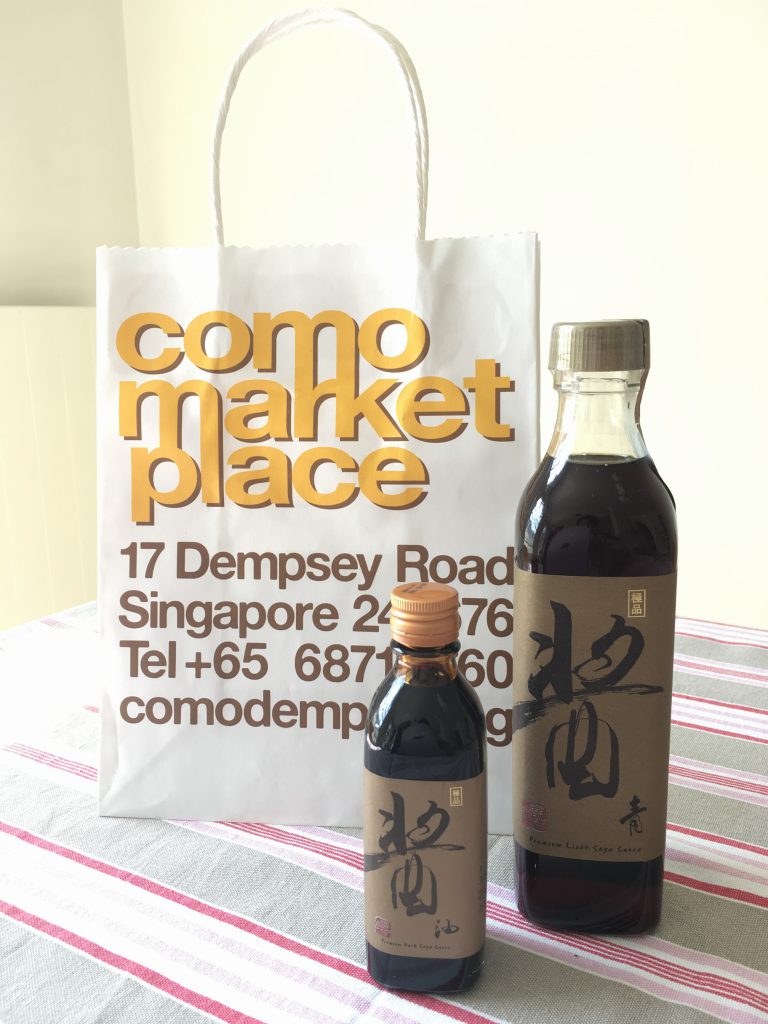 One of our favourite TV personality chefs, Jean-Georges Vongerichten, has just opened The Dempsey Cookhouse and Bar in the same building as Candlenut. Only dinner was available in its initial week of operation, and so on our final day in Singapore we had lunch at The Naked Finn. Located in Gillman Barracks, we recommend timing your lunch or dinner so that you can take in some of the exhibitions in the surrounding art galleries.
There is no nudity and as far as I know, the chef is not Scandinavian. Naked here is akin to what Jamie Oliver applied to his recipes in his Naked cookbooks: strip it bare then make it work.
The dishes at The Naked Finn are stripped back to basic principles and it does work. Everything we tried was delicious. Next time we need to bring the children or any of the following: Nottingham Cousin, Hong Kong Cousin or Boston Cousin (I will introduce them soon) so we can try more dishes.
Grilled baby Indian squid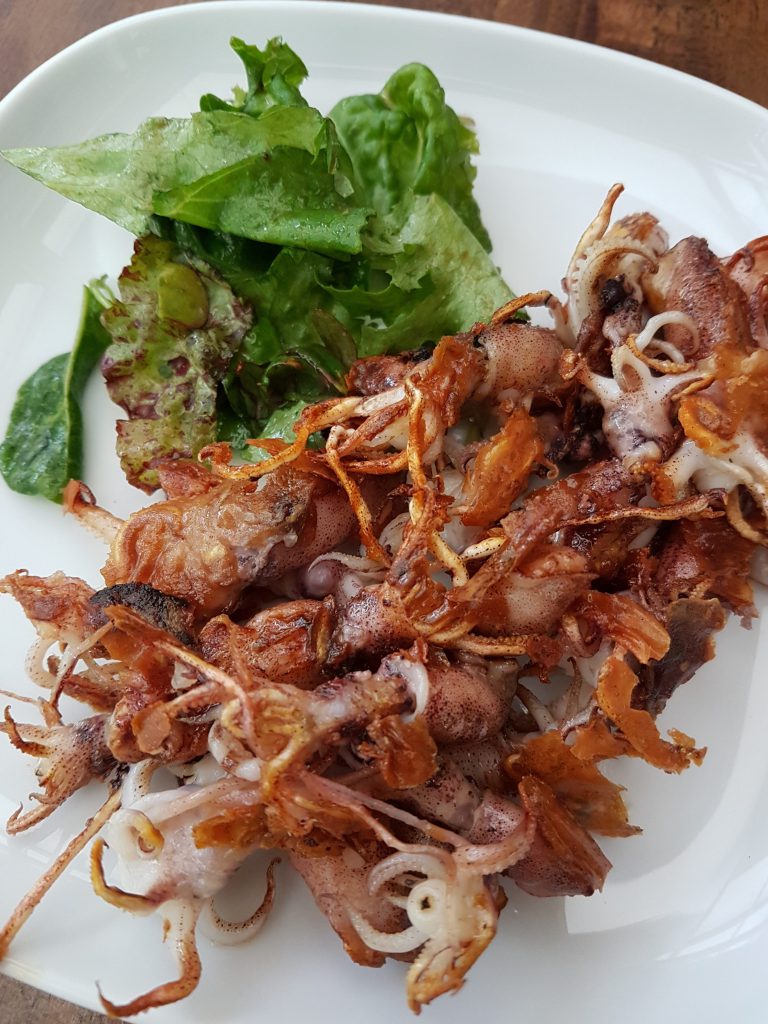 Pan-fried barramundi with kangkong and rice vermicelli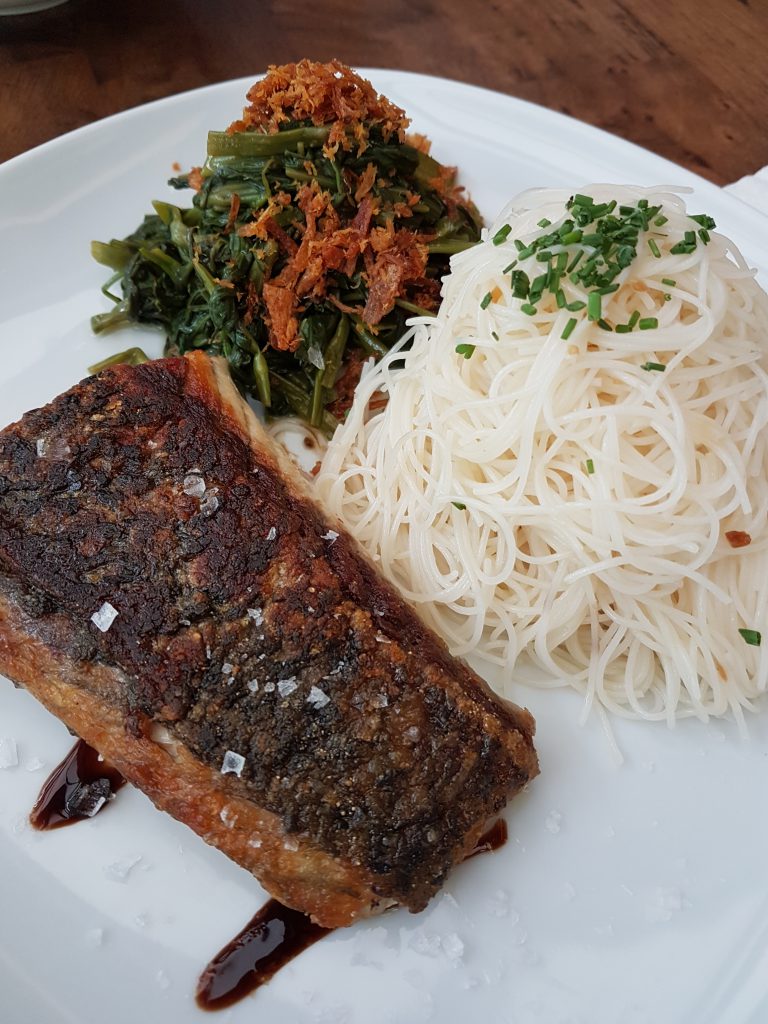 Hae Mee Tng which I would say is their signature dish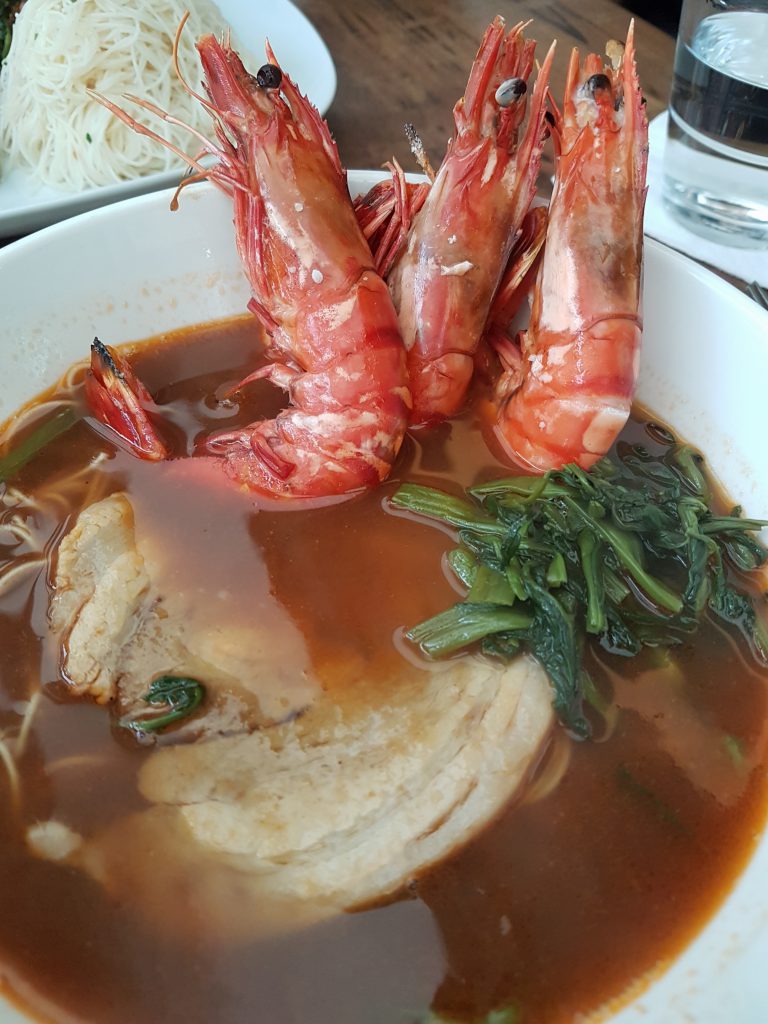 Could we eat anymore? Yes, of course. I am Malaysian after all. Even with the ample breakfast at our hotel (The Fairmont) we managed to visit Tiong Bahru Bakery which had croissants so delicious it would make a Frenchman cry. Mr Gochugaru thought I was a bit treacherous and reminded me that I mustn't forget our favourite Terarosa in Seoul.
Our experience at Nam Nam was a bit disconcerting because everything is DIY: choose your food, pay at the counter, pick up your own cutlery from a central box. It is not a sandwich bar but a noodle and banh mi shop, I know labour is expensive and the punters want a cheap meal, but even so…this could turn a comfortable meal into a compromising one if you have to negotiate so many steps before getting a bite of the food. Definitely one to avoid unless I am with HK Sister who recommended it. She is very skilled at negotiating all sorts of matters so this is easy-peasy for her.
In my next post I will write about some worthwhile places to visit in Singapore. There is a list of articles and recipes I need to write up but it's good enough that I have gotten this far with what little time I have left at the end of every day. As they say in Korea…Fighting!