Any dream will do…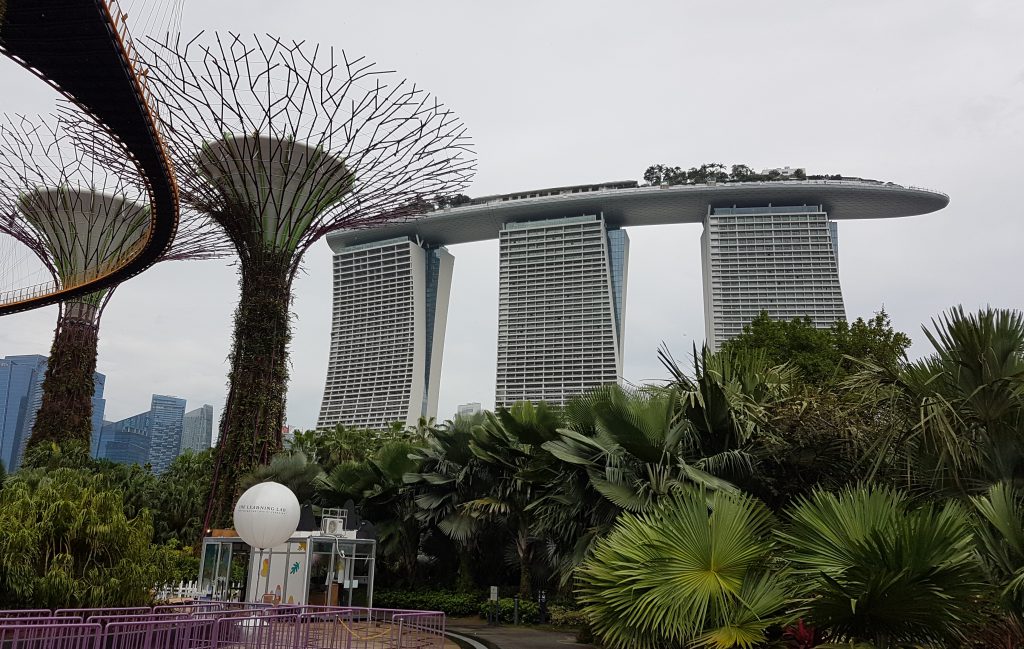 …as long as it's the Singaporean dream.
In this final post on our recent trip to Singapore we explore a few of the sights that can be taken in on a short trip to this island.
When we first thought about visiting Singapore after such a long absence, I said to Mr Gochugaru that we must visit the Botanic Gardens and Jurong Bird Park. If we had the time and interest, then a visit to the Night Safari might be an idea.
I have very fond memories of the bird park which I visited when I was a child, and the Botanic Gardens houses two of my favourite sculptures, Girl on a Bicycle and Girl on a Swing. We have photographic slides of Juniors One and Two with us in the gardens.
But for the life of me I cannot remember if we ever took them to the Night Safari or indeed, if we ever went ourselves. I don't know if my 'vague memories' of the zoo at night are memories from having really visited or just memories of wishful thinking. I need to look for some photographs.
Then having read up on things to do in Singapore, we realised that we needed to concentrate on all the museums and sights we have not seen. Not only that, we needed to wander away from Orchard Road as every trip we had taken before was centred around (what was then) the main shopping area.
And so our first stop was to take in several museums within walking distance of our hotel: Singapore Art Museum , Peranakan Museum, Asian Civilisations Museum, and National Gallery Singapore. We also briefly walked around St Andrew's Cathedral and Chijmes.
Two places we were very keen to visit were Gardens by the Bay and Marina Bay Sands (MBS as the locals call it).
We visited the gardens on a rainy day which was ideal as the two main domes are of course giant conservatories. My experience of conservatories is limited to Kew Gardens in London, so the scale and architecture here was awesome.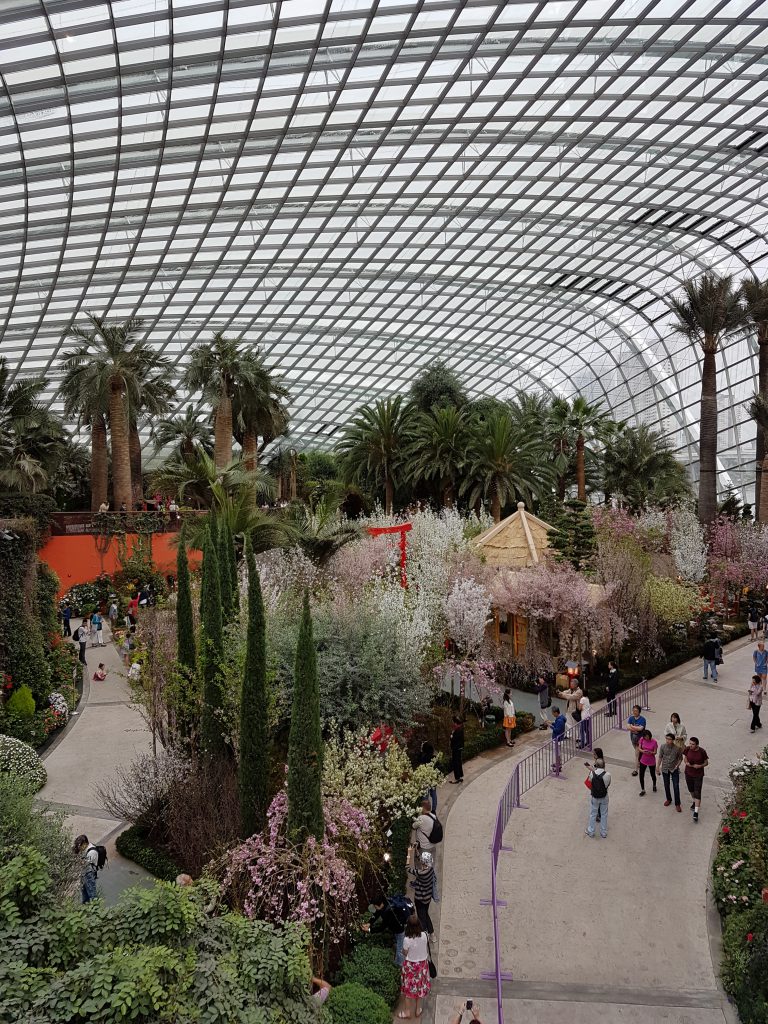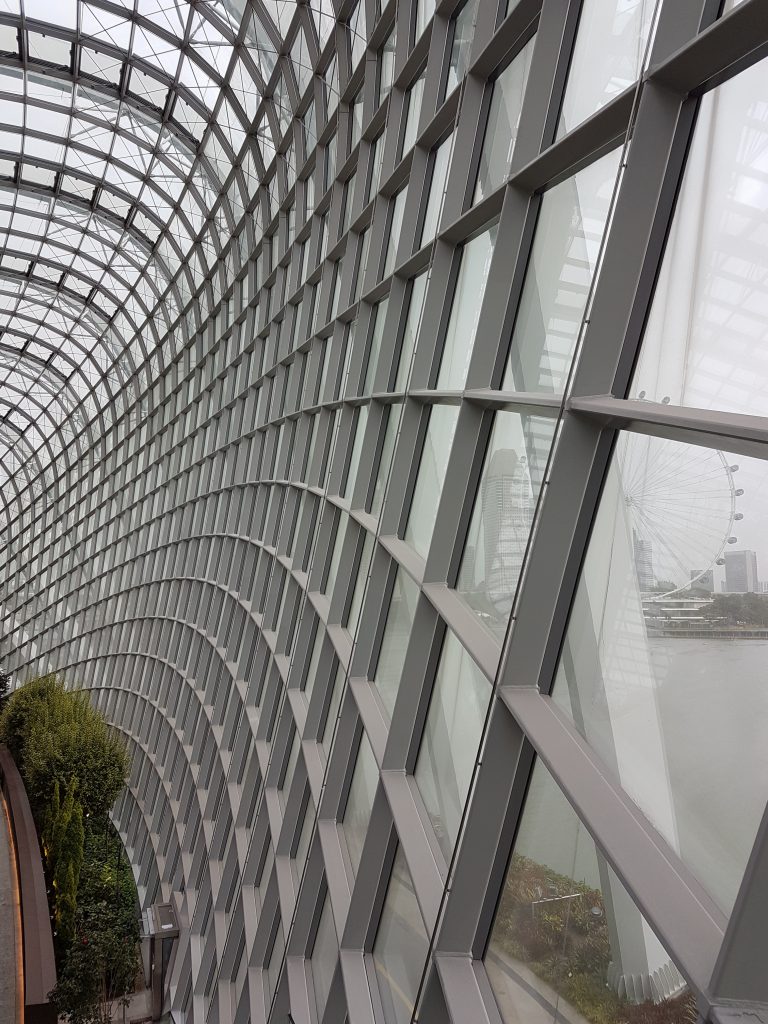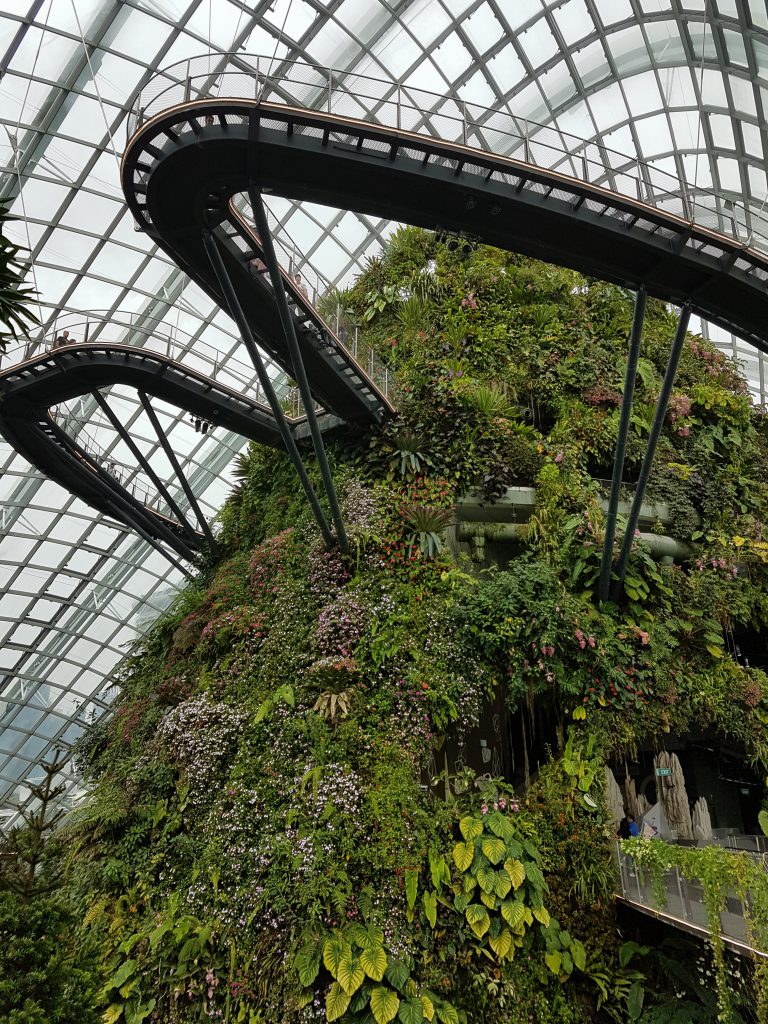 Walking into the Cloud Forest I realised I should have worn something thicker than just a cotton blouse. The temperature in the domes is around 20 degrees Celsius…ideal for ferns and orchids but not for someone like me who dislikes the cold.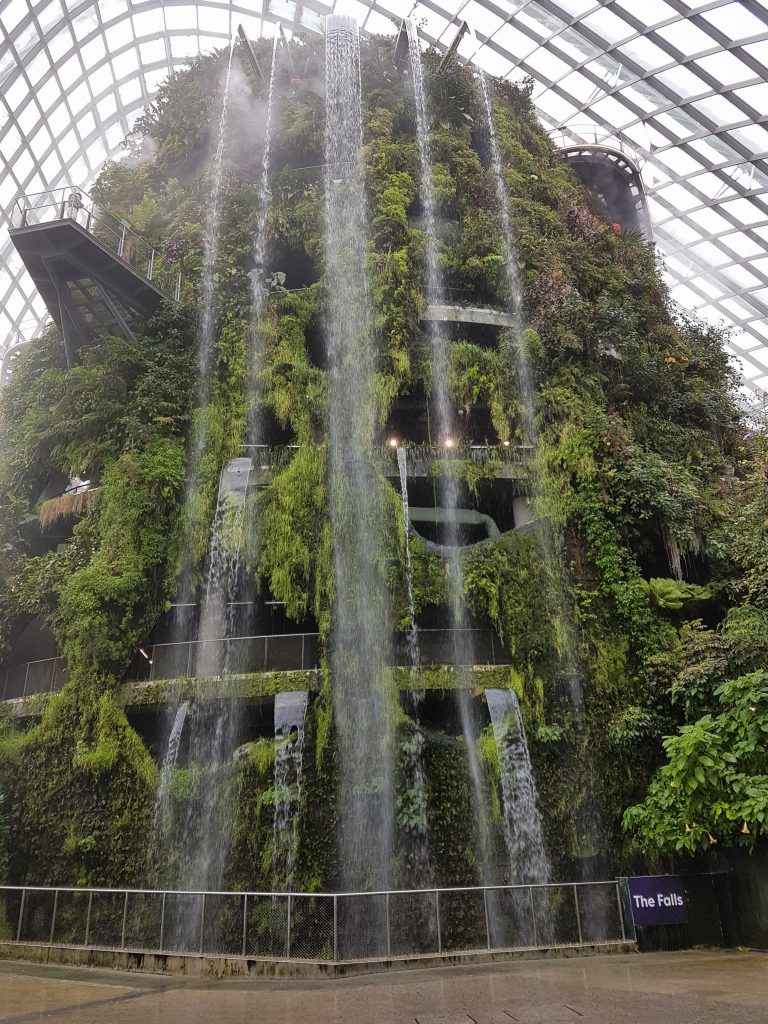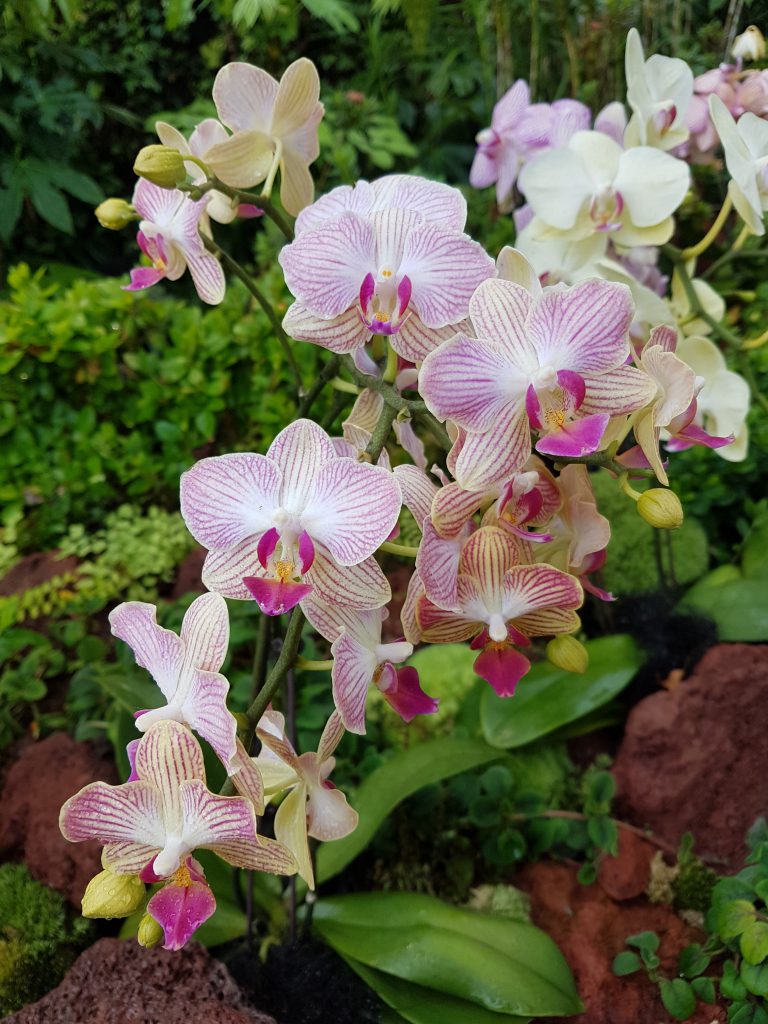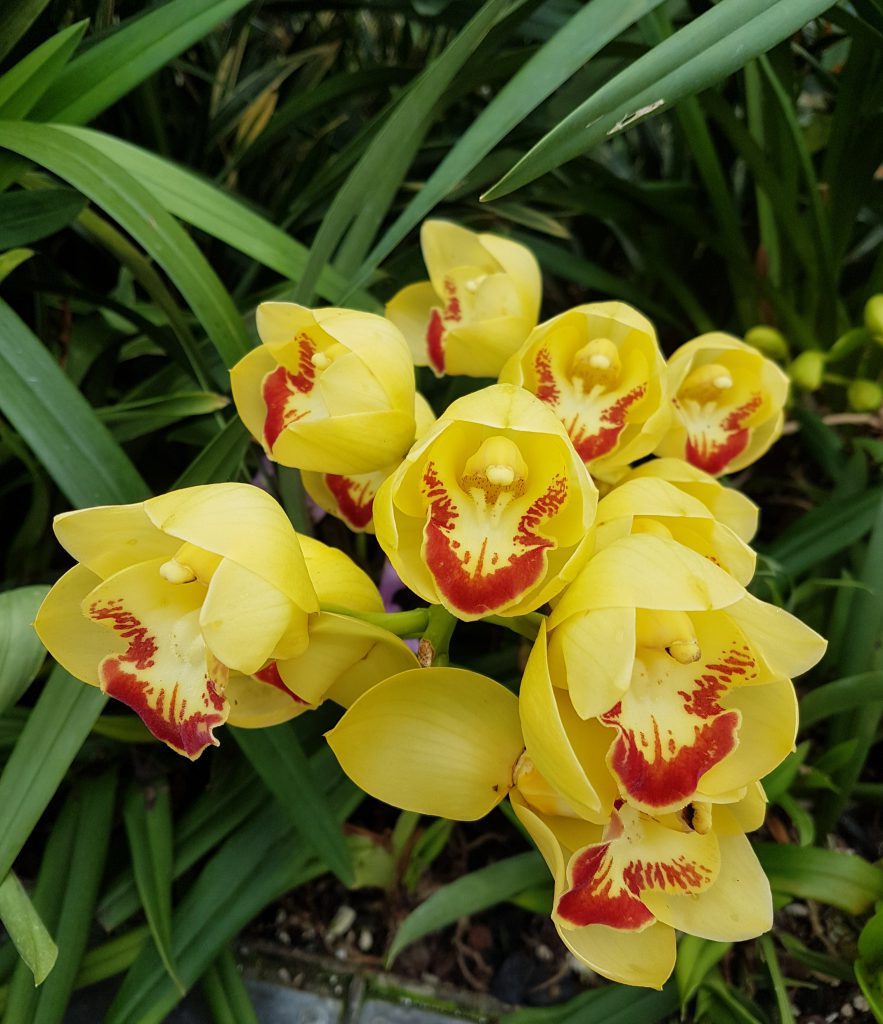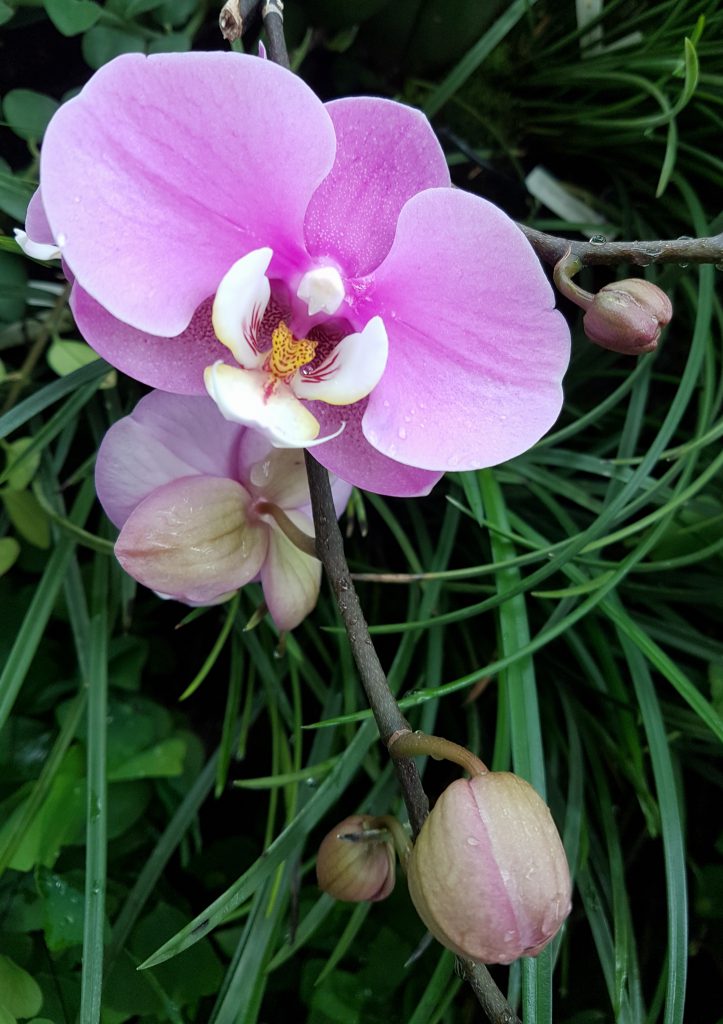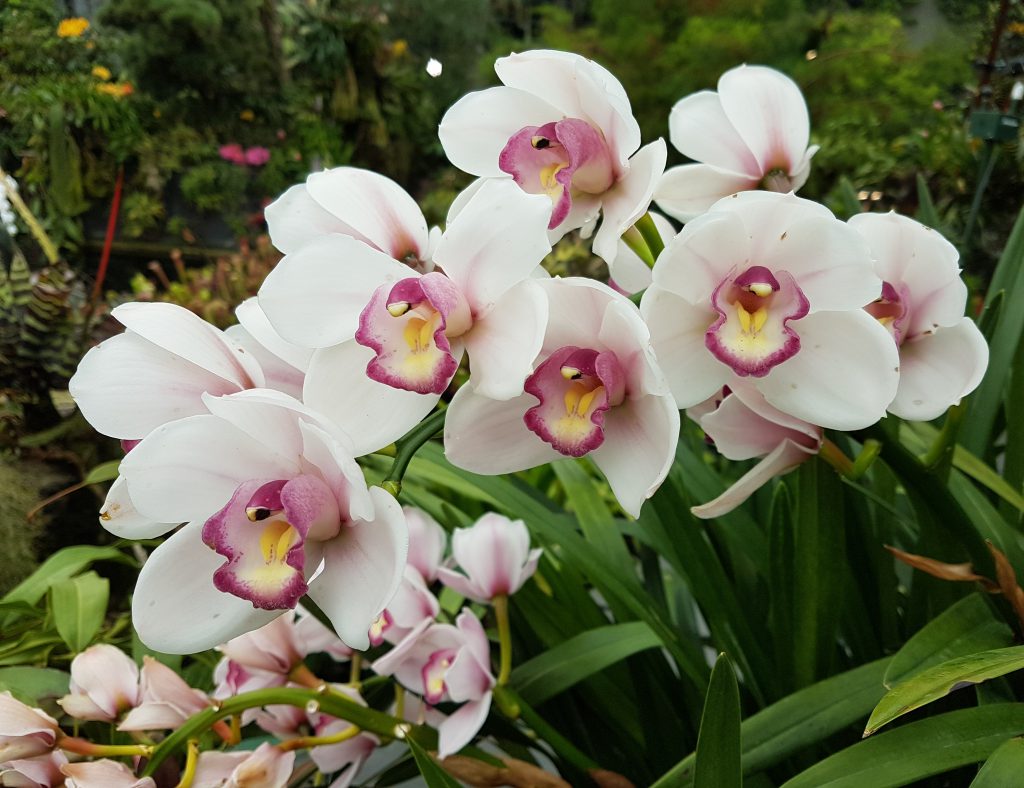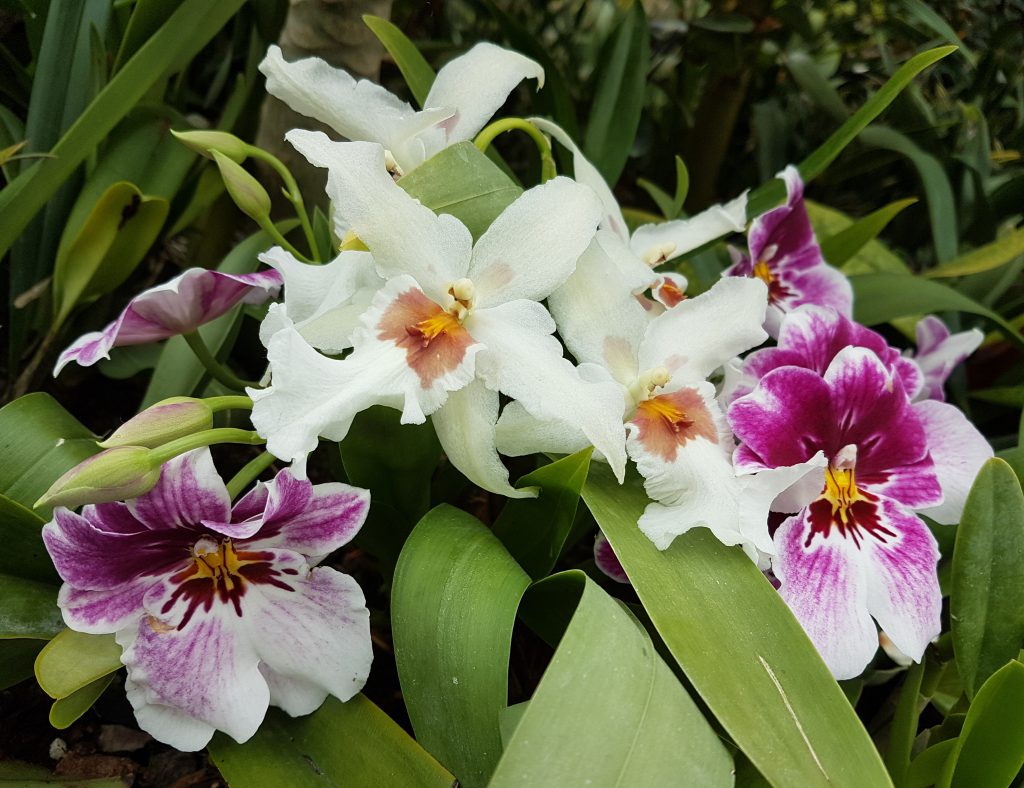 At the time of writing there is a tulip festival in the Flower Dome but when we visited towards then end of March it was the cherry blossom festival. After seeing cherry blossoms in situ in South Korea in recent years (and in Japan in 2002) I have to say that the central pool of trees brought in for the show was rather lacking BUT this was appreciated by a few couples posing for their wedding photos.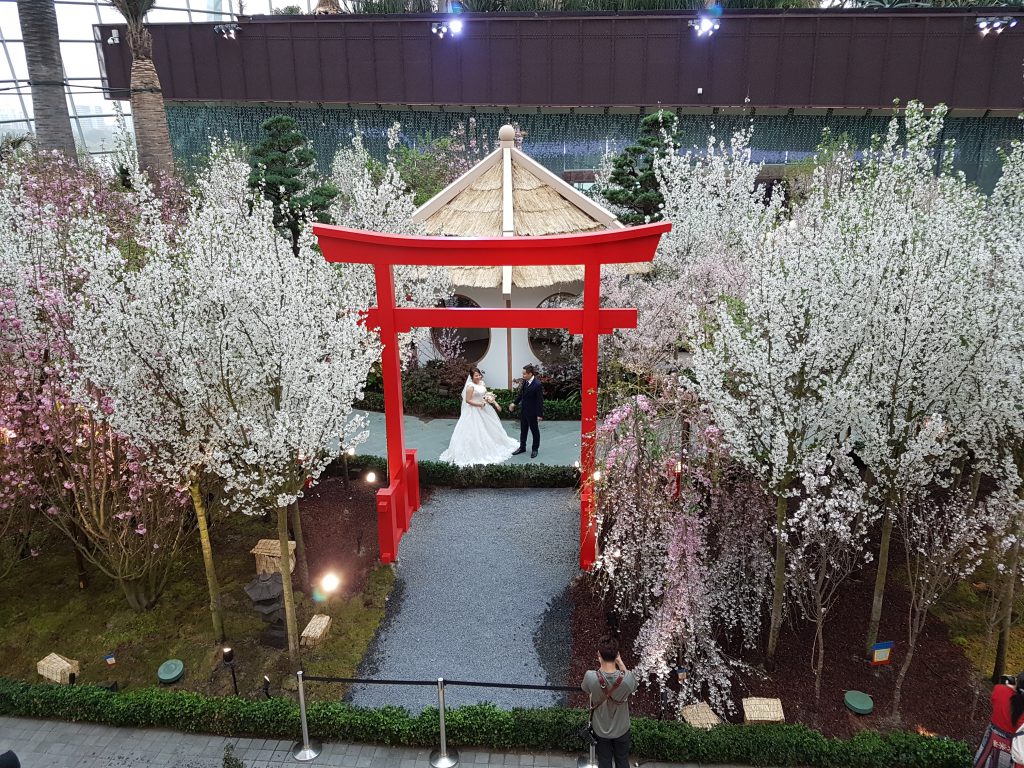 Then there are floral enthusiasts who have a great time photographing and cataloguing the different types of cherry blossoms and other flowers on display.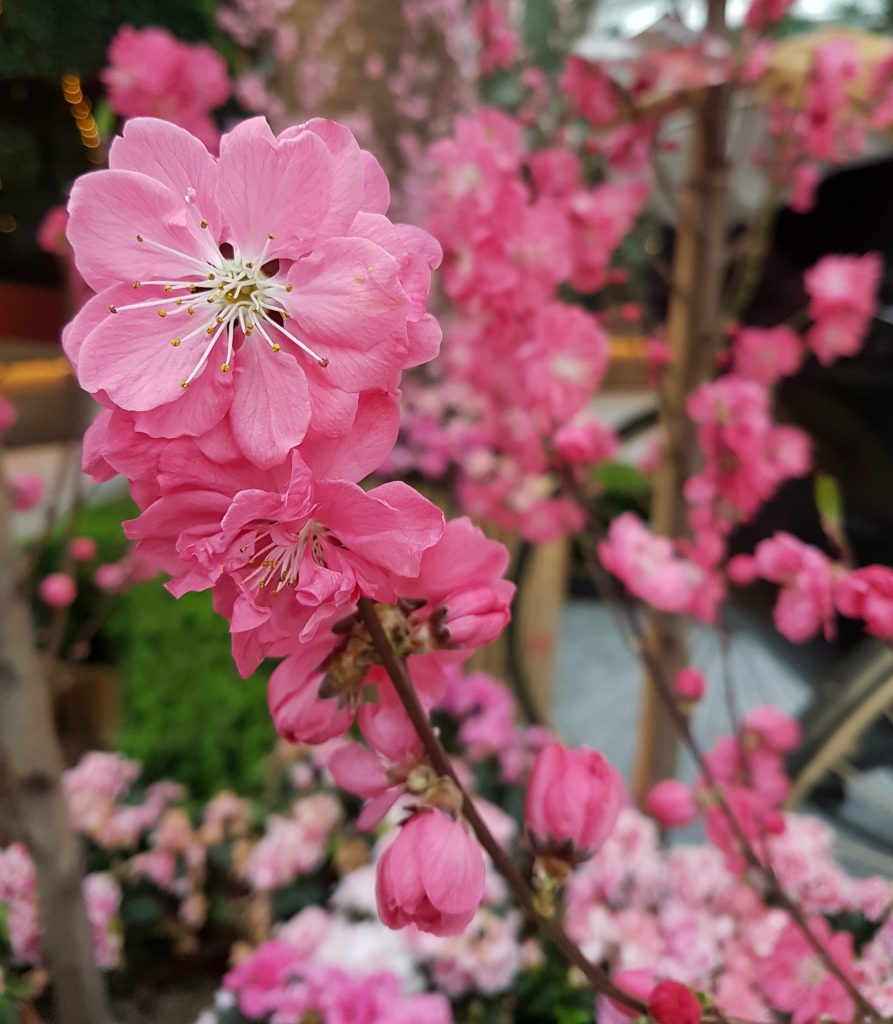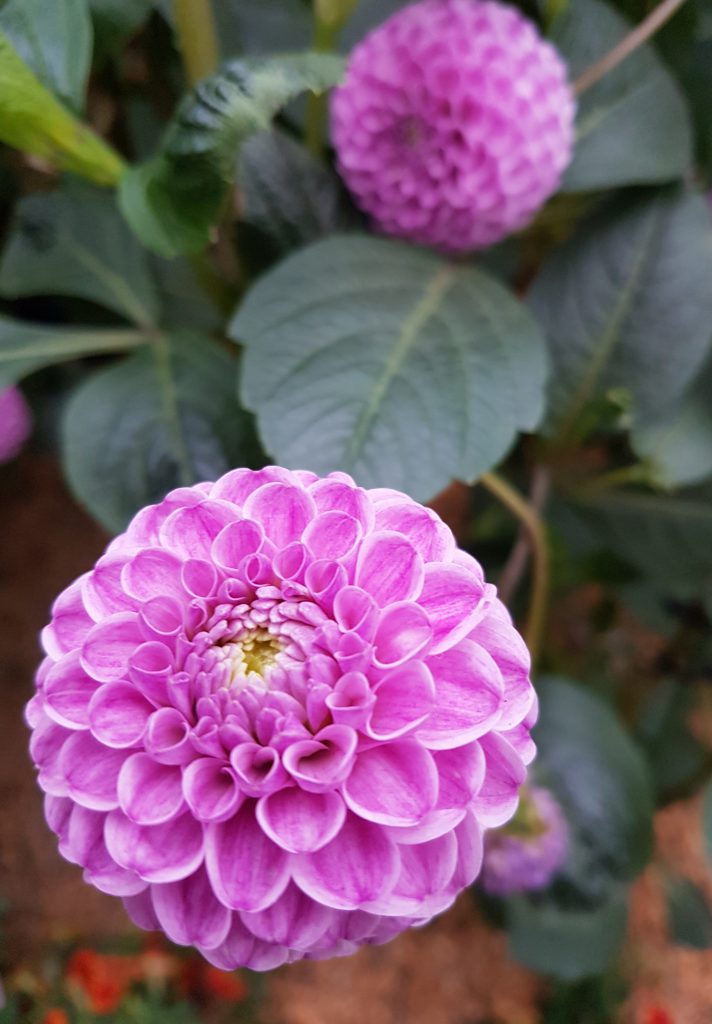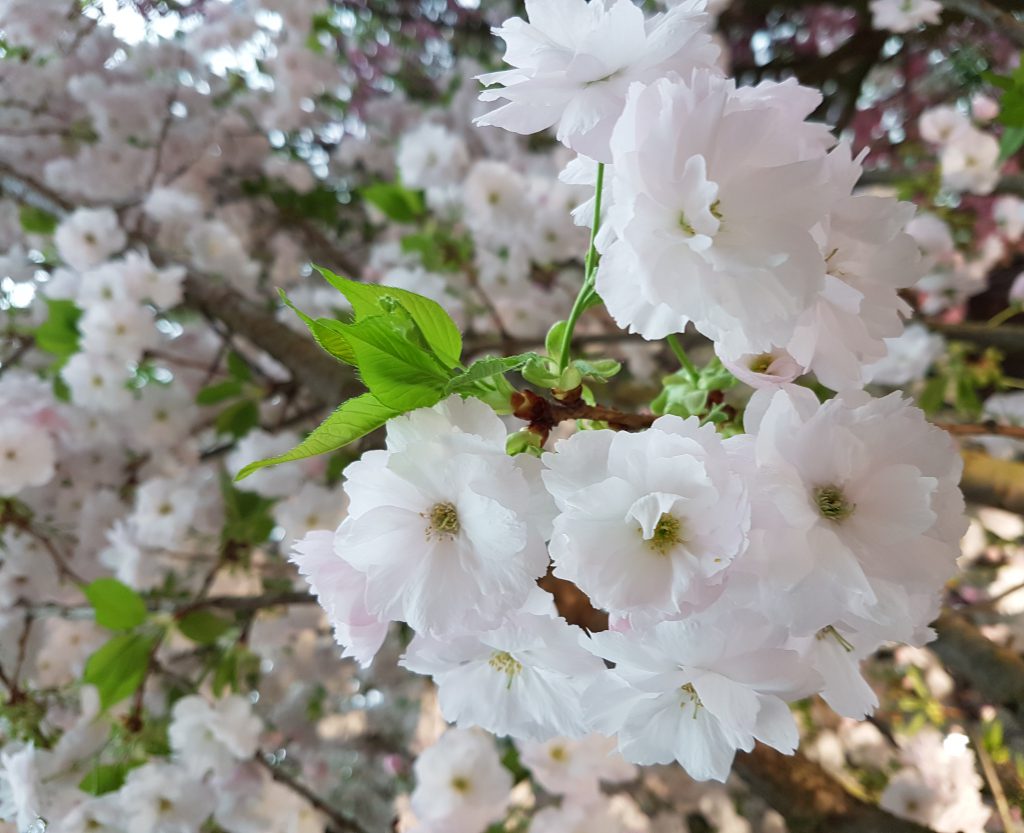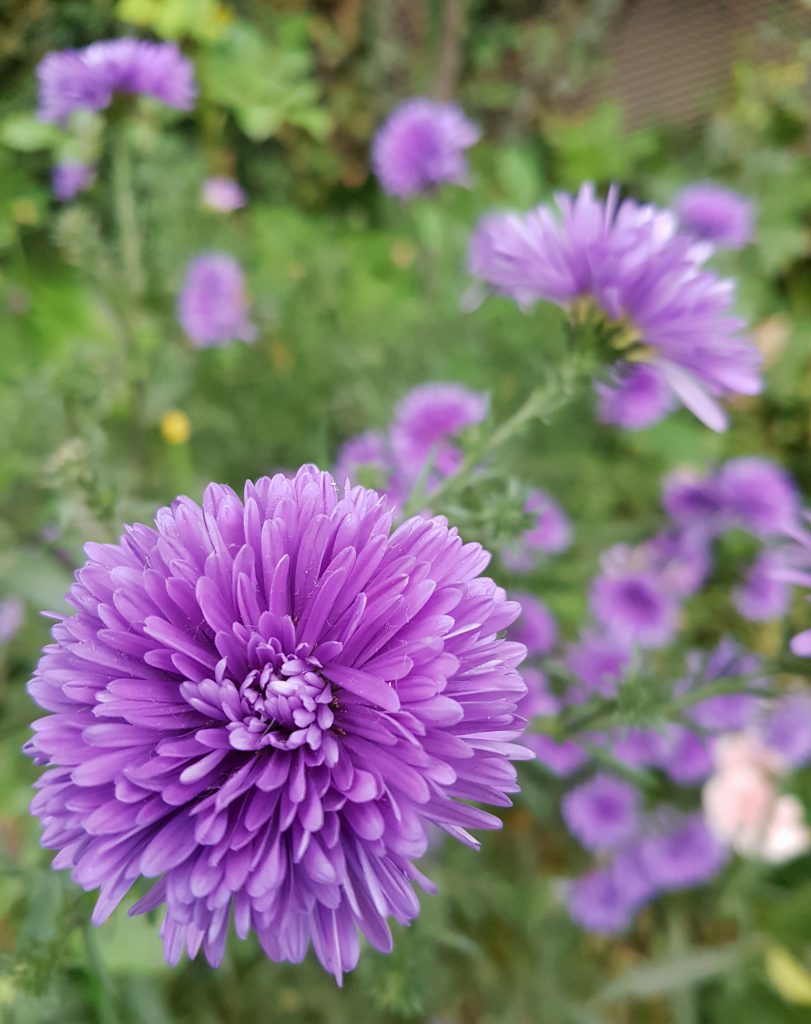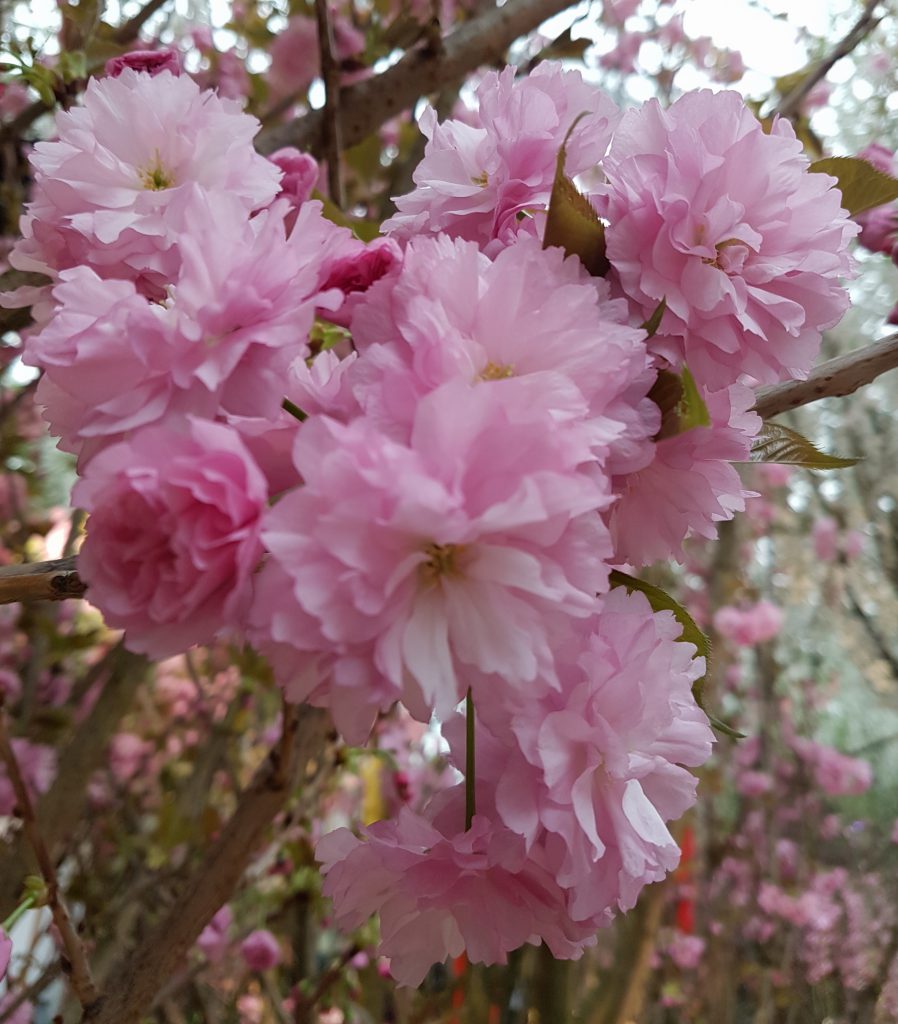 One thing that Mr Gochugaru noticed was that there were absolutely no birds or insects in the domes. There was a distinct lack of wildlife and he keenly felt the loss of bees and butterflies. He even worried about what the pitcher plants would eat, there being no bugs running around. Sadly, and though we do not want to be cynical, this kind of sums up Singapore as a whole: everything is perfect but everything is controlled. Beauty without the Beast, the Prince without the Pauper.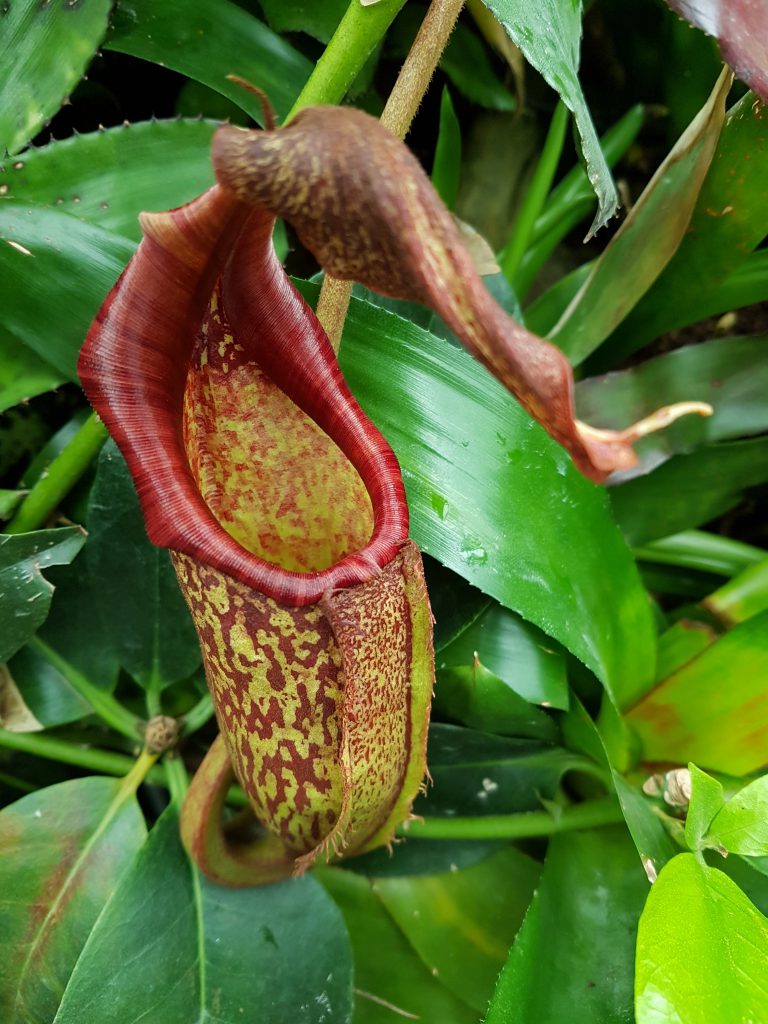 The Supertree Grove outside the domes is fascinating and feature in all sorts of magazines, and not only travel ones. The top tip would be to come here in the evening to see the light show (which we missed as we were by then on the rooftop of Marina Bay Sands).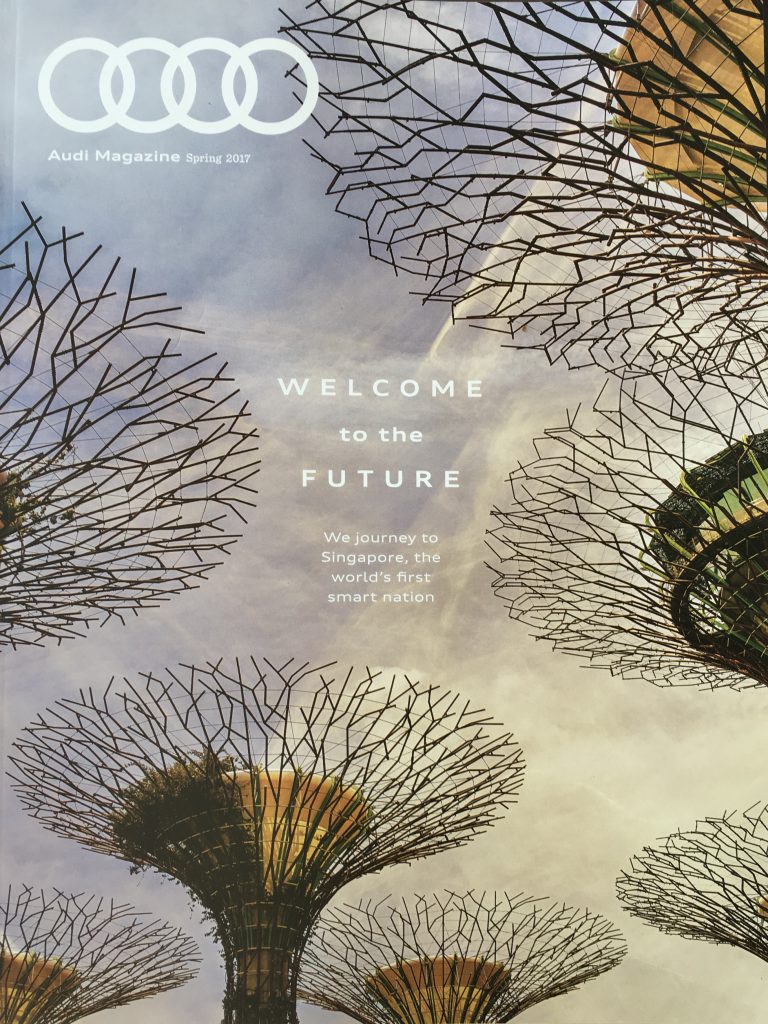 The supertrees have different uses including harvesting solar energy and as air exhausts for the conservatories. They will eventually be covered by vertical growing plants but I do think that even in its bareness, there is beauty in its stark industrial design. And you know, it does mirror nature in a way. Just look at the picture drawn by Niece Number Four for her grandparents.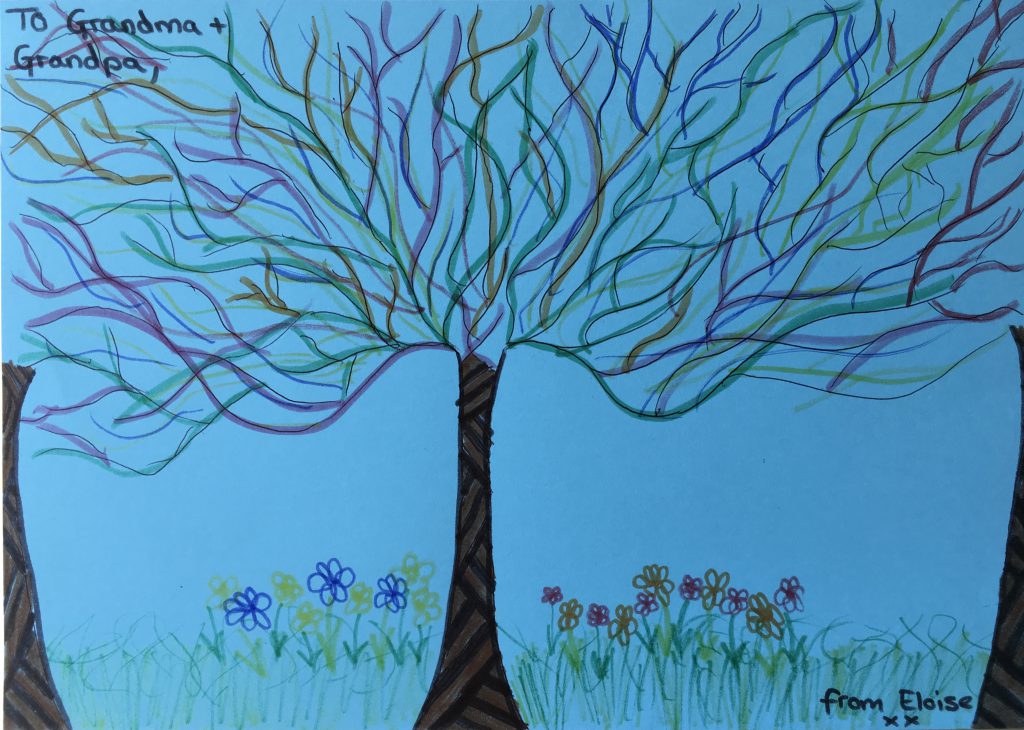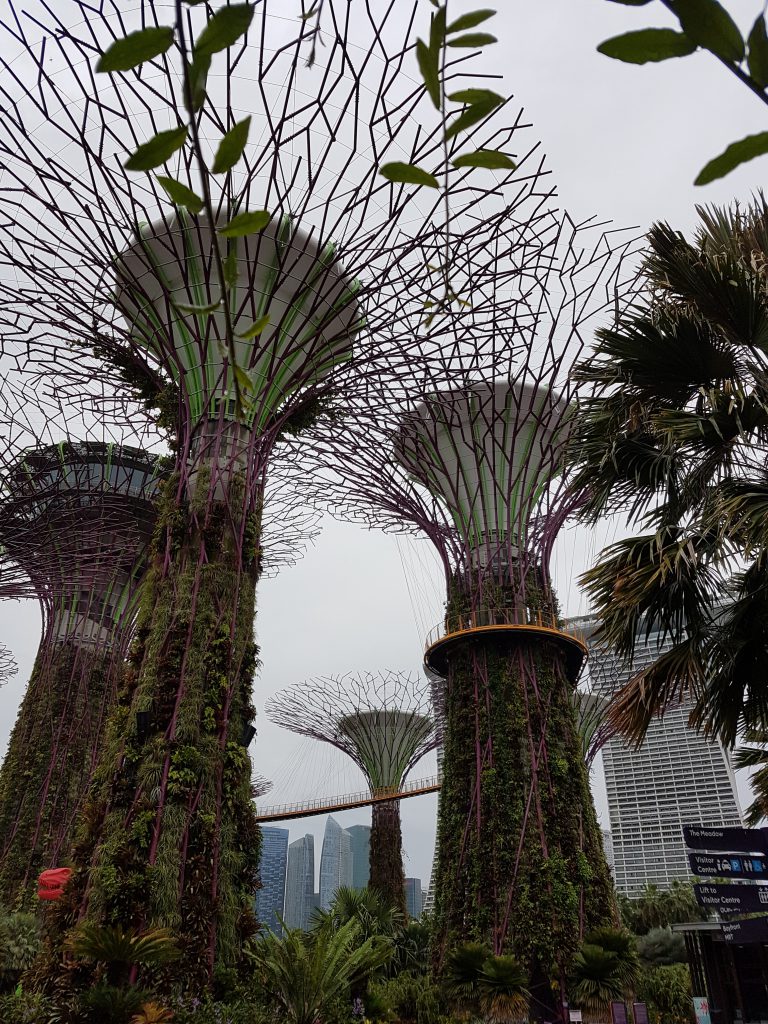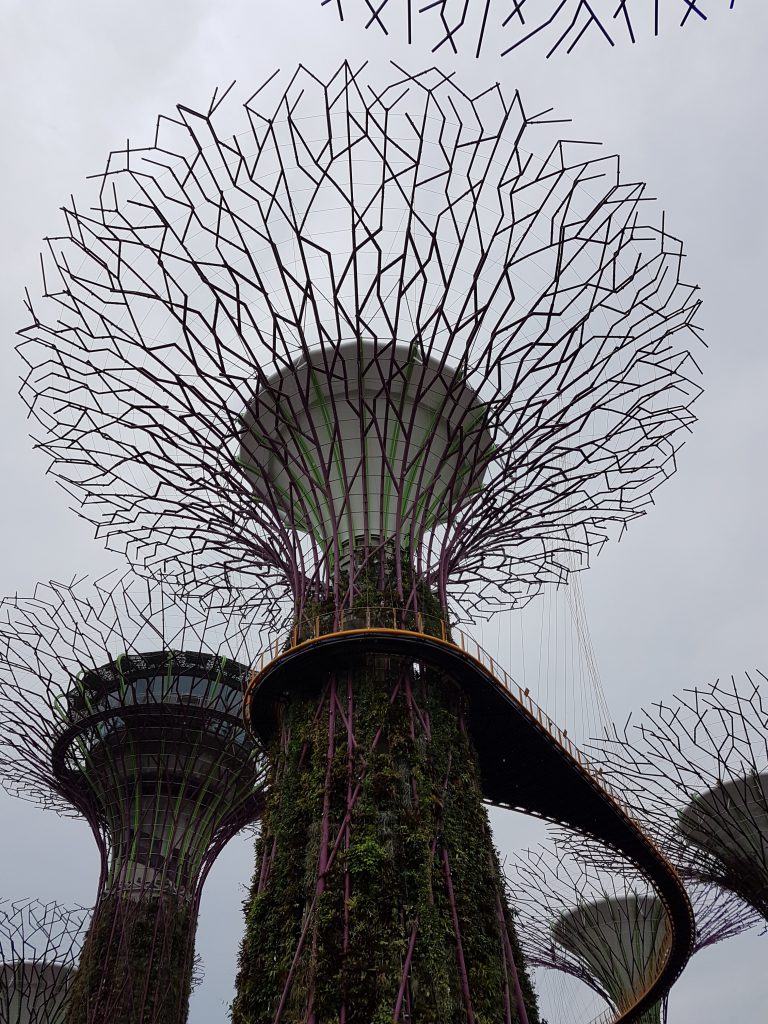 As I get older, large hotel lobbies do not intimidate me much anymore. But there are lobbies and there are lobbies. Then there is the Marina Bay Sands Hotel which has three lobbies. The whole construction is huge and we would have lost our way had Investment Banker Friend and his wife not met us in Lobby Number Two. They whisked us up a lift and to the SkyPark.
There are three ways to gain access to the SkyPark and its views.
If you stay in in the hotel you can be one of the privileged guests who have an unrestricted rooftop view of the city from the infinity pool. Take note: this is the world's largest rooftop infinity pool.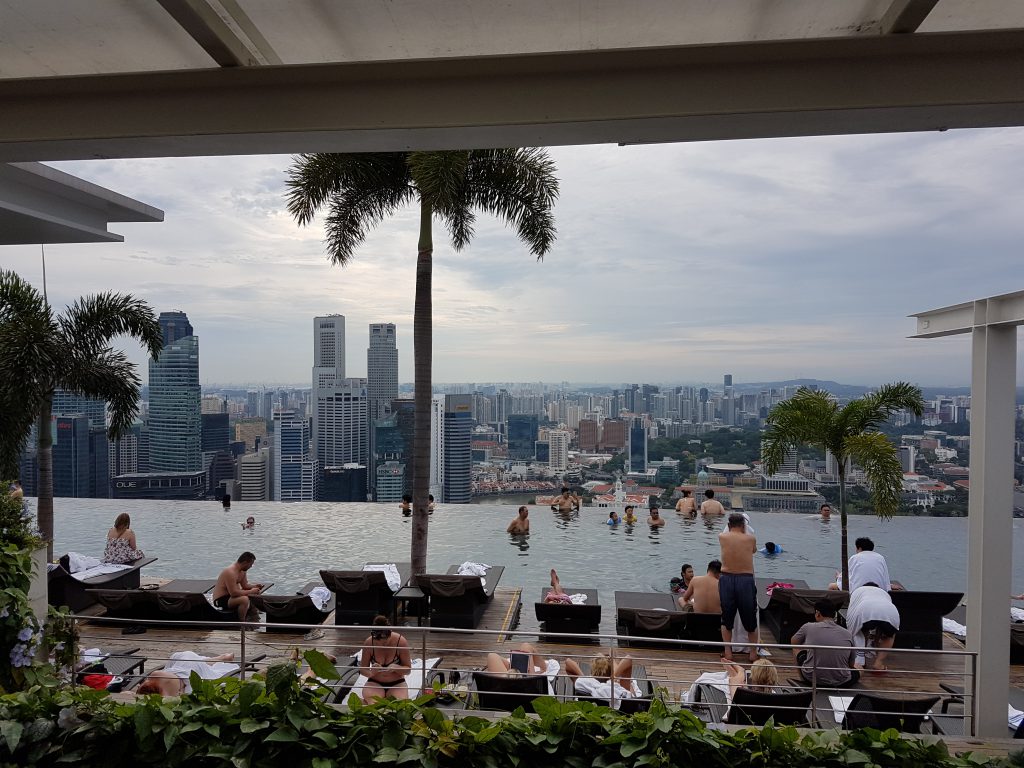 The second way to access the SkyPark is to get a ticket for the Observation Deck. The third is to do what we did and head to one of the restaurants and bars on the 57th floor for drinks. This is the view of the Gardens by the Bay from Spago .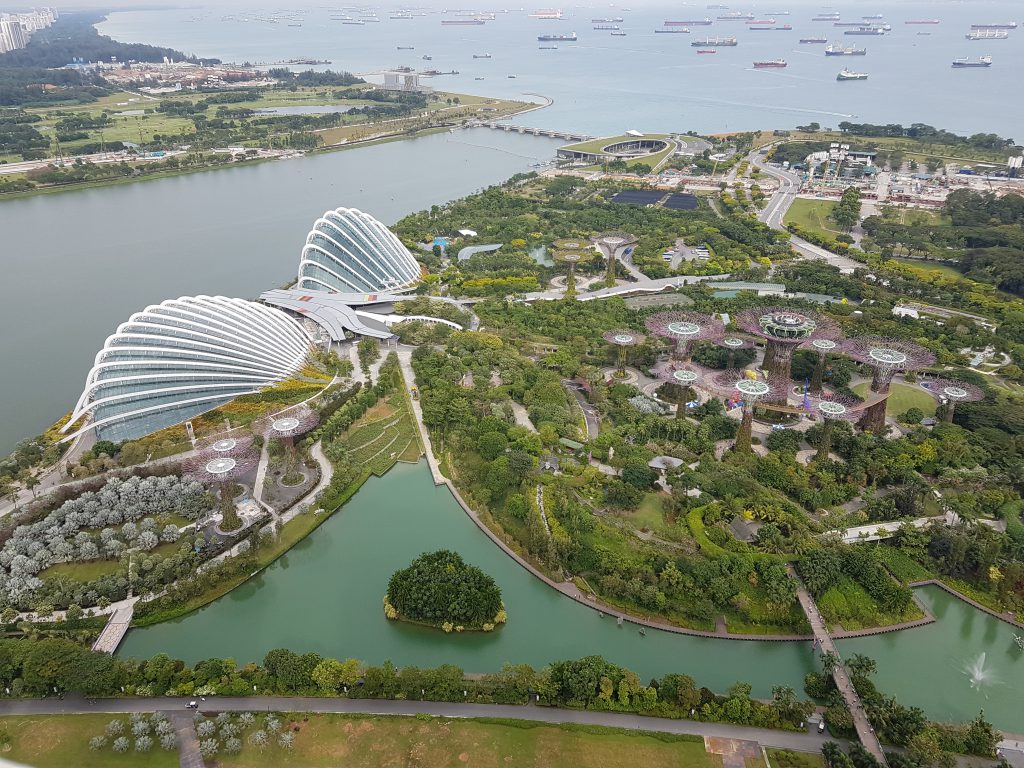 Over drinks we talked about Singapore's economy, it's future plans for development in certain areas and whether we could live here. Mr Gochugaru said that between KL and Singapore he would choose to live in Singapore. I am of the same view. However between Singapore and London we would still choose London because it is a bigger city and you still get birds, bees and butterflies wherever you go in the country.
Looking Ahead
We agreed that Singapore is definitely worth another visit. We would recommend everything we ate and every place we visited except for the Haw Par Villas (see Singapore Diary Number 1).
Our travel tips for first timers would be to spend some time planning what you want to see, eat and do, then base your accommodation in a location central to your requirements. Uber operates in Singapore and in the central area at least, it is very easy to hail a passing taxi. The subway system is one of the cleanest and safest in the world and fares start at the equivalent of 40 pence which is 1/10th of what it costs on the London Underground. Yes, it makes you cry.
We stayed at The Fairmont, recommended by HK Sister and Travel Couple, which was in a great location. Other hotels in the same area: Raffles Singapore, Swissotel The Stamford and JW Marriott South Beach.
How did I miss the Merlion? Next time we want to explore more local markets, eat at the restaurants and visit the museums we missed this time round, and finally to see the birds in Jurong and the plants in the botanical gardens.  That's my list anyway. I think Mr Gochugaru wants to visit the Canon camera shop. Having just watched a BBC documentary on the Marina Bay Sands Hotel, we will probably stay there for one or two nights for the experience. The show was truly an eye opener and I take my hat off to everyone who keeps the show running at such a big enterprise.
Finally, just to add that we stayed one night at Marriott Tang Plaza (through our hotel reward points) because I saw it being constructed and always wondered what it was like to stay in a hotel built to resemble a pagoda. HK Sister too asked me what the room was like. The answer is that sometimes being fancy is not a good idea. In order to accommodate the hexagonal shape, our room had a corner cut off thus making it awkward. I found myself tripping over all sorts of things and getting very cross indeed. So I won't be staying there again.