Seoul Diary Spring: Day 2
A post about using the Michelin Guide in Seoul.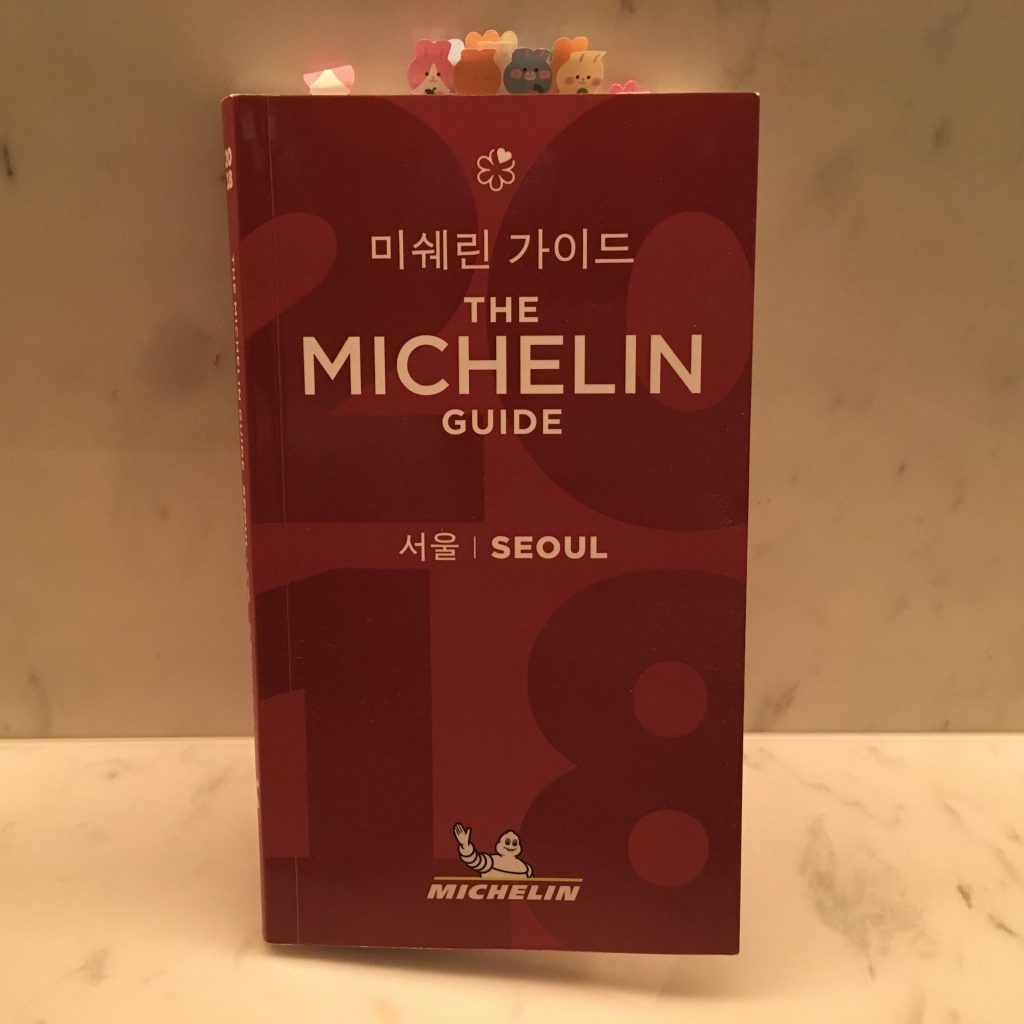 In an earlier post in 2015 I mused that it would not be long before the Michelin men came knocking on the doors of Seoul's hospitality establishments.
A year later the first Michelin Guide for Seoul was published (2017 edition) and there is now a website for you can search for their Seoul recommendations. But I like holding, reading and marking books and so I have a physical copy.
In going through the lists, helpfully categorised by district and by cuisine type, I realised that a strategy is required. The guide covers nine districts and the area is very wide. If you are a visitor it is best to concentrate on the area where you are staying.
For us, this means we should only concentrate on  Jongno-gu, where our hotel is situated and where we have always stayed. We can cross the border into Jung-gu but only to the locations on our district edge. The furthest we will travel is to Jungsik across the river in Gangnam-gu.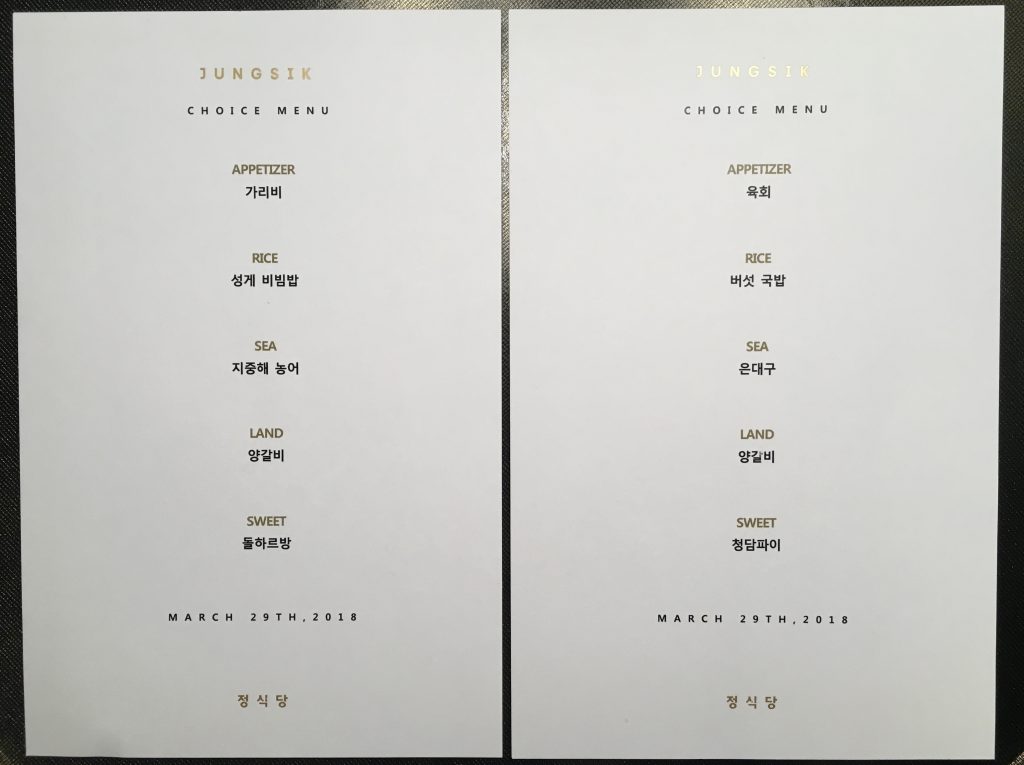 Remember that the guide is what it says it is: a guide and not a To Eat or Die List. Hilight a few different types of establishments in your chosen area by price range and cuisine, in order to not make eating out a trial.
This gives you an opportunity to make your own discoveries. For us us a bit of a leeway in revisiting favourites not on the list: Kim seonsaeng kimbap, O Sulloc teahouse, Terarosa coffee, Passion 5 bakery and Maple Tree House for barbeque. All are outstanding in their own way.
Also, Mr Gochugaru has his sights set on Saboten tonkatsu which he had considered two years ago. He even looked for it in Singapore in December, so enamoured is he by deep-fried breaded pork chop. I am just wondering if this was one of the first things we ate together as students, in the basement of the Japan Centre which was then tiny and located in Brewer Street (London Soho).
After yesterday's meals, both featured in the guide, we head to Jungsik for lunch. Each course was delightful and we admired the creativity and lightness of touch shown. Personally I think chef Jungsik has finely balanced the bold flavours of the everyday Korean food beloved by everyone, and the lenghthy and delicate royal court cuisine handed down from when Korea had a monarchy.
At its heart, Jungsik lived up to its 2-star Michelin reputation. Photos taken at the lunch will be in a separate post.
In the evening we head to Myeongdong Kyoja for their hand-cut noodles and dumplings. We love restaurants that have only a few things on their menus as it saves on thinking. In MK, unless you like very spicy cold noodles or very cold non-spicy noodles, you would be having their signature bowl of hand-cut wheat noodles in soup and a tray of dumplings.
Myeongdong Kyoja How To Order Guide:
There are two restaurants on the same street in Myeongdong, at numbers 8 and 29 Myeongdong 10-gil.
Upon entering you will be seated by the lady who welcomes everyone at the restaurant.
Look briefly at the menu and let the server know what you would like. Sign language is perfectly acceptable. Pour your own water from the jug on the table.
A few seconds later your own small portion of kimchi arrives. It is spicy, garlicky and addictive.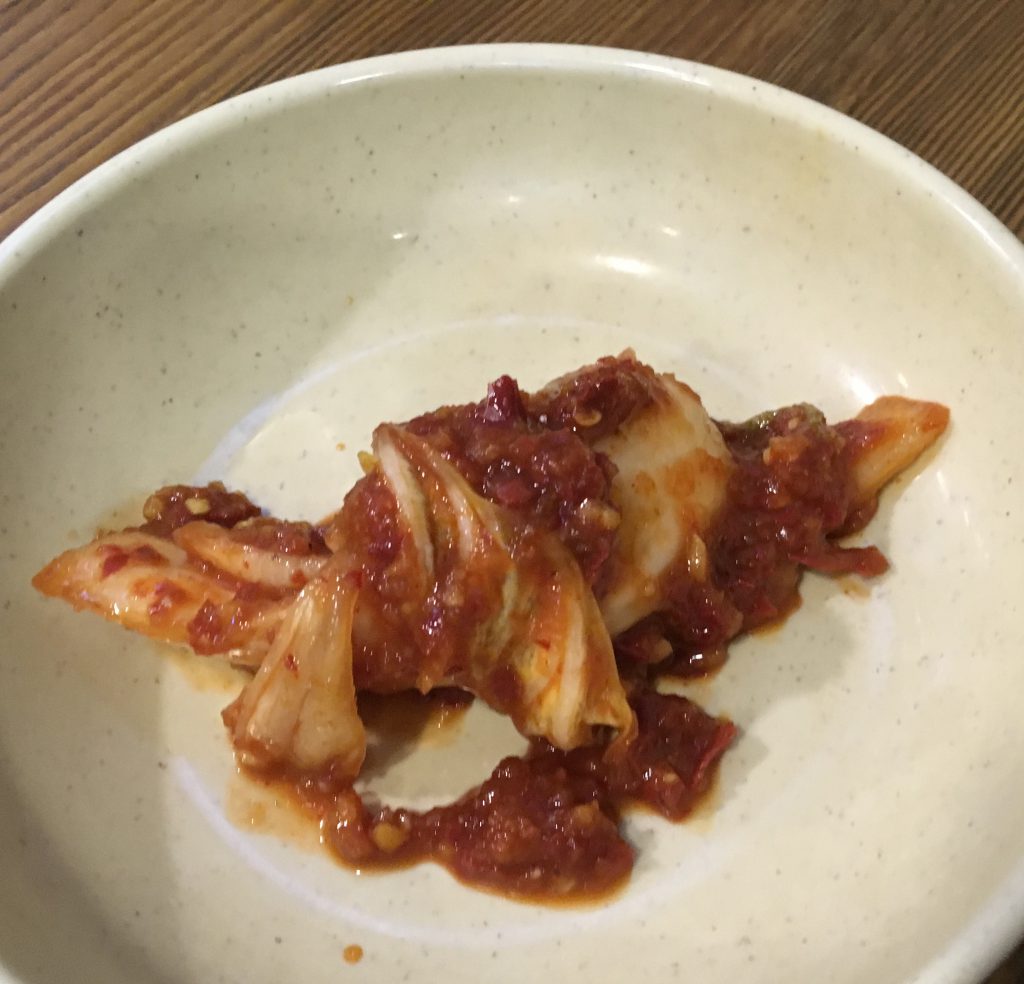 A few seconds after that someone will come round and ask for payment. This is an assurance that your order is on its way. Now is the time to take out your chopsticks and spoon which is in the drawer under your table.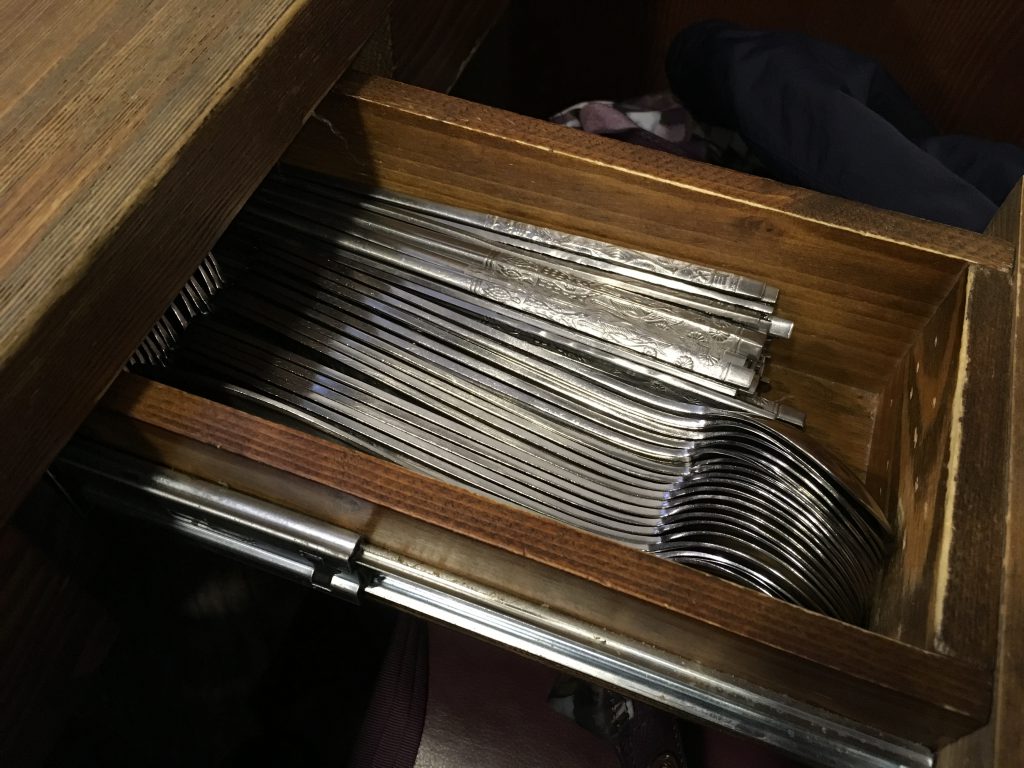 The dumplings arrive, and there are 10 pieces in a tray.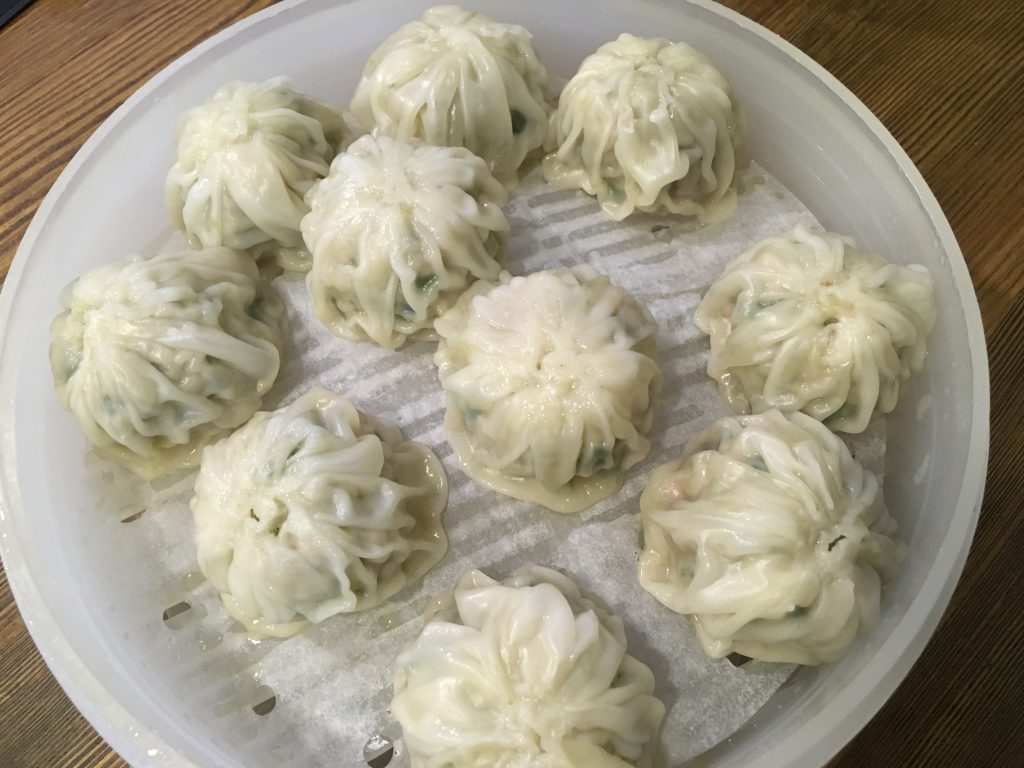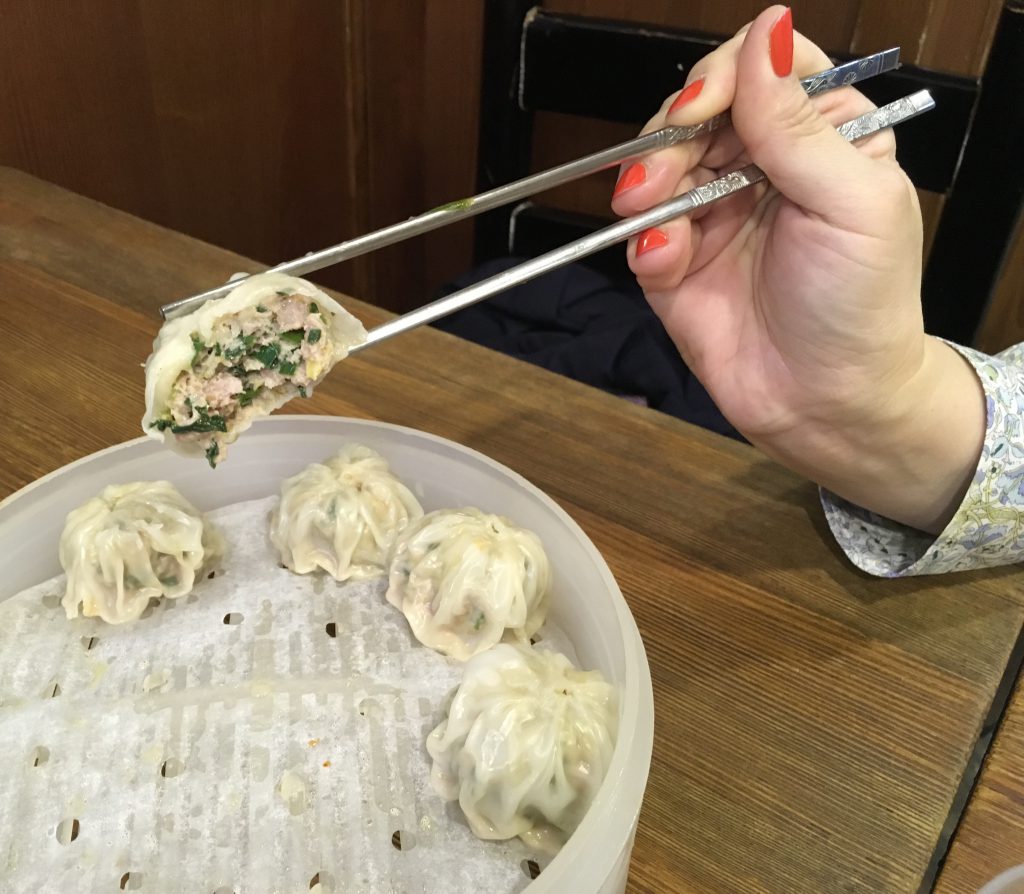 The noodles arrive soon after, topped with minced pork. The soup is well-flavoured with shredded onions, spring onions and courgette, and there are four small dumplings in it.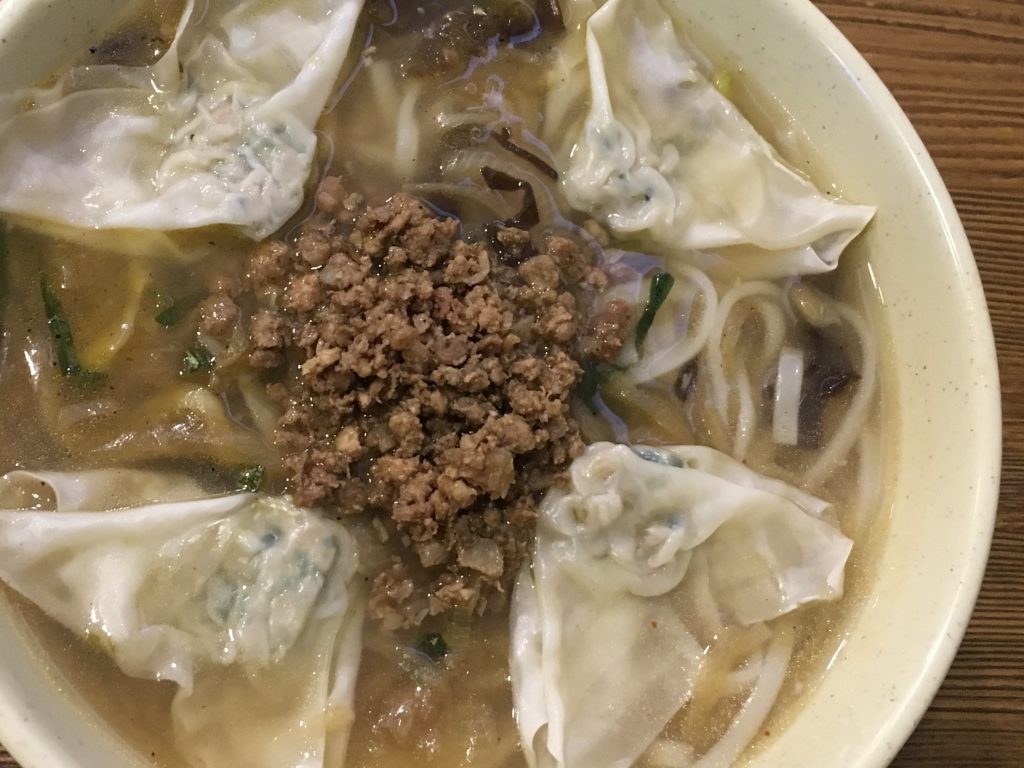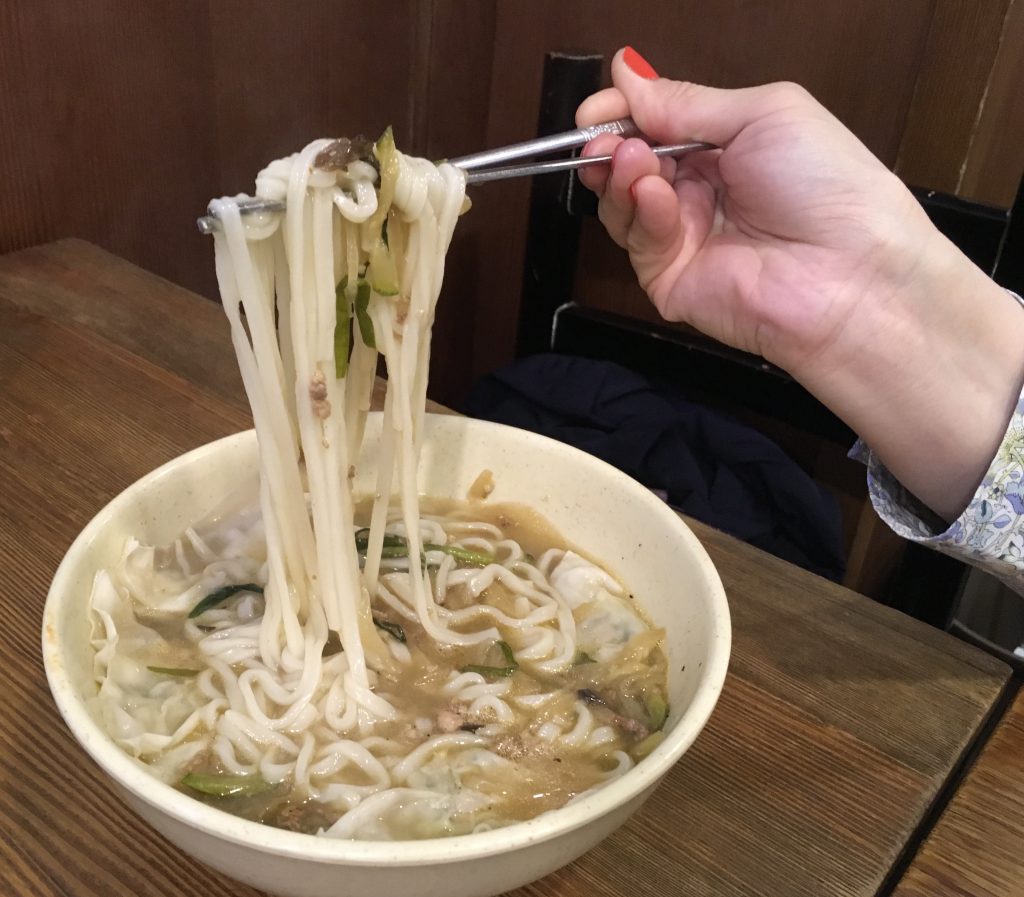 Say thank you to the lady who seated you as you leave the restaurant, then head to any dessert place that caught your attention on the way to lunch/ dinner. We found Sulbing which was recommended by Singapore Sister and since it is now strawberry season in South Korea, we had the strawberry bingsu (premium edition).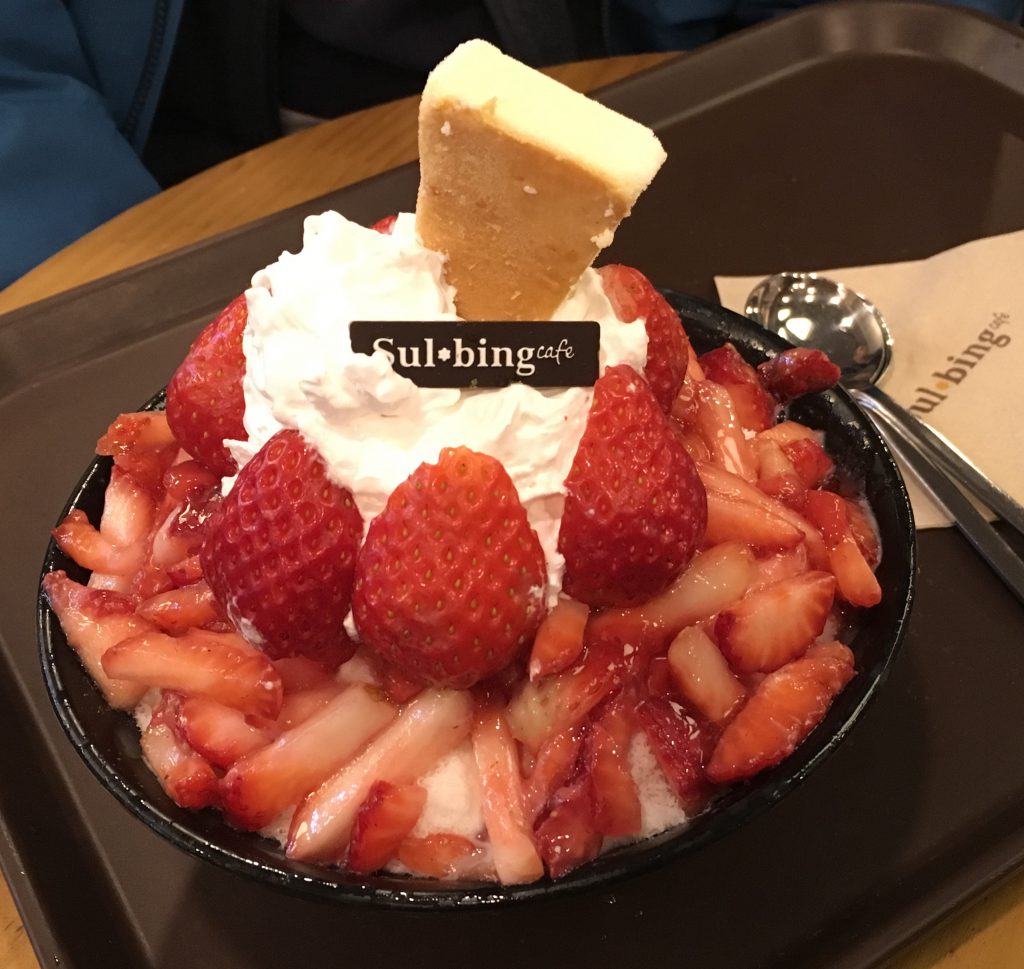 After dinner we look for something to help with Mr Gochugaru's cold/ cough/ sore throat. First, a honey citron tea, conveniently packaged in individual portions.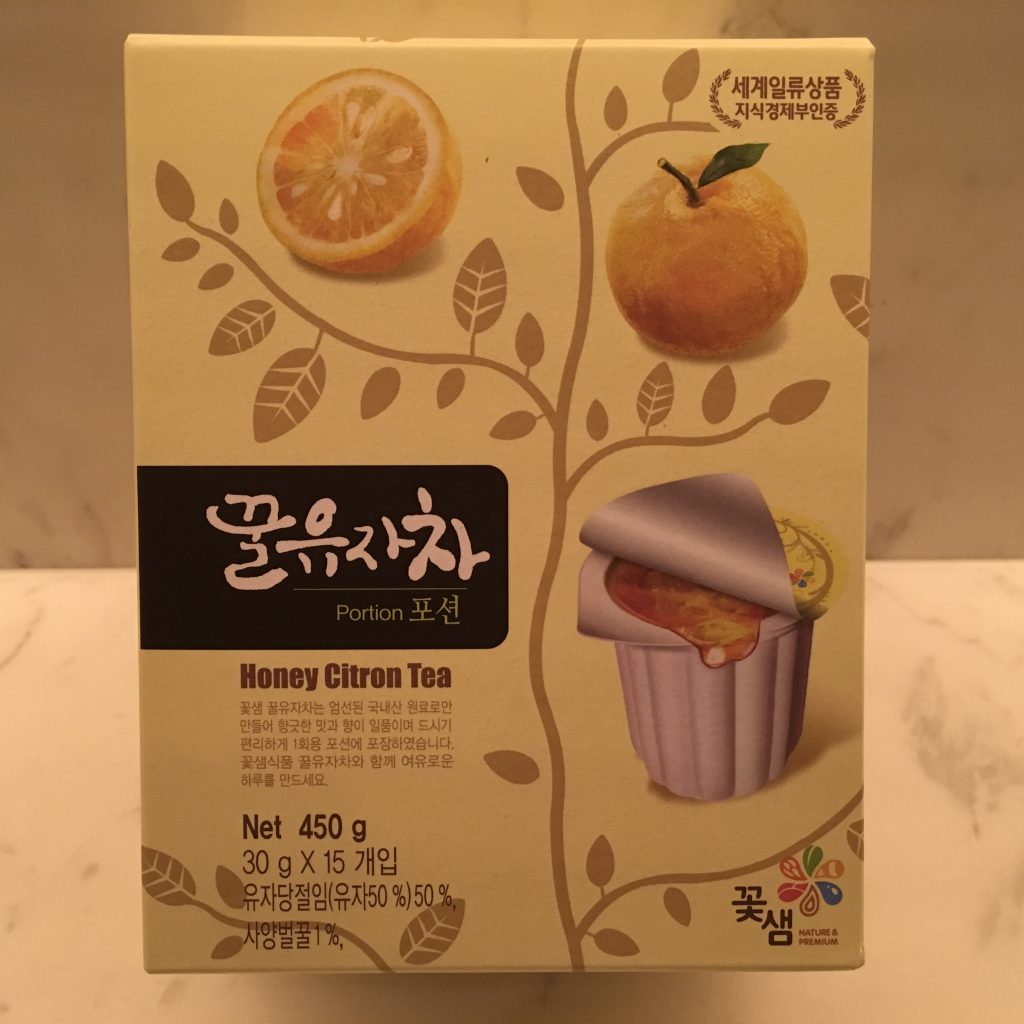 However later we decided maybe the alcohol in a bottle of soju would be more effective.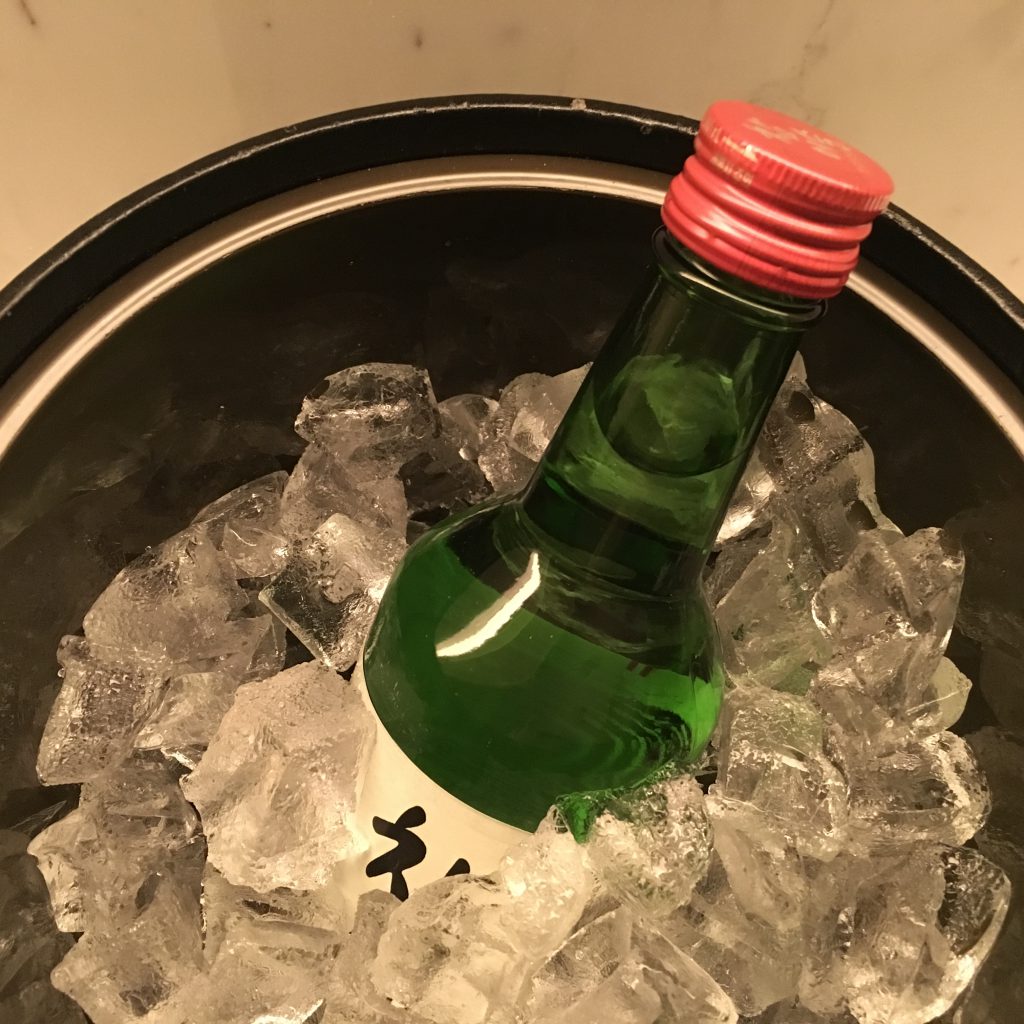 Unfortunately I forgot to bring my mobile phone out with me at lunchtime so the time and distance recorded at the end of the day was only 69 minutes and 4.92 kilometres. Mr Goghagaru, who has the same phone and App, say his recorded 131 minutes and 8.90 kilometres.
Tomorrow another day of exploring as we consider a vegan lunch and then Seoul Sister has proposed a movie and dinner for our Easter Friday special.