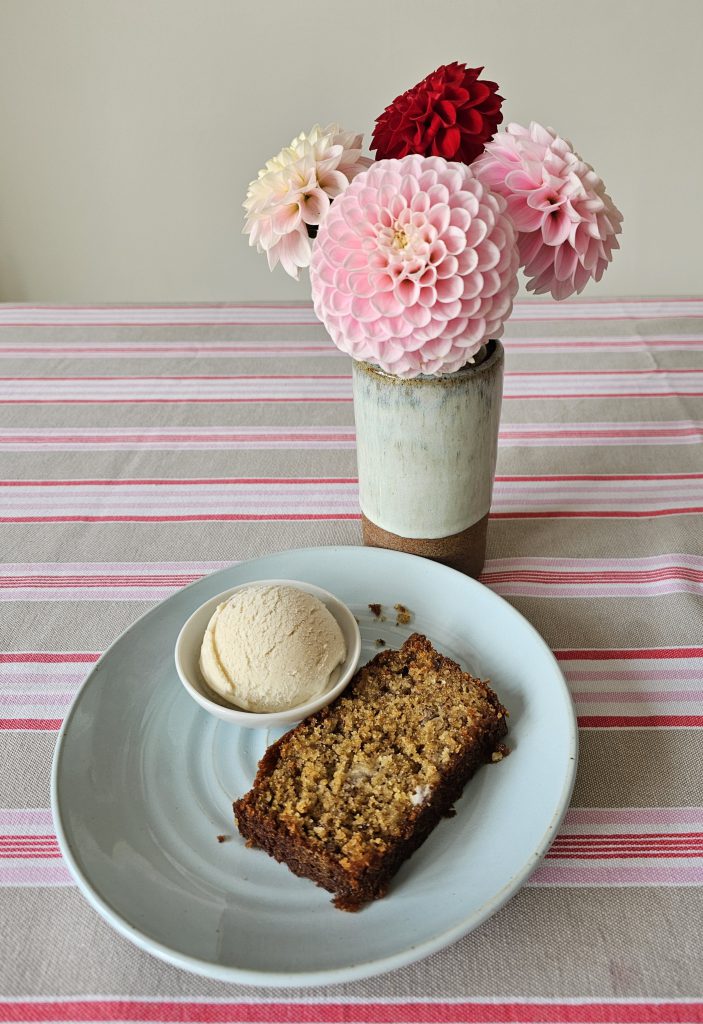 Most people, when talking about bananas, will tell you that they have a personal preference for when they consider a banana to be at its optimum ripeness for eating. Beyond that, they lose interest. I am guessing that there are more recipes using ripe bananas as an ingredient than for any other type of fruit.
In our household we love bananas so it is often difficult to get them to a stage that is ideal for use in baking. To make a banana cake I sometimes buy a separate bunch and stash them away until the skin is fully mottled with large black spots. When you get to this stage, the bananas are also suitable for turning into banana ice cream. I made several batches recently, spurred on by friends who said that no one sells banana ice cream.
The ice cream recipe is adapted from my first ice cream book (Ices: The Definitive Guide by Caroline Liddell and Robin Weir). Since this is so easy to make, I am adding a Banana and Coconut cake recipe as well. Two for the price of one at the end of the summer holidays.
For the Ice Cream:
400 g very ripe bananas (peeled weight)
1 tablespoon lemon juice
160 g golden caster sugar
250 g full fat milk
250 g whipping cream
OR
125 g single cream + 125 g double cream
1 teaspoon vanilla extract
How to Make:
Cut the bananas into chunks and place in the bowl of a food processor or blender.
Add the lemon juice and sugar and blend until smooth (in the Thermomix, blend 15 seconds/ speed 5).
Add the milk and vanilla extract and blend again briefly (in the Thermomix, blend 10 seconds / speed 3).
Pour the ice cream mixture into a suitable container and cover a with a disc of baking parchment directly on top, to prevent discolouration.
Chill for a few hours or overnight in the fridge.
The next day, stir the cream into the mixture.
When ready, either still-freeze (see below) or start the ice-cream machine, following the manufacturer's instructions.
Leave to churn until the ice cream has the consistency of softly whipped cream.
Quickly scrape into a plastic freezer box and cover with waxed or greaseproof paper and a lid. Finally label, then freeze.
This ice cream has an excellent texture and can be scooped directly from the freezer without softening beforehand. This makes it so useful as a treat when e.g. I have had to do two hours of ironing. You know what they say: no pain, no gain. My gain is always ice cream.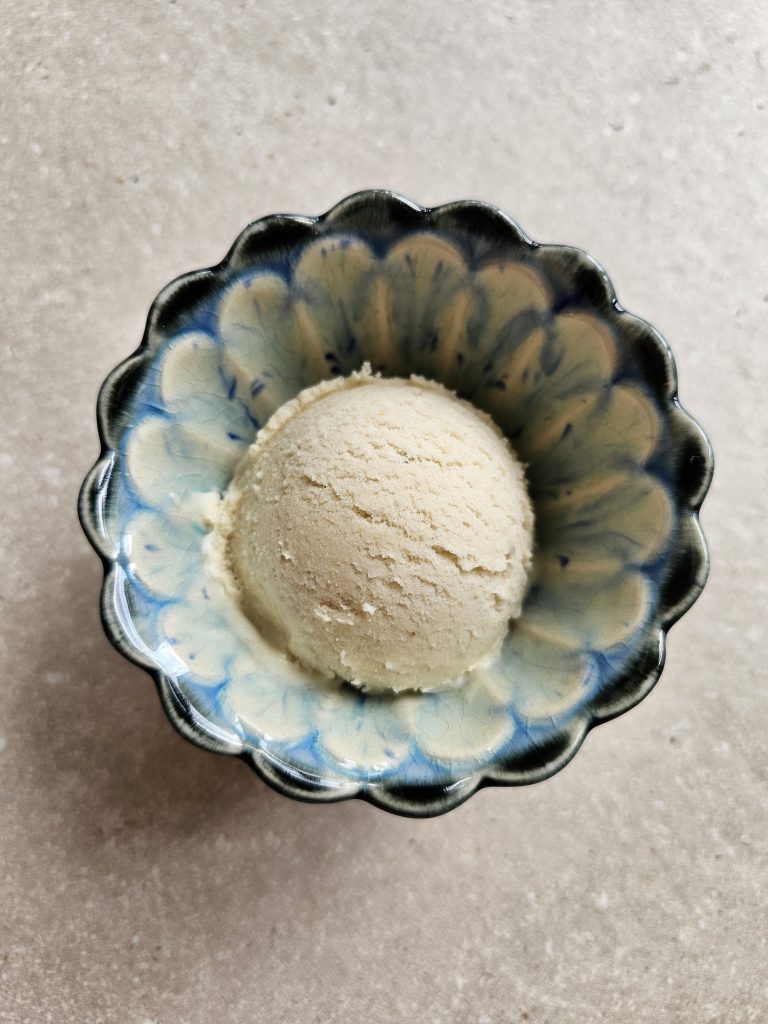 If you do not have an ice cream maker, here is how to still-freeze the ice cream.
Pour the chilled mixture into a strong plastic container to a depth of 4 cm. Cover with a lid and put in the coldest part of the freezer.
Check after 1-1 ½ hours; the mixture should have frozen to a firm ring of ice around the sides and base of the box, with a soft slush in the centre.
Beat the mixture for few seconds until it forms a uniform slush. Return to the freezer.
Repeat the beating at least twice at intervals of 1-1 ½ hours.
After the third beating freeze for a further 30-60 minutes before serving.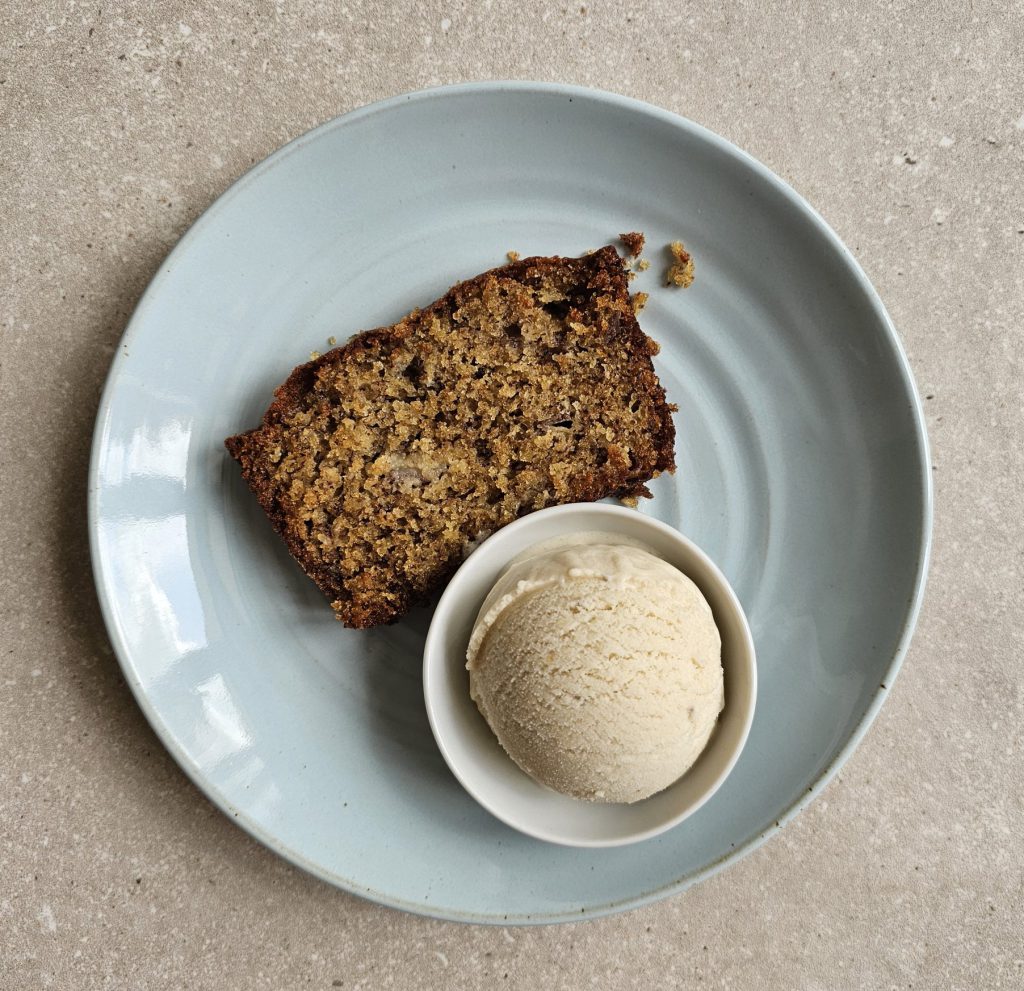 Banana and Coconut Cake:
60 g white spelt flour
60 g wholegrain /wholemeal spelt flour
60 g desiccated coconut
2 teaspoons baking powder
½ teaspoon bicarbonate of soda
¼ teaspoon fine sea salt
125 g unsalted butter, softened
110 g golden caster sugar
2 large eggs
220 g very ripe bananas (peeled weight), crushed
1 teaspoon vanilla extract
I made this cake in a 900 g / 2 pound loaf tin. I would also consider making it in a 5-6 cup Bundt pan.
How to make:
Preheat the oven to 170°C / 155°C fan.
Sift the flours, baking powder, bicarbonate of soda and salt into a large mixing bowl.
Add the coconut, butter, sugar, eggs, bananas and vanilla extract.
Beat on a medium speed until the ingredients are all thoroughly mixed together.
Pour the cake mixture into the loaf tin and bake in the preheated oven for 55 minutes, or until the cake bounces back when touched. A metal skewer inserted in the centre should come out clean.
Leave the cake to cool slightly in the tin before turning out onto a wire cooling rack to cool completely.
The cake will slice into 10 thick slices.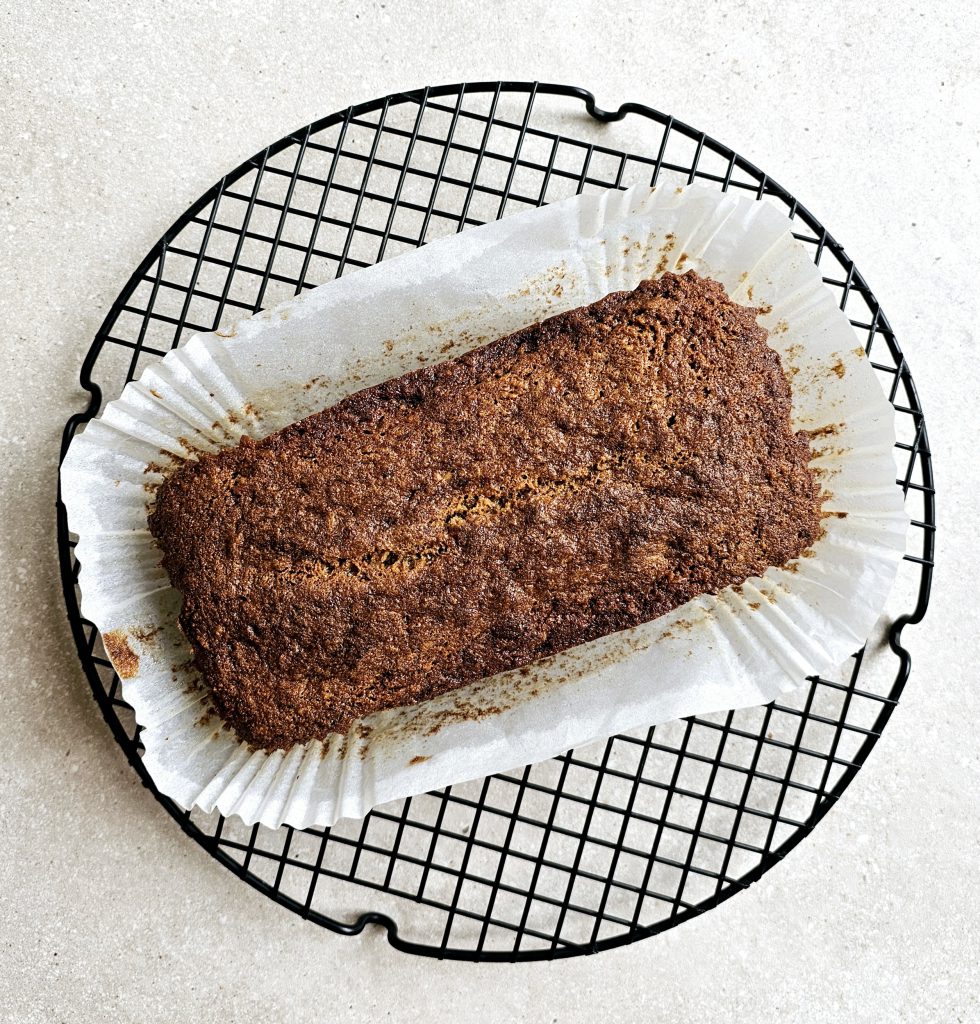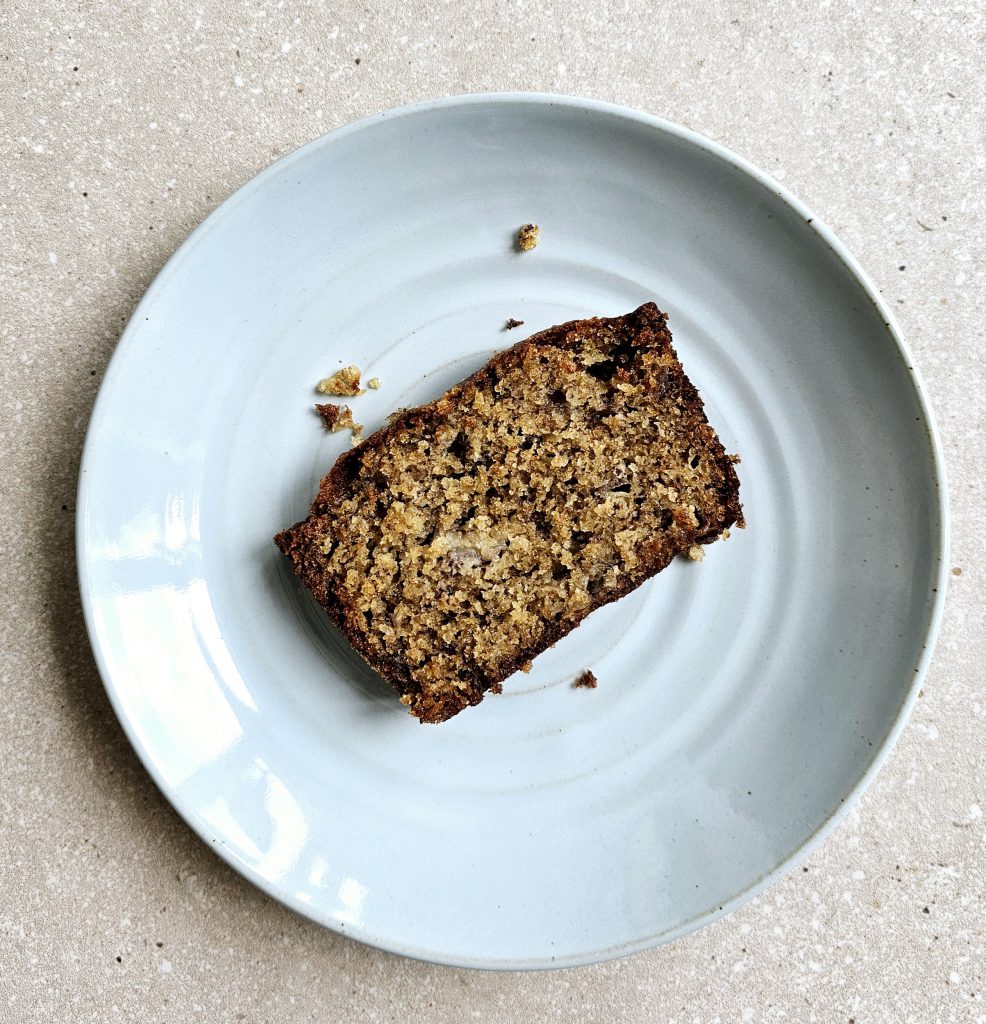 My blog is still not functioning fully. I have a Strawberry and Basil Ice Cream recipe to post so here is a brief description: simply use the recipe here and add 20 g of basil leaves. As the strawberries I used this time were very sweet, I reduced the balsamic vinegar to 2 teaspoons and the sugar to 120 g.