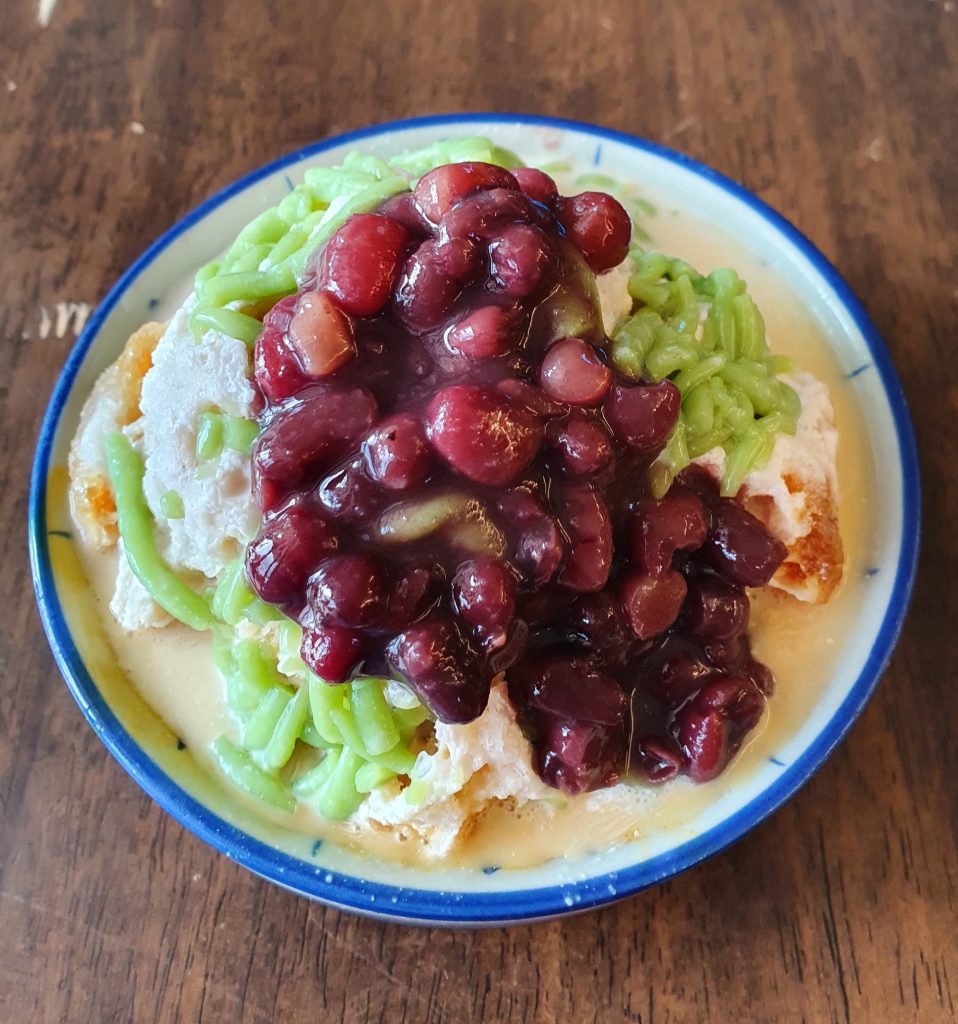 This time next week I will be on transit in Singapore's Changi International Airport waiting for my flight back to London. I have been flying British Airways direct from London to Kuala Lumpur since it resumed this route a few years back. The pandemic put an end to that and to fly BA to KL I now have to transit via Singapore. This is slightly inconvenient, but then everyone tells me there's lots to shop and to eat in the airport. I had better bring an empty piece of hand luggage and an empty stomach.
In the meantime my days are a bit like the scenes in Groundhog Day. The film isn't entirely pessimistic because Bill Murray does get better at doing the things he needs to do, like chatting up Andie MacDowell. Practice makes perfect. And so it is with me: each day I get better at handling the set daily tasks and each day I manage to fit more in as a result.
Although I am not running up the hill, so to speak, I am running out of time. There is still the 2,000 books in my dad's study to deal with, as well as helping my mum with hospital and bank visits. I am so grateful that Mr Gochugaru is such a self-contained man who gets on with his life and work when I am not there with him.
When we manage to, KL Sister and I try to go out for a cup of coffee and a chat. I also caught up with Investment Banker Friend and Shoe Lady who flew in from Singapore for a brief face-to-face visit. For this I had to dress up (British India is my go to brand for tropical weather clothes) because when I am speaking to them via Zoom they don't mind if I still have my kitchen apron on.
Here are some of the places I visited in the past few days when I could get away from the house for a bit.
HANI EATERY on Saturday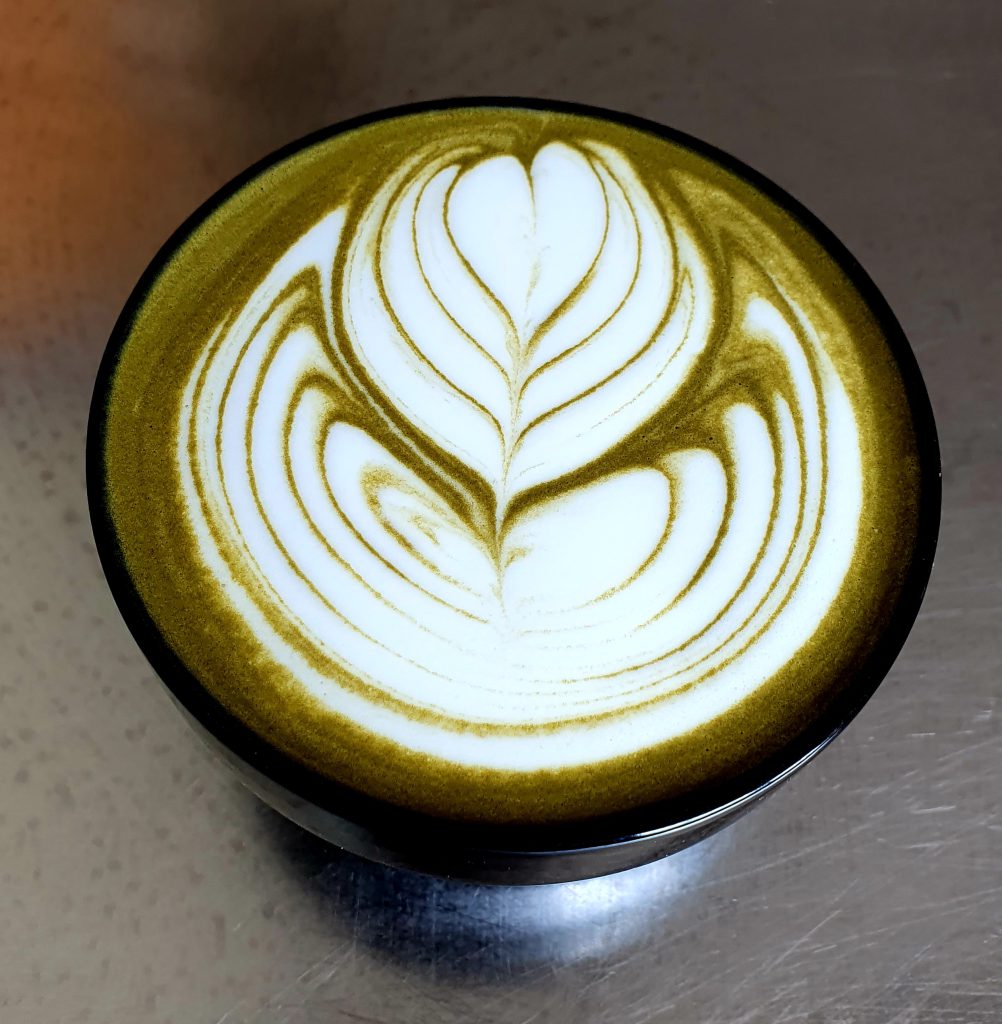 I was inspired by Hani's narrow staircase leading up to the first floor. My mum has a similar shophouse in a busy housing area, with a large first floor space. Over a cup of hojicha latte I wondered aloud if I should run a cafe like this. After going through all the downsides, we decide this would be a ridiculous venture at our age.
I ate a hybrid Korean-Japanese bowl of rice with chicken karaage (Japanese) drizzled with gochujang (Korean). This was  a bit messy to eat but chicken and rice is my favourite food, so it was nevertheless very enjoyable.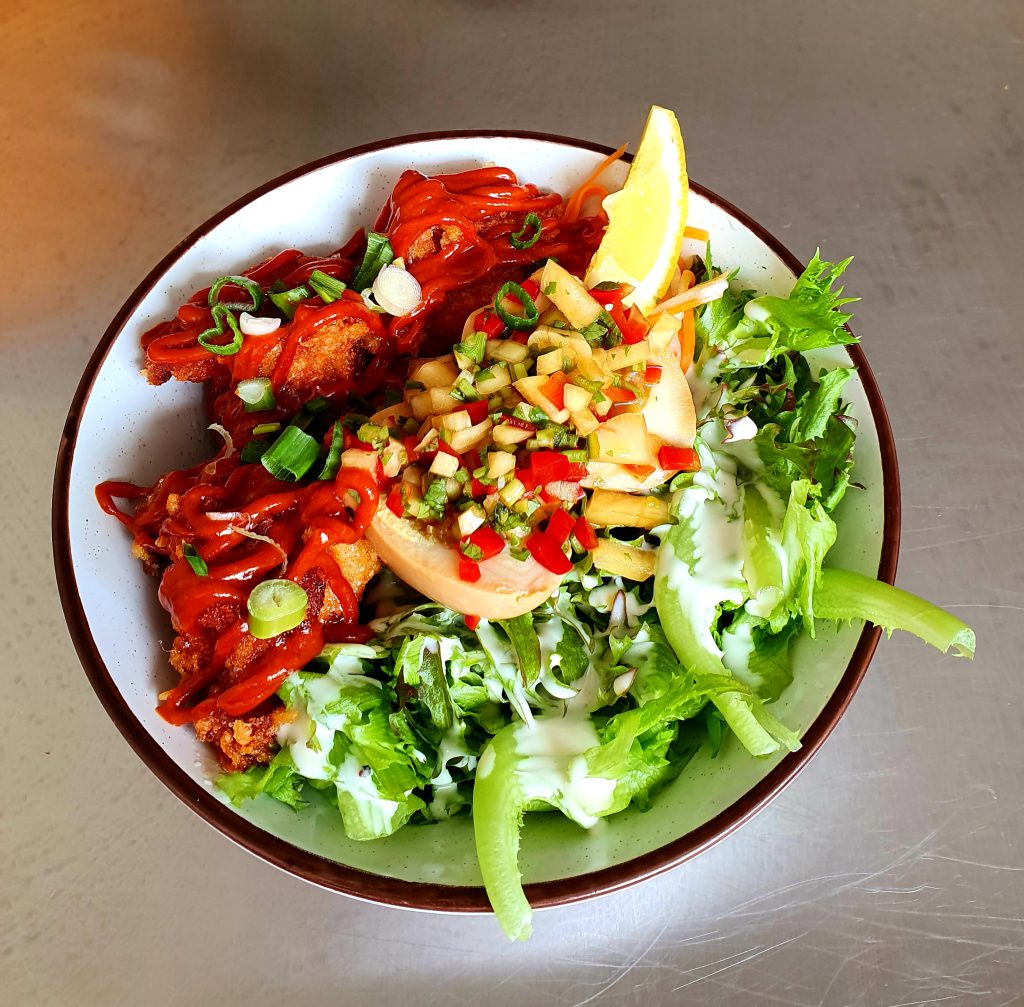 Despite, or perhaps because of, the faux industrial chic the place was continuously busy. I made a mental note not to bring my mother here as she would want to know why the owner could not afford to knock down the walls properly. Hani Eatery does well because there is no other similar cafe like this close by, although I could be wrong. KL Sister had a latte which she said was very good.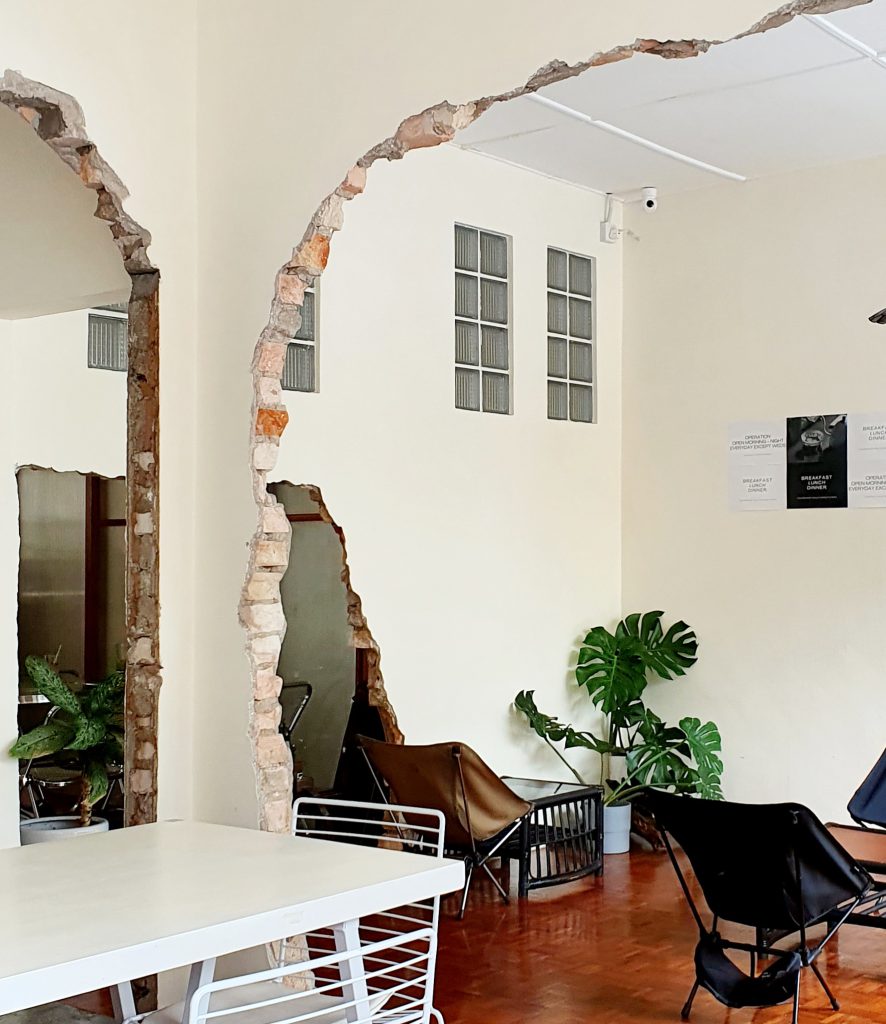 Address:
Hani Eatery
20A, Lorong Ara Kiri 2
Lucky Garden
Bangsar
59100 Kuala Lumpur
HUCKLEBERRY on Sunday
If you are an avid reader you might have come across Mark Twain's Adventures of Huckleberry Finn. I learnt recently that the huckleberry is actually a berry. There is also an American saying 'I am your huckleberry', meaning that 'I am just the right person for your particular job'.
There are lots of things to eat at Huckleberry and I would advise going with at least two friends. Thankfully I had IBF and SL with me. We shared two plates of nasi lemak, as well as some green chicken curry pie, chicken curry puff and pandan almond croissant.
After that SL and I went shopping at British India, which is what we call 'killing two birds with one stone' i.e. eating and shopping in the same session.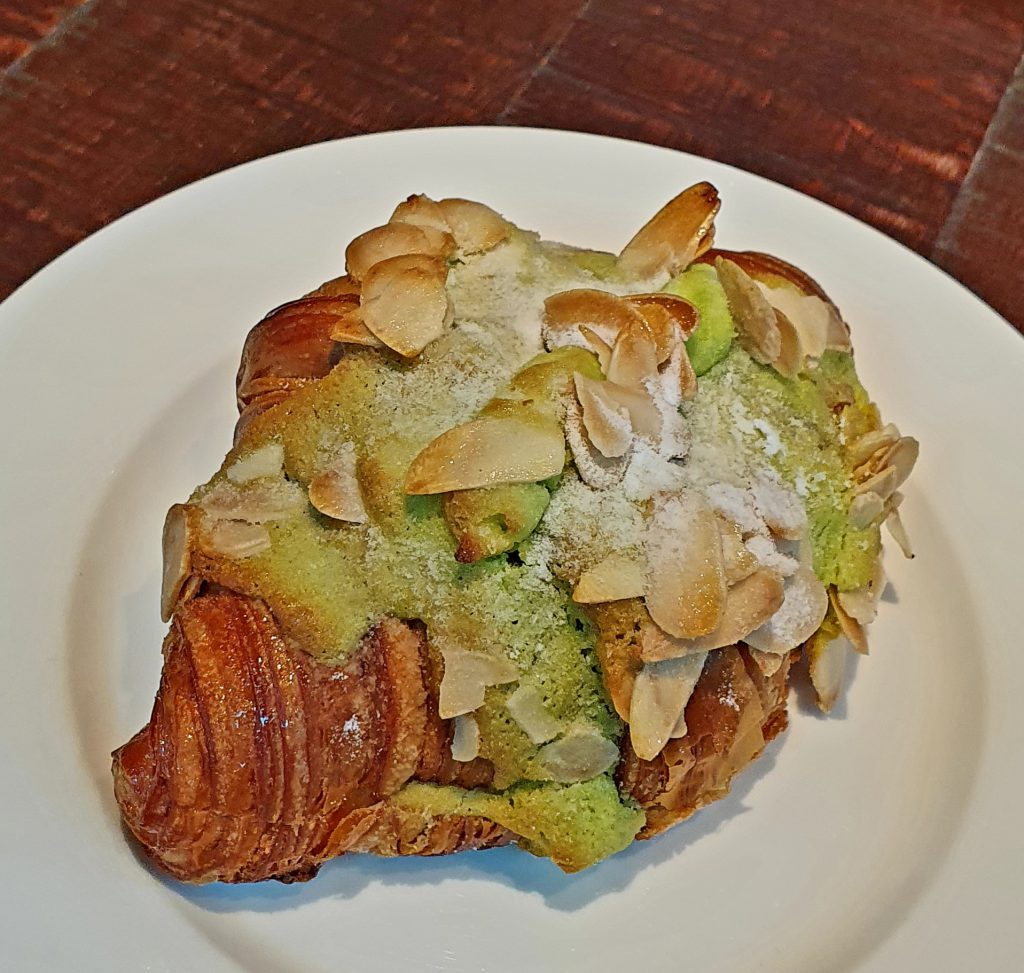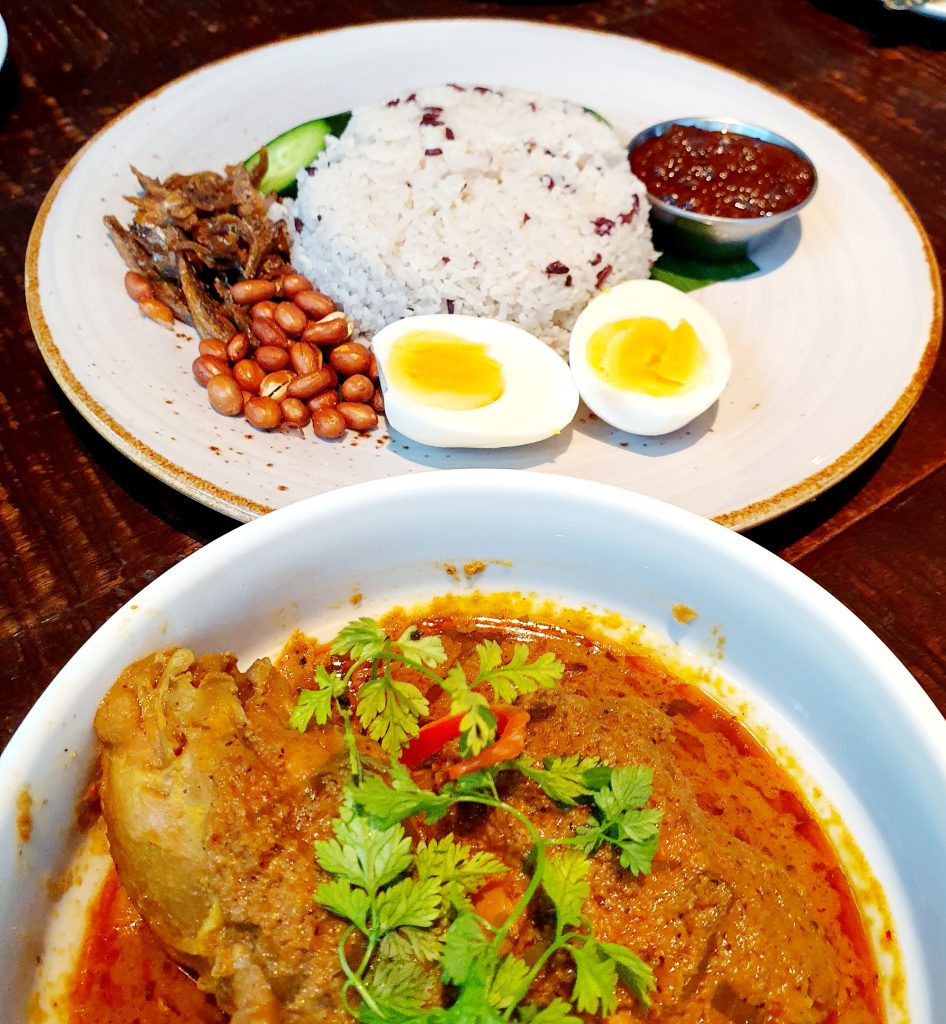 Address:
Huckleberry
Lot G108 & GK2
Bangsar Shopping Centre
285, Jalan Maarof
59000 Kuala Lumpur
Huckleberry's original cafe is located in Damansara Heights (which I went to on New Year's Day 2020, not knowing the pandemic was about to hit us then) and there is a new branch in Pavilion Bukit Jalil shopping mall.
LITTLE PENANG CAFE on Monday
This one was a bonus as I was in Suria KLCC Mall looking for a book in Kinokuniya when IBF and SL said that they could meet me for an 11am early lunch. So we went to have some char kuey teow, which IBF said was ok but it lacked the vial ingredient of crispy pork fat. Thinking about it, this would also be Mr Gochugaru's complaint.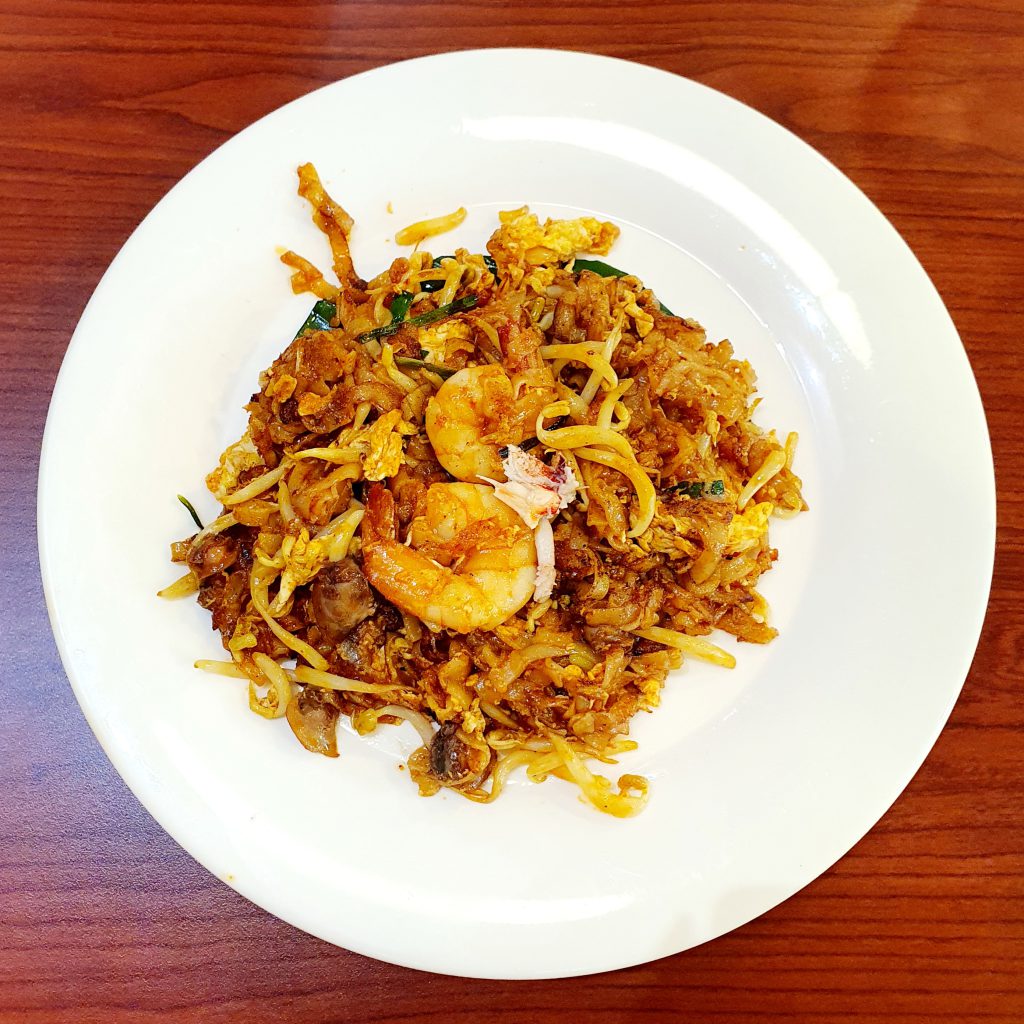 Address (official):
Little Penang Cafe
Lot No. 409-11
Level 4, Petronas Twin Tower
Persiaran Petronas
Kuala Lumpur City Centre
50088 Kuala Lumpur
Address (unofficial):
Leave the Mandarin Oriental Hotel by the main entrance and turn right, heading towards one of the entrances to the Suria KLCC shopping mall. Locate the lifts which are in the centre of the mall and take it to the 4th floor. Turn left as you exit and you will see Little Penang Cafe on the corner. A little along is Madam Kwan's on the opposite side, and at the end of the passage is Din Tai Fung. On the opposite side to the lifts is Kinokuniya.
When I am by myself, staying at the MO, these are the places where I eat (although I prefer the Din Tai Fung in Pavilion Bukit Bintang as it has pork whereas the branch in KLCC mall is pork-free). I am totally ok dining by myself and did not think I needed this book which I spotted at the bookstore.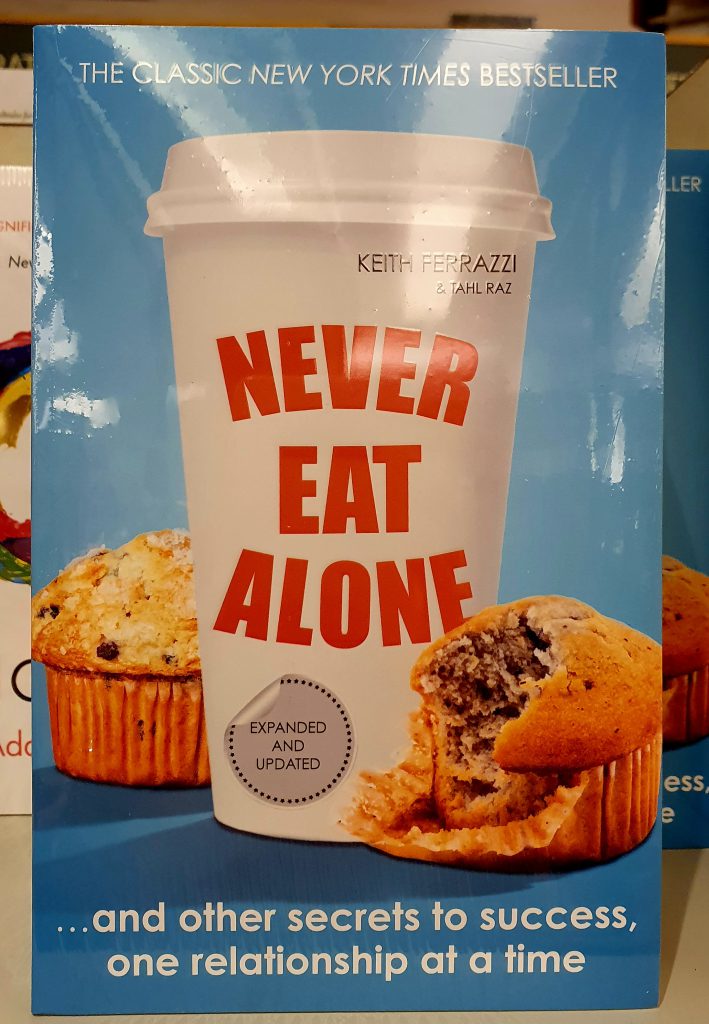 KWONG WAH on Tuesday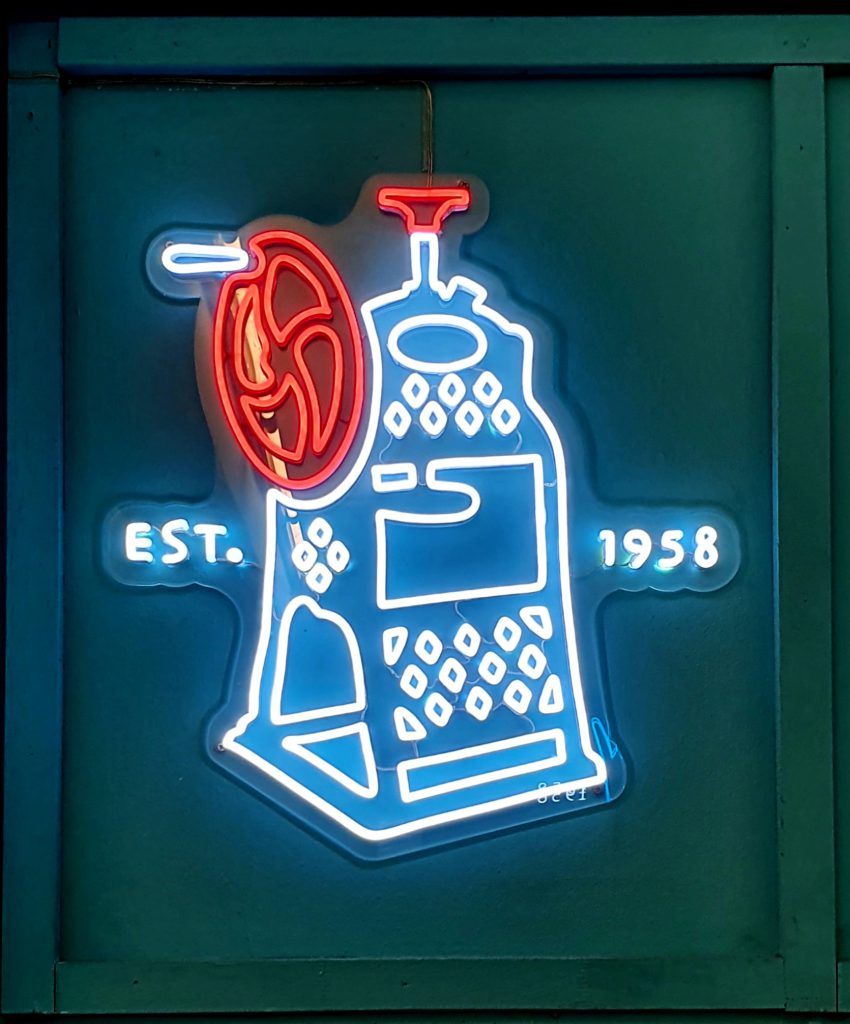 One of my favourite desserts is cendol which my family (in London) think a bit strange on account of the green bits in it. We actually have an ice shaving attachment for our Kitchen Aid and I can make cendol and ais kacang at home with just the minimum fillings of sweetened red beans and creamed sweetcorn from a tin.
As far as I can remember Kwong Wah was not a feature of my childhood even though I liked cold desserts. However it seems to be the most popular place for these shaved ice desserts and I am happy to pay a visit when I can. Looking back at my photo of the cendol from a previous visit three years ago (when it was located in Happy Mansions) I must have omitted the red beans. This time I was in such a hurry I simply ordered cendol and ate whatever was put in front of me. Generally my days are like this as there is so much to do in the house I don't really think too much about food.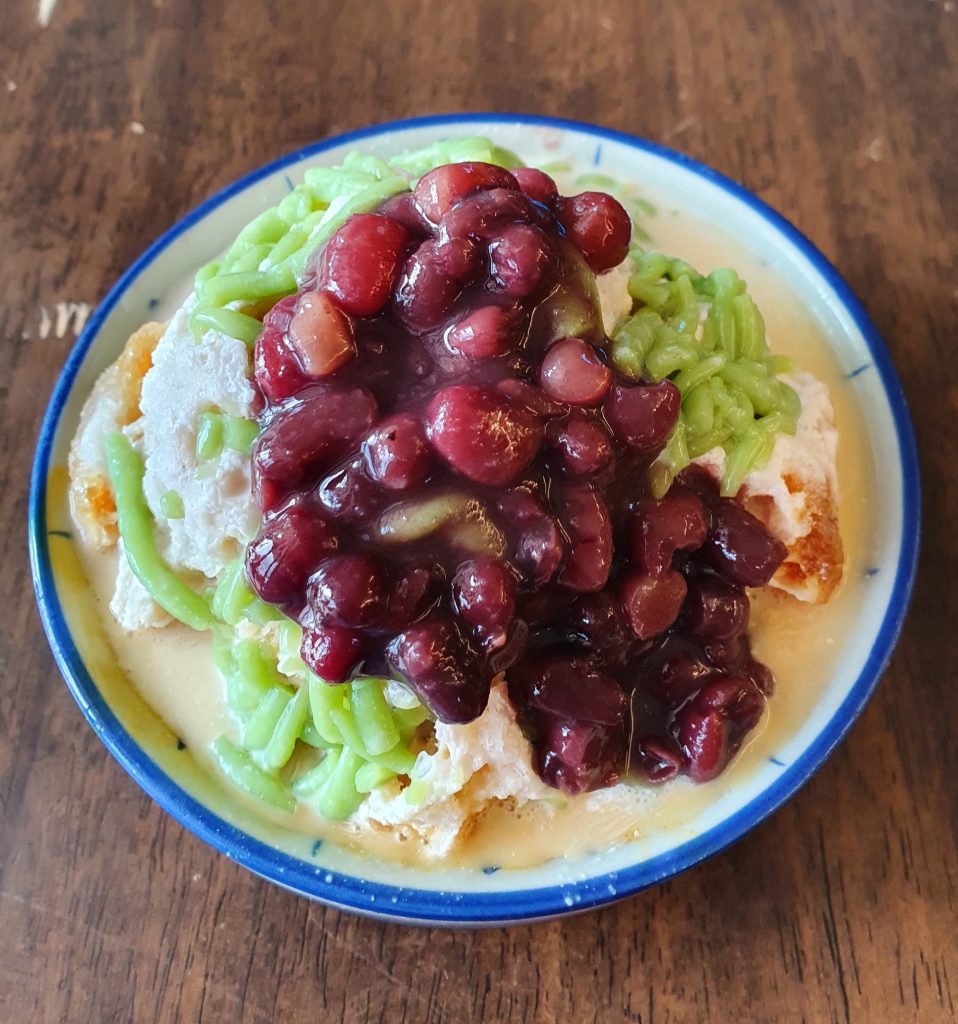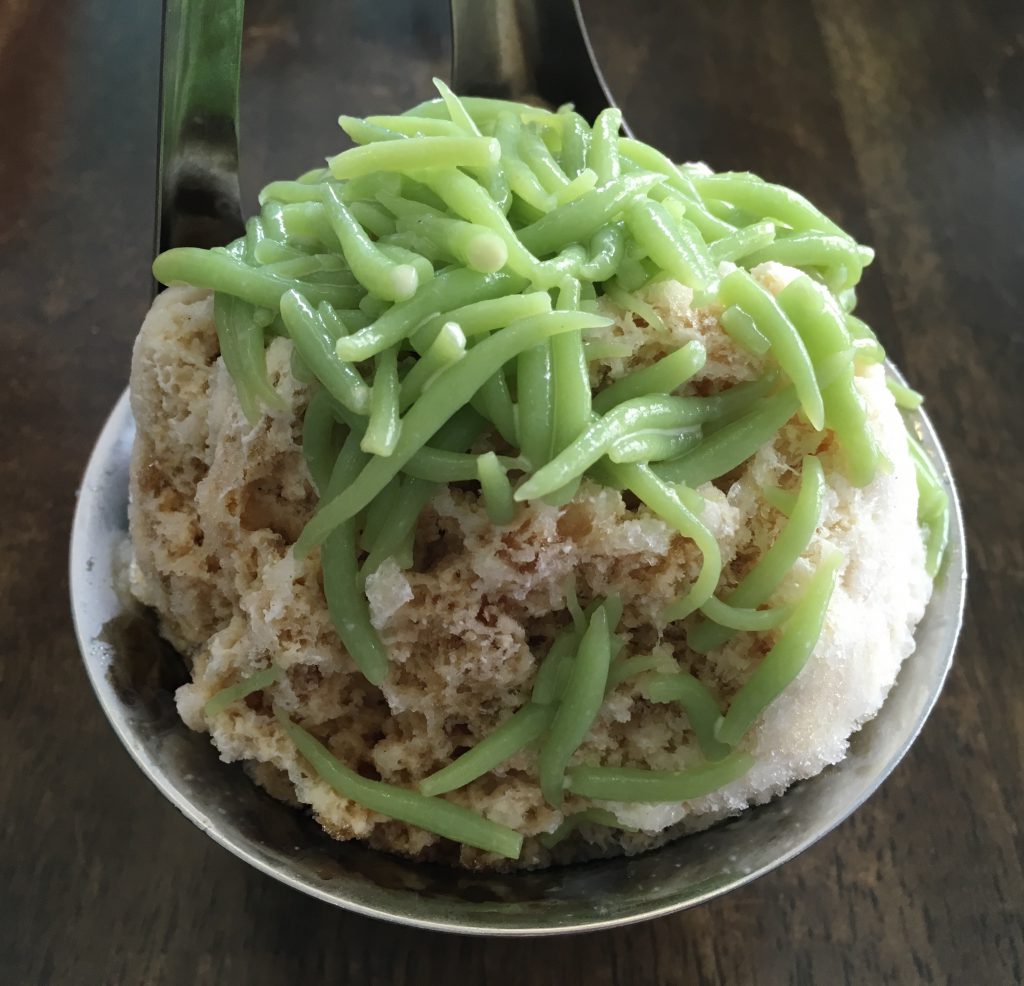 Besides the signature ais kacang and cendol, Kwong Wah also serves local snacks like nasi lemak bungkus (i.e. wrapped in banana leaf), cucur udang (a crisp fritter with small prawns) and a range of filled buns (coconut and gula Melaka, chicken rending, sambal ikan bills and tuna). These make good mid-afternoon snacks and when we left at 3pm there was a very long queue at the entrance.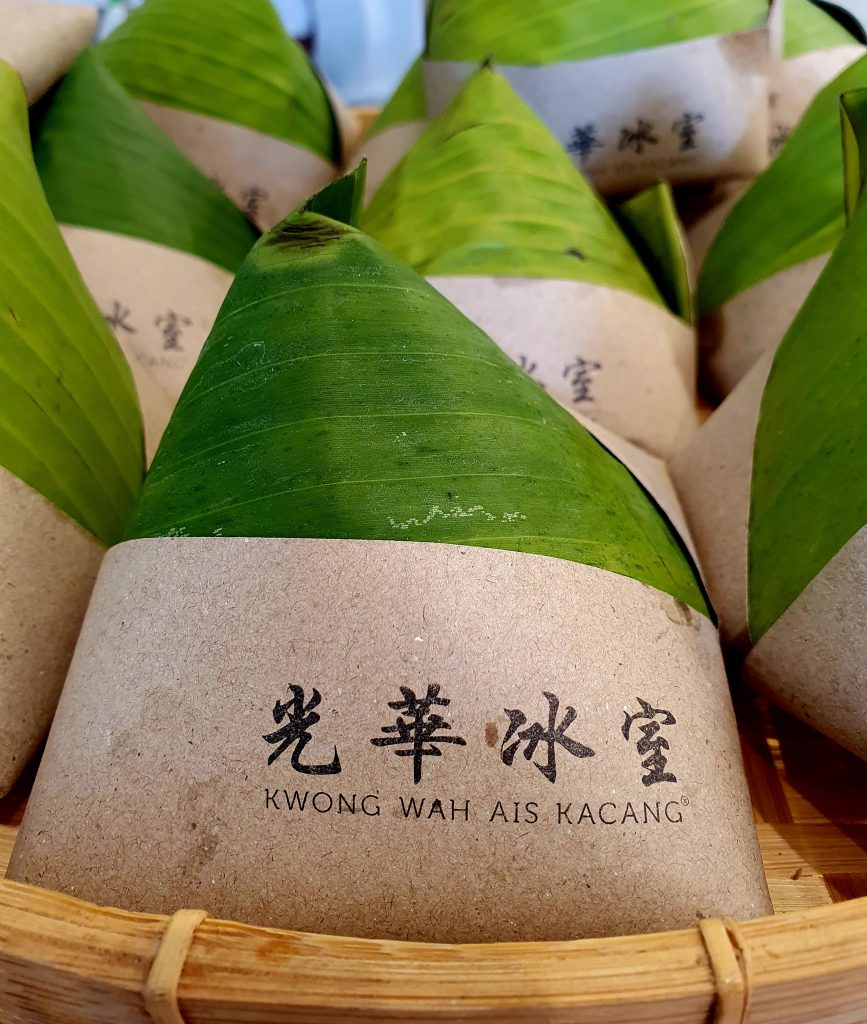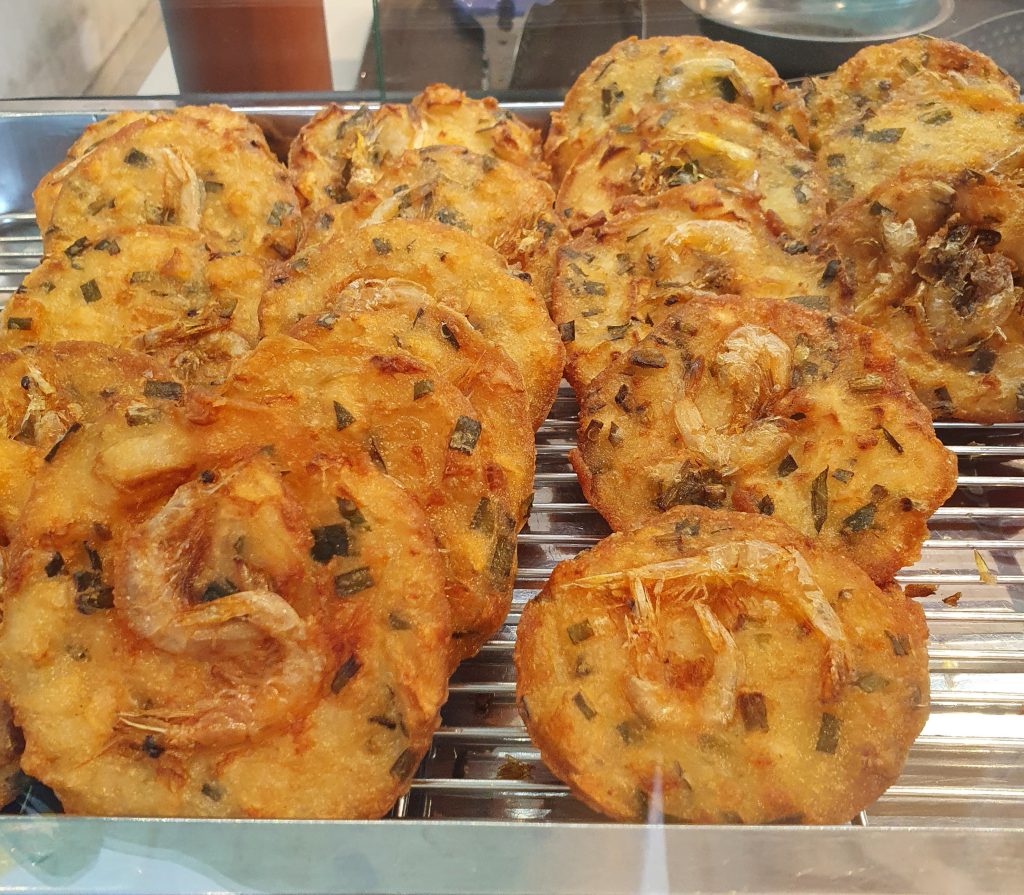 Address:
Kwong Wah Ais Kacang
627 A Jalan 17/8
Seksyen 17
46400 Petaling Jaya
There is also a branch at the Pavilion Bukit Jalil shopping mall, where I heard there is a bookstore called Tsutaya. I think that would make a very nice morning out if I could fit it in.
One final word. I hate QR Codes and I cannot lie. It was miserable trying to get the menu at Hani Eatery as their website is not configured well. It turns out there is a paper menu on the counter and in any case you have to order in person and not via the QR code. Perhaps they need to think this through.
I had similar experiences at Madam Kwan's and Plan B. My dad, if he were still alive, wold have kicked up a real fuss. My mother I know will not cope with this ridiculous feature. I also need to think this through i.e how to make sure my mother can order food when she goes out to certain places. Life should be simpler than this, really.