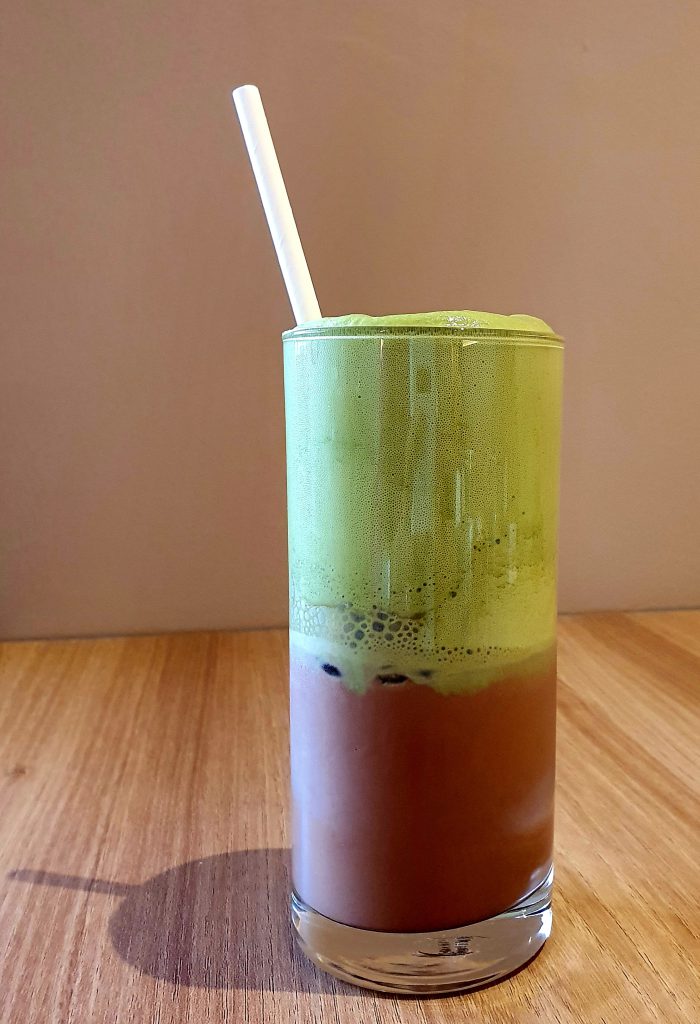 One question I get asked often is how easy is it for me to live like a local? After all, I have been away from Malaysia for over 35 years.
The answer is actually, quite easy.
Take my surprise at discovering a bespoke chocolate shop located in a housing estate. English people would say: Gosh! What a find! All I said to KL Sister was: in the middle of nowhere also got chocolate shop ah? 
My children can't believe it's me when they listen in on my telephone conversations with their Popo, because I never normally talk like that around them. But when I open my mouth to speak in Malaysia no one would think I don't live here full-time.
The view from Kedai Cokolat, located in the middle of a housing estate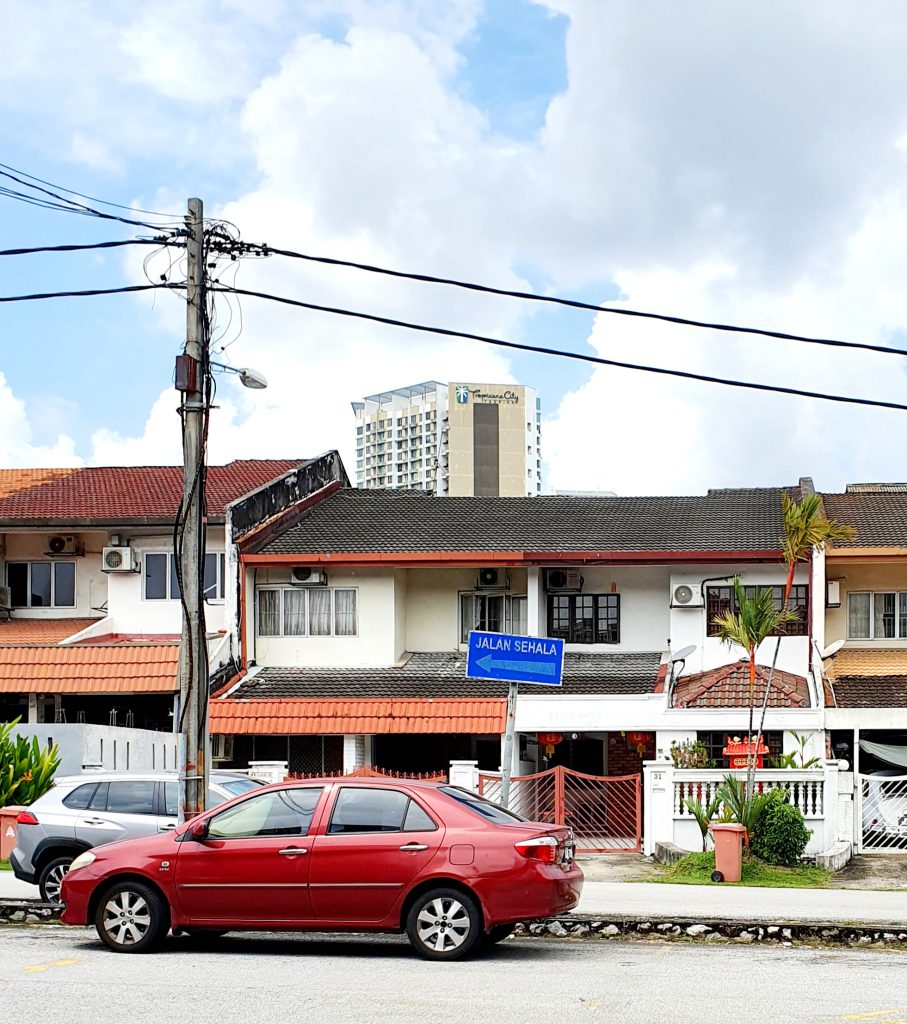 Back to this chocolate shop, or Kedai Coklat as it calls itself. It really is a special place as the chocolate featured here is sourced locally.
My father used to buy all his stationary at CzipLee in Bangsar. Next to its entrance is a tiny chocolate stall by Cocoraw, which owns Kedai Coklat.
On the afternoon that KL Sister and I visited the cafe, seated on the table next to us was a party of 8 – 10 women having a friends' reunion. They were having such a fun time and I thought that this is a really good use of the space if you could book ahead.
It is also an ideal place for larger gatherings because there is an extensive choice of drinks and pastries. Besides tarts made with local chocolate, there are also cakes, brownies and chocolate cookies. To take away there are bars of chocolate made from cocoa grown around Malaysia.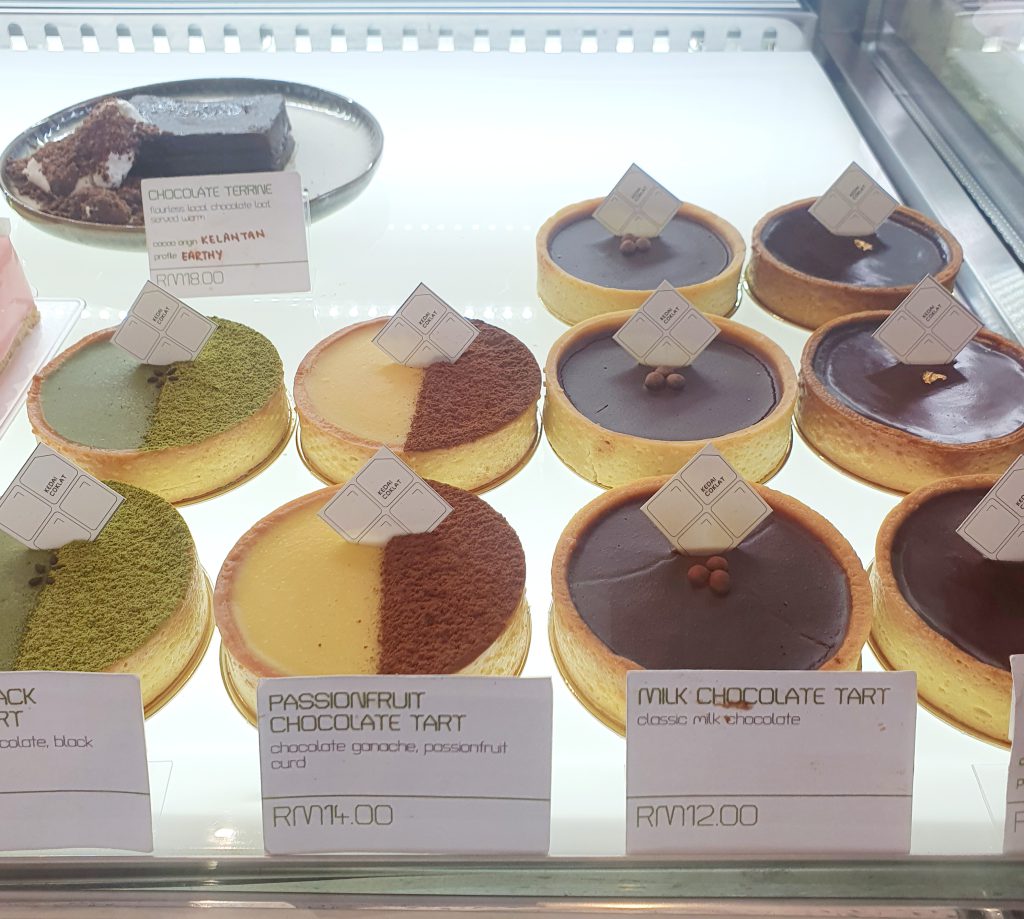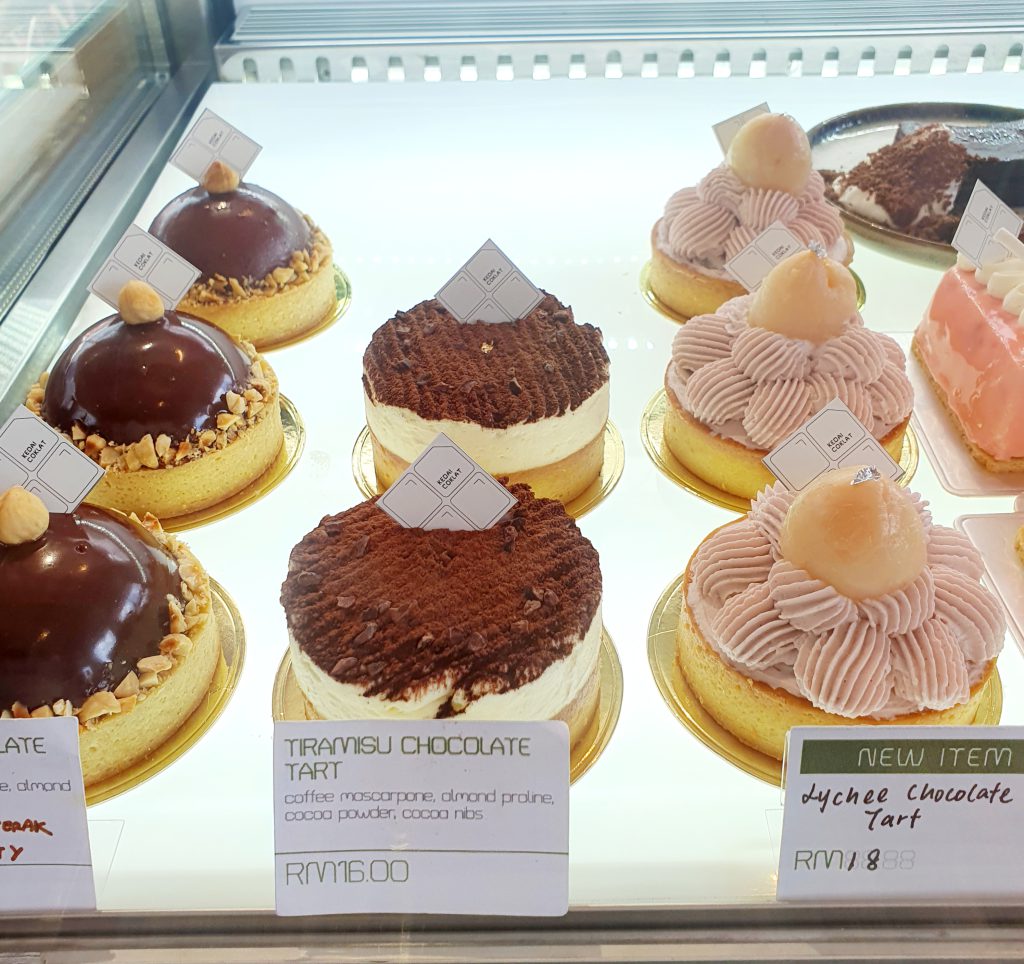 KL Sister and I are only two people so we only had two tarts: dark chocolate and passionfruit chocolate. I also convinced her to take away a matcha and black sesame tart.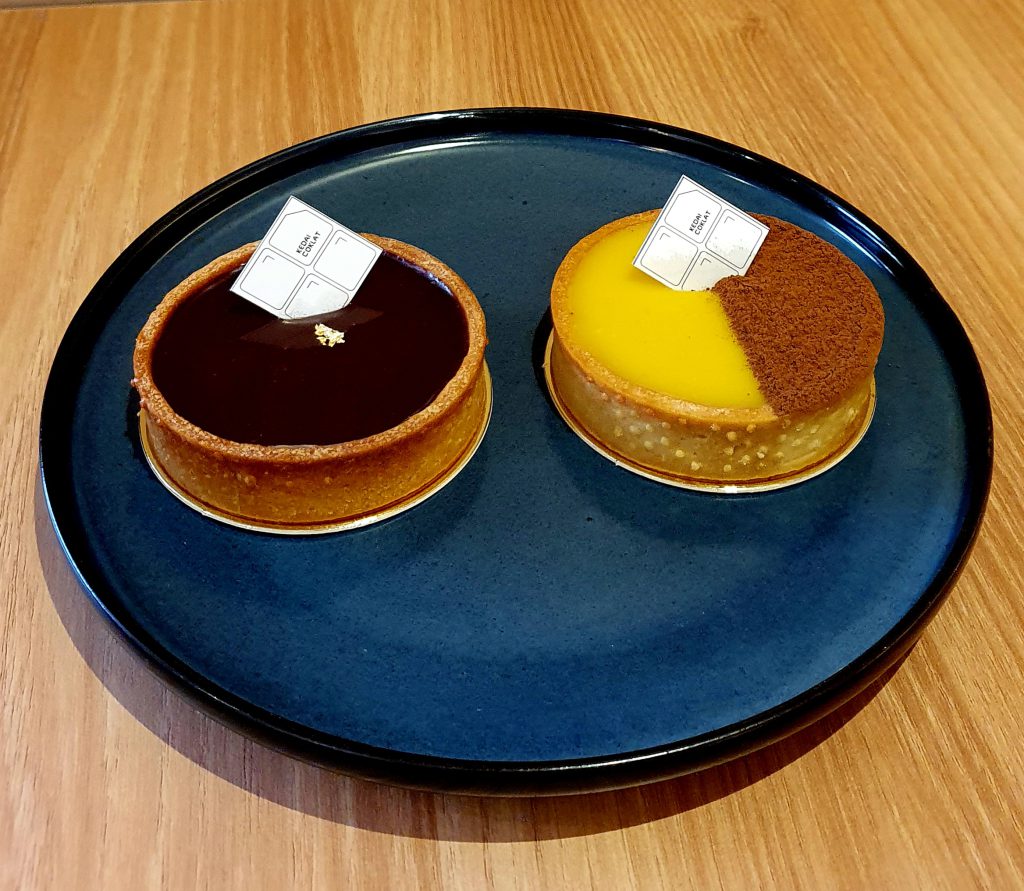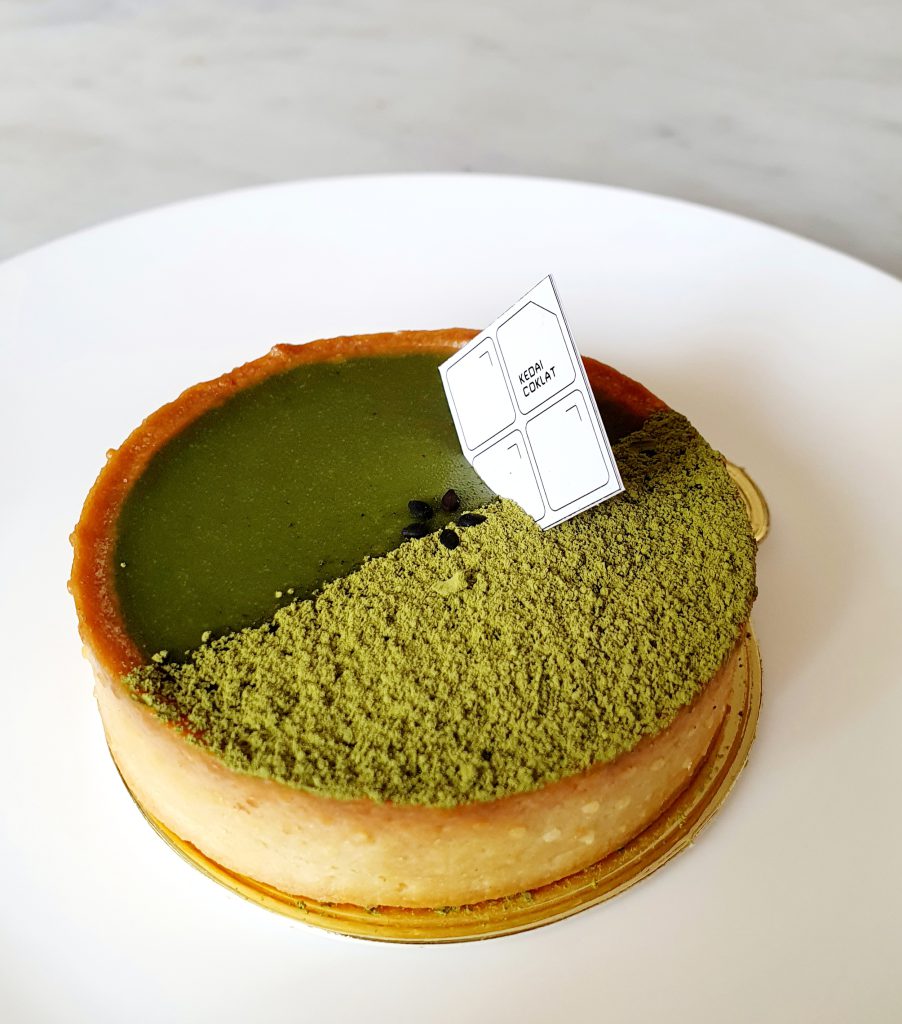 I always thought that the Hainanese hybrid tea-coffee brew called cham (in local speak cham means mixed) was strange. I have never been tempted to order it. But then I succumbed to the mat-cho in Kedai Coklat because I actually love drinking both matcha and chocolate made with milk. Usually separately, of course, but having the mat-cho proved that I am not so different to the locals who mix their tea and coffee.
I can live like a local and cham my drinks too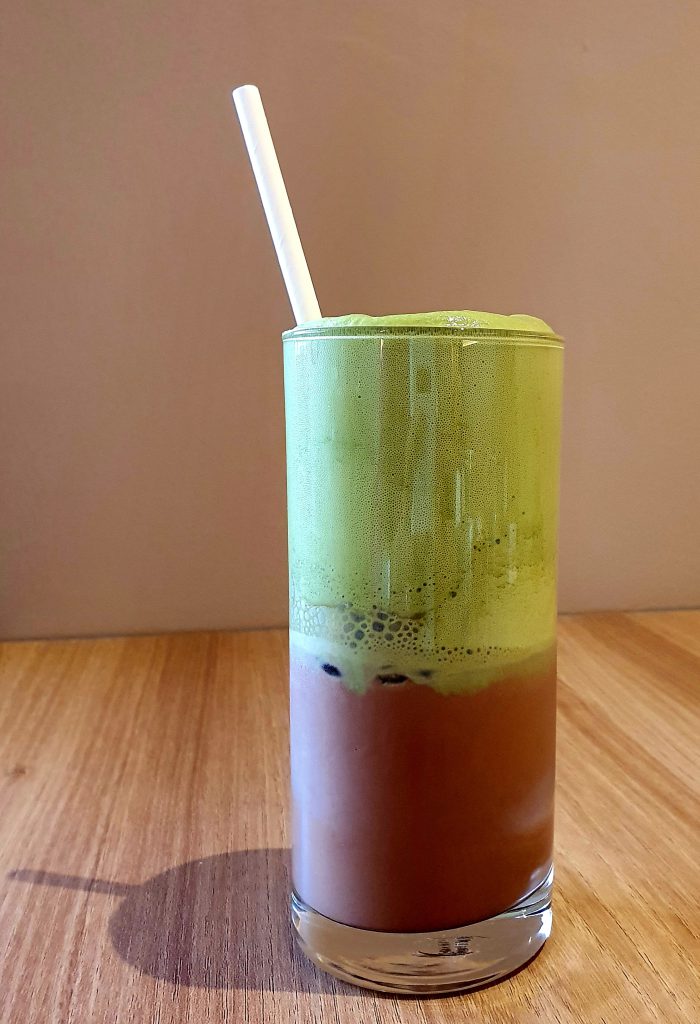 The other question I get asked is if I could drive in KL. The answer is yes but I would not want to. I have always thought that the best thing to have in this city is a dedicated car and driver. Sure, it is a headache to 'mind the staff' as it were (and we have all heard of our friends' nightmare experiences) but that is the ideal in my books. Since that is not going to happen, I turn to the next best thing which is to have taxis on call via Grab.
I got used to Grab very quickly because a) I was desperate for transport and b) I speak several local languages and can engage with the driver whatever their ethnicity.
So far my experiences have been varied. I started out with basic Grab Cars but their drivers were sometimes erratic. Some drove their Perodua Myvis as if they were Jason Statham in  The Transporter. I am quite tough but felt sorry for my mum who was often next to me. Then Shoe Lady advised me to to use Grab Car Plus, which I admit provides a smoother ride.
If you live like a local then you get used to things like Waze instructions being given in Cantonese, but the radio station set to English pop songs.
Very often I receive a message on the Grab App saying I Am On My Way to which I always acknowledge with Thank You. Today the message read 我已经在路上 so I had to quickly type OK because I don't have a Chinese keyboard on my phone.  The driver spoke to me in Cantonese as soon as I got in, commenting on the pouring rain which he hoped would not cause flooding. He was a very good and polite driver. If I lived here permanently that would be the kind of full-time driver I would like.
Addresses for local chocolates:
Kedai Coklat
16 Jalan SS 2/103
Petaling Jaya
47300 Selangor
(closed on Mondays)
Cocodash Bangsar
@ Cziplee Books & Stationery
1 Jalan Telawi 3
Bangsar
59100 Kuala Lumpur
Cocodash Subang
@ Baristar Coffee & Tea
64 Jalan SS 15/4
Subang Jaya
47500 Selangor
Post Script: here are the chocolate bars I bought to bring home to London. They were extortionately expensive (what I would pay in Fortnum and Mason, if I did buy my chocolate bars there) but would make great gifts for anyone who loves dark chocolate.