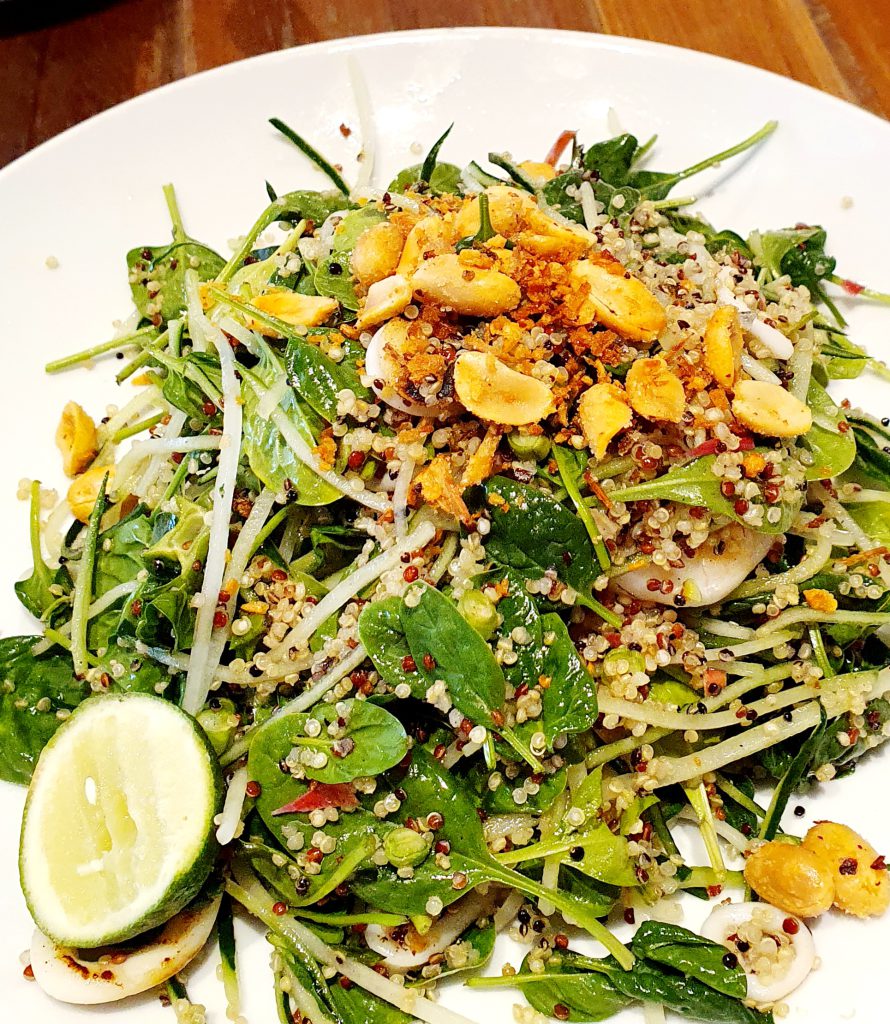 When it comes to organising anything I am totally a Plan A person. Even though I am happy to think on my feet, re-jig agendas, swap meal plans and receive guests with little or no warning, I feel that life functions so much better with a bit of notice. For this reason I aim not to overfill my diary with back-to-back meetings. I like making plans and I like sticking to them even more.
As a result I am calm 95% of the time and my blood pressure is a constant 120/80. But this is Kuala Lumpur: home to good food, good sunshine, lousy public transport. Worrying about being late is a major stress for me, and the one thing I find difficult to manage with traffic jams and sudden thunderstorms.
My days here are totally restricted by a routine imposed by having to look after my disabled sister. The long and short of it is that I can only leave the house for three hours in the morning and three hours in the afternoon. If travelling takes an hour to and from our family home, then I only have two hours to spend with anyone I am meeting or on any activity I choose for myself.
This morning Hong Kong Cousin and I met up, each bringing along our mothers (who are sisters). Our mothers' combined age is 176. In planning a suitable place to eat brunch I had to consider a place near the taxi stand, with step-free access, a broad menu and minimal noise.
The answer to my Plan A was Plan B. This was conveniently located by the South Court entrance to Mid-Valley Megamall. An added bonus for me was that it is near to our house and so my mum and I could spend a longer time out.
Admittedly I was a bit nervous, as I had never dined there before. KL Sister helpfully suggested a Korean fast-food place on the lower ground floor, or a cafe with local food on the North Court side of the mall. But I really did want to stick to my Plan A.
Thankfully, Plan B turned out ok. My only grouse is that I am very old school when it comes to menus and I like paper ones. I loathe (repeat, loathe) these menus via QR codes which only serve to trip up diners. For example, I scanned the menu at 10.50 am and only got the breakfast and drinks list. I was so concerned that our two mums would not get their rice dishes. For the full list, you have to wait until the magic hour of 11 am, when the other dishes are revealed.
Now, if this were a regular menu you would not have had to waste a precious 10 minutes, or think that there was only eggs and avocado to eat. When it came of desserts, we had to walk to the counter to choose, as this was not on the QR code menu.
The dishes, when they arrived, were well received. We put the four dishes in the middle of the table and shared them.
Kam Heong Sifu: sauteed prawns and squid in kam heong (i.e. golden delicious) sauce and spaghettini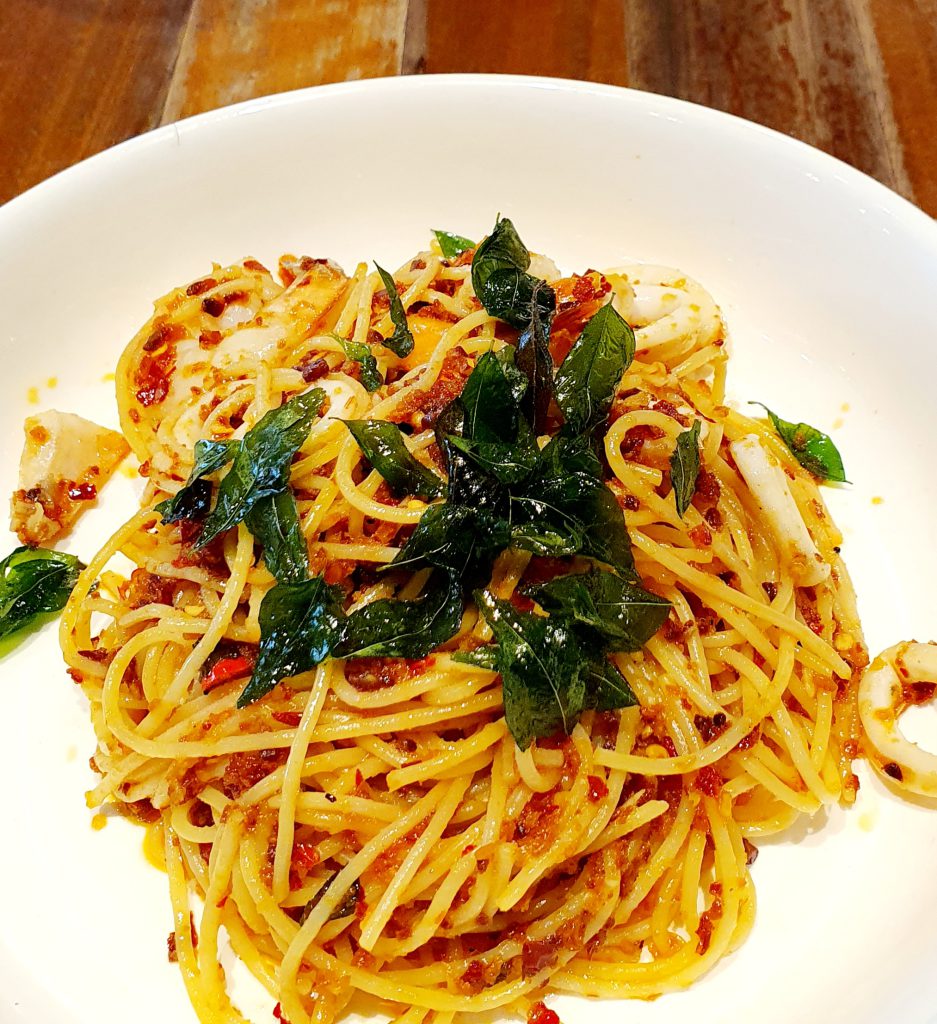 Nasi Lemak with fried chicken, pumpkin curry, crispy tempeh and scrambled egg with sambal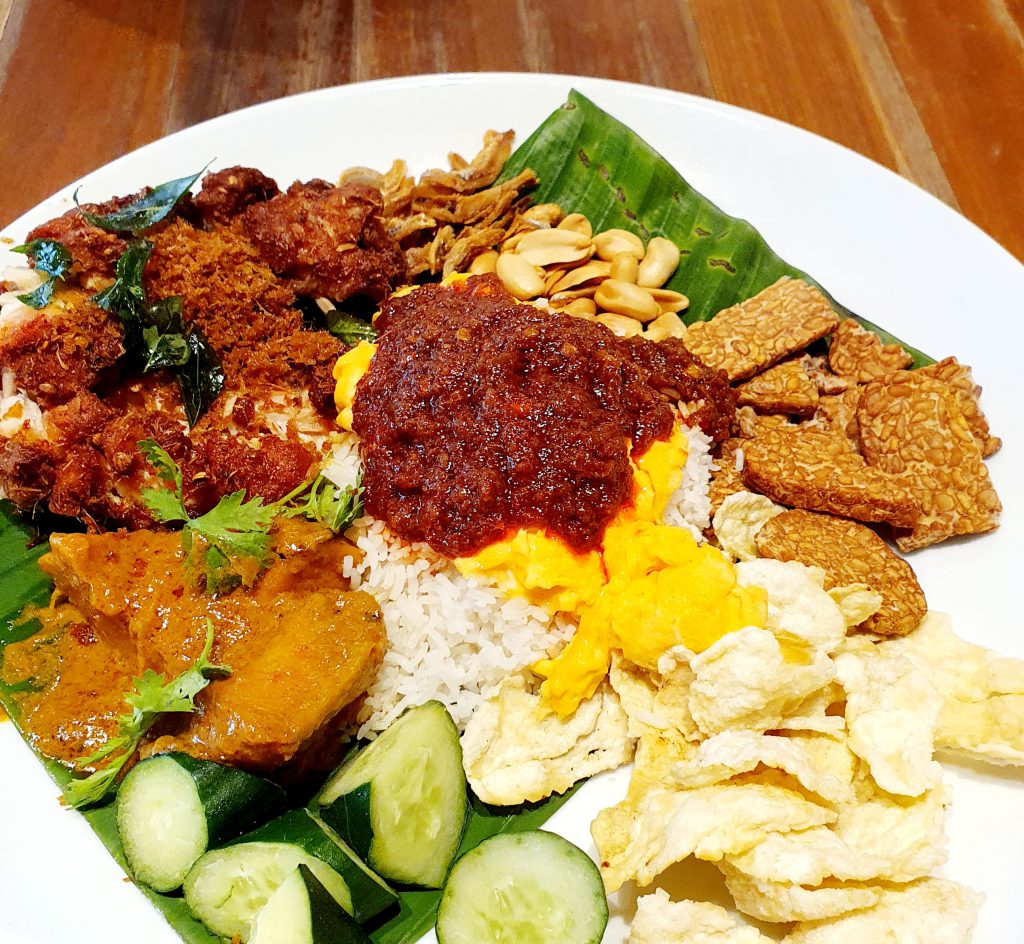 Seafood Quinoa Kerabu with grilled prawns and squid, local herbs and leaves, chilli-lime dressing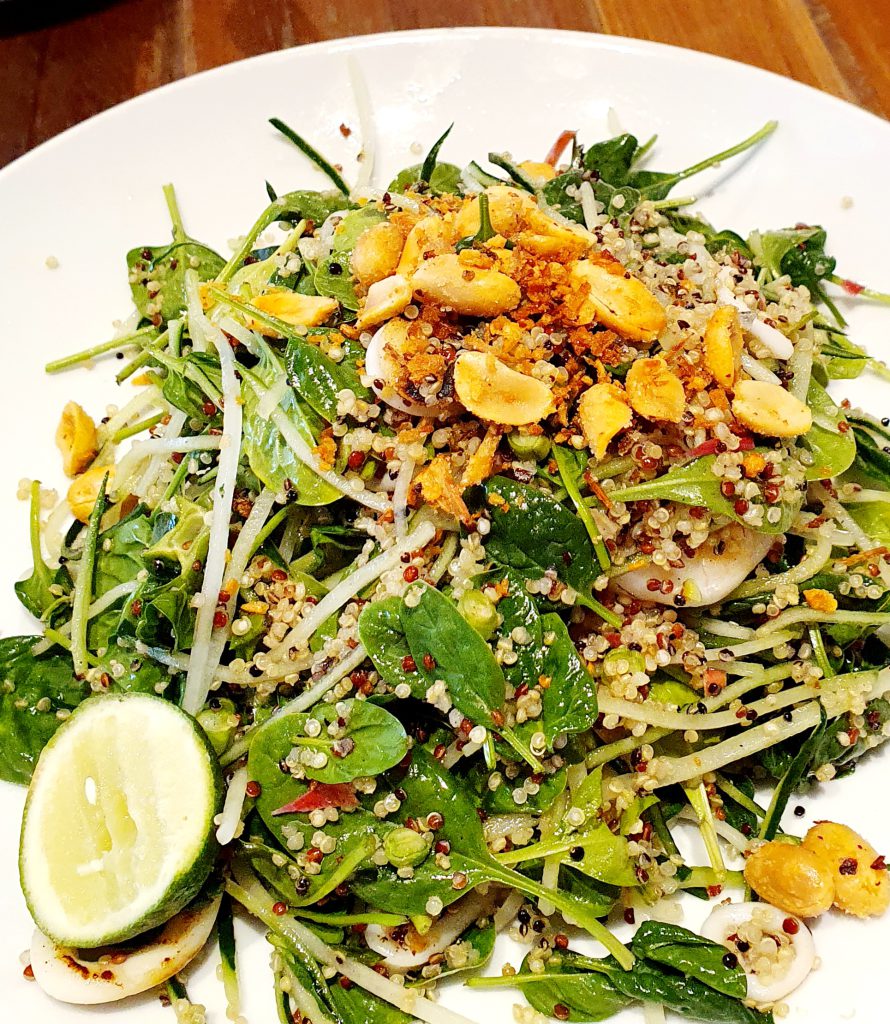 Quinoa Ulam with grilled lemongrass chicken, a bit similar to the Nasi Lemak above but with quinoa instead of rice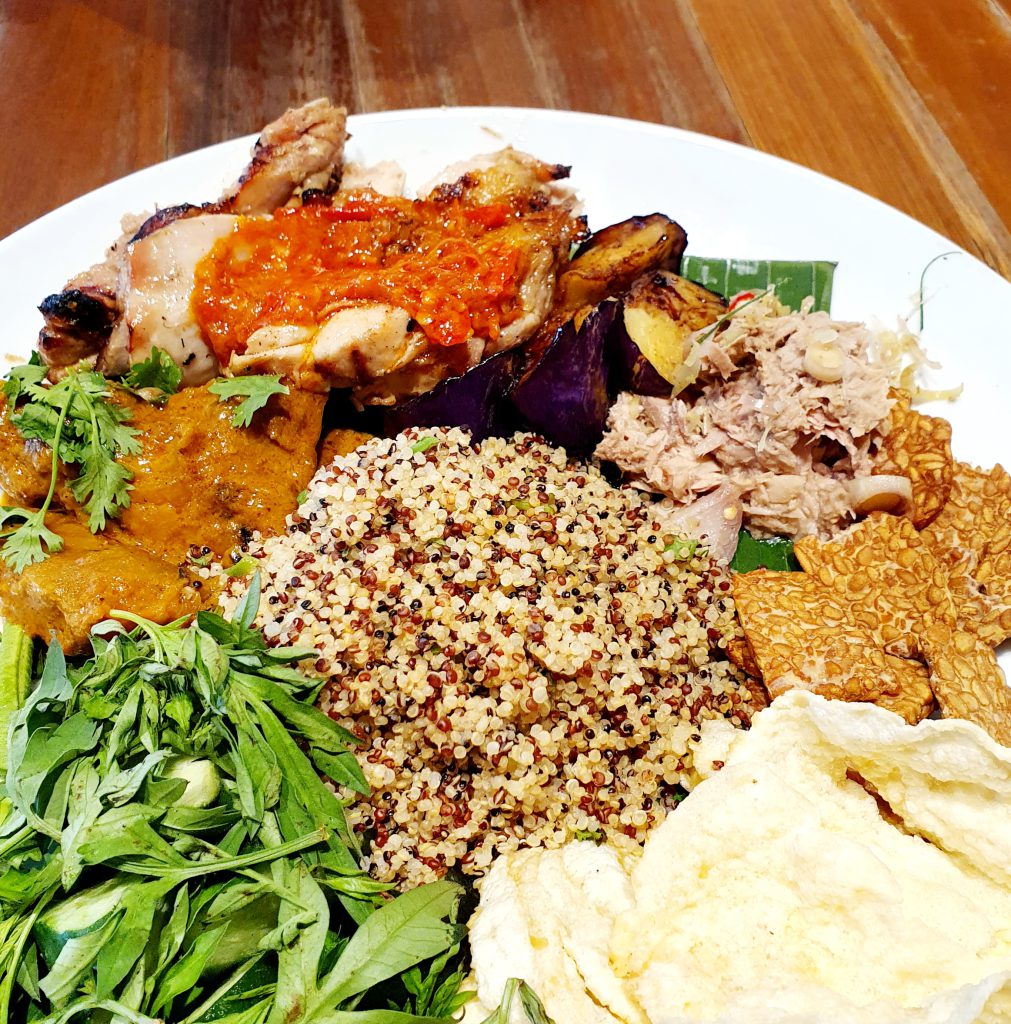 Afterwards we shared some Kaya Lamington and Carrot Cake. Strictly not needed after such a large brunch but as I was once advised by a chef: 食得是福 which means: Eating is a blessing (i.e. it is a blessing to be able to eat).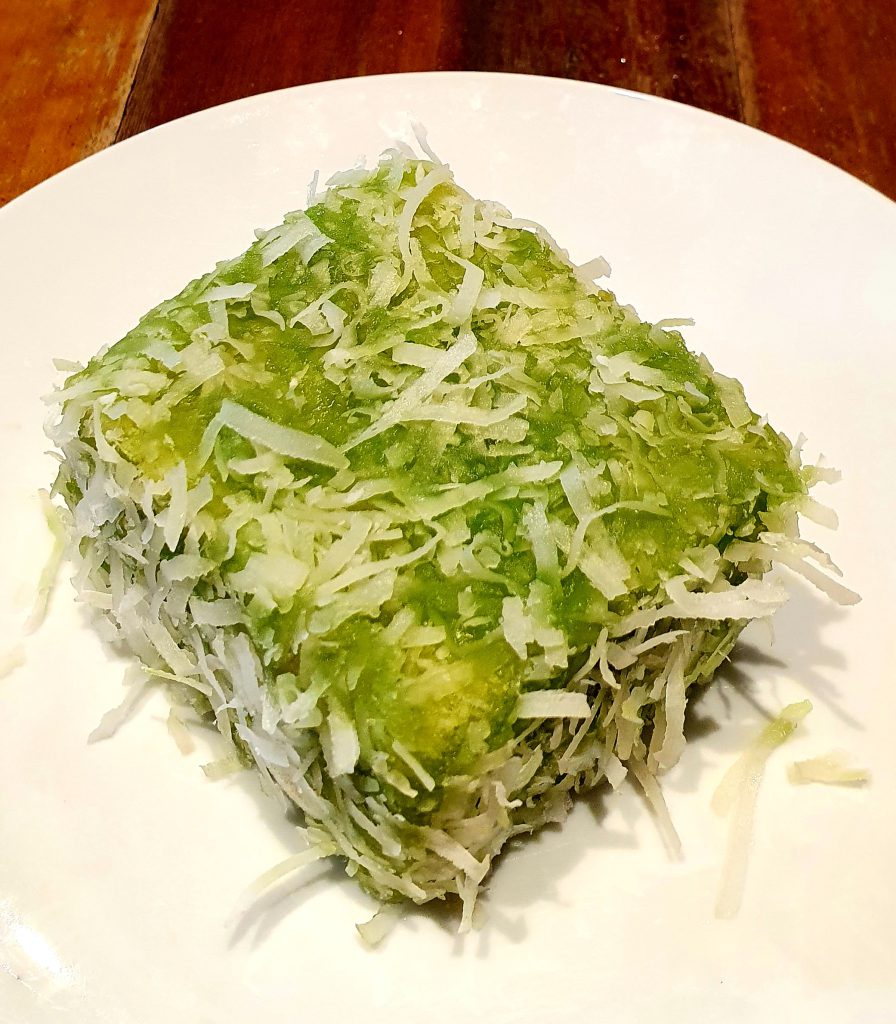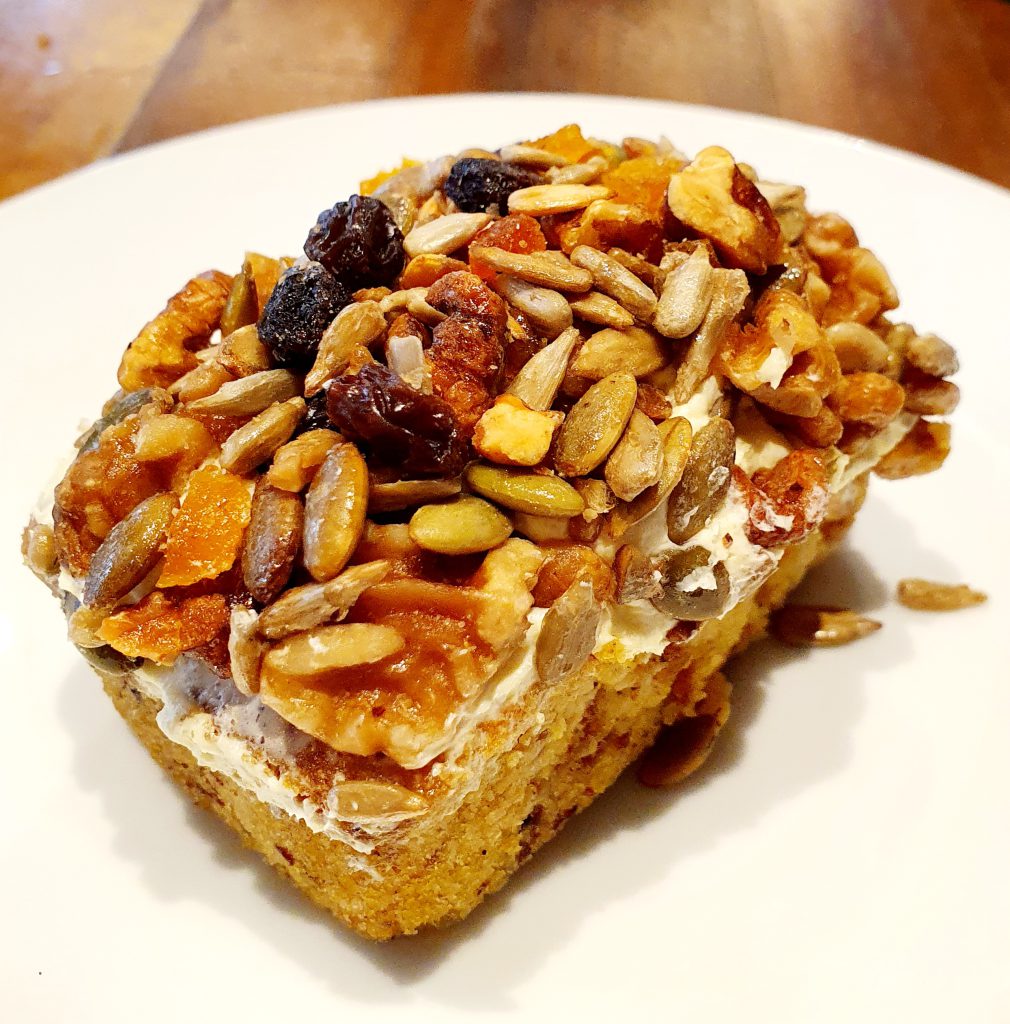 It is now towards the end of the day and I must wrap up and get some sleep. As I think back to Plan A and Plan B and Plan C and so on, I marvel that our (Christian) God only had the one Plan A. If you care to read the Bible in its entirety, from what it describes as the beginning of humanity (in Genesis) to the end of the world (in Revelation) the one theme running through it is that God wants to have a relationship with us.
We never have to look for God because it was in his plan to look for us and to bring us back into a right relationship with him. To that end he instituted many, many rescue plans throughout history. If we are honest we will admit that mostly we do not want to be rescued, because we think it is in our power to save ourselves.
As Christians we believe that ultimately something drastic had to be done in order for God to show us his grace and love in a way we would understand. This meant coming to earth in the human form of Christ Jesus. It is not science and it is not fiction but something else – a divine intervention that paved the way for all our wrongdoings to be forgiven, so that we can come clean as it were into the presence of a holy God.
And there you have it. If you ever find yourself struggling to make sense of the world, where your Plan As are not getting you anywhere, your Plan Bs falter and your Plan Cs fail, come and consider the good news of Jesus.