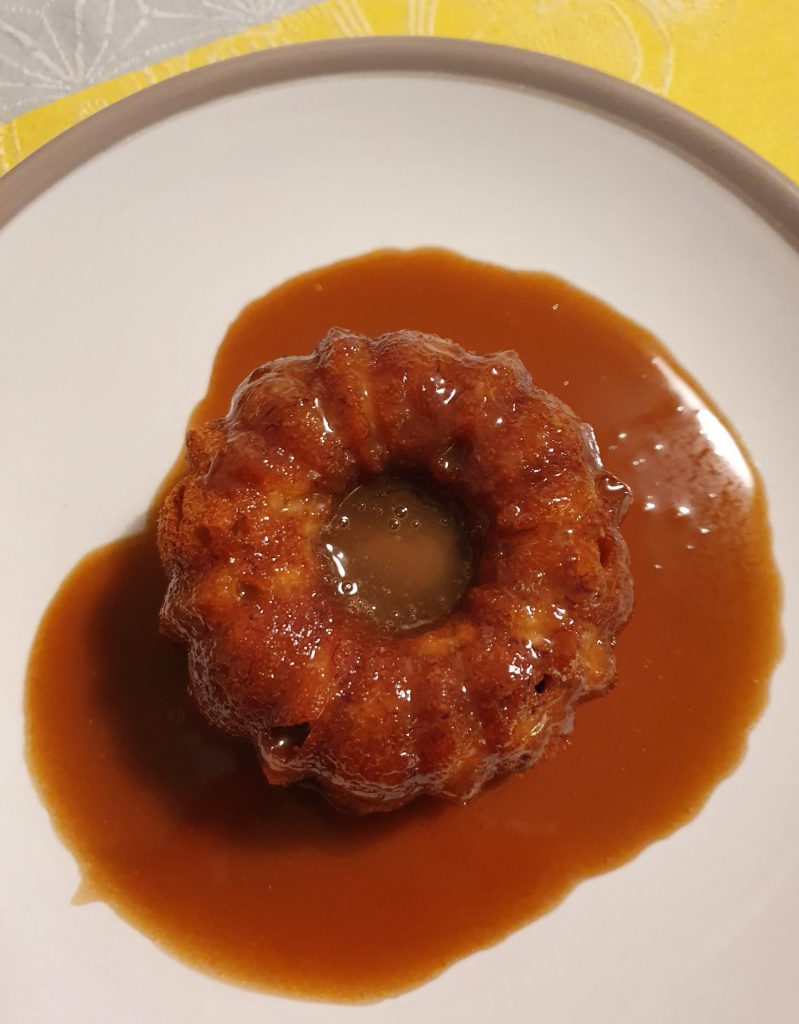 There are two types of people in the world when it comes to over-ripe bananas: those who make banana cake and those who make smoothies. I prefer going down the cake route but have sometimes frozen sliced bananas to blend with blueberries or mango.
The problem is that we have had no heating for the past week, so any activity that does not involve a mug of hot tea does not get a look-in. Our boiler is older than Junior 3 (now in university) and is not so much on its last legs as it is completely legless.
This has been an on-going saga for months now, but a new German boiler should hopefully be installed soon. When exactly? We are in the middle of a pandemic and Brexit so it is anybody's guess when our house will be warm again.
In the meantime, there is banana cake. There is a standard recipe, adapted from Nigella Lawson, that I always use. This time, however, I adapted a recipe from Sweet by Helen Goh, who worked at and developed all manner of sweet things at Ottolenghi.  The cake is light and soft, like fluffy clouds of banana as Niece Number 2 described it. There is only one way to improve it, which is to pour a Toffee Sauce over before serving.
The secret to any good banana cake is ripe bananas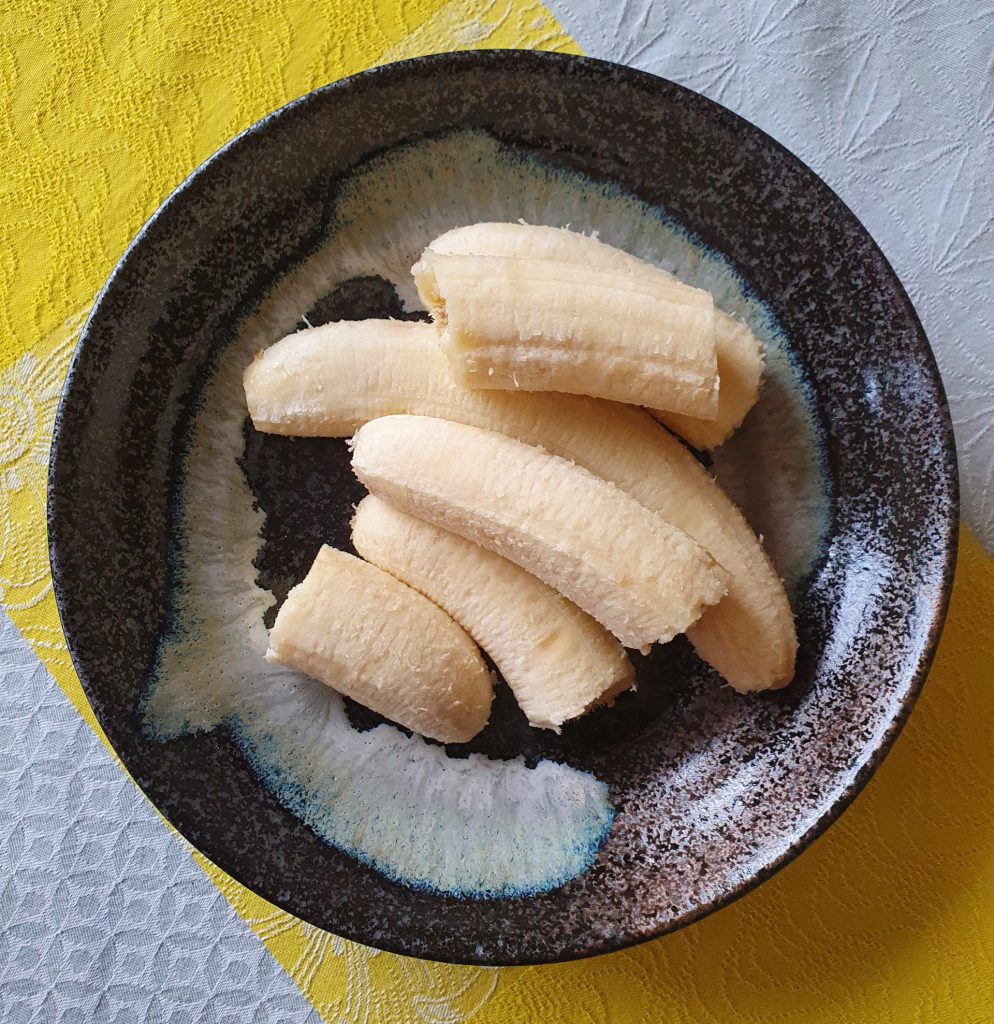 A mini bundt tin gives the cake a lovely shape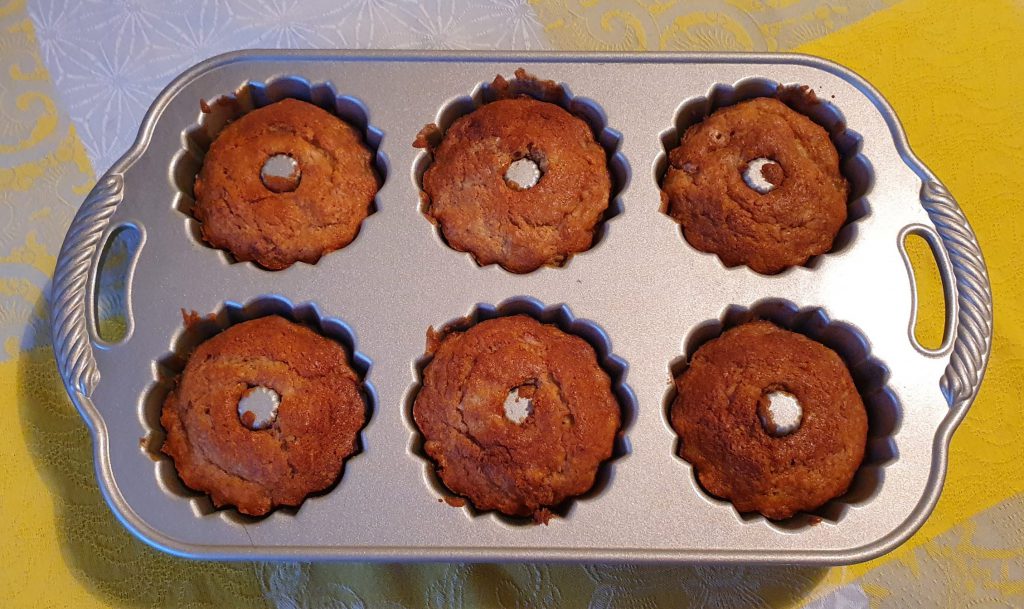 For the Cake:
150 g unsalted butter, softened
70 g unrefined caster sugar
70 g light brown soft sugar
3 large eggs
1½  teaspoons vanilla extract
165 g self-raising flour
100 g ground almonds
50 g desiccated coconut
⅛ teaspoon salt
1 teaspoon bicarbonate of soda
340 g ripe bananas, gently crushed
150 g soured cream
You will also need two six-hole mini bundt tins from Nordicware or you could use a muffin tray.
How to Make:
Preheat the oven to 180°C/160°C Fan/Gas Mark 4. Grease the bundt tins carefully with butter, then sift over a light dusting of flour.
Sift the flour, ground almonds, bicarbonate of soda and salt into a large bowl. Stir in the desiccated coconut and set aside.
Whisk the eggs in a jug. Add the vanilla and set aside.
Mix the sour cream into the crushed banana and set aside.
Place the butter and sugars in the bowl of an electric mixer (I use a KitchenAid) fitted with the paddle attachment. Beat on a medium-high speed until the texture has lightened.
Slowly pour in the egg mixture, continually beating until everything is combined.
With the motor still running, add in the flour mixture bit by bit, using a large spoon. At the end of this you will have a homogenous batter.
Switch the motor off and remove the mixing bowl from the stand. Using a spatula, fold in the banana mixture.
Spoon the mixture into the prepared bundt tins. This is quite fiddly so consider using a piping bag if you want very neat results.
Bake in the preheated oven for 25-28 minutes, or until the cake bounces back when touched. A metal skewer inserted in the centre should come out clean.
Remove from the oven and wait until the tins are cool enough to handle. Turn the cakes out onto a wire rack. They can be eaten immediately. later or even frozen.
It is easy to reheat the cakes and sauce (see below) in the microwave.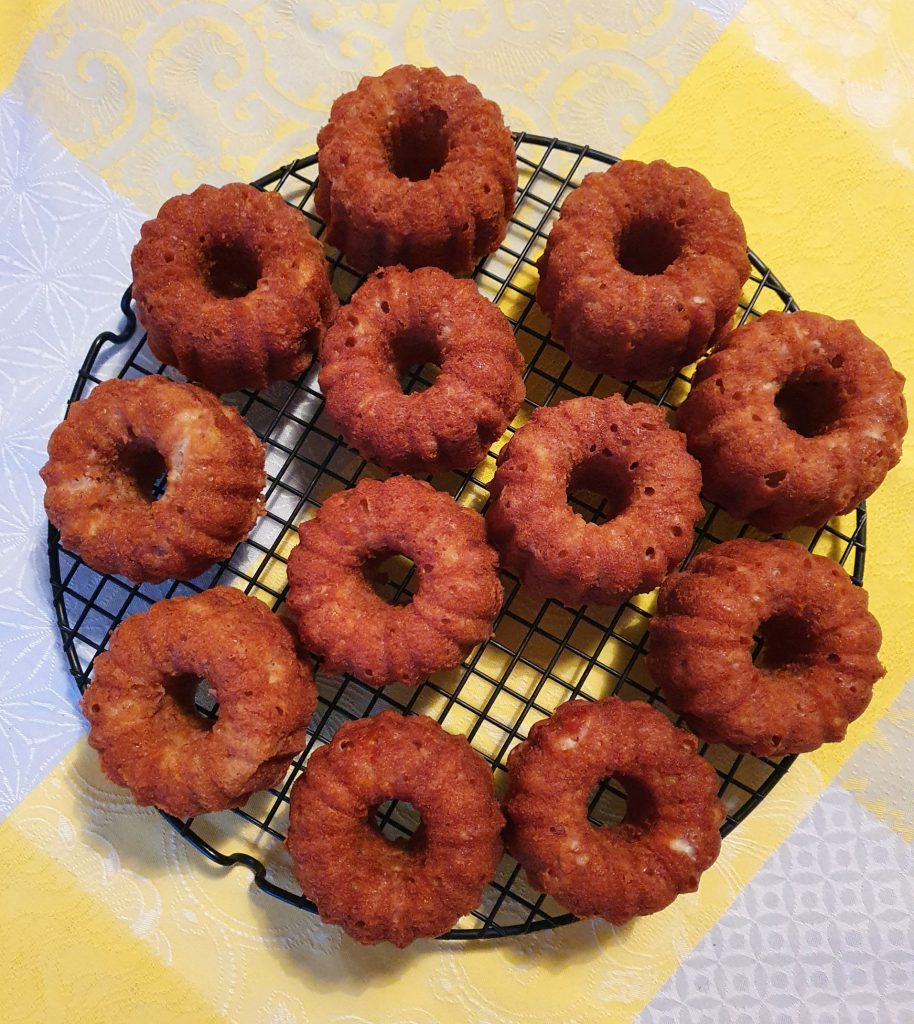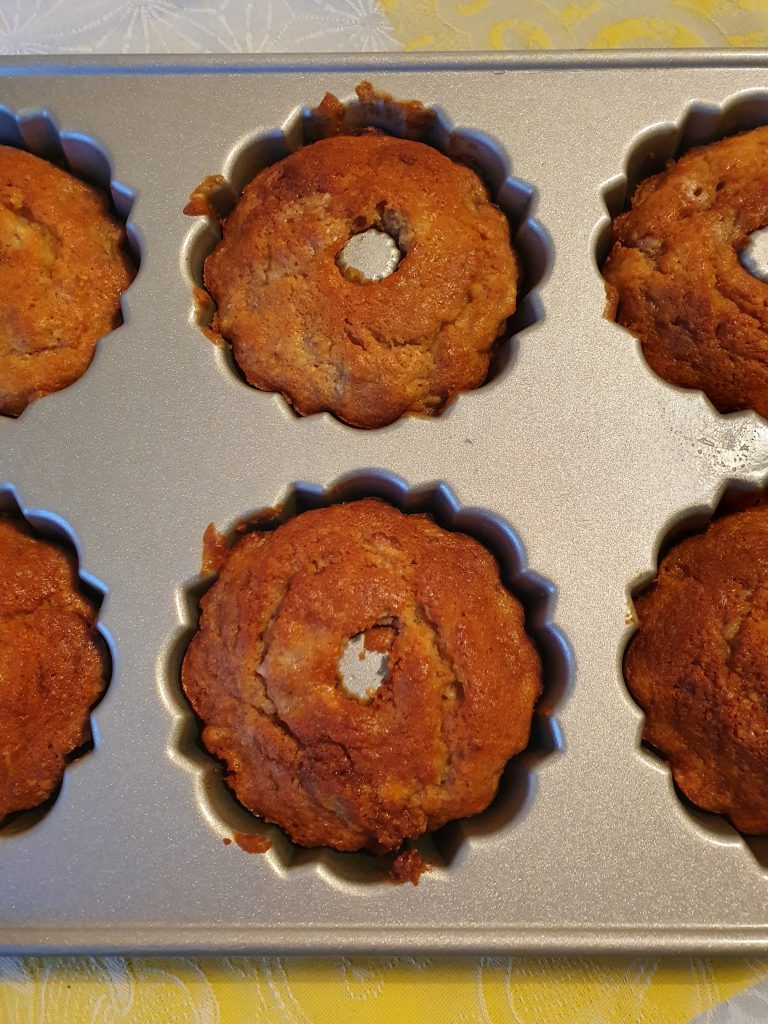 The Toffee Sauce is what I use for the Sticky Toffee Pudding, and it is delicious. However I did think that it could be adapted to make a Coconut and Rum Sauce, so I have given the recipe for this afterwards.
Toffee Sauce:
250 g double cream
125 g dark muscovado sugar
75 g unsalted butter, cut in cubes
50 g golden syrup
1 teaspoon vanilla extract
Large pinch of salt
Coconut and Rum Sauce:
200 g tinned coconut milk
125 g dark muscovado sugar or palm sugar
75 g unsalted butter, cut in cubes
50 g golden syrup
3 tablespoons rum
Large pinch of salt
Simply place all the sauce ingredients in a small pot. Simmer for around 5 minutes, stirring a little, until the sauce is slightly thickened.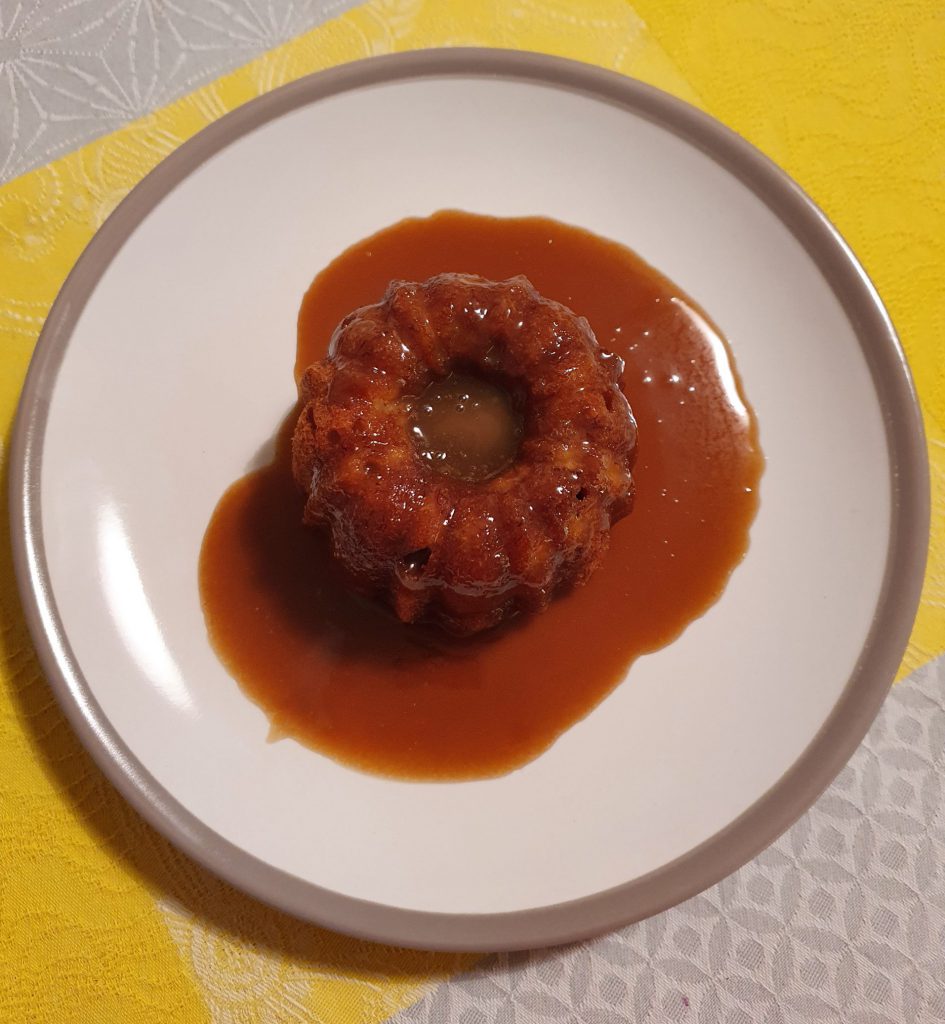 Sweet by Yotam Ottolenghi and Helen Goh, published by Ebury Press, ISBN 978-1785031144.