The British Prime Minister making his announcement on Monday night…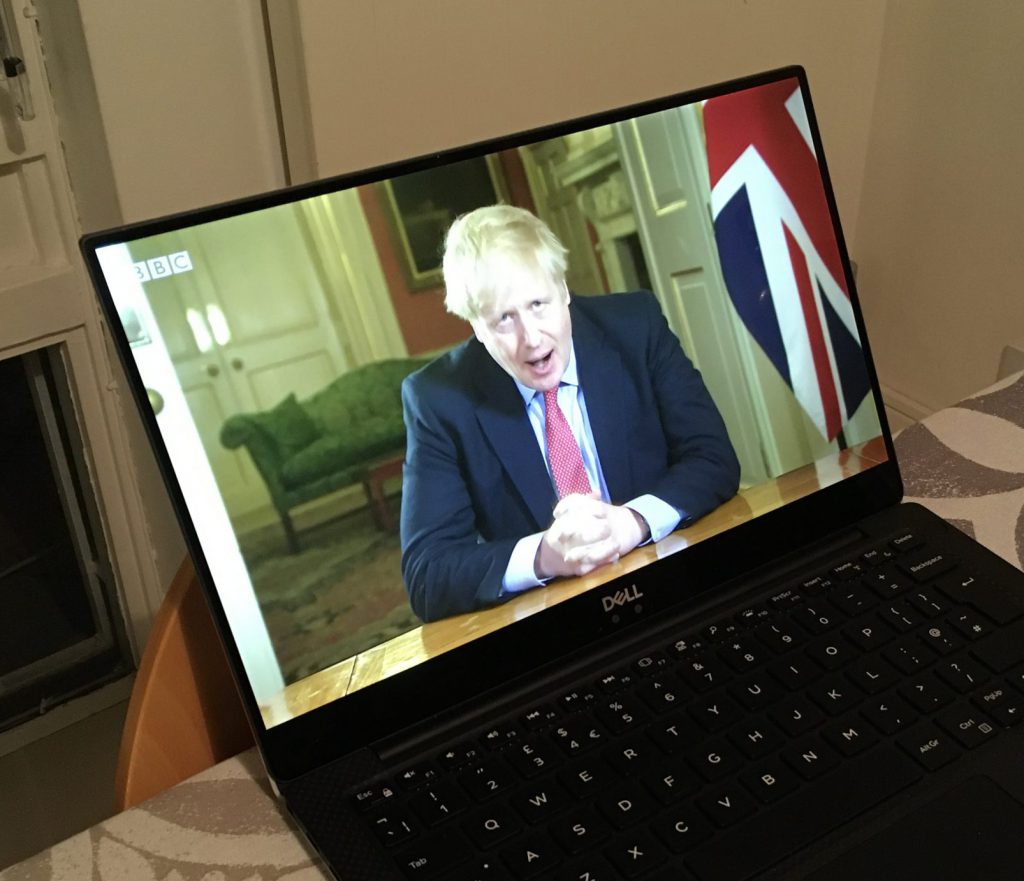 …no more Strictly Come Dancing, it is now Strictly Social Distancing
From Psalm 103: 1 – 5:
Bless the Lord, O my soul,
and all that is within me bless his holy name!
Bless the Lord, O my soul,
and forget not all his benefits
who forgives all your iniquity
who heals all your diseases
who redeems your life from the pit
who crowns you with steadfast love and mercy
who satisfies you with good so that your youth is renewed like the eagle's.
I wanted to share the beginning verses of Psalm 103 because at this time of global panic it is so easy for us to blame rather than bless. There were several times when I sat on the sofa shaking my head at the stupidity of people who travel to virus hotspots and then wonder why they are now in hospital.
And then I think: I have had a good run, with three trips to the Far East in the first seven weeks of the year and not so much as a sniffly nose to complain about. There have been meetings, church on Sunday and meals out until two weeks ago. Up to last weekend we had been sharing our meals with students at our home.
Really, short of a government directive my life has been no different to anyone else's with regard to a life-goes-on attitude. To be sure, I was extremely cautious and stayed away from crowds and refrained from any physical contact. Nevertheless I did head out the door when I needed to.
Junior 3 cooked this Slow-roast Gochujang Chicken which we ate whilst listening to the news that London is now in lockdown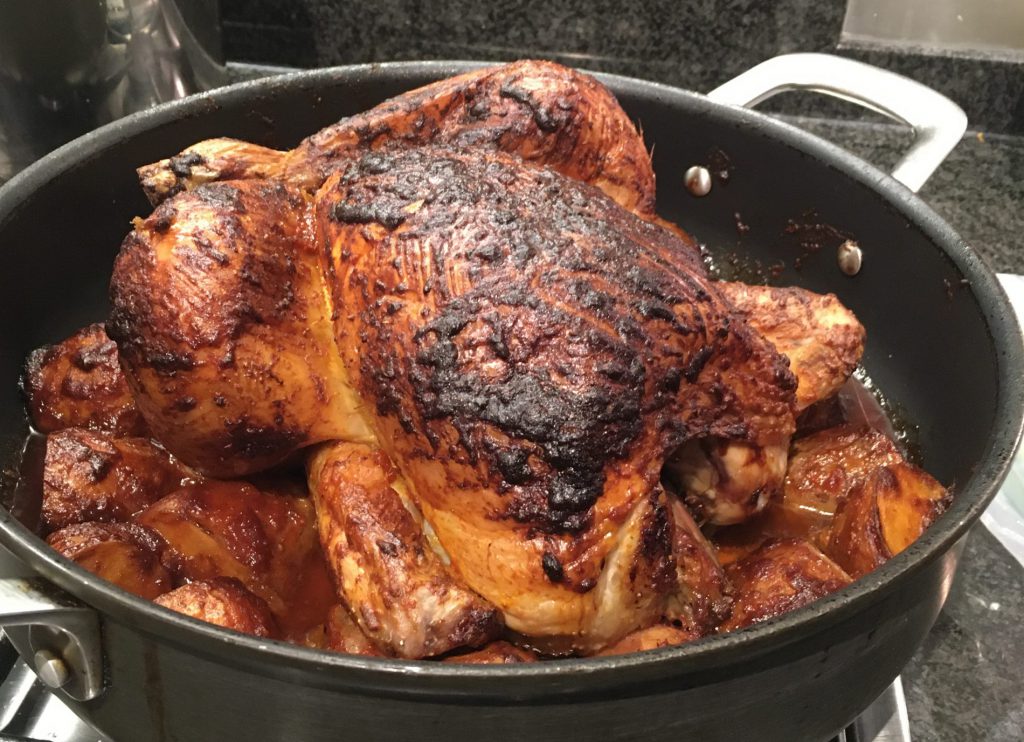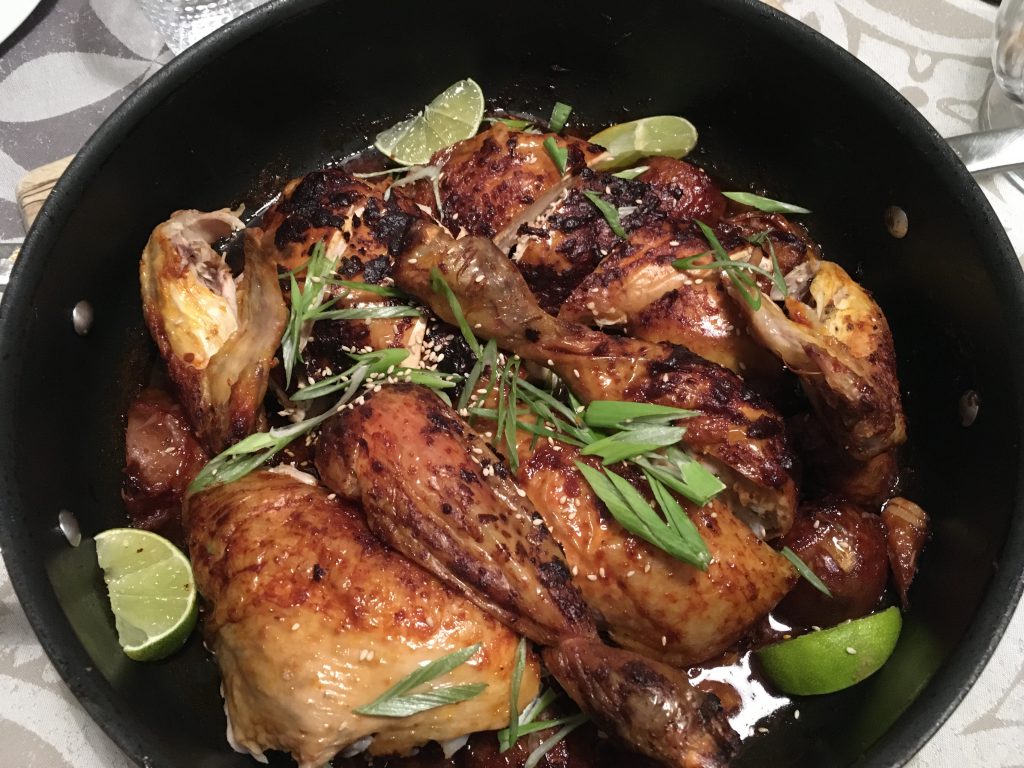 Overnight everything has changed. Beginning on Tuesday we must stay at home and to only go outside for food, health reasons or work (but only if we cannot work from home). We are to stay 2 metres (6 feet) away from other people. Most sensibly, we must wash our hands for at least 20 seconds with hot water and soap as soon as we get home.
Overnight our household food consumption has more than tripled with four adults now eating all meals in.
After the trauma of going into a Waitrose with all shelves emptied, I decided to order our food and sundries online. It has been almost impossible to get into the sites themselves but we persevere. One of the reasons is that we know that we can spread the virus even if we do not have any of the symptoms. So the other person in the shop is my enemy in this viral war, as I am his enemy. The less contact we have with the outside world the better it will be in the long run for our entire community and country.
We would like to swim and not sink in this lockdown. Fortunately as a family we are very disciplined and we continue to maintain a daily work routine, dividing up the available space between ourselves so we avoid getting distracted by the other person's work conversations.
We meet for an hour over a shared lunch, where we catch up with world news, discuss what to have for dinner and play the New York Times' Spelling Bee. I almost always get the pangram at first go and then we each choose one letter to make words up.
We have been cooking different things and here I must admit that the first few days in the kitchen were frustrating ones for me. I love order and knowing where things are. I love placing dishes, cups and cutlery in the dishwasher in a set way. I love the hot water pot topped to its maximum 4 litre capacity at all times. In short, I really am a nightmare for the children to have around when they have offered to cook a meal.
After a few such skirmishes I realised that I am going to let go. My meals will be simple, Junior 3's meals will be complicated (he is hand-making noodles as I write) and Junior 2's meals will be vegetarian. I will do all the washing up because no one cleans the kitchen as well as I do.
Junior 2's vegetarian pasta and Korean jap chae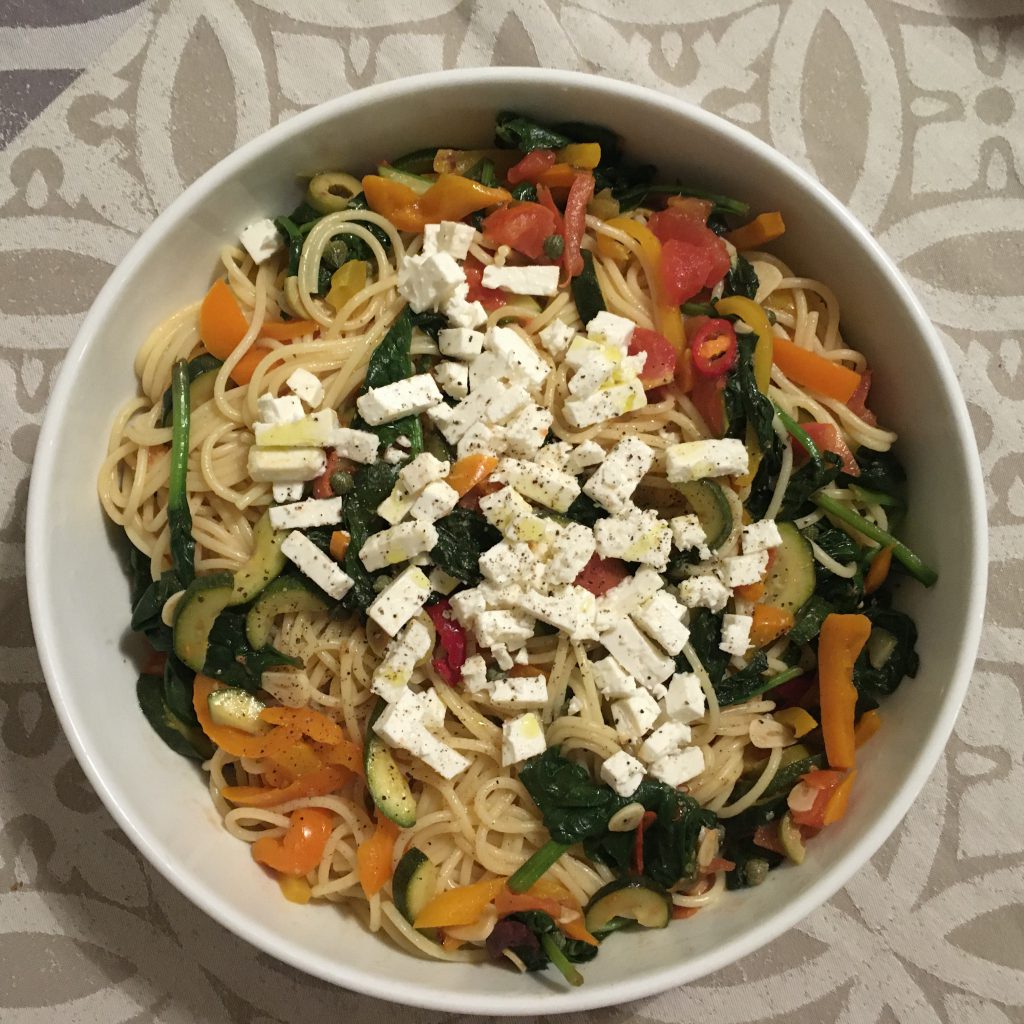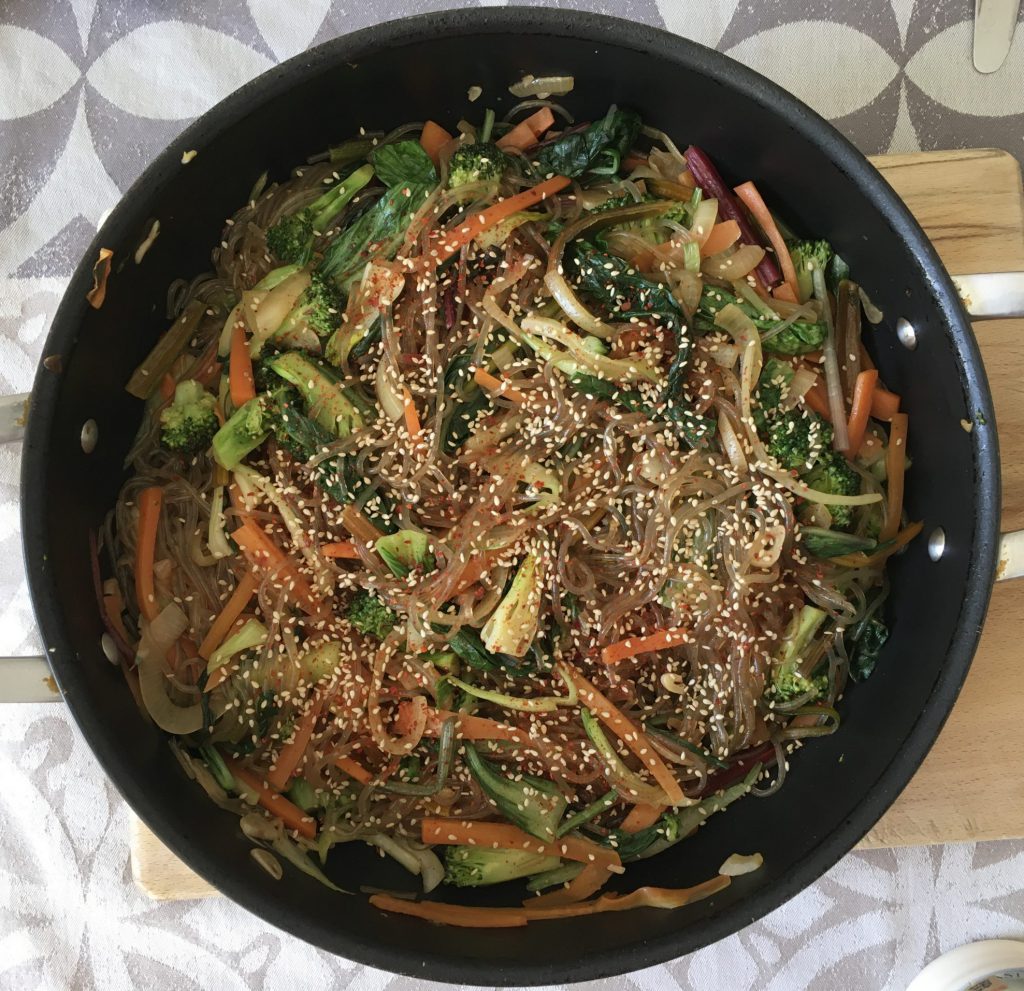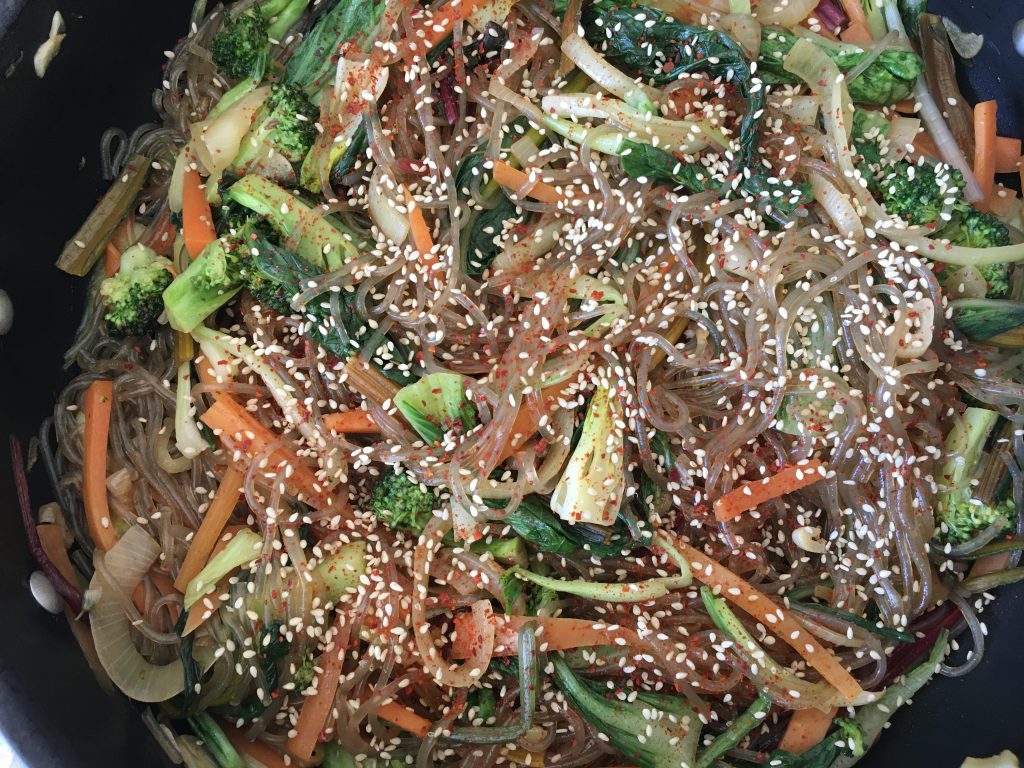 Eating simply but healthily with more vegetables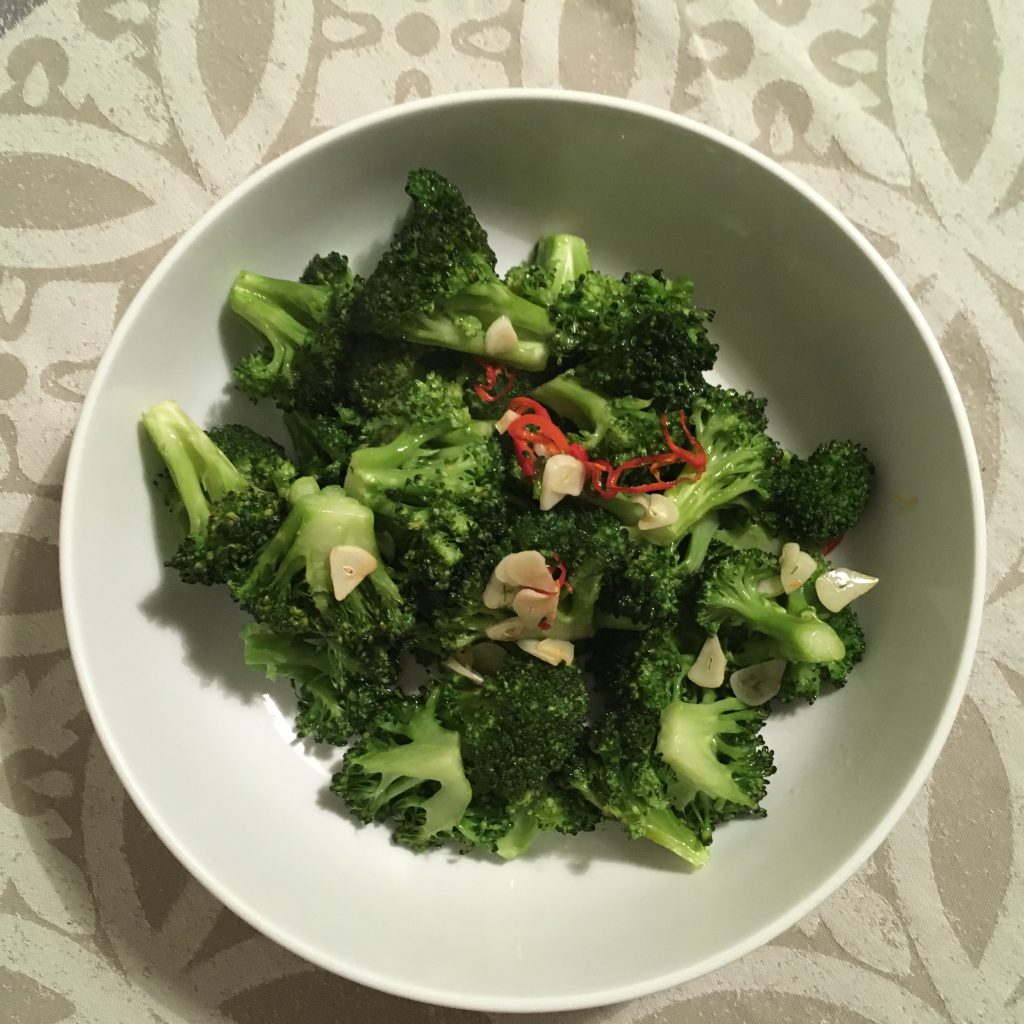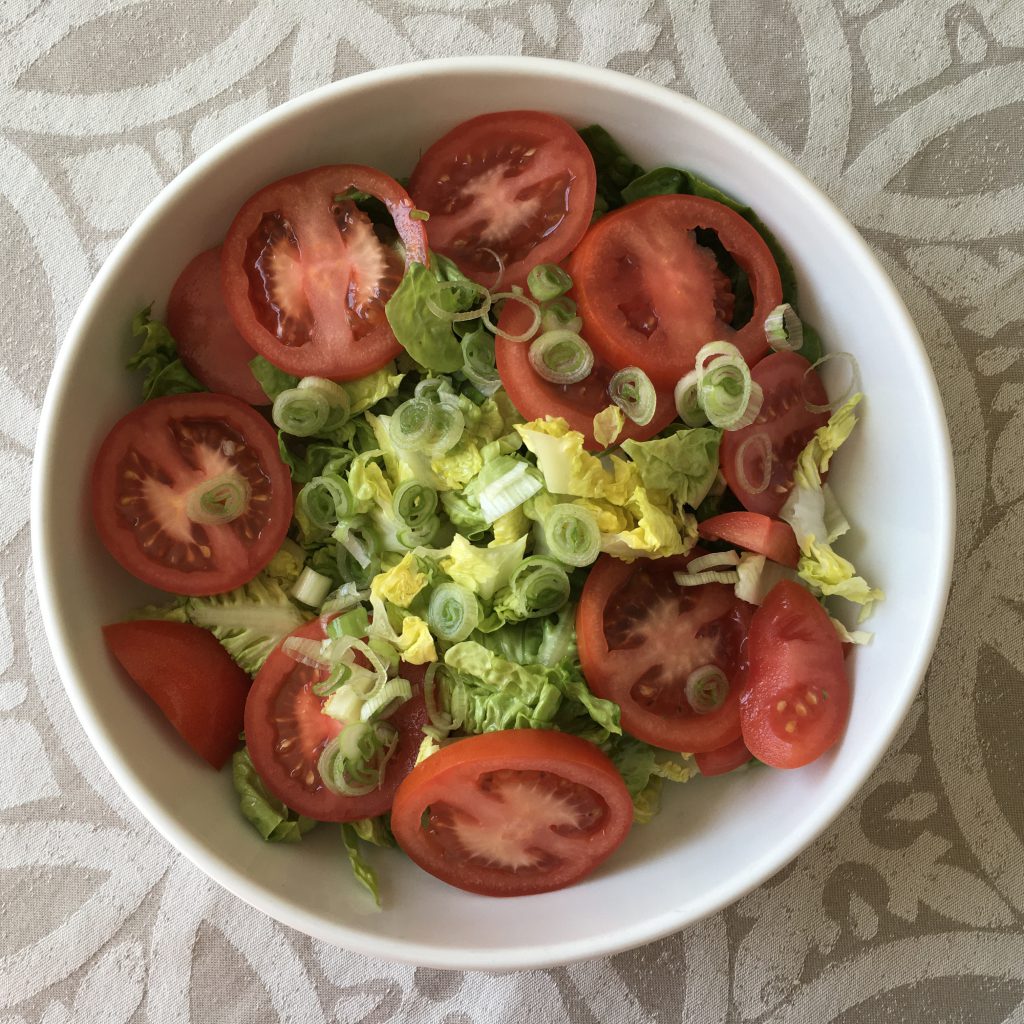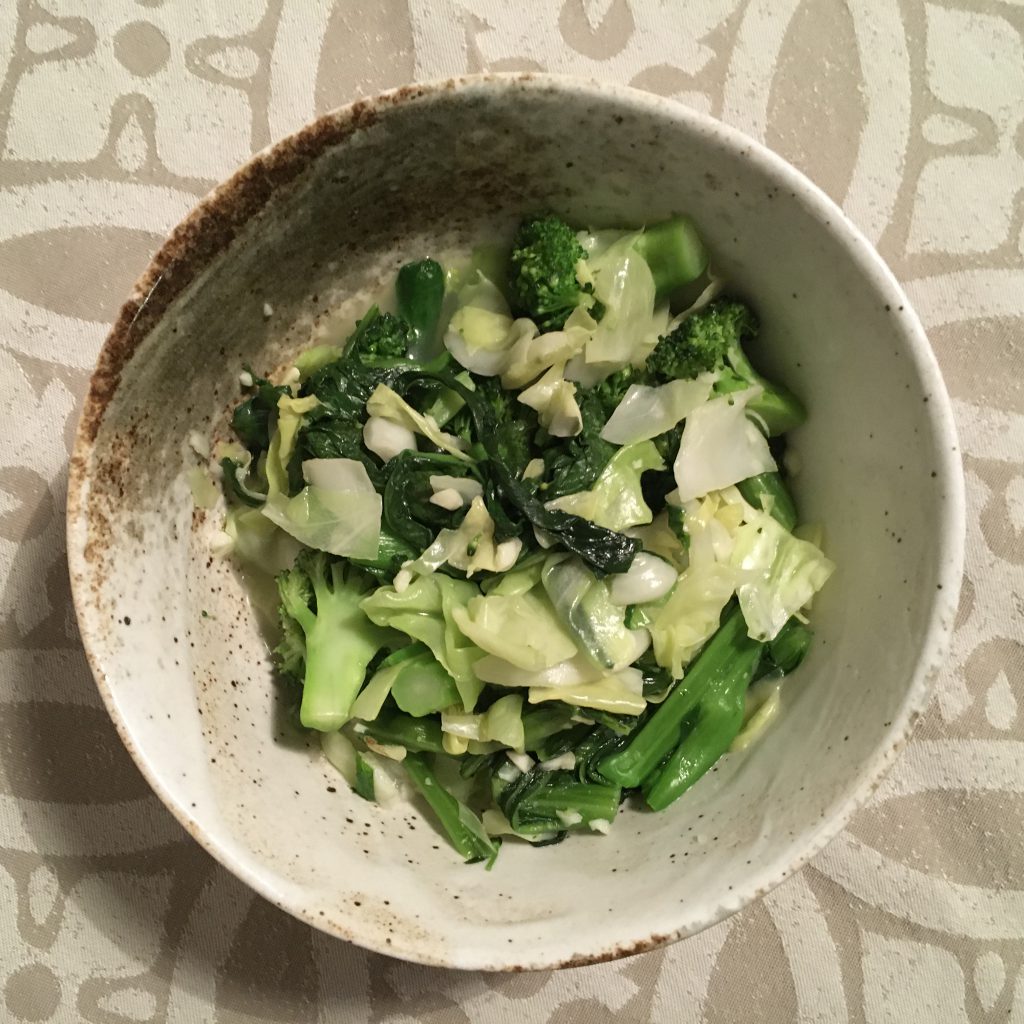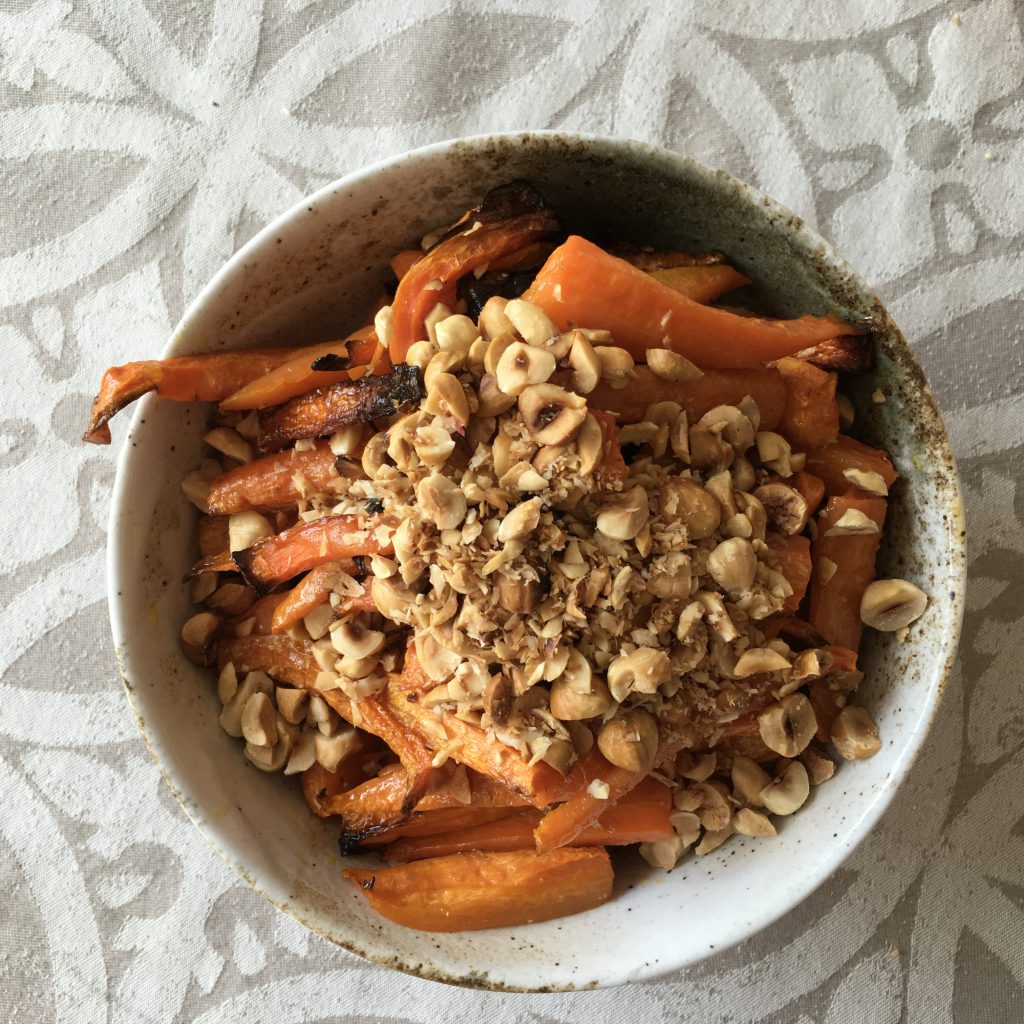 I am still the resident baker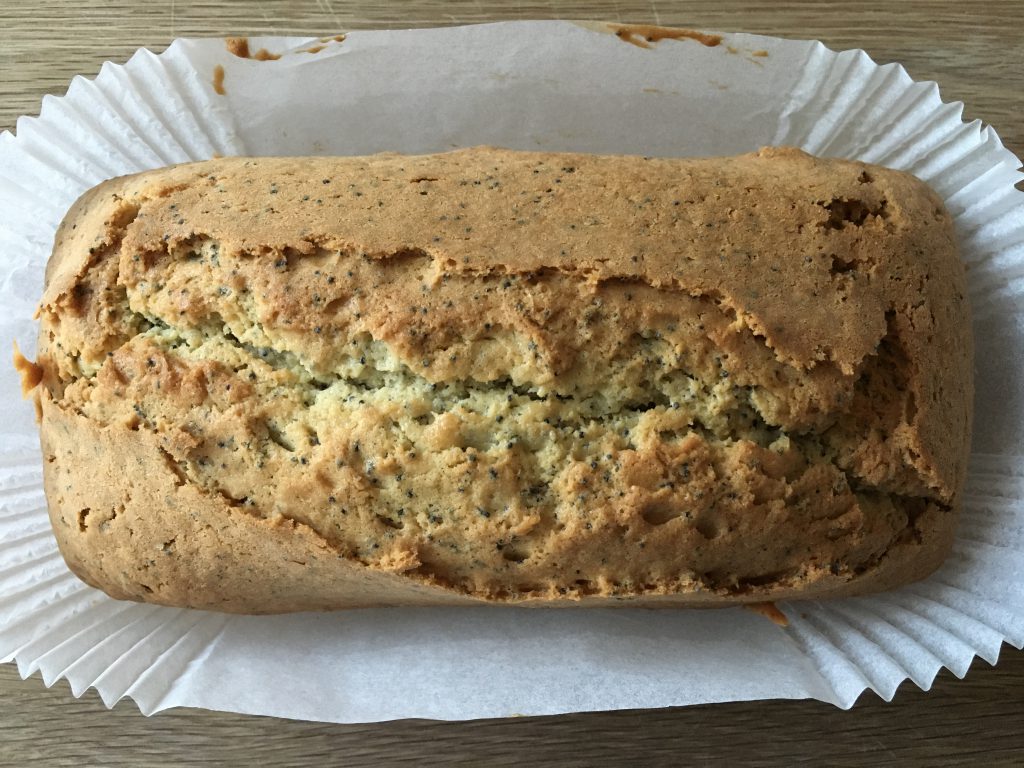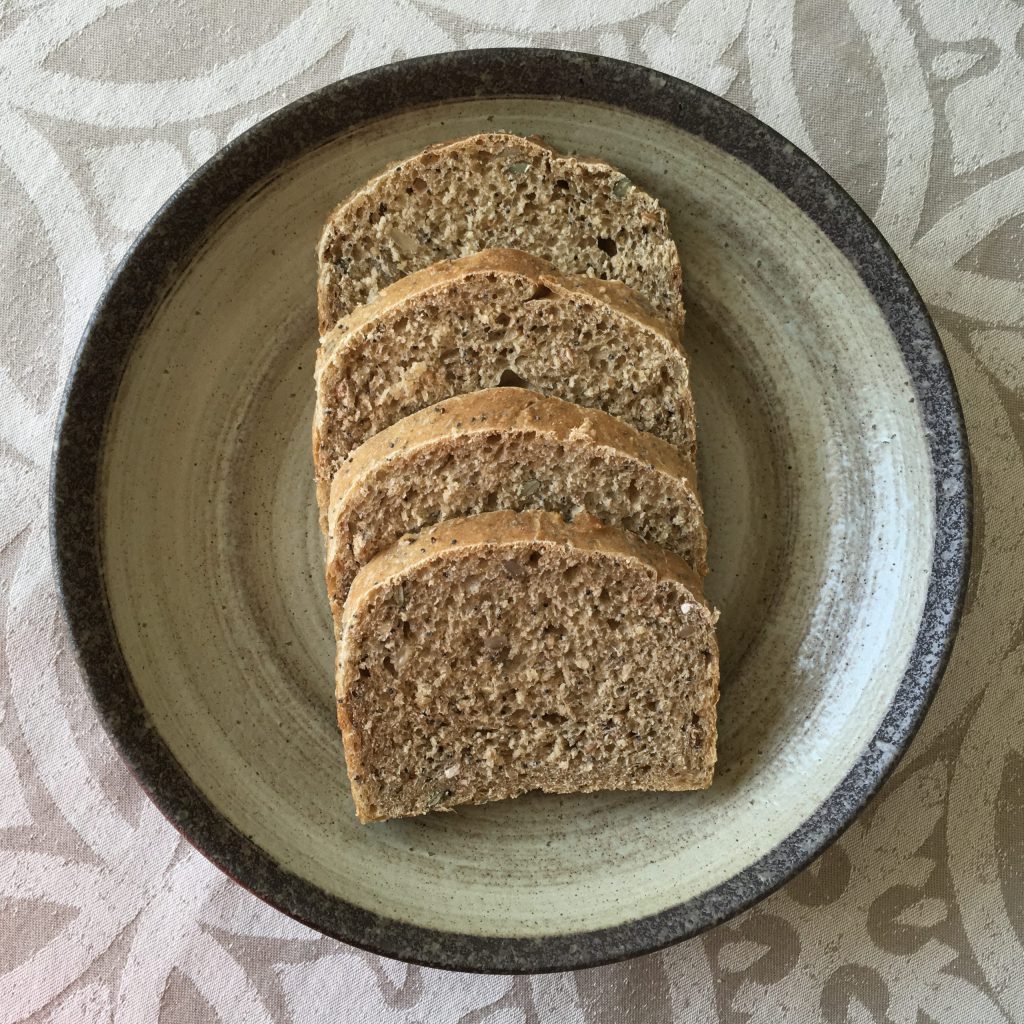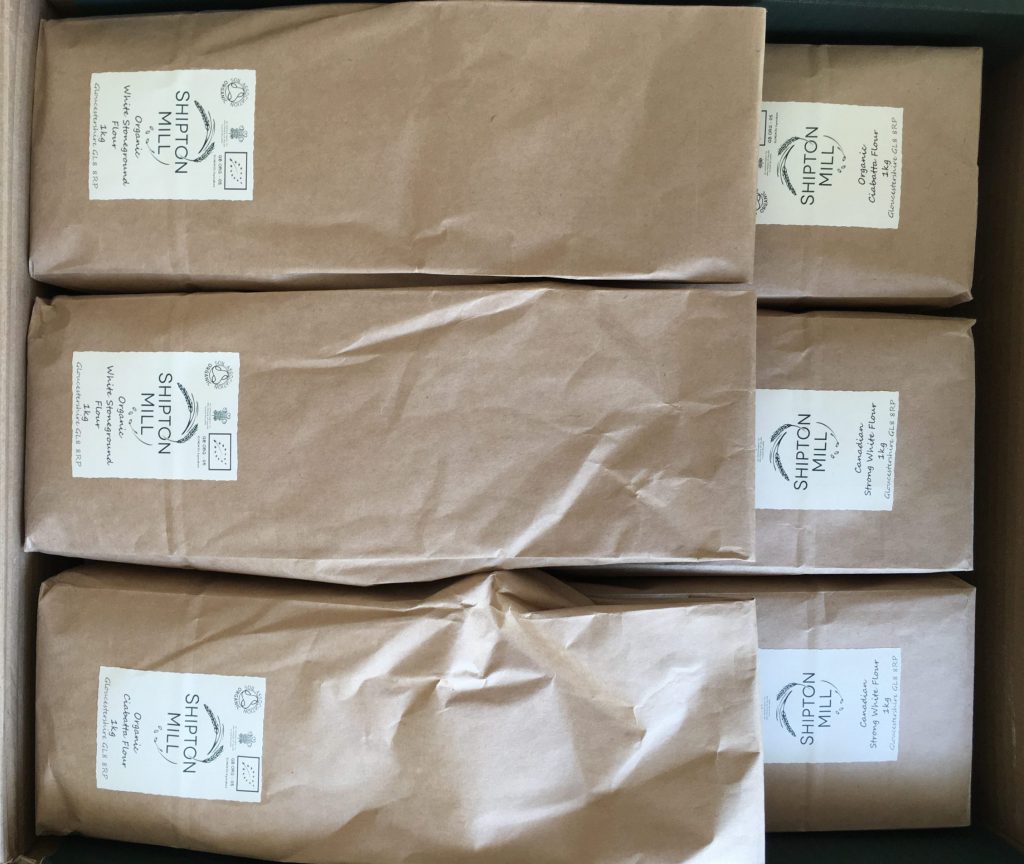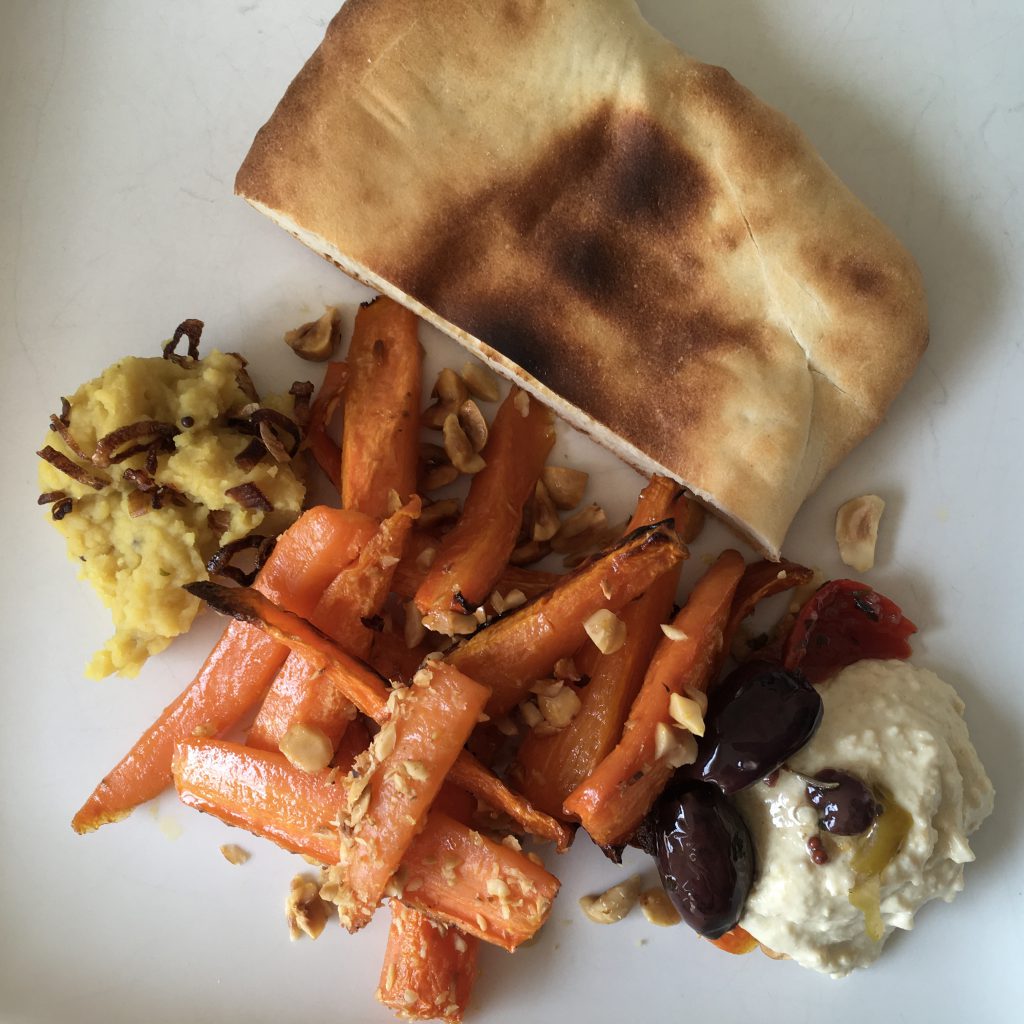 Last night I received a message from Ocado, the company which delivers my food. I have been a customer since its first day of trading and for that I am rewarded: we consider you to be one of our best customers, so we've set up a temporary priority queue to enable you to book a delivery slot each week.
Prior to this I have had to wait two hours to get in to the site, only to find out that there are no delivery slots for three weeks, so I guess this is the food shopping equivalent of a Golden Ticket. The terms are that I get one delivery slot a week, a limited time in which to put my order in and no guarantee that I will be able to get the items I need or to edit the order once it is placed.
I don't watch game shows but felt suddenly compelled to look up something I had heard of called Supermarket Sweep. I can now understand why this show was so popular. In the past two weeks any cameraman could have filmed a live version in any of our supermarkets. I guess even shopping online will be like this now.
But at the end of the day I am grateful to live in a country where there is not only food, there is fresh water from the taps. I have two shared meals daily with nice people. I remind myself everyday: don't ever, ever, ever complain.