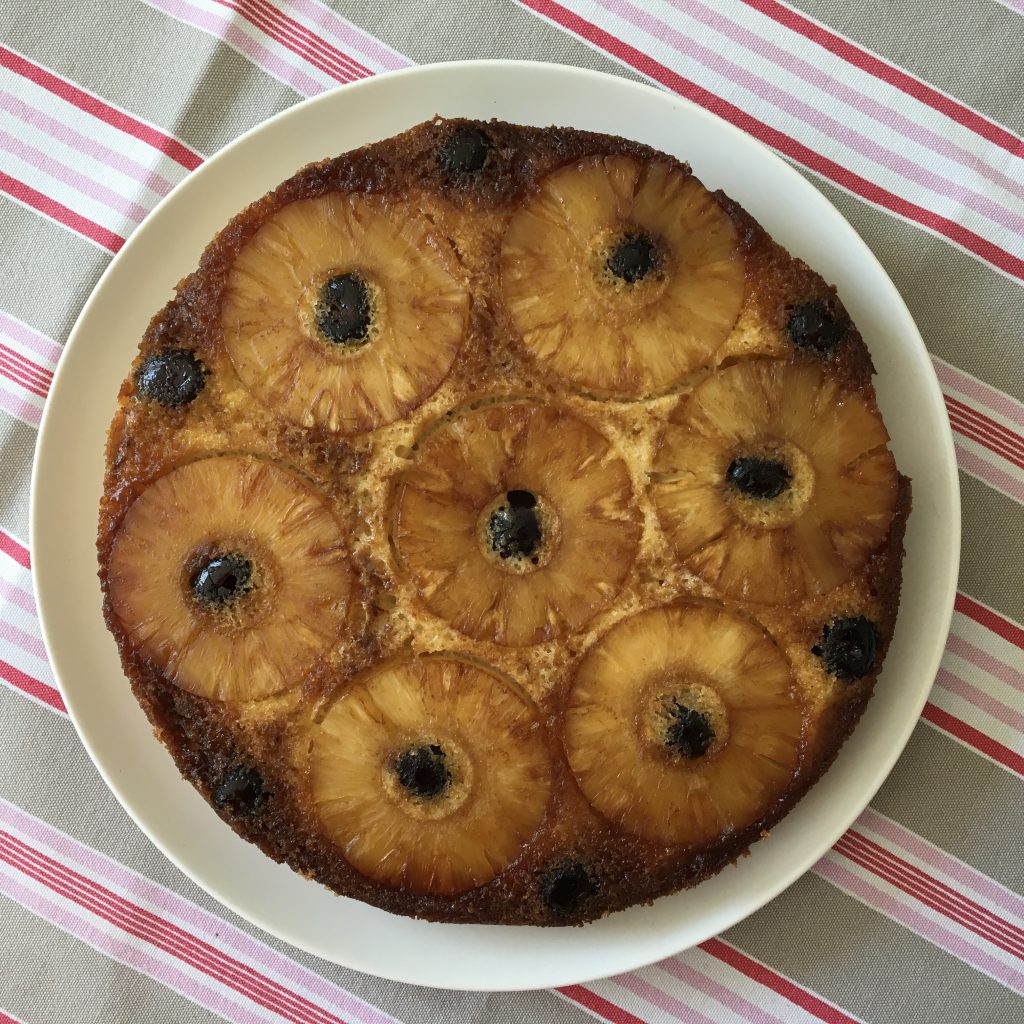 The world seems to be upside-down at the moment due to the novel coronavirus pandemic. We had a few prior commitments to see through this week but from today we are strictly applying the stay-at-home rule to ourselves.
This means staying in 24/7 unless we have to do grocery shopping or to collect something from the pharmacy. Everywhere else is a no go area.
Grocery shopping is unavoidable because despite our best efforts, our regular online supermarket and farm shop are not taking any new orders, and they cannot say when this situation will change. So it is entirely unrealistic to think we can remain house-bound if we need to top up our fruit and vegetables.
I managed to pick up two tins of pineapple before the current food-grab descended and stripped the shelves of everything. Looking at the tub of glace cherries leftover from Christmas, an idea formed that a pineapple upside-down cake would be a lovely way to end our Mother's Day lunch. Besides having Juniors 2 and 3 back home from college, we have also adopted two other students for the weekend.
Our happy little band of six have been sharing stories of college crises when the libraries are shut, exams and graduations cancelled and the inadequacies of both Microsoft Teams and Zoom as platforms for long-distance group tutorials. When I listen to them, it is as if I were back in university with my own friends 35 years ago.
The cake, for all its last minute preparation and simplicity, turned out very well. I would have made a vanilla custard to go with it but there is a nationwide shortage of eggs. For the first time in my life I counted how many eggs our family used in the last 24 hours: 3 for Saturday lunch, 2½ in brioche buns, 5½ for Saturday dinner's onion, pepper and cherry tomato omelette, 4 fried with some radish cake for Sunday breakfast and 3 for the cake. That makes one and a half dozen and I feel slightly dizzy thinking about this.
Our Prime Minister has apologised to the British public for ordering the closure of pubs because he understands the inalienable free-born right of people born in England to go to the pub. I am speechless. He should be apologising for a lack of basic things like rice, oil and eggs in the supermarkets instead.
Two of the basic ingredients to the cake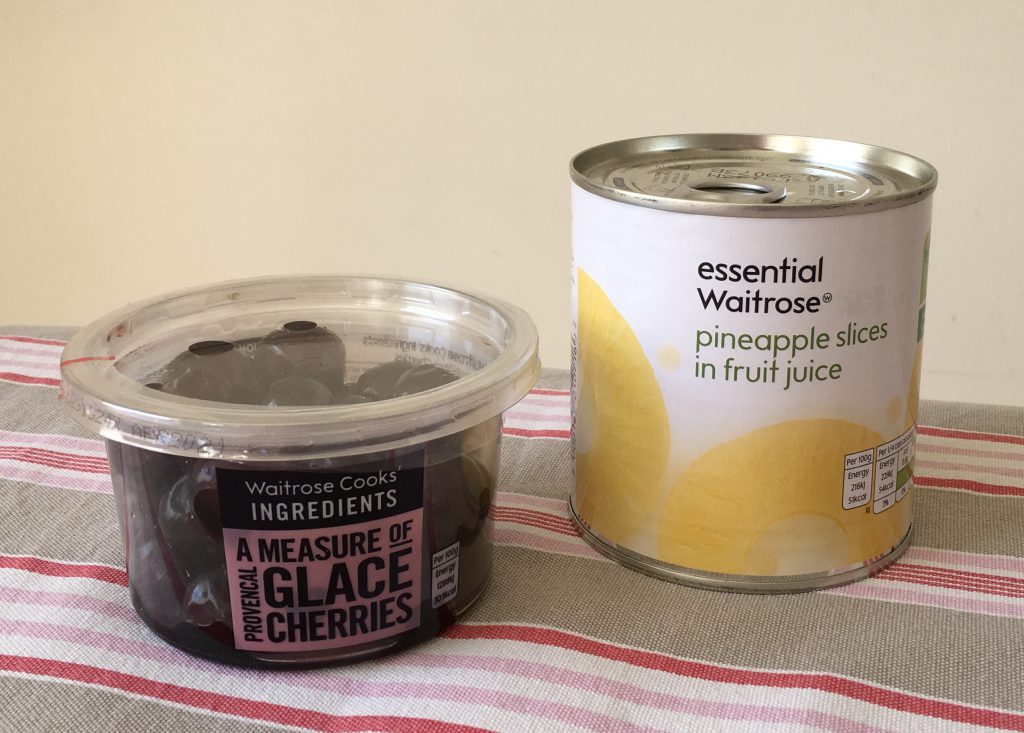 How to arrange the pineapple slices and cherries before spooning the cake batter on top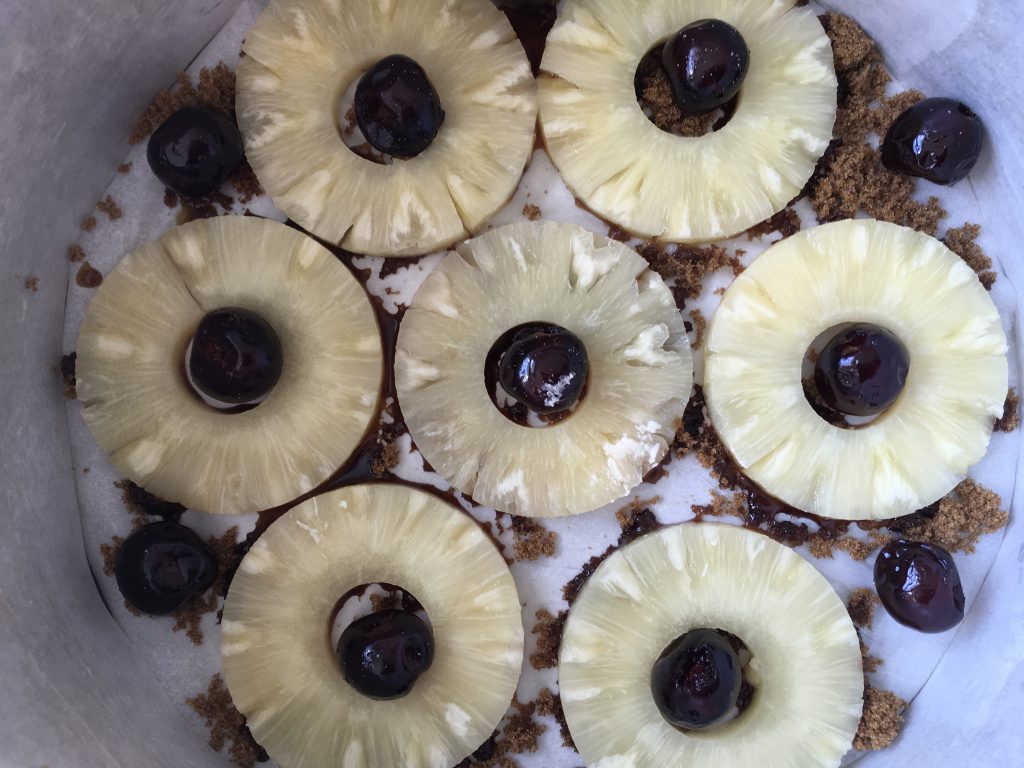 For the Cake:
50 g dark brown soft sugar
1 x 425 – 450 g tinned pineapple slices
100 g (13) glace cherries
175 g unsalted butter, softened
125 g unrefined caster sugar
3 eggs
175 g self-raising flour
¼ teaspoon baking powder
2 tablespoons pineapple juice/ syrup
2 teaspoons vanilla extract
You will also need a round 10 inch / 25 cm baking tin, lined at the bottom and sides with baking paper.
How to Make:
Preheat the oven to 180°C/ 350°F/ Gas 4.
Sprinkle the soft brown sugar on the base of the cake tin (make sure this is lined with baking paper).
Place six pineapple rings round the base of the cake tin and one ring in the middle.
Place the glace cherries in the middle of each pineapple ring and in between the rings on the outer edge.
Place the butter, sugar, eggs, pineapple juice/ syrup and vanilla extract in a large mixing bowl.
Sift over the flour and baking powder.
Using a hand-held electric beater, whisk all the ingredients until well mixed. You can also use a freestanding mixer like the KitchenAid.
Spoon the mixture into the prepared tin.
Level the surface and bake in the oven for 40 minutes or until the cake bounces back when touched. A metal skewer inserted in the centre should come out clean.
Leave the cake to cool slightly in the tin before turning out onto a plate to serve.
We served the cake with some clotted cream which we managed to find, because cream is not a necessity at this moment in time