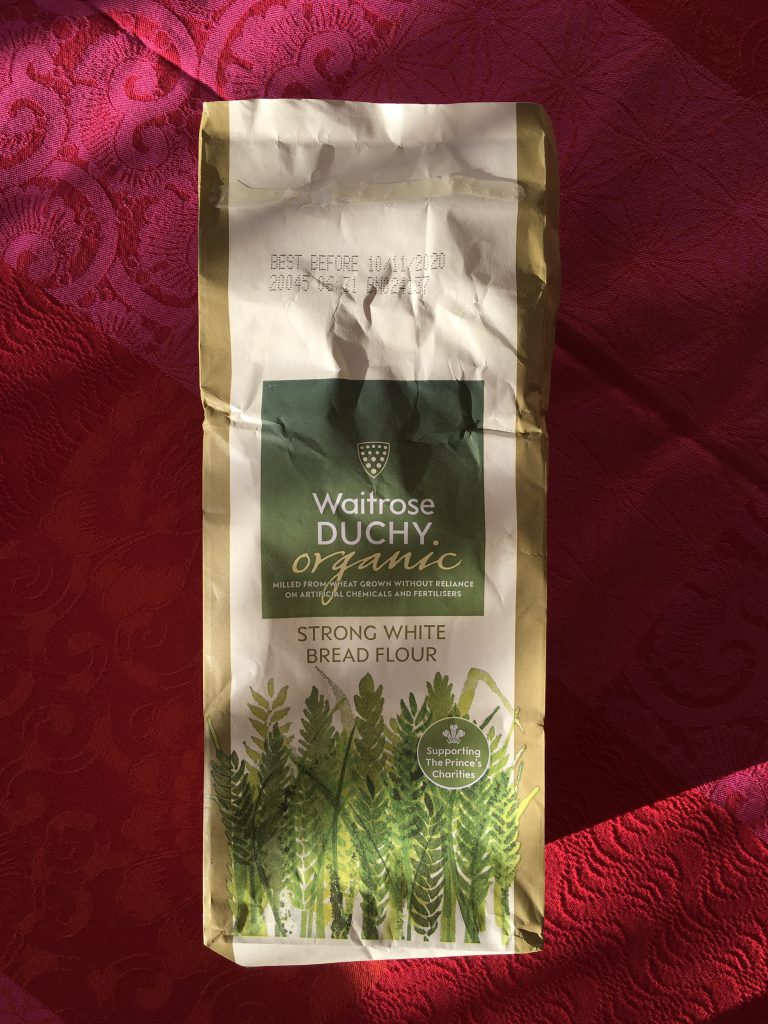 I am often asked what I do when I am stressed. The answer is that I bake.
Actually I bake whenever I can, regardless of the state of my blood pressure or the state of the nation. And the state of our nation here in the United Kingdom is at the moment quite uncertain, because we seem not to have very clear directions on what it is that we should be doing.
The government expects the common sense of the British people to prevail. It might do, if everyone is British in the sense of having the same mindset, but I am afraid this is no longer the case. People travel, they read, they converse and they no longer trust that the government will take care of them when there is no more pasta, rice, flour, eggs, oil, tinned tomatoes and long-life milk on the shelves. Let's not even talk about toilet paper.
Whilst the queues in my local Waitrose are still orderly, there is nevertheless a whiff of smash and grab when it comes to certain items which have become overnight hits. Why has everyone suddenly become a baker? I simply do not understand multiple shelves devoid of flour or yeast.
In this current lockdown or self-isolation climate, it is the full-time mums who will come out unscathed, because we have in a sense been practising for this all our lives. We know how to keep daily order, tidy up after messy people, keep the peace with neighbours, churn out clean laundry and juggle all aspects of food: shopping, storing, preparing, cooking, serving…down to reusing leftovers and composting.
If we are to be house-bound for up to 12 weeks as some sources suggest, then maintaining a daily routine and strict discipline will be necessary for our mental and social well-being. I am going to start most days with making some bread or challenge myself to try a new dish. Mr Gochugaru is working from home and Juniors 2 and 3 have been told to remain away from college. There will be no shortage of takers for anything that pops out of the oven. Lucky me.
Today's bread is a simple brioche, which we ate with butter and jam for breakfast, and then turned into burger buns for lunch. I used my Thermomix to make the dough, but you can use any bread-making method you are used to i.e. by hand, in a food processor or with an attached dough hook in the KitchenAid.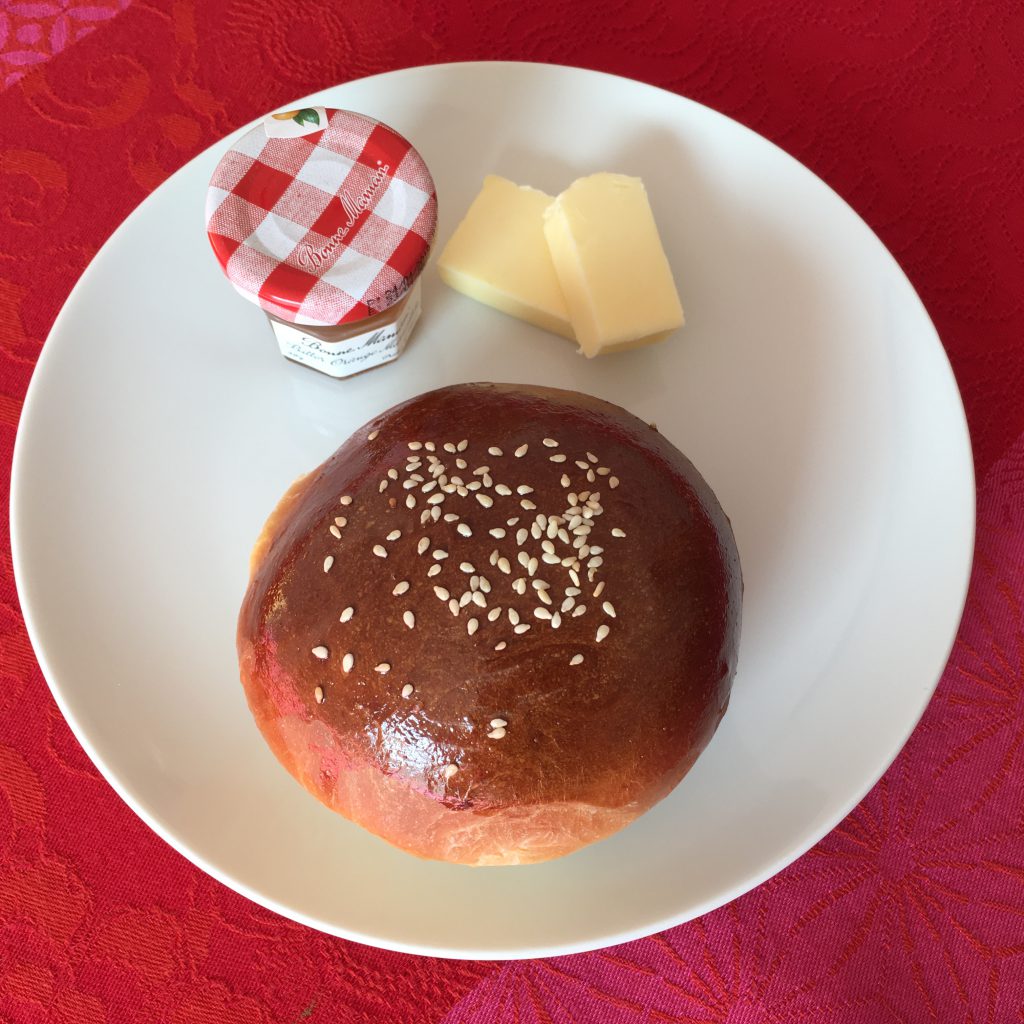 For the Buns:
225 g full-fat milk
2 teaspoons dried instant yeast
45 g unrefined caster sugar
500 g strong white bread flour
60 g unsalted butter, softened
2 large eggs, for the dough
1 teaspoon fine sea salt
1 tablespoon untoasted white sesame seeds
1 egg, for glazing the buns
How to Make:
Lightly oil a large mixing bowl and a large piece of cling film then set aside.
Prepare a baking tray by lining it with baking paper.
Place the milk and yeast in the Thermomix bowl and warm 2 minutes / 37 C/ speed 1.
Add the sugar, flour, butter, 2 eggs and salt.
Knead 6 minutes/ dough setting.
Transfer the dough to the oiled bowl and cover with the cling film.
Leave the dough to prove until it has doubled in size, which takes around 2 hours as it contains butter and sugar which slows down the rate of rising. I left the dough in the fridge overnight. The next morning it had risen sufficiently to be portioned into rolls.
At the end of the rising time, divide the dough into 10 equal portions. Each should weigh around 94 g.
Form rolls out of each dough portion by flattening it out into circle, then gathering the edges towards the centre. Make a twist, then turn the dough ball around, leaving the twisted end underneath. Finish by smoothing and shaping the dough further by cupping it in your palm on a flat surface whilst rolling it around gently. The idea is to form a ball.
Place the rolls on the baking tray. Cover with cling film and leave to prove a further 1½ hours.
Towards the end of the second proving time, preheat the oven to 220°C.
Brush the buns gently with the beaten egg and sprinkle on the sesame seeds.
Bake in the oven for 20 minutes. Cool on the tray for 5 minutes then transfer to a wire rack to finish cooling.
Here are the stages in the making of the brioche buns: after the first rising, in this case overnight in a fridge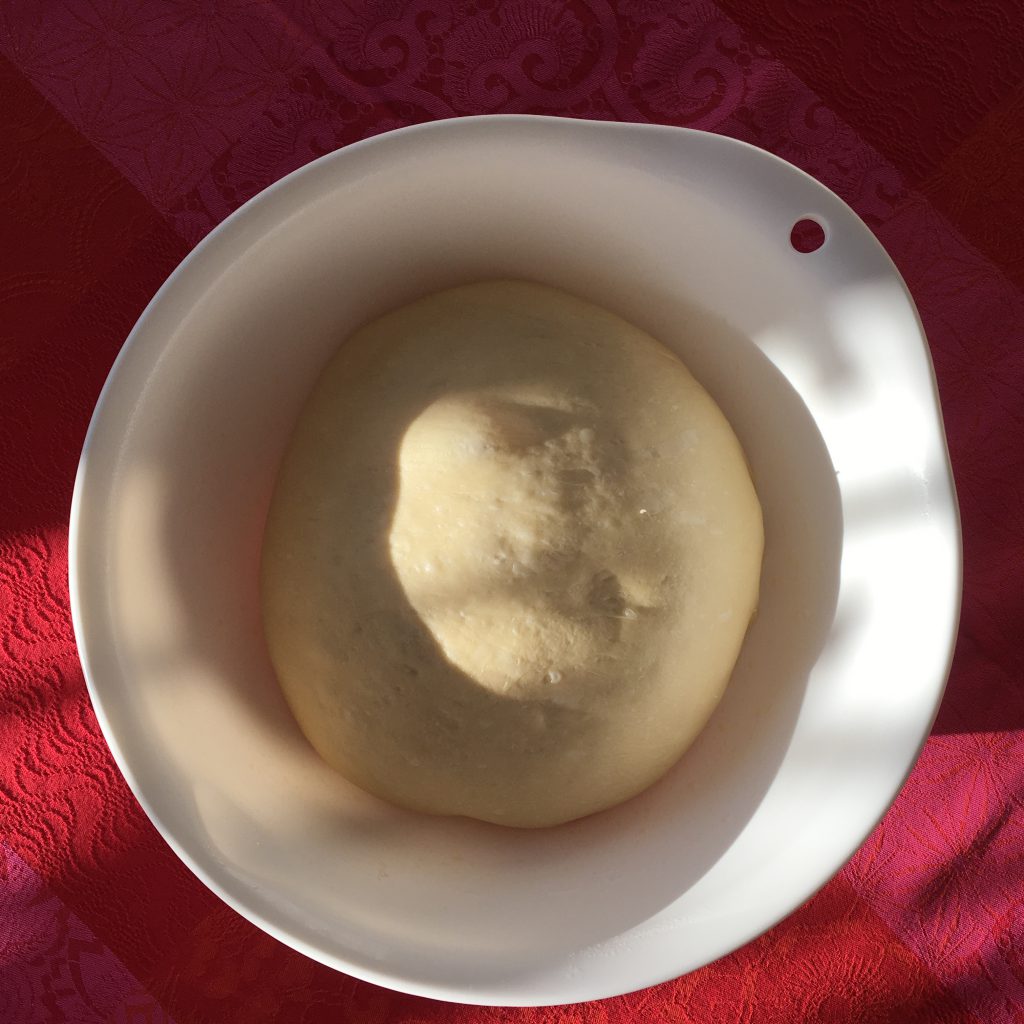 Formed into 10 balls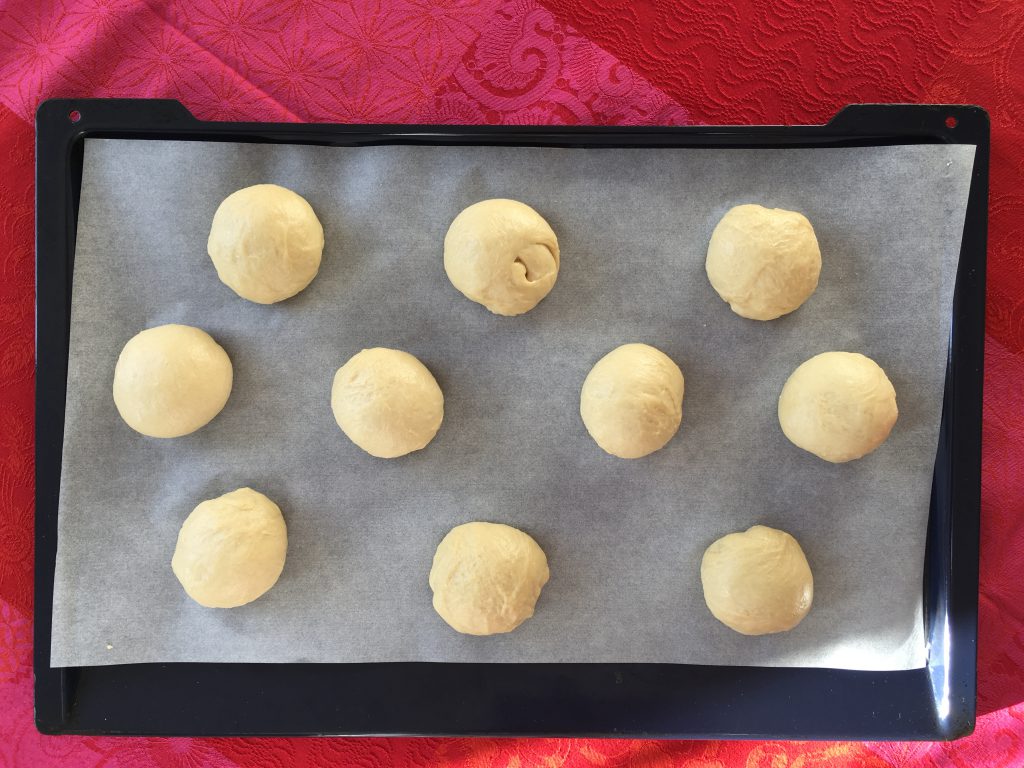 After 1½ hours for the second rising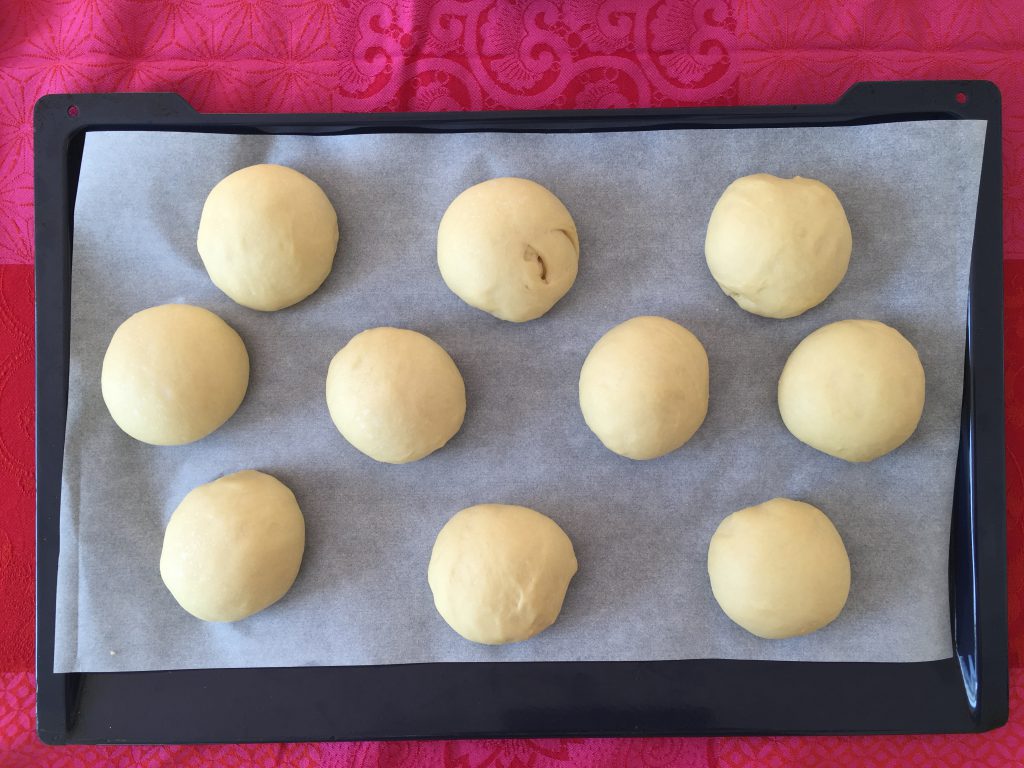 Glazed with an egg wash and topped with sesame seeds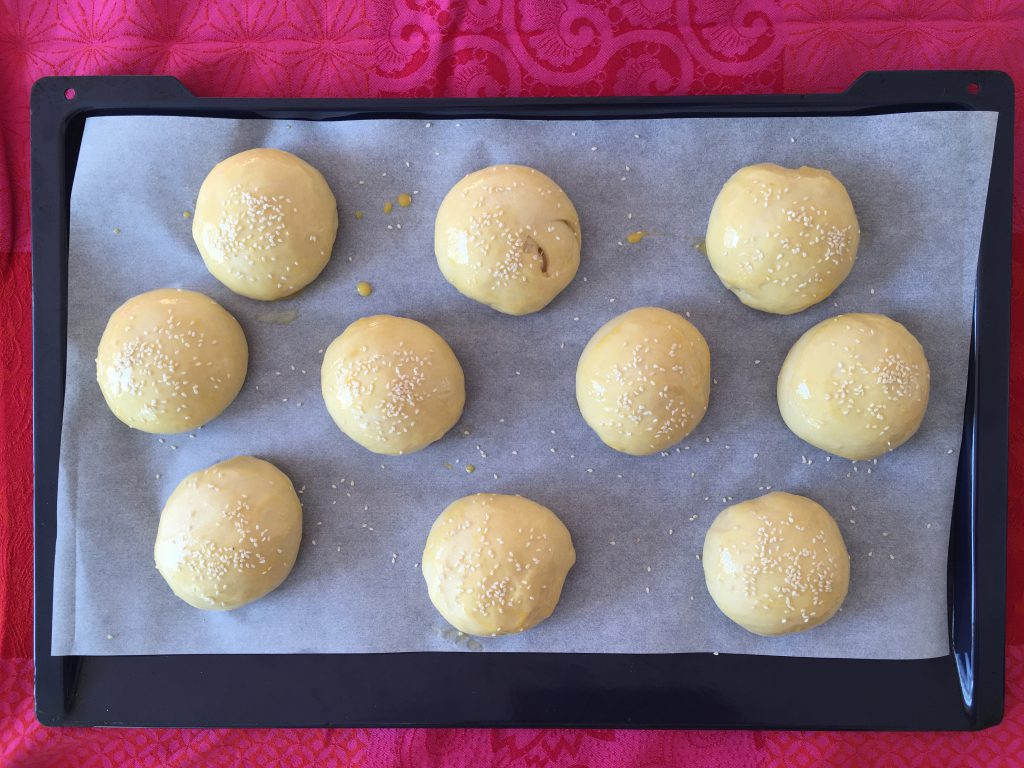 After baking for 20 minutes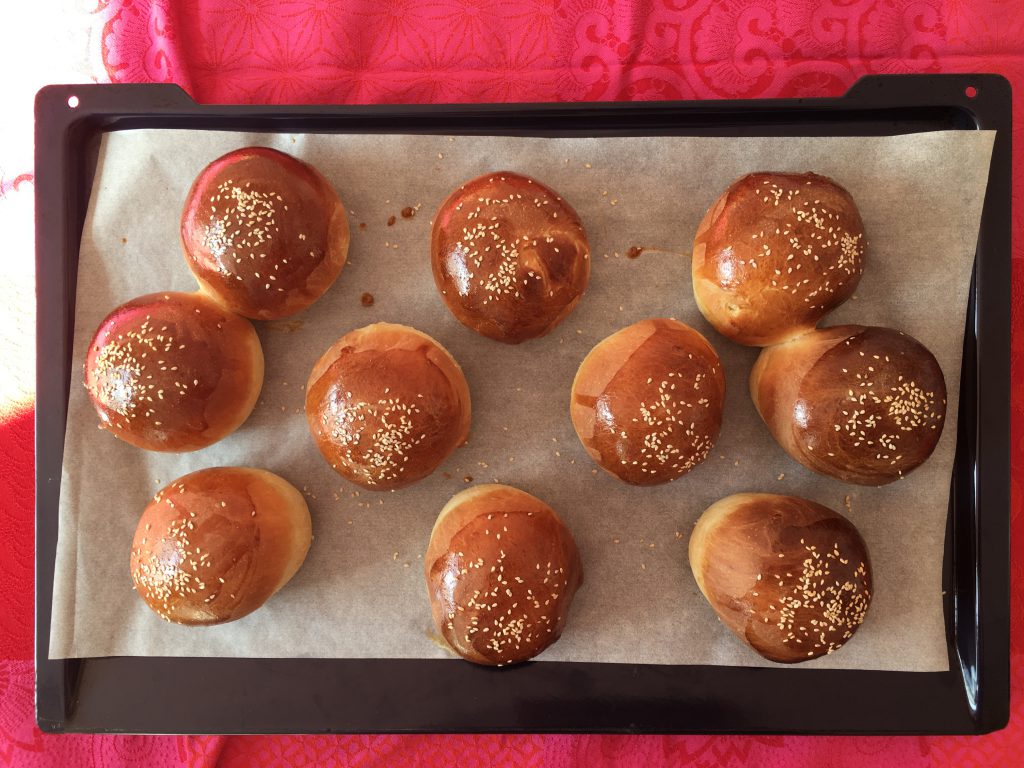 The brioche buns were very well received. The children said it was the perfect bun to fashion Egg McMuffins (we used home-made leftover minced pork from making pork and chive dumplings) and other burgers. Given that we do not go to fast food joints I am wondering how they know about Egg McMuffins.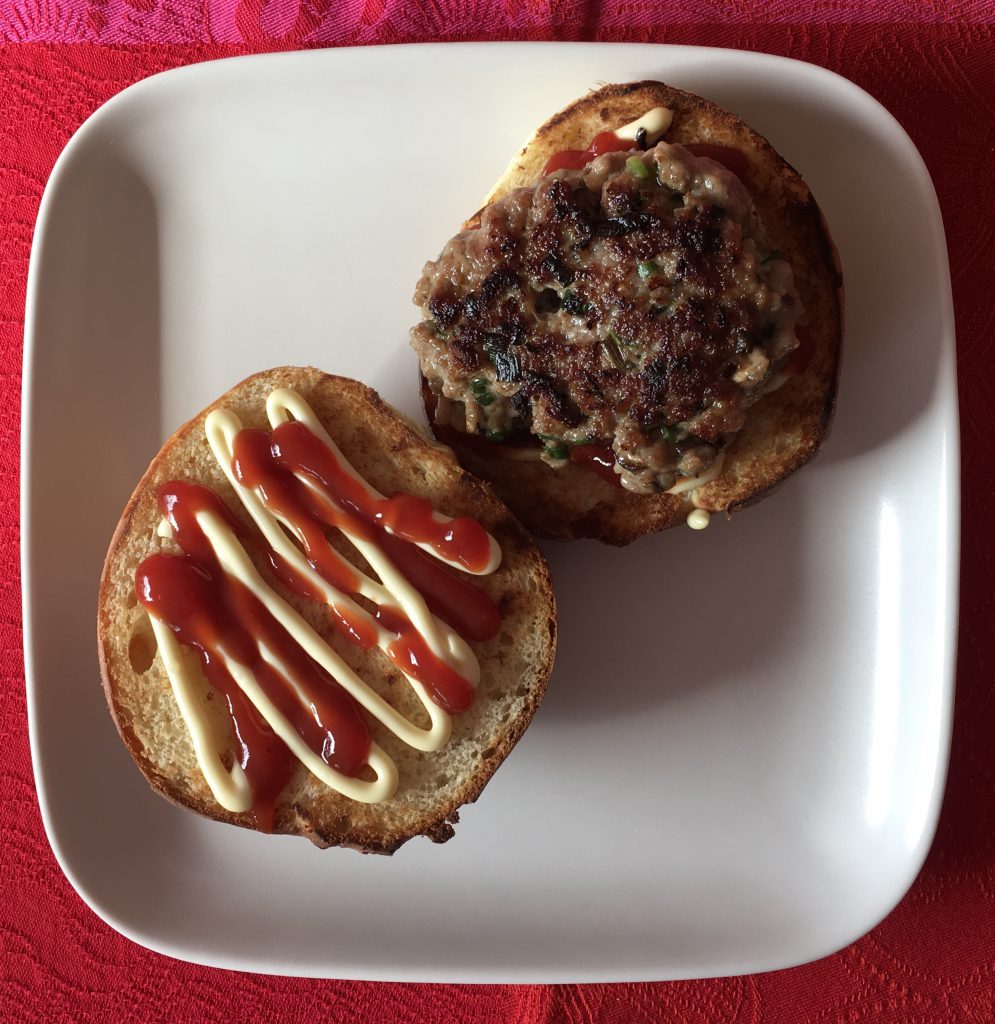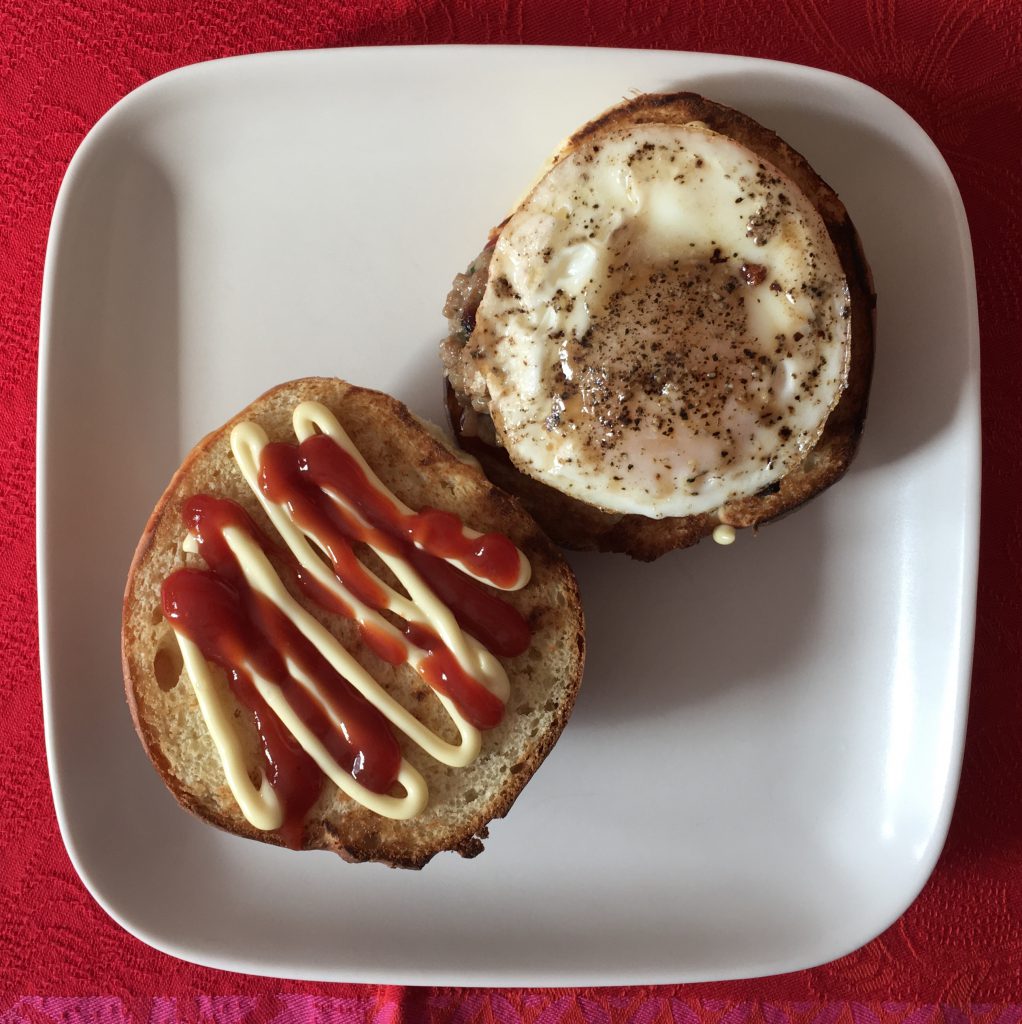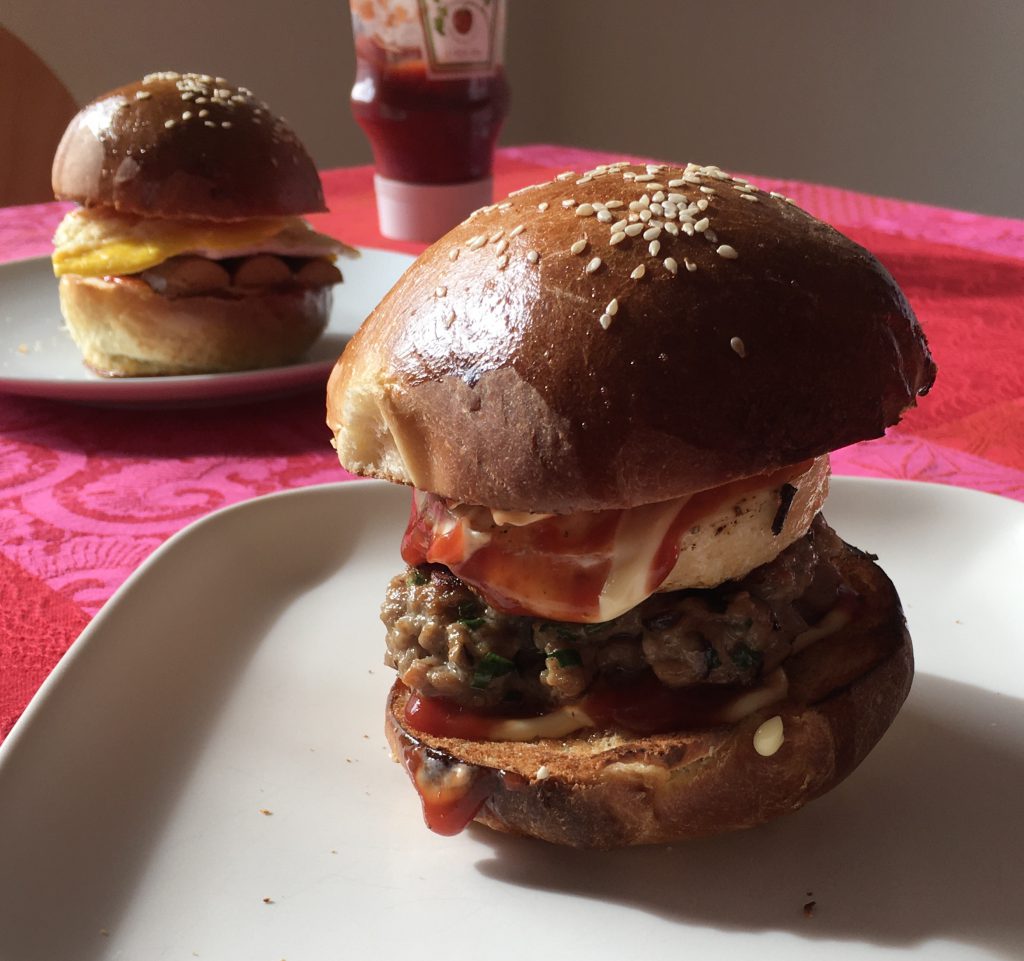 I entitled this post A Time to Bake and the inspiration comes from the Bible (Ecclesiastes 3).
For everything there is a season, and a time for every matter under heaven:
a time to be born, and a time to die;
a time to plant, and a time to pluck up what is planted;
a time to kill, and a time to heal;
a time to break down, and a time to build up;
a time to weep, and a time to laugh;
a time to mourn, and a time to dance;
a time to cast away stones, and a time to gather stones together;
a time to embrace, and a time to refrain from embracing;
a time to seek, and a time to lose;
a time to keep, and a time to cast away;
a time to tear, and a time to sew;
a time to keep silence, and a time to speak;
a time to love, and a time to hate;
a time for war, and a time for peace.
I think this is the time to refrain from embracing people, but it is really OK to embrace a little bit of baking