SEOUL DIARY: Wednesday 13 November 2019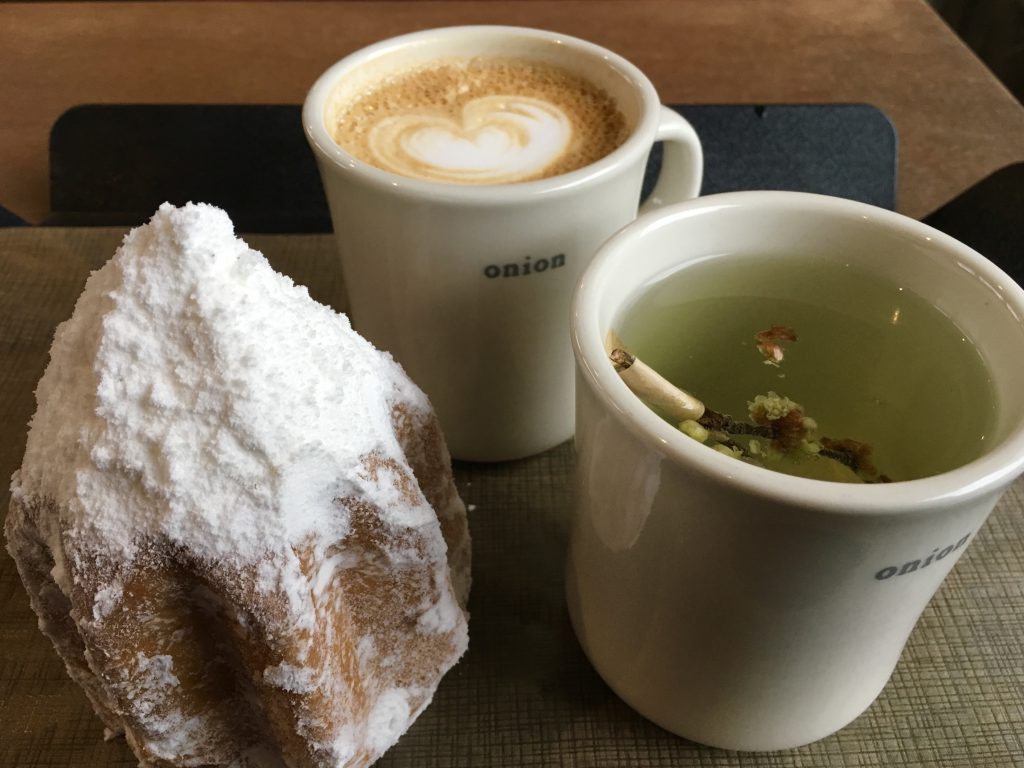 Here is a terrible joke which is told half in English and half in Korean.
Q: What do you call a five-year-old Korean onion? A: 오년
오년  literally means five years and is pronounced o-nyeon.
Yes I know, some people really know how to entertain themselves. I should like to be like them and always be happy…in a simplistic sort of way.
TO START THE DAY
I actually start the day happy. It is definitely me who is happy. The night before I found a glazed chocolate donut in the Krispy Kreme concession at Lotte department store. For anyone growing up in the 1980s in Kuala Lumpur, glazed chocolate donuts have a special place in our hearts. It was not Krispy Kreme but possibly Dunkin' Donuts or some other American donut company. Just imagine dense chocolate cake in the shape of a donut, with a crisp icing sugar glaze.
Many times before, I had to apologise to Mr Gochugaru for my obsession in trying to look for this donut everywhere we have been, in Kuala Lumpur, Boston, New York, Seoul, London.
I thought it was just me, but when I showed the photo to HK Sister she said oh my gosh you found the chocolate glazed donut? So now I know I am not alone. And I am not crazy.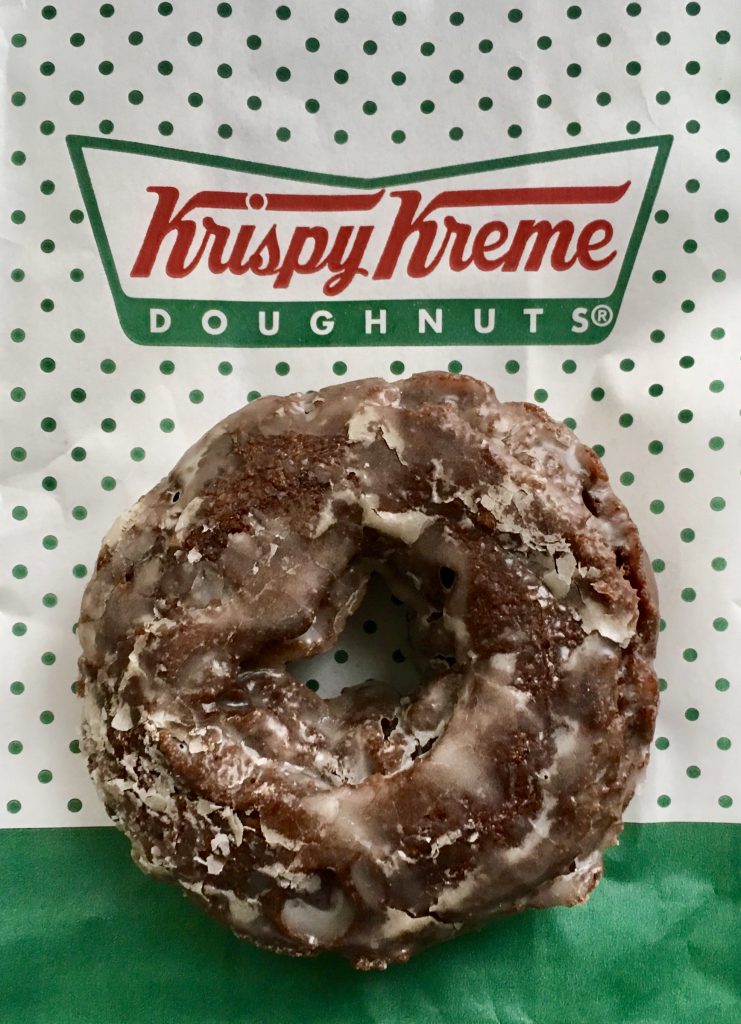 We also had madeleines from the hotel and a sausage pastry from Fritz for our breakfast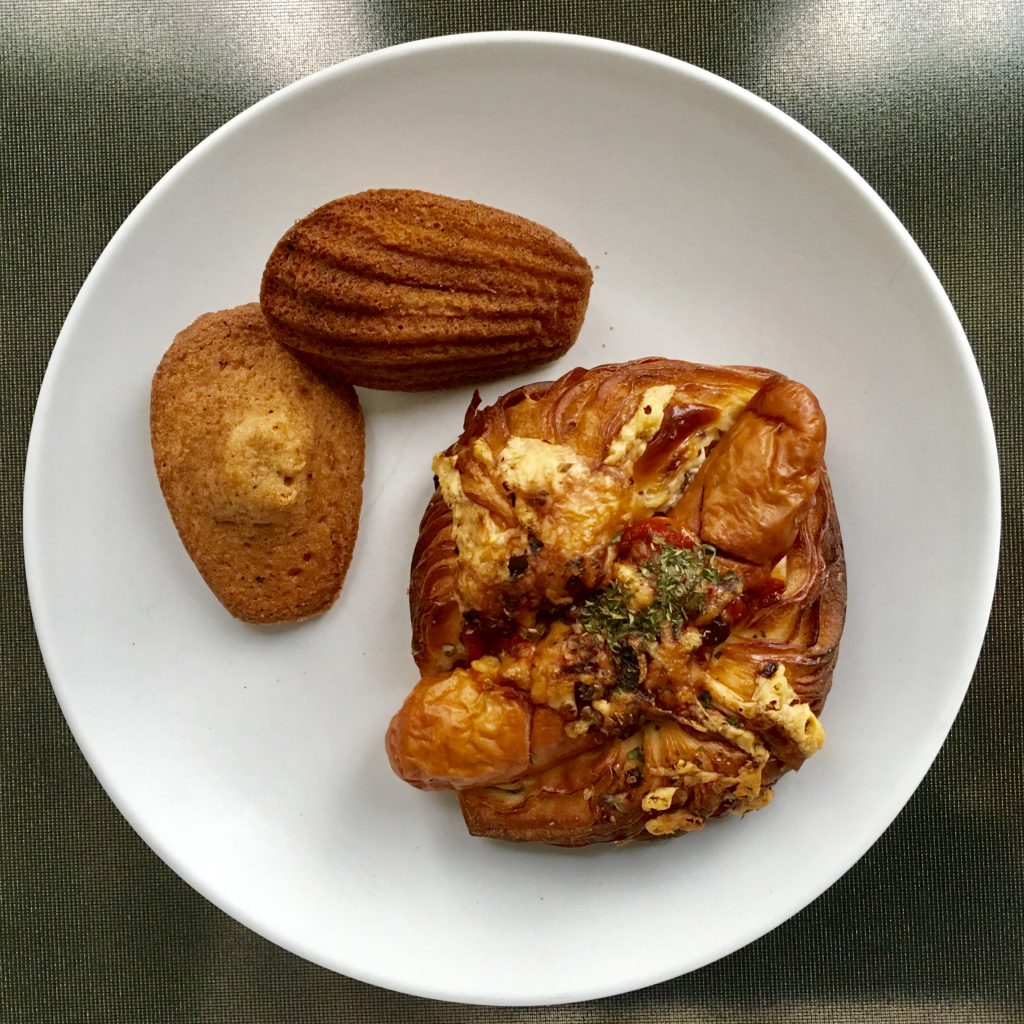 TO KNOW YOUR ONIONS (1)
This is a funny idiom and it means to be very knowledgeable about something. In our travels together Mr Gochugaru and I each have our area of expertise: he does transport and I do food / shopping. Today I said it would be nice to visit the department store 백화점 and he said: there is a bus right outside the hotel that takes us to Lotte and Shinsegae.
A helicopter would have been nice. In the Korean Drama Descendants of the Sun, the doctor heroine tells her soldier hero boyfriend that it is really hard for her to not know when he is leaving and if he will ever return. She says it is better that he just tells her he is 'going to the department store' which is code for going away to fight a war, or keep the peace, or whatever. Inevitably a helicopter shows up to whisk him away.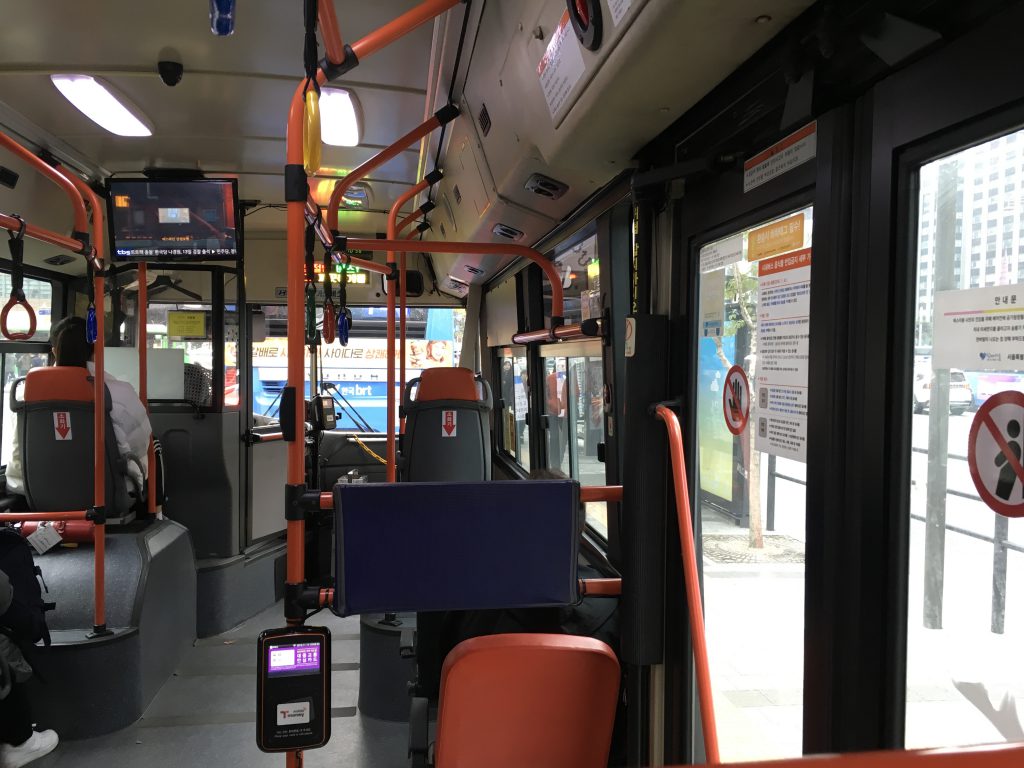 TO SHOP
Shinsegae 신세계 is one of the department stores I like visiting for its supermarket. As we do not live in Seoul it is not possible to buy any fresh foodstuffs but it is still nice to wander round.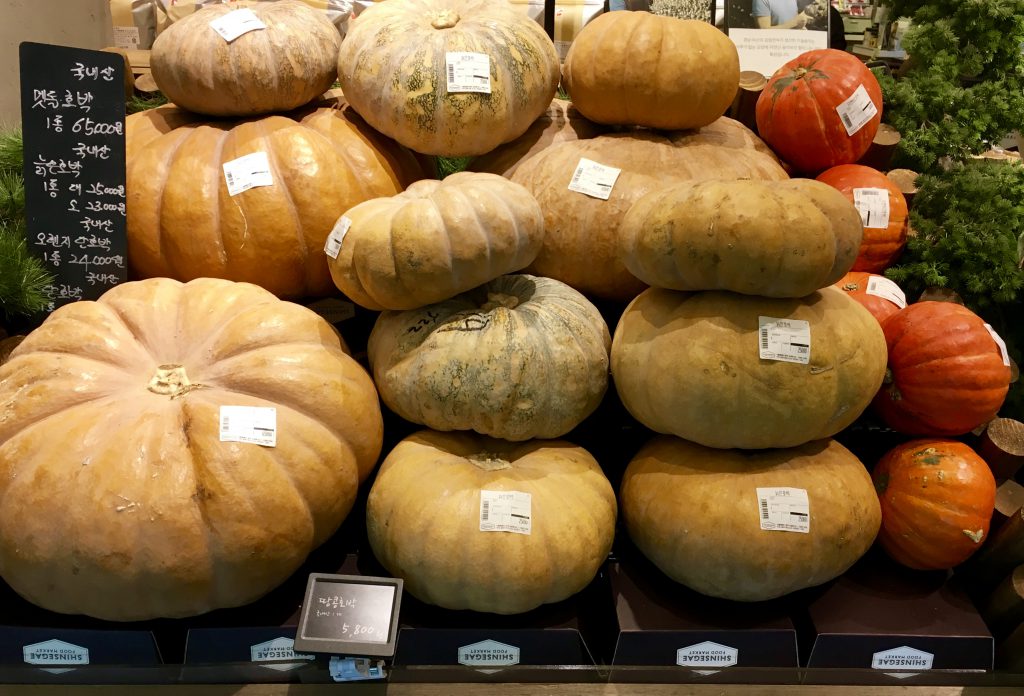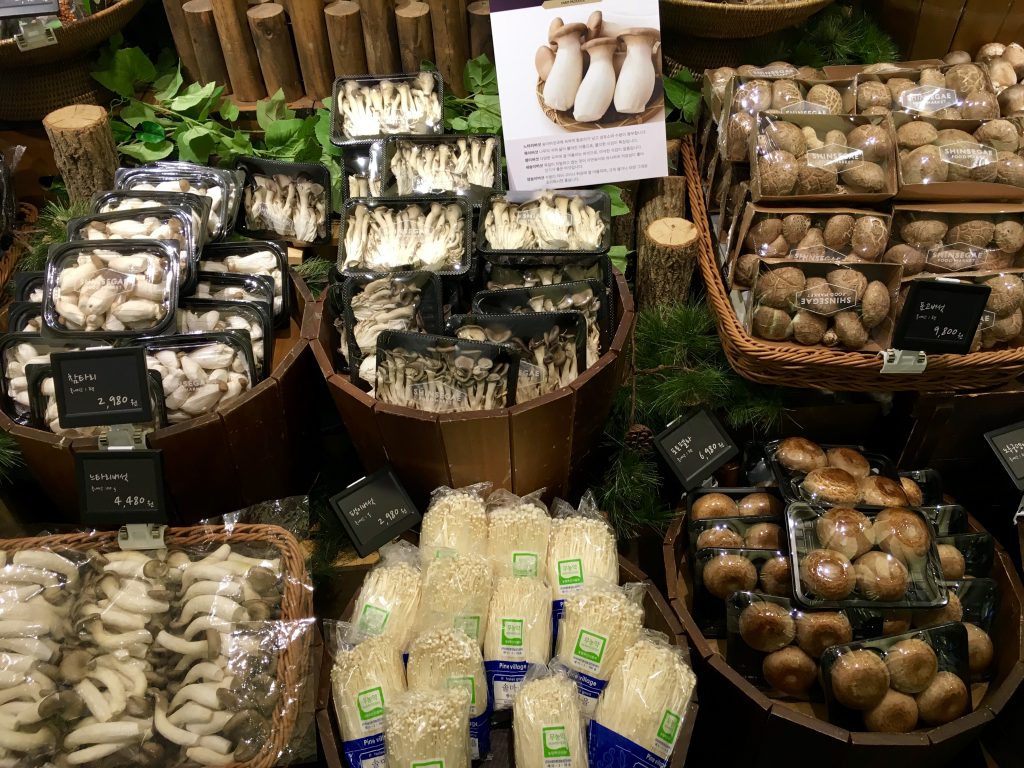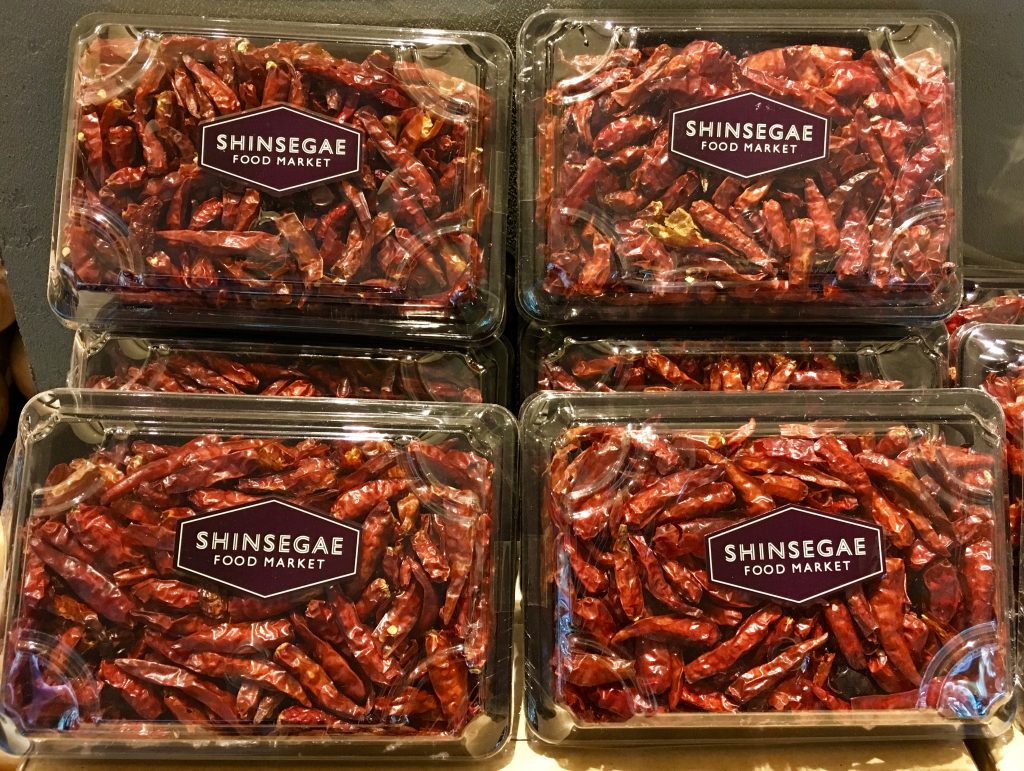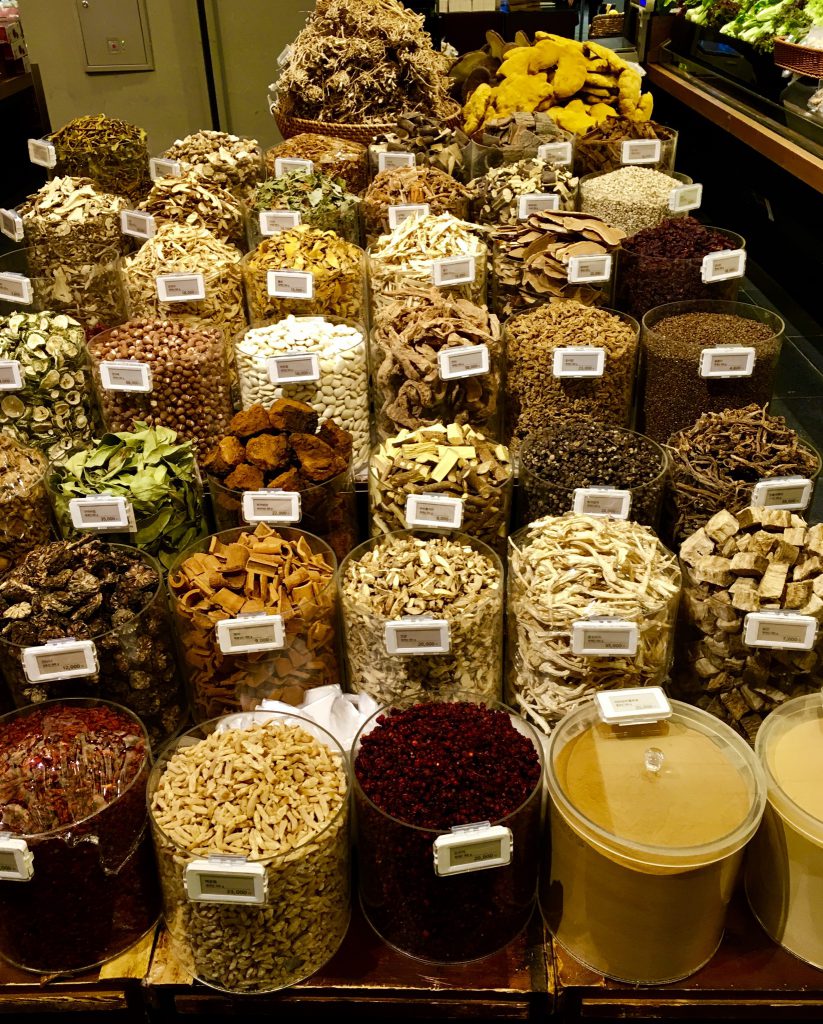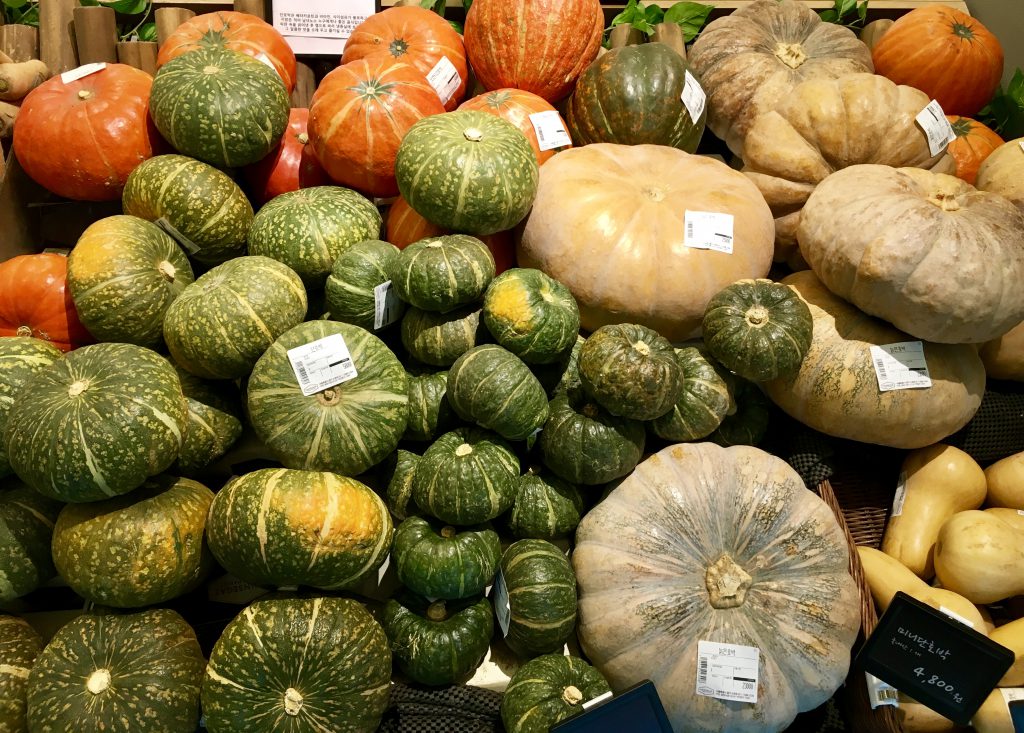 In the electricals department we spot a large chest refrigerator just for storing kimchi, which mimics the storage qualities of the traditional earthenware pots called onggi 옹기. It is a serious refrigerator with dedicated internal tupperwares for fermenting cabbages and other vegetables at the right temperature.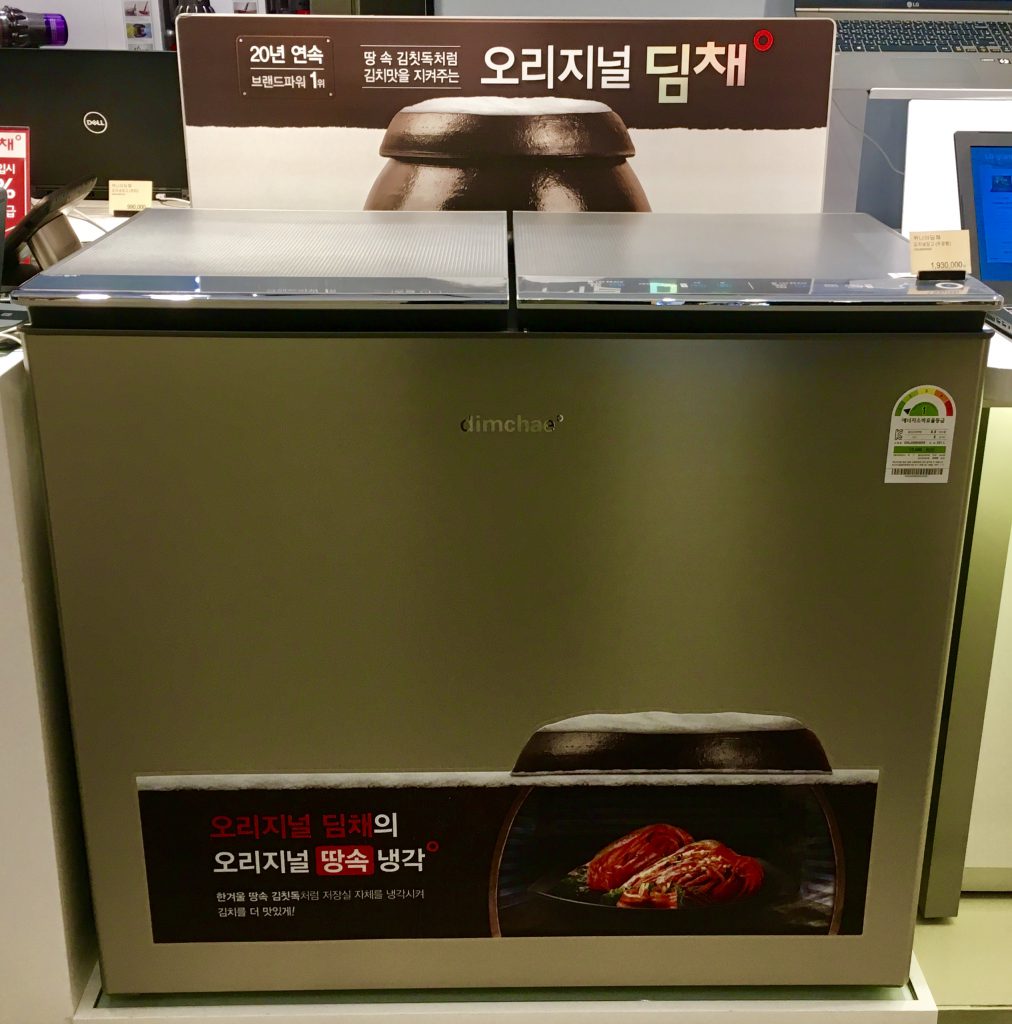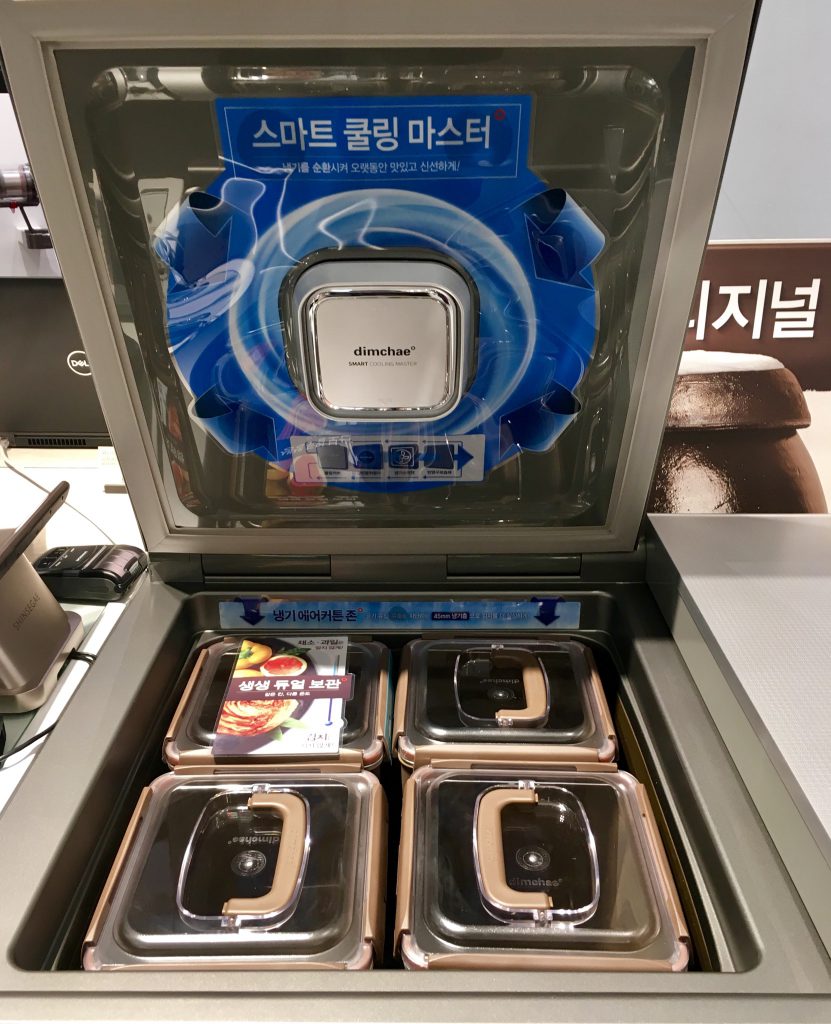 TO PAUSE
One of the dishes we wanted to try again was raw crabs marinated in soya sauce 간장게장 which we had once in Yeosu a few years back. A little tip: both Lotte and Shinsegae have basement food courts and on their upper floors you will find proper restaurants which are not over-priced. Not wanting to bother with shells, we had raw crab bibimbap at Keungihwajib Hansang 큰기와집 한상 which is located on the 5th Floor of Shinsegae. It was a bit weak in taste and I commented to Mr Gochugaru that the Singaporeans have it right, to cook their crabs in chilli sauce.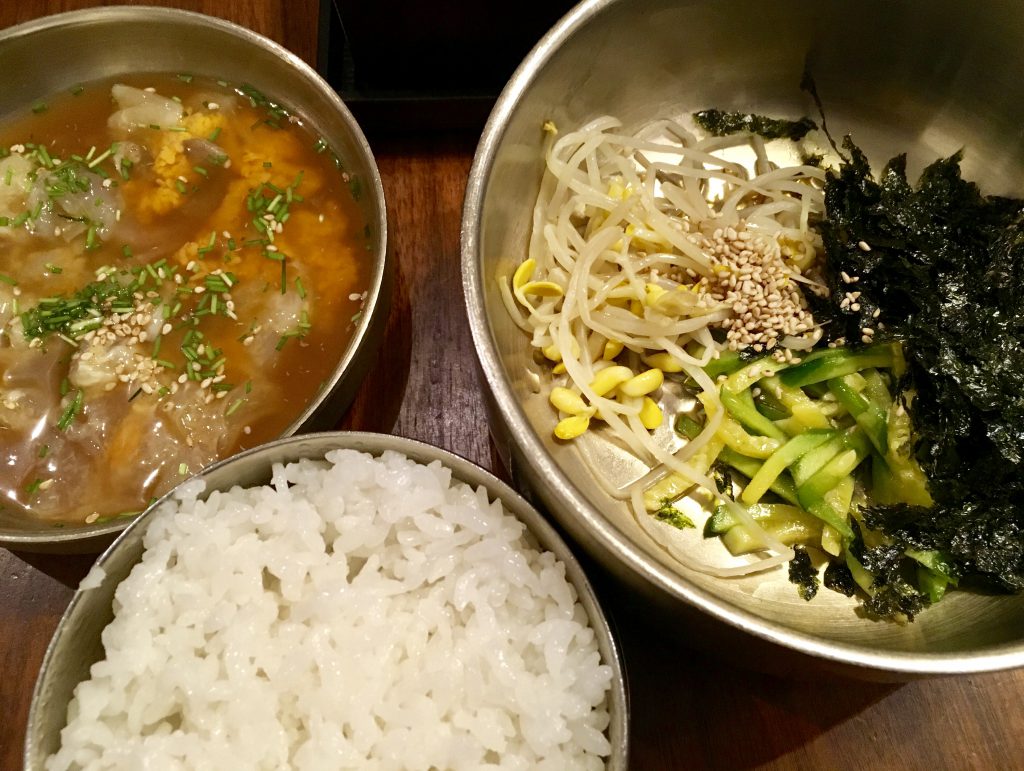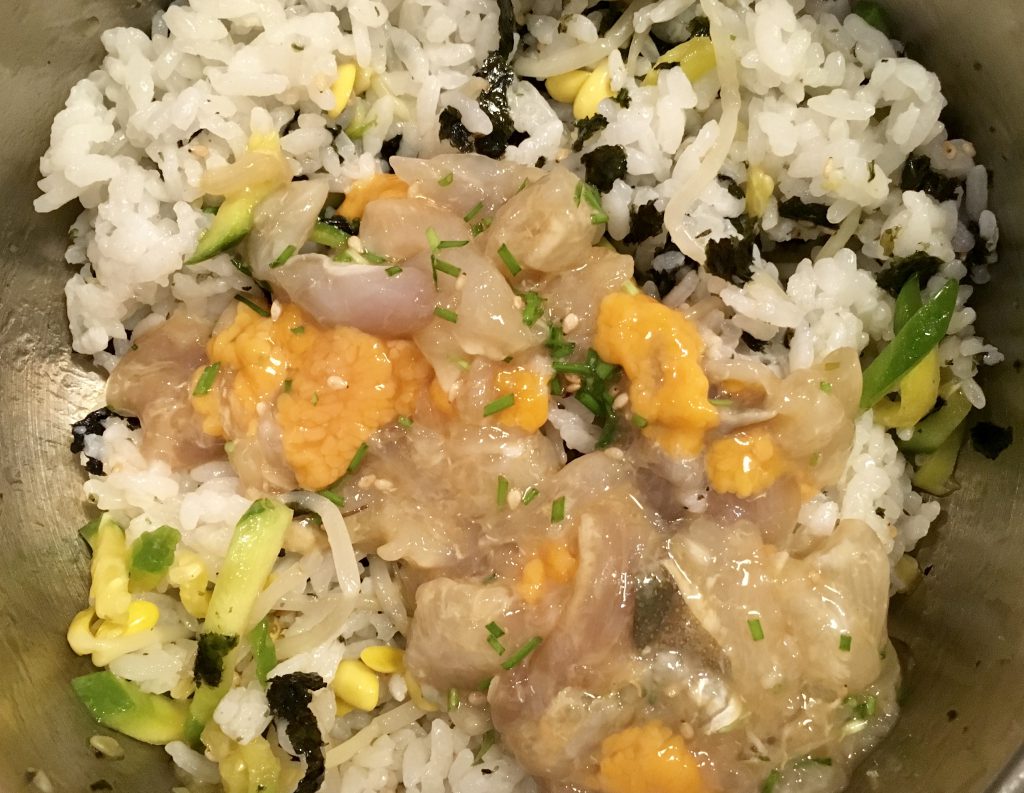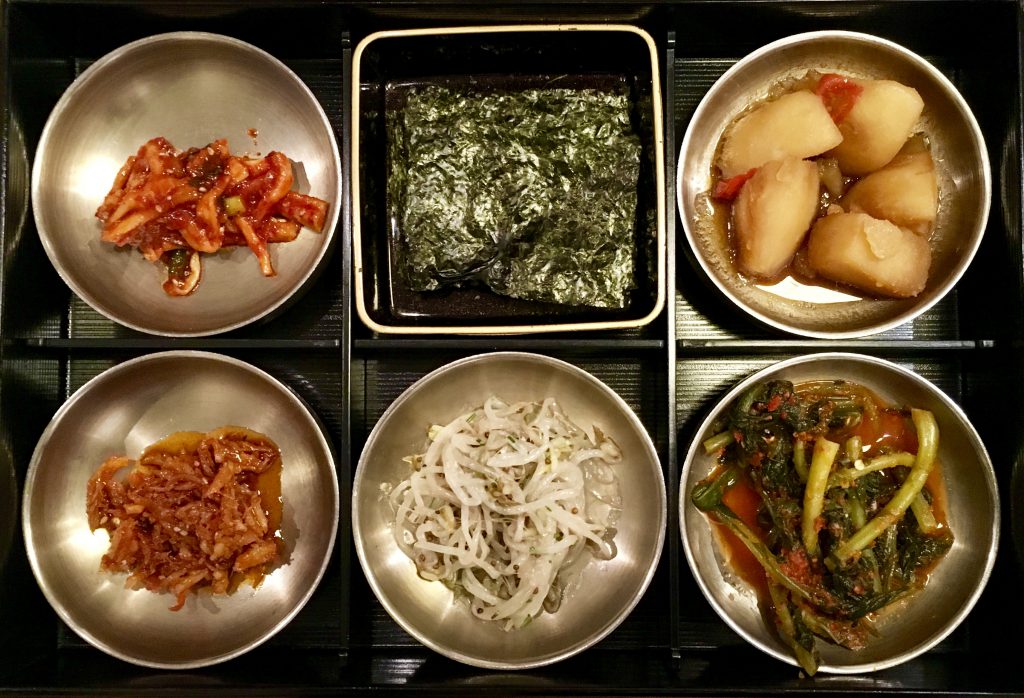 It is rude to stare but you need to understand the power of the smell of baked garlic bread. As we finished lunch and headed to the basement to buy some dried noodles, we passed by this stall. As far as I could see after a lot of observation, this is the process: a perfectly formed bread bun is cut into six wedges, although not right through, filled with cream then dipped wholeheartedly into a bowl of butter melted with garlic and herbs. The soaked bun is then placed on a tray and baked, and afterwards some cream or perhaps whipped butter is piped into the centre of the now-crispy and hot bread.
Here is a video I found on YouTube and another similar one which explains the process. The bread is called Gangneung Six-sided Garlic Bread 강릉 육쪽 마늘빵 and the brand is Pain Famille. It looks like a winner and smells like a winner, but I wanted to eat my most eagerly anticipated pandoro at Cafe Onion so had to leave this behind. I will probably try making this over the Christmas holidays when the children are all here as I think it will be a novelty for all of us.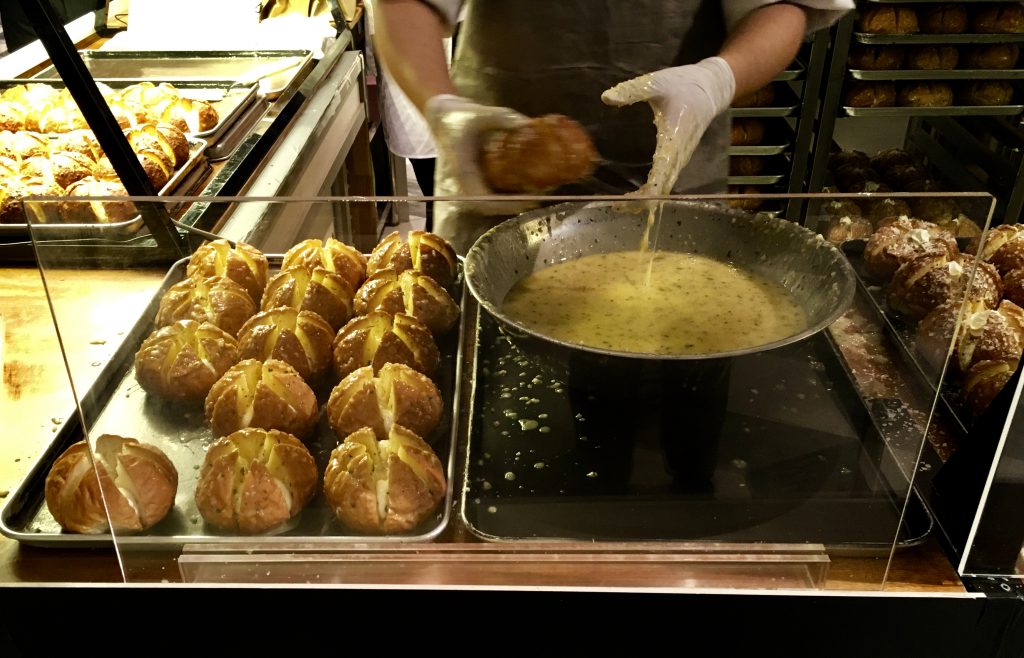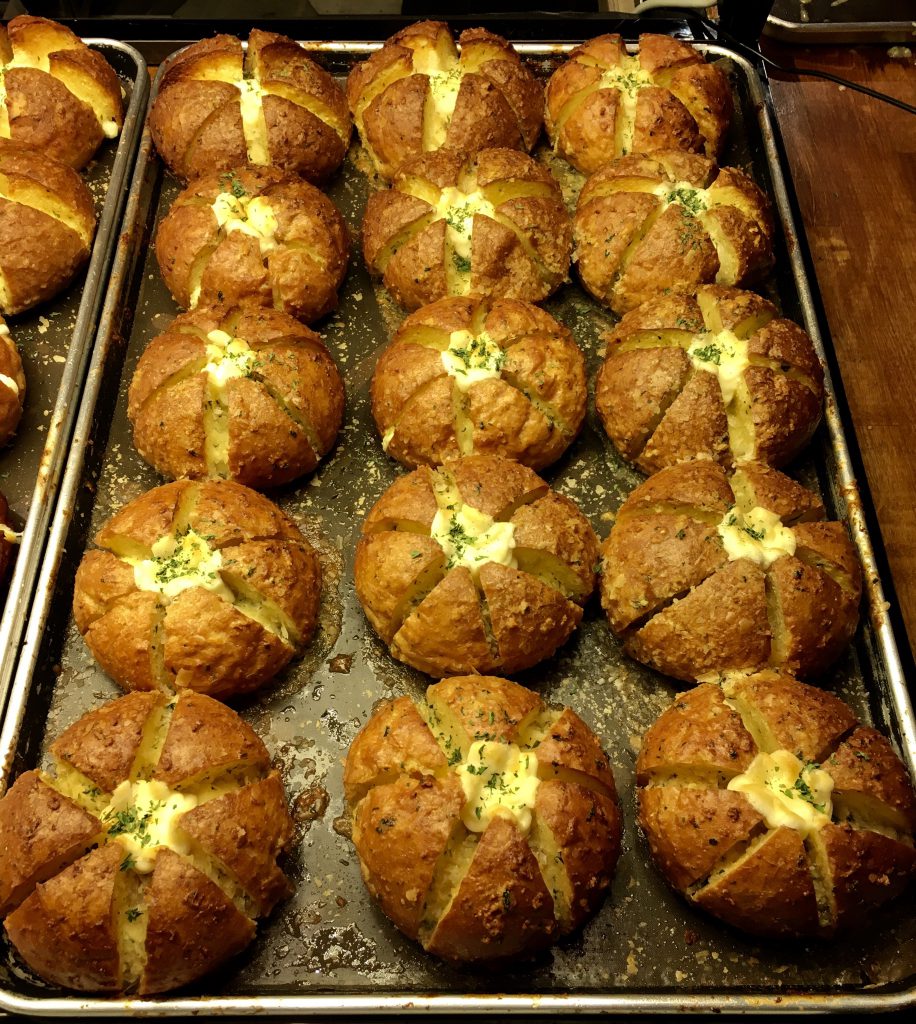 TO KNOW YOUR ONIONS (2)
Or to be precise, to know the location of your nearest Cafe Onion. The original is in Seongsu-dong and the one closest to us is a short bus ride away near Anguk Subway Station (exit 3). This Cafe Onion is near Bukchon Village in a renovated hanok 한옥, a traditional Korean house .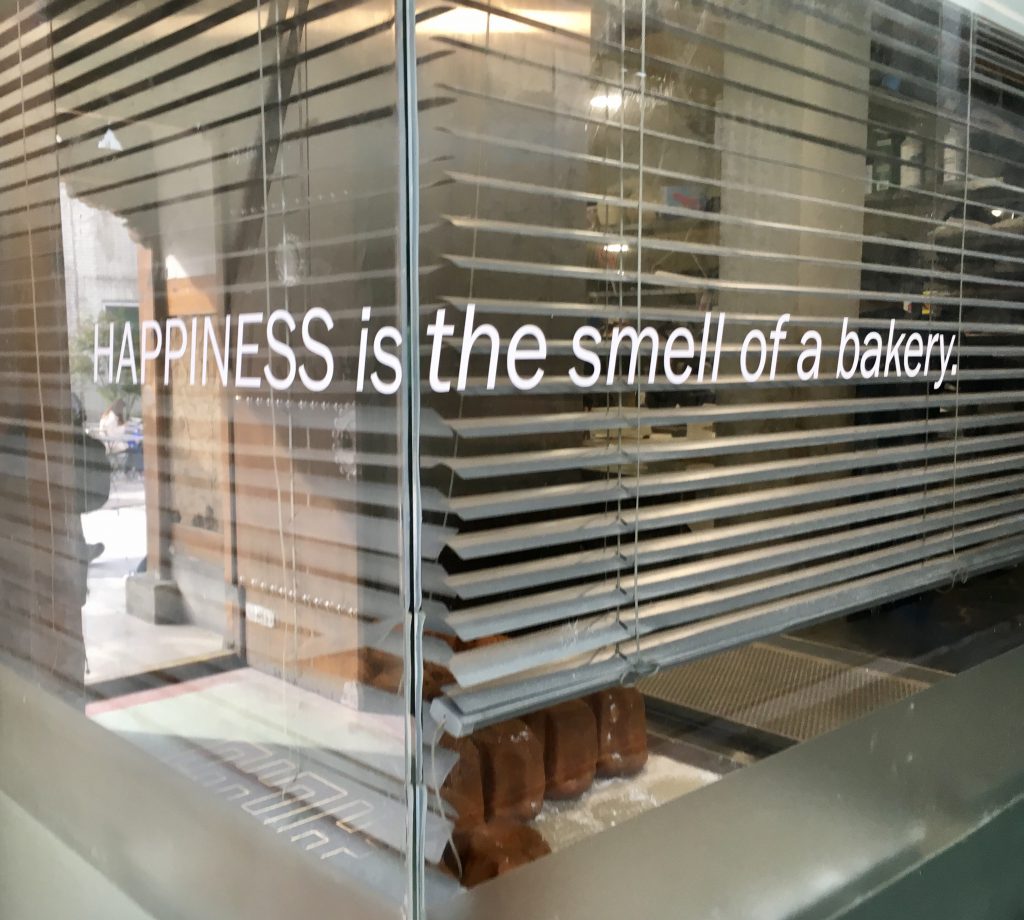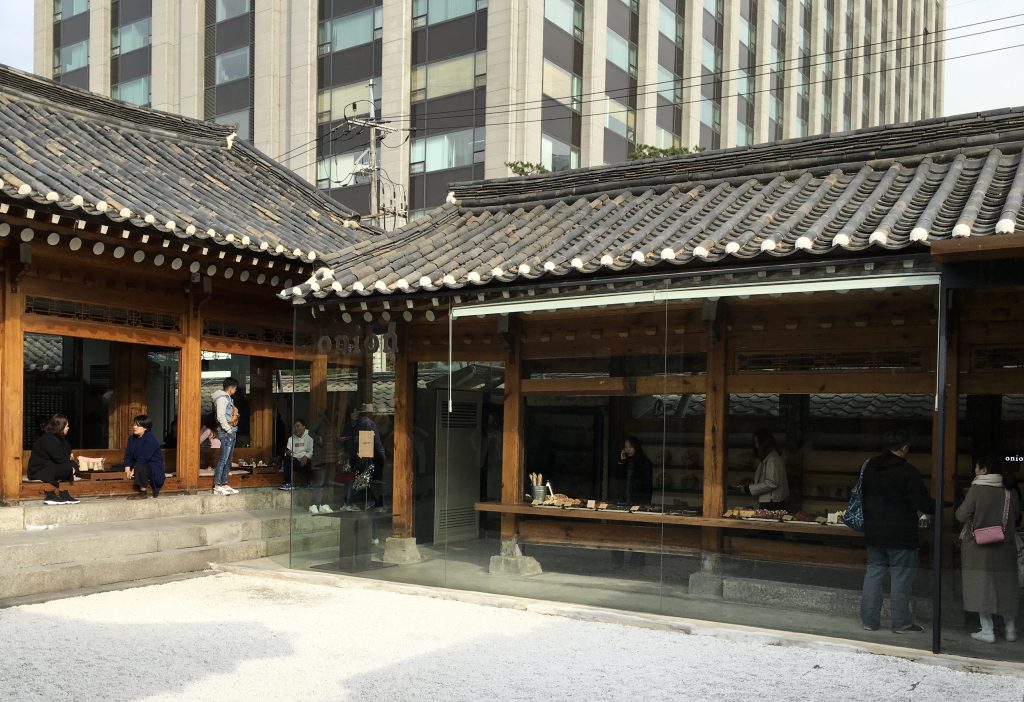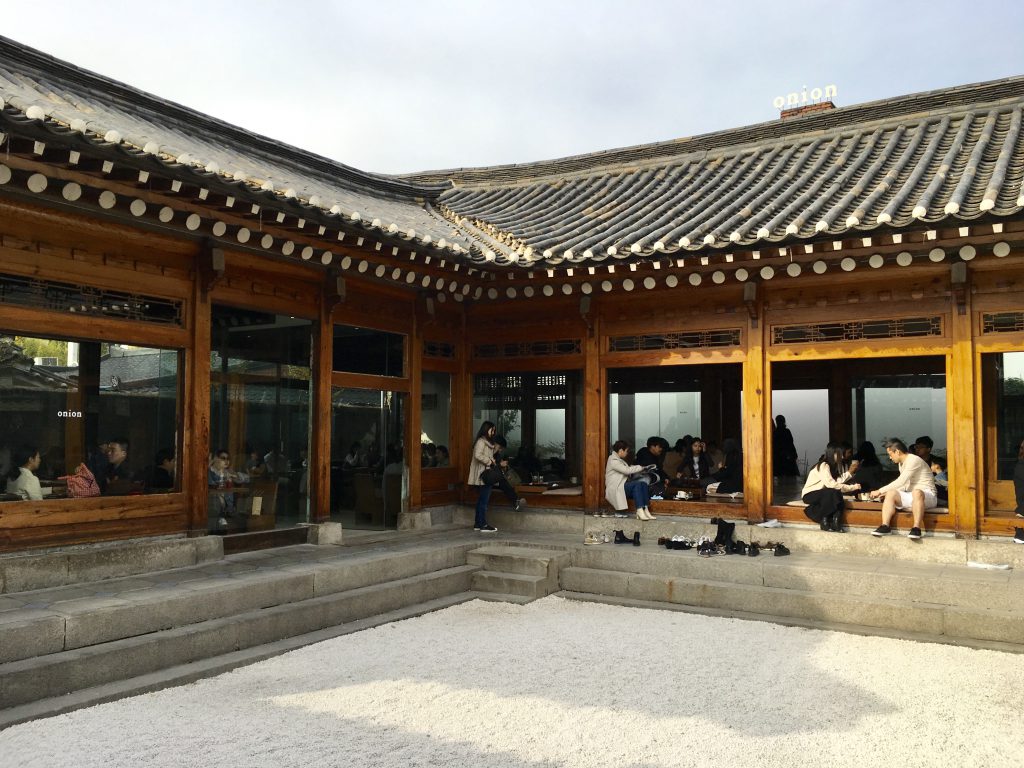 Inside, a long table is laden with all good things including their signature pandoro with a mound of icing sugar snow that still keeps me wondering how it does not collapse on the way from the kitchen to the table to my tray.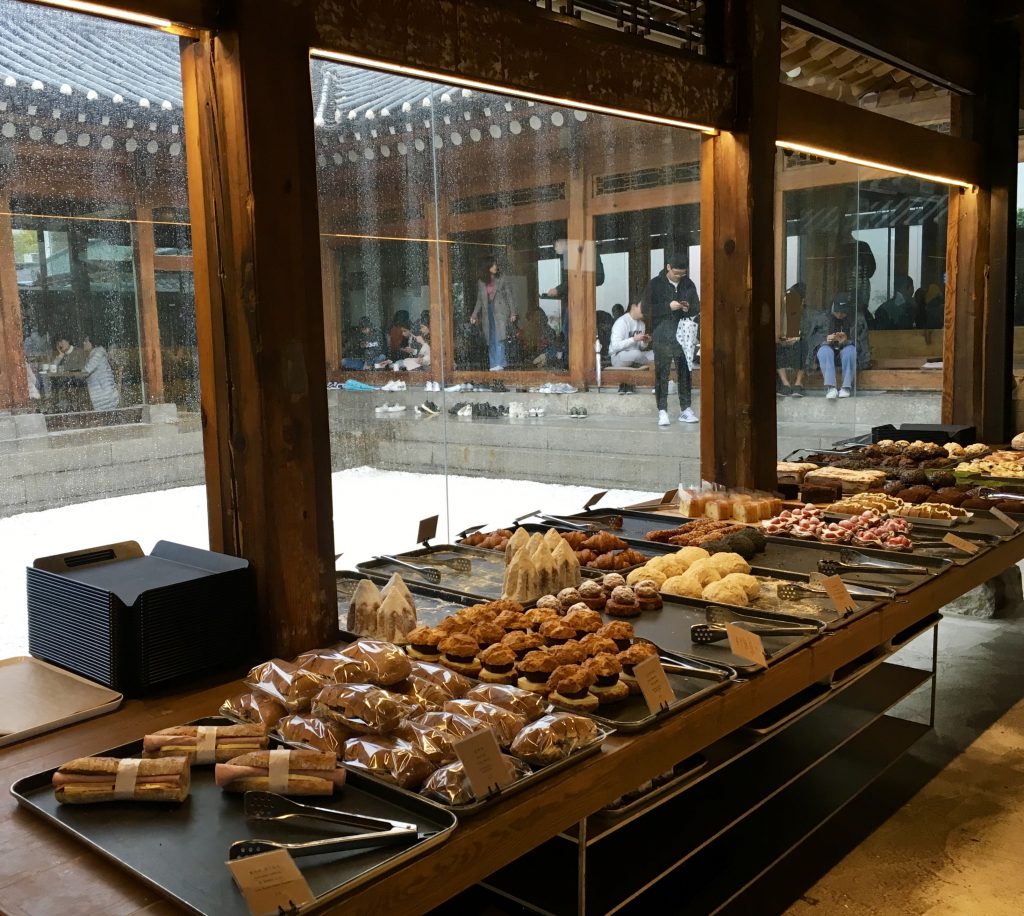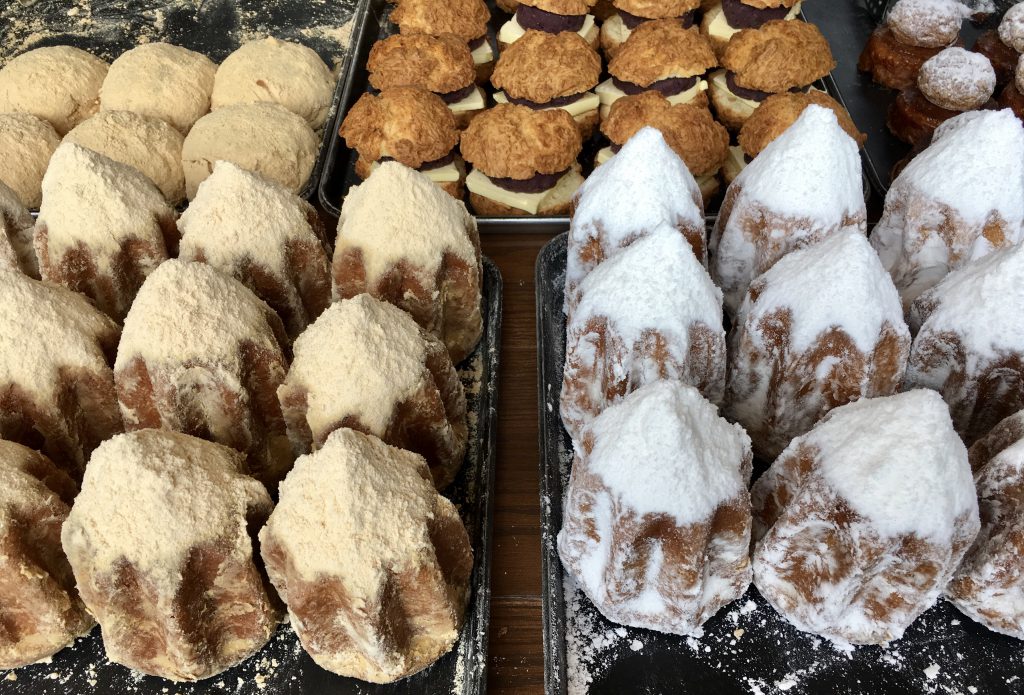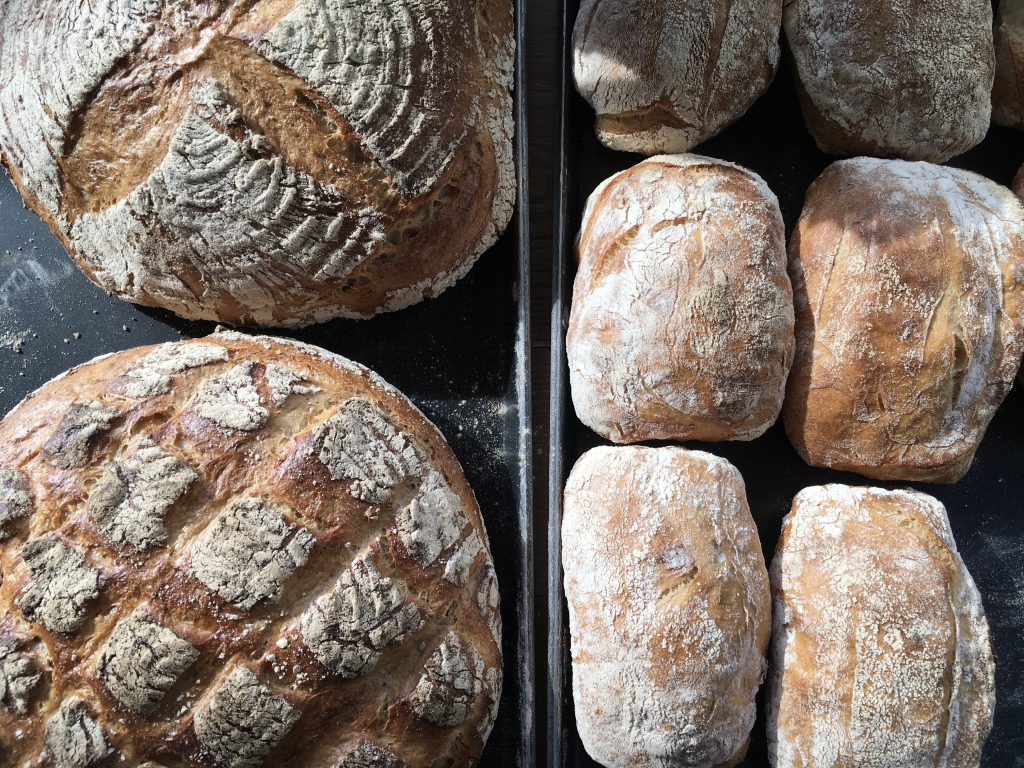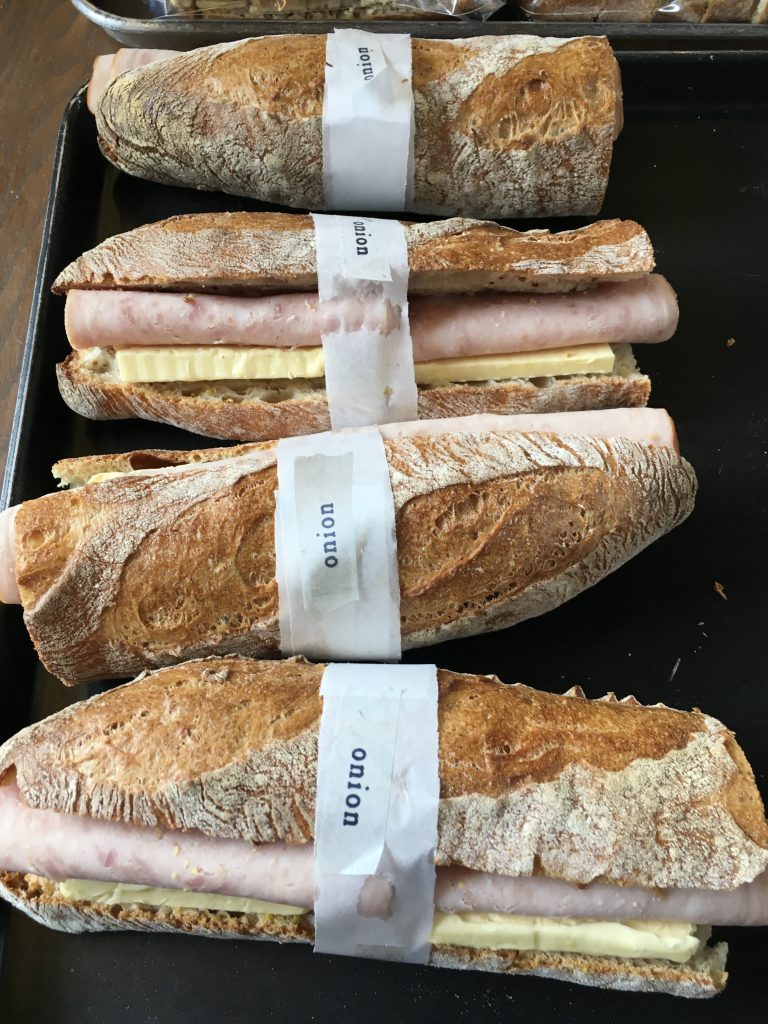 The icing sugar even cuts without collapsing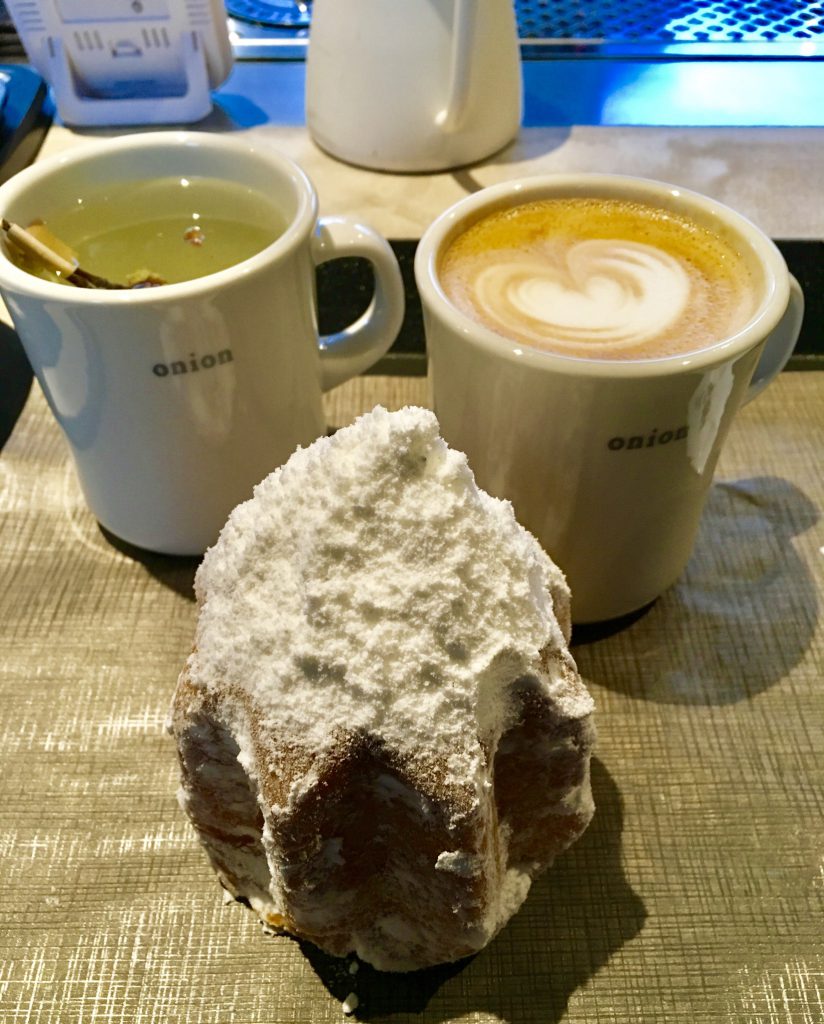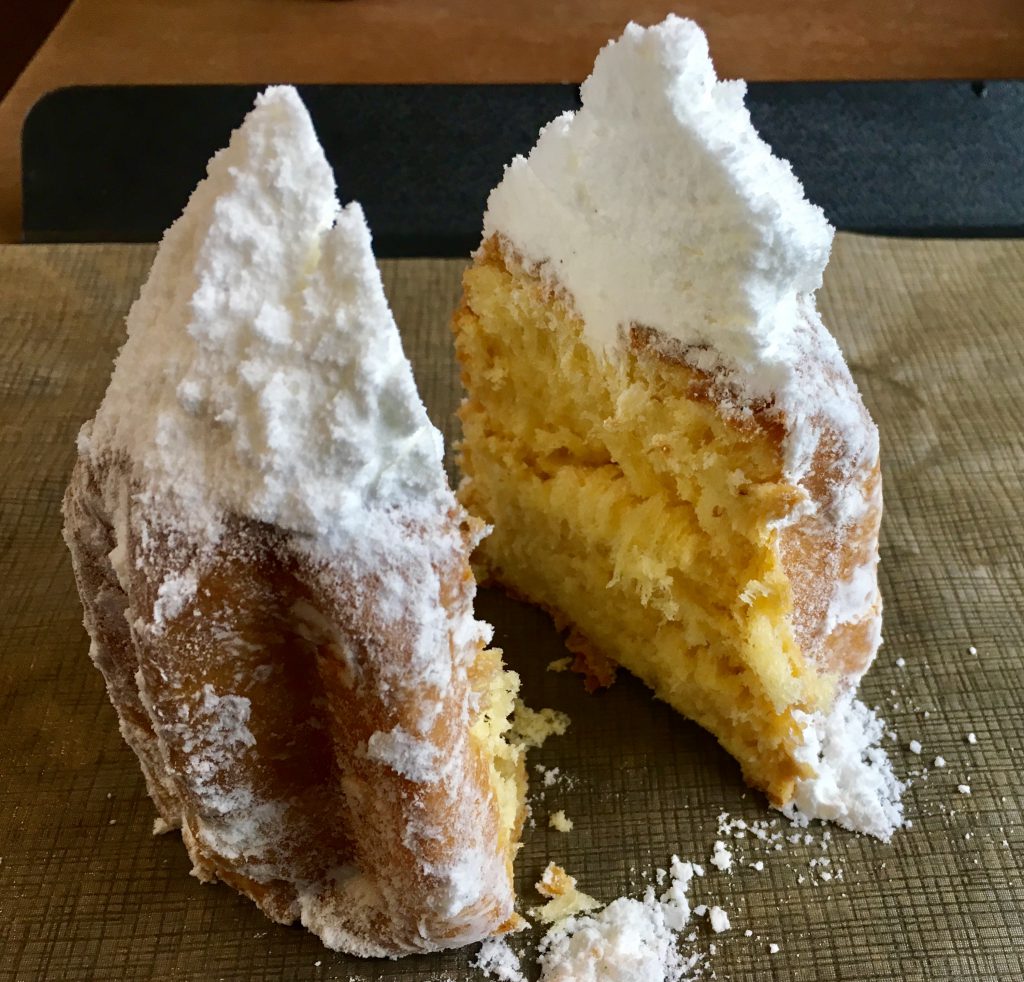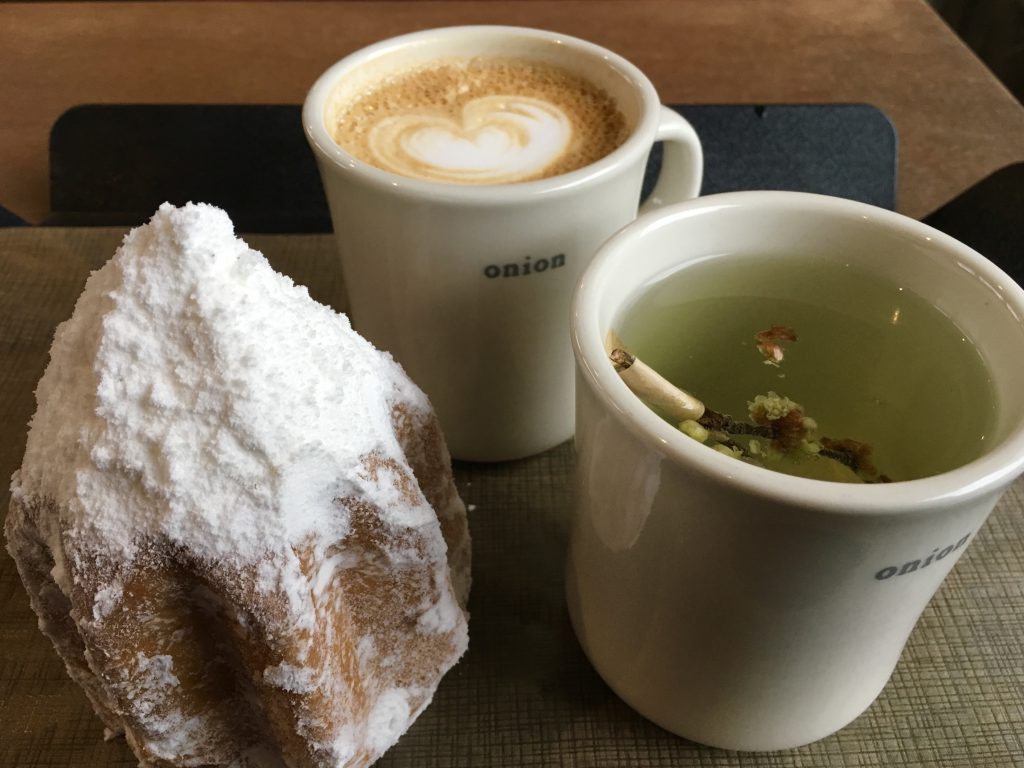 More descriptions and pictures here at Singaporean Daniel Ang's food blog. I don't know Daniel personally but the blog is always a good read for Seoul recommendations.
TO TAKE A CHANCE
We were caught in a very heavy downpour on the way back from Cafe Onion and had to wait a long time for the bus to arrive. I did not see any available taxis but at least we had one small umbrella which provided adequate cover. I guess living with British weather all these years gives you some resilience to rain, so much so that you sometimes end up saying is it raining? I hadn't noticed.
Dinner was at a very popular and fully-booked restaurant nearby called Gwanghwamun Mong-ro 광화문 몽로. One of our guidebooks recommended the rice paper-wrapped chicken which had an extra layer of crunch from being fried with what looked like wantan skin. We also had some stir-fried pork loin which was way too salty. Looking on the bright side of things, in a manner of speaking as the lights were very dim in the restaurant, the chicken and pork dish are perfectly doable at home and would make a good challenge for a future post.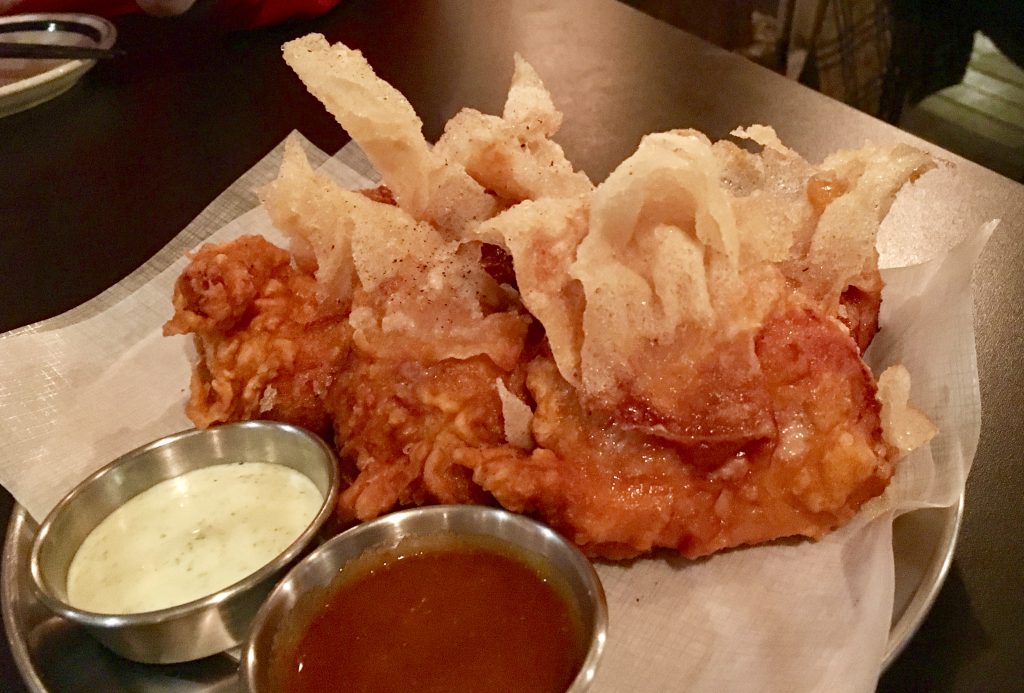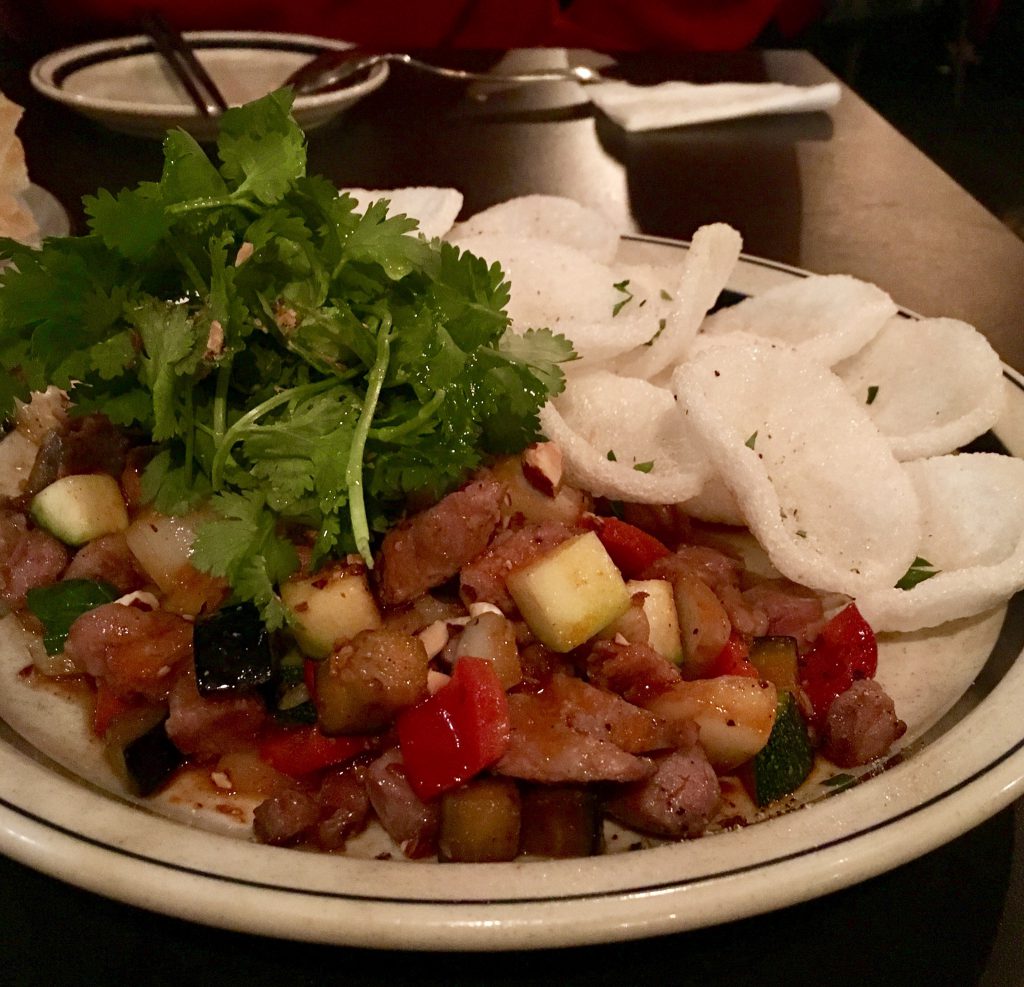 TO END THE DAY
Tiramisu must be one of the world's most popular dessert and this can be found in many dessert cafes here. We have chamomile tea and a version of tiramisu at Cafe Artisee.
The best tiramisu we have ever eaten was by Mafia Tiramisu which morphed into Mafia Dessert but now seems to have closed. I only have one photograph at the end of this post and in my head I am still looking to re-create that one perfect tiramisu to end all tiramisus. Another project for another day.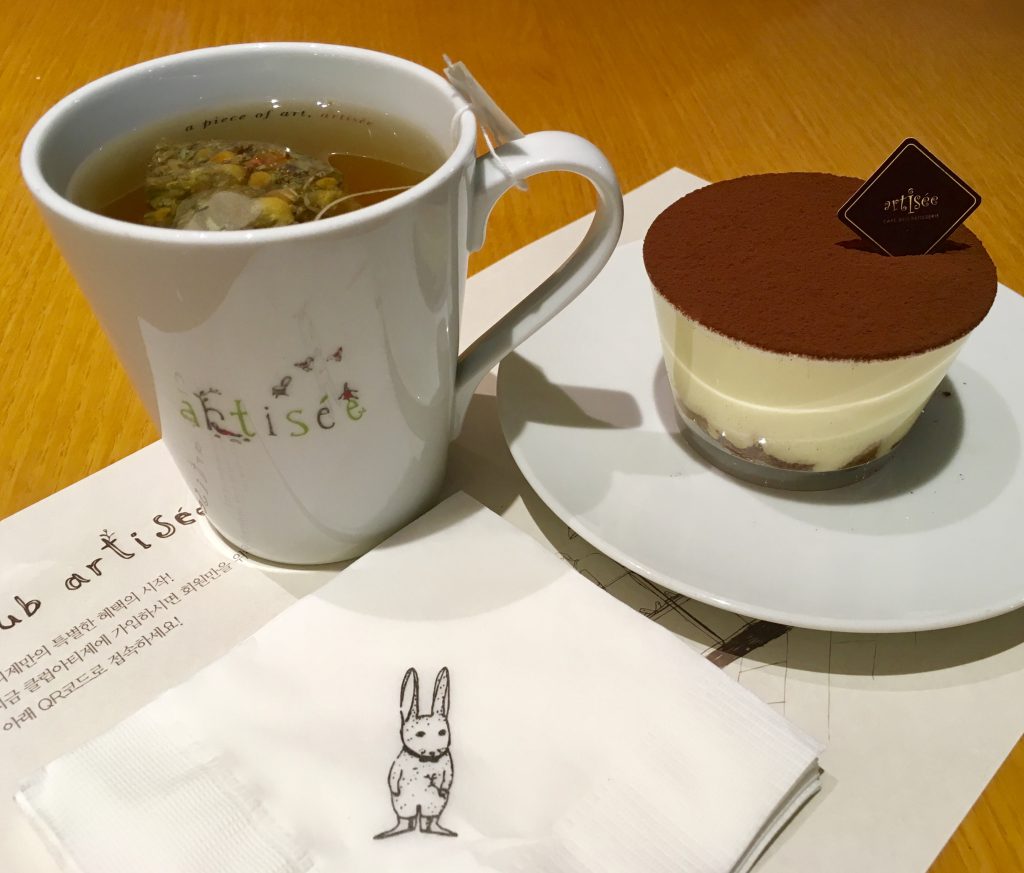 We also walk around our favourite bookstore Kyobo 교보문고 because it is great that bookstores still exist and that people still read. We are a very long way off from being able to understand an entire novel in Korean so as usual we head to the Learning Korean department to look at new books. If you are not already enrolled on a course then we can recommend the online teaching resources from Talk To Me In Korean.