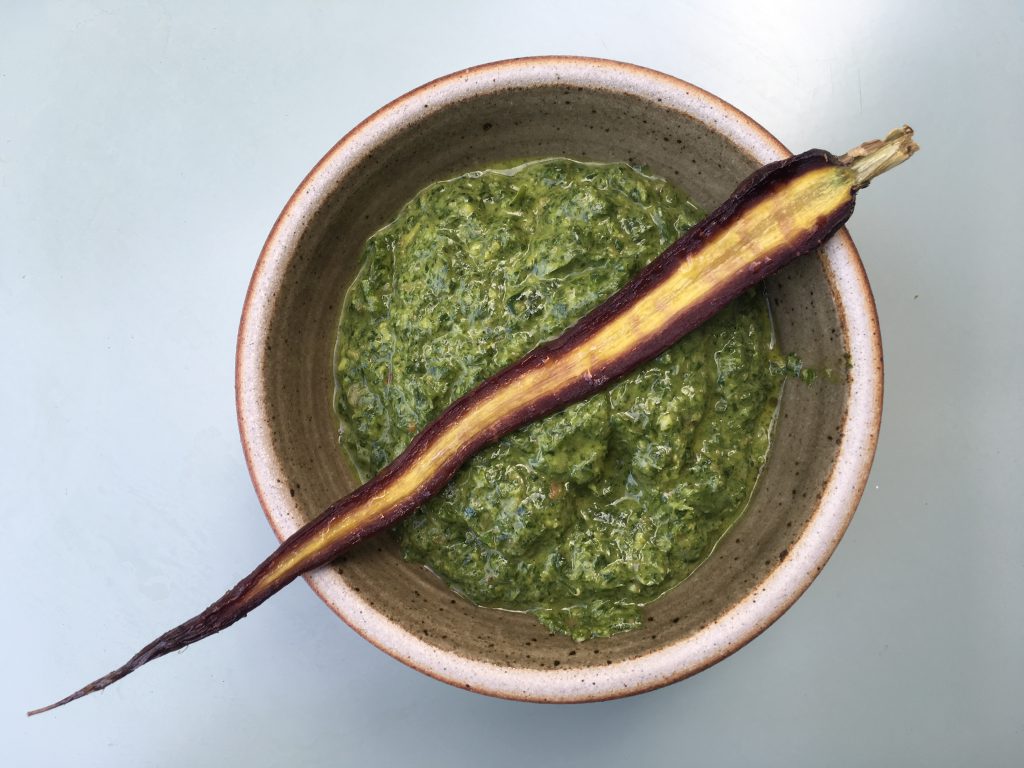 It is raining heavily as I write. I am feeling extremely happy because the heat in the past few days here in London has been unbearable, especially on Thursday. Tuesday was bright and sunny, Wednesday was hot and sunny but by Thursday we were in faint and sunny territory. Unfortunately the power supply was cut off in my area for half the morning. I survived by heading out to have lunch with LSE Boy in Marylebone, where we chatted about all sorts of things over a crab salad.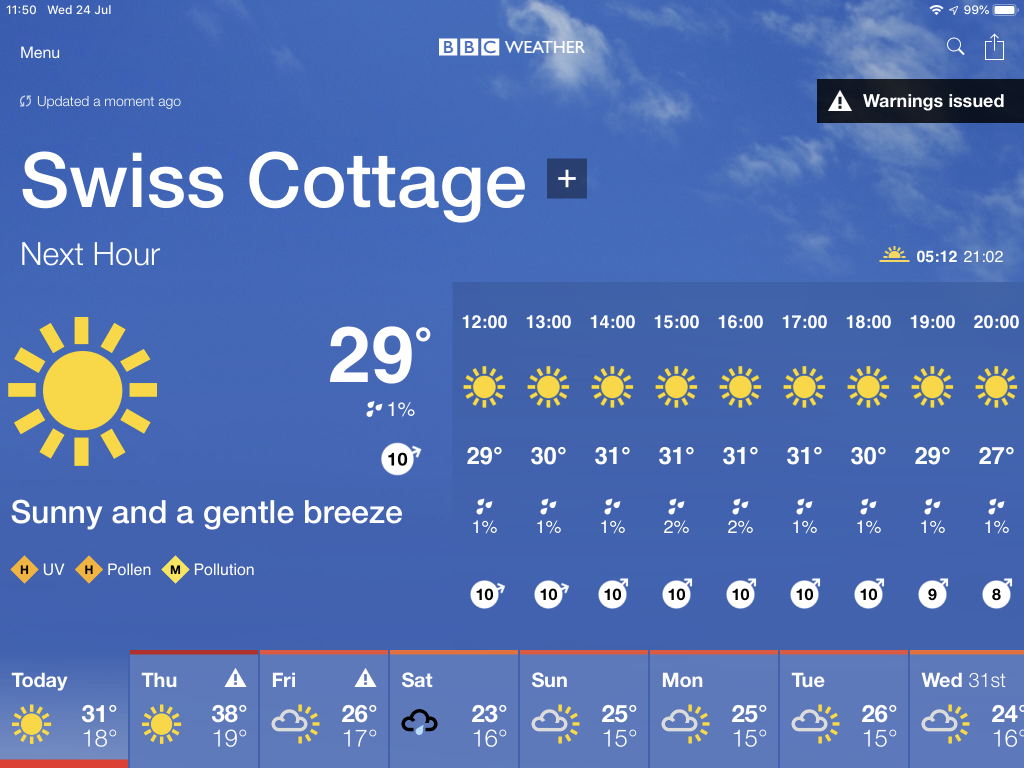 Making the most of the weather I headed to our weekly farmers' market in Swiss Cottage on Wednesday. It is a very small market with one flower and plant stall, and several stalls selling fruit, vegetables, bread, cake, meat and cheese. There are a few food vendors which I have not tried.
The photos I took of the vegetables are at the end of the post. The recipe for my version of a refreshing salsa verde (a green herb sauce) is here. You can chop everything by hand but given the heat, I just whizzed everything in the Thermomix, and you can use a food processor too.
I used a mixture of purple and orange carrots. The herbs were from the garden, which is now looking a bit unruly, like a long-haired male student at the end of the school year.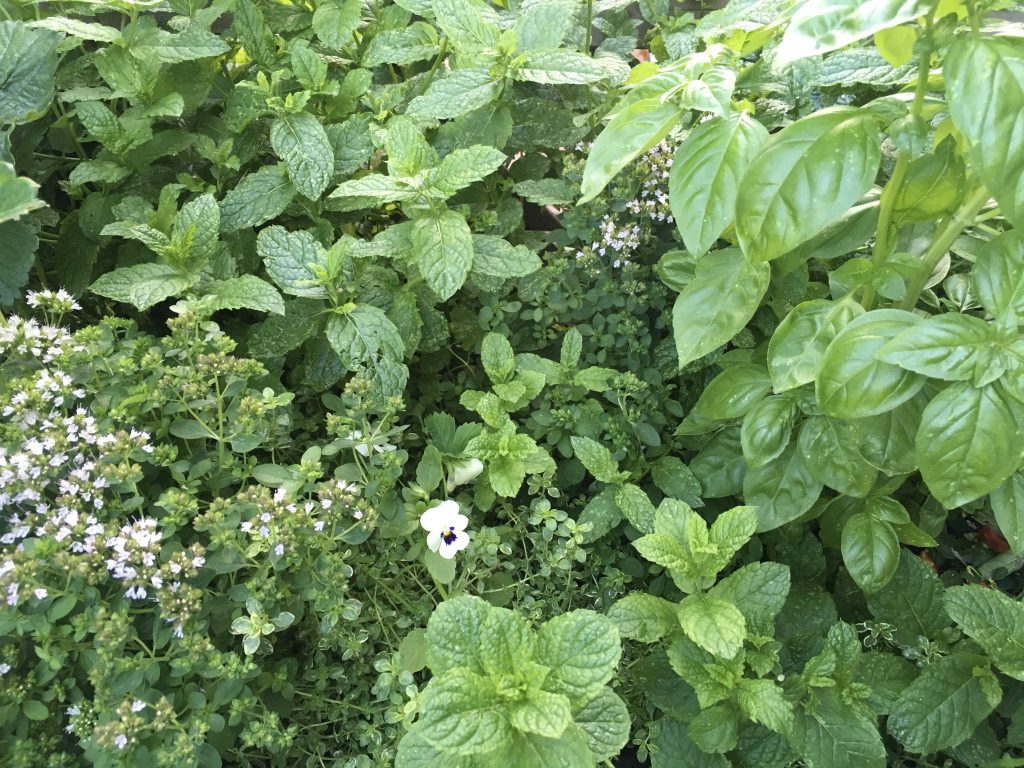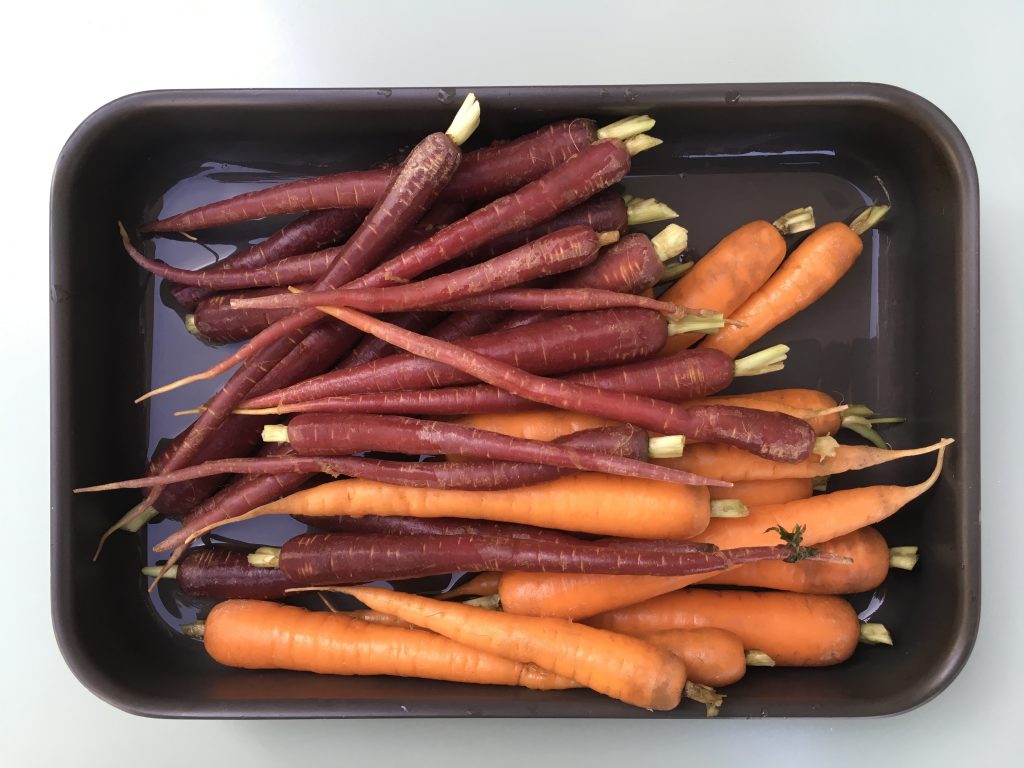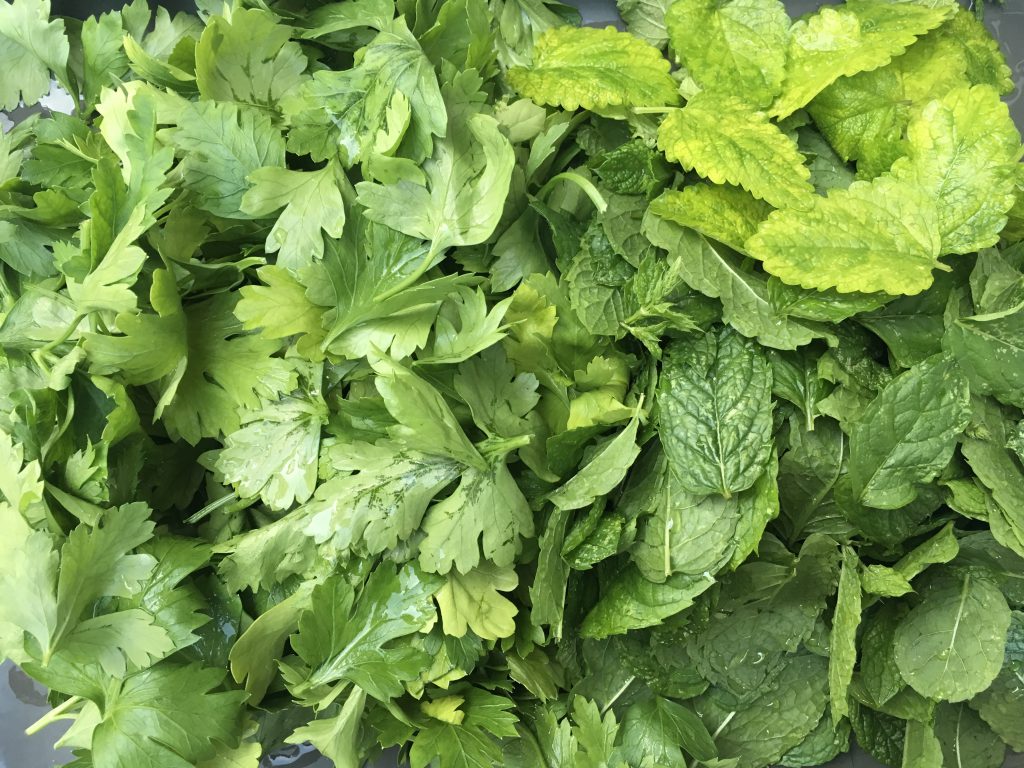 Ingredients:
A bunch or two of baby carrots
Zest of 2 lemons
15 g garlic
1 green chilli, sliced
120 g herbs: I used a mixture of flat-leaf parsley, mint and lemon balm
120 g olive oil
25 g capers
25 g Dijon mustard
25 g lemon juice
salt and pepper to taste
How to Make:
Wash and scrub the carrots, then slice in half lengthways. Place in a roasting tin, drizzle with a bit of olive oil then roast at  200 C for 20  – 40 minutes. The carrots are done when slightly soft on the outside but slightly firm in the middle. Remove from the oven and eat whilst warm or on a hot day, chill then eat with the salsa verde as a dip.
To make the salsa verde, first wash and dry the herbs. Remove the stalks and you will need 120 g of the leaves.
Place the lemon zest, garlic, chilli, herbs, olive oil, capers, mustard and lemon juice in a Thermomix bowl. Chop 10 seconds / speed 5.
Scrape down the sides of the bowl then chop again 10 seconds / speed 5.
If you are using a food processor, place all the ingredients and chop until you get the consistency you want.
If you are making the sauce by hand, chop the herbs finely, add in the other ingredients then give it a good stir.
Chill the sauce until needed.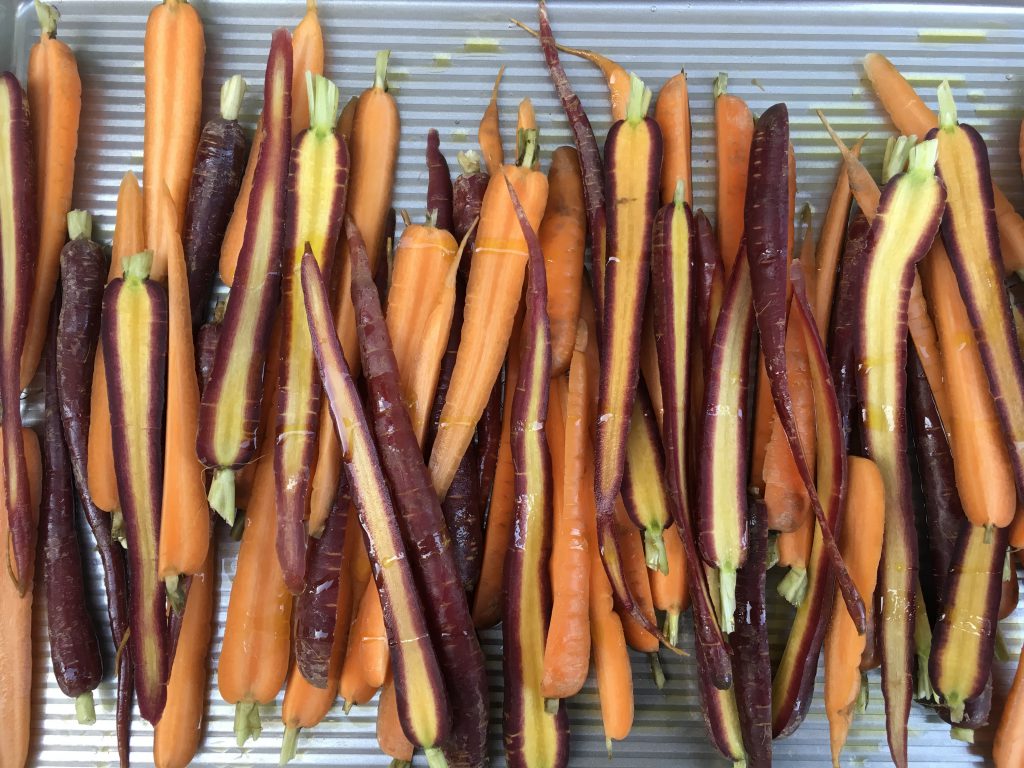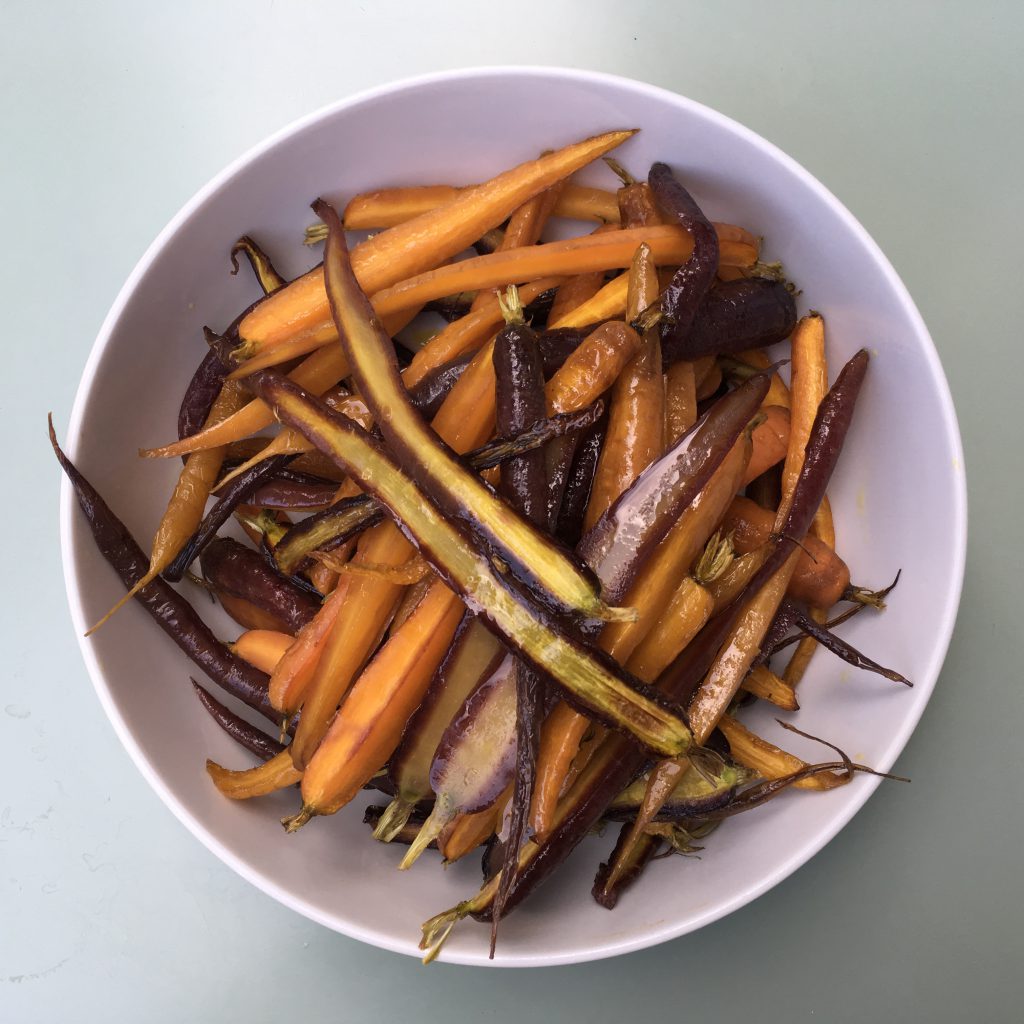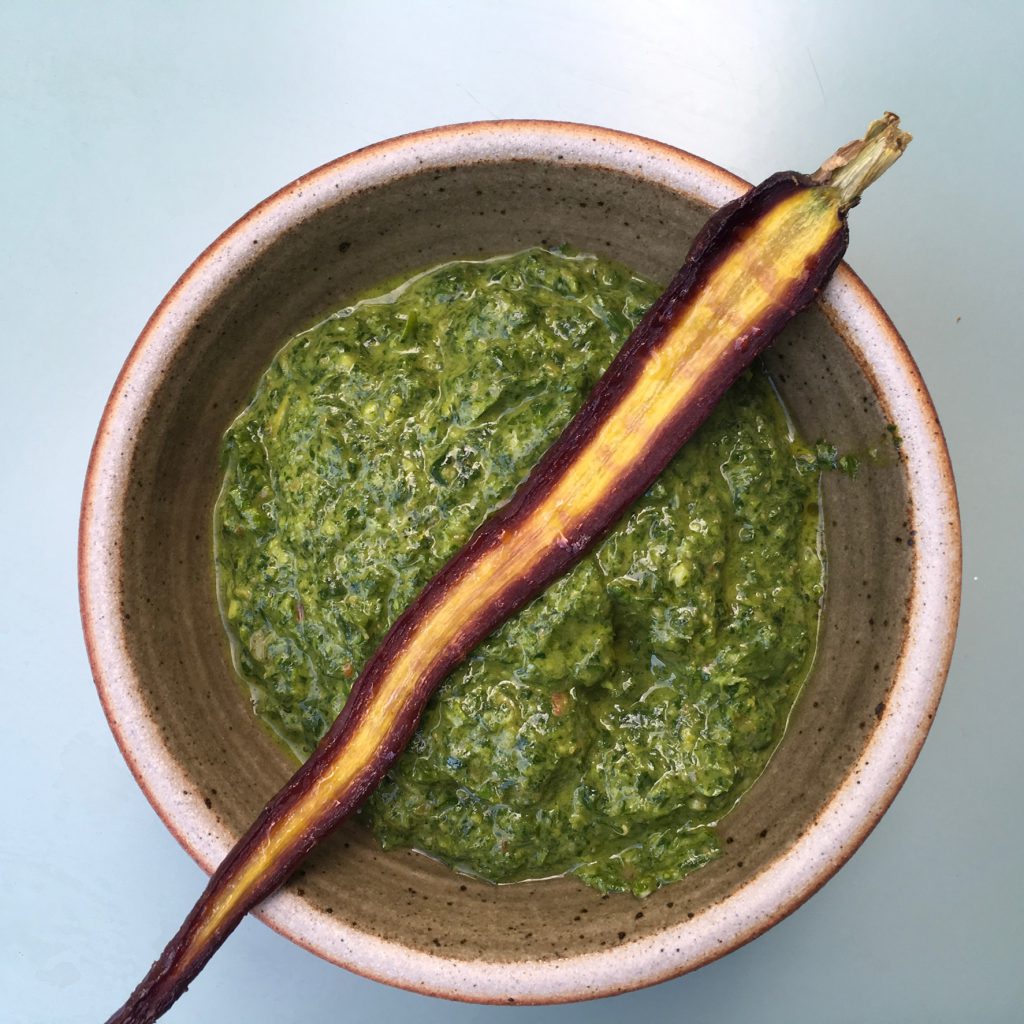 I am very proud of our local farmers' markets. The one I go to most are in Swiss Cottage on a Wednesday and Marylebone on a Sunday after church. These markets will never be as big as the one I admire most, which is the Union Square Greenmarket in Manhattan, but they are enough for what we need. Below are some of the fruit and vegetables on Wednesday.
What a delightful choice of aubergines which I love. I bought some long and thin ones, reminiscent of my childhood in Kuala Lumpur, which I sliced then slowly fried in my simple sambal sauce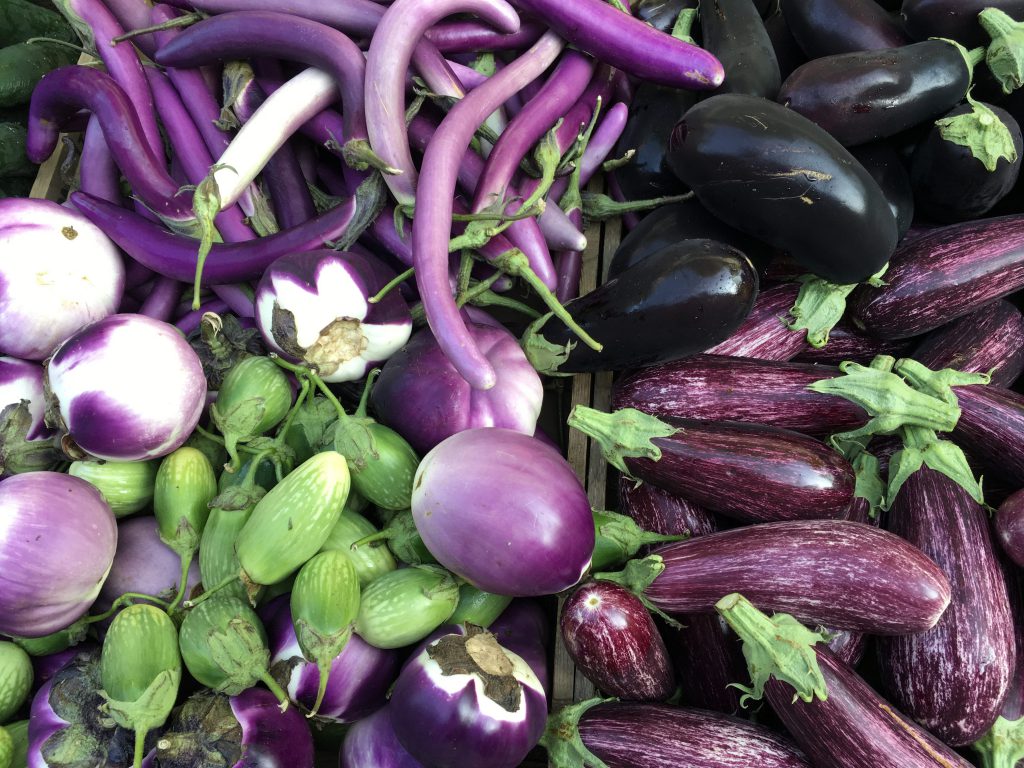 Purple aubergines, yellow, green and red peppers…nature's colours are so wonderful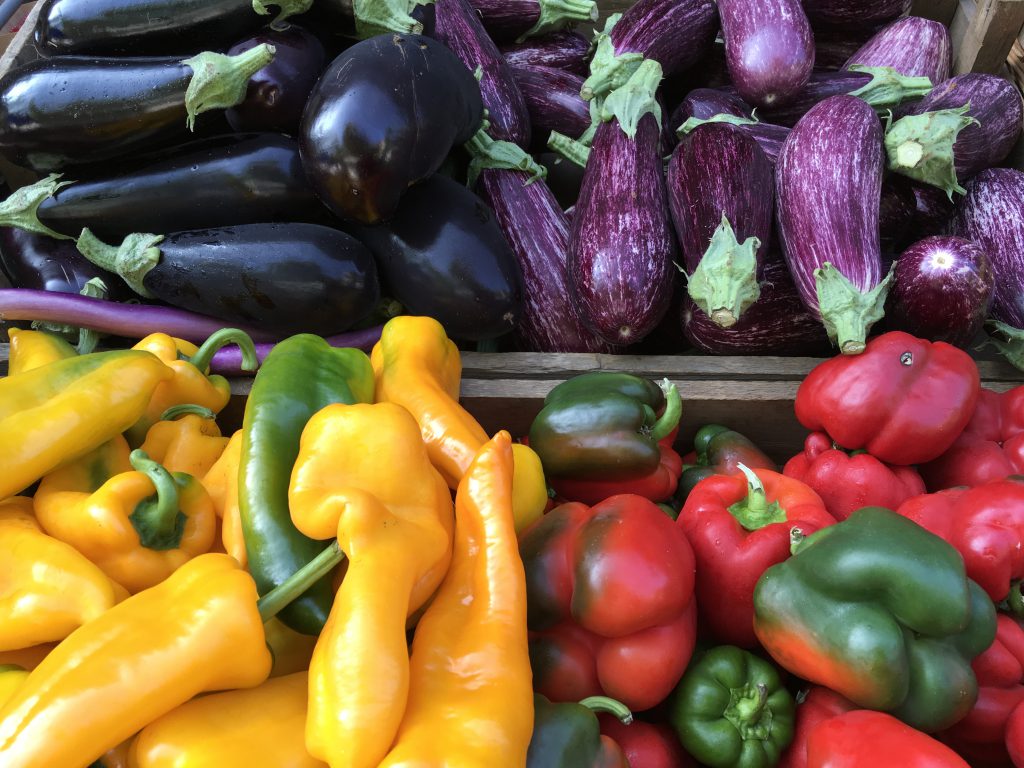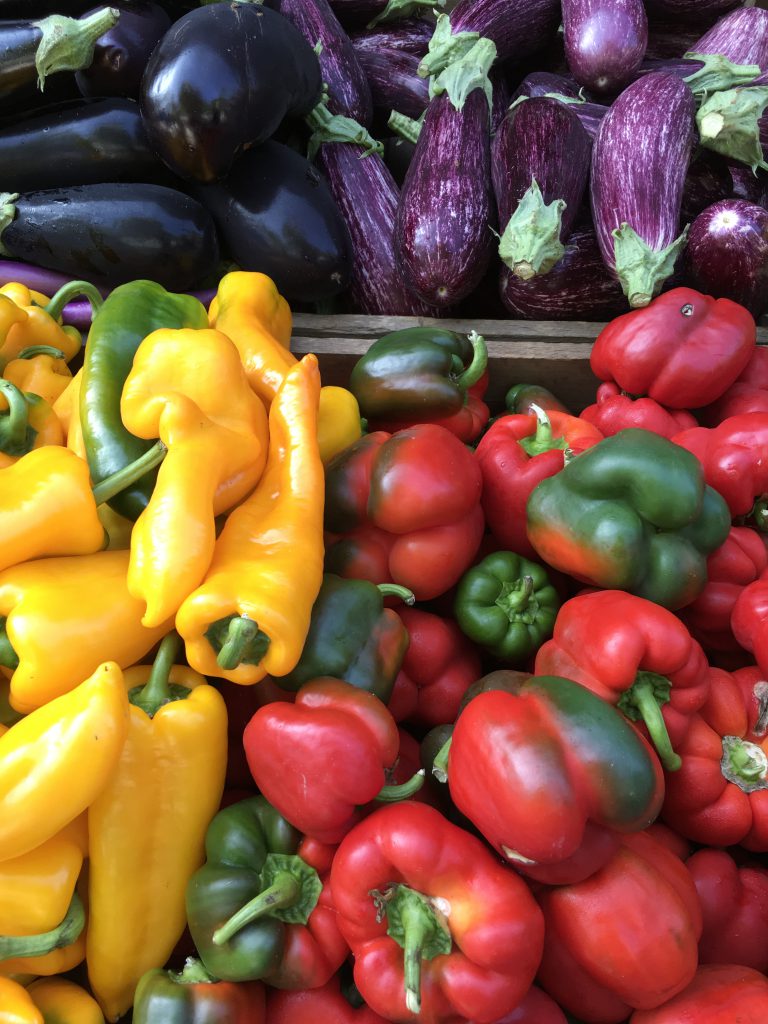 Round courgettes which can be hollowed out and stuffed with rice and minced meat, or rice and cheese. The baby courgettes are the 'leftovers' with the yellow courgette flowers sold separately as a delicacy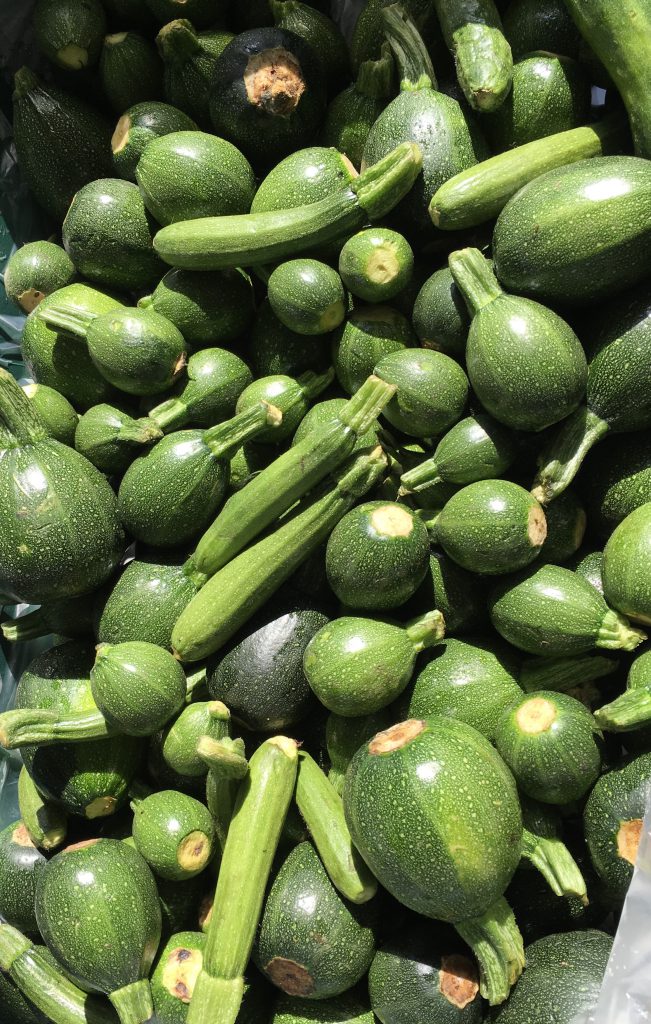 Green beans which I often stir fry in a bit of chopped garlic and chilli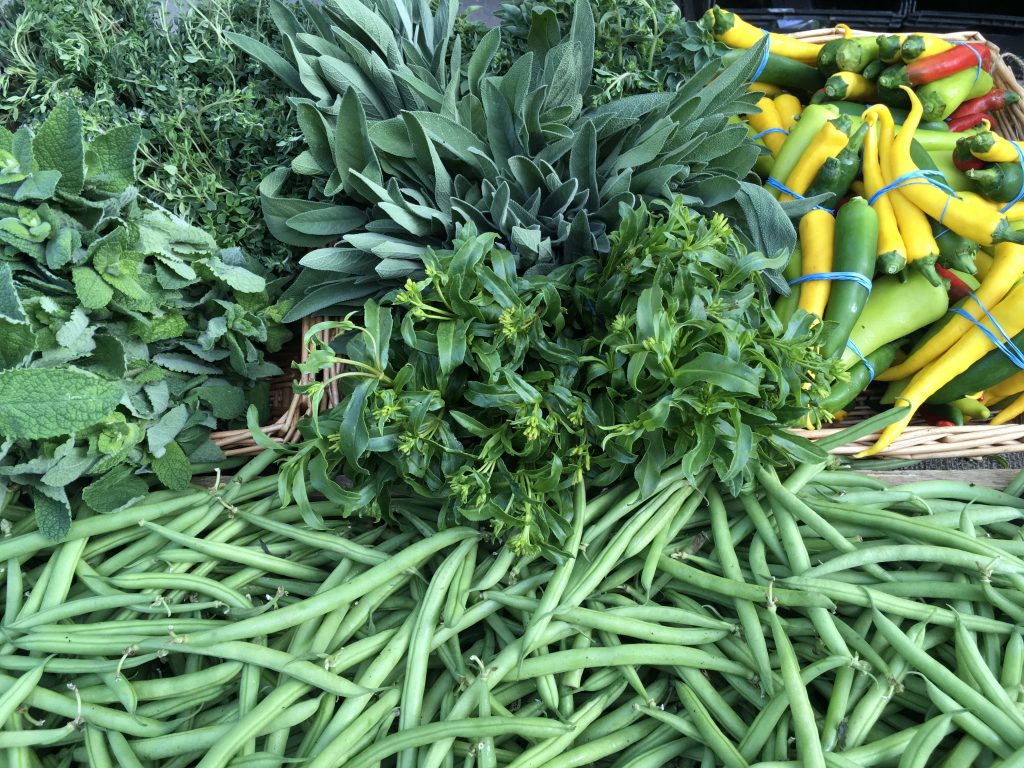 A choice of tomatoes. In this heat, it is best to slice them and serve chilled with a simple salad dressing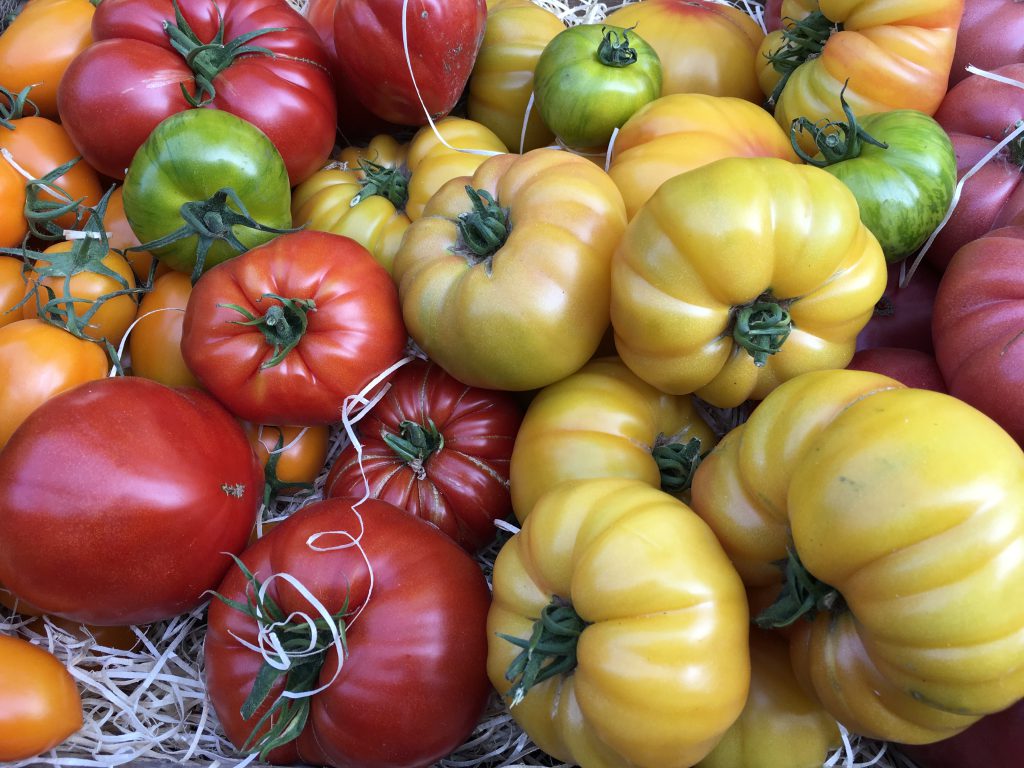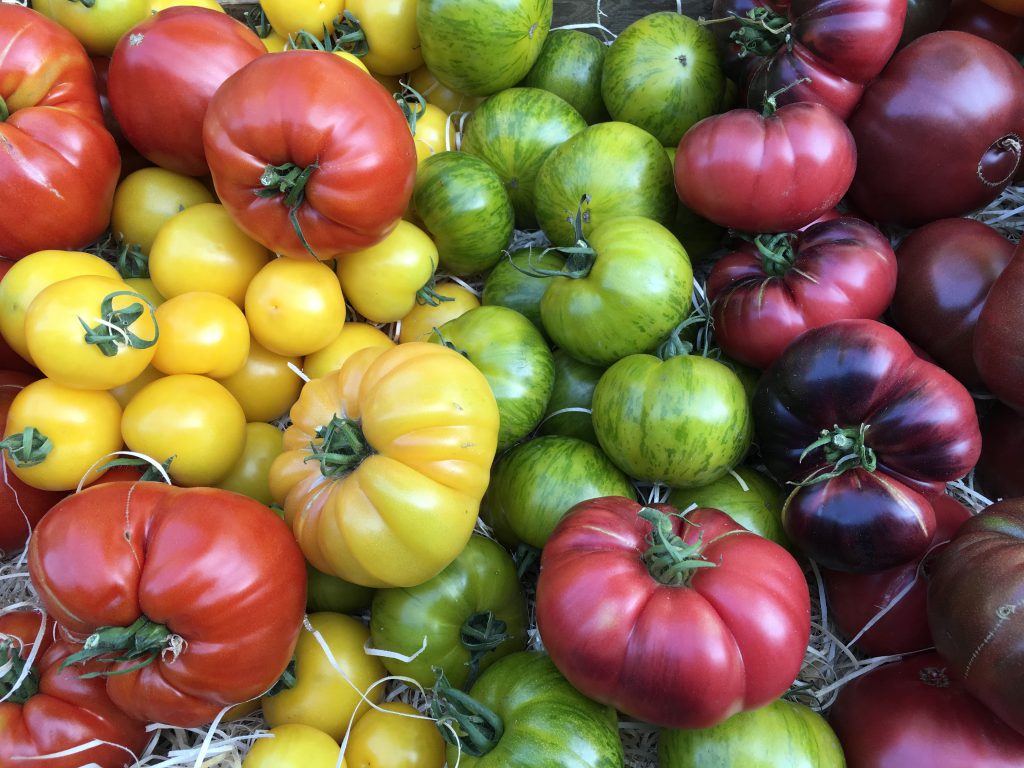 Soft berry fruits which are lovely in a summer fruit pudding, and sweet and juicy cherries from Kent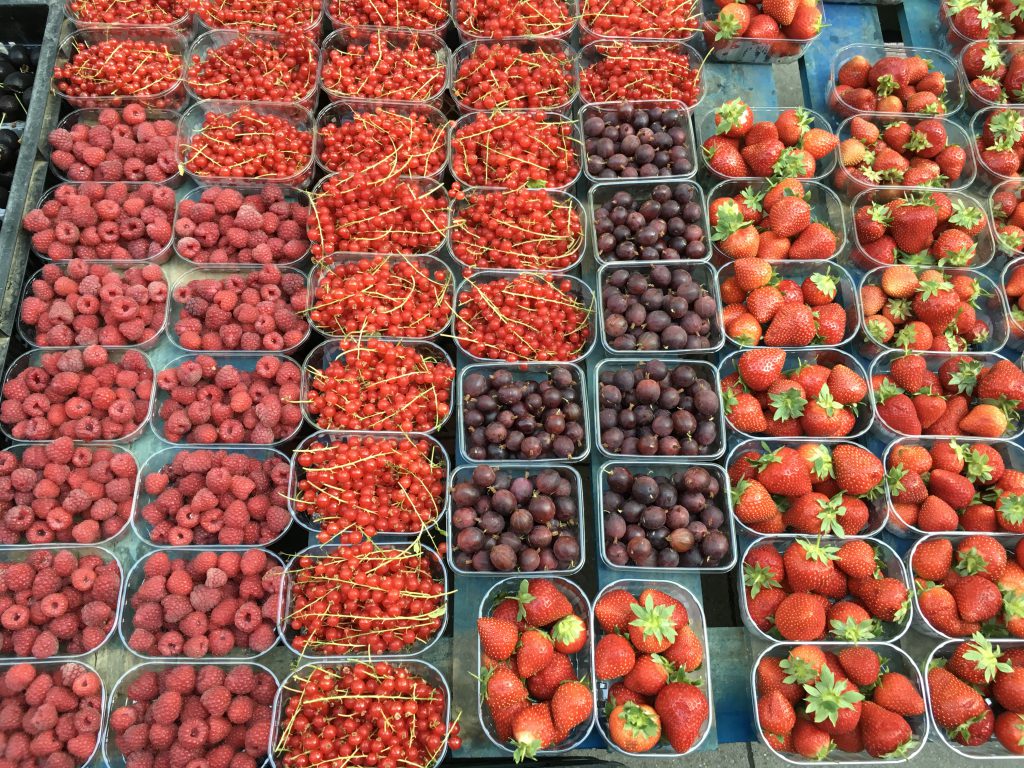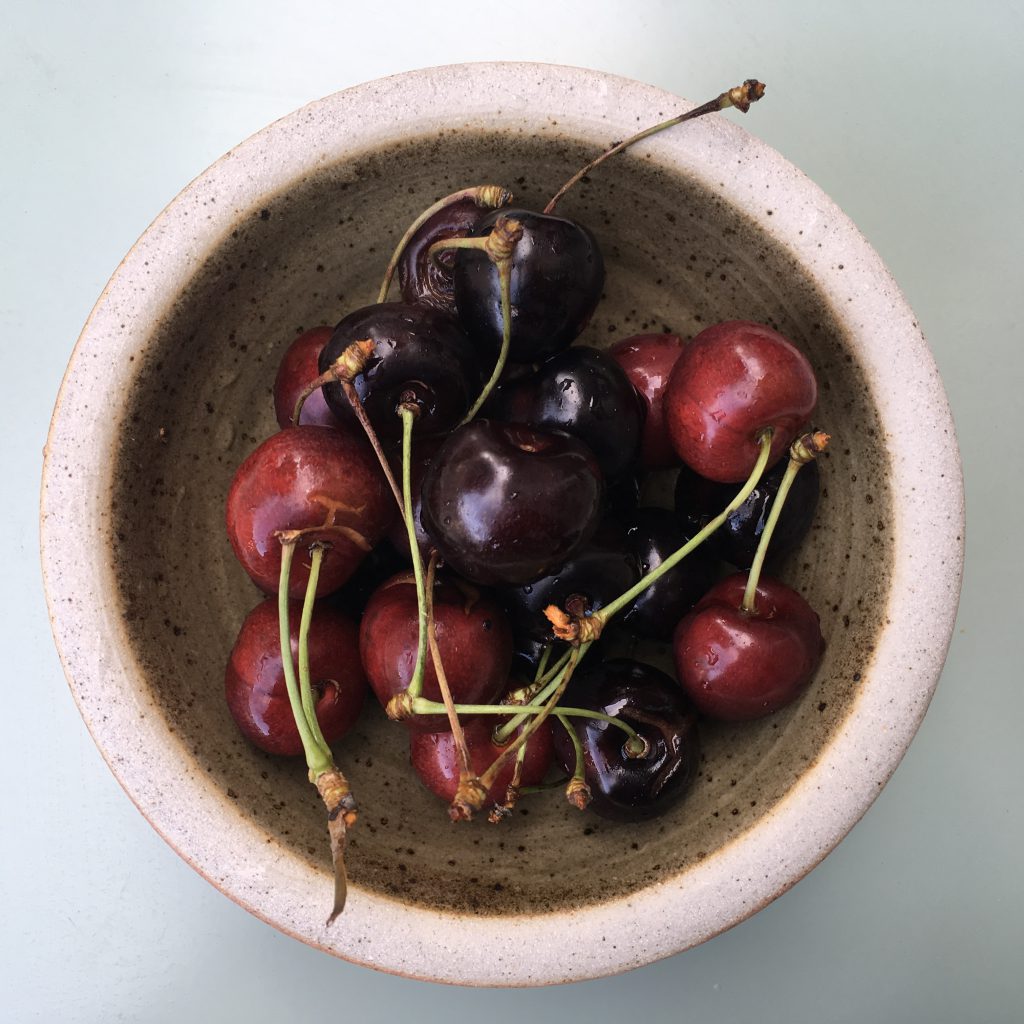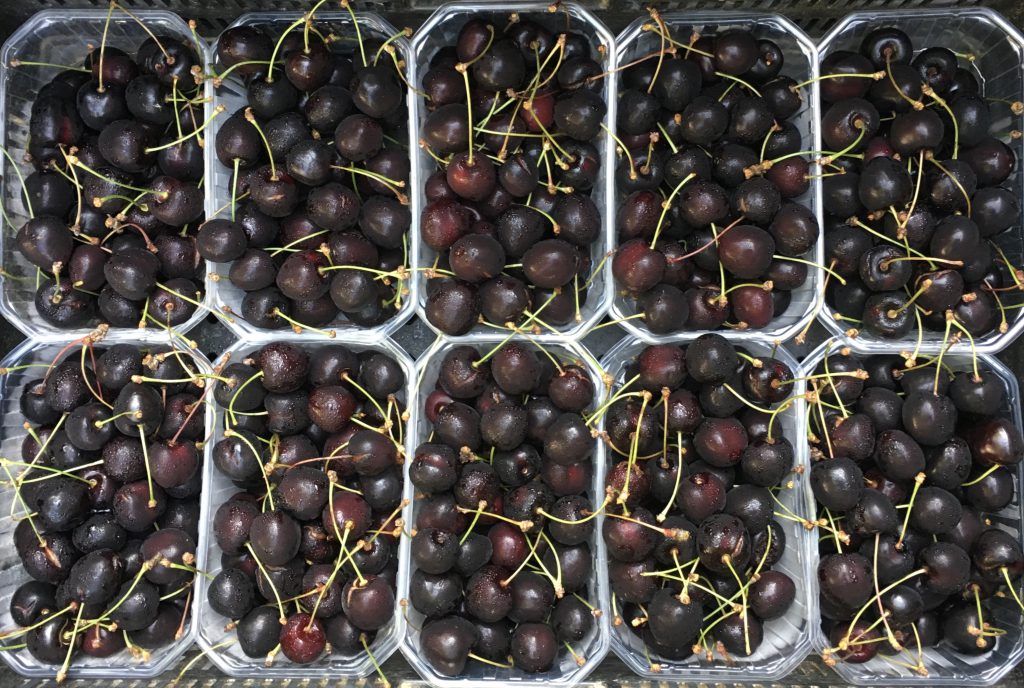 The carrots which inspired this recipe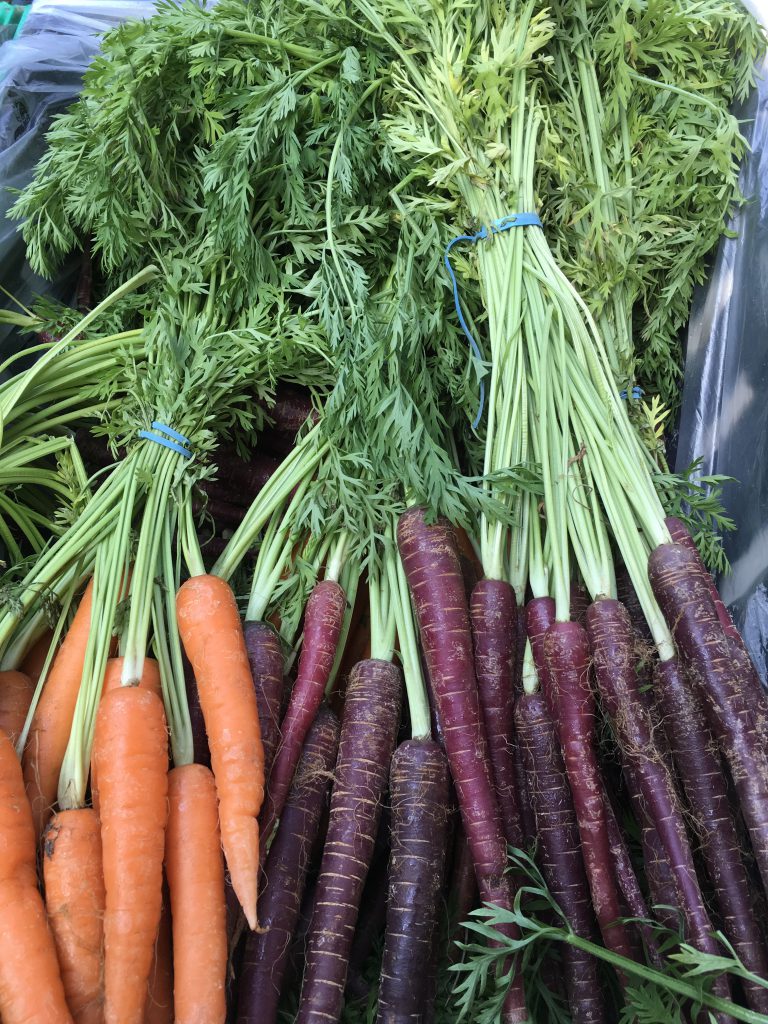 In fact the green carrot tops can be used in the salsa verde, as recommended by Joshua McFadden in his book Six Seasons. I turn to this book time and time again when faced with a bunch of vegetables and need help with what to do with them. I love Mr McFadden's recipes and even bought some Tuscan kale to make that famous kale pasta sauce. With the rain, today might just be the best day to try it out. Bon Appétit!