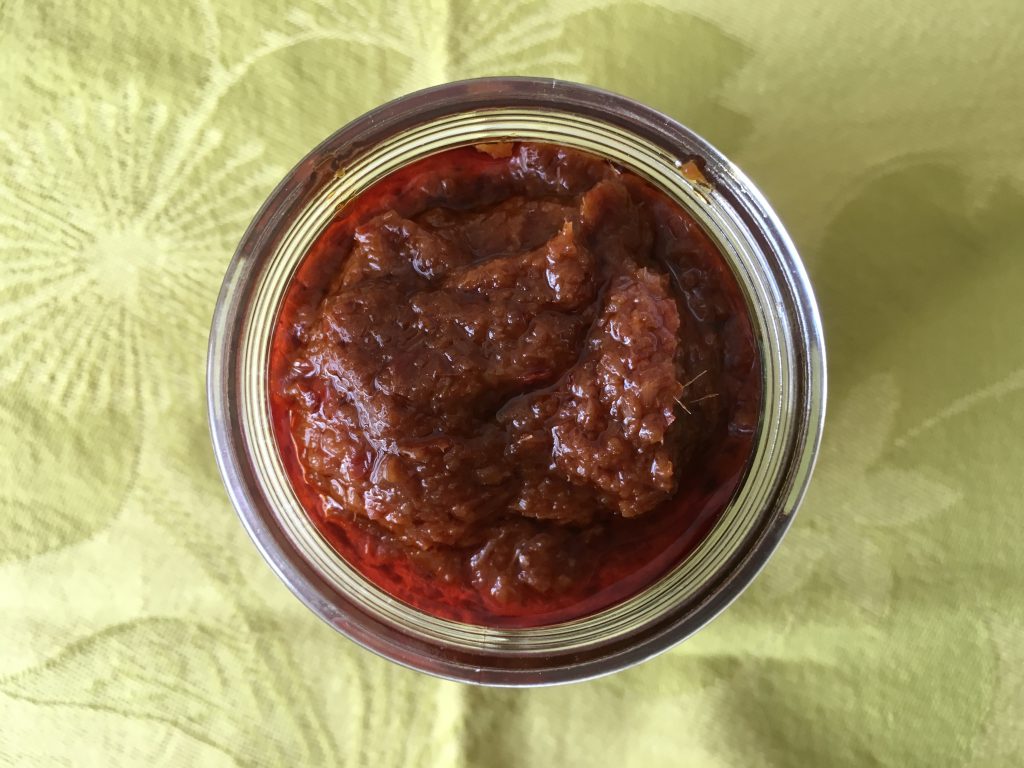 What's in a name?
Feeling nervous about writing up a piece on sambal when there are so many experts out there, I turned to Wikipedia's page on sambal which lists almost every type of sambal imaginable. You could start a business along the line of Heinz's 57 varieties, with different types of sambal to suit different palates.
At home, though, this is the sambal sauce I make to eat with grilled fish, barbequed chicken and stir-fried noodles. It accompanies a plate of simple nasi lemak and, loosened with a bit of coconut milk, this is a great base for a prawn and pineapple curry. I even spread a teaspoon on it this morning with my avocado on toast.
I made the sambal sauce in my Thermomix. You could simply blend all the ingredients in a food processor, then fry the paste in a pot until you get the right colour and consistency. This is not difficult, but having a machine that weighs, blends and then cooks the paste all at the same time makes it almost effortless. I live in a London townhouse with no option to open windows and air the kitchen in the almost eight months that it is cold (and sometimes it is very cold), so a sealed unit is perfect for these kinds of jobs.
A word about the dried chillies. In my research, the weight of dried chillies that recipe books gave varied wildly. With some recipes, had I gone with the amount stated, the sambal would have been inedible due to the heat level. The chillies I use are long ones from India. I do not know the precise name of this variety which I get from the local supermarket each time I am in Kuala Lumpur. As a general rule of thumb, the larger the size of chilli the milder it will be. If you live in the UK, I could recommend South Devon Chilli Farm. Give them a call and ask which chilli they would recommend for this dish.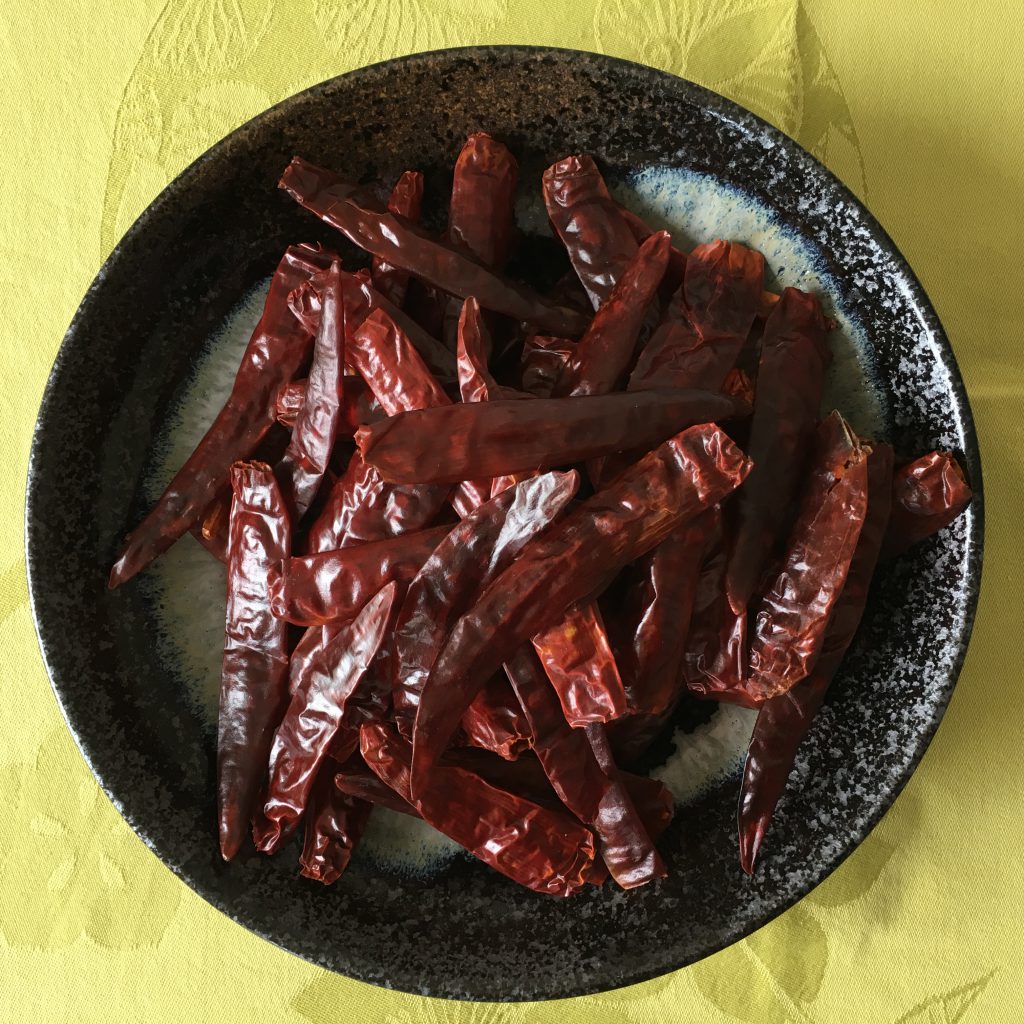 Another thing to point out is that I have given up on the shrimp paste known as belacan as it really does stink up the neighbourhood, and I do like my neighbours. I now use anchovies instead. All sambal recipes call for bawang merah which are small red shallots but when pressed for time I peel and use larger red onions. Finally, instead of tamarind paste I use lime juice as a souring agent.
So is this a sambal? Maybe It's sambal Jim, but not as we know it? You know, Mr Spock in Star Trek never said It's life Jim, but not as we know it. The words were No life as we know it. Fortunately when you eat this sambal you will definitely recognise it as sambal as you know it. I made several batches and tried it on my Malaysian friends before writing up this recipe.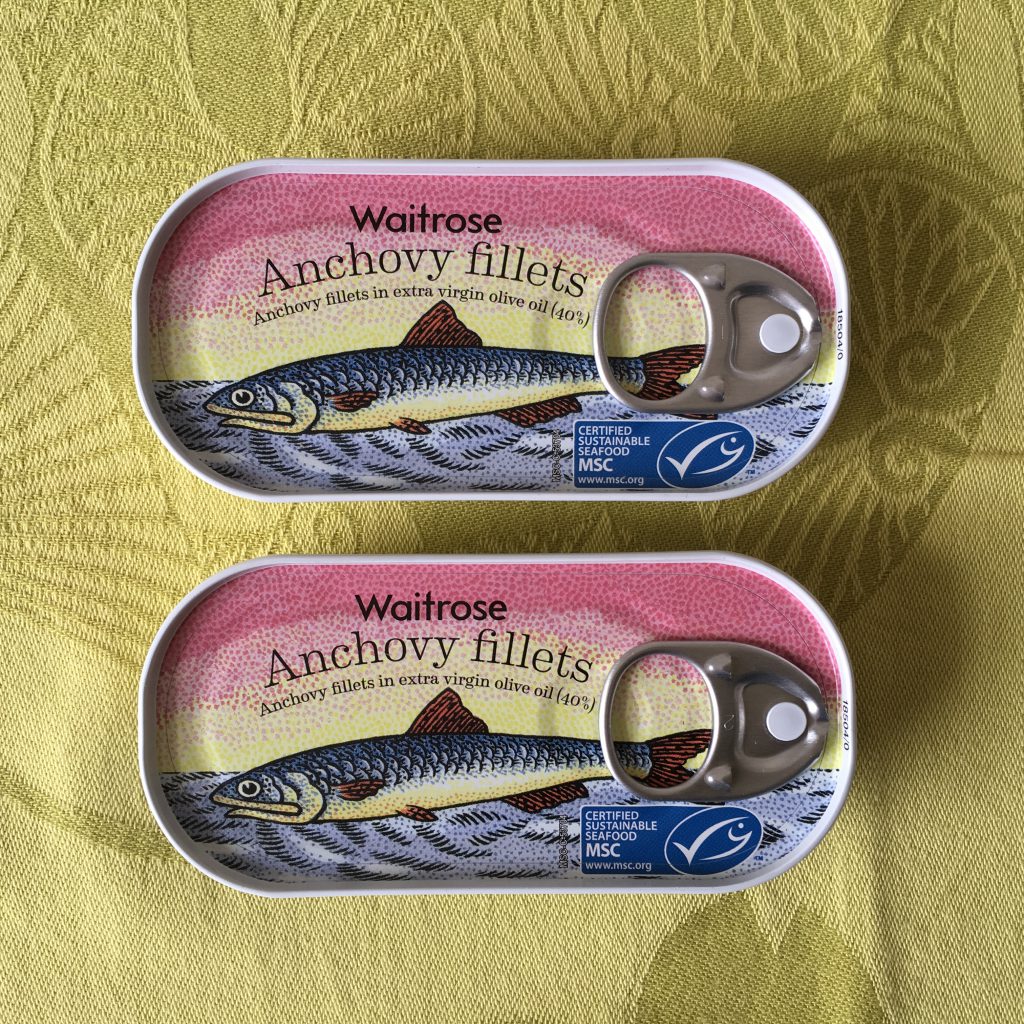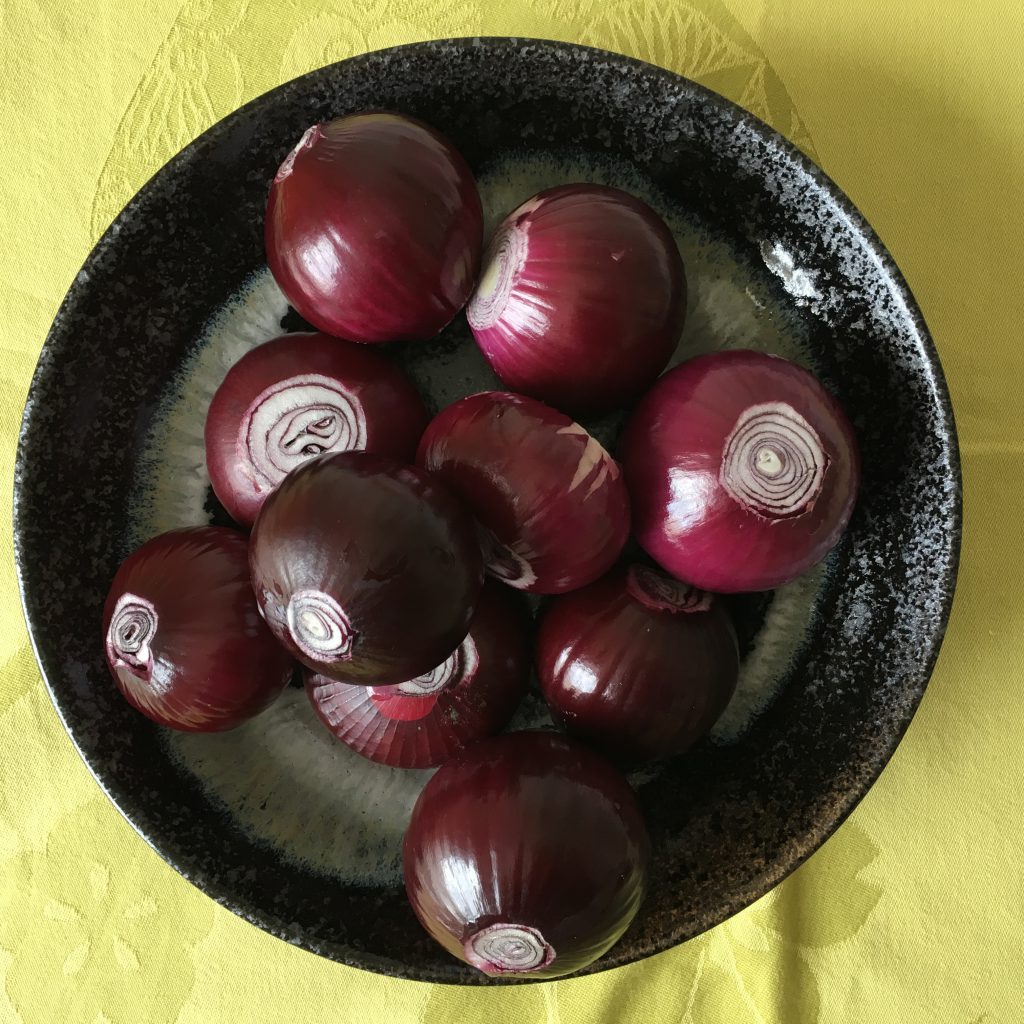 For the Sambal:
45 g dried chillies (180 g soaked and drained weight)
90 g fresh lemongrass, bottom half only, sliced thinly
360 g shallots or red onions
45 g fresh garlic cloves
1 x 50 g tin of anchovies preserved in oil
225 g sunflower oil
90 g dark brown soft sugar
2½ teaspoons fine sea salt
5 tablespoons fresh lime juice
How to Make:
(please see update 07 October 2019 at the end of the post)
Rehydrate the dried chillies in hot water, then drain and cut into smaller pieces if the chillies are very long.
Place the chillies, lemongrass, shallots, garlic, anchovies and sunflower oil in the TM bowl. Grind 20 seconds/ speed 10.
Scrape down sides of the bowl with a spatula.
Add the salt and sugar.
Without the cap, but with a splash guard (TM6) or a perforated metal lid placed on the cover (TM5), cook the paste for 15 minutes/ 120 C/ speed 2.
Add the lime juice and check if you need to add a touch more salt, sugar or lime juice.
Store the paste in sterilised glass bottles or in suitable tupperwares. The paste can be frozen very successfully.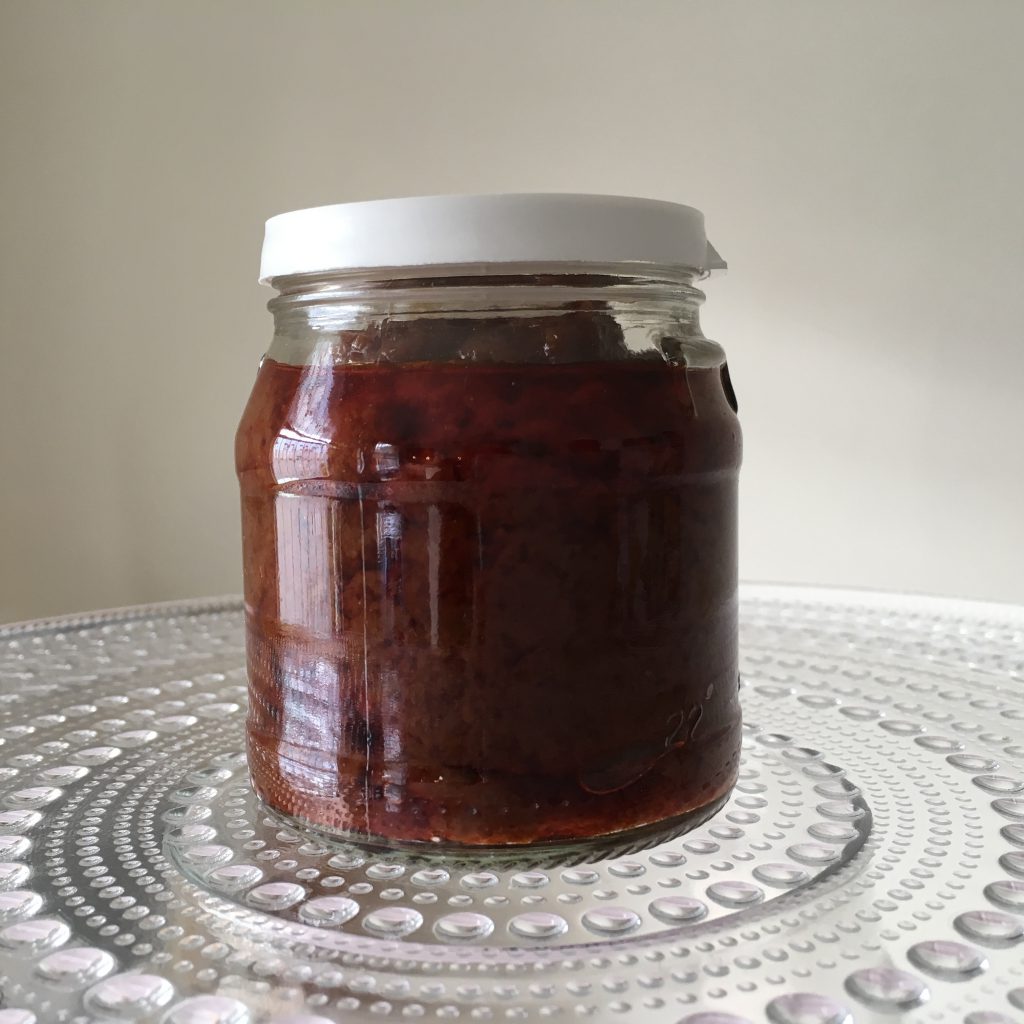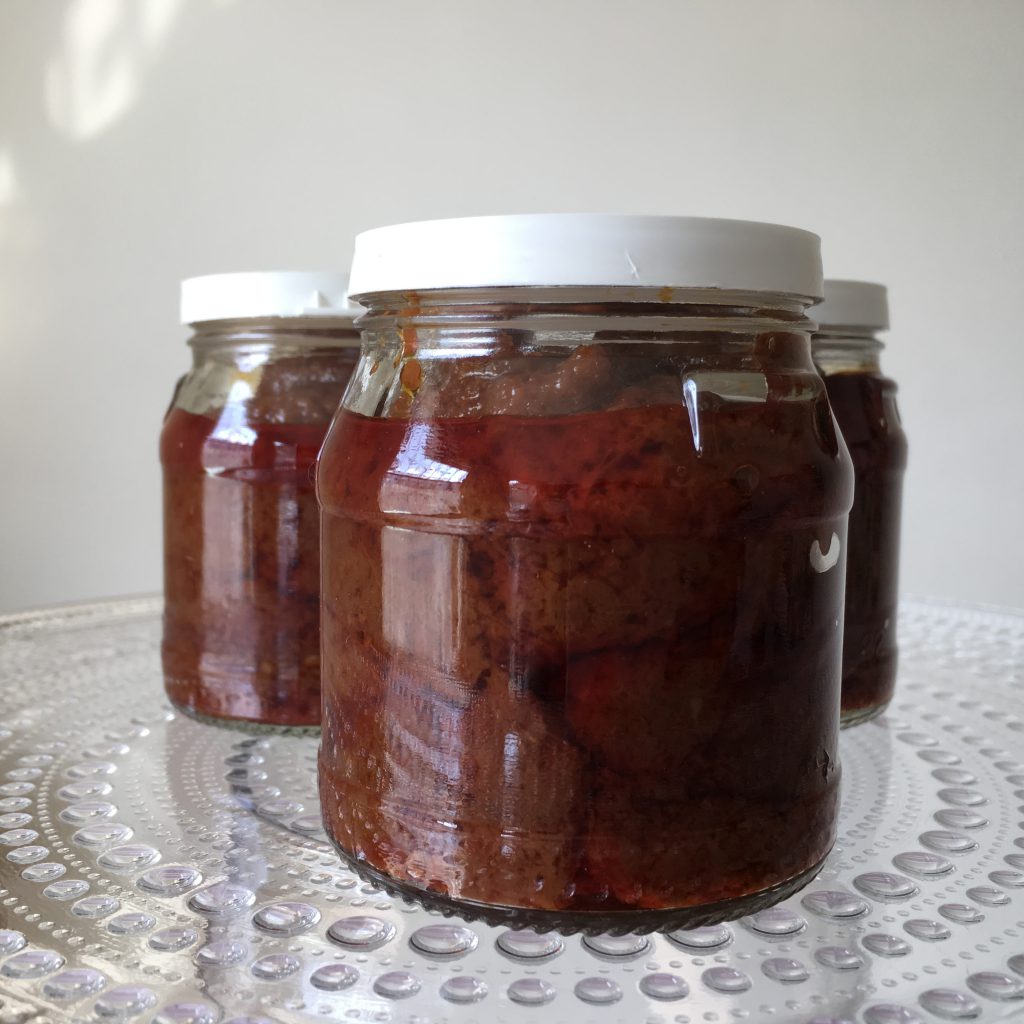 By some happy turn of events, I have actually received my TM6, one of the very few customers in the UK to have done so. This is of course a magnificant present for my birthday this week. There is some concern from Thermomix HQ about my talking about it since not all the machines have been sent out.
Personally speaking I do not know what the fuss is about. TM advisors from other countries are already writing and showing videos about the TM6. Nevertheless, since I am not an advisor and have no interest in the machine other than being an enthusiastic end user, all I will say for now is that the new splash guard is really useful.
When making the sambal, I leave the cap off the cover. This allows extra moisture from the sauce to evaporate but it does cause a splash. I bought this perforated metal disc from Daiso in KL, but the TM6's dedicated splash guard fits so much better.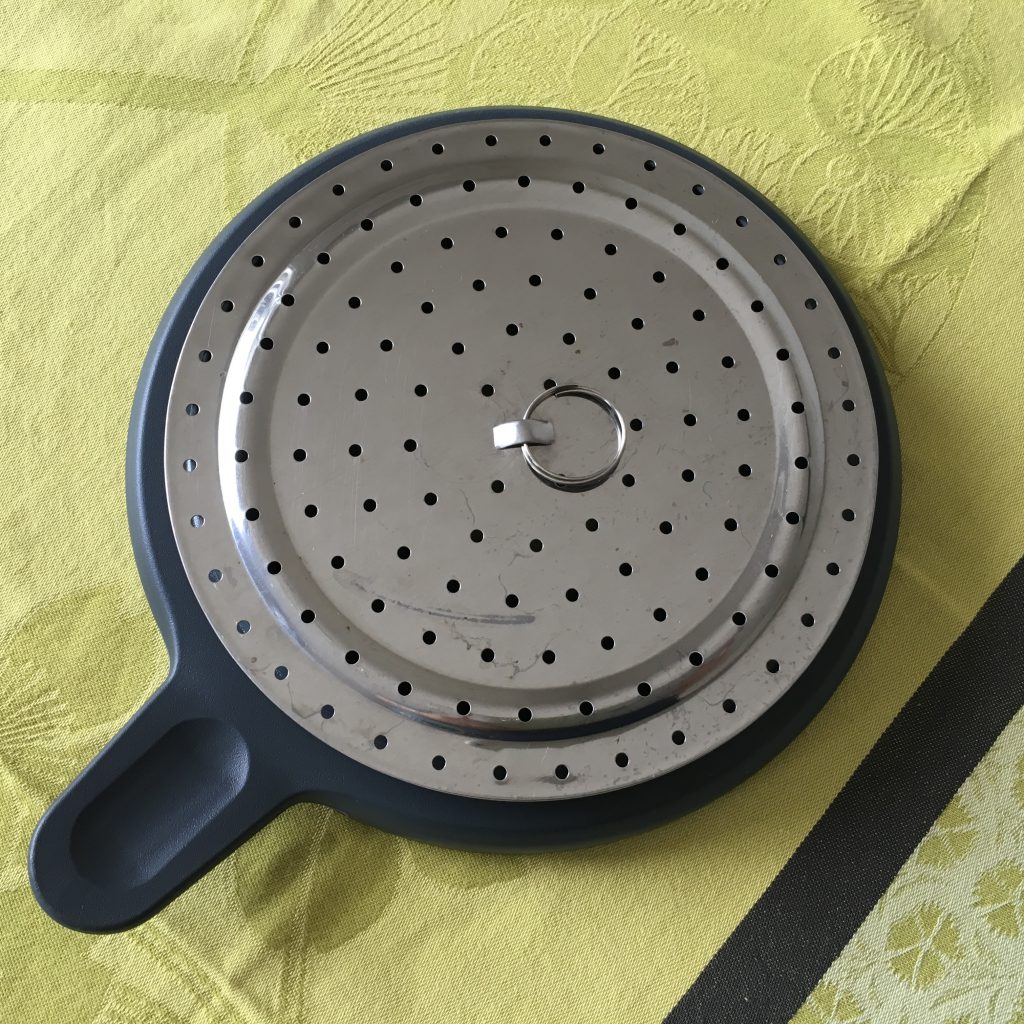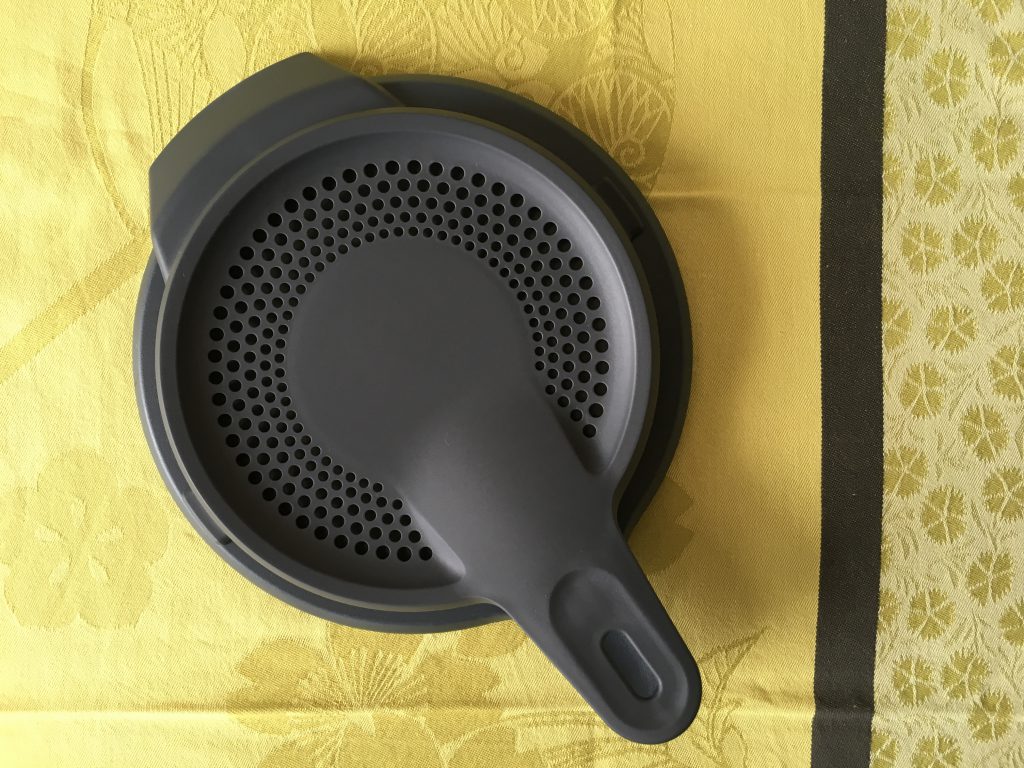 I am seriously looking forward to playing with the TM6. More about this later as I need to write up several more posts before I do so.
UPDATE 07 October 2019
The last batch of sambal sauce that I made was extremely successful. I had a lot of friends ask for the recipe and friends who really love their sambal went home with a bottle of it. I made another batch again today in preparation for a Nasi Lemak party this weekend and decided I did not like the plop, plop, plop sound of the sauce cooking, so I reduced the cooking temperature to 100 C and extended the cooking time to 20 minutes. I also used coconut sugar (100 g) instead of the dark brown soft sugar. I would say that using the dark brown sugar gives it a richer colour but tastewise, it is still so good it would make you cry (with happiness).