…but sometimes my way is not that refined.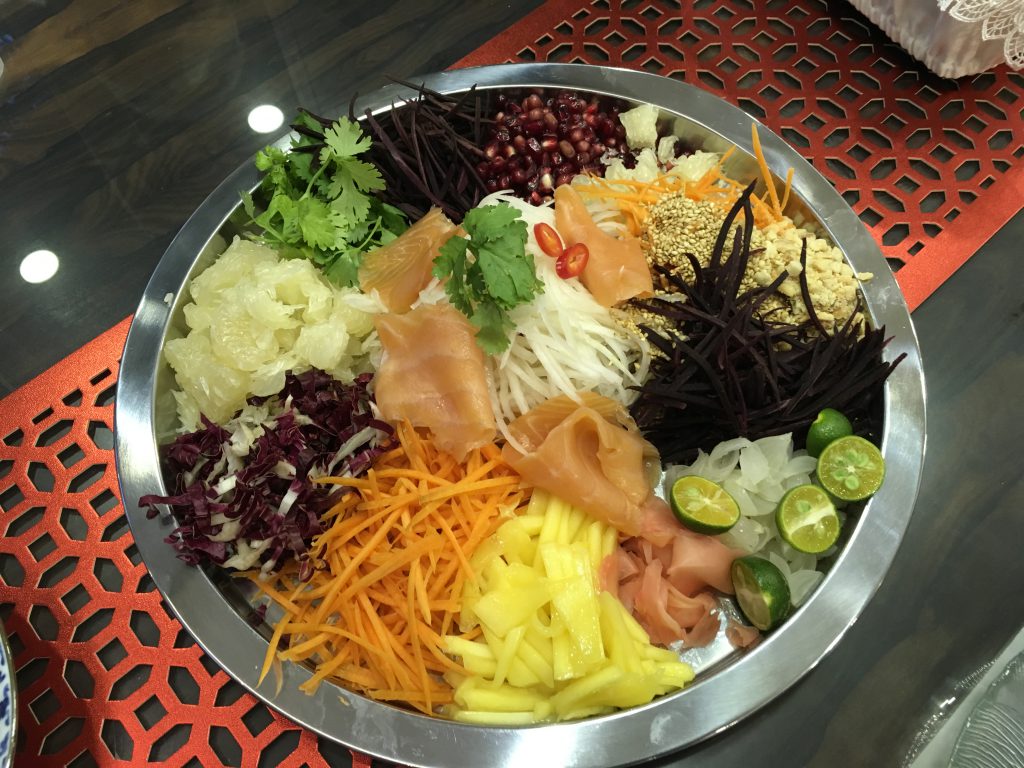 Happy Chinese New Year! I have spent six days in Kuala Lumpur where all of the dinners we have had started with the yee sang dish which acts as an appetiser as well as a harbinger of good fortune for the year. An explanation is here and more pictures here.
Having eaten my way through several platters of the salad, each time my comment was: I think I can do better.
At the Mandarin Oriental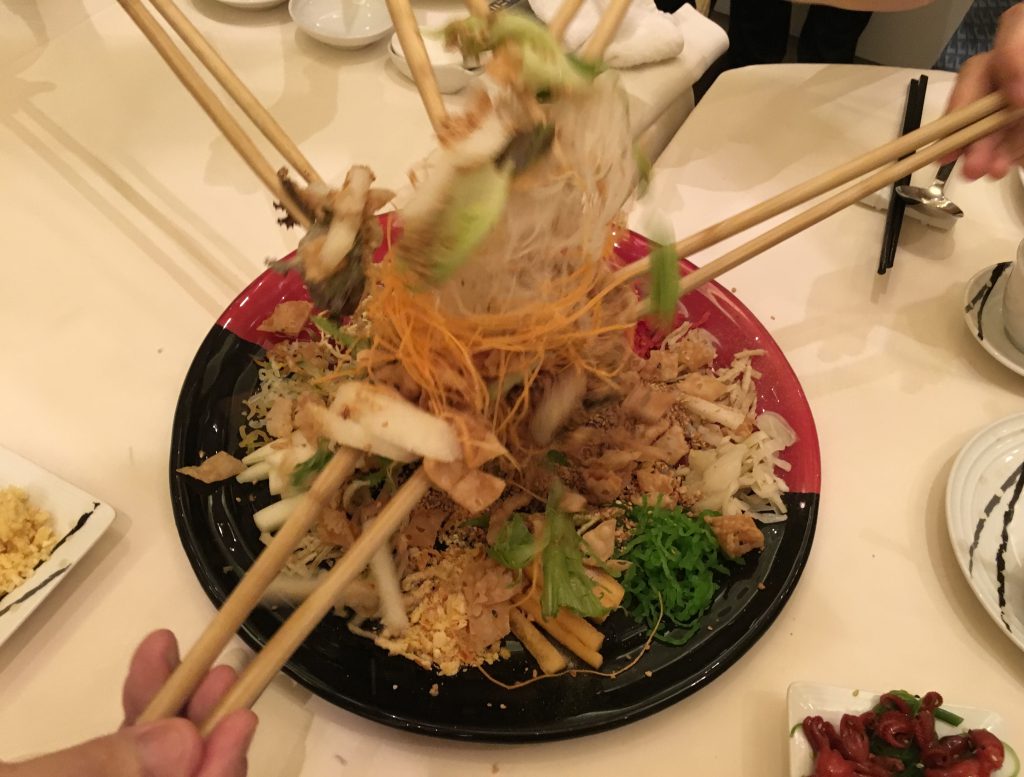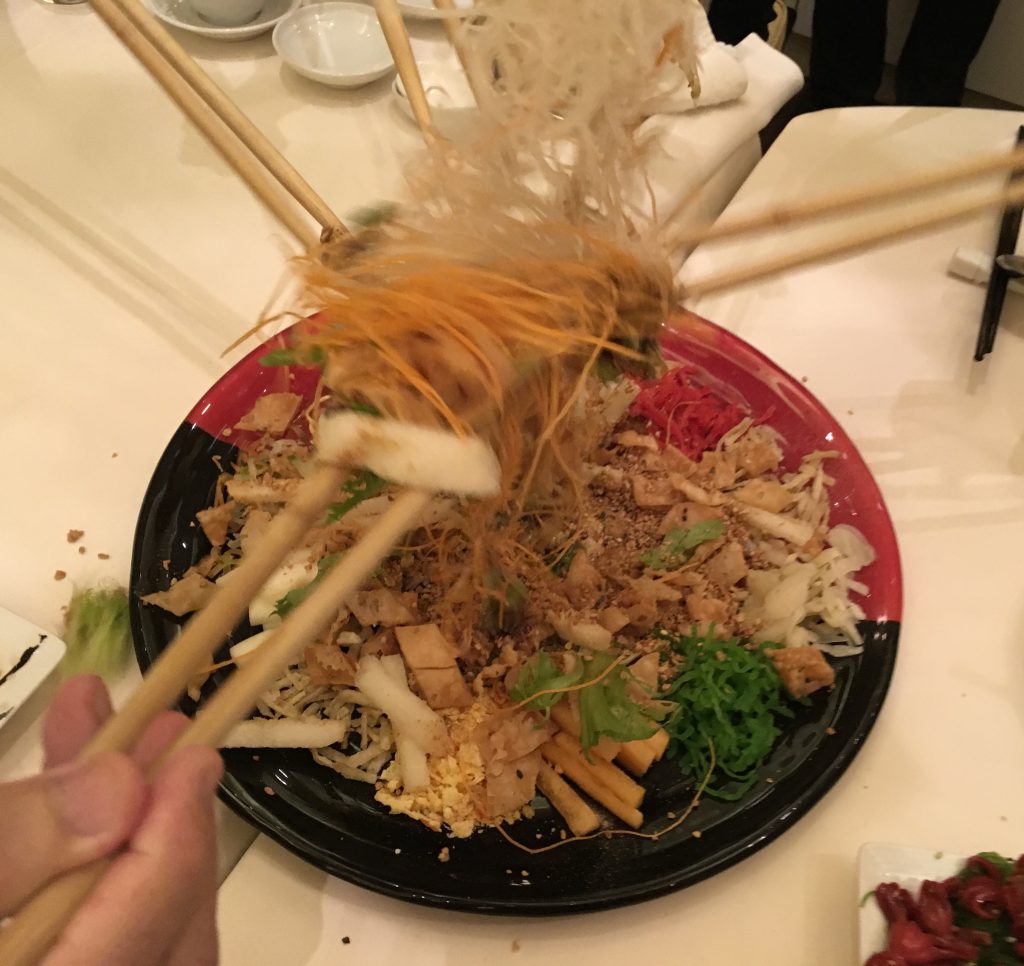 And I have done better before, so it was with great enthusiasm that I offered to make enough yee sang for 60 people at Cousin A's dinner party.
Cousin A is called Cousin A because she always gives her best and accepts nothing but the best from those around her. I would not have challenged myself unless I was confident of delivering the yee sang in such quantities.
A week before flying to KL I made a list of required ingredients, ticking off the items I needed to bring with me. As it turns out everything is available in KL, even so close to the new year. 
The issue was with the preparation: I was staying in a serviced apartment, away from my kitchen and therefore away from every good tool I have collected over the years. I brought along some sharp knives, peelers and shredders but in the final calculation, I thought it was too much to bring along my mandolin and spiralizer. I did bring along an electric hand beater for the tiramisu (featured in a separate post).
I made the yee sang entirely of fresh vegetables and fruit. It is possible to order the yee sang ready made from restaurants but I think if you are going to make it at home, then you need to make it somewhat different, otherwise you might as well just buy the ready-prepared version. Hence the long list of ingredients here and the extended preparation time. Perhaps the way to approach it is to liken the yee sang preparation to cooking a turkey: it takes forever but you will only do it once a year.
Half way through the preparation Cousin A said she did not have enough serving dishes so this necessitated a trip to the supermarket and department stores to look for suitable plates. In the end Mr Gochugaru suggested IKEA and gamely drove me there. They did not have plates large enough but they did have metal trays which adequate for our purposes. 
Despite the lack of finesse in the end product, the platters of yee sang were well received. I forgot the shredded lime leaves but since no one knew what was on my original list, no one thought about it. Therefore the lesson is, if you want to do it your way, make sure no one knows what your intended way was in the first place. Then it will always look right.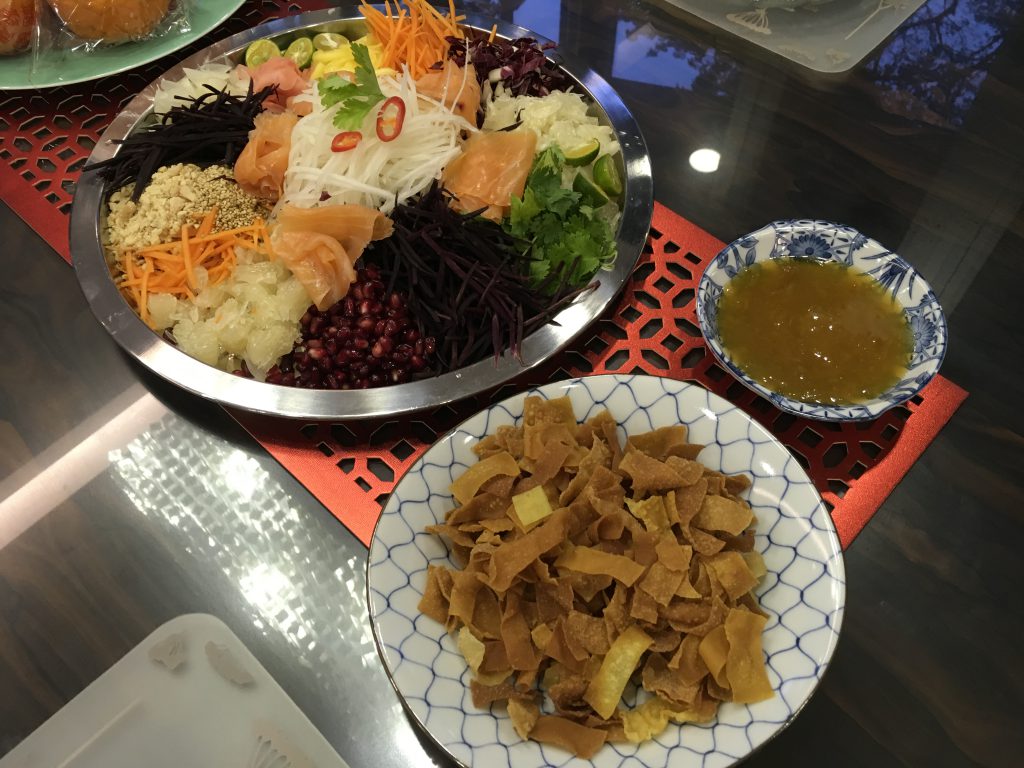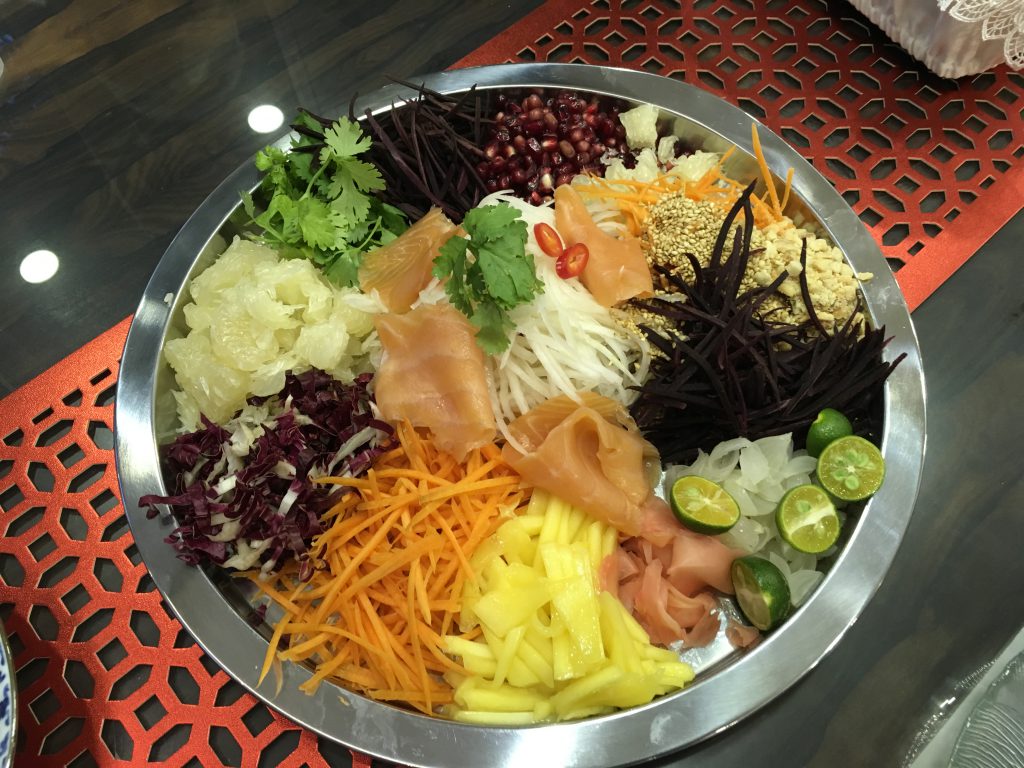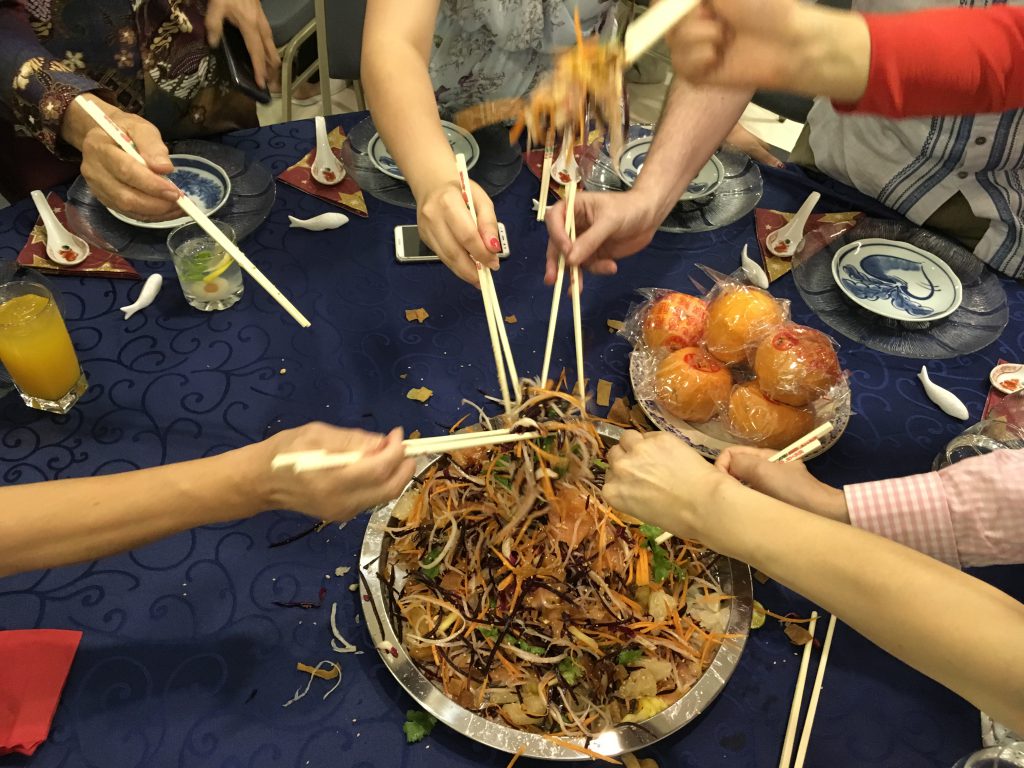 I went on to make two more plates of yee sang for our own family reunion dinner on Chinese New Year Eve. This time I did add the shredded lime leaves which made a huge difference to the fragrance of the dish. I did think that the salad would have looked so much better had the carrots and radish been spiralized, so the spiralizer will have to come with me next year.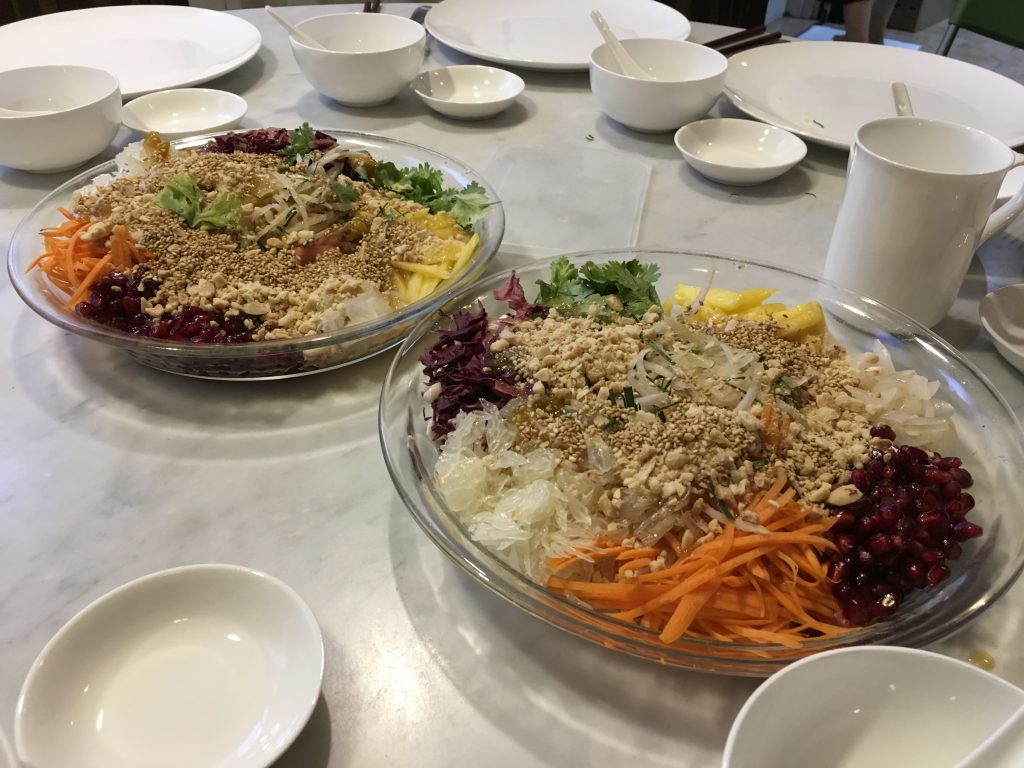 Finally, to show what a beloved dish this is, I even had it as a starter for my dinner at the Malaysia Airlines First Class lounge in Kuala Lumpur International Airport.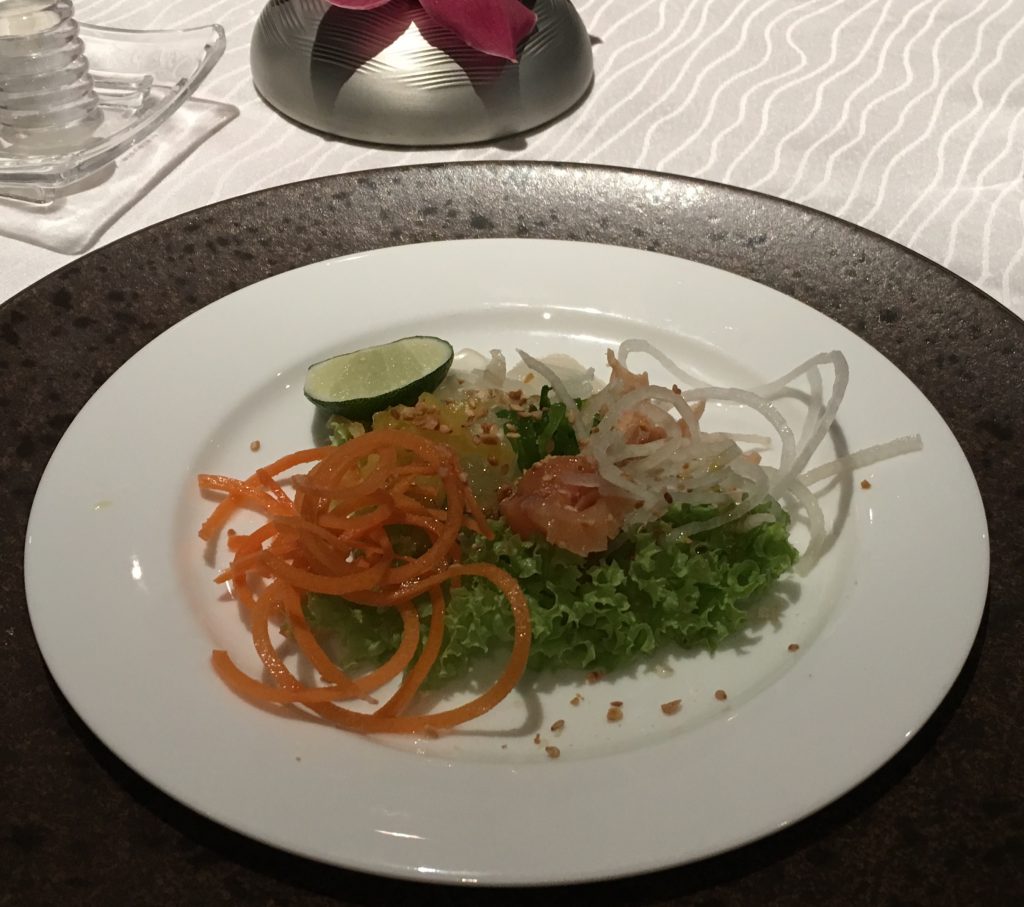 Next weekend I am planning a Chinese New Year dinner in London for 18 of my friends and family. I am looking forward to preparing yee sang again. This time Claudia, my part-time helper, will be doing the peeling and shredding next to me. Mr Gochugaru has gone back to the safety of his office and has gladly hung up his apron.
Here is a list of vegetables, fruits, seeds and nuts that I feel will go together to make a yee sang platter which will look colourful and taste refreshing. Simply pick a few items from each section, as this is merely a guide for you to build up your own platter. Previous recipes here and here.
Vegetables: Orange carrot, purple carrot, daikon radish (mooli), radicchio, red cabbage, radishes
Fruit: Unripe mango, pomegranate, pomelo
Seeds and nuts: Roasted raw peanuts, toasted pine nuts, toasted white sesame seeds
Aromatics: Pickled silverskin (cocktail) onions, pickled Japanese ginger , coriander leaves, shredded lime leaves
Toppings: Smoked salmon, sliced raw fish, cooked lobster or other seafood
Dressing: Plum sauce, dash of toasted sesame oil