Diary: Friday 12 February 2016
I woke up this morning to find breakfast waiting.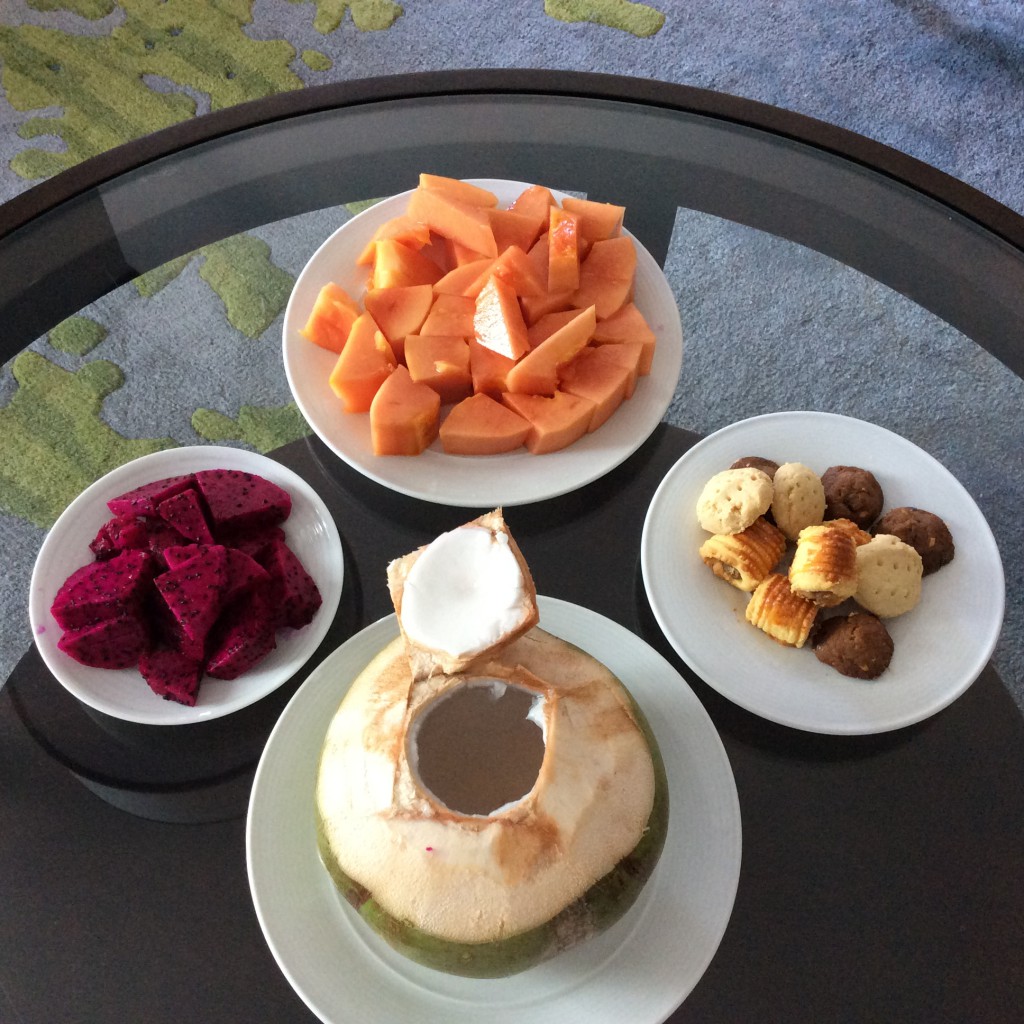 This is the start of another colourful day in Kuala Lumpur.
After a session in the pool we head to Bukit Bintang from KLCC (where we are based). The best way to do this by foot is via the elevated covered walkway linking these two areas. The walk takes around 10 – 15 minutes and is fast, safe and free.
The most convenient way to access it from KLCC is from the front of the Impiana Hotel (i.e. opposite Grand Hyatt Hotel): there is an escalator on the left side of the hotel as you are facing it. The end of the walk leads you to Level 3 of the Pavilion shopping mall.
To access the walkway from Bukit Bintang, first locate the entrance to Pavilion shopping mall. At the extreme left of the mall as you are facing it you will find an outdoor strip of restaurants, bars and cafés (Connection on Level 3). Simply walk towards the end until you see the entrance to the walkway. The end of the walk leads you to the Impiana Hotel.
At both ends and along the walk you can take diversions and head towards other locations, but so far we have only used the walkway as a link between the KLCC-BB areas.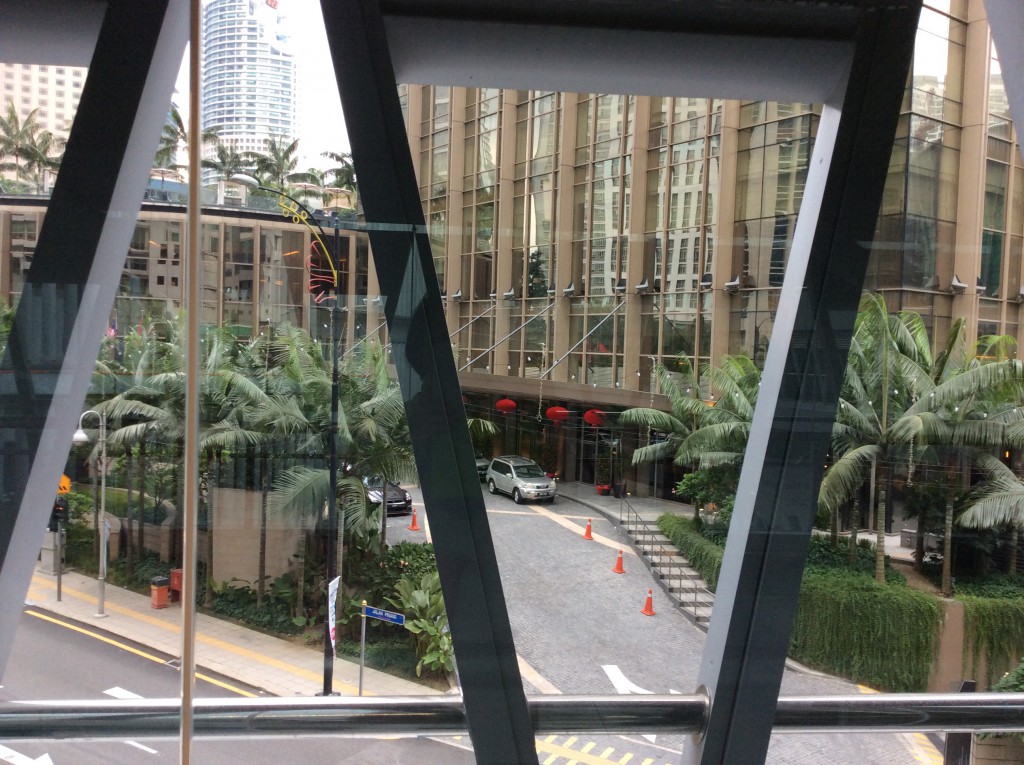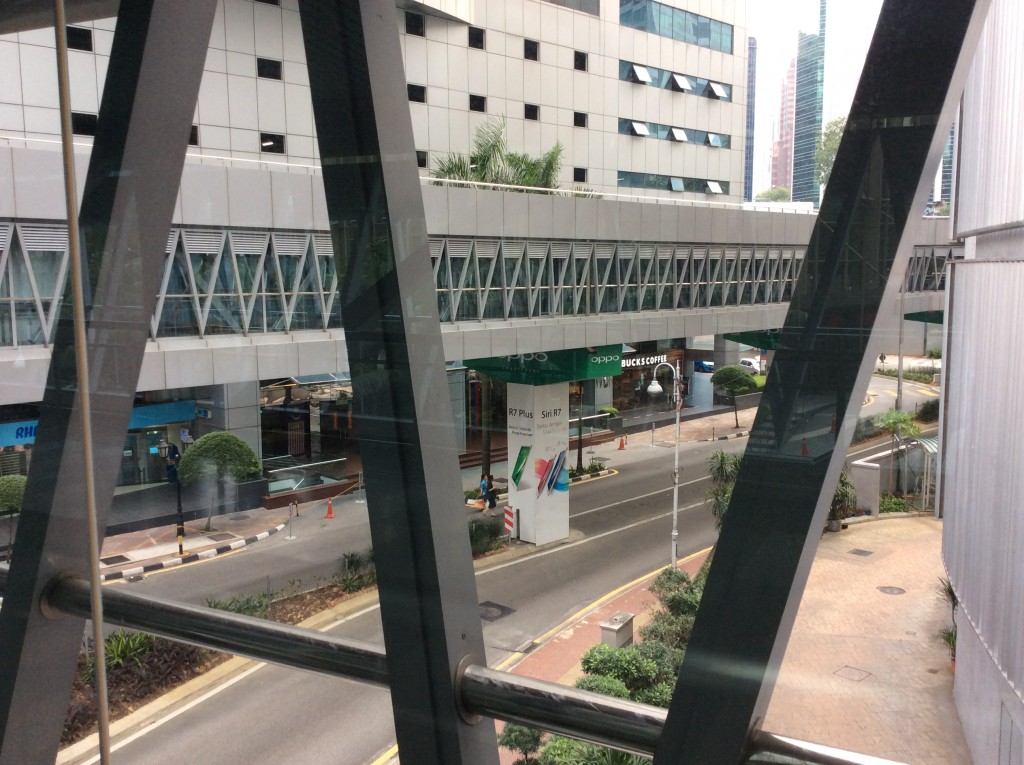 We have lunch with a few of my aunties and this starts with yee sang (concept explained here) in the shape of a koi carp. I thought this was quite imaginative until KL Sister sent me a photo later of a yee sang in the shape of a monkey!
Tossing for good luck at the start of a new year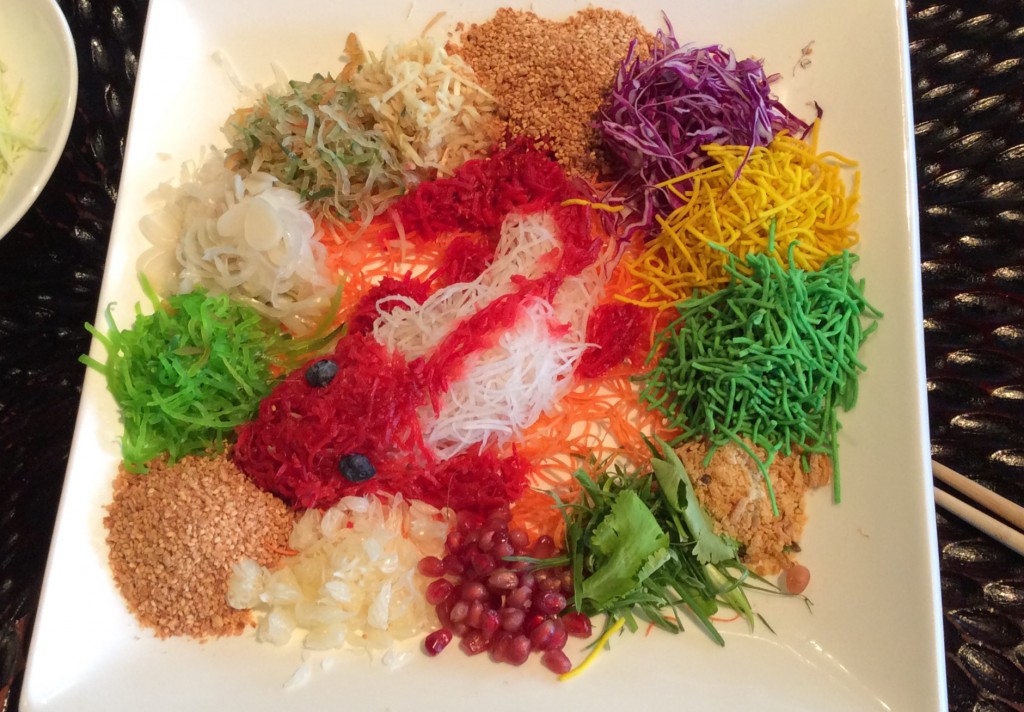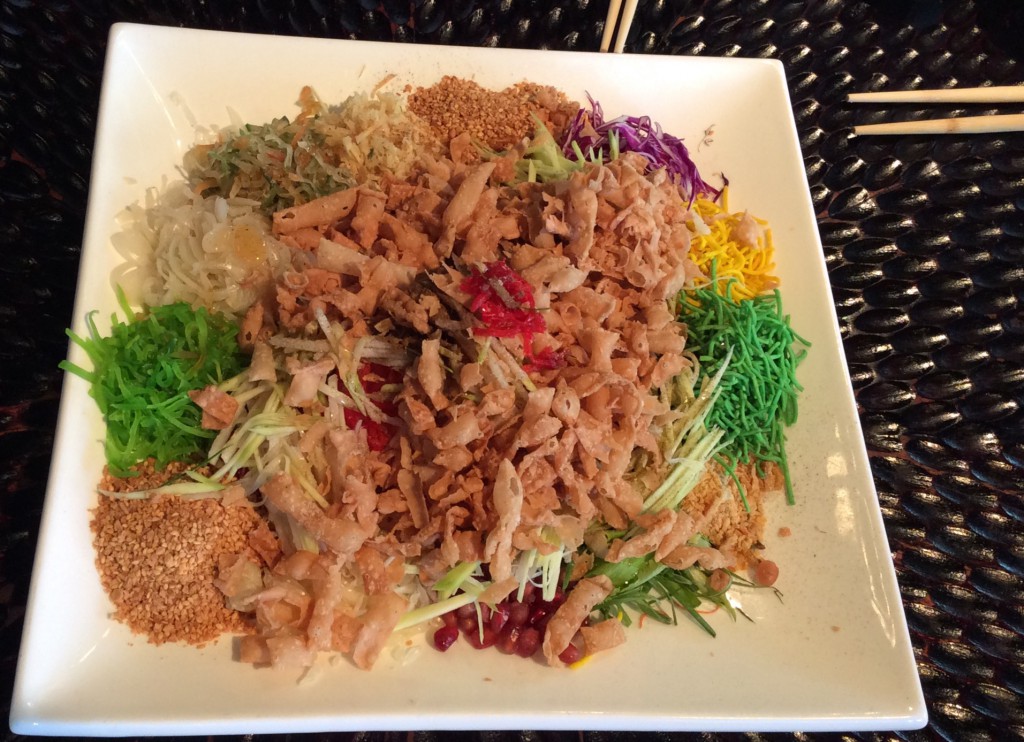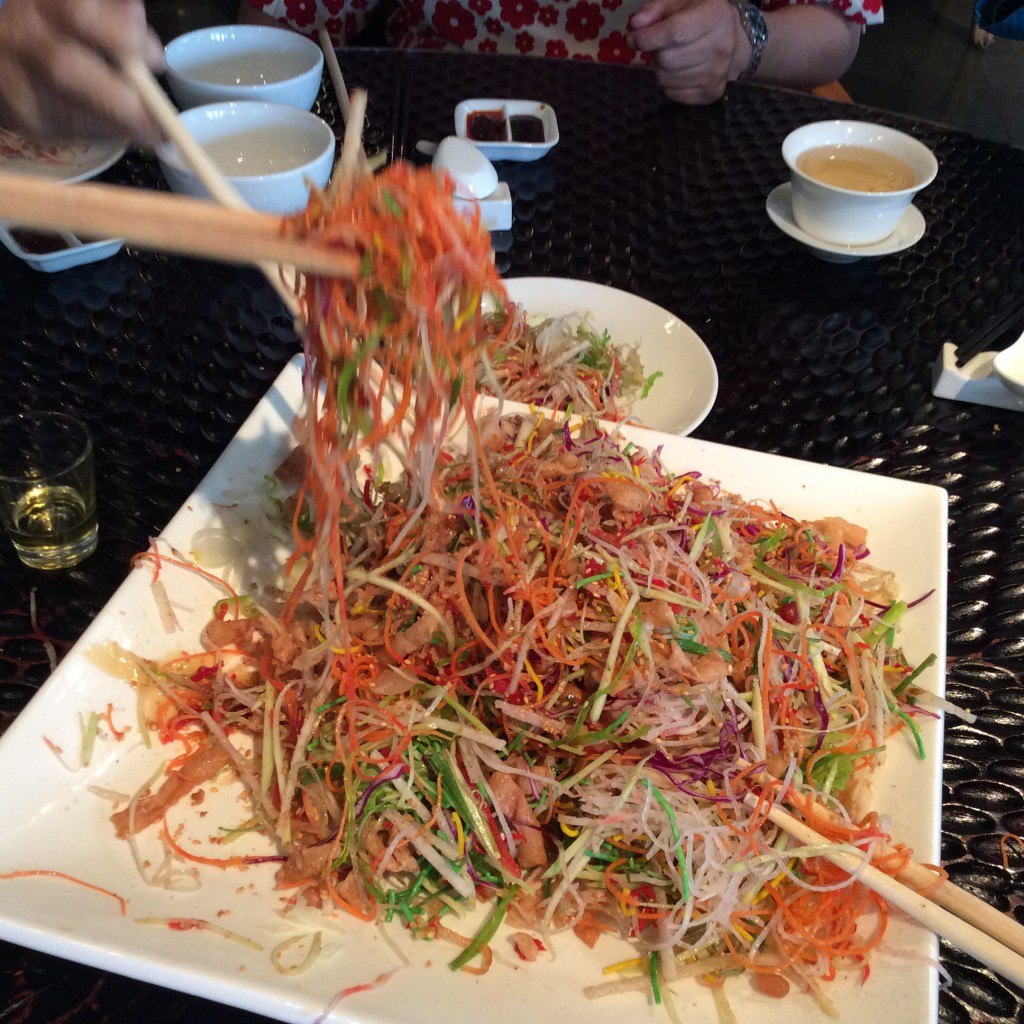 The other dishes were special too: some stir-fried vegetables served in a 'hat' (made out of rice noodles) and some noodles and rice both fried with seafood.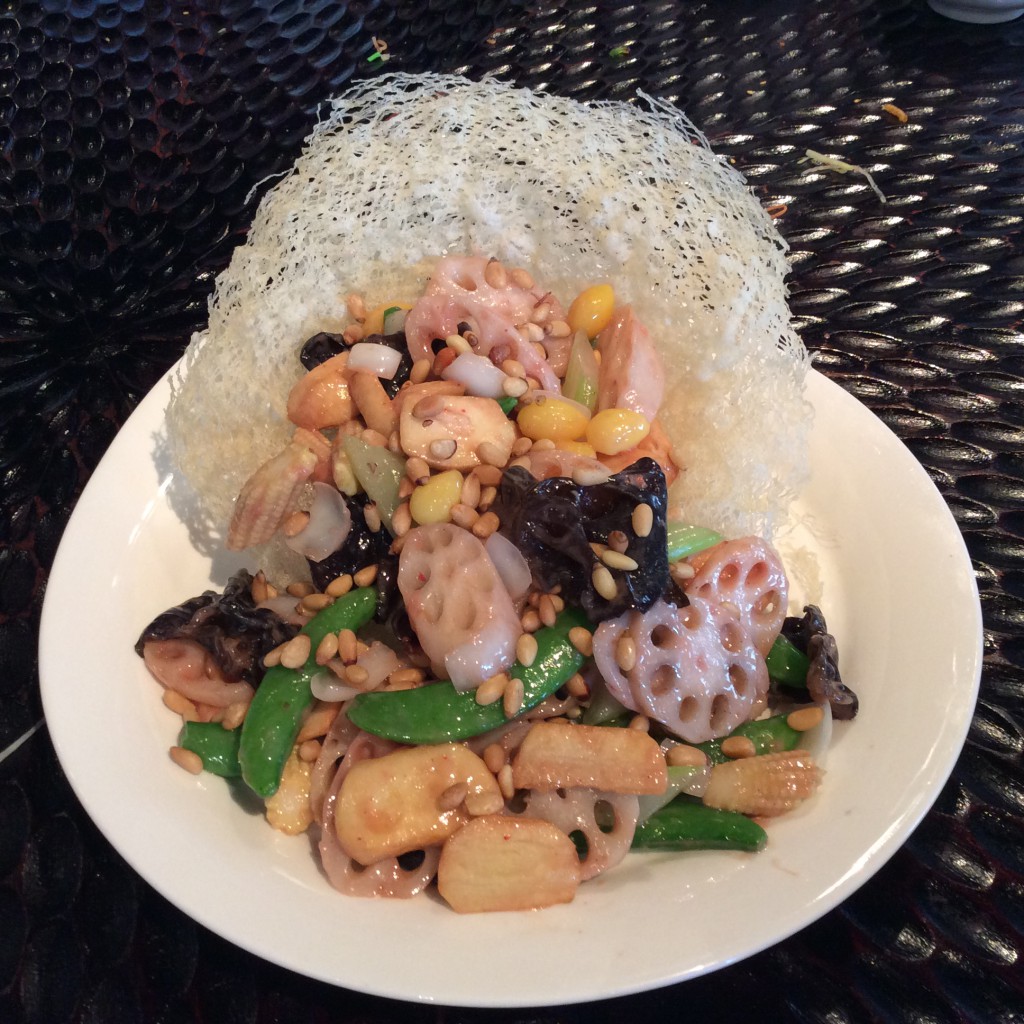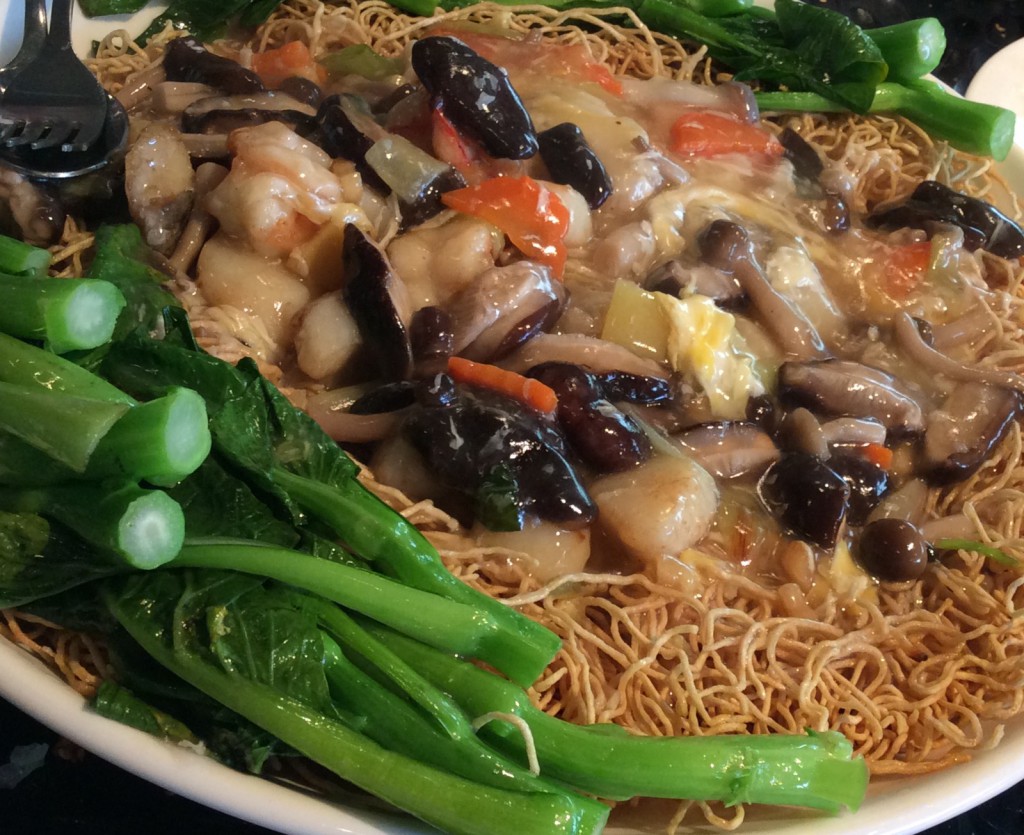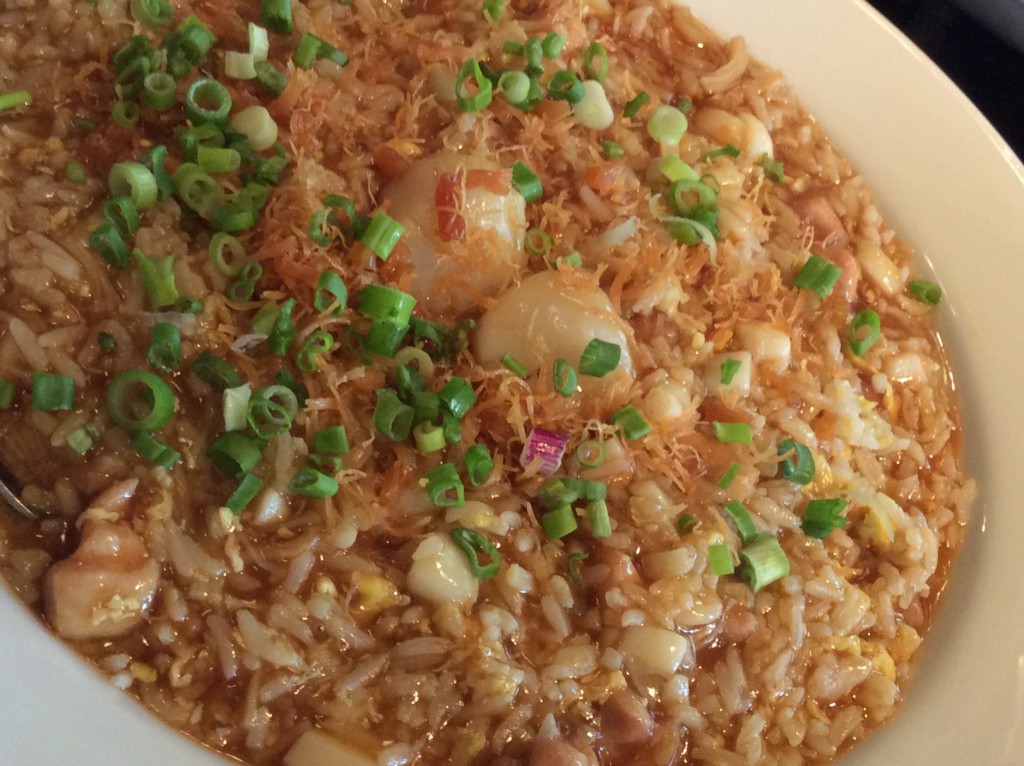 It was auspicious that as we were about to leave the hotel, a traditional Lion Dance was being set up. This is a noisy, riotous affair meant to frighten away evil spirits and thus dispel bad luck from any household or establishment. The dance starts with a prancing lion who later looks for oranges (to signify gold) and lettuce (to signify life) to eat. The dance finishes with the lions going from person to person in order to bestow him with good fortune for the year. If you are the manager of the hotel, owner of a restaurant or business or the head of the household, then the lion will definitely head towards you.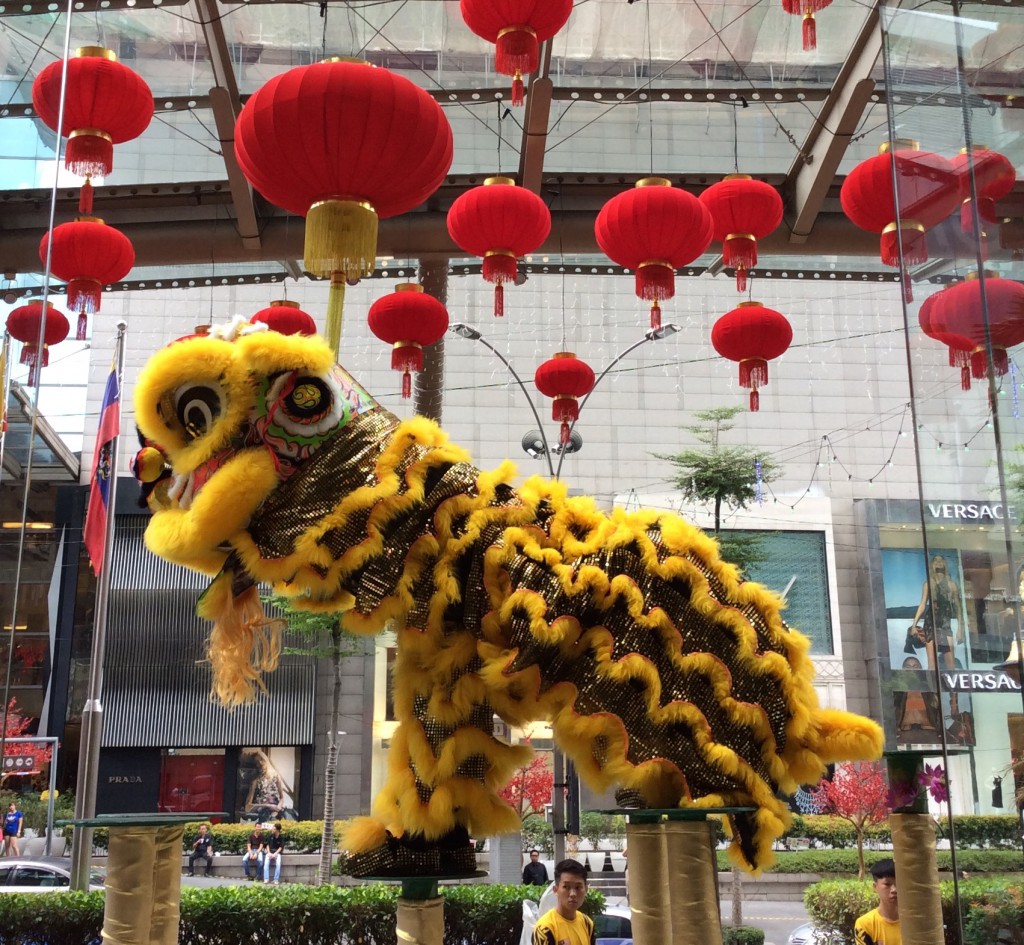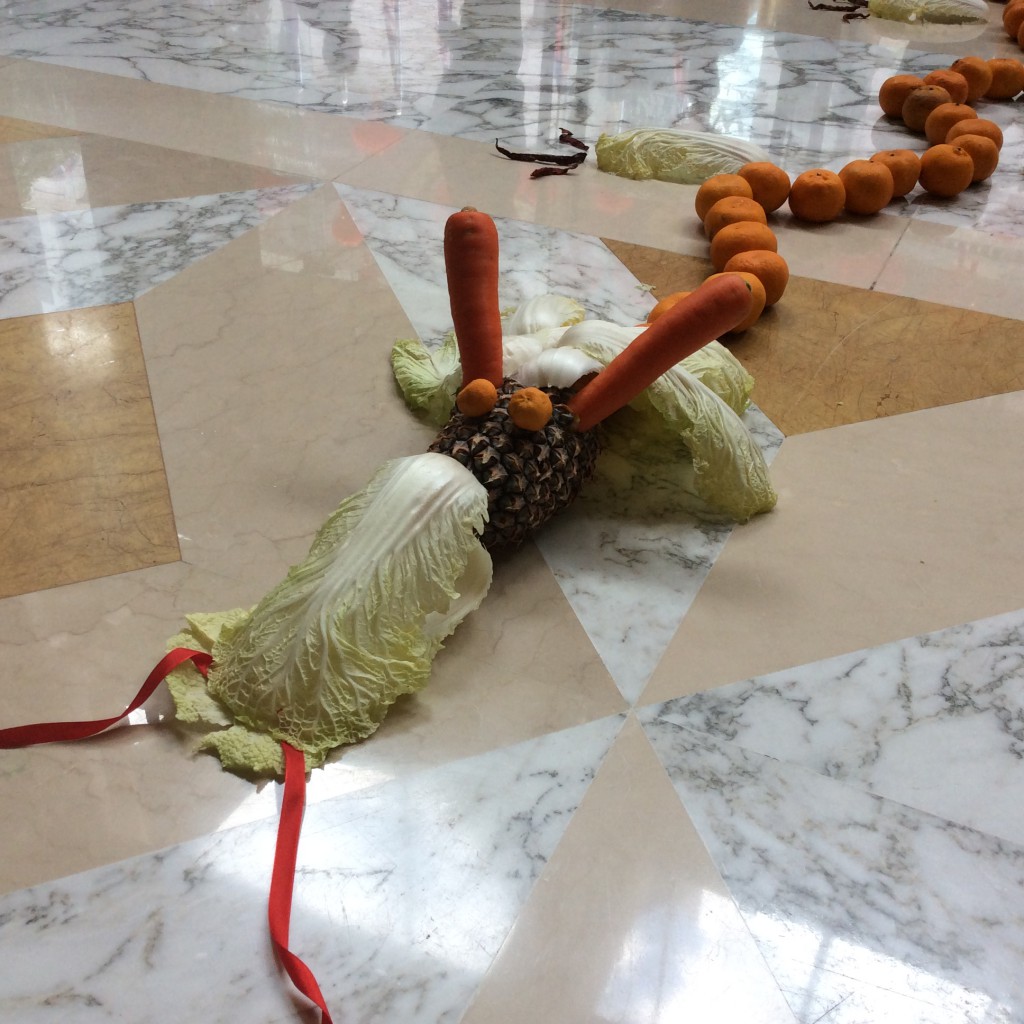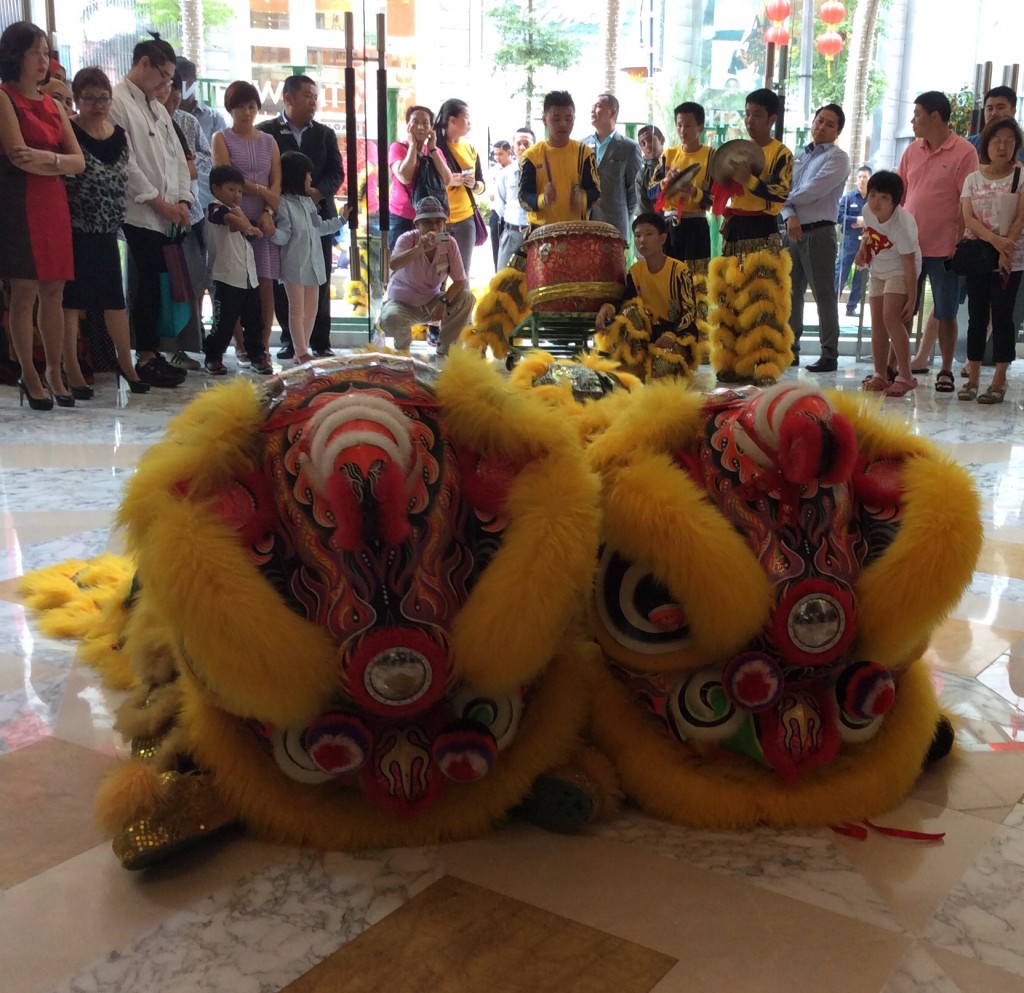 From dancing lions to dancing fish. Dinner was with KL Sister in one of our favourite restaurants. In truth Junior 2 has been suffering a bit with a lack of decent vegetarian options in the restaurants we have been visiting but here she gets a good selection. It may seem we are eating all the time but all this (and a few more dishes besides) gets finished completely. We even joke that had we brought along Junior 3 (who does rowing almost everyday) we could even have ordered some satay.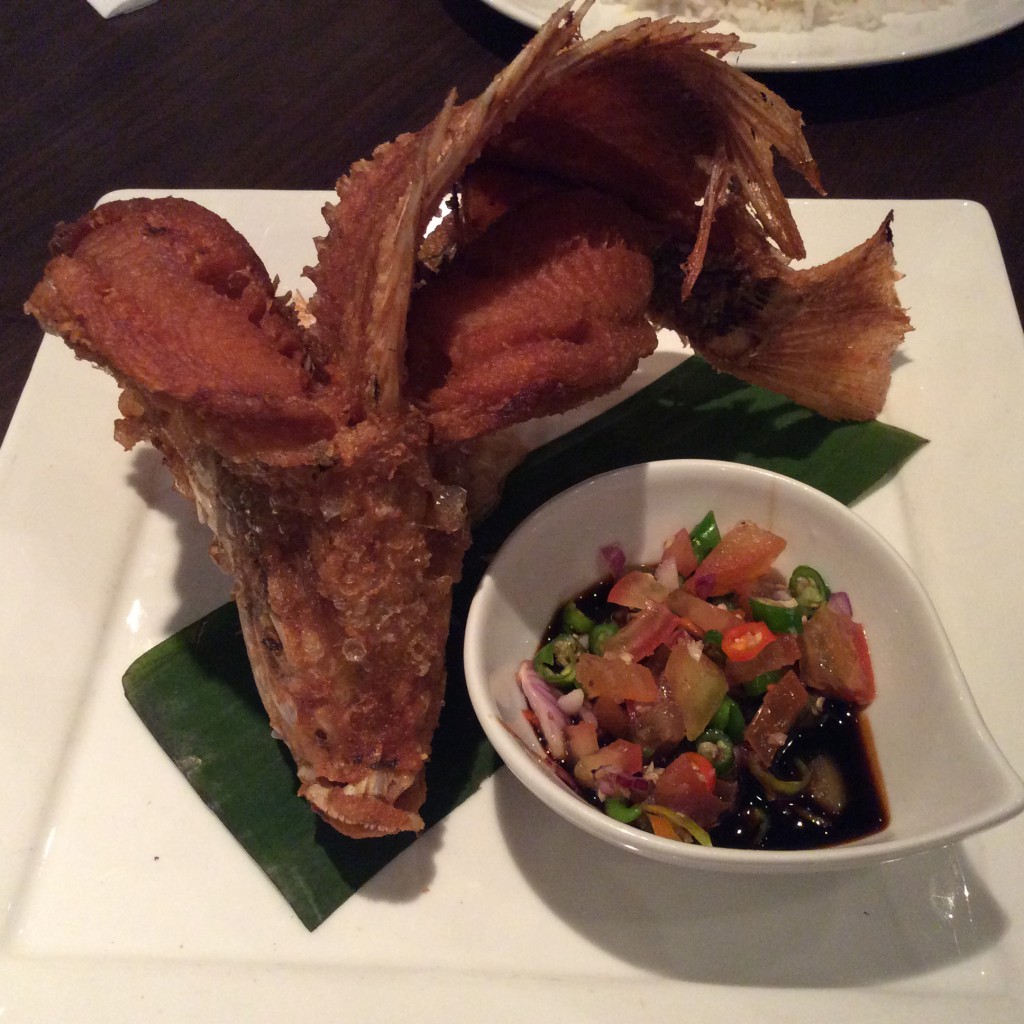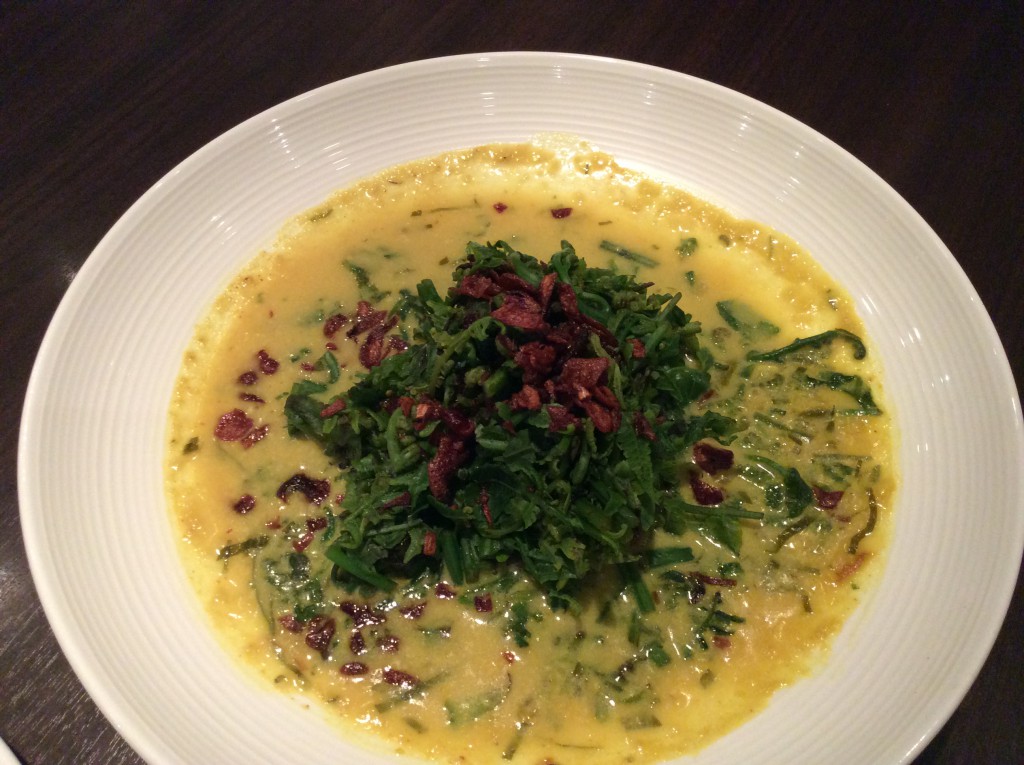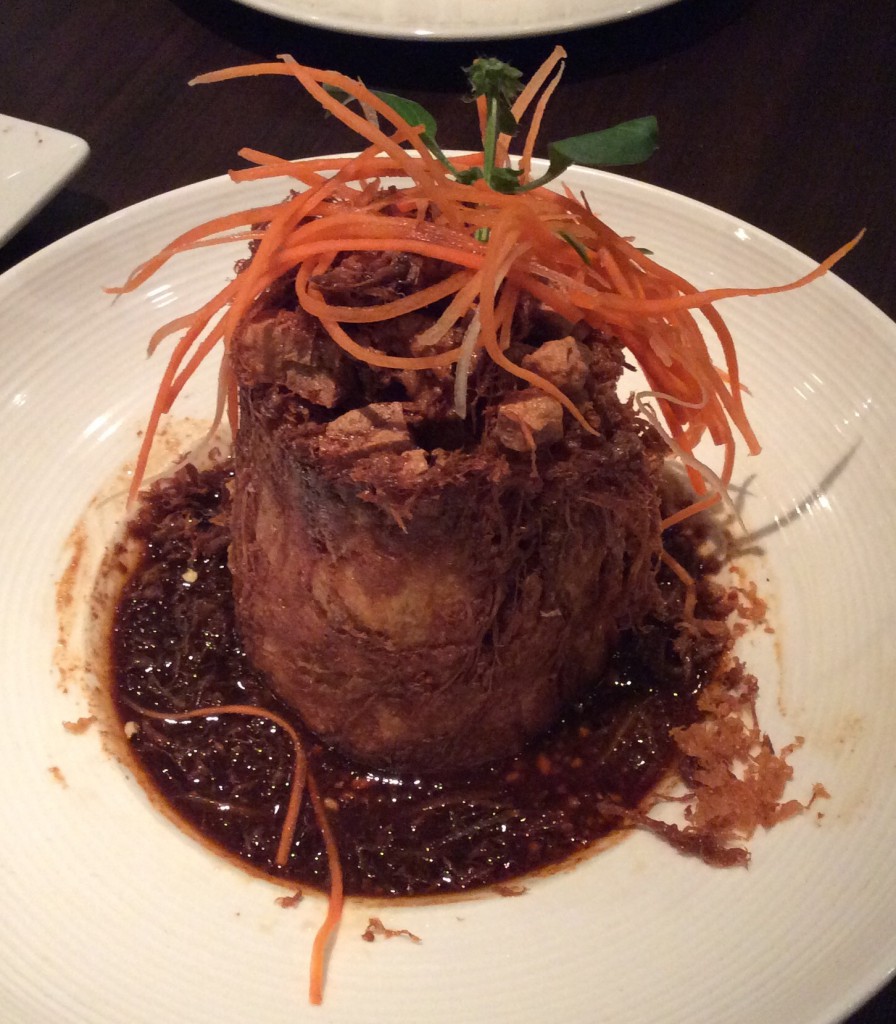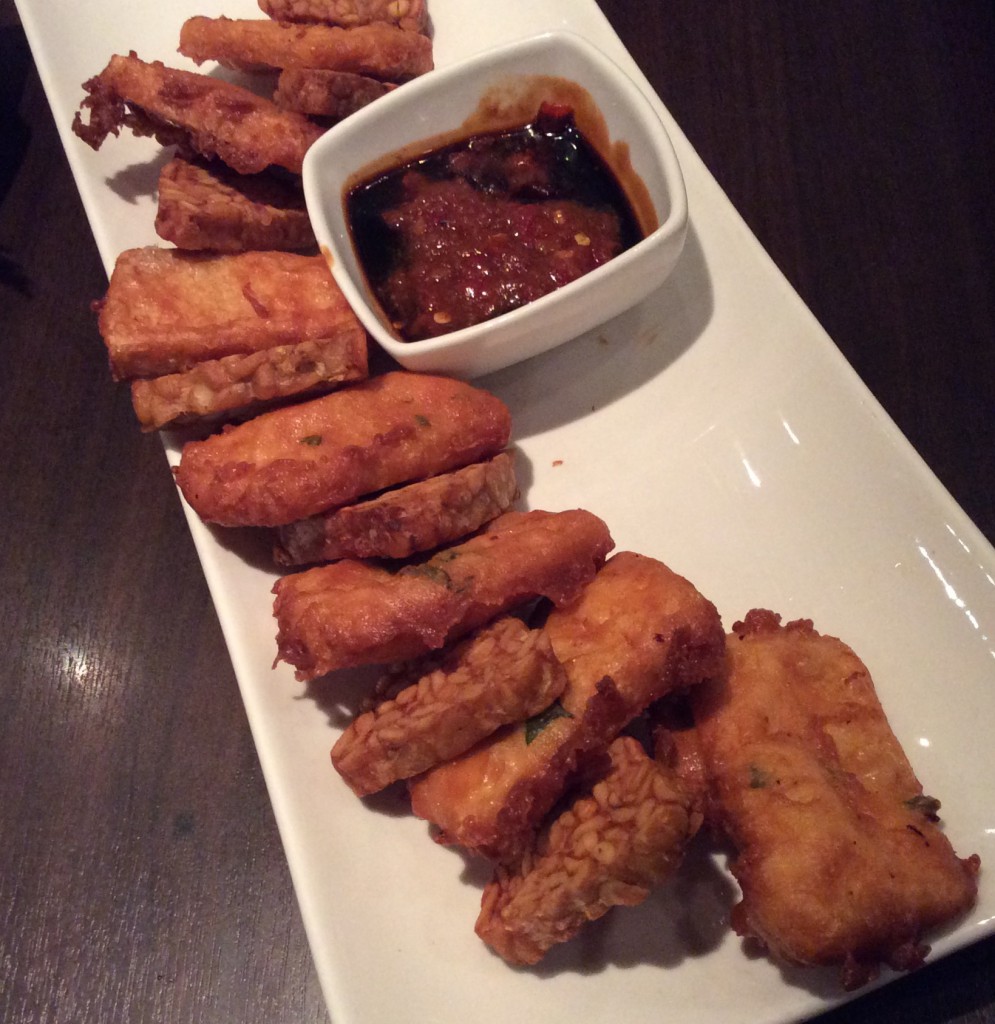 Shamefully I can still manage a cendol which is pandan-flavoured jelly and kidney beans with shaved ice (lots of it), served with fresh coconut milk and palm sugar syrup. Generally I love anything with shaved ice and I am indeed looking forward to eating patbingsu (팥빙수) again on my next trip to Seoul later this year.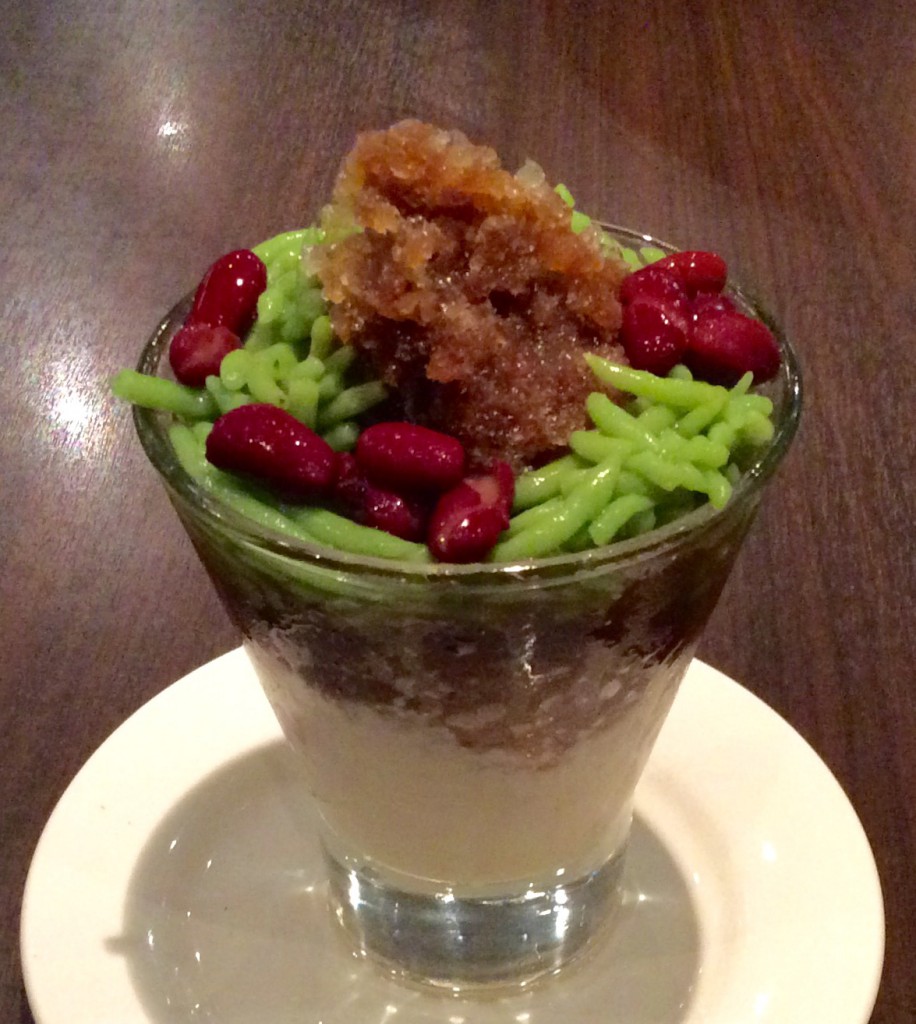 The day ends with a refreshing cup of mint tea made with fresh leaves. I only get one type of mint from my local supermarket in London so it was fascinating to see the three types offered here.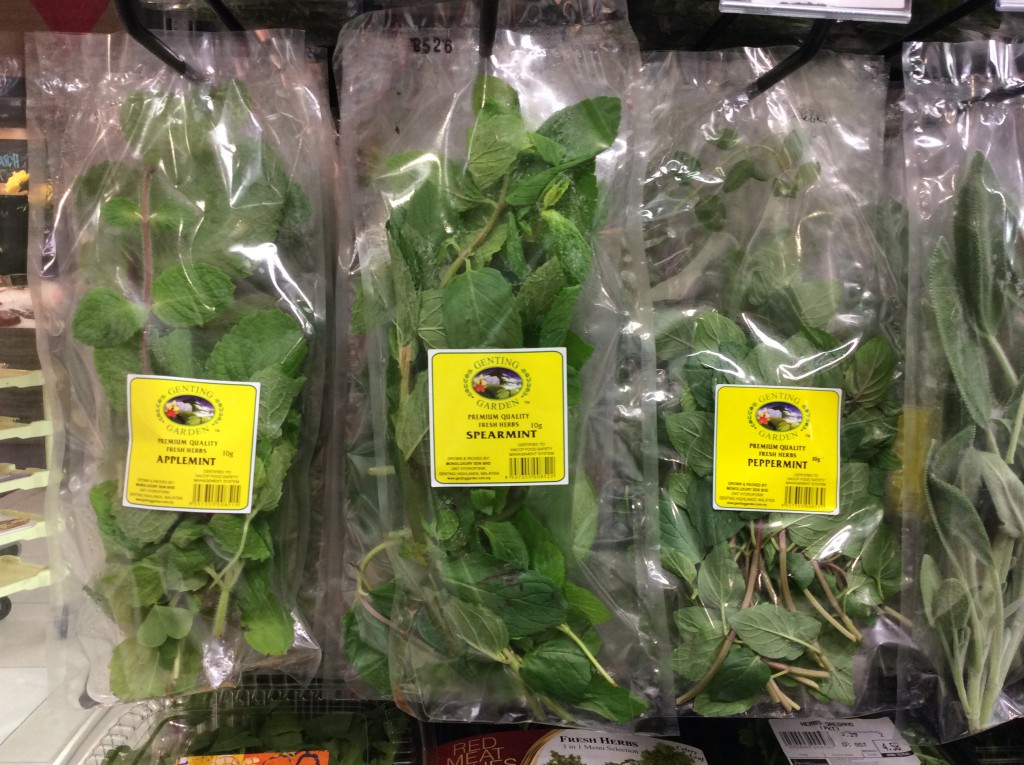 Finally, to show you how crazy Chinese people are over gold and all things signifying wealth, here are some chocolate-filled hampers you can buy as gifts. They cost an arm and a leg so they were left on the shelf. The other thing that Chinese people like is a good bargain so I guess someone will buy it once it is reduced by 90%!