Diary: Thursday 11 February 2016
The morning starts with a swim which focuses my mind for a bit.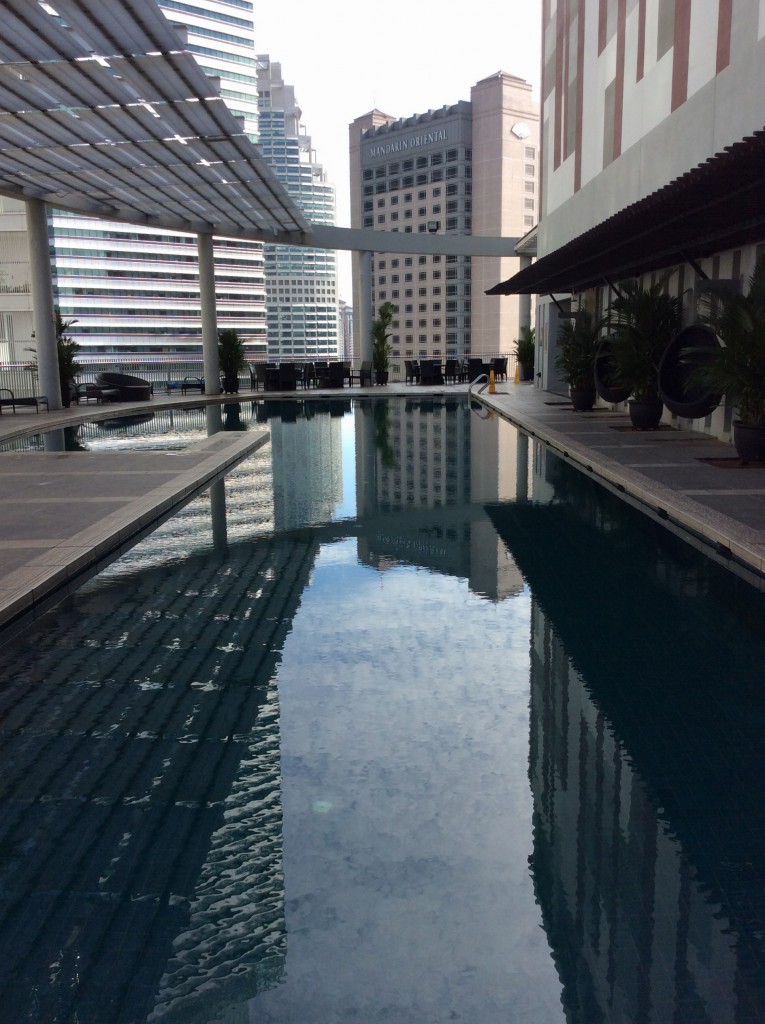 This is because I know that for the rest of the day I will be, literally, all over the place.
We start with breakfast in the Bangsar neighbourhood whilst waiting to run an errand with my mother. The kopi tiam or coffee shop is where local residents congregate for their quick breakfasts or lunch.
With willing accomplices in the children we get through some chicken rice, curry noodles, wantan mee and also a bowl of fishball soup. Junior 1 commented that the latter was his favourite on account of the lettuce and deep fried shallots which somehow worked together with the hot soup and rubbery fishballs.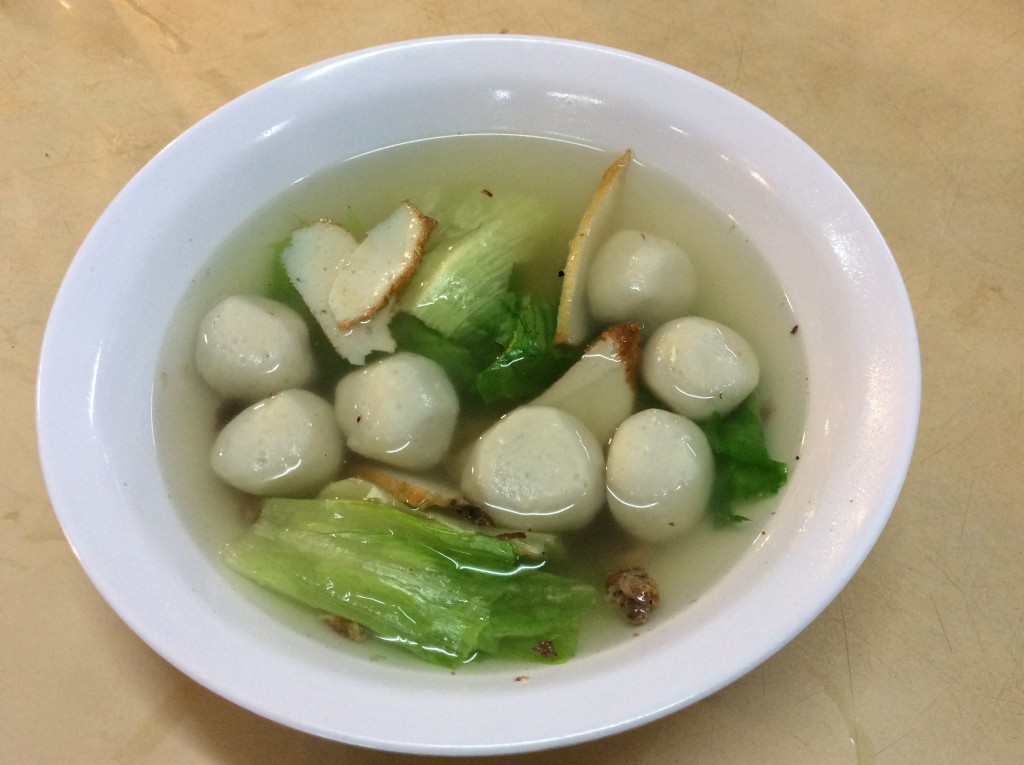 Along with my mother we then head to Petaling Street so that Junior 2 could get that bee out of her bonnet. Here's the story: a few years back she bought an imitation designer purse in Hong Kong and now the zip has broken, so she wanted an exact replacement.
There is a prominent sign on the street that says that the sale of counterfeit goods is strictly prohibited. As you can see, no one takes notice.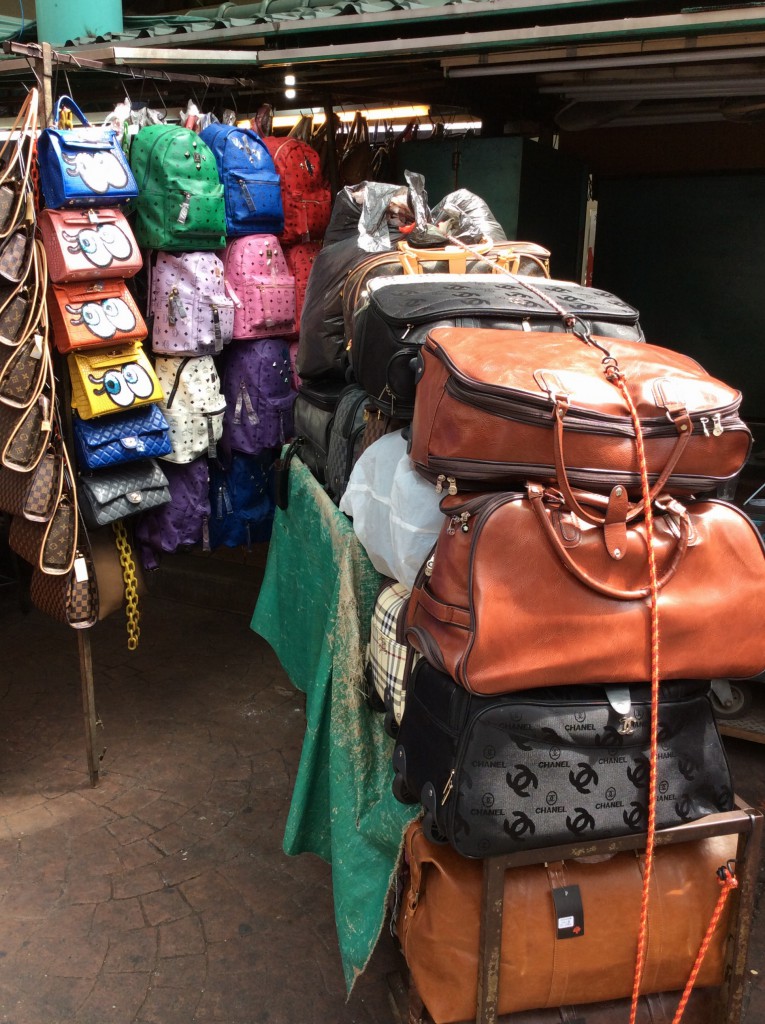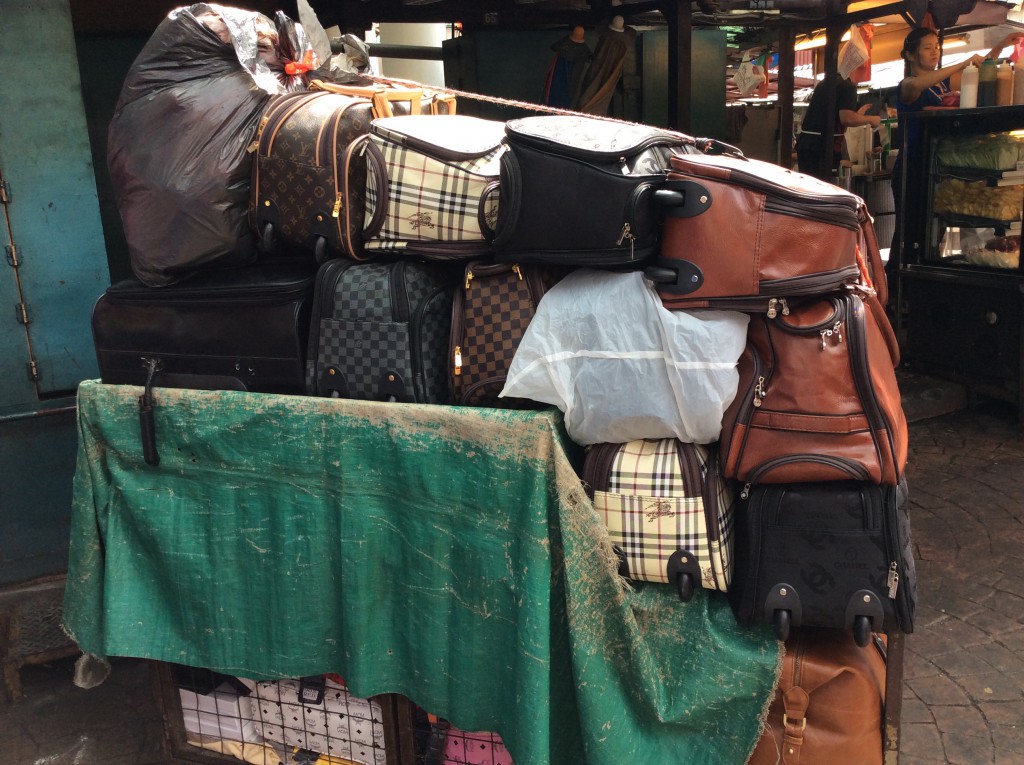 As I don't habitually shop at Chanel, Burberry, Gucci, Christian Dior and Louis Vuitton, it's impossible for me to say whether these designs are similar to the original items. I happily skip pass these stalls but the children really do have a fun time looking.
When they spot an item they want (e.g. a Polo RL cap) they rope in grandma who is ace at the art of bargaining and persuasion. Not only can she sell sand to an Arab but she will get a higher than average price for it and at the same time still make him feel he cheated her.
There are flower stalls in one part of the street and the burst of colour helps maintain our enthusiasm in the midday heat.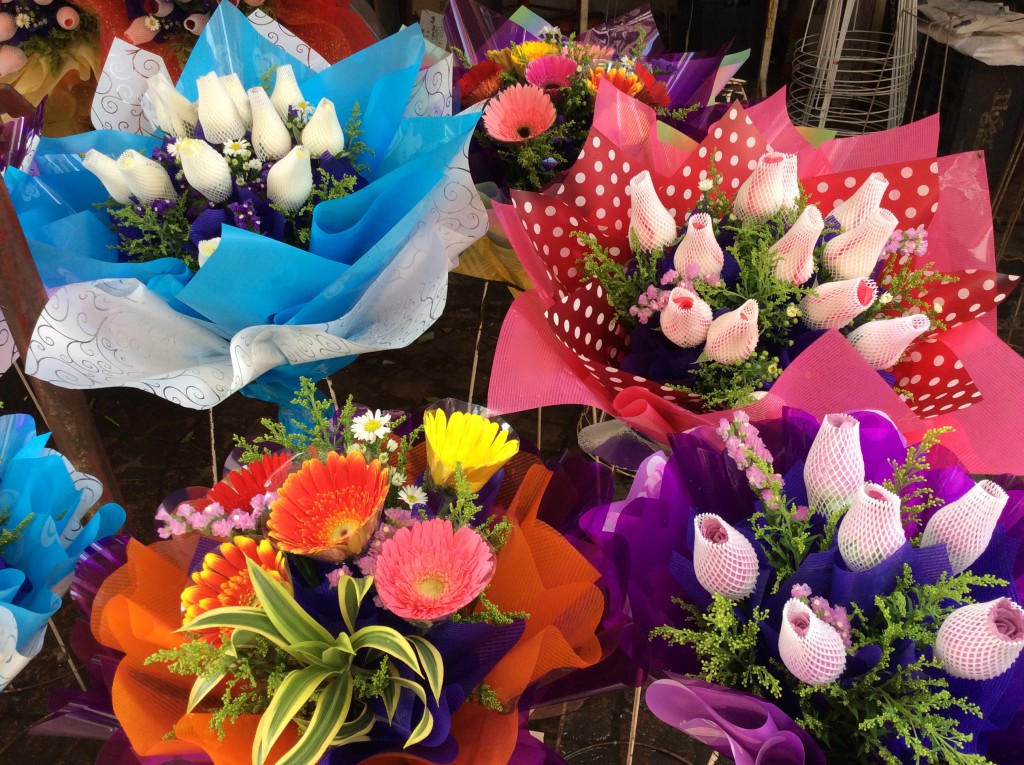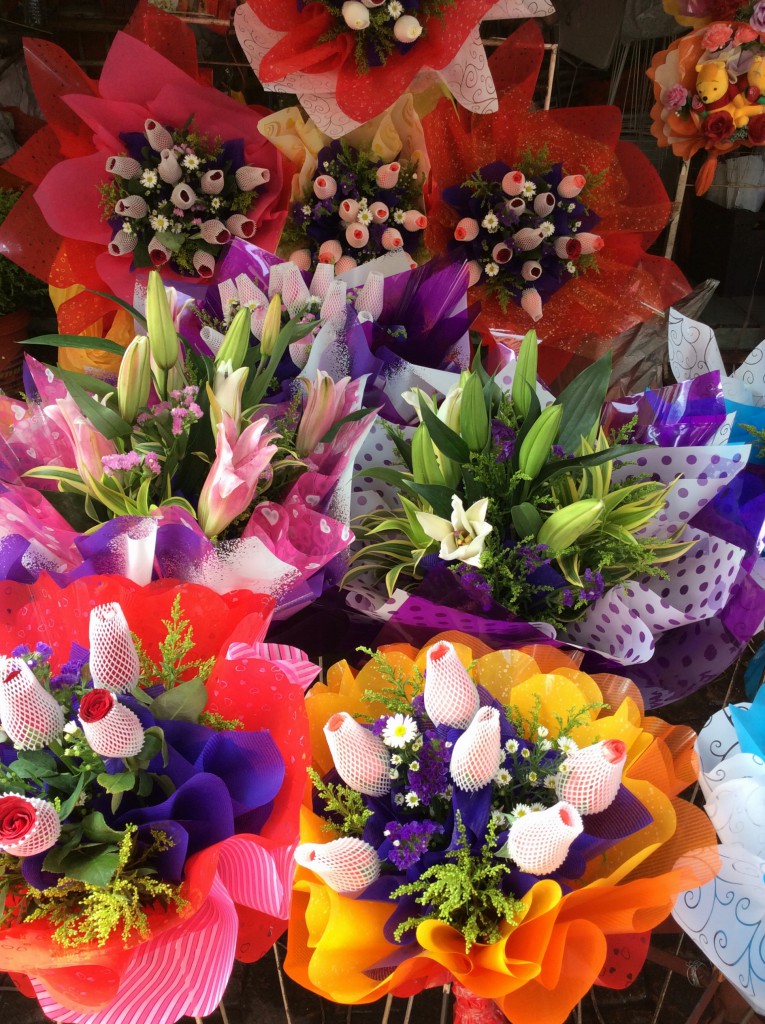 For lunch we go down memory lane by trying Nam Heong Chicken Rice in Jalan Sultan, which has been in continuous business since 1938. If you believe the reviews then this is still a must try if you are in KL.
My favourite food is actually chicken and rice and I can eat it in any form: Spanish paella, Indian biriyani, Korean samgyetang. I am actually very good at cooking what we term as Hainanese Chicken Rice, so it stands to reason that I would be very critical of any shop that serves this dish.
Nam Heong turns out to be a nightmare. My mother never looks at menus and when presented with one, really doesn't know what to do with it. So she orders what she wants to order which is fine but then makes the mistake of asking for some vegetarian dishes for Junior 2. Whereupon the waitress retorts that if anyone wants to eat vegetarian food they should just leave this place because don't you know, what it serves is white chicken, roast chicken, barbecue pork, roast pork and who comes to this place if they want to eat just vegetables? To irritate the waitress further we ask for some white rice i.e. not the traditional chicken rice which has chicken fat added, and a diet Coke (which I guess people who eat meat never ask for because they only have full sugar Coke).
So here is very specific advice on how to survive Nam Heong if you are not a regular: look at the menu below and choose exactly what you want to eat before you even get to your table; order as soon as you sit down; take the chilli or ginger sauces from the exposed containers at your own risk; don't linger over your lunch and leave as soon as you are finished. Pay in cash of course.
Places like Nam Heong survive because it is patronised by long term customers who go for their regular fix, and by tourists who go out of curiosity. Just think of it as a very elderly relative who was once fun to be with but who has now gotten ill-mannered and cantankerous and you may well enjoy the experience. I wouldn't go again but then Junior 1 said that the lunch he ate there has inspired him to do a dinner party on the chicken rice theme.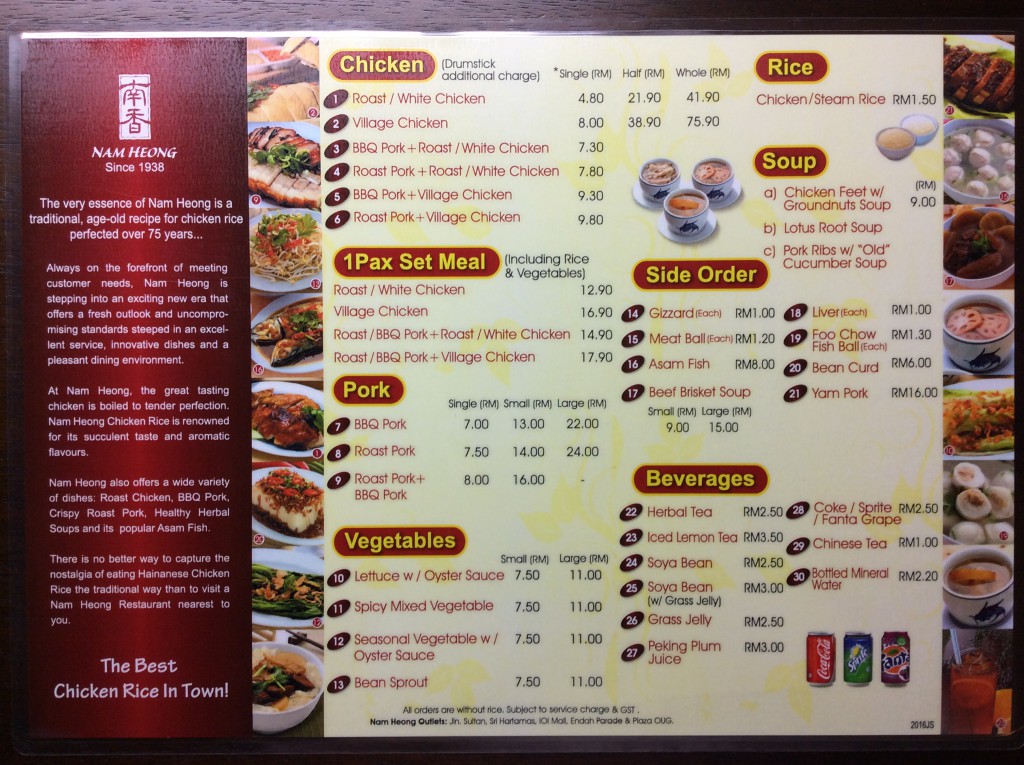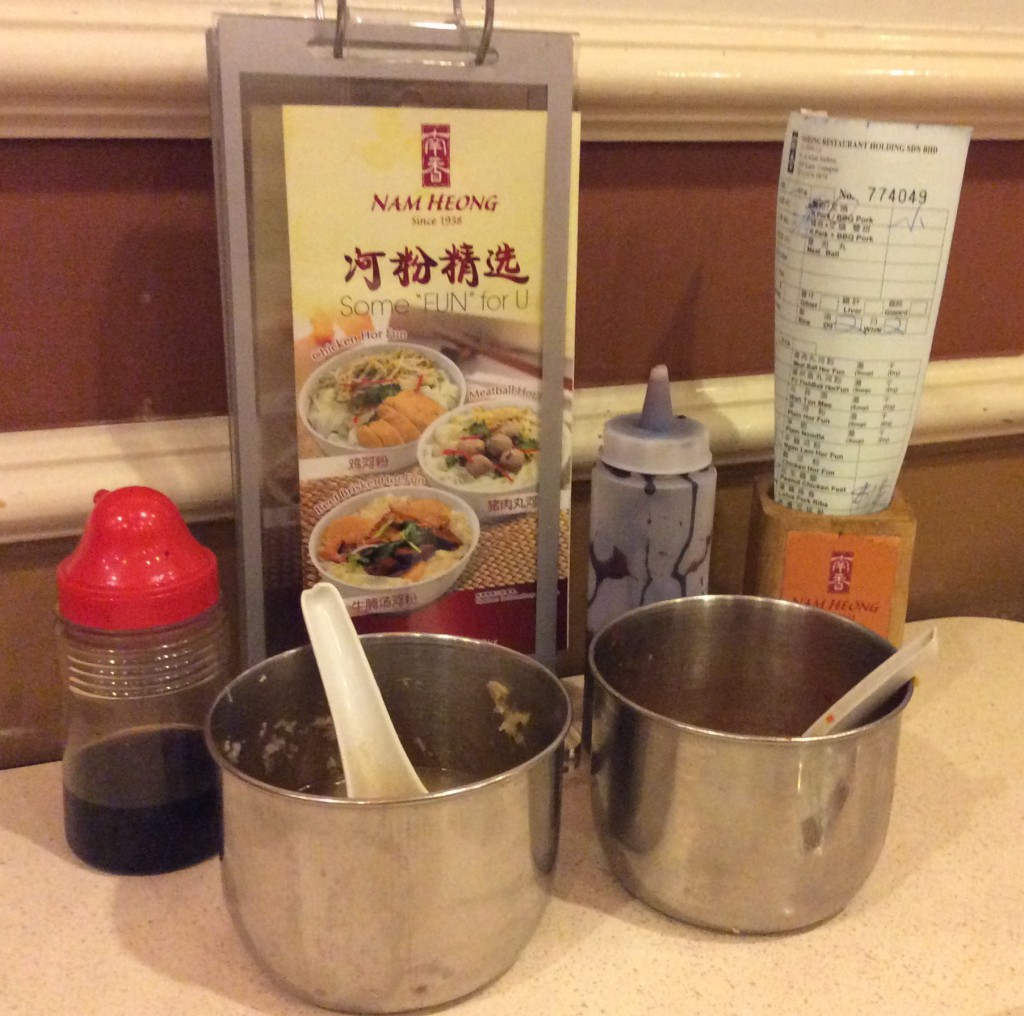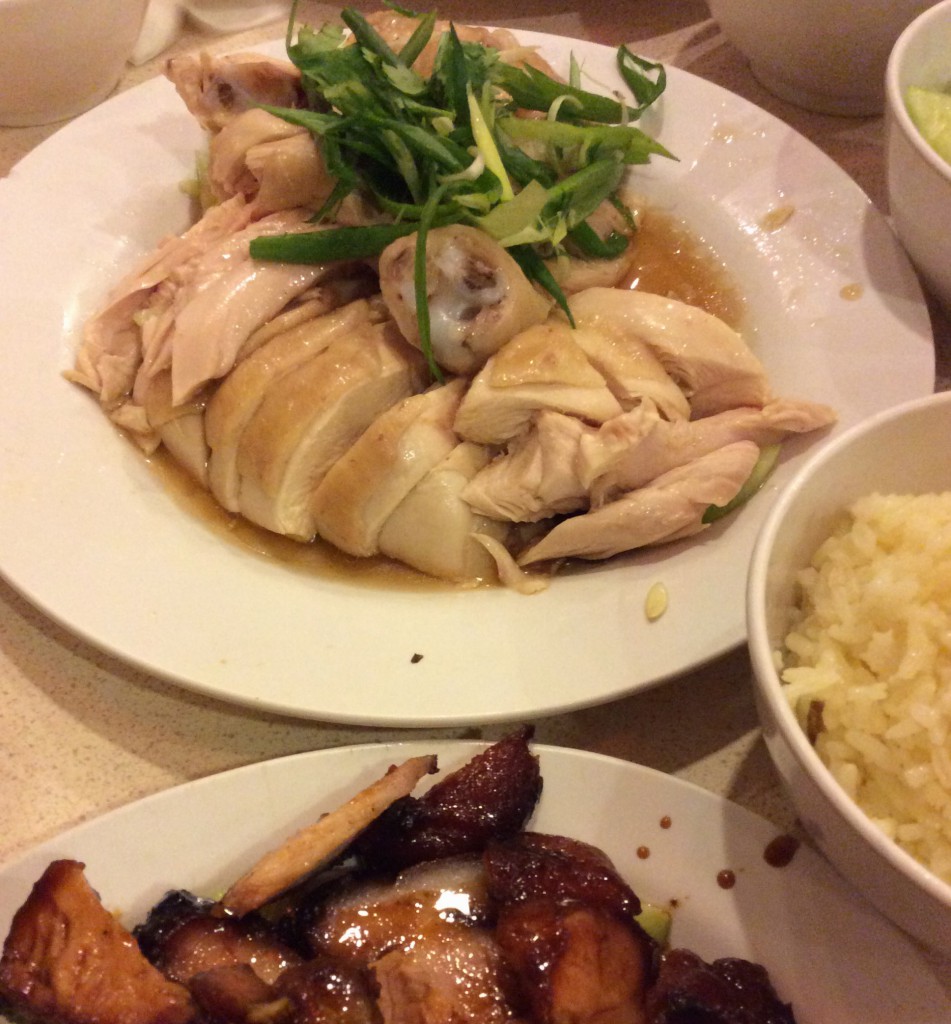 Around the corner on Jalan Hang Lekir we find a pancake vendor who has sold these traditional pancakes, with peanuts and sugar or with coconut, since my childhood days. There was a line of customers at the stall so I didn't take a picture of it, but here are pictures of the pancakes.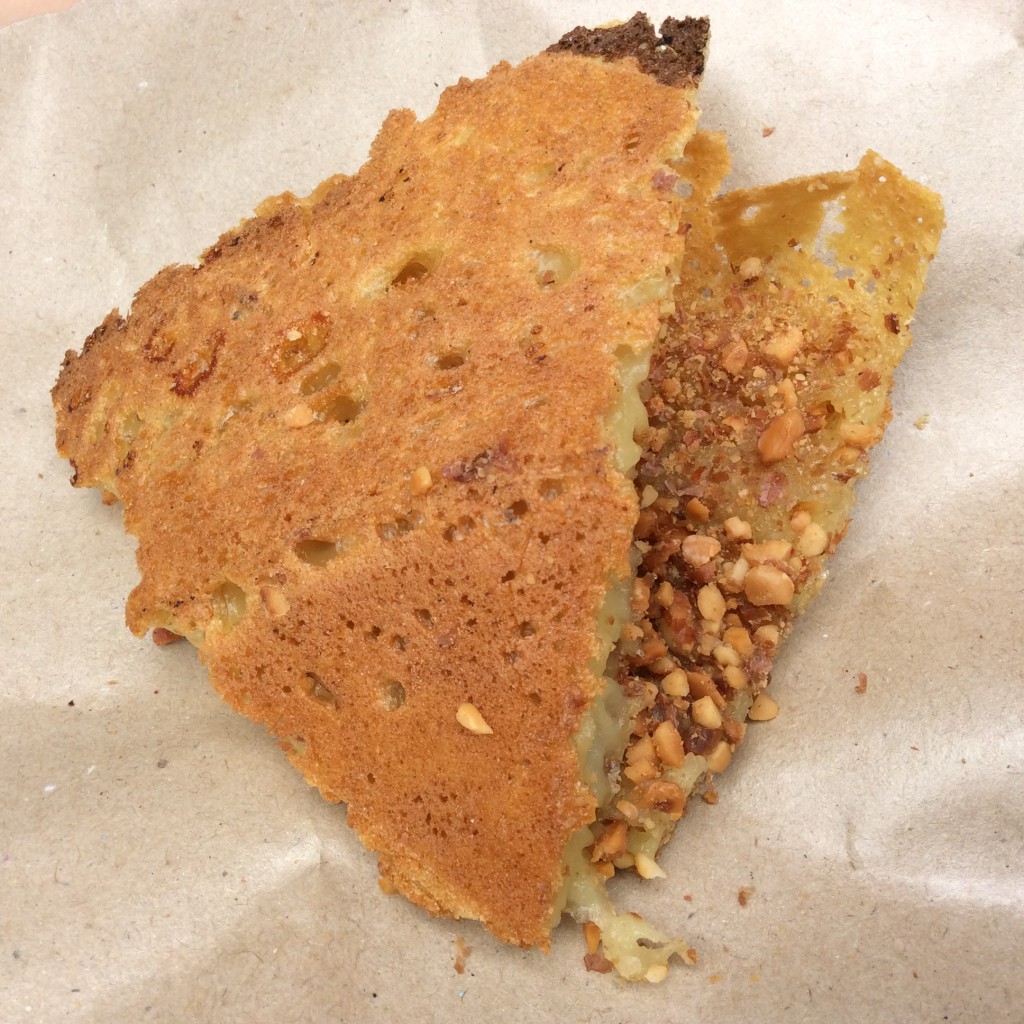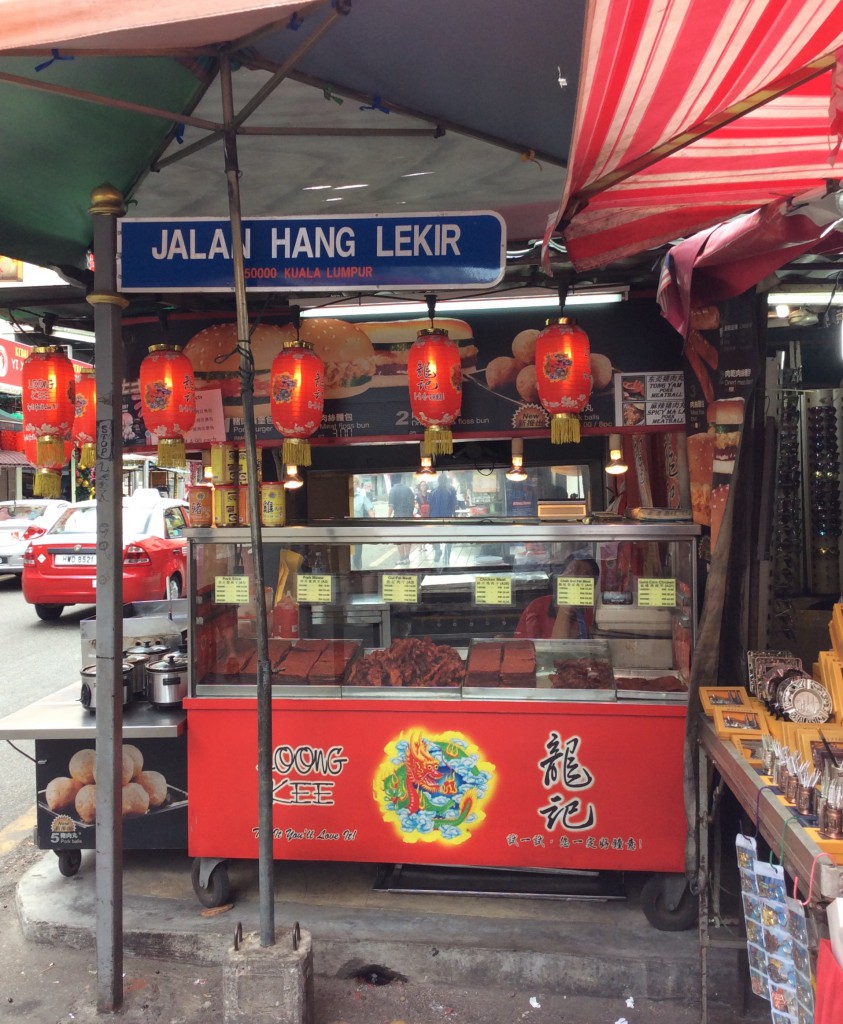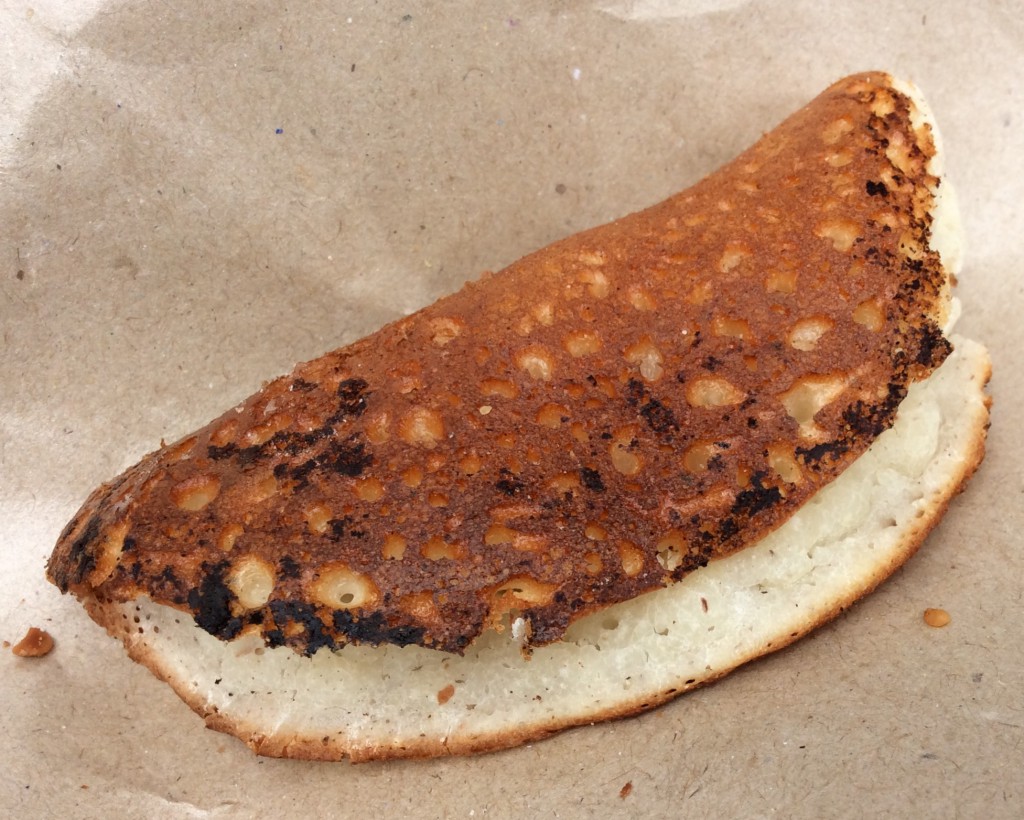 Back to the KLCC area where scones and cake at the Mandarin Oriental with KL Sister help alleviate the distressing lunch somewhat, especially the lovely pot of tea.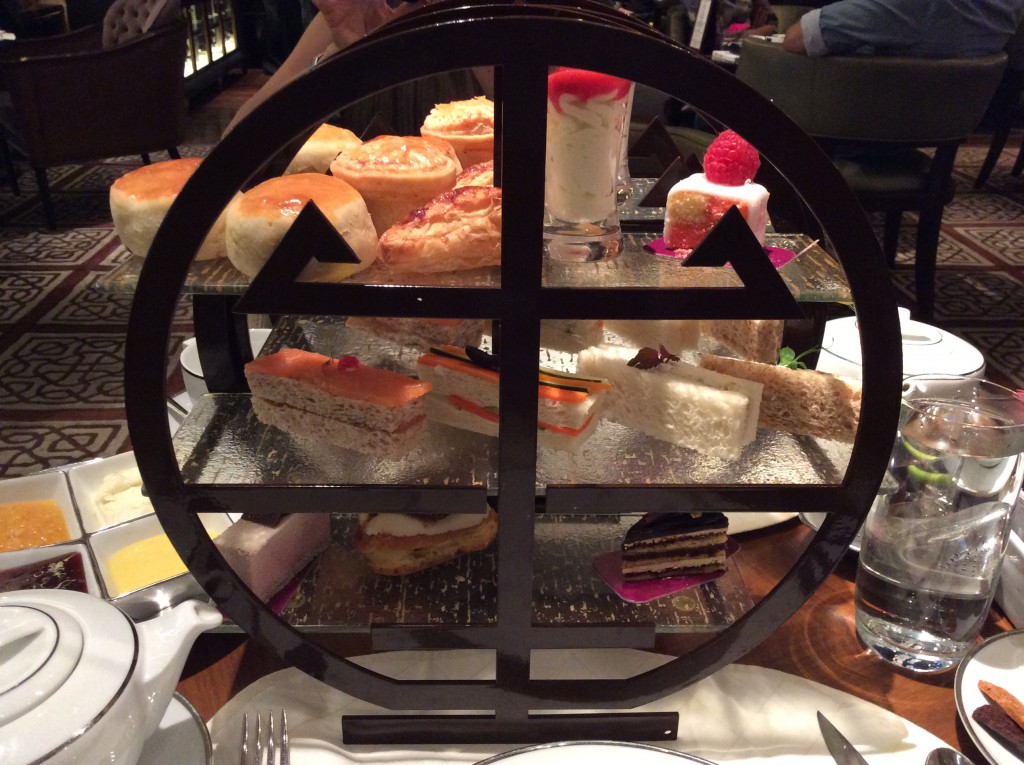 We met my parents for dinner in Mid-Valley where we had duck and rice. I have mentioned Village Duck restaurant in a previous post and would still recommend it for their roast duck and in fact anything on their menu (such as tofu with hon shimeji mushrooms and baby spinach below). We ate Cantonese roast pork three times today over breakfast, lunch and dinner, and this was certainly the best we had.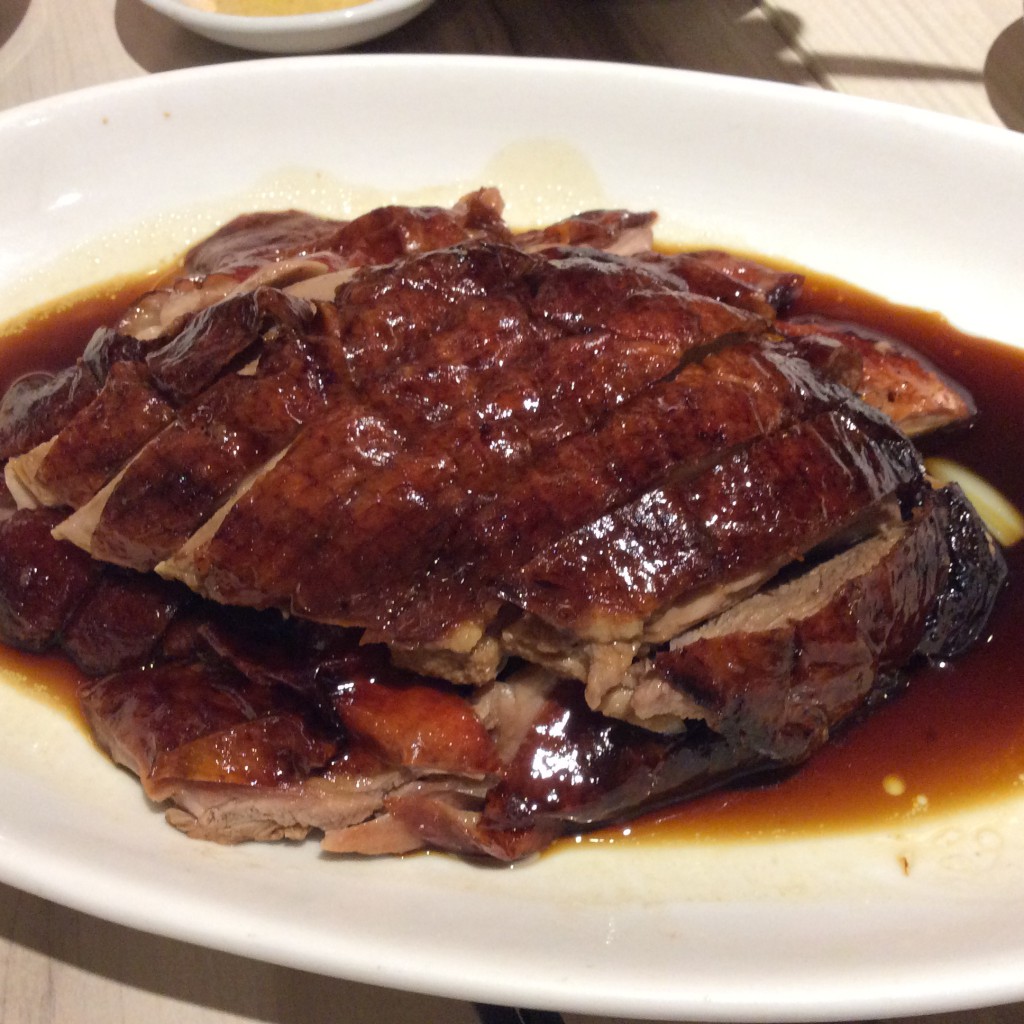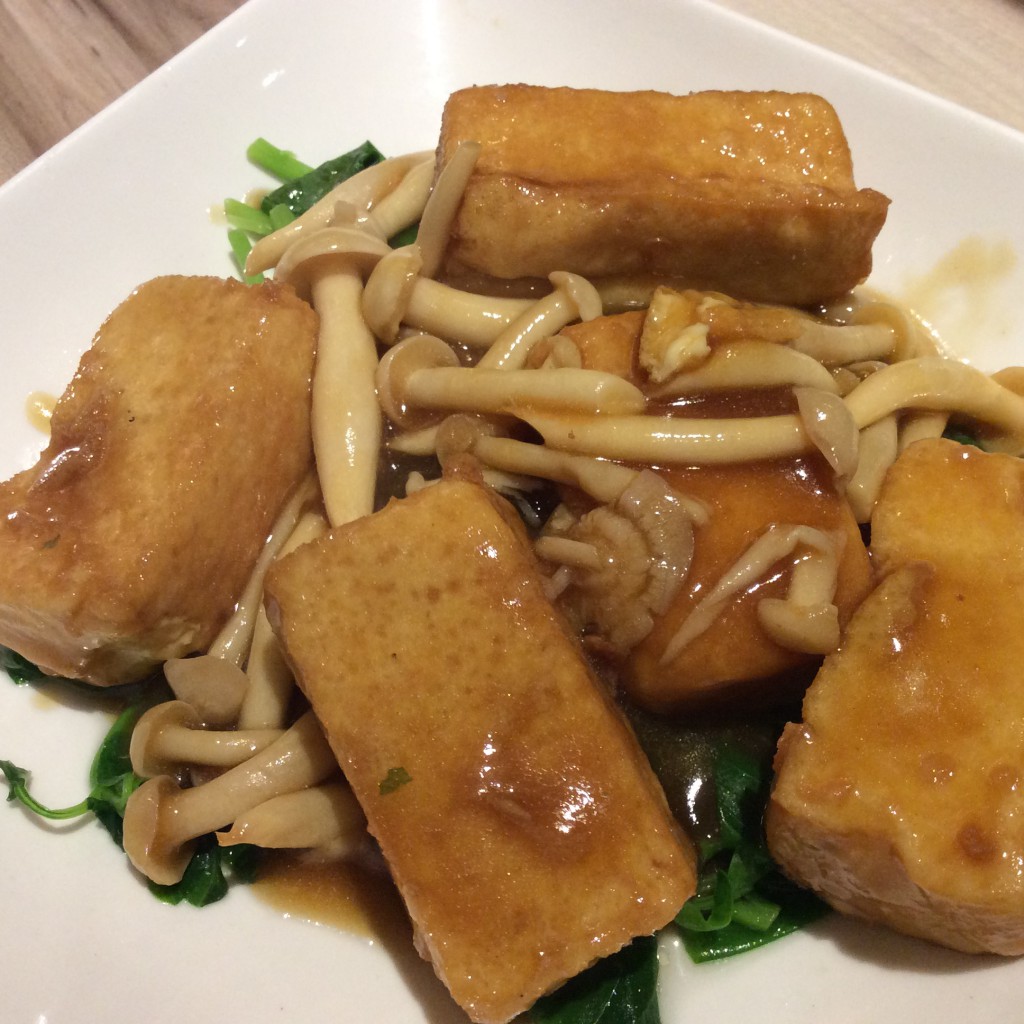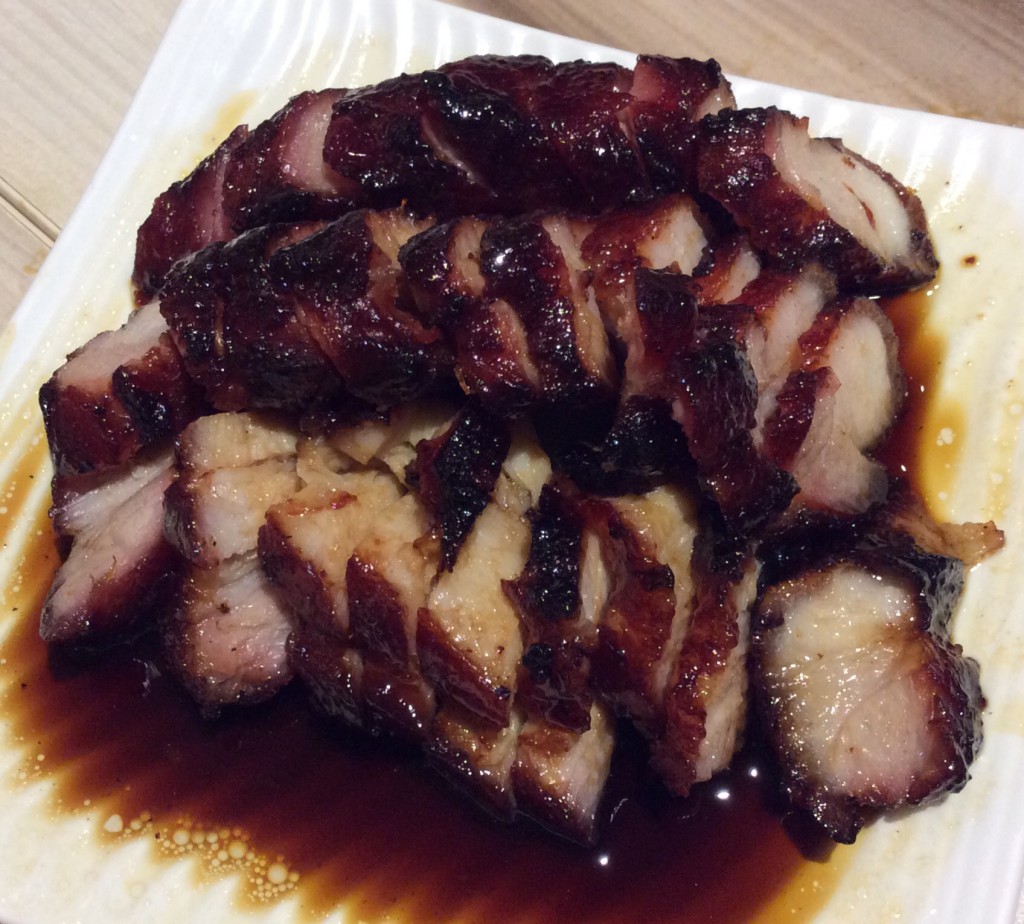 In order to keep sane, keep moving and keep out of the sun, we have relied heavily on the Uber taxi service. Short of having your own personal car and driver, this is the next best thing in a city that has no logical transport plan. I will write all about our extensive Uber KL experiences in a separate post.
Finally, two more pictures taken in Petaling Street of soft toys in pairs, ready for Valentines Day. Yes, they are super cute but I just didn't think how I could carry them back to London without them being crushed in the suitcase.