Diary: Wednesday 10 February 2016
We are coming up to the half way mark of our short trip to KL.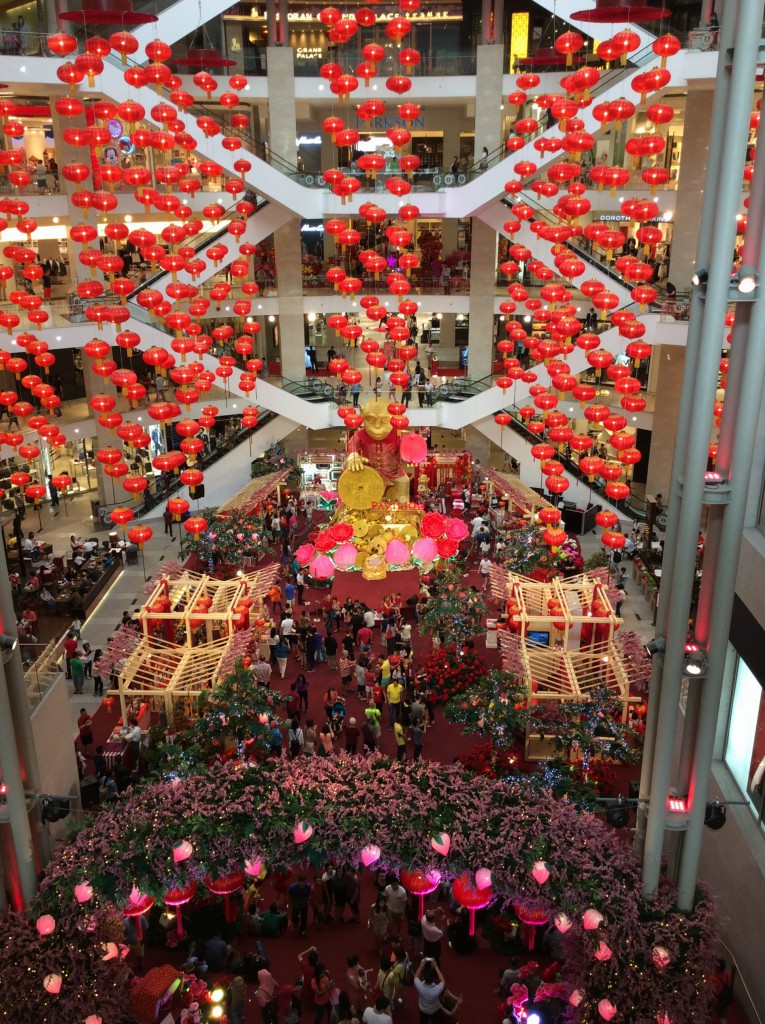 This is a day of contrasts between the quiet and the noisy.
Having managed six hours' sleep on my third night in KL, I start the day as I always do, with a cup of tea.
Over dinner this evening KL Sister and I discussed tea. I said that I liked the teas from TWG and O'Sulloc best, and she reminded me that Fortnum and Mason is excellent too.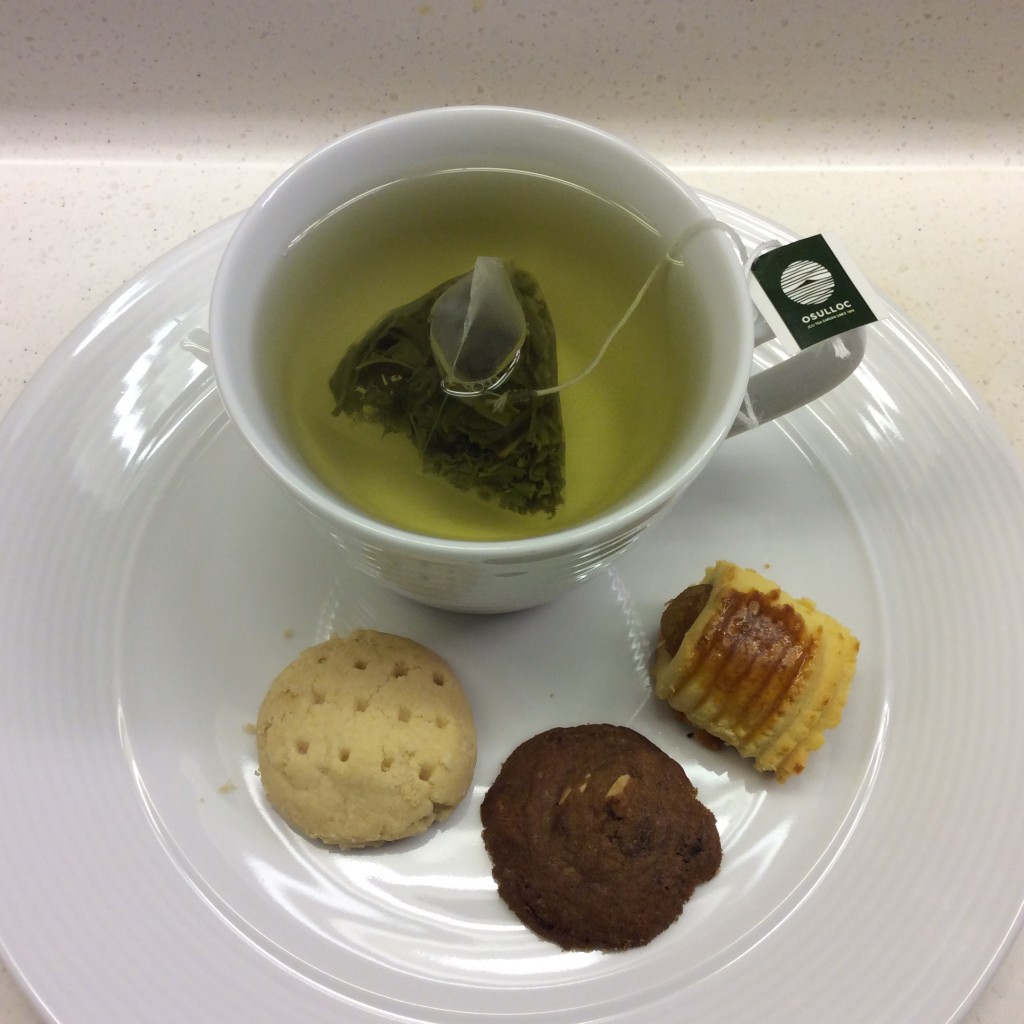 I mentioned in my previous post that teh tarek is our national drink. Milo is possibly our second most favourite drink, judging by the number of stalls that serve it. Junior 2 laughed when she saw it being sold on tap and I have to say that I even found it being sold in a Malaysian food outlet in Shanghai, along with kaya and toast.
We had a fuss-free breakfast of nasi lemak, mee siam, steamed rice noodles and some local kuih (cakes)…all washed down with some hot Milo.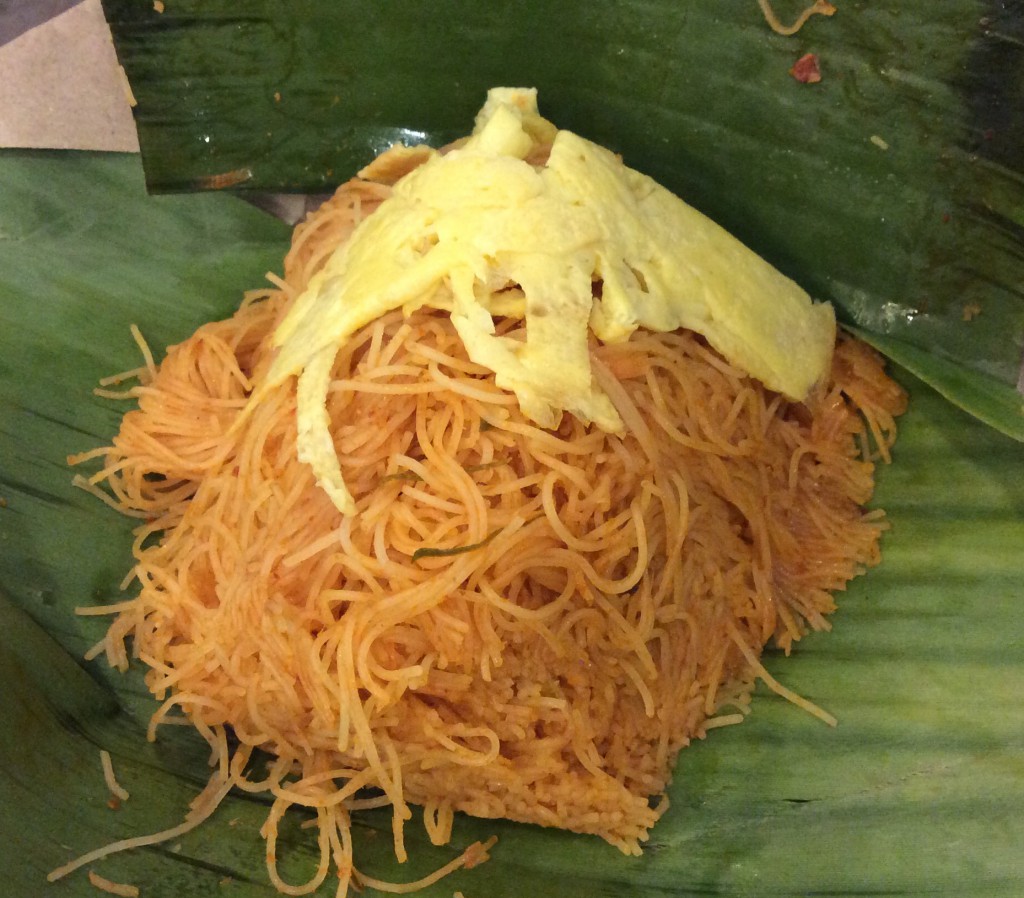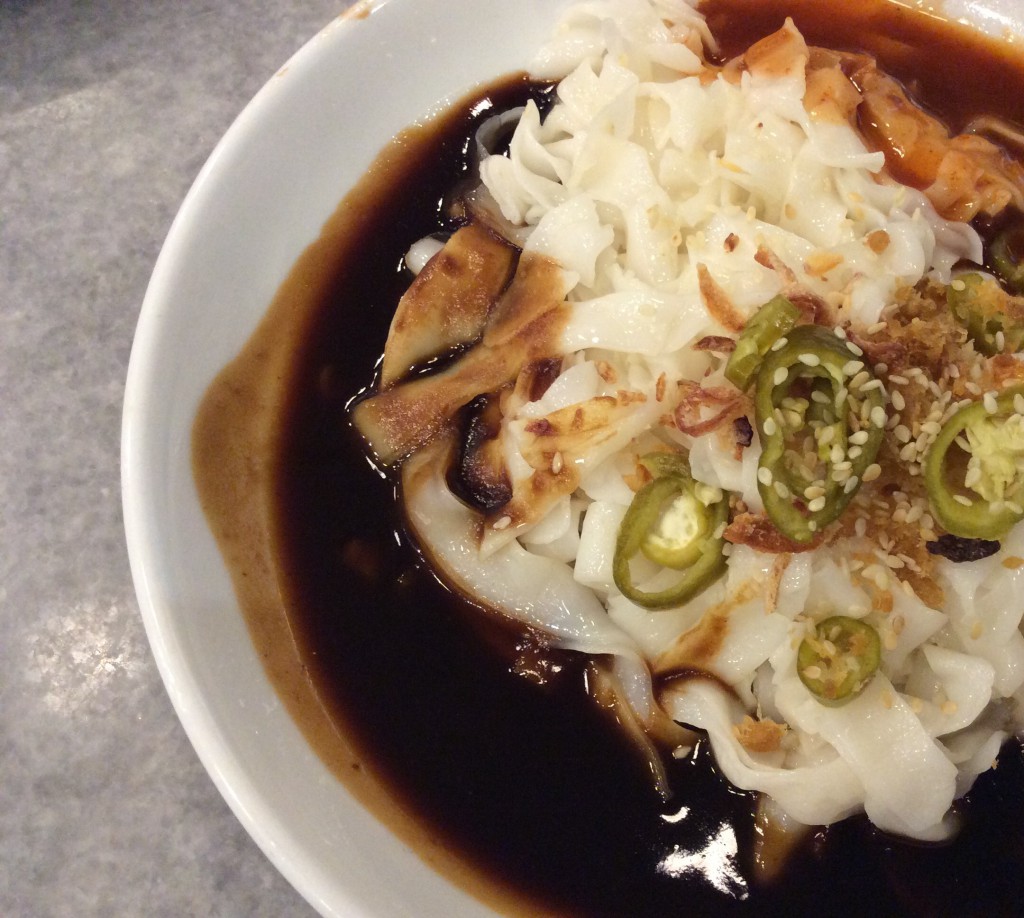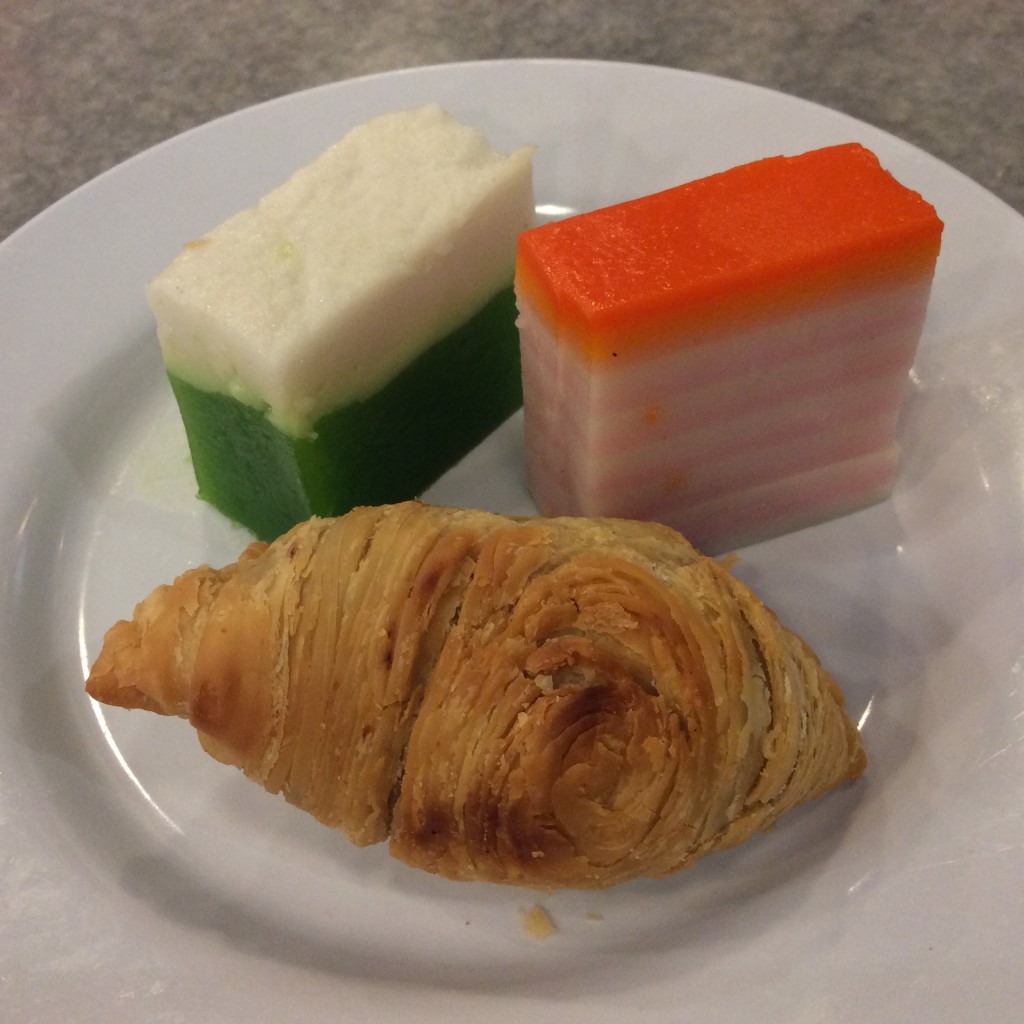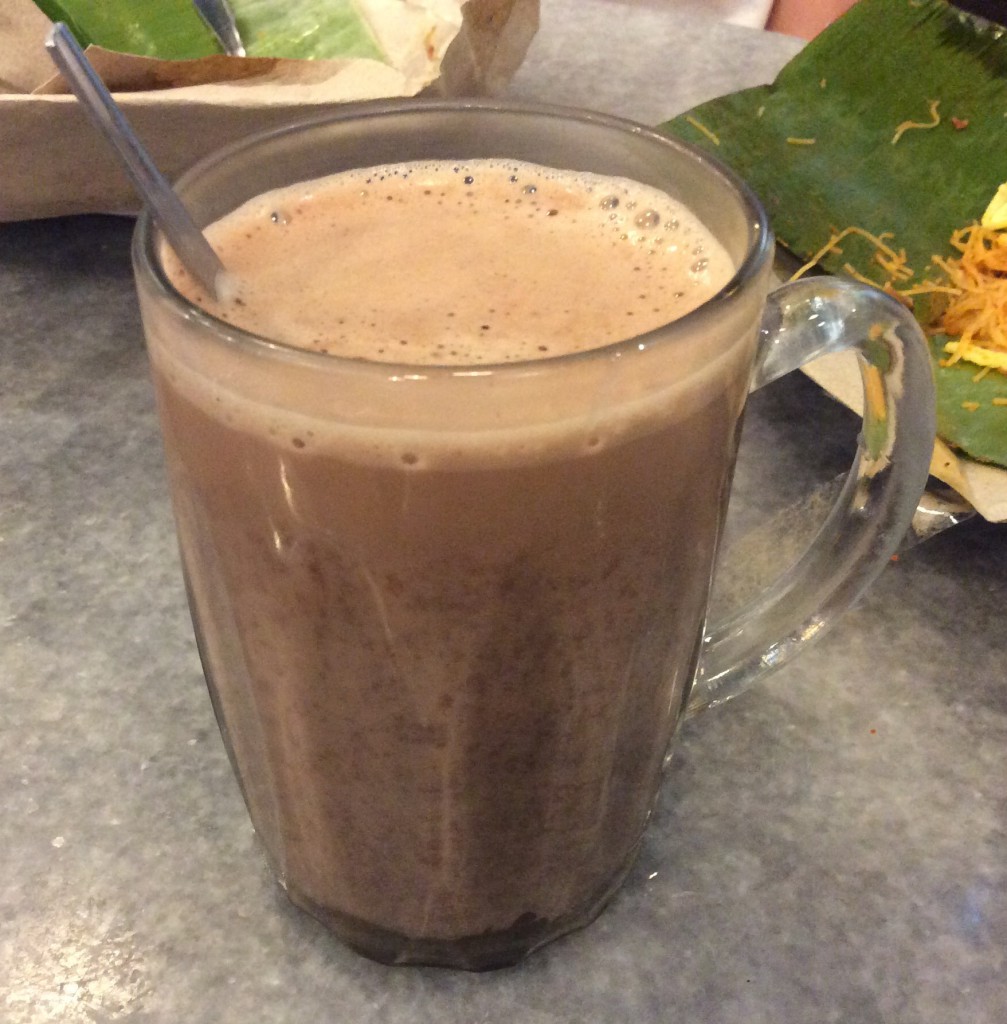 KL is actually a very noisy place but even in the middle of the chaos, you can find relatively large pockets of green and calm. Yesterday it was the Bank Negara Museum and today it was the National Mosque and the Islamic Arts Museum Malaysia (IAMM).
I had been to the mosque recently with my friend SS from Seoul but what I had not realised then was that the IAMM is just a little further up the road. This time I explored the rear of the mosque and noticed some interesting clocks, one with Arabic numbers and another set which showed you the times in the day that a Muslim has to pray.
As far as I know there isn't a Christian equivalent although in the Christian calendar there are certain days to commemorate, and in the Christian day there are set times to say prayers, offer music and read the word of God. It's just that I haven't come across this kind of reminder clock. I'm sure, though, that someone has created an App for it.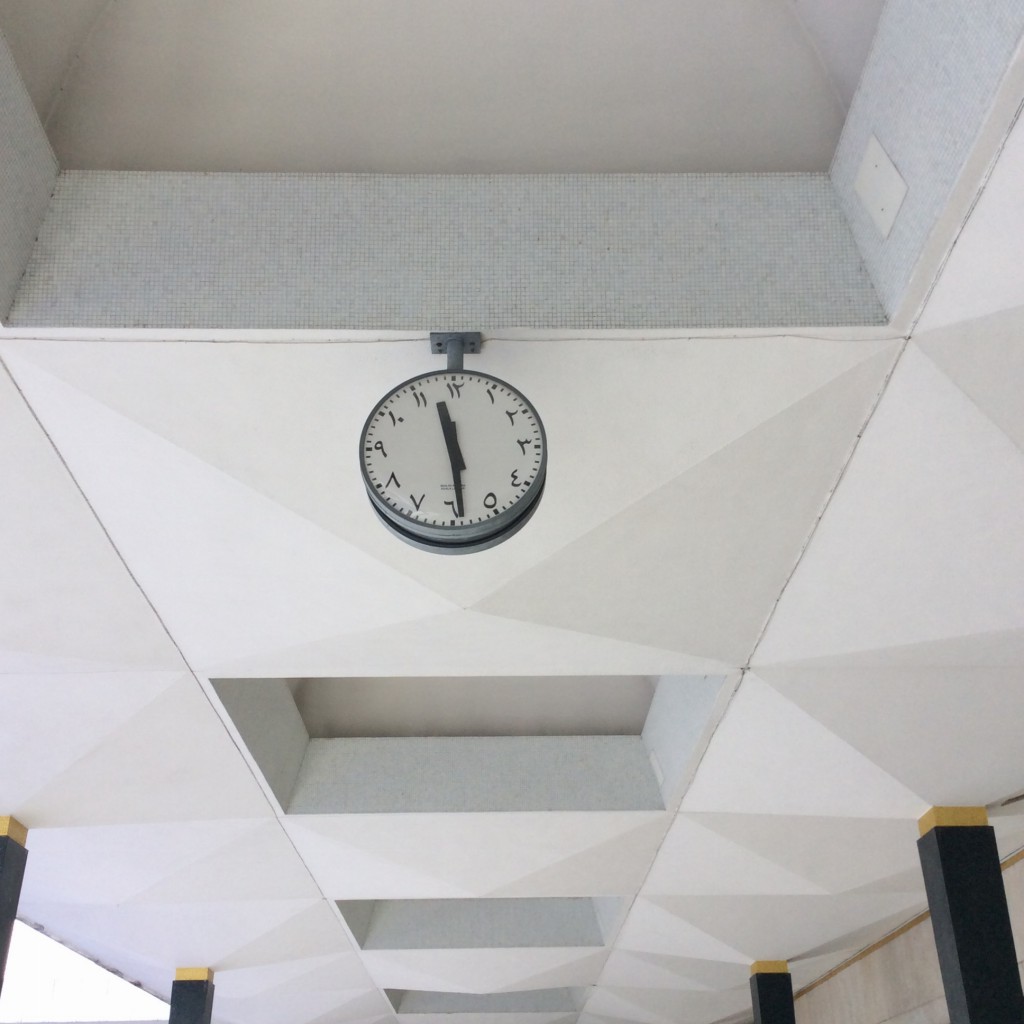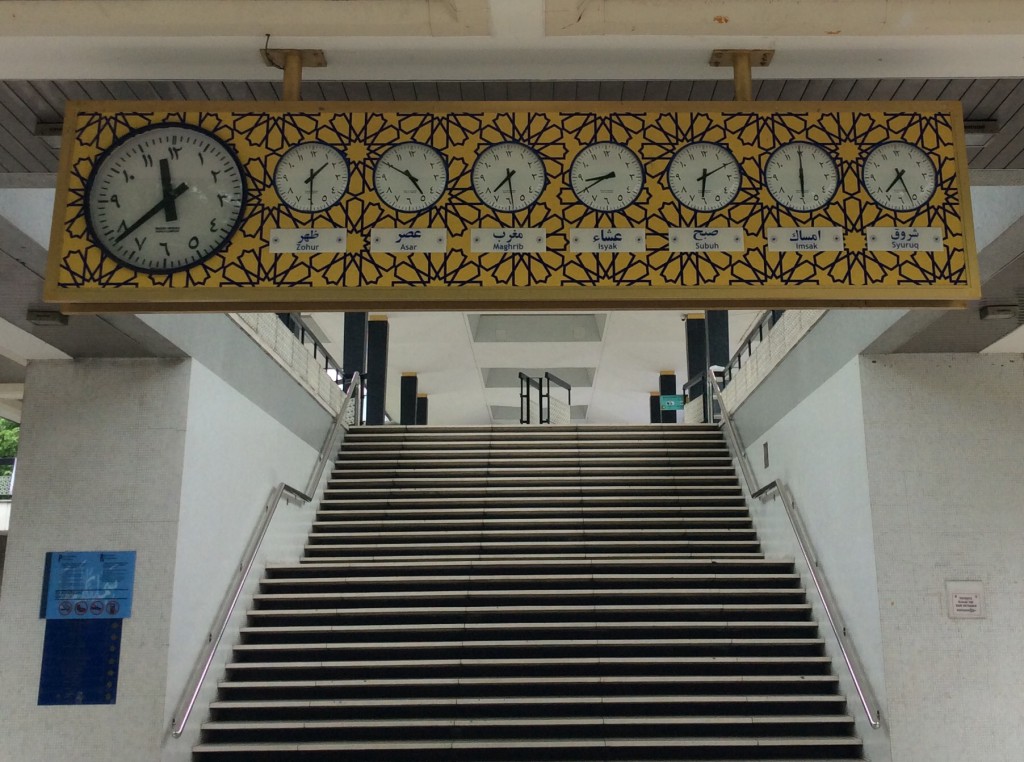 The Islamic Arts Museum is definitely worth a visit and I will write about it in a separate post.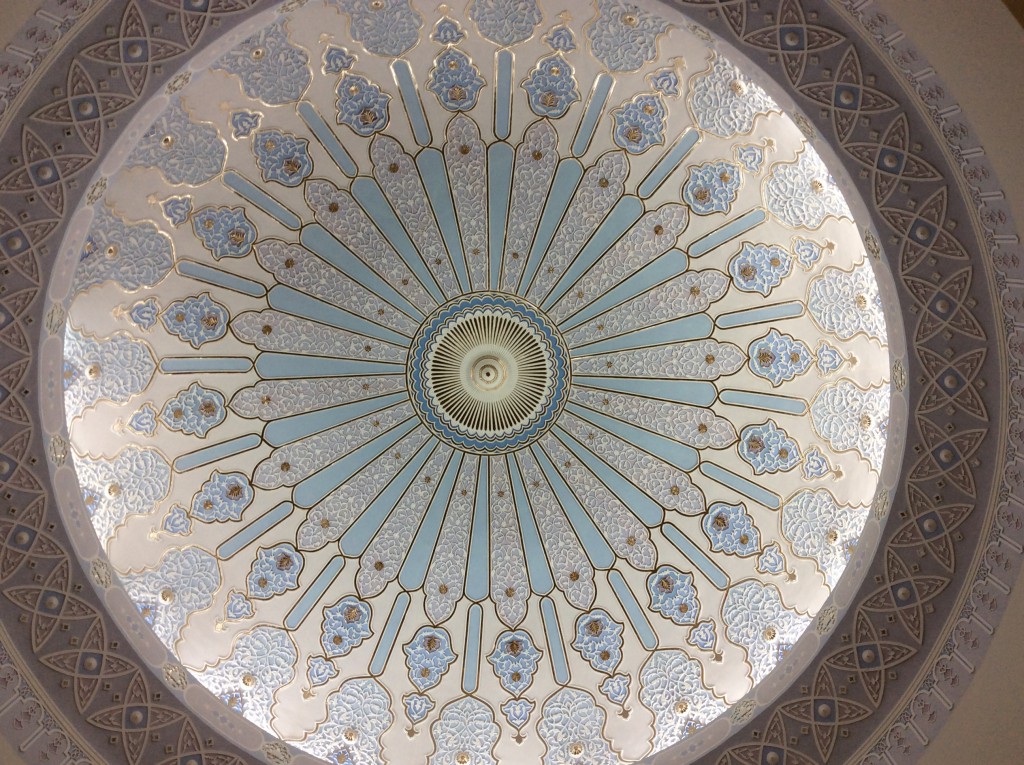 Lunch was at Din Tai Fung, which is a Taiwanese dumpling and noodle restaurant. The children were very excited because it holds one Michelin star. A word of caution because our favourite dim sum restaurant in London, Yauatcha, also holds one Michelin star. The price, ambience and clientele are completely different between the two but I would say that what unites them is that both restaurants do what they do extremely well, the welcome is genuine, the service is efficient and that I have never left either establishment feeling unhappy.
Today we had a variety of noodle and dumpling dishes along with some prawns coated in a salted egg yolk batter and tender pea shoots fried in garlic. There was a long queue and whilst waiting, we watched the chefs at work making hundreds and hundreds of dumplings, through a glass window at the front of the restaurant.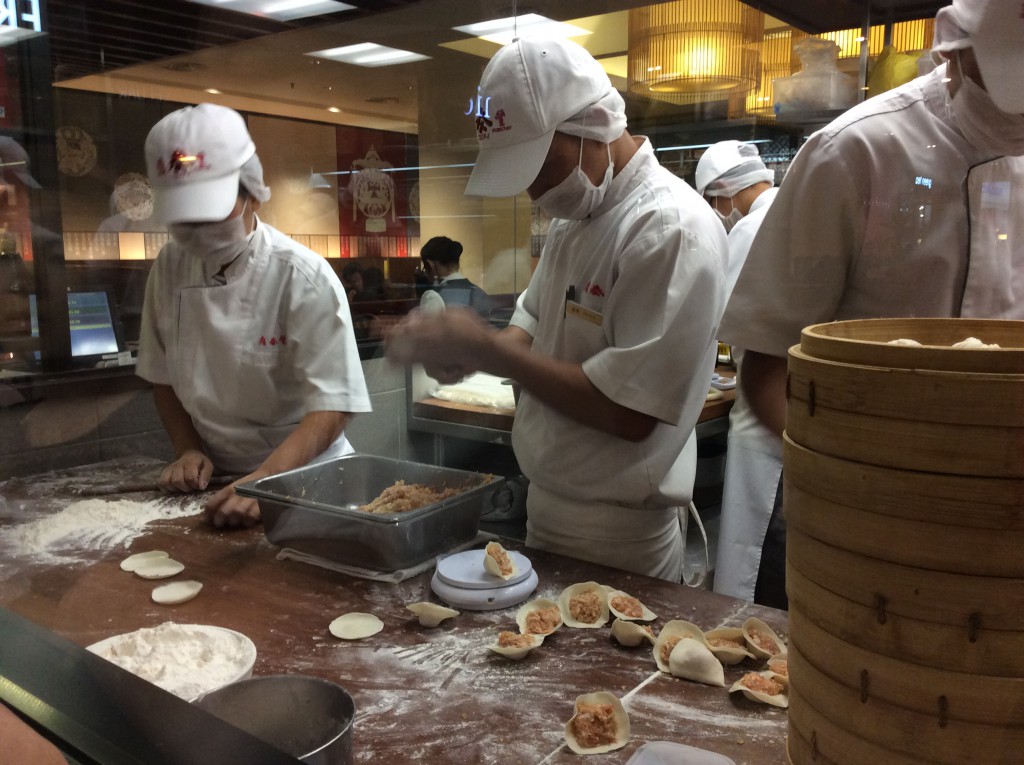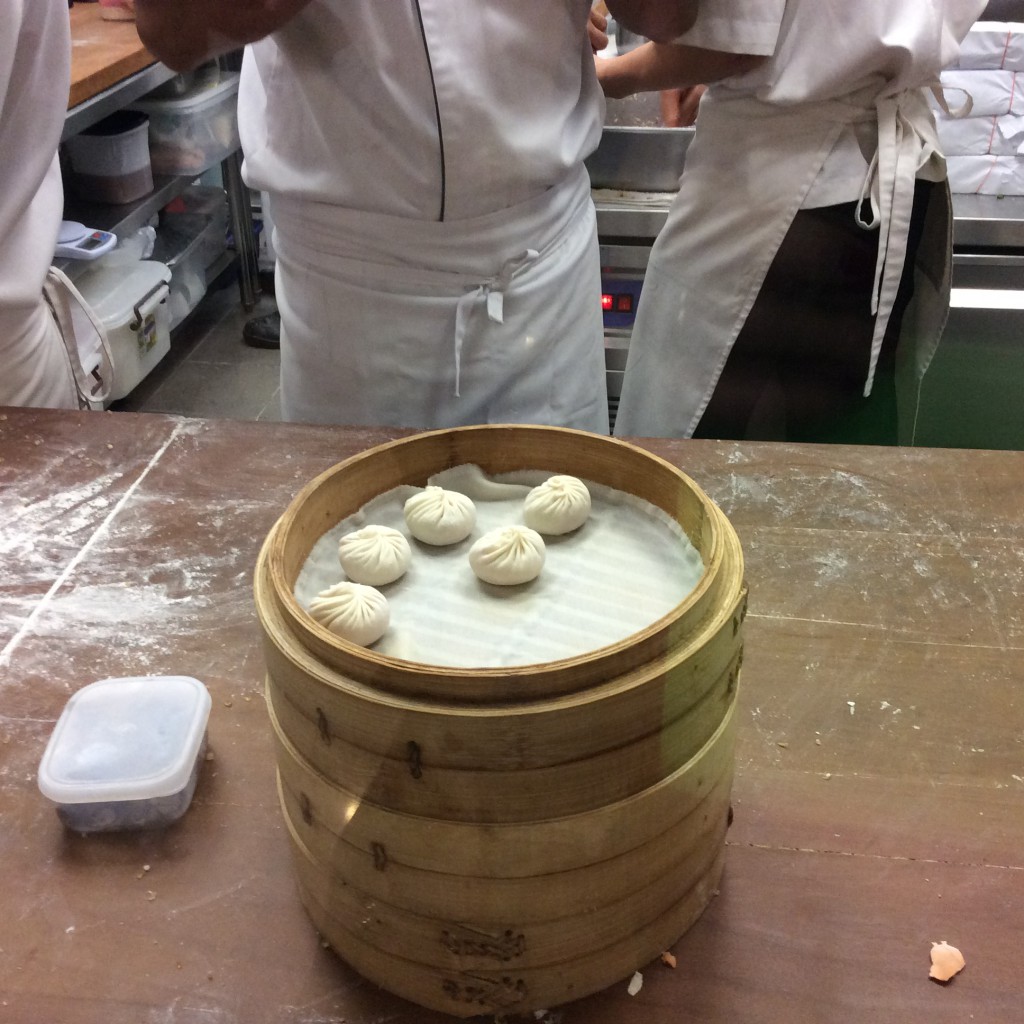 We wandered around the Pavilion Shopping Mall for awhile but I don't really enjoy shopping unless it's for kitchenware. Junior 2 has a bee in her bonnet and really wants to head to Petaling Street, which is the heart of old Chinatown and where she thinks she can find a street market similar to the one in Hong Kong's Mongkok area.
Since we have dinner out with my parents, and it was late afternoon, I decided we should head back to the apartment for a rest.
Dinner started with another of Malaysia's famous street food, satay. The rest of the dinner was actually a buffet which is what Malaysians like because we are adventurous eaters and will happily load our plates with a mish-mash of foods from round the world.
Personally speaking, I think you need to proceed carefully and have some sort of game plan, because it's too easy to try everything and enjoy nothing. My favourite buffets are actually Korean or Japanese because you get to choose the best dishes from just one cuisine.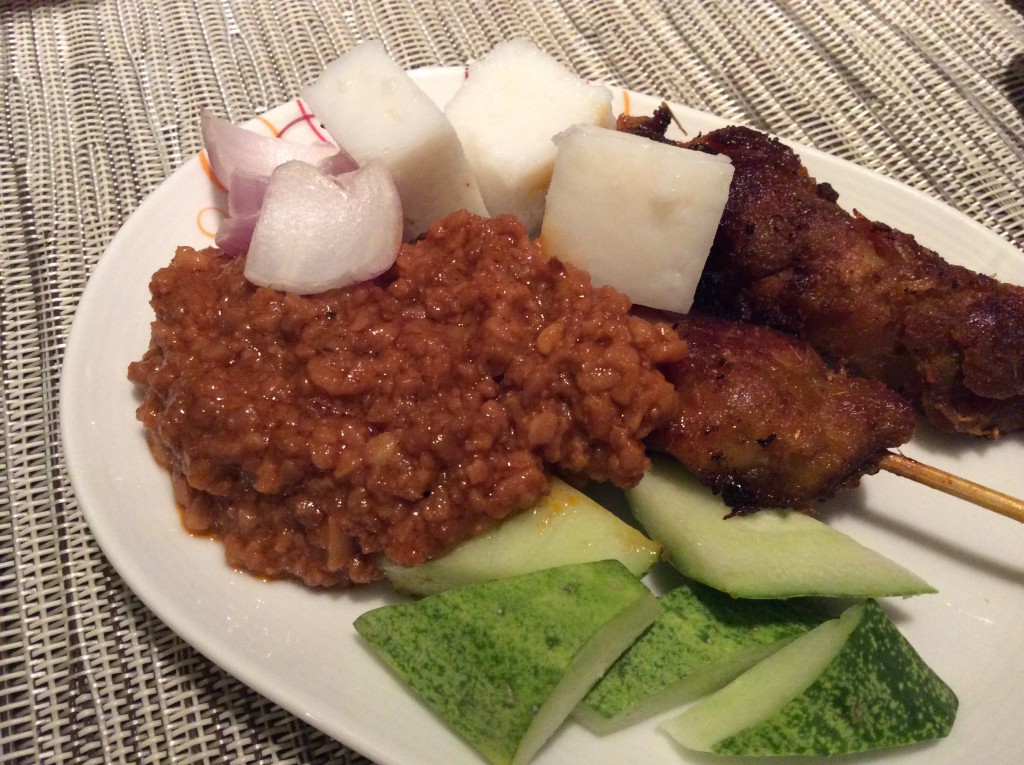 We end the meal with a range of TWG teas, not by choice but by error. We had asked for fresh mint tea and what came to the table was Morrocan Mint…along with Earl Grey, English Breakfast and Jasmine teas. It turns out that the labels for the teabags were all green and so I guess the kitchen staff just didn't look carefully.
One final note of hilarity. Whilst looking round the dessert section, we noticed that part of the decoration consisted of large chocolate fishes. One fish was noticibly missing and we laughed at the thought of someone stuffing her handbag with the fish (no one could have eaten that big fish at the end of a buffet meal).
On the way out of the hotel I passed by the Deli…well, who's having the last laugh? The price of one of these fishes costs as much as the dinner itself so if you take one home your dinner is virtually free. I never thought fishing could pay off like this…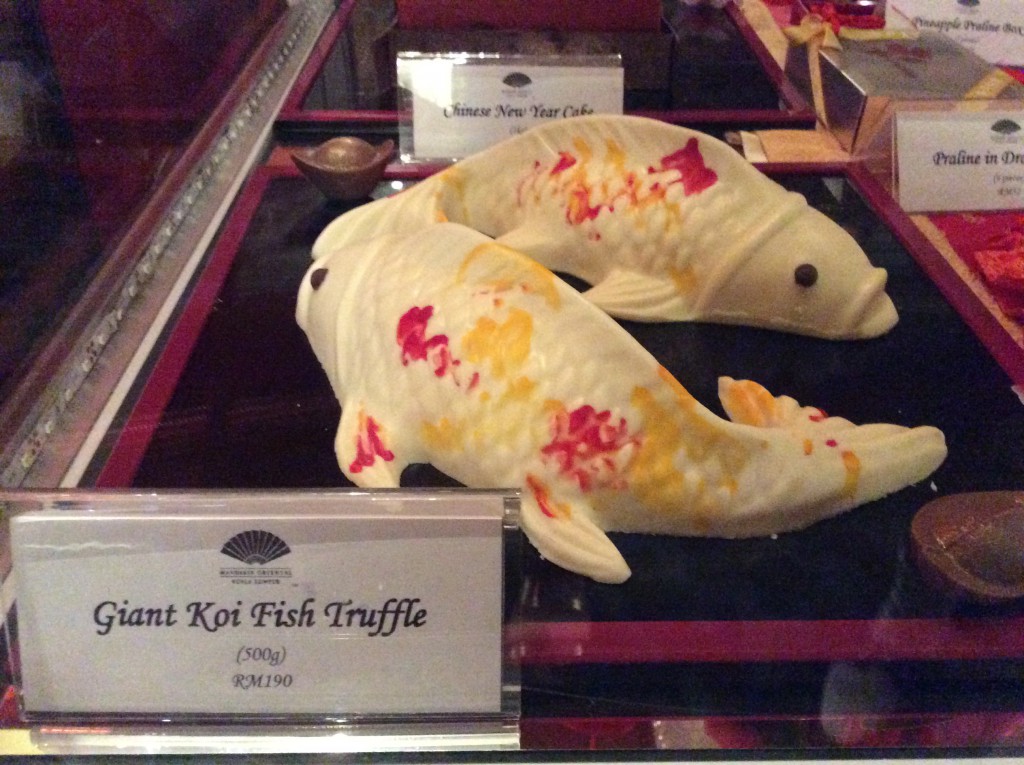 Tomorow threatens to be a disjointed day as my parents have plans which require us to be entirely flexible. Let's see what fun things I can write about then.