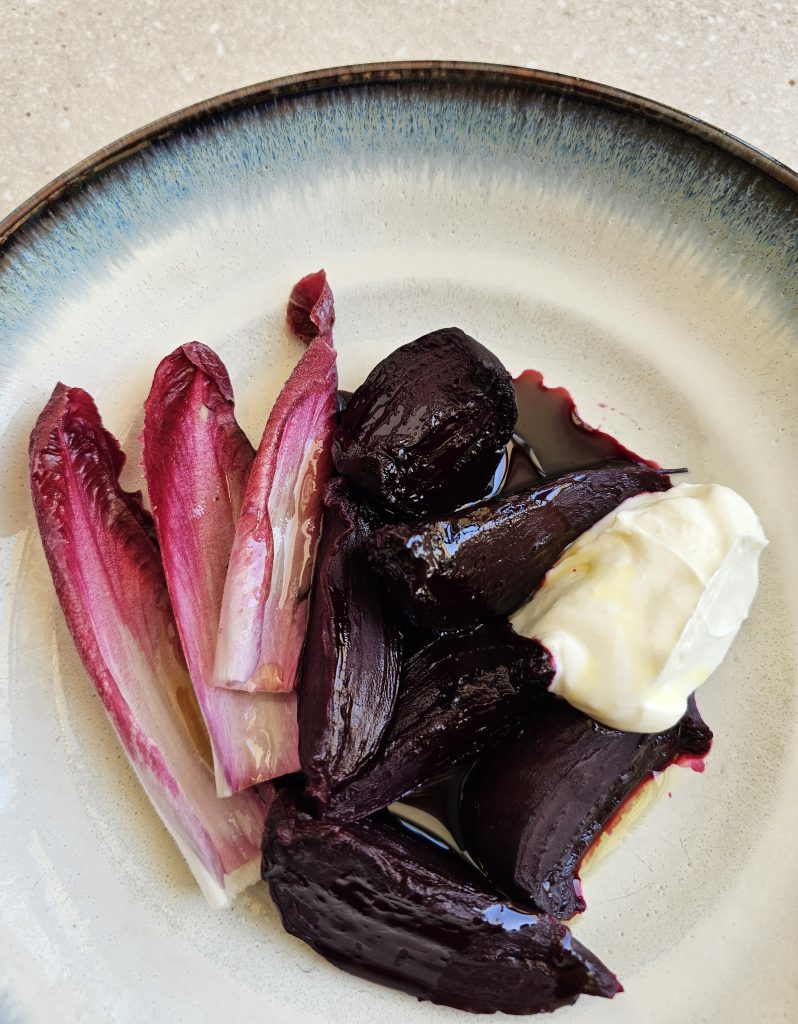 This is the dish I could not stop thinking about during dinner at Otto in Berlin, after I left the restaurant, and as I returned to my kitchen in London. Chef Vadim Otto Ursus's beetroot, sloe berry, labneh and brown butter is not easy to describe because it is unlike any other dish I have had, beet or otherwise. I attempted to make it using his recipe which I found here.
Otto's June 2023 menu and the the beetroot dish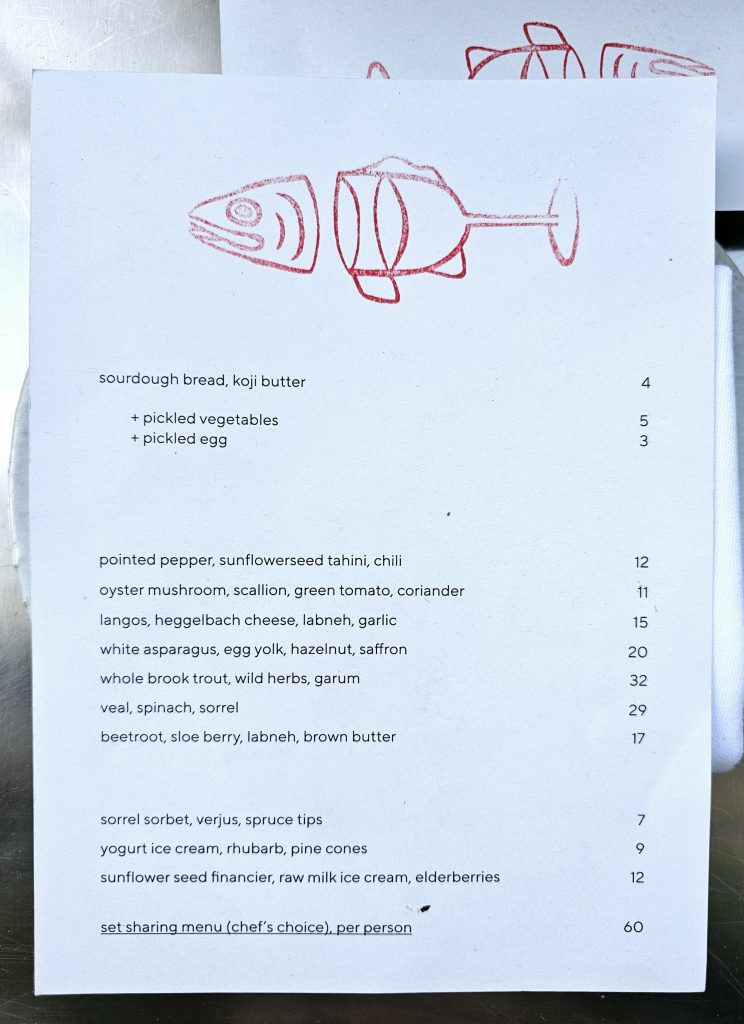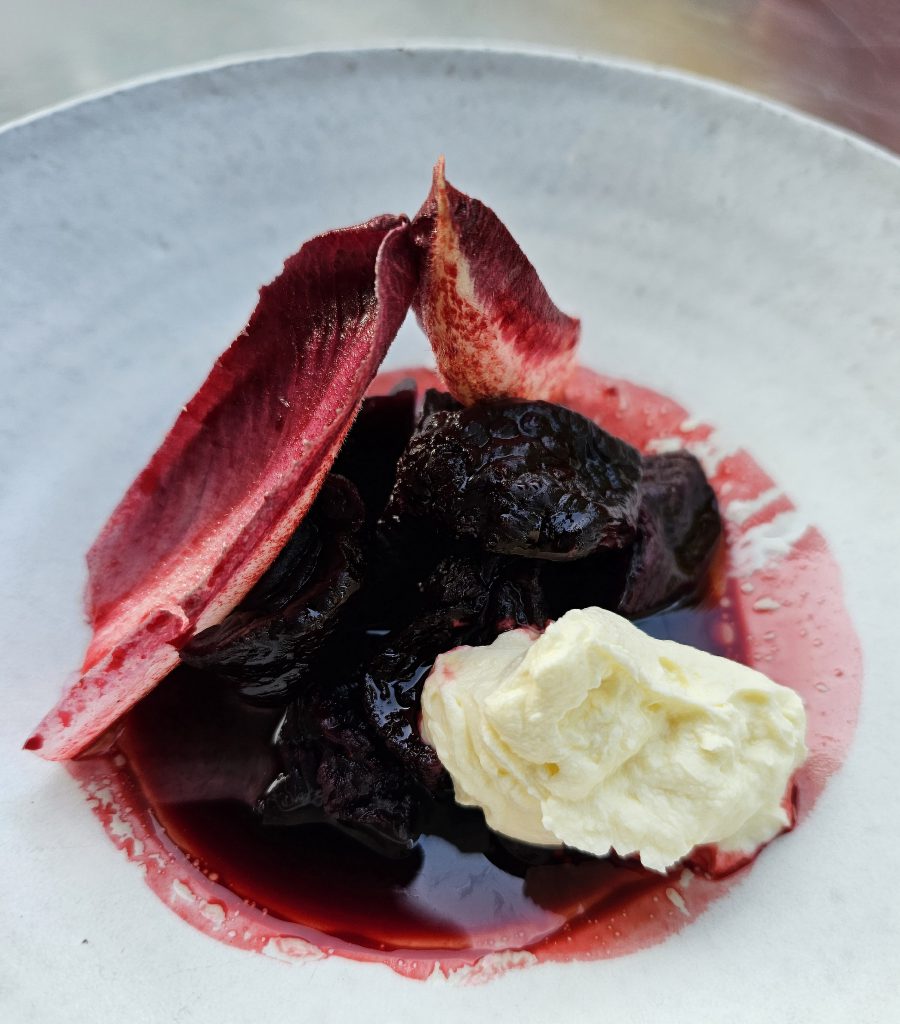 The recipe below has been adapted to suit my own cooking practicalities (I use the oven a lot). For chef Otto's original recipe please see here.
I could not find any purveyors of sloe berry juice, but research indicates that it is possible to head up the road to Hampstead Heath and pick my own during the right season. Most people would pick sloe berries to add to gin (indeed there was a very popular book published 30 years ago called Sloe Gin and Beeswax which showed you how to make this) but if I were to find any, it would go into making this beetroot dish.
Since sloes are in the same family as plums and cherries, I opted to use tart cherry juice as that was what I could find. I would imagine pure cranberry juice would also make a good substitute.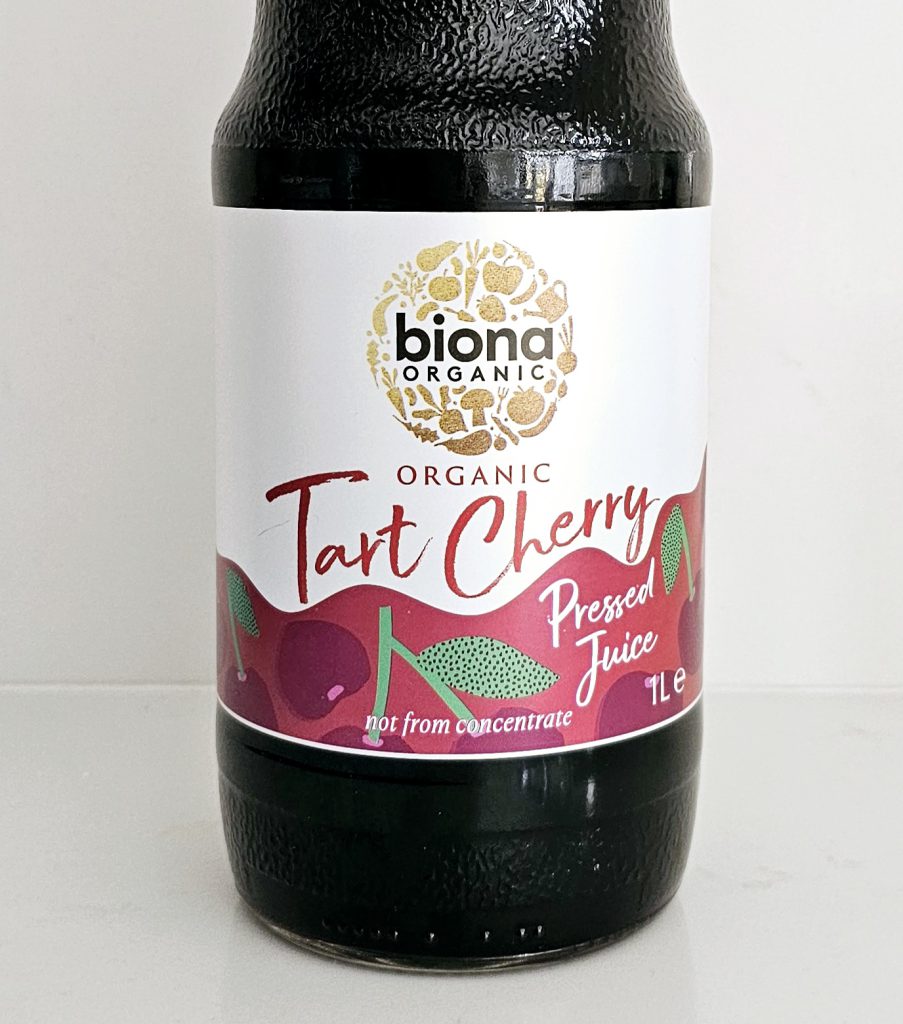 The dish took two days to make but most of the time it looks after itself: roasting, soaking, dehydrating and then briefly boiled before serving. As it can be prepared ahead of time, it is a perfect addition to the vegetable platters from the other Otto i.e. Ottolenghi, whose dishes I cook every weekend when I have friends and family around the dinner table.
For the Beetroot:
1 kg medium-sized fresh beetroot
2 teaspoons fine sea salt
600 g tart cherry juice
250 g labneh
OR
strain 500 g full-fat sheep / cow yoghurt to make your own labneh
4 tablespoons pomegranate molasses
2 – 4 tablespoons olive oil
a few leaves of Belgian endive, for serving
How to Make:
DAY 1
Top and tail the beetroot, then give them a quick rinse under water if the skin is muddy. Dry with a paper towel then wrap each beet in some foil. Bake in the oven at 200°C / 180°C fan for 50 minutes.
Switch off the oven but leave the beetroot cooking in the residual heat for another 30 minutes. By this time they will be just right, yielding but not too soft.
When the cooked beetroot has cooled a little, remove the skin. When I was about to proceed, Niece Number 2 showed me her super efficient and neat way of doing this: cup the beet, still in its foil, in the palms of both hands. Simply twist the foil, which will act like a 'scrubber' to scrape the skin off the beet. The skin literally rubs off in one go and the whole process takes a few seconds.
Cut each beetroot into 6 wedges and place in a large non-reactive bowl, e.g. a glass or ceramic bowl. Mix the cherry juice with 2 teaspoons of fine sea salt and pour over the beet.
Cover the bowl with a lid and let it sit overnight at room temperature. It was by now 10pm and I went to watch some K-Drama.
Day 1 stages: baking the beetroot and soaking overnight in the cherry juice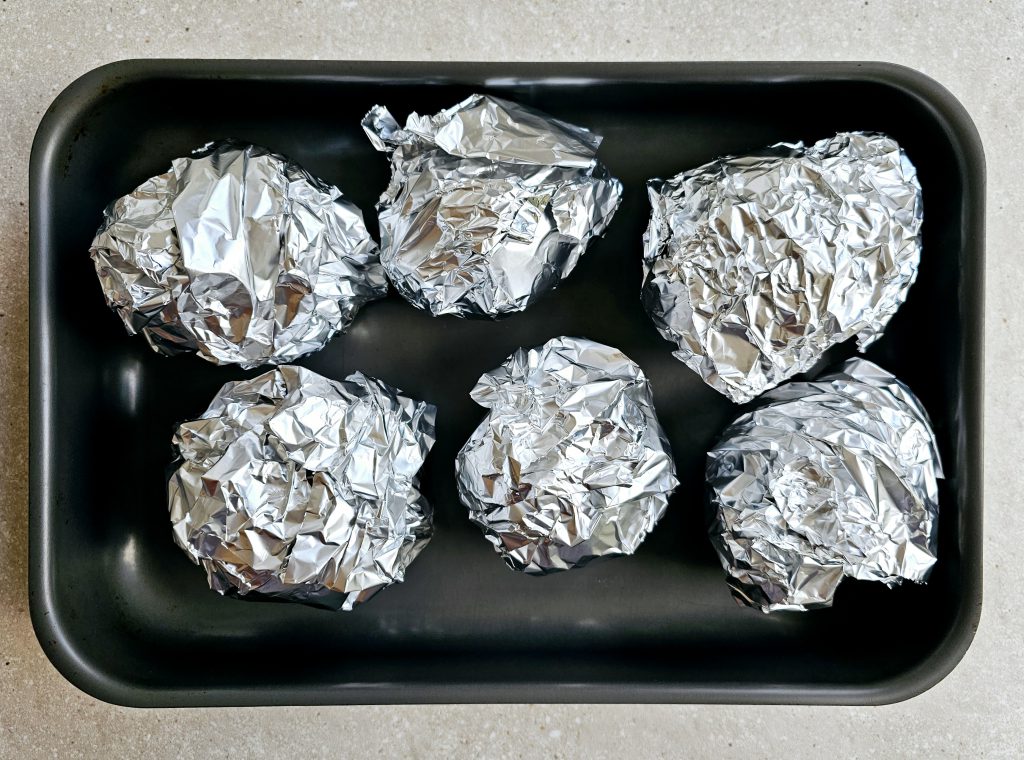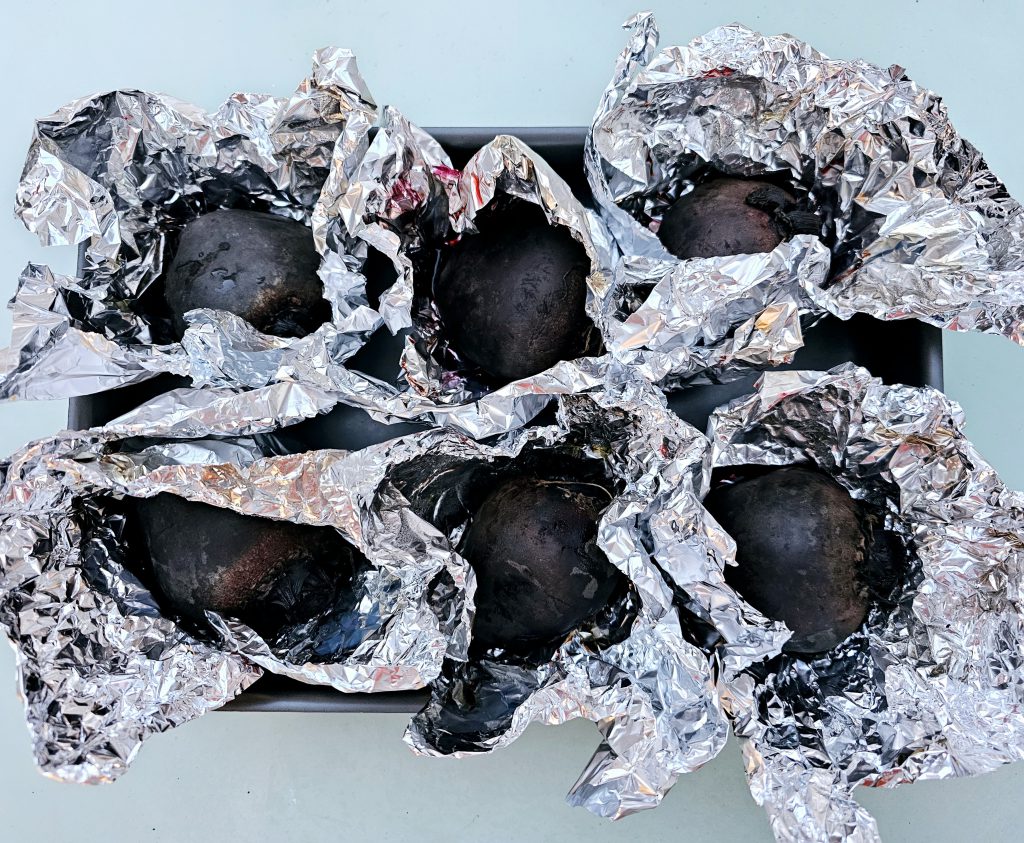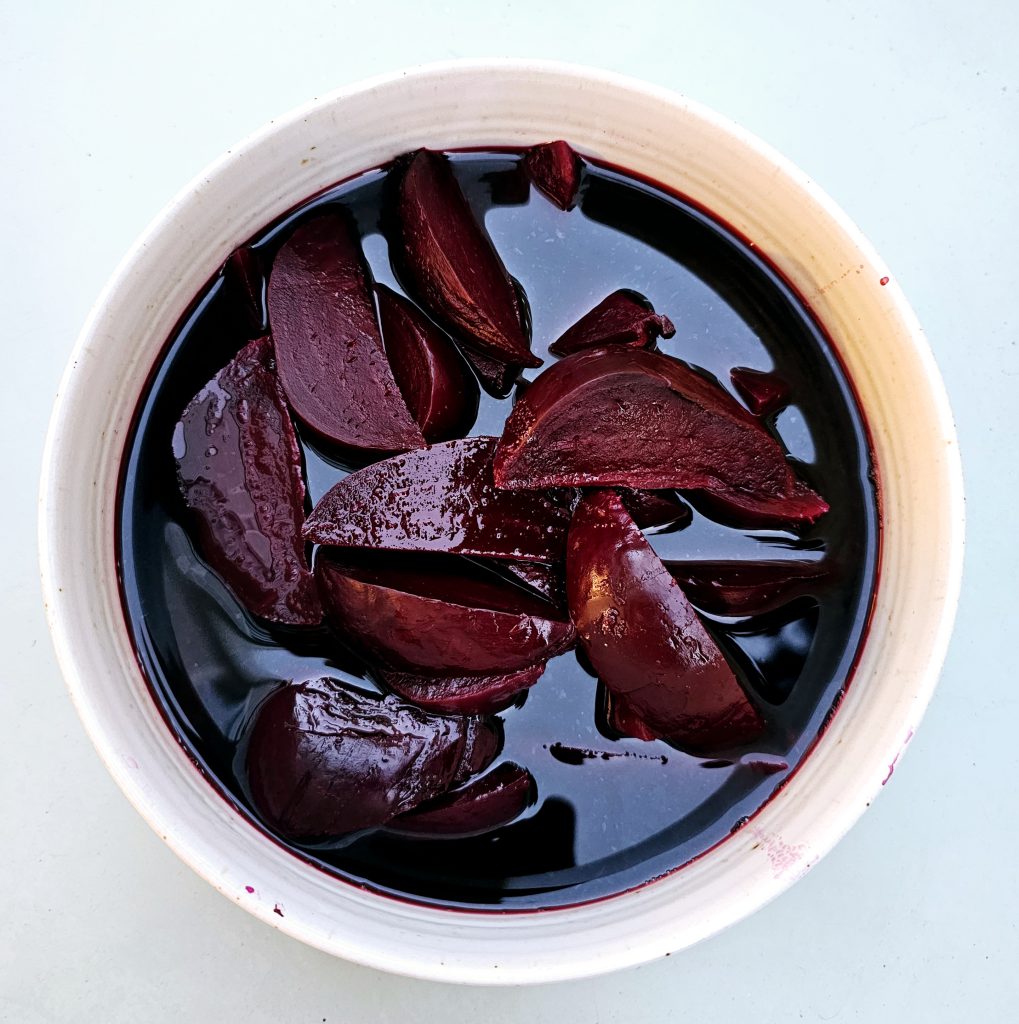 DAY 2
In the morning, preheat the oven to 70°C/ 55°C fan. Line 1-2 baking trays with baking paper.
Using a pair of tongs, remove the beetroot from the juice and place evenly on the baking tray. Reserve the juice for later.
Dry the beetroot in the oven for around 6 – 7 hours. This was my second attempt and I felt a bit more confident. Both timings seemed OK but I would not stray outside these limits.
The beetroot can be used immediately or kept for later.
Just before serving, place the beetroot into a pot with the reserved juice and pomegranate molasses. (For one portion, use six wedges of beetroot, 80 g reserved juice and 2 teaspoons pomegranate molasses).
Bring everything to a boil to reduce the juice a little. Remove the pot from the heat.
To serve, arrange the beet and juice in the middle of a deep plate. Place a few pieces of the endive on one side, and a dollop of labneh on the other side. Drizzle over with the olive oil (1 – 2 teaspoons if making individual portions) and serve immediately.
Day 2: the beetroot before and after dehydrating in the oven for 6 hours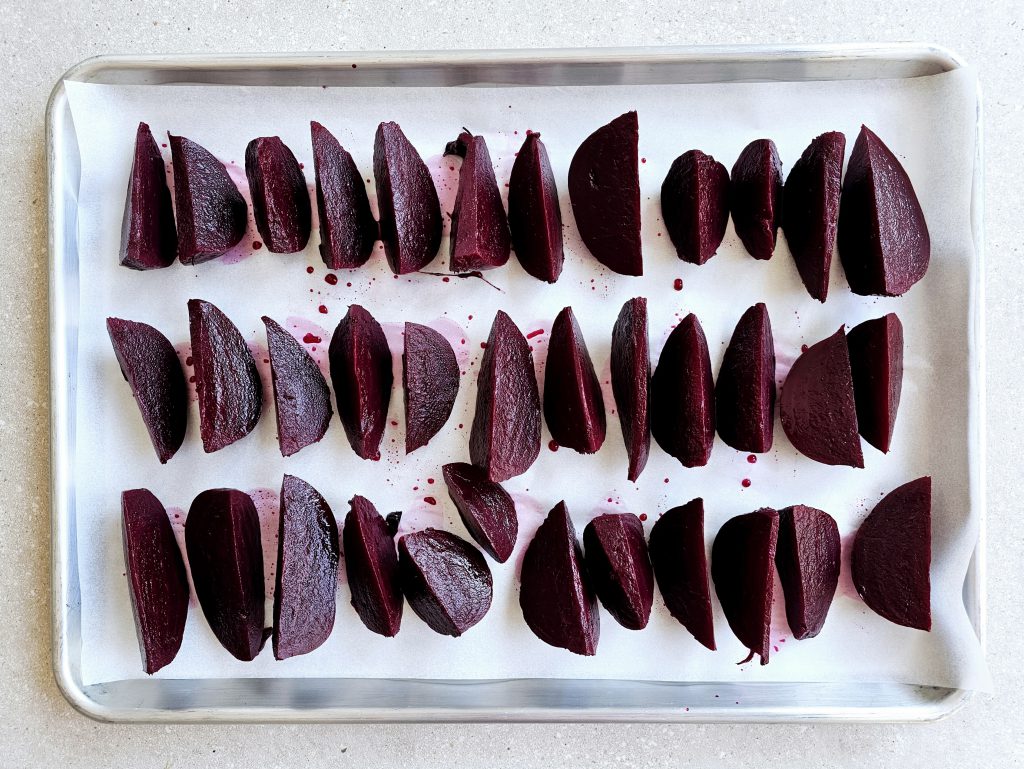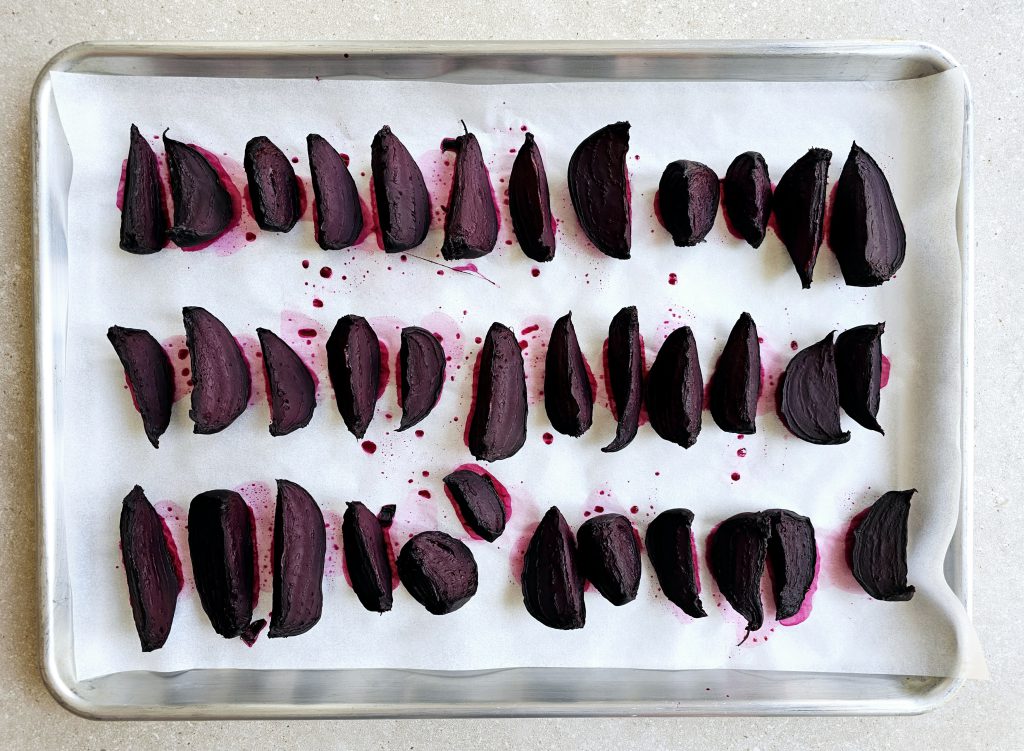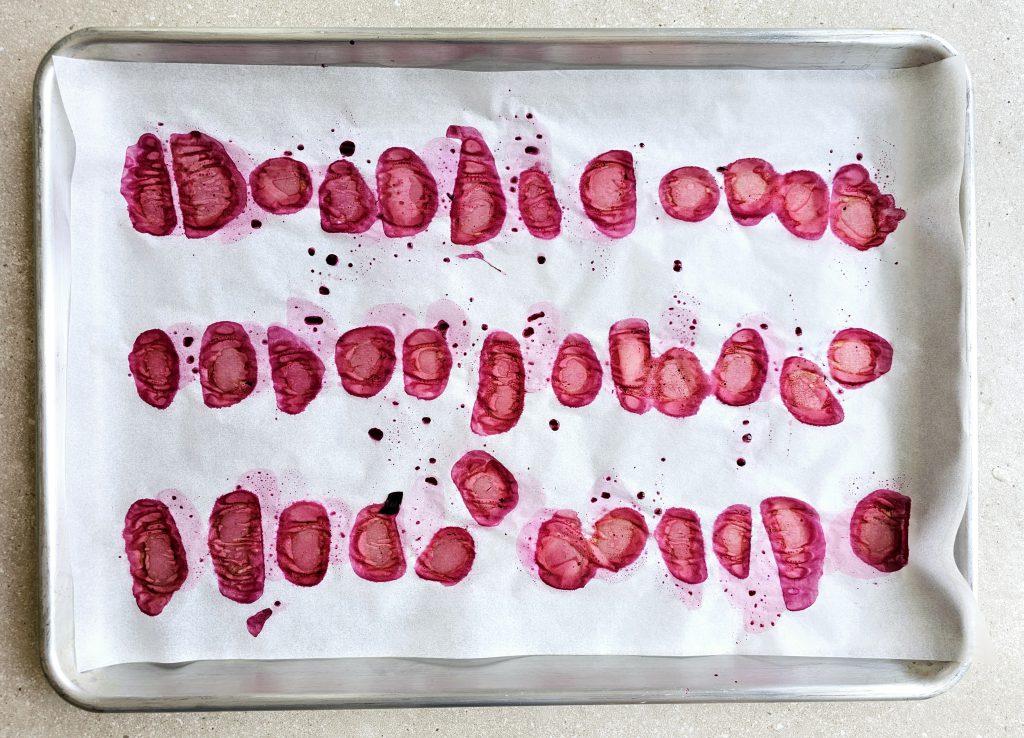 Plating up: my second attempt (top) and first attempt (bottom)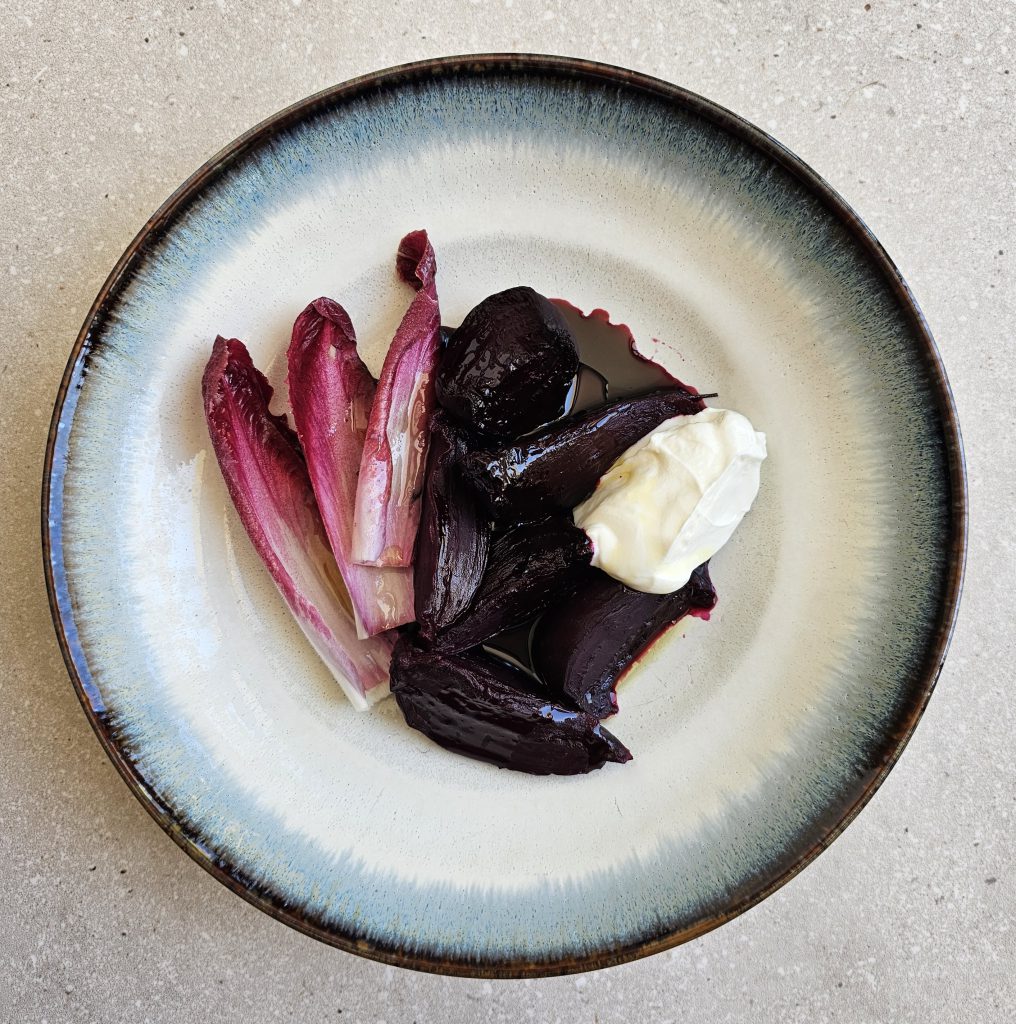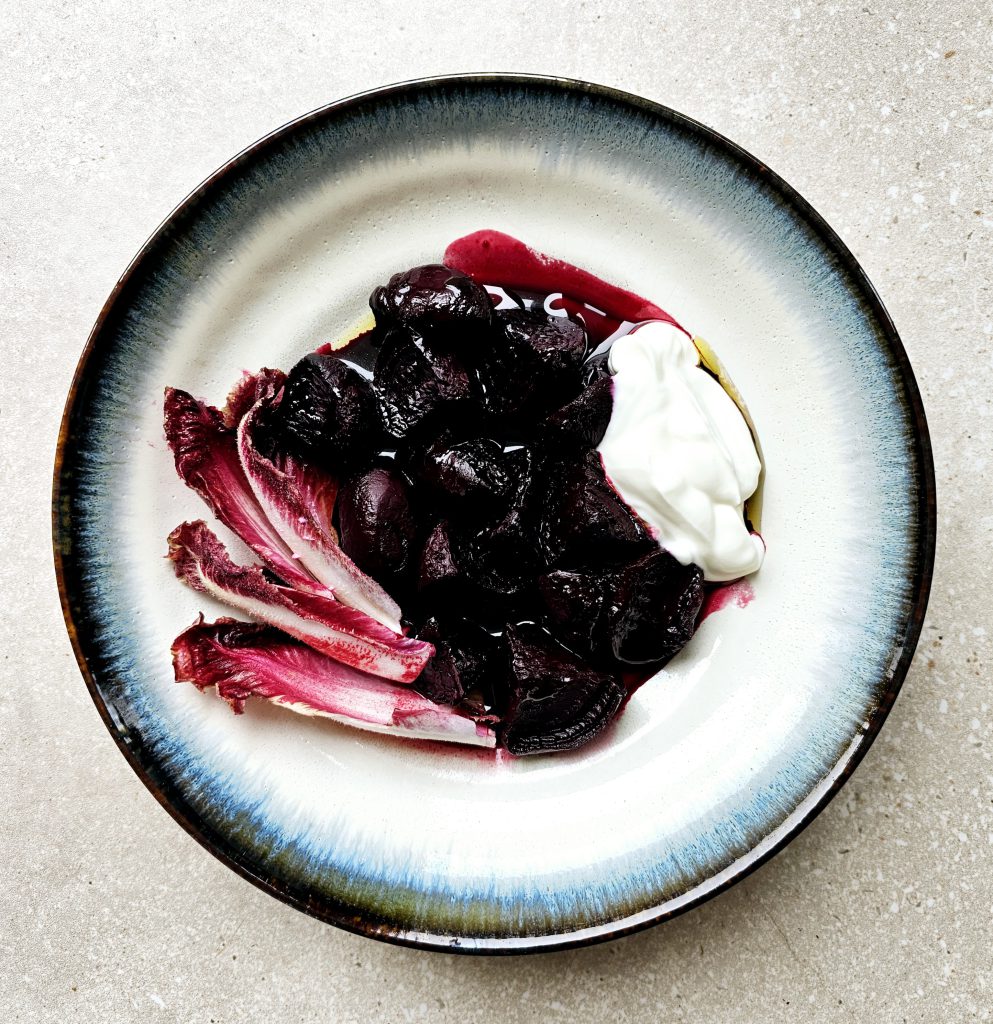 I was very glad that my only companion at the restaurant was Mr Gochugaru, who after 34 years of marriage knows that I am usually not one to lick the last drop off a plate. I know he is not like that either. However we found ourselves taking turns to scrape, with our spoons, what we could of the remaining juice. Happily I don't have worry about this in my own kitchen. This afternoon, after trying out the second batch with Junior 3, I simply added more yogurt to the remaining juice and ate it like a sort of savoury yoghurt treat.