I am attending a graduation ceremony and a wedding at the end of this week. The thing that stresses me most is what do with my fingernails. I am constantly in the kitchen, which brings a lot of pleasure, but which leaves my hands and cuticles especially in need of some attention. Anyway, that is a problem for tomorrow.
Today's problem was what to do with some over-ripe bananas. Last time I made some very good banana ice cream, but it is a very cold and damp day here in London. Given the unbearable heatwave covering parts of Europe, there is no way I am complaining. Instead, it is a good reason to make some comforting cake.
I mentioned before I am in the throes of a Bundt obsession. So much so that I can't find the enthusiasm to make any cakes in my regular tins. That's another problem: if I don't come out of this obsession I will soon need to find new homes for these tins.
Todays' cake was baked in a 10 cup Brilliance Bundt Pan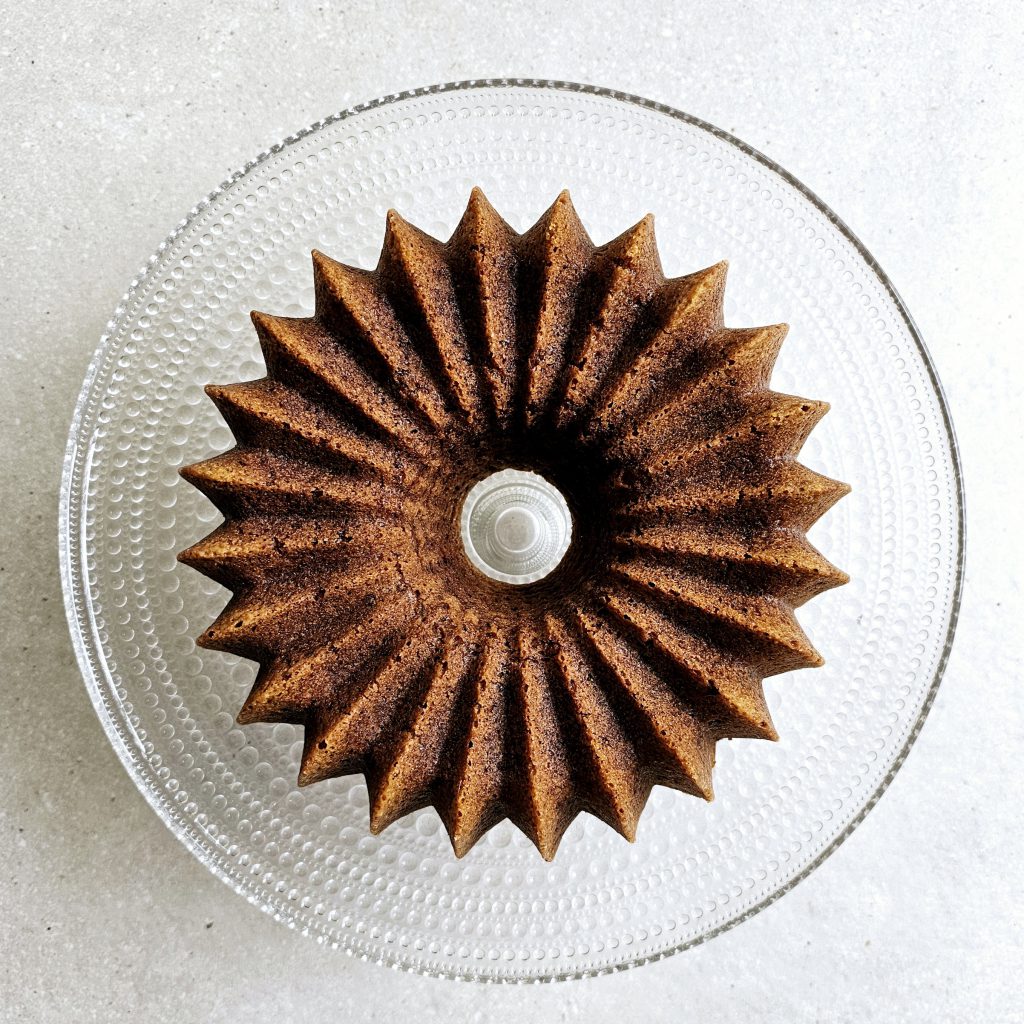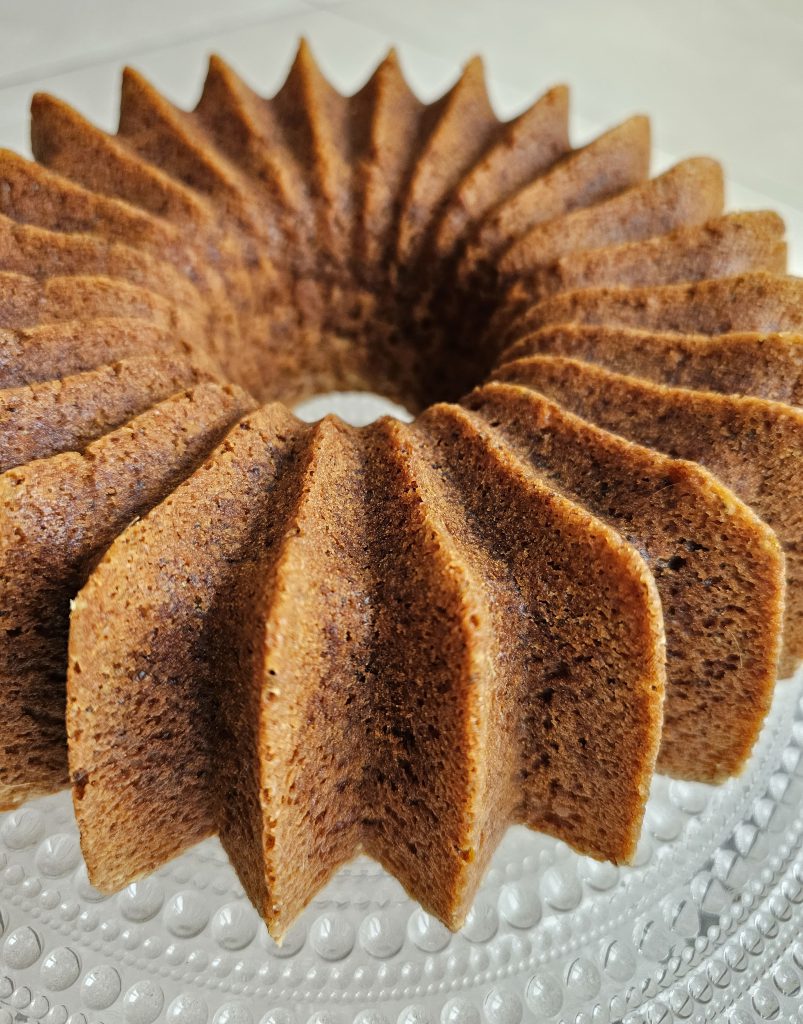 For the Bundt:
230 g plain flour (I used white spelt flour)
2 teaspoons baking powder
1 teaspoon bicarbonate of soda
¼ teaspoon fine sea salt
2 tablespoons poppy seeds
130 g unsalted butter, softened
130 g golden caster sugar
350 g very ripe bananas, cut into pieces and mashed
2 large eggs
100 g Greek yoghurt
2 teaspoons vanilla extract
15 g each softened butter and plain flour to line the Bundt pan
You will need a 10 Cup Brilliance Bundt Pan. The cake can also be made in a 20 x 20 cm square tin (bake for 55 minutes).
How to Make:
Preheat the oven to 170°C/ 150°C fan.
First, prepare the Bundt pan. Brush 15 g softened butter evenly over the entire inside of the pan, taking care to fill every corner. Sift over 15 g flour, moving the pan around to coat evenly. Remove the excess flour by turning the pan upside down and giving it a tap (do this over a sink).
Sift the flour, baking powder, bicarbonate of soda and salt together into a large bowl. Add the poppy seeds and set aside.
In a large mixing bowl, beat together the butter and sugar until the mixture looks pale and light.
Add the bananas, eggs, yoghurt and vanilla extract. Continue beating until everything is mixed in. The mixture may look curdled but this is fine.
Add the flour and poppy seed mixture and, using a silicon spatula, gently fold into the whisked egg mixture.
When everything is well mixed, spoon the mixture into the prepared pan.
Level the surface and tap the pan on a folded dishcloth to settle any bubbles.
Bake in the oven for 50 minutes or until the cake bounces back when touched. A metal skewer inserted in the centre should come out clean.
Leave the cake to cool slightly in the tin before turning out onto a wire cooling rack to cool completely.
If using this particular Bundt pan, the cake will slice into 24 thin pieces – perfect for a sharing with friends, and perfect for picnics. Since it is a cold day I am considering eating it with a cup of hot chocolate.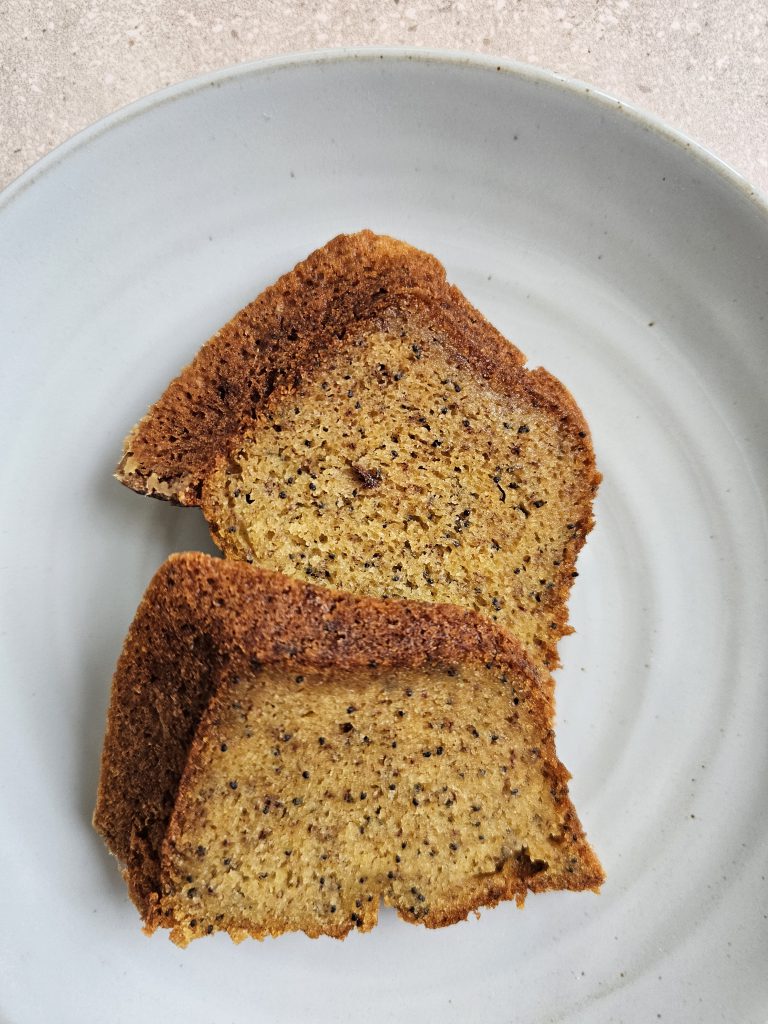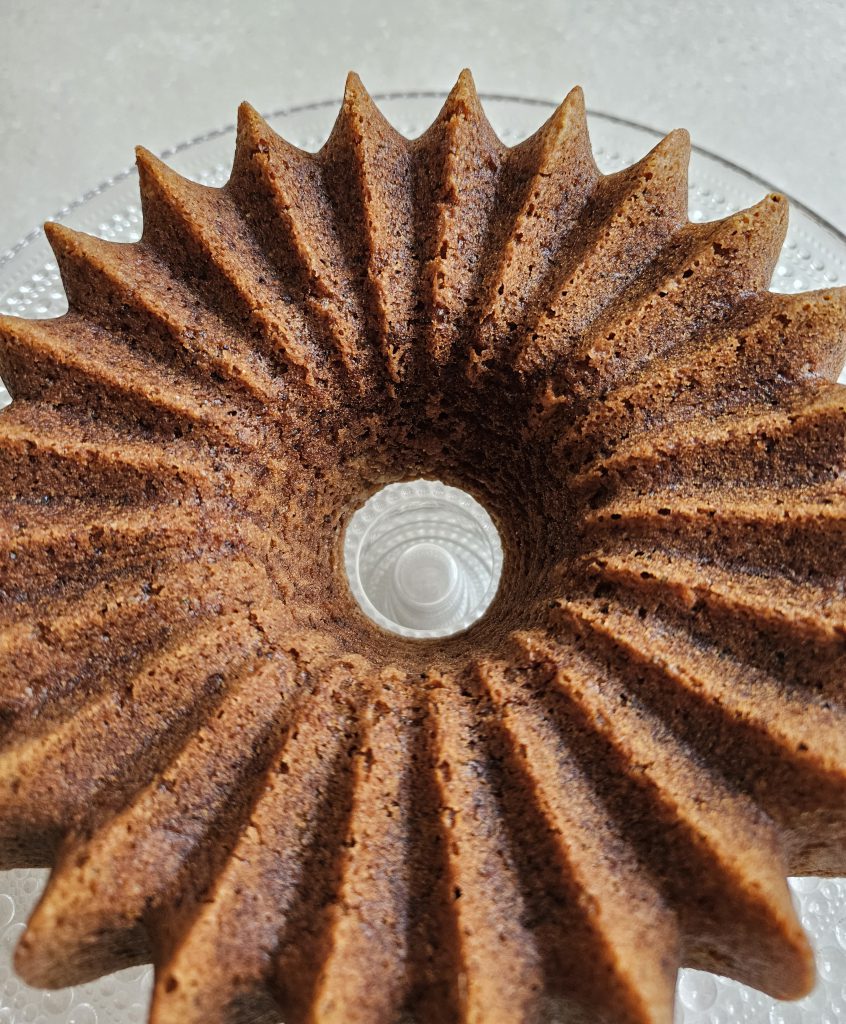 I have just received a consignment of matcha powder from Matchaeologist. I use Meiko for matcha latte and Midori for baking. Because of its very high cost this is not an ingredient I use often. However I have two more ripe bananas and think I will make a small banana and matcha Bundt next.