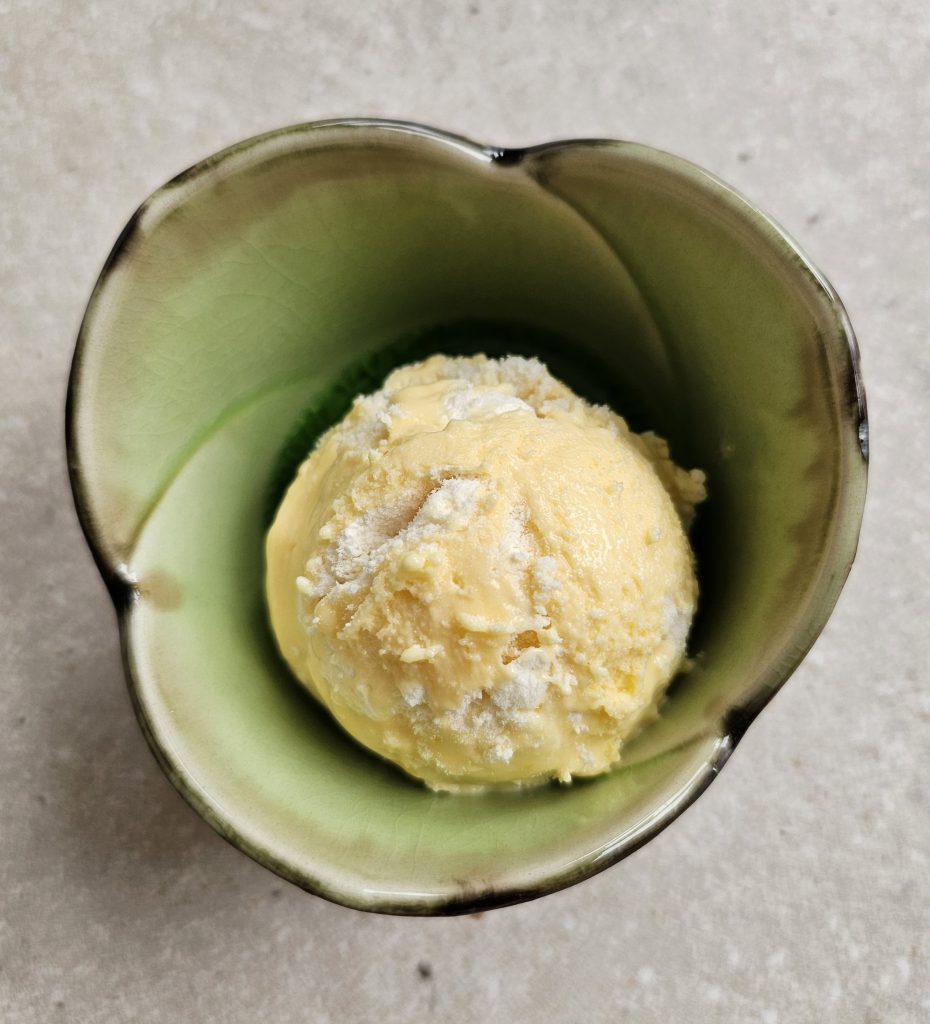 Every family has a favourite dish or dessert, the thing that will bring the children back to the dinner table however far away they are. Ours is nasi lemak and lemon meringue ice cream. I guess it's something that takes a bit more time and effort to put together.
Our nasi lemak consists of home-made sambal and chicken curry, deep-fried ikan bilis (anchovies) and skin-on peanuts, sliced cucumber and hard-boiled eggs. The accompanying rice is infused with the flavours of coconut and pandan (screwpine) leaves. It's simple but the spice pastes take a lot of time to make.
The lemon meringue ice cream is the stand out favourite amongst the ice creams I have made over the past 25 years. Taken from Delia Smith's Summer Collection, the original recipe is here. My original copy is so worn out I purchased a second used copy which (like Nigella Lawson's How to be a Domestic Goddess and Yan-Kit So's Classic Chinese Cookbook) is tucked away for when I need the gratification of holding a clean copy.
I always had a gas hob until recently, and even then I was quite brave and made the custard in a pot over a bare flame, disregarding any advice that the custard might turn to scrambled eggs. I am certain I can make the custard straight on the new Gaggenau induction hob as it has 19 heat levels. However, in order to make everything truly foolproof I turned to my Thermomix.
I had to make minor changes: reducing the amount of sugar, weighing the cornflour because consistency cannot be achieved with terms such as 'a heaped teaspoon' or 'a rounded teaspoon', weighing the meringues as shrinkflation meant that I used six meringue nests instead of four previously.
Unlike almost all other food items, supermarket meringue nests are sold in packs of eight and not by weight. This is such an easy way for supermarkets to rob you of a penny here and a penny there. I discovered that a packet of eight meringue nests costs anything between £1.20 (Tesco regular with Clubcard reduction, although their Finest range costs £1.90) and £2.00 (Waitrose and Sainsbury). They all weighed around 13 g per nest, and the ingredients were just sugar and egg whites. This time I used meringues from Marks and Spencer (£1.60).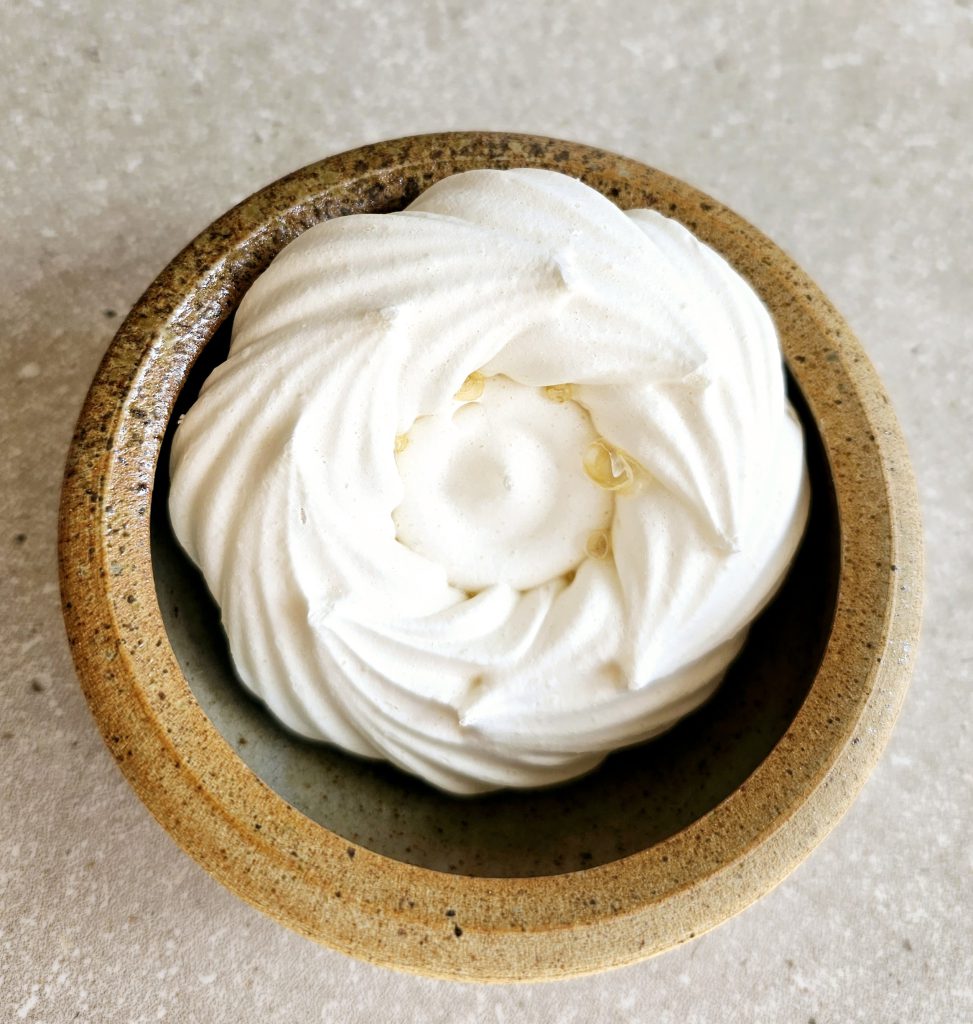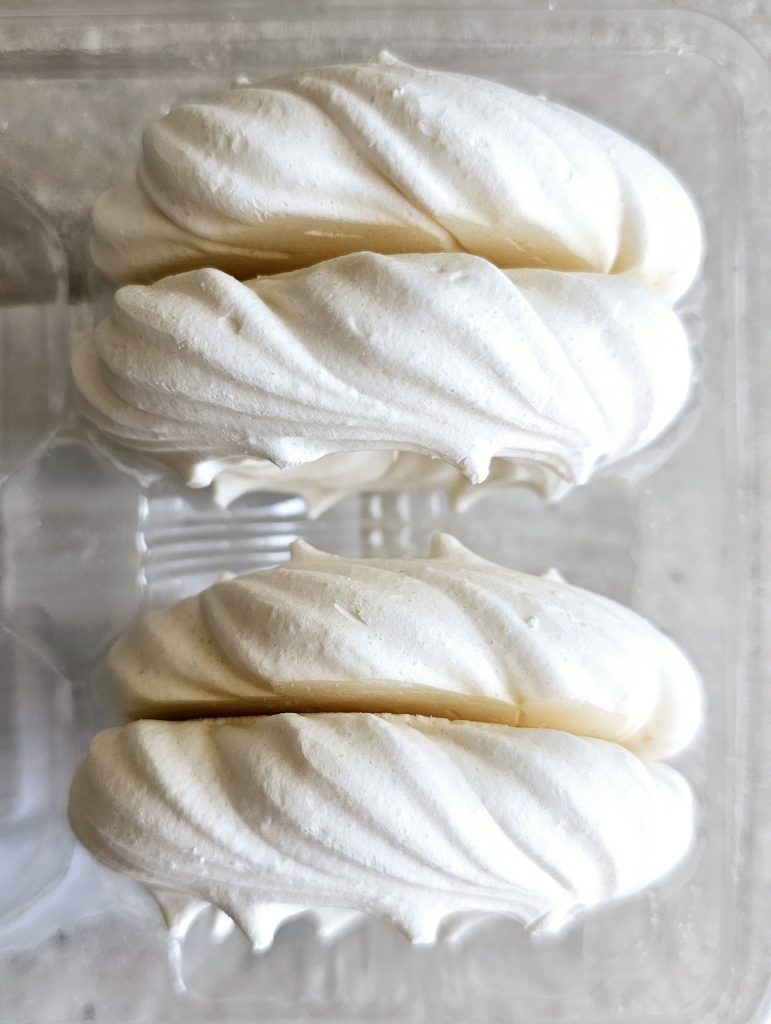 The best way to approach this ice cream is to make the custard and lemon base after dinner, and have it chill overnight in the fridge (steps 1 and 2). The next morning, mix them together with the yoghurt, churn and freeze (step 3).
Whilst the ice cream is in the freezer, post a photo on the family group chat inviting everyone for dinner. This will fill their hearts with gladnes whatever the weather. I mention the weather because it was sunny this morning (I managed to wash and dry two loads of laundry) but it is raining as I write up this recipe.
A reminder that the original recipe is here and this is my version using the Thermomix.
STEP 1
For the Lemon Syrup:
grated zest of 2 lemons
100 g golden caster sugar
200 g fresh lemon juice (4-5 lemons)
6 g cornflour
Place the lemon zest and sugar in the TM bowl and grind 10 seconds / speed 10. Scrape down the sides and grind again 10 seconds / speed 10.
Add the cornflour and lemon juice. Replace the cover, leaving the TM cap off. Heat 7 minutes / 100 C / speed 2.5.
Pour the lemon syrup from the TM bowl into a container to cool. Cover the container then chill overnight in the fridge. The syrup is quite watery but will thicken slightly as it cools.
STEP 2
For the Custard:
425 g whipping cream
OR
210 g single cream + 215 g double cream
125 g golden caster sugar
4 large egg yolks
3 g cornflour
Place the cream, sugar, egg yolks and cornflour into the TM bowl. Cook 7 minutes / 90 C / REVERSE speed 3.
Pour the custard from the TM bowl into a container to cool. The container should be able to hold around 1.5 litres, as the lemon syrup and yoghurt will be added to the custard before churning.
Place a piece of baking paper on the surface to stop a skin from forming, then chill overnight in the fridge.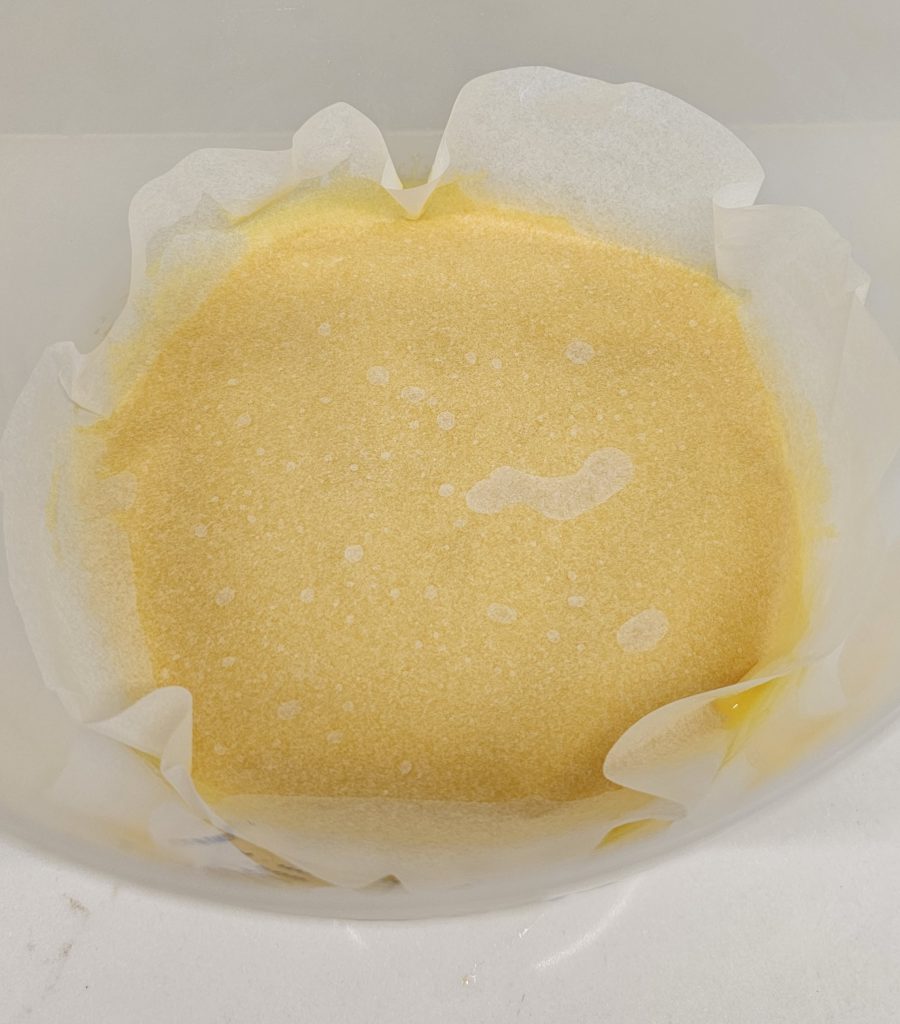 STEP 3:
200 g Greek yoghurt
Around 75 g or 6 meringue nests, broken into large chunks.
After chilling overnight, add the lemon syrup and the yoghurt to the custard. Give everything a very good stir so that you get a smooth mixture.
When ready, either still-freeze (see the original recipe) or start the ice-cream machine, following the manufacturer's instructions.
Leave to churn until the ice cream has the consistency of softly whipped cream.
Quickly scrape into a plastic freezer box and fold in the meringue. Cover with waxed or greaseproof paper and a lid. Finally label, then freeze.
Because of the lemon syrup, this ice cream does not freeze solid hard as some ice creams do. It needs to be kept in the freezer for a good few hours before serving. However, the texture is perfect and it can be served straight from the freezer. In over 25 years, I have never once had anyone not come back for seconds.