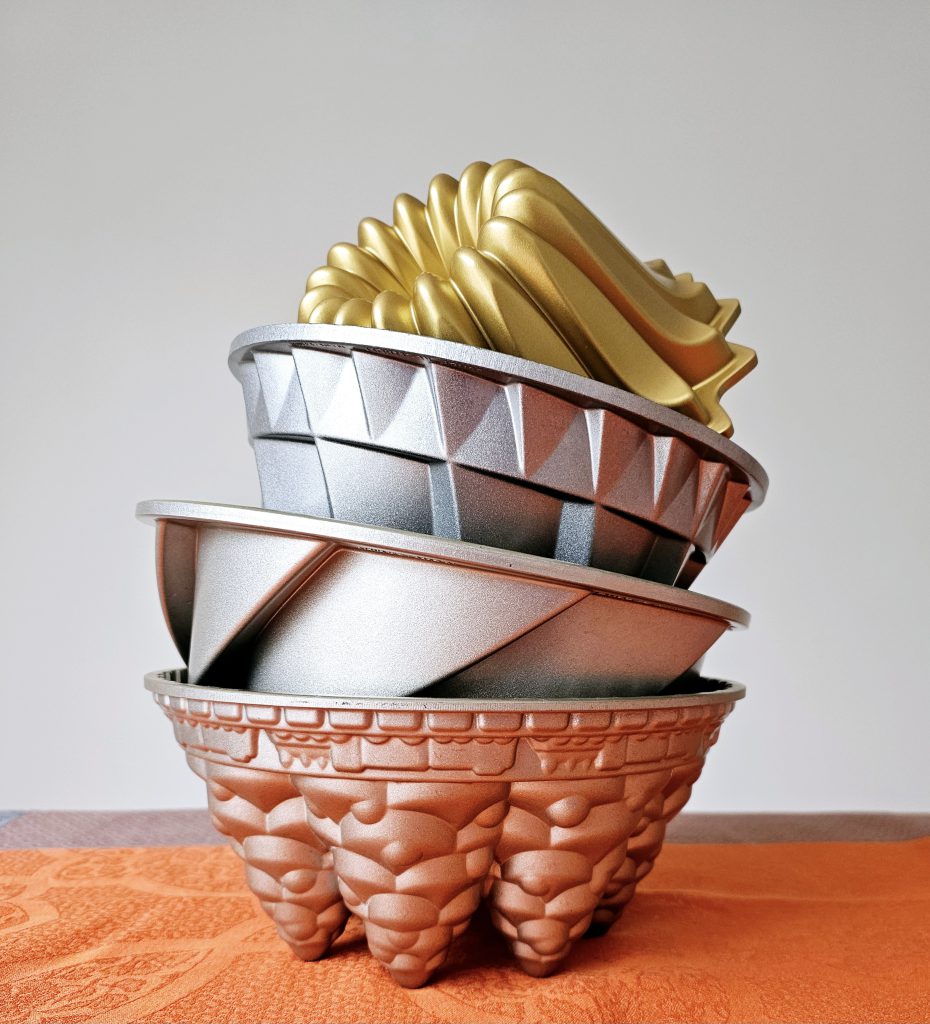 Since purchasing my Nordic Ware lotus bundt pan on our recent trip to Singapore, I renewed my interest in the existing bundt pans (and some American baking books) that I own. I then purchased a few more pans which I thought would be useful for community baking. By this I mean baking large cakes for coffee mornings at church, or for sharing with my neighbours. I am always making rectangular cakes in loaf tins which are reliable but a bit plain looking, after so many years of the same style.
I also bought a dedicated bundt baking book (simply called Bundt, by Melanie Johnson), which unfortunately promised more than it delivered. I had real issues with the recipes because I found them inconsistent and most had no accompanying photos. Some of the recipes are detailed, with three separate parts e.g. cake, glaze and frosting, or cake, filling and frosting. I had to re-read them several times and then use my most creative imagination to conjure up a picture of what a completed cake might look like. Most nights I fell asleep with exhaustion at the process. So, the book is really good if you want to fall asleep, and not so good if you want to bake a bundt.
The reason for not giving up on the book is that there are some novel ideas e.g. slicing the bundt and then filling it with flavoured cream, or topping a plain bundt with frosting. Left to my own devices a bundt will always be a plain bundt as I would rely on the fancy moulding to be the glamour factor. In fact, I still think this is the best use of a bundt pan, which is to shape an ordinary cake into something more intricate looking. Sort of like a cake corset.
My own limits on creativity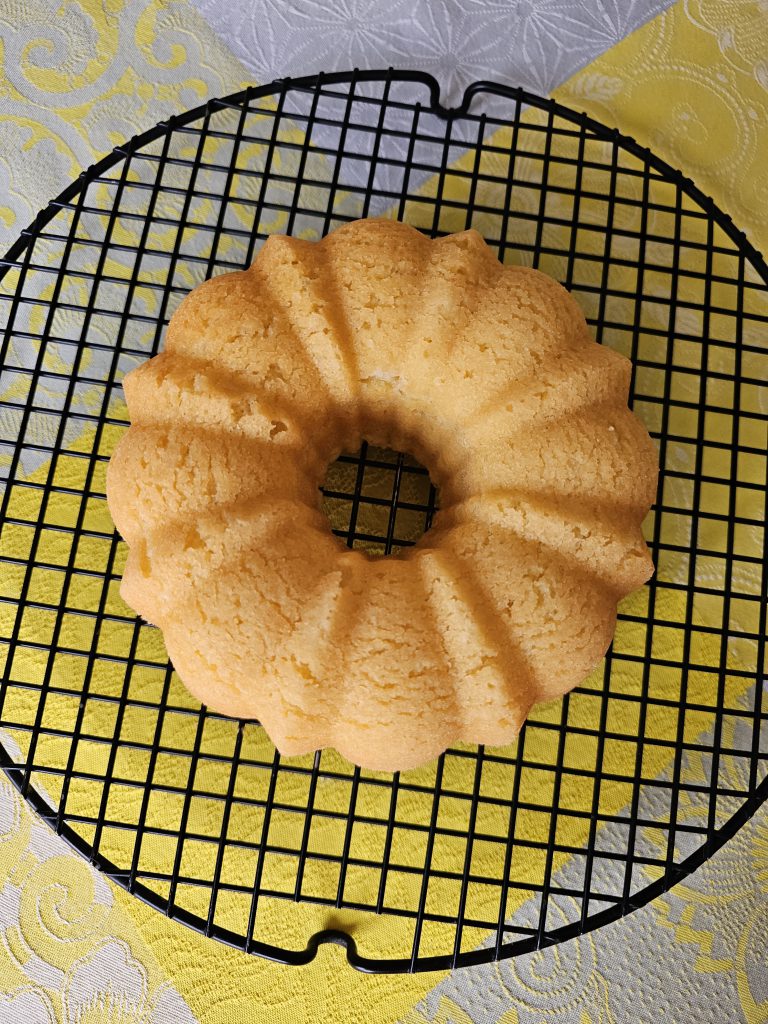 I am learning how to make my cakes look more presentable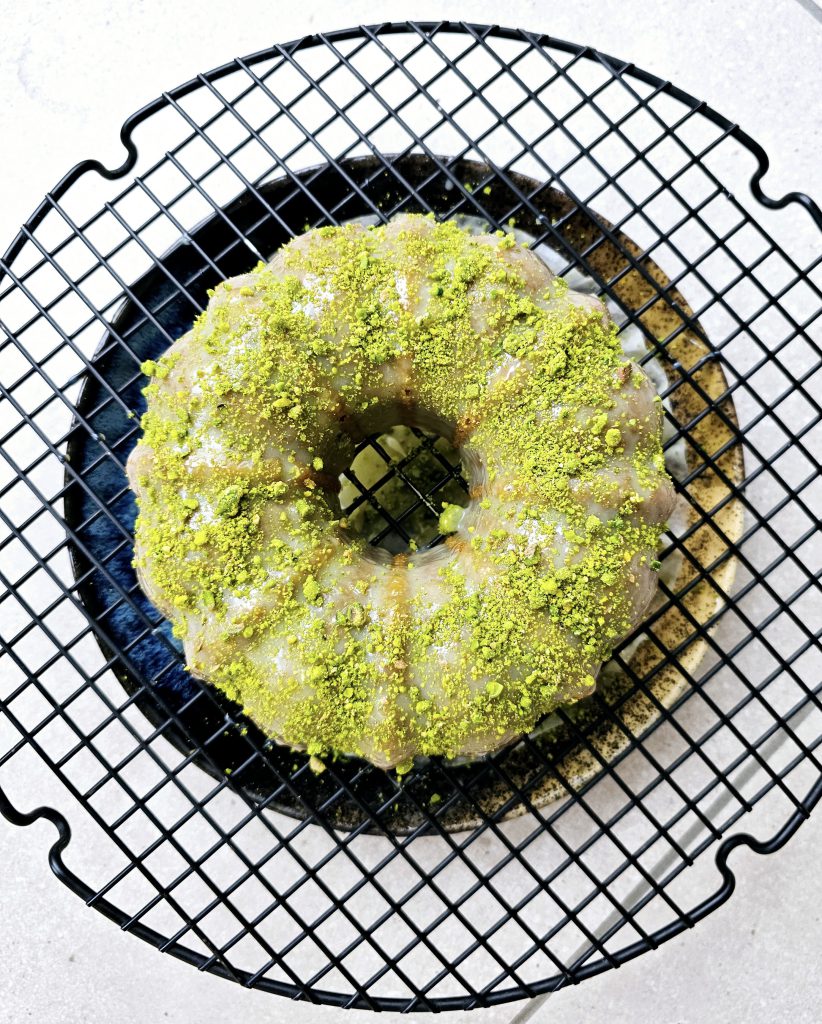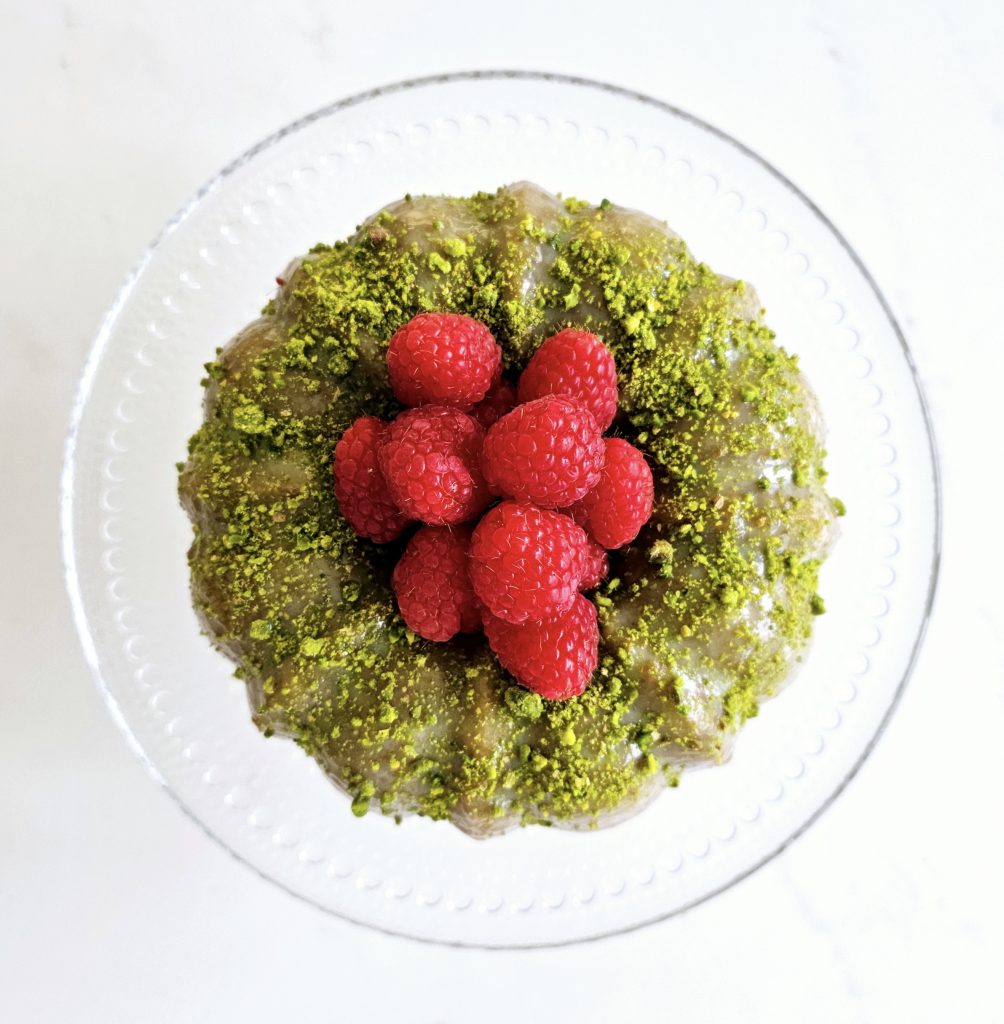 Another problem I had with the book was that the recipes varied wildly in the amount of ingredients, even when baked in similar-sized pans. All Nordic Ware pans have imprinted on them two helpful hints: the name of the pan and its volume. The volume is the amount of liquid it can hold, and not the amount of cake batter you put into it.
The varied amounts of batter used in Bundt's recipes will yield inconsistent results using the same-size pans. Some recipes will give a taller cake which overflows the cake pan. Some recipes will make a short cake that does not reach the rim of the bundt pan, and so wasting the whole shape of the mould.
My first bundt pan, the Holiday Tree Bundt (10-cup size)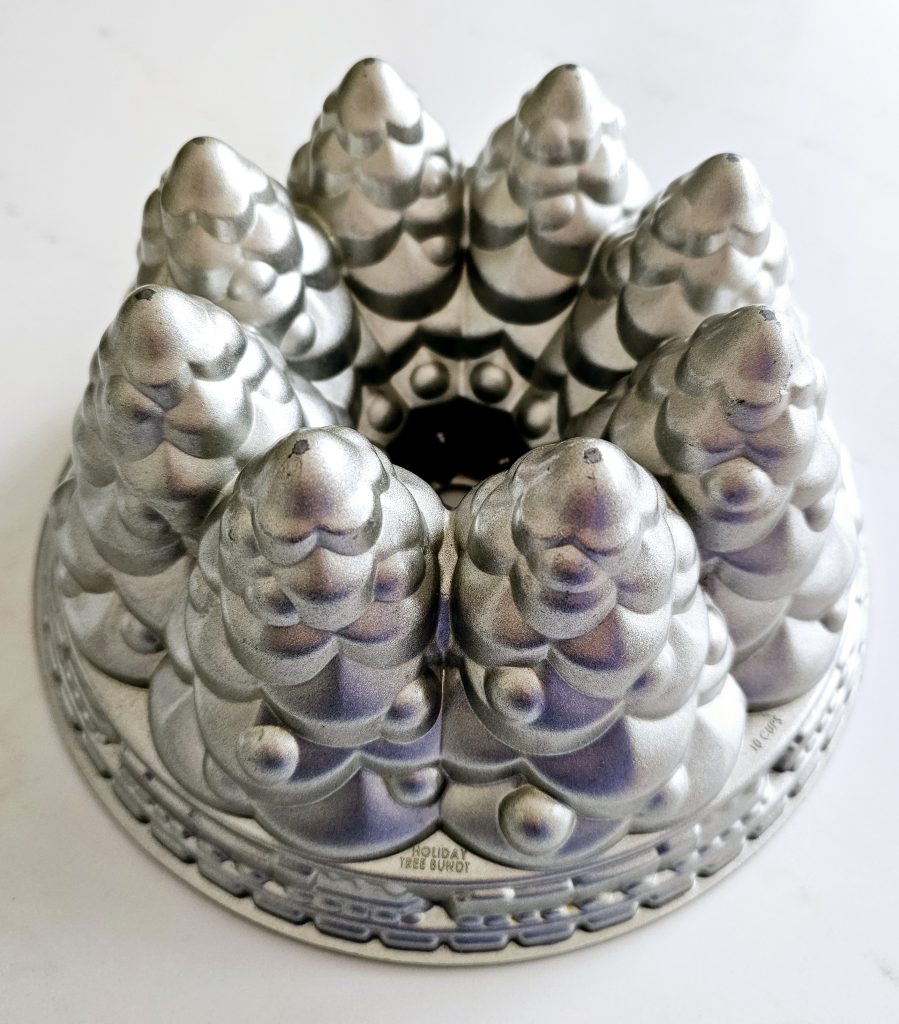 Other bundt pans showing their volume in cups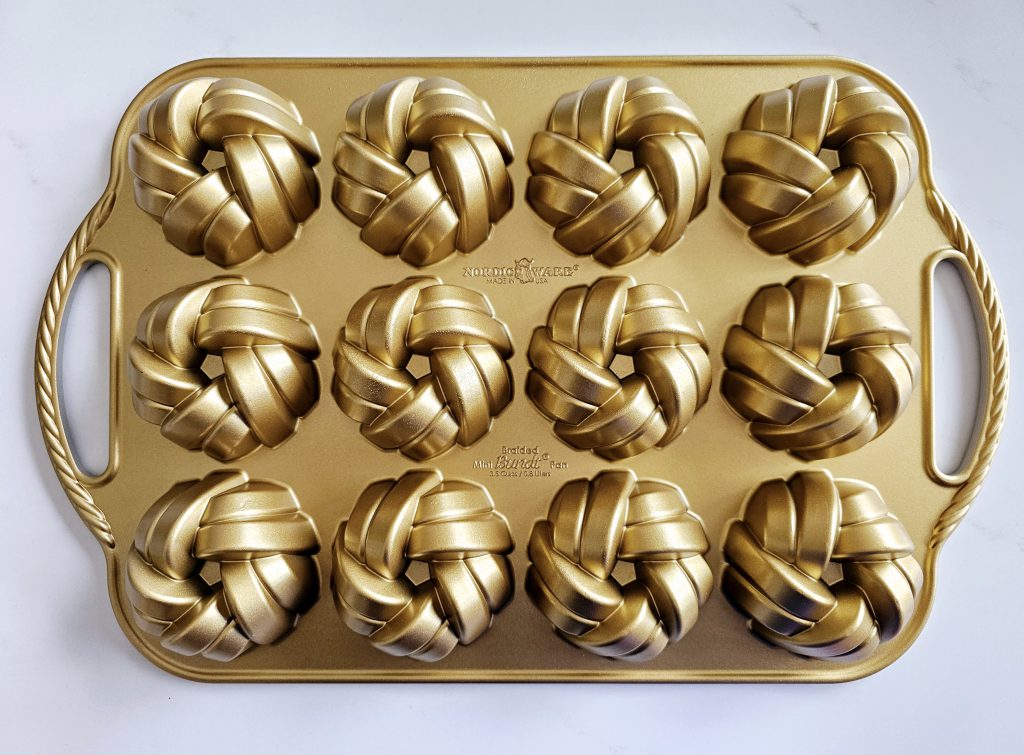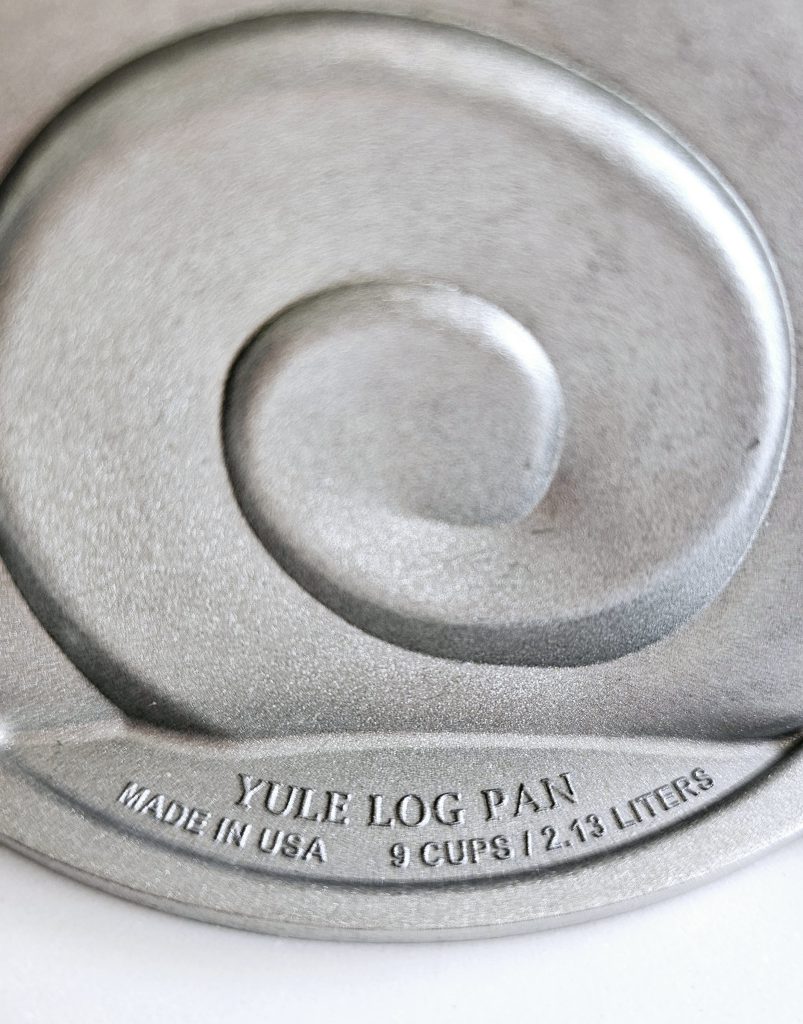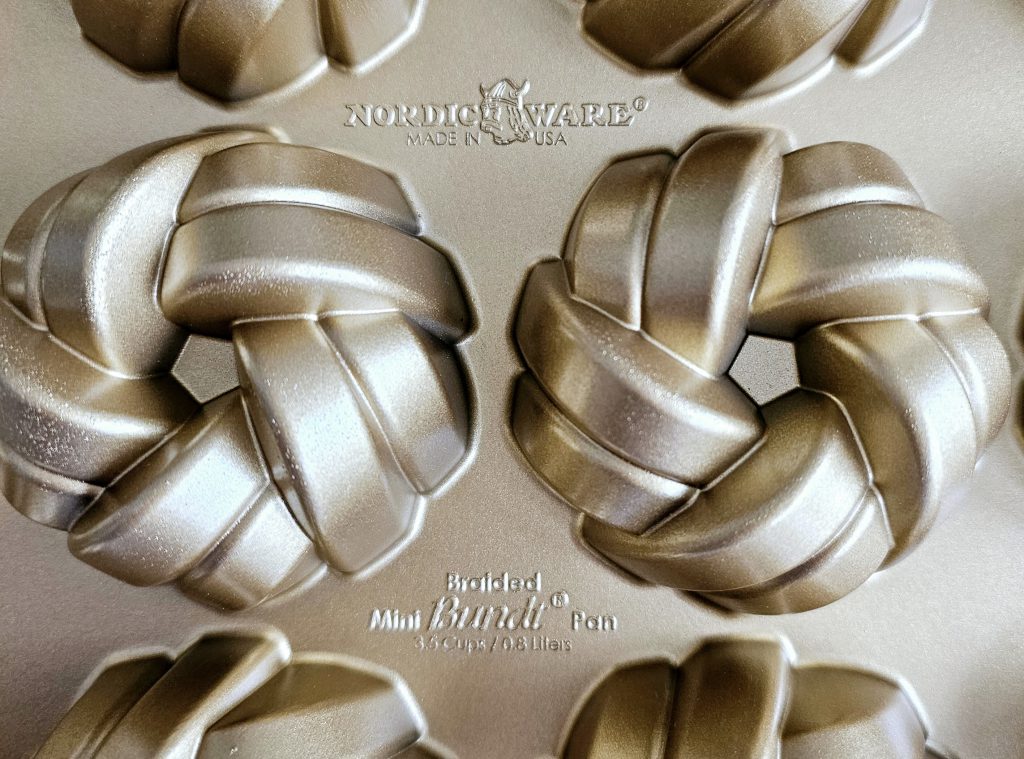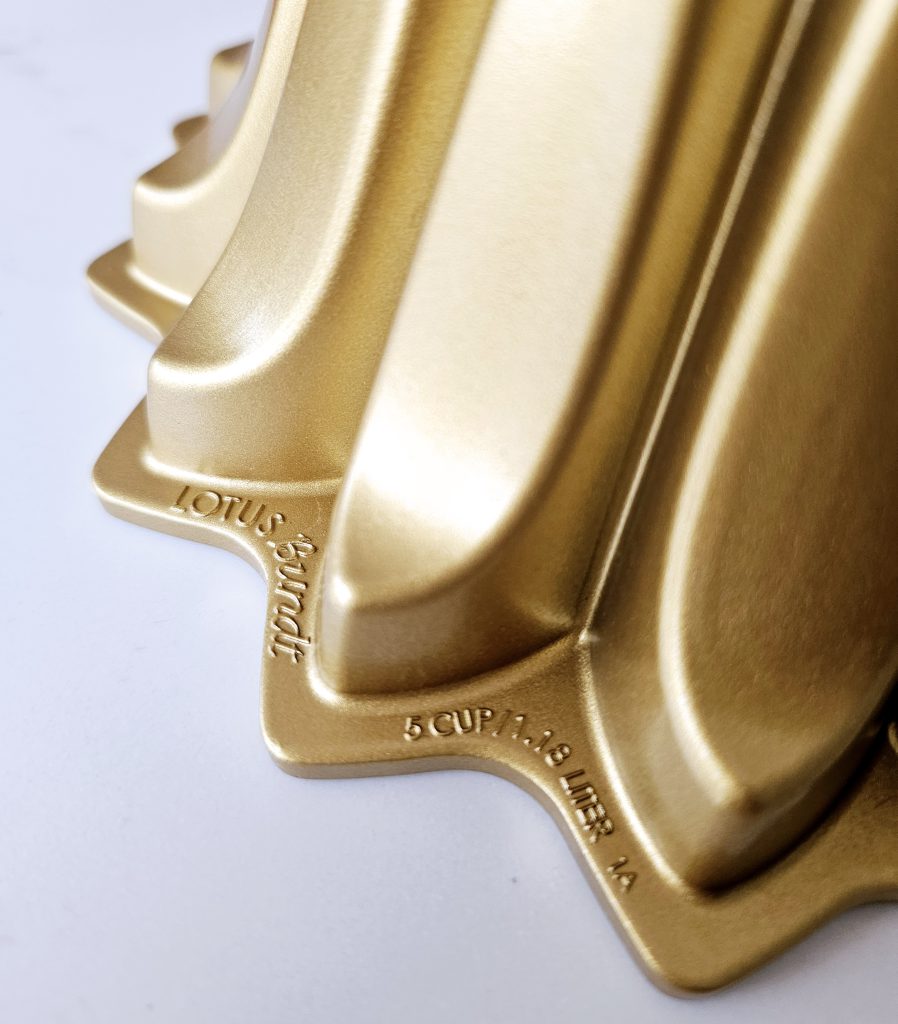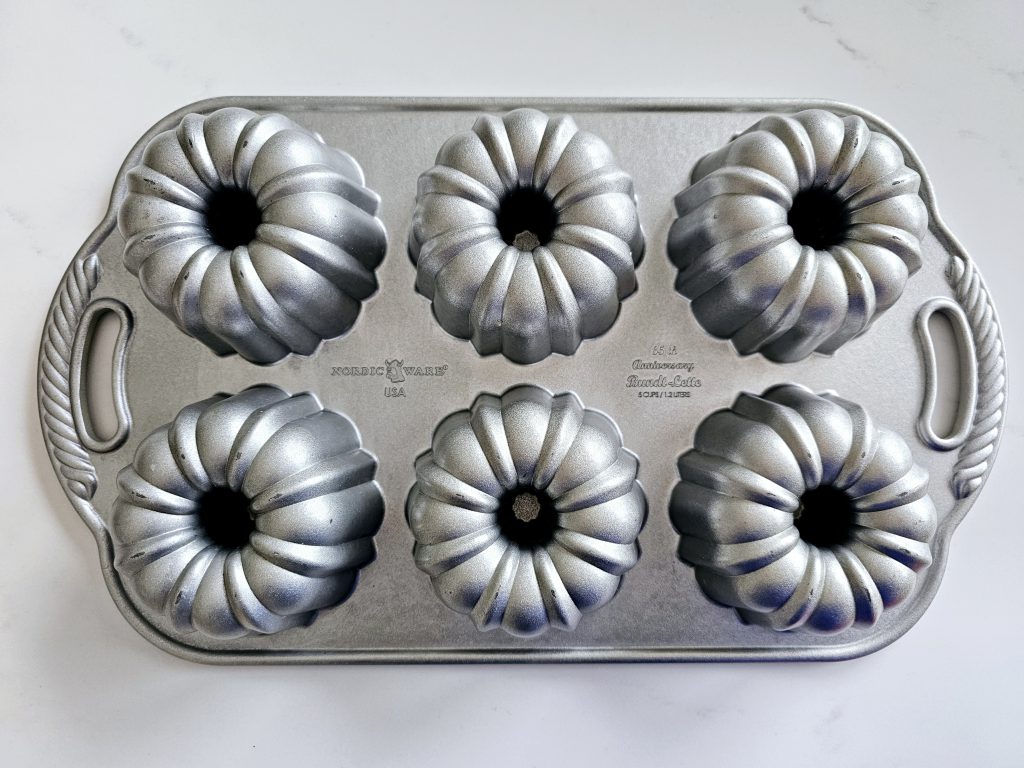 Almost all bundt cake recipes state the oven temperature as 180 C / 160 C fan. After several high-domed cakes I went back to the beginning of my baking 'career'. What I learnt in home economics classes was that if the centre of a cake peaks or domes it means the oven temperature is too hot. Conversely if it sinks in the middle the oven temperature is too cold. I tried lowering the temperature to 170 C / 155 C fan which gave much better results. The cake rose a bit more slowly and more evenly. Baking at a lower oven temperature is possible using a bundt pan because they are so solid and conduct heat so well. I have finally settled on a 150 C fan temperature (in my Gaggenau oven) which yields the best results.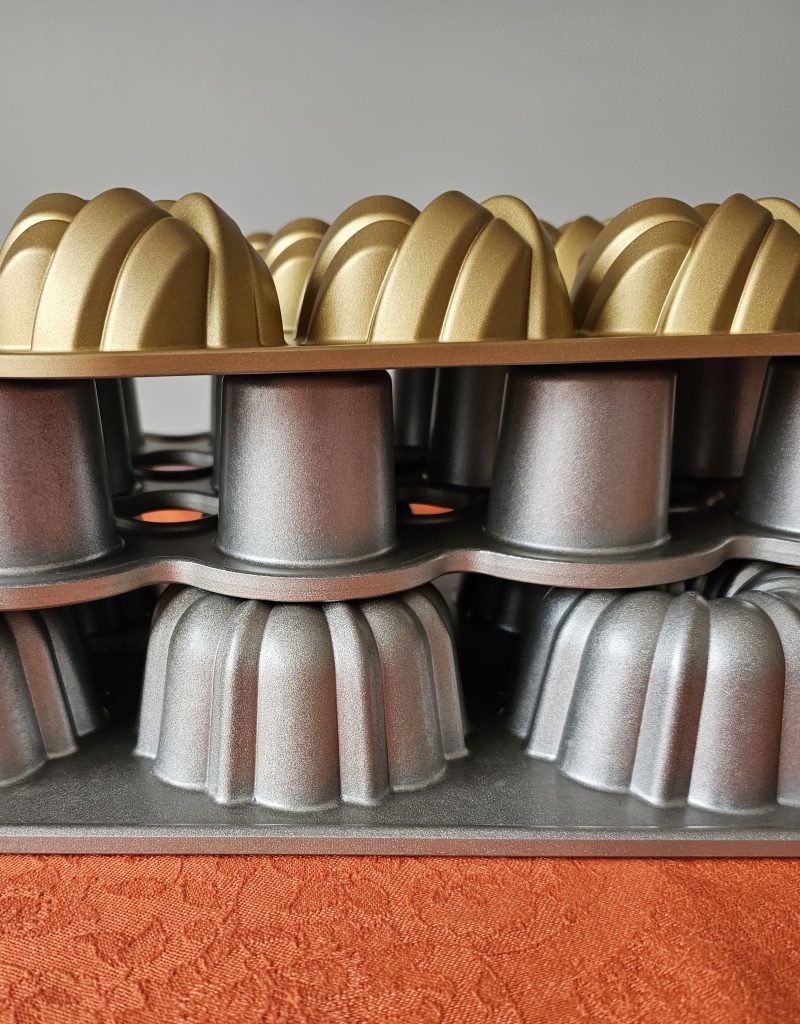 After baking another half a dozen cakes, I thought to make a standardised chart giving a basic cake recipe, to which you can add flavourings or substitute part or all of one ingredient for another. Since Nordic Ware is an American company, most bundt recipes are measured in cups. I cannot deal with cups as I like precision in baking, so I devised a spreadsheet using a basic pound cake recipe. A pound cake means you use a pound (454 g) each of flour, butter, sugar and eggs. Once you get the hang of the basic recipe, you can play with substitutions.
I have rounded up/ down the metric measurements to make it less awkward, so it is not exactly a pound cake recipe. To incorporate any additions (like vegetables, fruit, nuts, chocolate) you should use the measurements for a smaller sized pan to prevent an overflow of the batter. Sugar is always reduced in my recipes, but you can use up to the same amount as the flour and butter. Eggs vary in size all over the world so I have weighed it without the shell.
| | | | | | |
| --- | --- | --- | --- | --- | --- |
| Ingredient | Flour | Butter/ Fat | Sugar | Eggs (weight without shell) | Eggs in shell, approximately |
| Pan size | | | | | |
| 5 cup | 125 g | 125 g | 85 g | 100 g | 2 large |
| 6 cup | 150 g | 150 g | 100 g | 120 g | 3 medium |
| 9 cup | 225 g | 225 g | 150 g | 180 g | 4 medium |
| 10 cup | 250 g | 250 g | 170 g | 200 g | 4 large |
| 12 cup | 300 g | 300 g | 200 g | 240 g | 5 large |
One big, big tip about avoiding the disaster of a cake not turning out from the bundt pan: always make the double effort of buttering and then flouring the pan. I place the butter in the pan to soften a few hours before I start baking, or overnight, then use a stiff pastry brush to let the butter 'get into the groove' (remember Madonna's advice). After that I sift about a tablespoon or two of plain flour onto the butter, moving the pan around to coat it evenly. The excess flour can be removed by turning the pan upside down and giving it a tap, which is best done over a sink.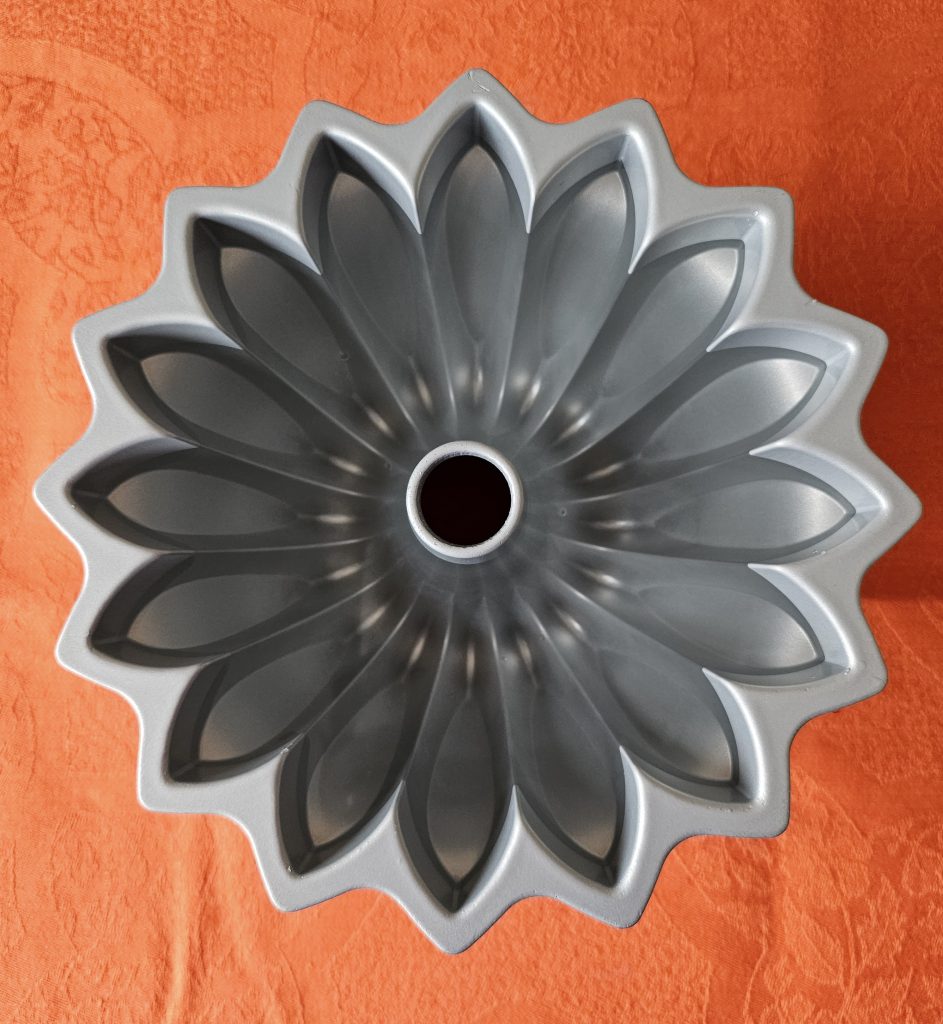 There is only one bundt pan company you should consider which is Nordic Ware. They have some recipes on their website if you want ideas. I do not maintain a bucket list, but if I did, a visit to the Nordic Ware factory in Minneapolis would feature in it.
I will share some successful bundt recipes in the next few weeks.
Some American Baking Books:
I find using American baking books tricky as almost all the recipes use cups as measurements. However there are so many ideas drawn from the cultural melting pot that makes up the USA that I find new things to bake that I had not thought of before.
Pastry Love: A Baker's Journal of Favourite Recipes, by Joanne Chang, published by Houghton Mifflin Harcourt, ISBN 978-0544836488
Zingerman's Bakehouse: Best-Loved Recipes for Baking People Happy, by Amy Emberling and Frank Carollo, published by Chronicle Books, ISBN 978-1452156583
The Good Book of Southern Baking: A Revival of Biscuits, Cakes, and Cornbread, by Kelly Fields with Kate Heddings, published by Lorena Jones Books, ISBN 978-1984856227