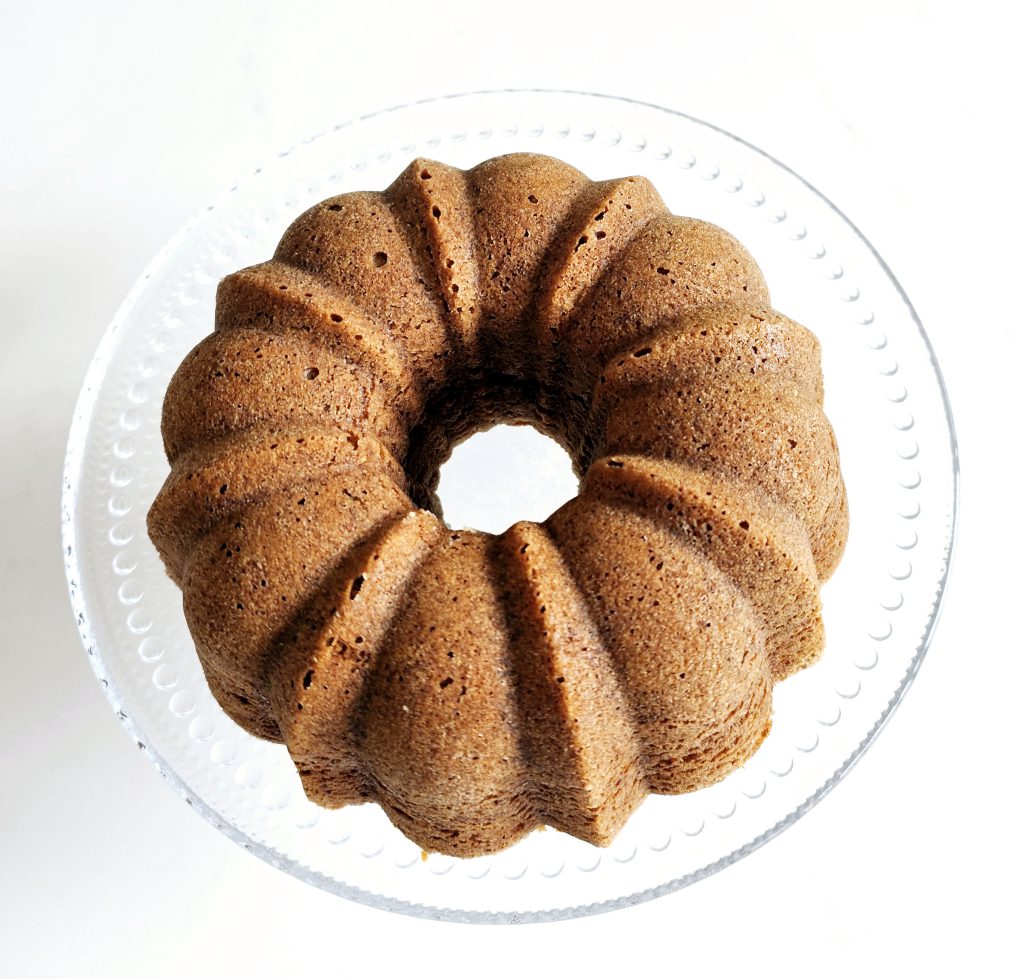 One of a number of nursery rhymes the children and I used to sing together:
Pat-a-cake, pat-a-cake, baker's man
Bake me a cake as fast as you can
Roll it, pat it, and mark it with a B
Put it in the oven for Baby and me.
How fast can you bake a cake?
In my Home Economics classes at school, I learnt the different methods of making cake batter e.g. the creaming butter and sugar method, the whisking egg and sugar method. All add air into a batter so the cake would rise and hold its shape. I understood the science behind it, but it was also time consuming.
Imagine my surprise when I first watched Nigella Lawson putting all her cake ingredients into a food processor, giving it a whizz and pouring the batter into a baking tin. How revolutionary, and contrary to everything I had been taught previously. That Ms Lawson's cake rose and looked very edible was the start for me to see how far I can push things when pressed for time.
There is only so much you can adapt. Definitely, you cannot make a chiffon cake unless you are prepared to wait whilst the egg whites get whipped up separately. For other simpler cakes (what I call butter, eggs, sugar and flour cakes) you can pretty much use a food processor to make the batter without compromising on the quality.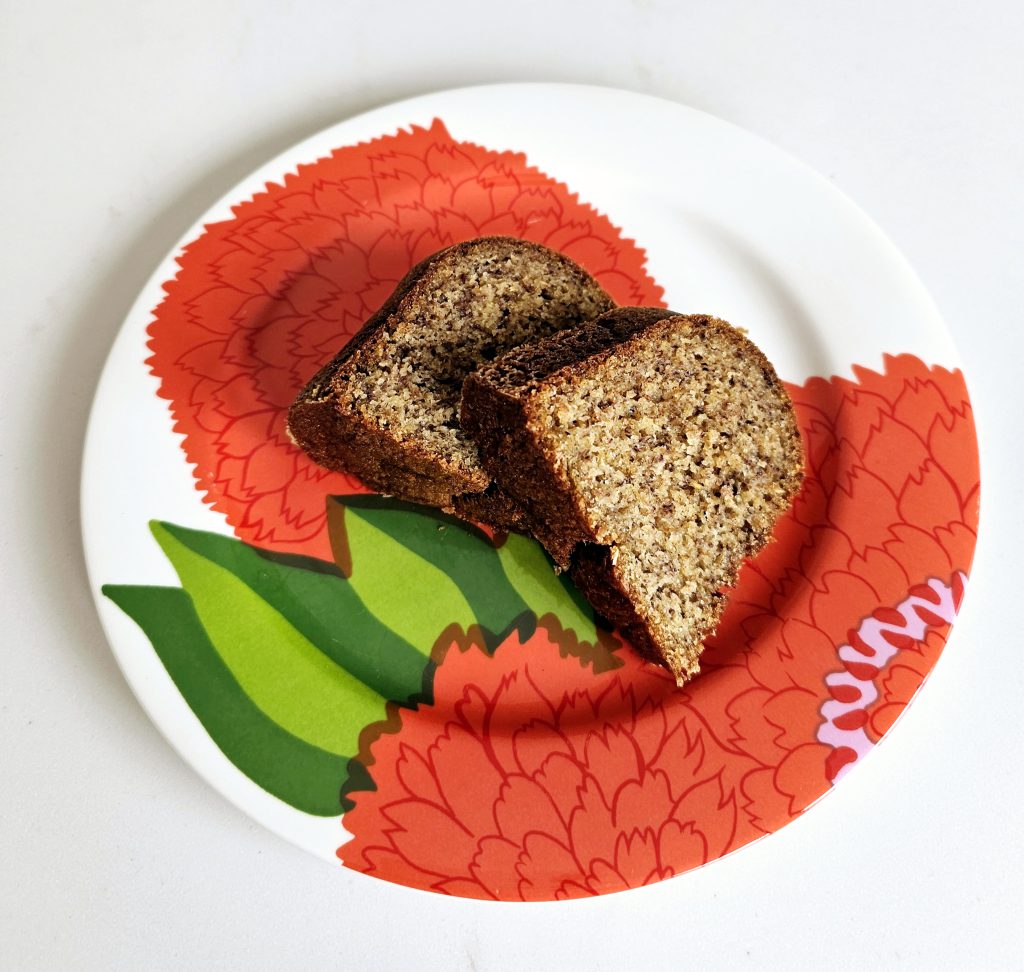 In the past few weeks I have been making batch after batch of banana cake, using different methods. I wanted something that was easy to make, looked presentable and which could also have add-ons like seeds, nuts and chocolate. I also wanted a gluten-free version for my mother-in-law.
The recipe here is what I made today, using spelt flour to up the fibre content of the cake. There is a substitution and add-ons list at the bottom of this page for ideas on how to make this cake your own.
I have always made my cakes in loaf tins or round tins. Currently I am in a bundt pan phase as their shapes make the plain cakes look so much more appealing. Here then is a banana bread recipe adapted for use in one of these shaped pans.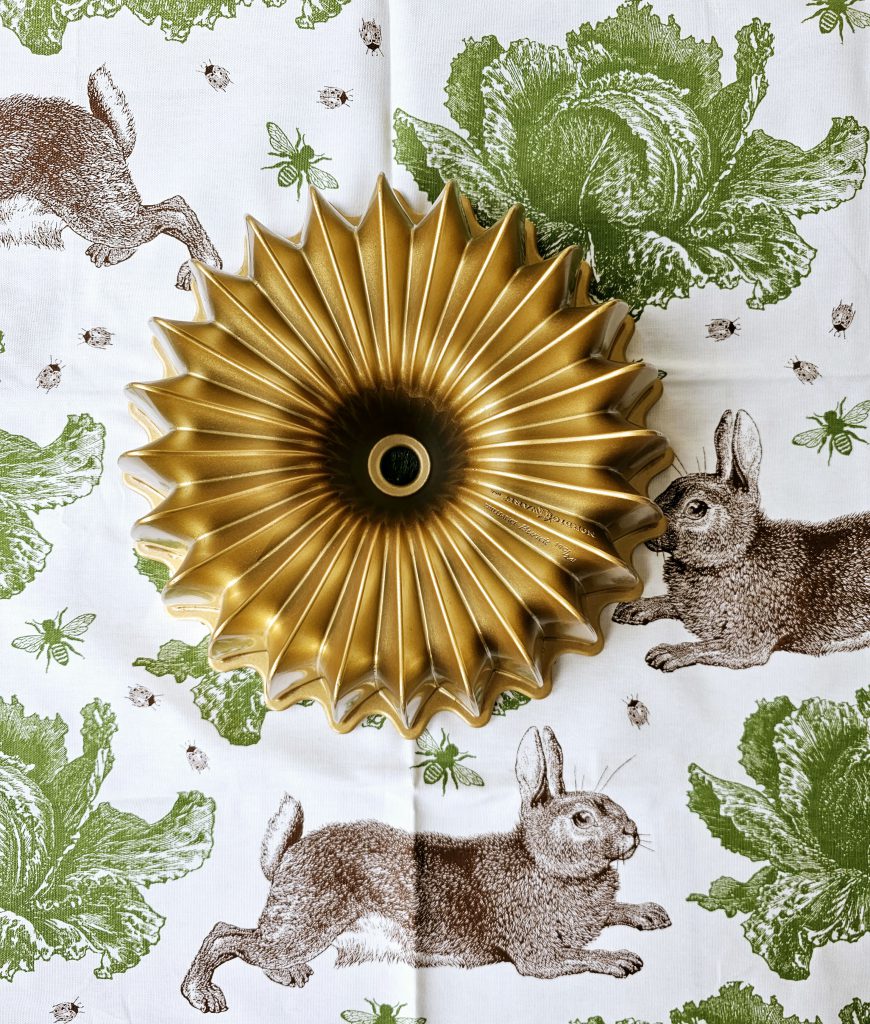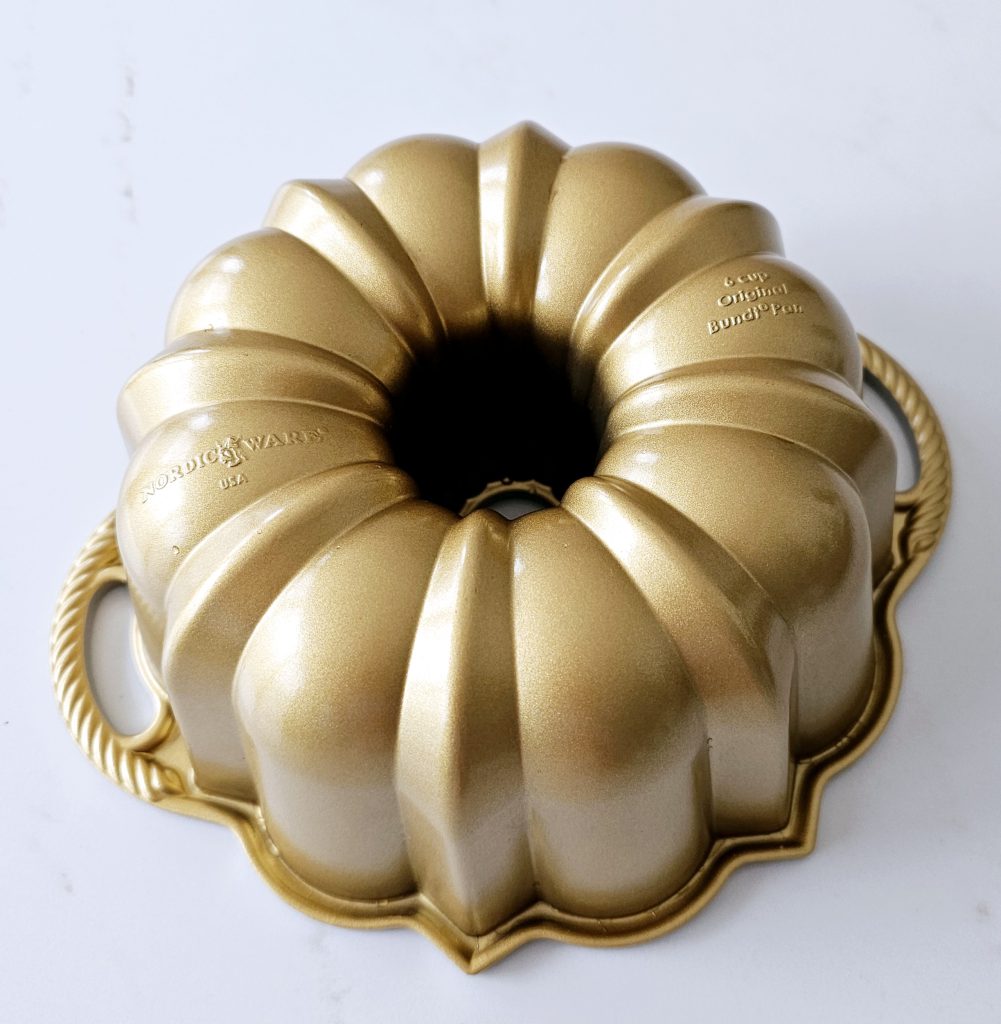 For a 6 cup bundt (see below for a 10 cup bundt)
80 g unsalted butter, very soft
80 g unrefined caster sugar
2 medium eggs (100 g without shell)
210 g ripe bananas, each cut into 4 pieces
135 g spelt flour
1¼ teaspoons baking powder
¾ teaspoon bicarbonate of soda
¼ teaspoon fine sea salt
60 g soured cream
1½ teaspoons vanilla extract
You will also need a 6 cup bundt pan. The recipe can be increased proportionately to fit a larger 10 cup pan. I used a Thermomix but you can also use a food processor. The results would be the same.
How to Make:
Preheat the oven to 170°C/ 150°C fan.
Brush 10 g of softened butter (15 g for the 10 cup bundt pan) evenly over the entire inside of the pan, taking care to fill every corner. Sift over some plain flour, moving the pan around to coat evenly. Remove the excess flour by turning the pan upside down and giving it a tap (do this over a sink).
Place the butter, sugar, eggs, banana, flour, baking powder, bicarbonate of soda, salt, soured cream and vanilla extract into the TM bowl. Mix 20 seconds/ speed 5. That's how fast it is.
Pour the batter into the bundt pan and bake for 50 minutes (55 minutes for the 10 cup bundt) or until the cake bounces back when touched. A metal skewer inserted in the centre should come out clean.
Leave the cake to cool in the pan for 15 minutes, then turn out onto a wire rack to finish cooling. Today we ate the cake warm, after a sandwich lunch. Last week we brought a few slices (walnut version) to the Cotswolds with us for a picnic tea.
10 cup bundt with walnuts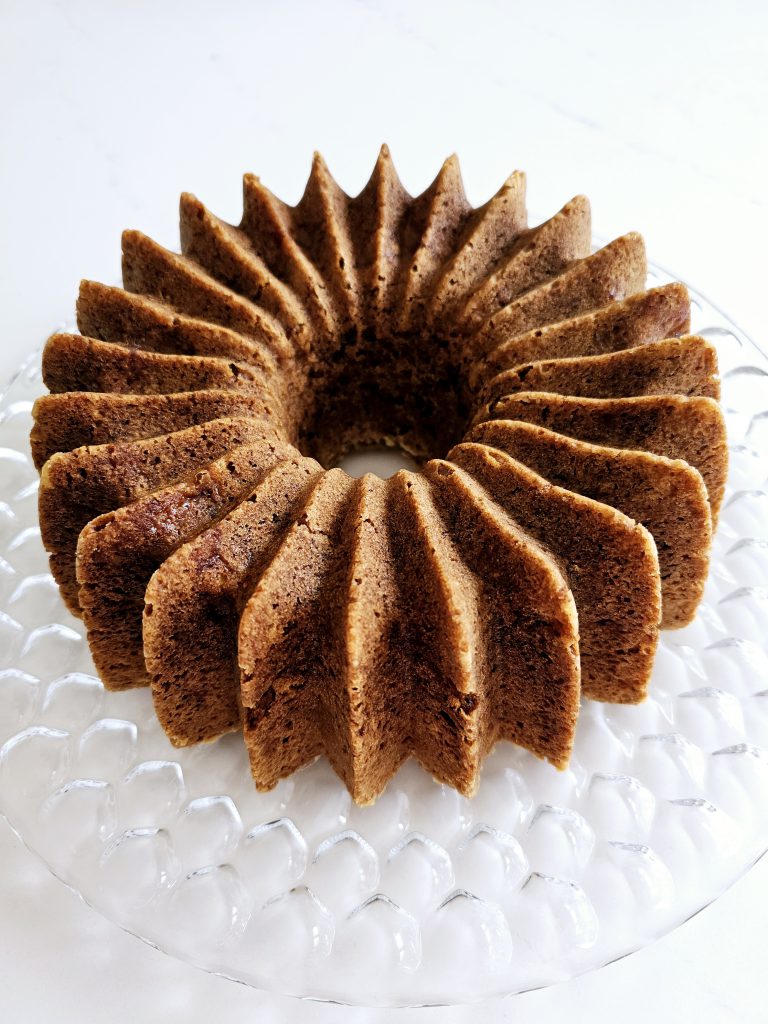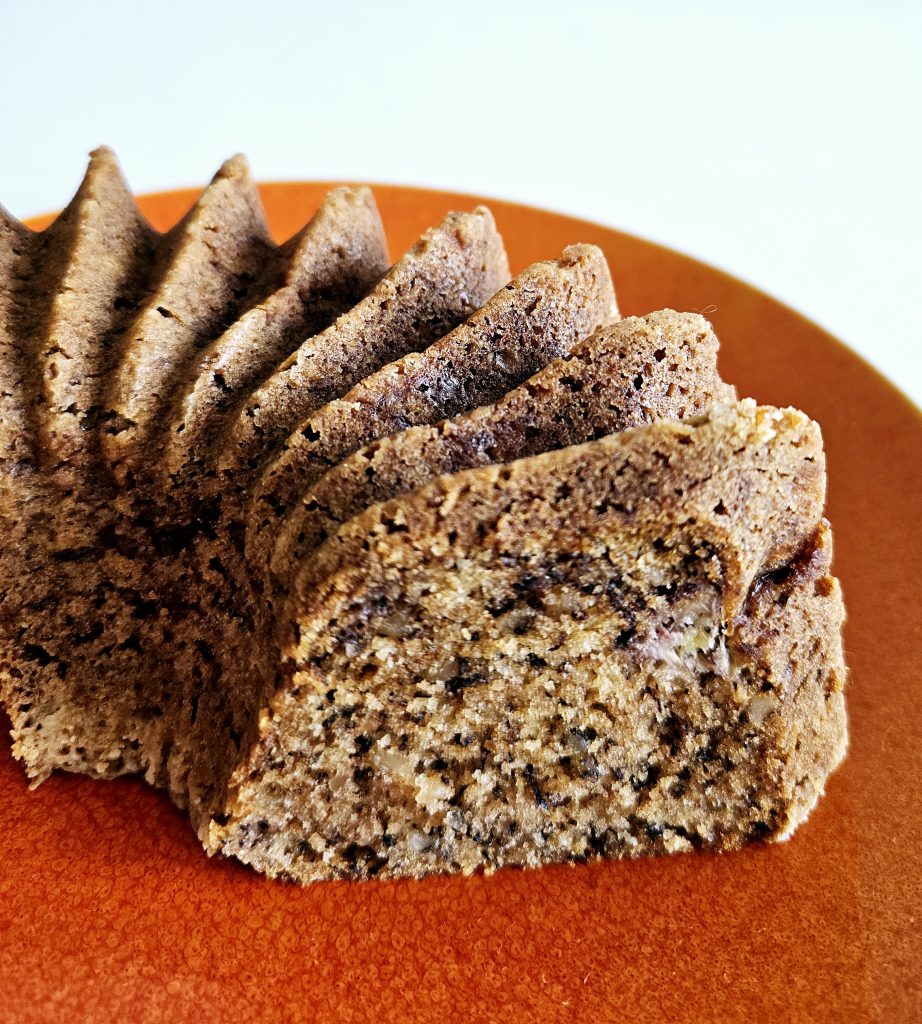 For a 10 cup bundt:
135 g unsalted butter, very soft
135 g unrefined caster sugar
3 large eggs (165 g without shell)
350 g ripe bananas, each cut into 4 pieces
225 g spelt flour
2 teaspoons baking powder
1 teaspoon bicarbonate of soda
½ teaspoon fine sea salt
100 g soured cream
2 teaspoons vanilla extract
Gluten-free version, which turned out to be the most popular on account of its sponge-like texture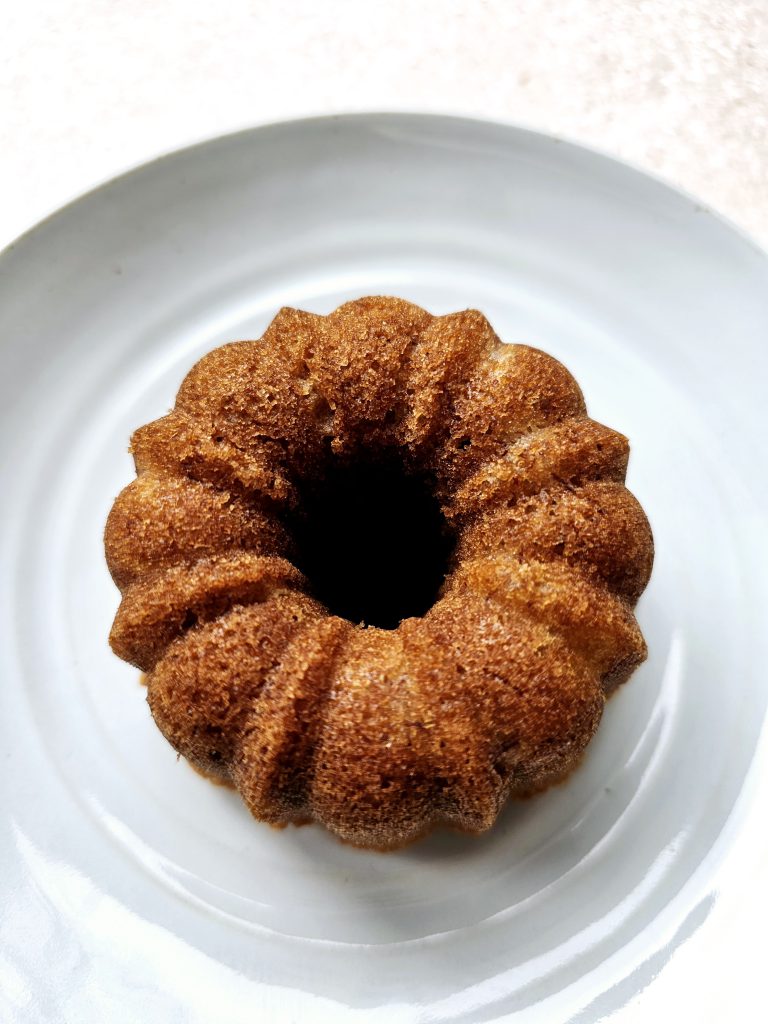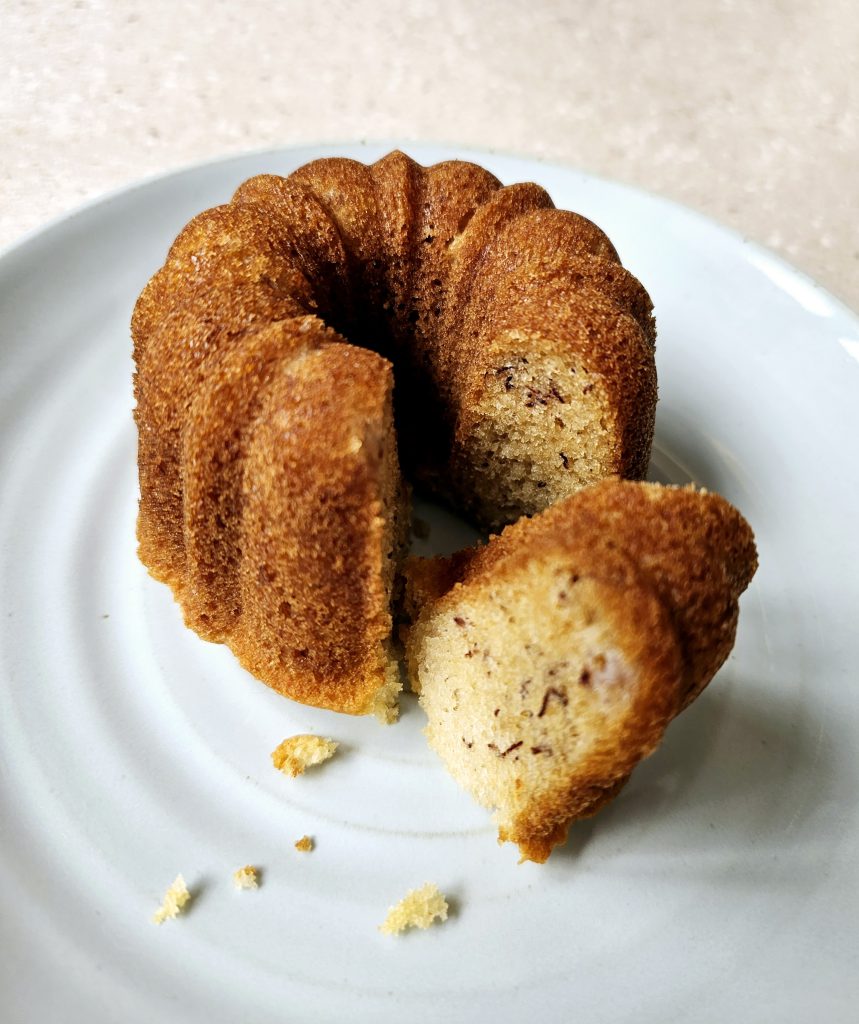 Substitutions and Add Ons
Instead of:
spelt flour, use plain white flour, gluten-free plain flour, wholemeal flour
soured cream, use buttermilk, plain yogurt, crème fraiche
unrefined caster sugar, use coconut sugar, light brown soft sugar, light muscovado sugar
butter, use sunflower oil.
For the 6 cup bundt, add one of the following:
50 g chopped walnuts or chopped hazelnuts (works best with plain flour)
2 tablespoons poppy seeds
60 g milk/ dark chocolate chips.
For the 10 cup bundt, add one of the following:
80 g chopped walnuts or chopped hazelnuts (works best with plain flour)
3 tablespoons poppy seeds
100 g milk/ dark chocolate chips.
For the gluten-free version I used flour and raising agents from Freee. Here is a gluten-free banana bread recipe from Nigella Lawson