Somewhere amongst the many photo albums in my parents' house there is a black and white photograph of me holding on to a quilted batik hat with both hands. I am on the deck of the ferry from Butterworth on the peninsula side of Malaysia to George Town in the island of Penang. I am smiling, as always.
As a family with my parents and sisters we stayed either at the Casuarina Beach Resort or next door at Shangri-La's Rasa Sayang Hotel. I had such happy childhood memories of holidays here that when we were newly married I insisted that Mr Gochugaru visit Penang and stay at the Rasa Sayang.
I thought I had not been back to Penang since then, but on the drive from KL to George Town Mr Gochugaru reminded me that he had in fact driven my father's old white Mercedes (before the gold one, which was before the green one) to Penang, with my father in the car. They had taken turns to drive.
I cannot remember that trip at all but am happy that we made it. When my father was in remission from cancer we had talked about a trip to Penang but in the end we decided against it. He was not able to walk well and the long drive made going the washroom awkward.
Generally when I make decisions, even if the outcome is not ideal, I tend not to regret it. Whilst I wish circumstances had been more favourable to enable that last trip to Penang with my father, I do not look back and wish we had undertaken it.
In considering where to stay for the three days we are here in Penang, I decided to skip the beach resort and stay in George Town, named for King George III. Through a spot of good fortune The Prestige Hotel popped up on my screen when I was researching hotels in the area. The price was not extortionate and they had available rooms, so I booked us a stay.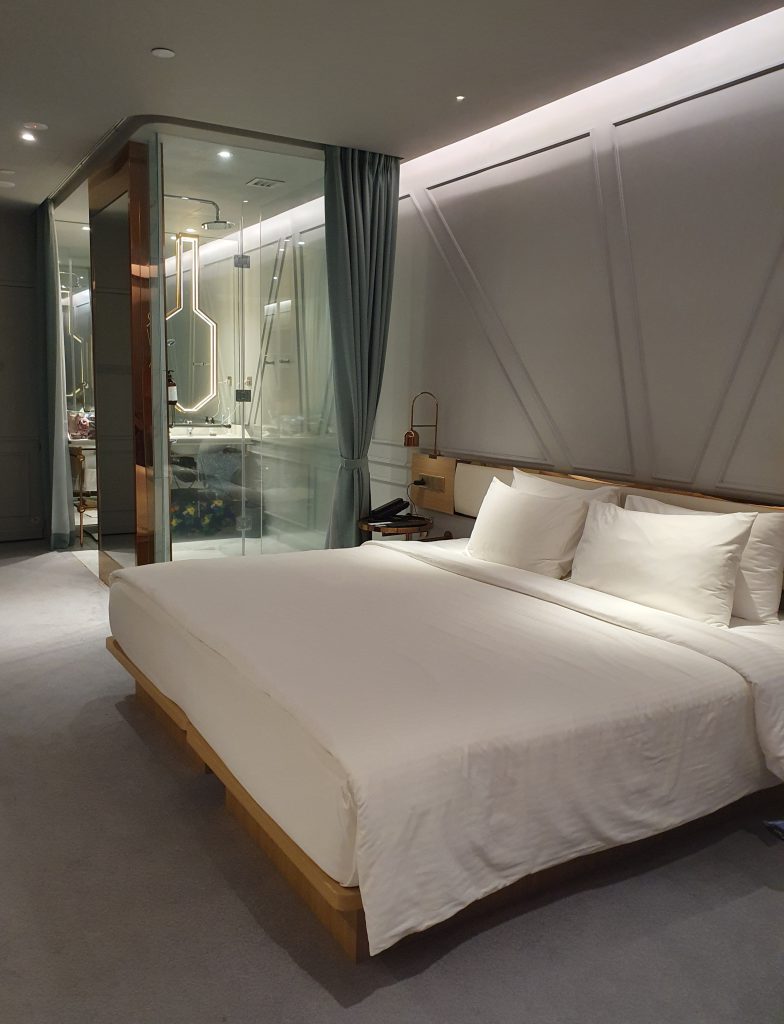 The Prestige is a lovely boutique hotel that will appeal to the type of person who likes pared-down living, but who still wants convenience and comfort at hand. For connectivity there are universal electric sockets on each side of the bed and one on the wall next to the small dining table, to power your laptop should you need to work. There is another socket in the bathroom for recharging your electric toothbrush and for using the hair dryer in front of the mirror. These are not things that matter to everyone but to the person for whom these things matter, this hotel is a delight.
For me, the design elements are appealing, as the colour scheme is neutral and there are no busy or distracting patterns anywhere in the building, save for the botanical design used on areas of wallpaper and on cushions. I have been admiring the intentionality of the alternate patterning on the tiled floor, and the raised angular wooden beading on the walls. It sounds so geeky but I really hate clutter and it seems to me someone has thought through the whole design scheme, making sure that everything is neat and tidy without being flat and boring.
The corridor with bedrooms opening to the left and right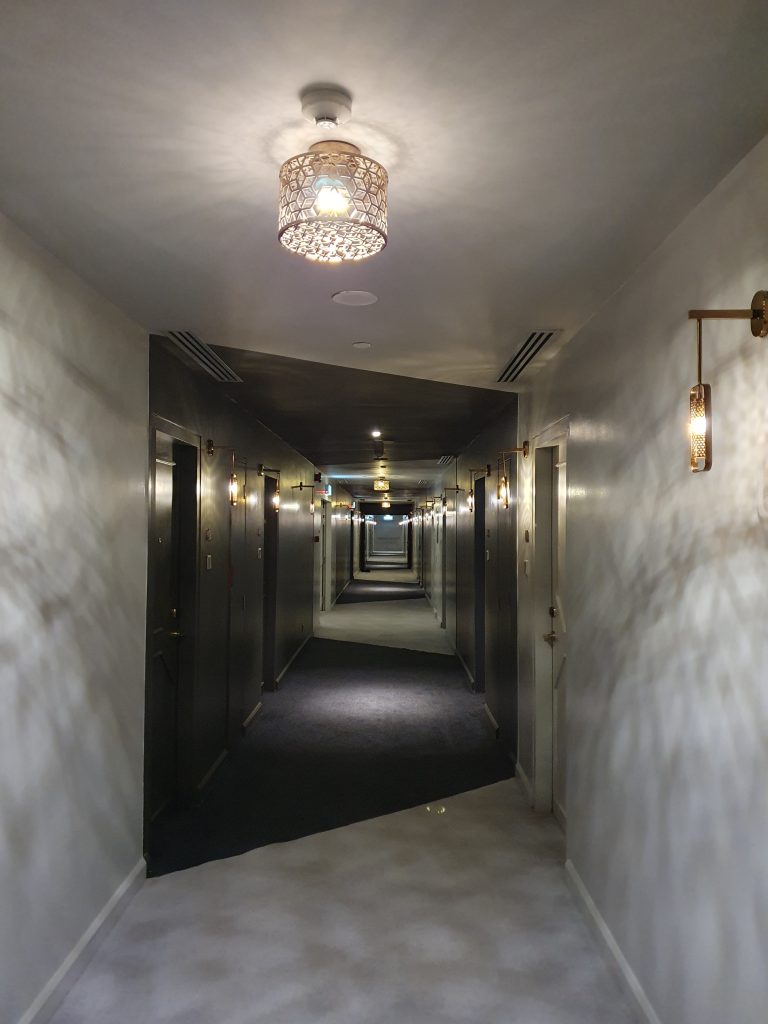 The Prestige's bathroom kits are packed in boxes which form a puzzle of the hotel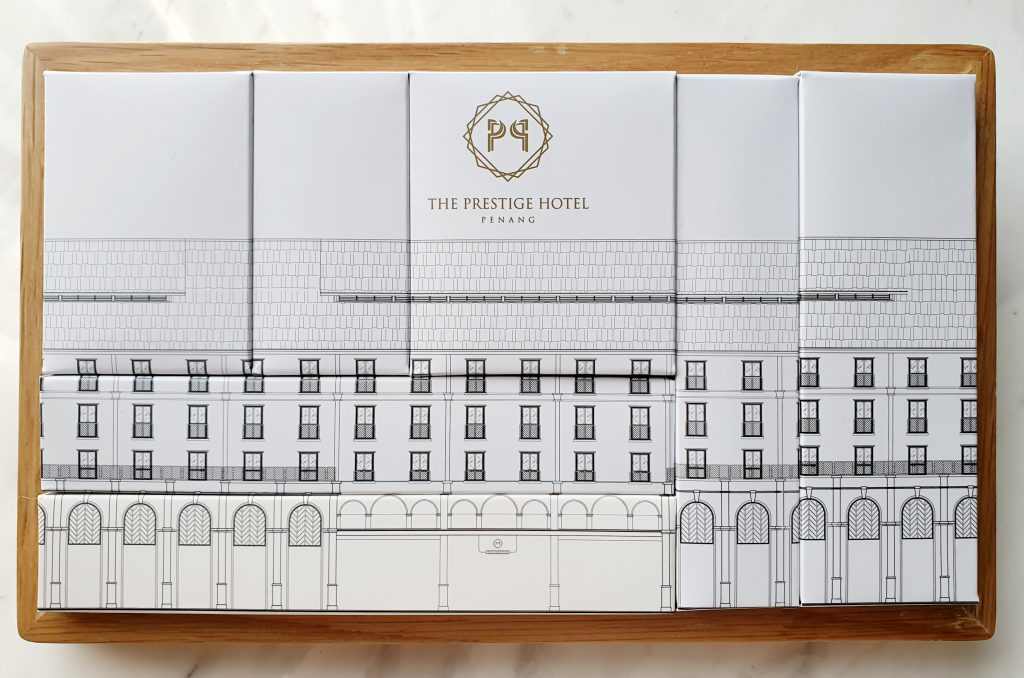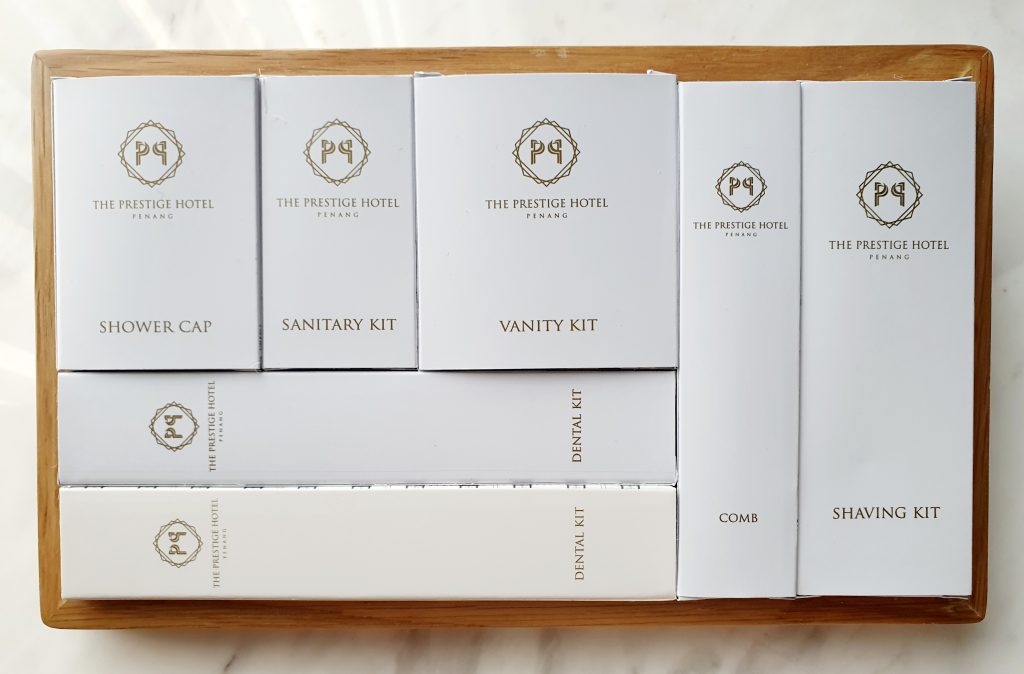 There is a very small rooftop pool (by rooftop I mean the fourth floor!) with saltwater and sea views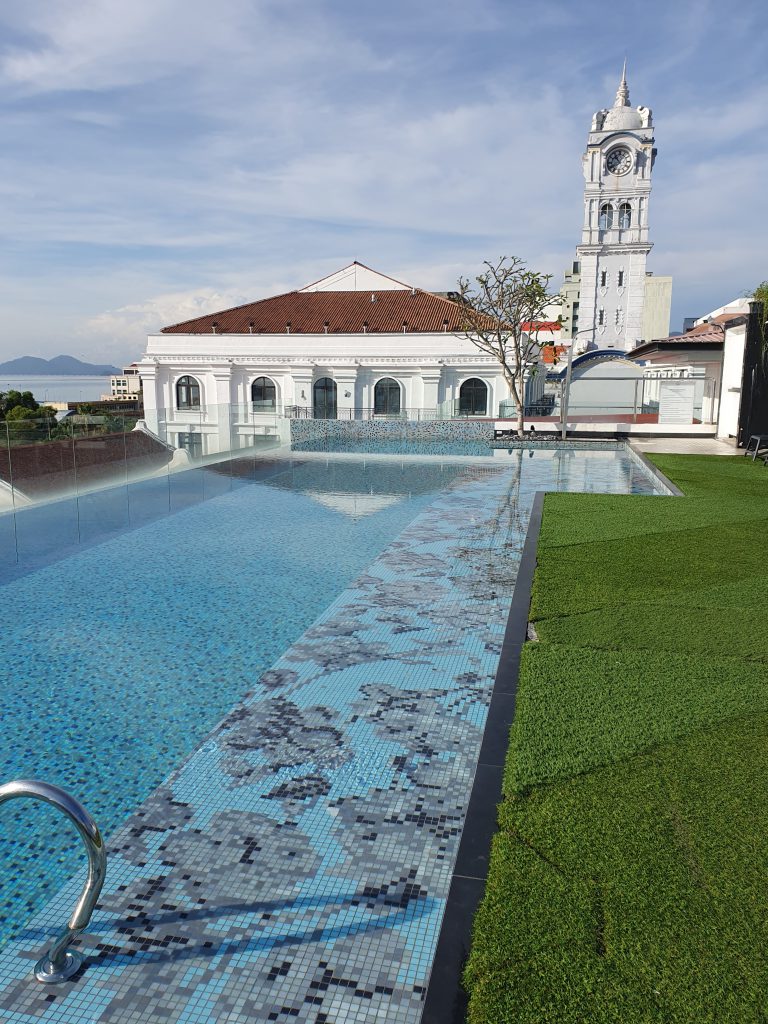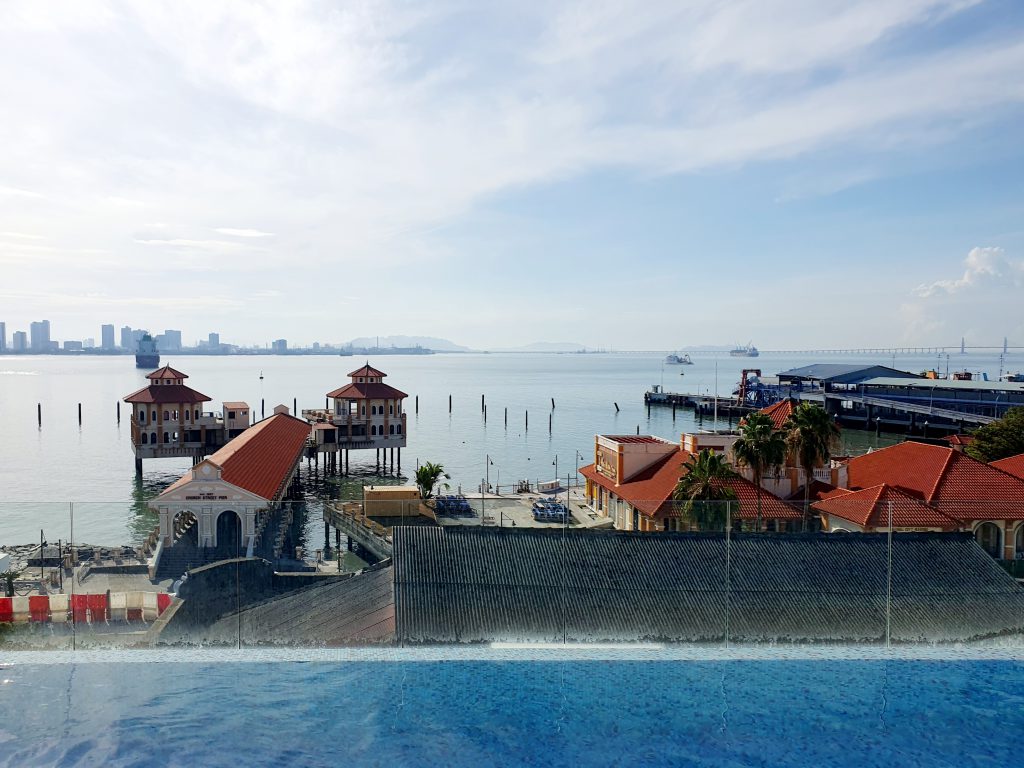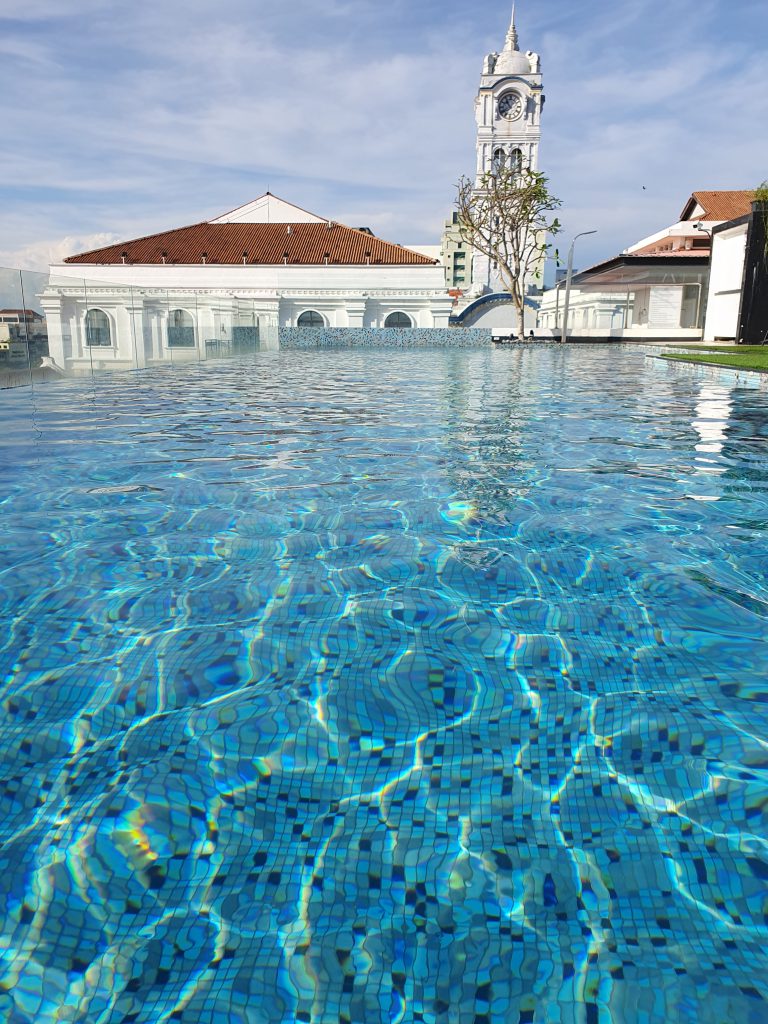 Sun chairs in the full sun for those who lack Vitamin D and neatly arranged pool towels for those of us who like things in order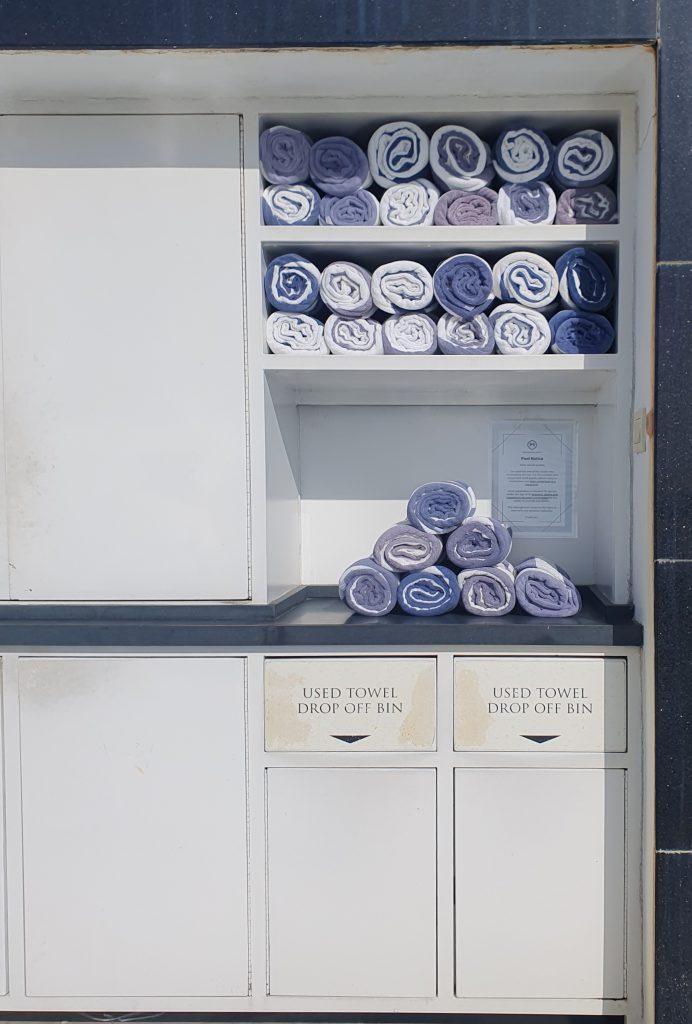 There is no haphazard design in this hotel: this is the grill looking out from a wall in the car park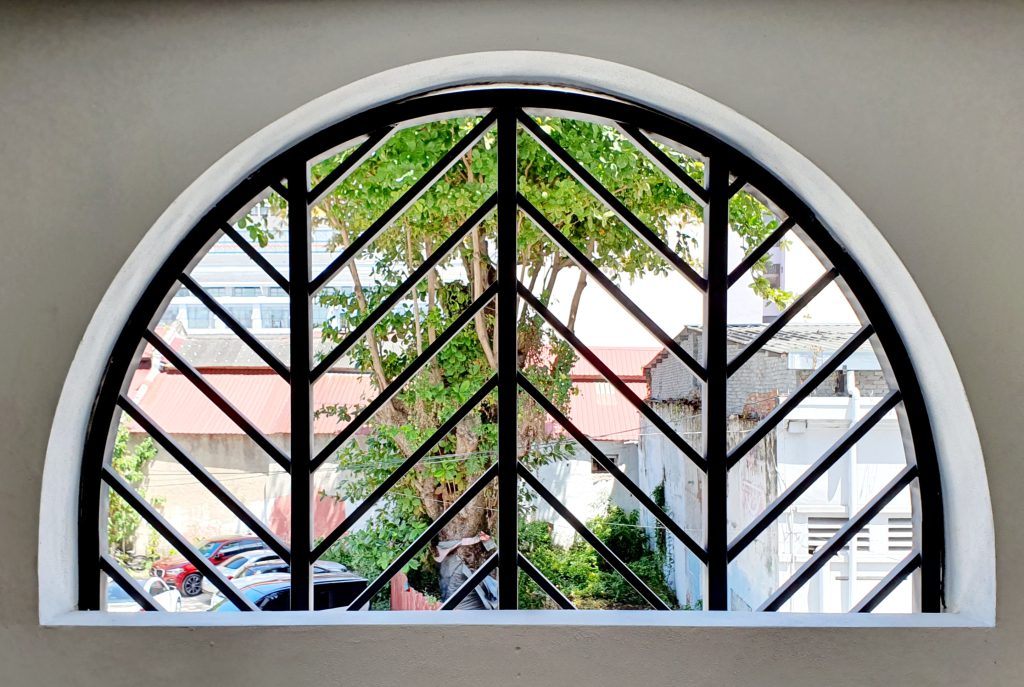 The front of the hotel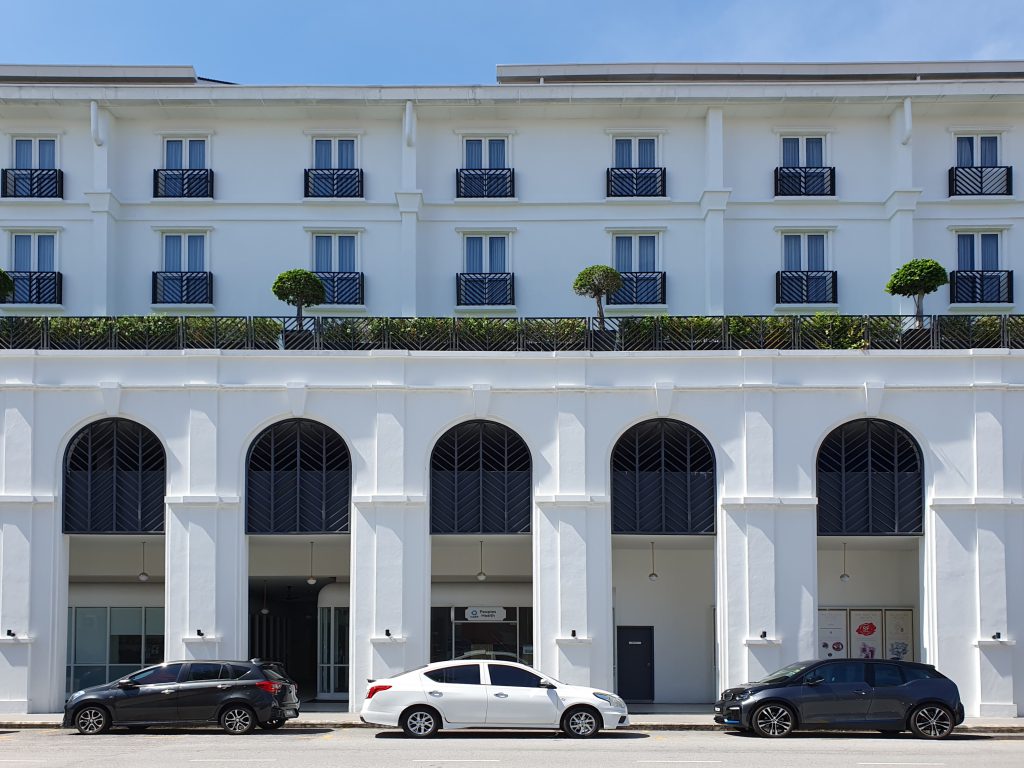 Other good things about this hotel: in-room Nespresso machines and TWG teabags, a carpark with complimentary parking for in-house guests, good restaurants and cafes within walking distance, Norm Micro Roastery is directly opposite and the Penang Tourist Information Centre is just around the corner. It is located in the historical part of town so you can wander along streets that have been here for 200 years.
For the sake of clarity, I pay for my own hotels and only write about the ones I have enjoyed staying in. I never write about anything that has been a disappointment because everyone has disappointments in life. The last thing you want to read about are other people's bad experiences as you can get that ad infinitum from the daily news.
In the next few posts there will be some information about local tourist sights and eating places. So many good things to eat and so few days. Whilst on my swim this morning I was mentally inviting our family to join me on my next trip here. My father may not be with us physically but I am sure he will be with us in spirit.
Addresses:
The Prestige Hotel, 8 Gat Lebuh Gereja, George Town, 10300 Pulau Pinang
Norm Micro Roastery, 13 Gat Lebuh Gereja, George Town, 10300 Pulau Pinang
Penang Tourist Information Centre, Ground Floor, The Whiteaways Arcade, 10 Beach St, George Town, 10200 Pulau Pinang
Other hotels to consider, as mentioned by Accountant Friend and Shoe Lady:
The Edison George Town, 15 Lebuh Leith, George Town, 10200 Pulau Pinang
G Hotel Gurney, 168A Gurney Drive, George Town, 10250 Pulau Pinang
Muntri Grove, 127, 129, 131 A – F, Lebuh Muntri, George Town, 10200 Pulau Pinang. See here for other individually designed hotels under the same umbrella. Seven Terraces would be where I would bring my mother who has her own collection of similar furniture and furnishings.
If you are considering a serviced apartment, there is an Ascott at 18 Gurney Drive, George Town, 10250 Pulau Pinang
To impress and for nostalgia, I would consider the Eastern and Oriental Hotel, 10 Lebuh Farquhar, George Town, 10200 Pulau Pinang