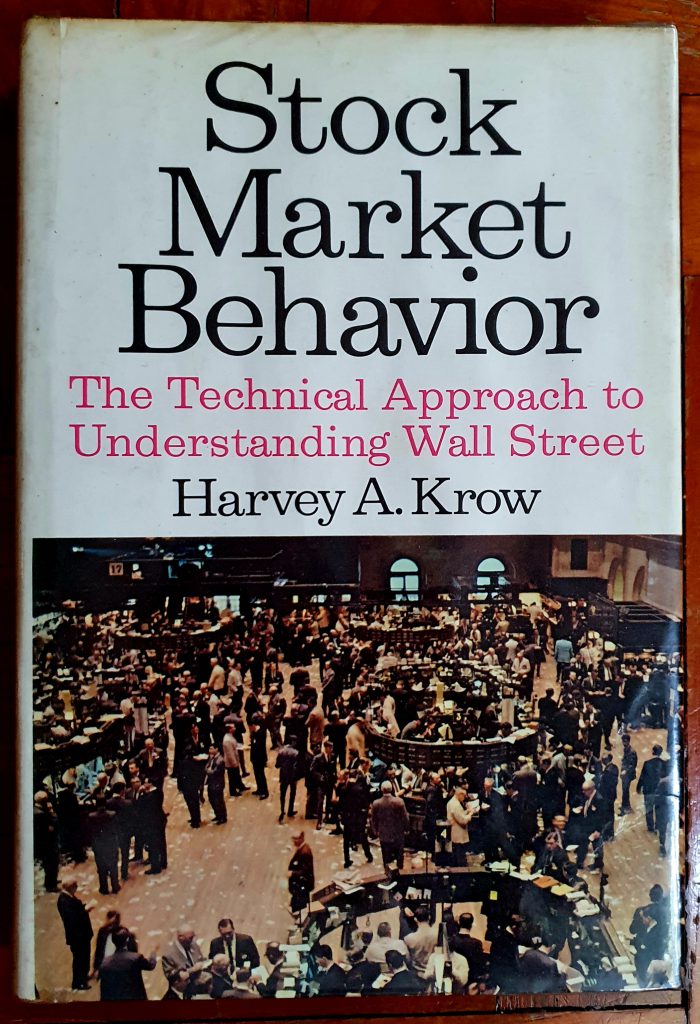 I am coming up to the six week mark of being away from my home and desk in London. Having to extend my stay by two weeks meant missing the London East Asia Film Festival. Mr Gochugaru went by himself and really enjoyed the film 헌트 Hunt, starring one of our favourite actors Lee Jung-jae. He also watched 비상선언 Emergency Declaration, starring another favourite actor Lee Byung-hun. He said under no circumstances should I watch Emergency Declaration before any flight as it will scare me so much I will not want to fly.
One of the positives of having extra time here in KL is that I finally (finally!) got to grips with the 2,500 books in my father's study. In sifting through and sorting out 65 years' worth of collected books, starting from his Malacca High School days, I felt as if I were seeing life through his eyes. I got a measure of my father's interests, struggles, hopes and dreams.
To say that my father was altruistic and generous is an understatement. He made a lot of money and he also gave a lot of it away. I have always tried to fathom his motivation for doing so, and I came across many books spouting something like a 'prosperity gospel'. That is to say, the more you give away, the more you will be blessed (with more money, naturally). Although I don't subscribe to this belief, I accept that this was what he wanted to do with some of the fruit of his labour. He invested a lot of what he made as well.
The stock market was my father's preferred vehicle for making money. I often warned him not to gamble, which worried me no end, but he always replied that he was a speculator. After physically handling over a thousand books with the words 'stock market', 'speculate' and 'investment' in the title, there is nothing to suggest that anything was a gamble to him.
Just a few of the books on how to invest – older ones are kept on a different shelf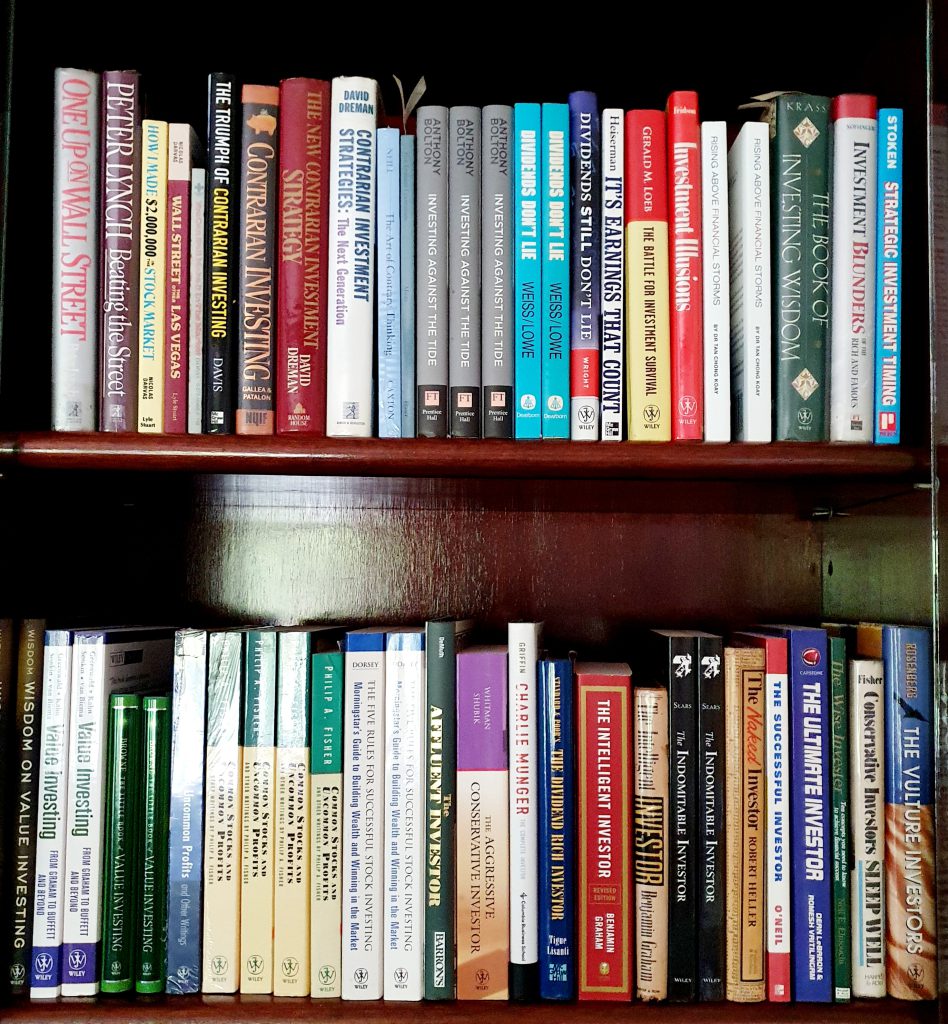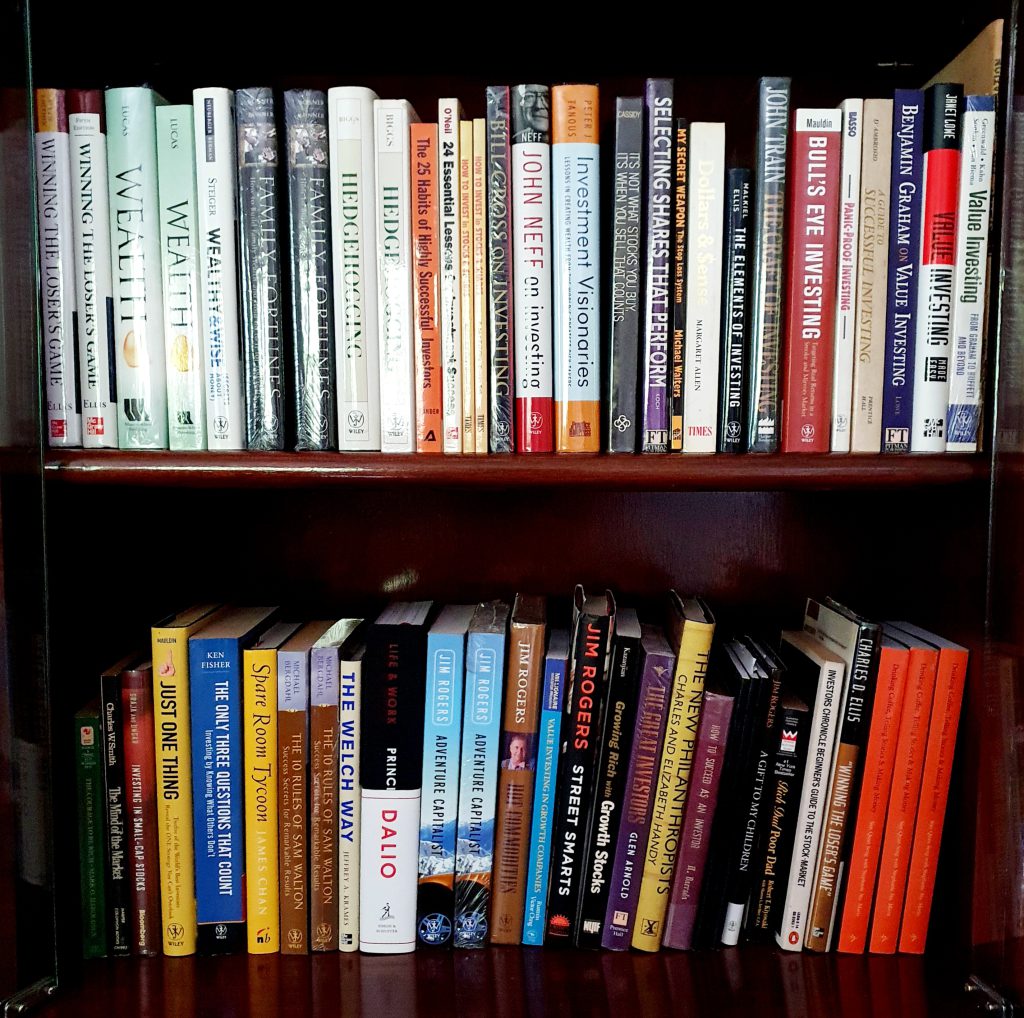 My father was meticulous in his research and he stuck faithfully to the established rules of trading. Besides books on the stock market, I found a cupboard stuffed with Dow Theory Letters and a stack of thick tomes on technical analysis and charting. There are still boxes of his hand-written notes marking the daily change in share prices. Nowadays we have technology to help us chart price movements but there really is something special about having the discipline to do this by hand.
Clearly my father's success had a lot to do with what I would call plain old-fashioned guts. There is no other word to describe his own adventures. I think he imagined he could be like an Asian Warren Buffett (in that he could pick out solid long-term stocks in which to invest) but his risk-taking manner was more akin to that of Tom Cruise's Maverick in Top Gun.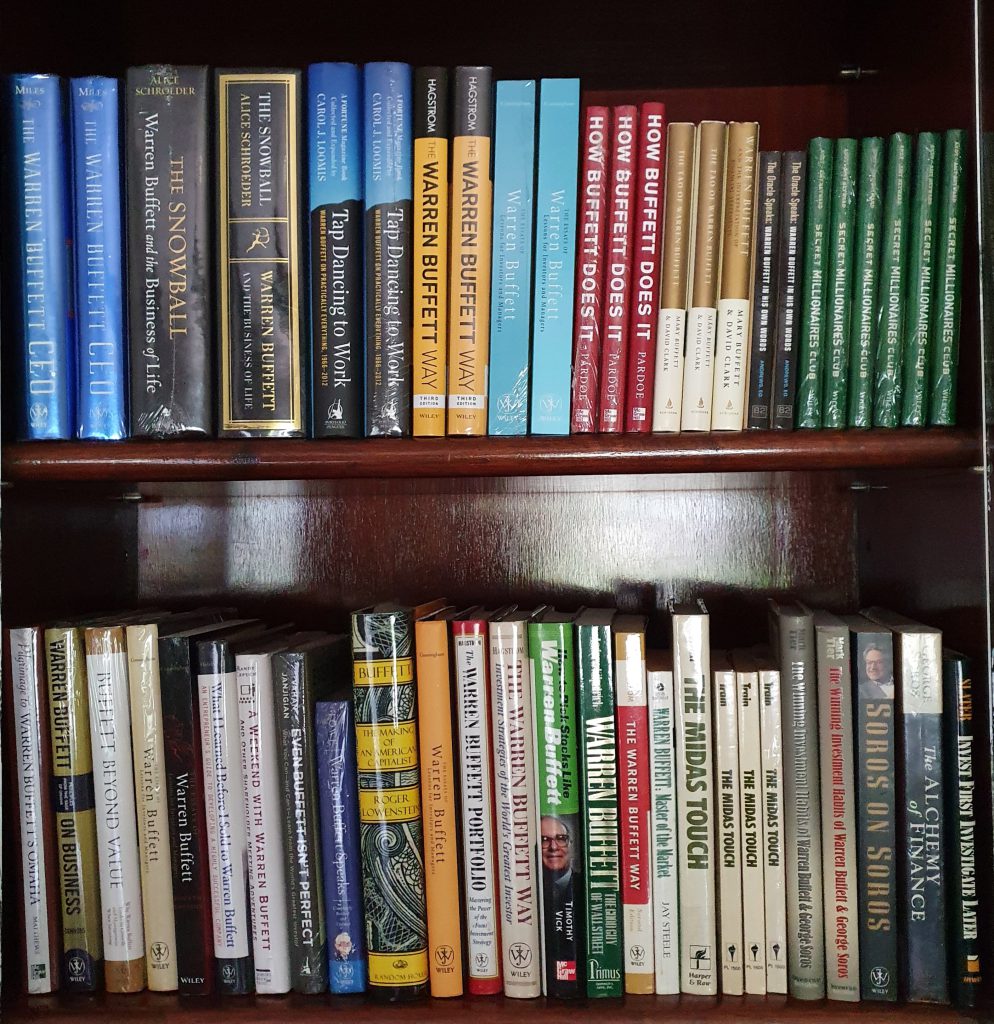 The half a dozen fiction books he had were stories set in some trading company on Wall Street or set during the Great Crash. In fact one his favourite non-fiction subjects was the Wall Street Crash of 1929.
Biographies were all of people who made money on Wall Street, almost all American as my father started his working life in the 1960s. Recently he added biographies of East Asian and Chinese entrepreneurs. Some were his personal friends who gifted him signed copies of their books. The only politician he admired and had tremendous respect for was the late Lee Kuan Yew, Prime Minister of Singapore. There are over a dozen books on him, although admittedly there are double that number on Mr Buffett.
There were many books on Chinese literature, language, culture and martial arts. He was delighted that Sun Tzu's Art of War was so enthusiastically adopted by the business world. Trading is not for the faint of heart and weak of spirit.
There were hundreds of books on starting and running businesses, though under a dozen on leadership specifically. I know from keenly observing my father that when you are a speculator or trader you mostly work on your own. Unfortunately you are also a law unto yourself. The few books on team and group work are largely meaningless but I have retained them nevertheless.
My father started school when the British still ruled over Malaya. Like many of his generation he loved the English language and English literature. He kept his small hard-bound copies of the poets and Shakespeare. There is a 50 year-old copy of Chambers English Dictionary.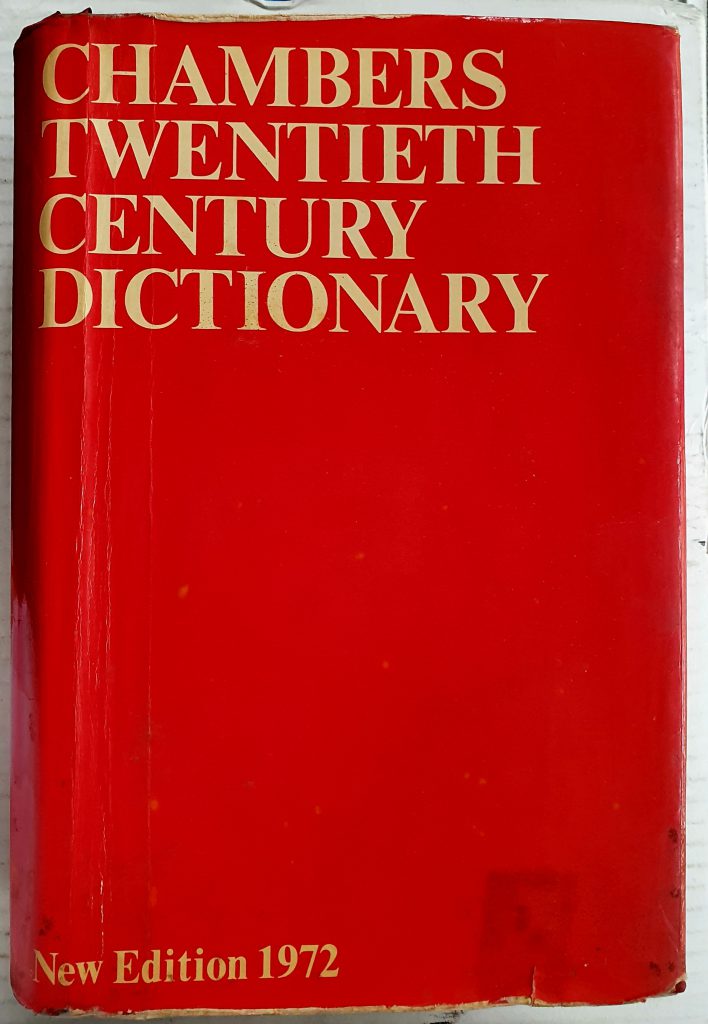 One glaring omission in the collected books is that there is not a single volume on 'how to spend it'. Looking back at his life, I can see that my father knew how to spend it, and also who, where and what to spend it on. One sad thing to mention here is that there were many hangers-on who were willing to help my father spend and spend and spend. All it took was a bit of flattery or a bit of attention and oh dear, the wallet and chequebook would come out.
One of the small plaques my father hung in his study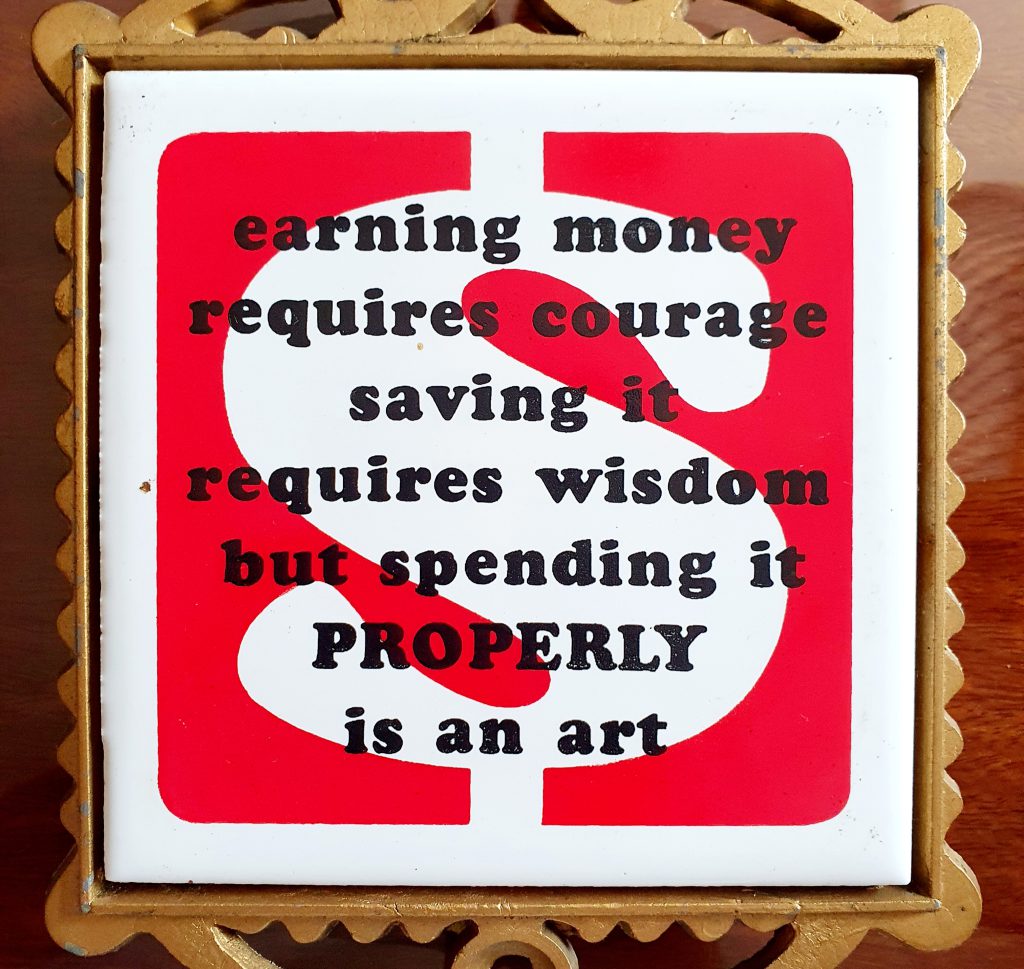 But as I tell myself all the time, what a parent wants to do with his or her time, money and gifts is really not within a child's control. This is the way to stave off disappointment and disillusionment. I am happy my father did exactly what he wanted to do. There were aspects of his life he was not very wise with, and some he regretted, but he always thought of it as an experience.
Another plaque from his early days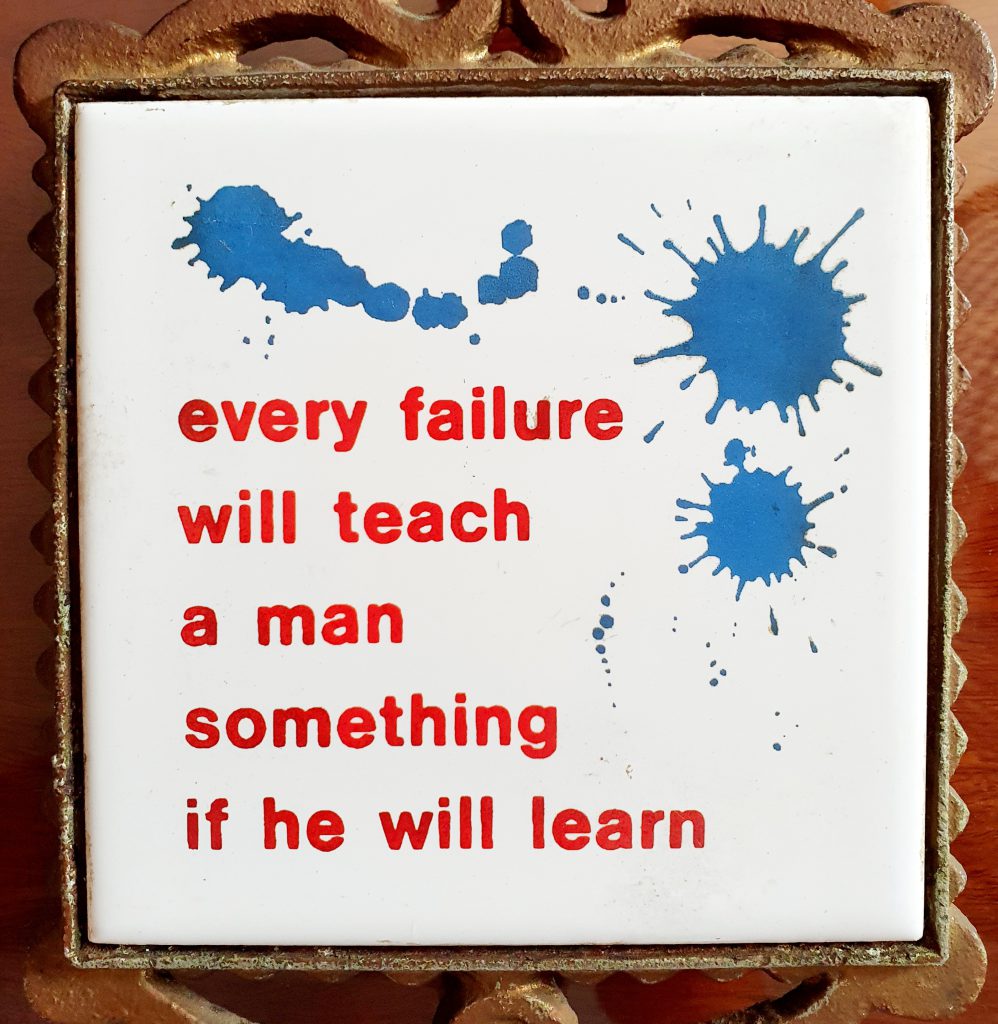 Somewhere tucked in between the books I found a receipt from Times The Bookshop giving an inventory of the books he bought in one year, 2006, where he spent MYR 5,400. All of these books were on one bookshelf. I had removed them from their shopping bags during my frequent trips from 2016 onwards, when I accompanied my father to his medical appointments. I don't know why the books were stuck in the bags for those 10 years. I think he got older, more distracted and then the study became increasingly cramped and unmanageable.
Do I feel sad that my father missed out on reading those books? I don't have an answer. I wonder whether by the time he reached his mid-70s he had done all the serious reading he wanted to do and that he meant the books to be passed on. He often told me that his books had to be kept and not given away except to his five grandchildren.
There are multiple copies of many of the books in this collection. He often bought new editions of his favourite books. There is only one copy of Peter Lynch's One Up on Wall Street. It was whilst in hospital last year, when he was already very ill, that he sent me to the bookshop to hunt down another copy. They did not have the book, and I did not have the energy to ask why he needed a second copy. I wish my father knew he could have listened to Mr Lynch narrate the book on Audible. It might have made his many stays in the hospital more bearable.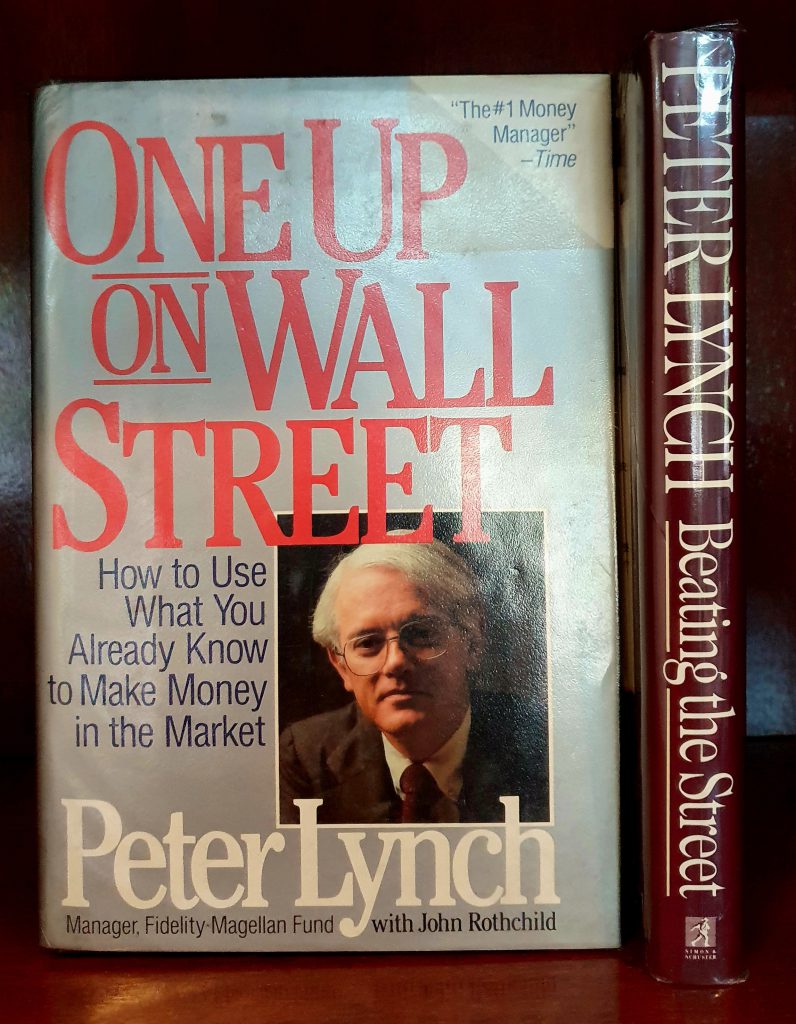 There was only one book in the entire collection that talked about families i.e. how to be a successful family. I don't think he read it. The other books about families were about how to keep wealth in the family past three generations. There is one small, thin book on gardening in Malaysia and Singapore. For a man who travelled so much and who bought books in almost every city (and airport) he visited, there are no leisure travel books. There is only one guide from the 1970s for those who work across major US cities.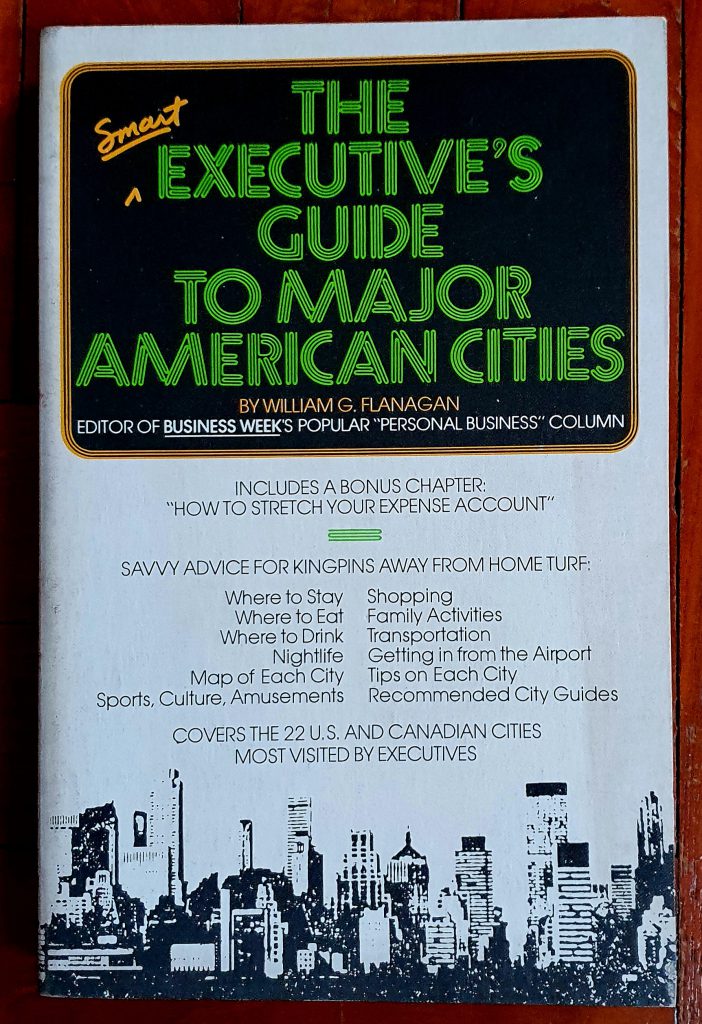 There are around a dozen books which have no clear category. Otherwise every book my father owned was about investing, speculating, running a business and about the people who inhabited these circles.
What kind of investor do you want to be? From Affluent to Wise, there is a book for you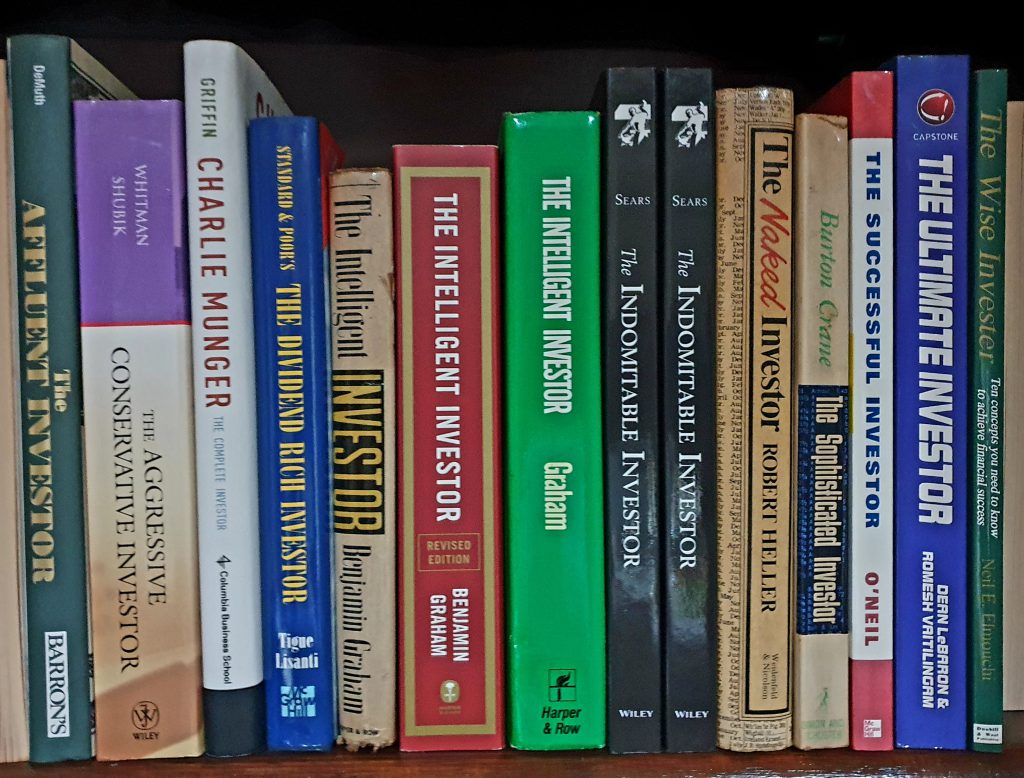 I decided this is the book for me as I am not a risk-taker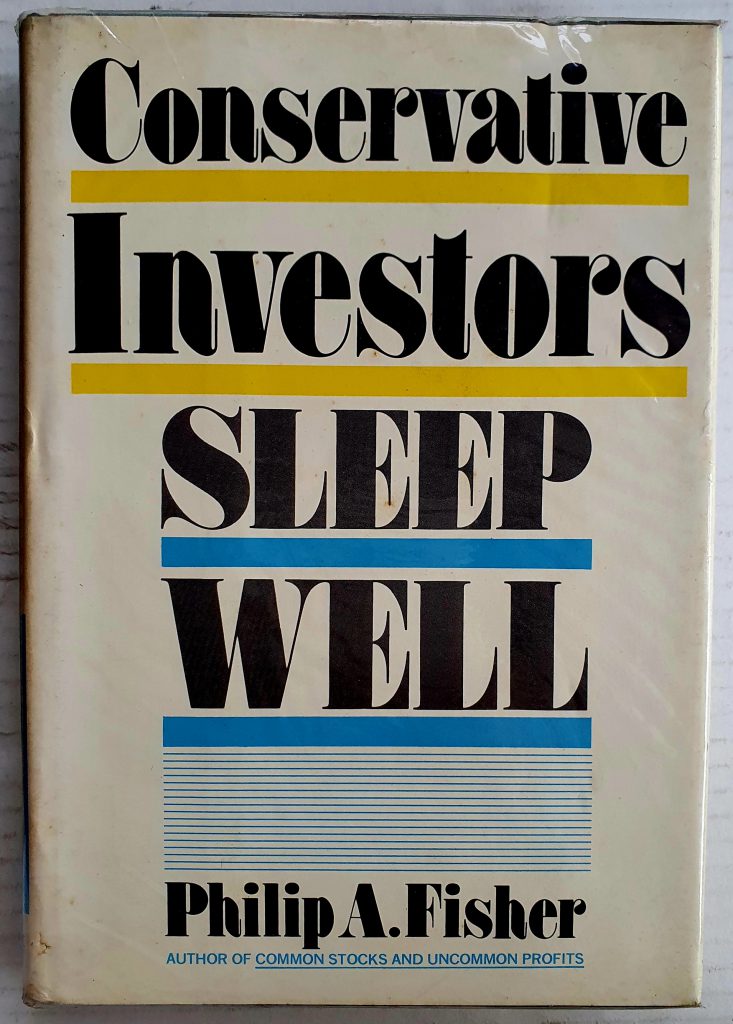 Is there a book missing that he would have liked in this collection? I would think that he would have liked one on Elon Musk. Nothing has changed in the 50 to 60 years since my father started reading and keeping books on making money, and in the history of the people behind the money.
Elon Musk is currently the world's richest man. An opinion piece in this week's New York Times reads: Mr. Musk is the face of 21st-century tech-based, extreme capitalism, just as the robber barons, who built our railroads, and Andrew Carnegie, who supplied those railroads and the builders of modern American cities with steel, embodied the exuberant and expansive industrial capitalism of the late 19th and early 20th centuries.
In my father's collection are books on the robber barons and Andrew Carnegie. Yes, a biography of Mr Musk would fit in nicely.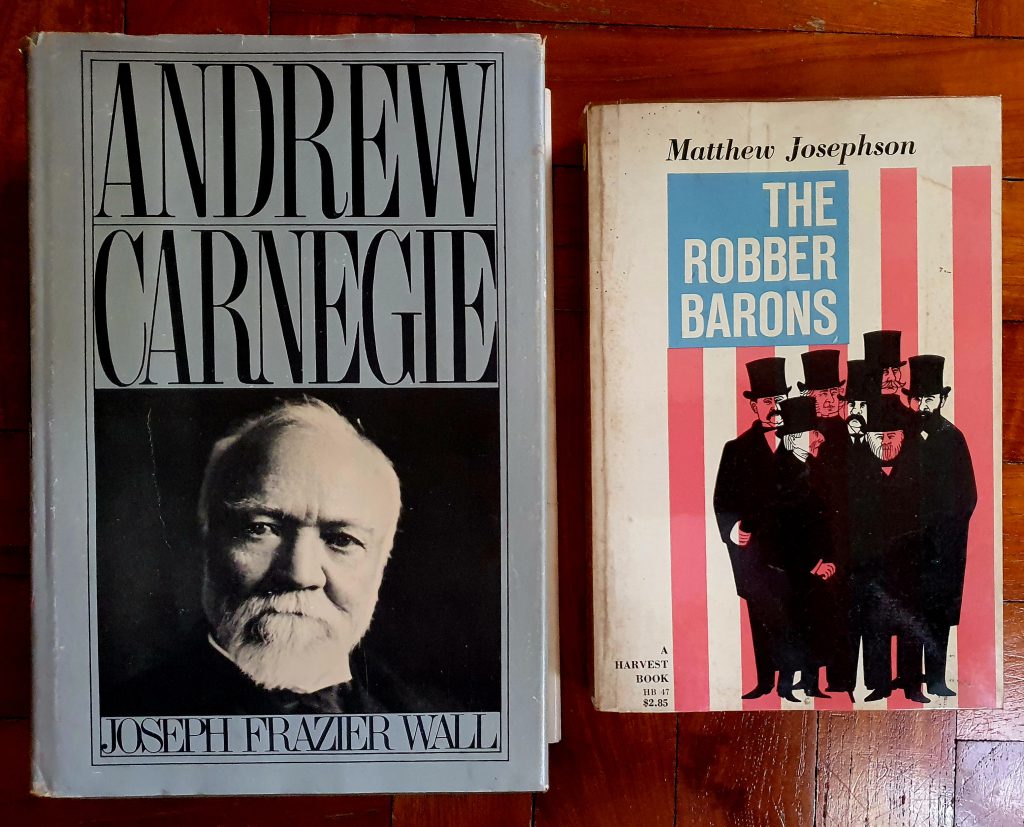 It may be a bit late, but I feel that my father finally has the business library he so wished for when he was alive. But what I realised in sorting out all of my father's books was that he never veered from his vision of 'playing the stock market'. It was often a rollercoaster ride but it suited his abilities and his ambitions.
I am often sad that my father is no longer around to enjoy more of the life he built, but I am happy that from the first day to the last he stuck to doing what he loved and what he considered his passion in life. What an amazingly great example for us, his children and grandchildren, to follow.
From the beginning to the end, my father's life was bound up in the stock market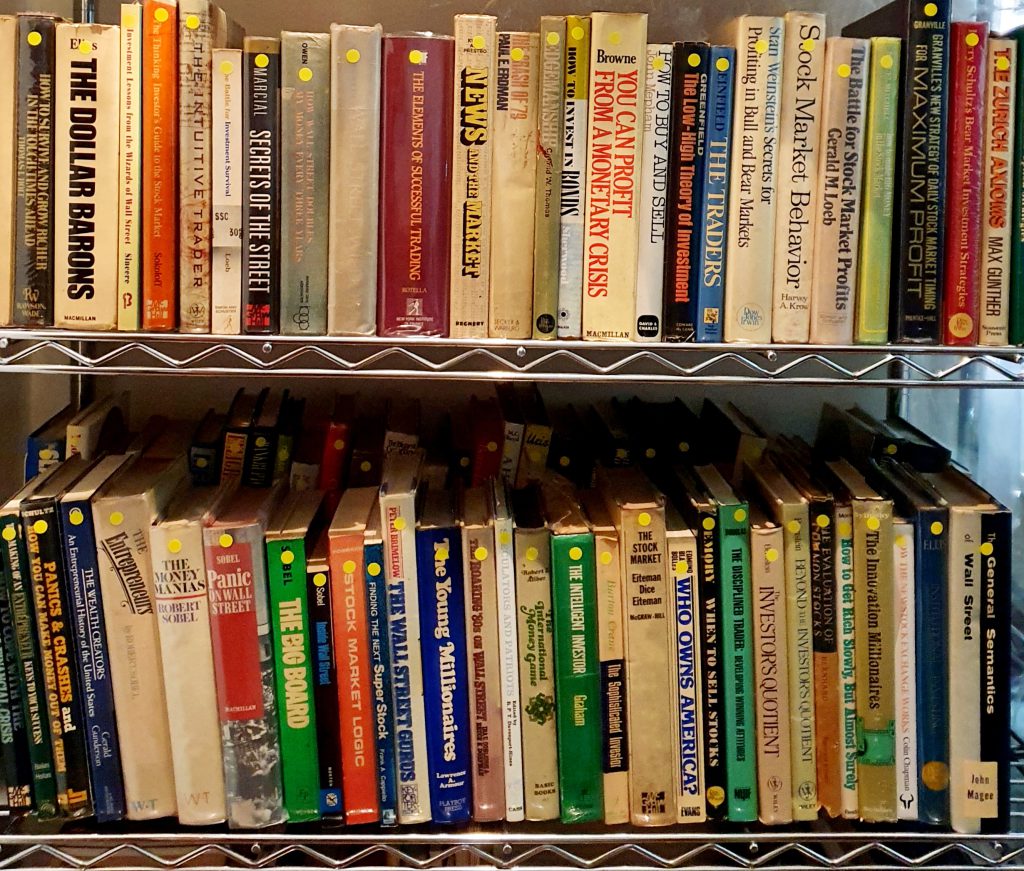 My father's favourite animal besides the dragon (as he was born in 1940) was of course the bull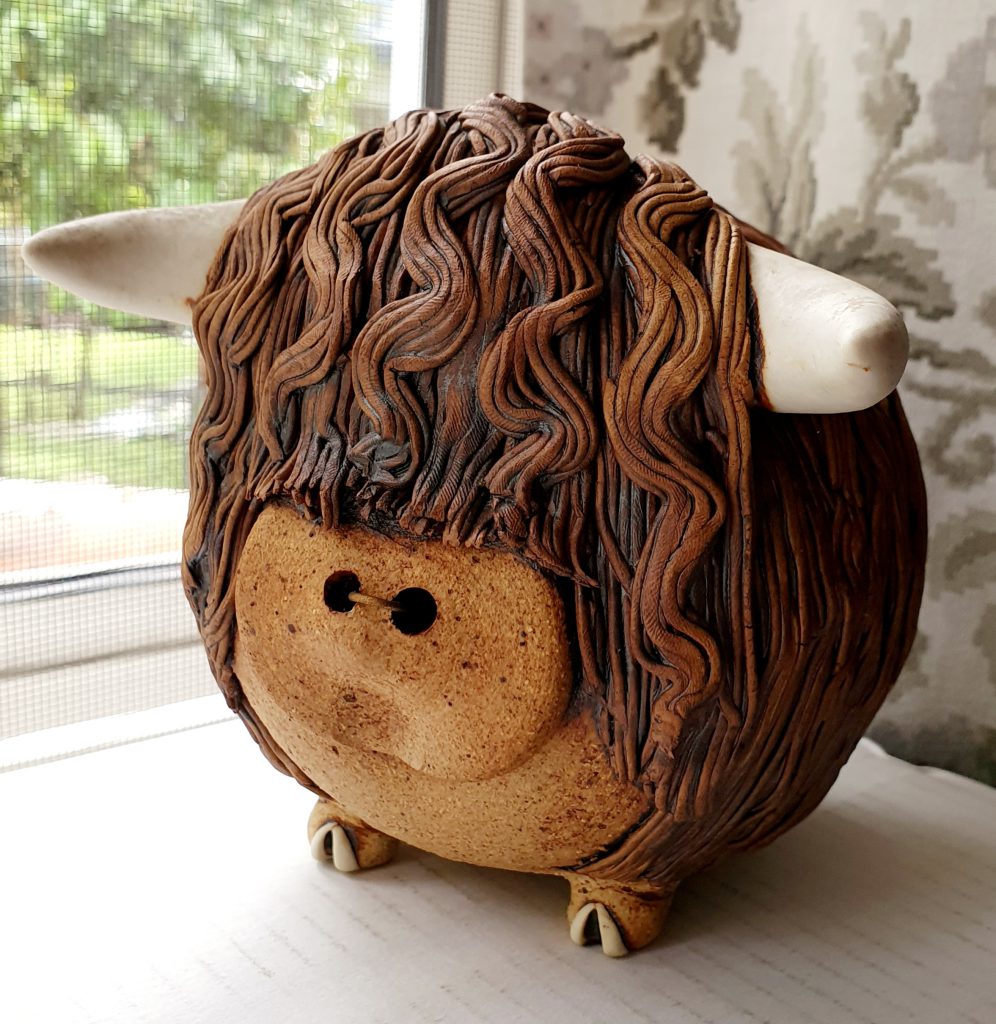 I am heading back to London and for the first time I am looking forward to cold weather. We have had intensely humid days here in KL with frequent thunderstorms. There were two water cuts, one power cut and a localised outbreak of dengue fever. This is all too much for me. I long for quiet days, a bit of light housework and a lot of baking.
This has been a very good stay from the point of helping out with an extremely difficult family situation. At the time of writing we still do not have a maid. I am grateful that Hong Kong Sister is arriving just as I leave, to help out for a month.