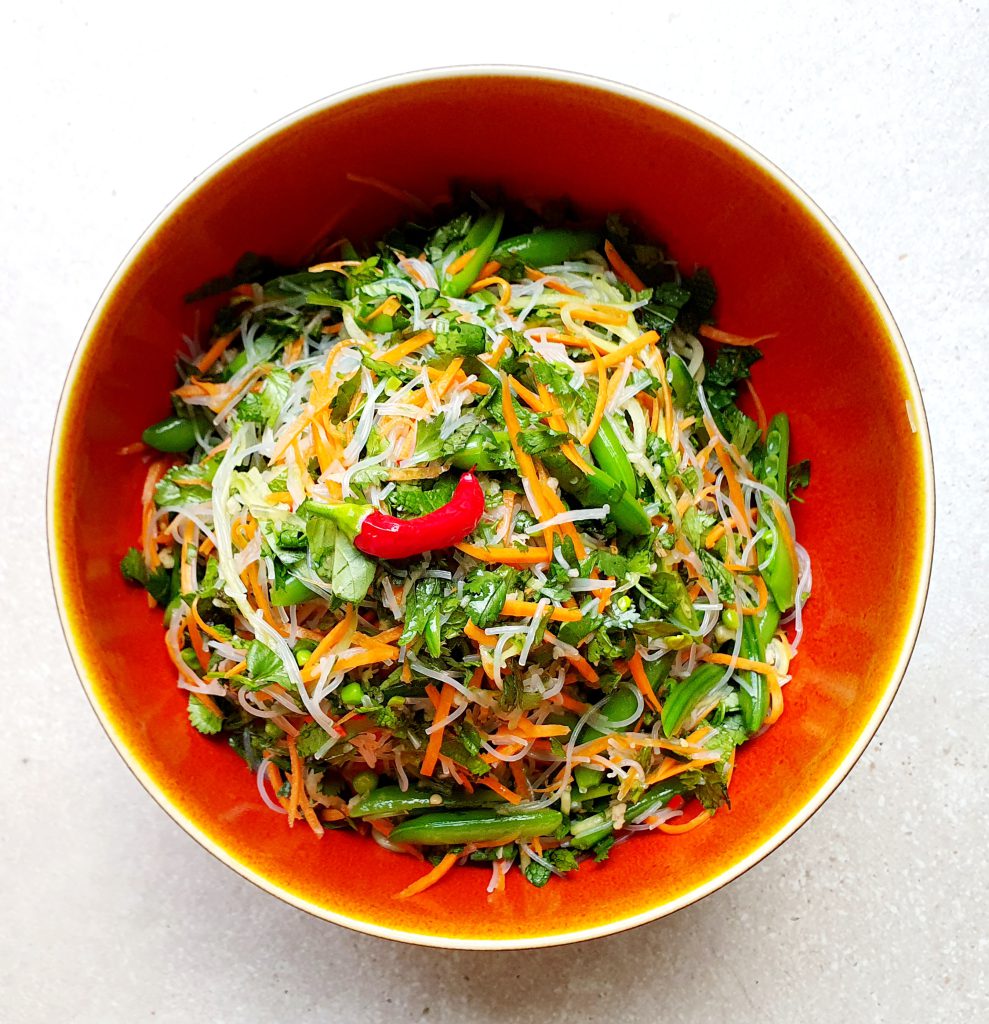 Covid Day Six. My appetite is down, and I could not even be tempted to reach out for one of the delectable cookies and chocolates I lined up on a tray to cheer myself up. This has been an unwelcome and painful experience but I am grateful for one thing, which is that I can still taste and smell.
Despite the fatigue and all-over body ache, I know we must eat to keep fighting the virus. It is old-fashioned survival logic. But what to eat? And what can I make with what I have in the fridge? Here is one thing I could have made if I had some oranges.
This Vietnamese Noodle Salad is something I have made for the past 30 years. Key to its success is to use the right noodles and to taste and taste the dressing until you get the right balance. The vegetables have to be raw or just blanched for a minute.
THE NOODLES
Let me quote from Mr Noodle Terry Durack: This noodle has more aliases than the Jackal. Referred to as bean thread, green bean thread, cellophane, jelly, transparent, glass, silver and even invisible noodles, these thin, opaque white threads are made from an extrusion of mung bean starch and tapioca starch mixed with water. When soaked, they become gelatinous in texture and quite see-through. Their ability to absorb stock makes them ideal for soups, stews and soupy, braised dishes. They can even be deep fried, instantly expanding before your eyes in much the same way as rice vermicelli. They are also popular in desserts, enriched with palm sugar and coconut milk. 
There is only one brand I have ever used and I recognise it from the packaging (see photo). I used to buy larger bags but now opt for small 50 g bags as sometimes we only need a small amount, and the noodles are so tough and wiry it is almost impossible to cut through in its dried form.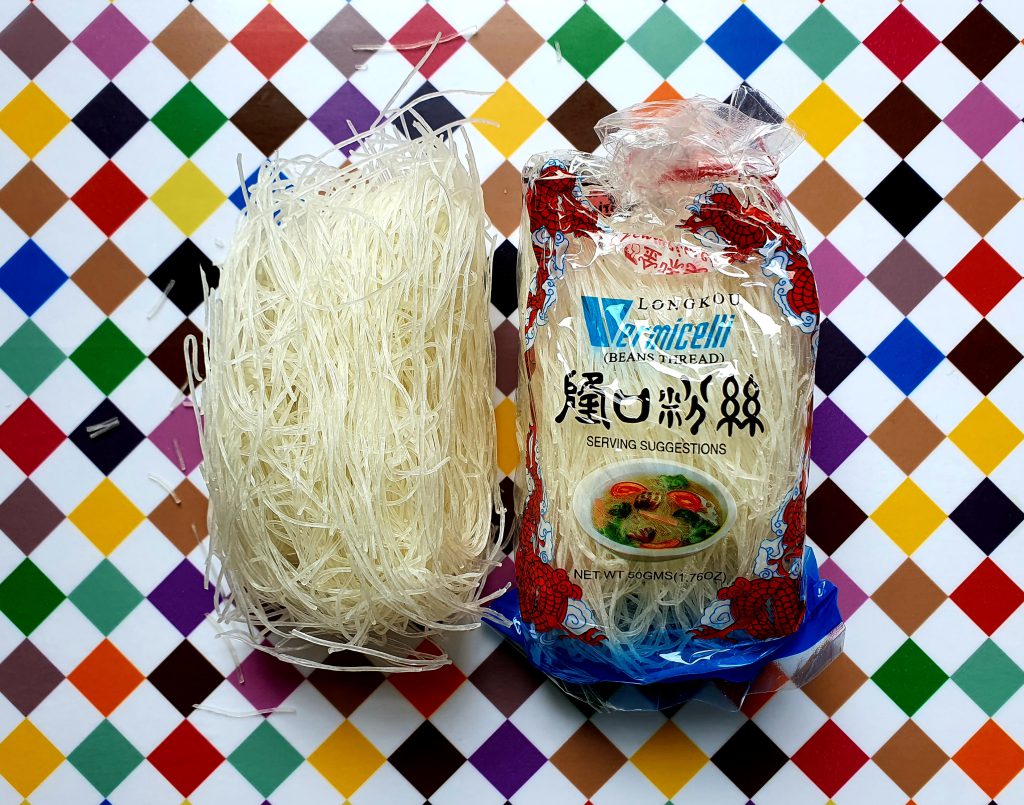 THE DRESSING
The dressing recipe is for 50 g of noodles plus one portion of raw vegetables. Triple this amount to dress a larger family-sized salad.
3 tablespoons fresh lime juice
1 – 1½ tablespoons unrefined caster sugar
1 – 2 tablespoons nuoc mam (Vietnamese fish sauce, see note below)
1 tablespoon rice vinegar (I use Mizkan brand)
2 cloves garlic, finely chopped
1 red chilli, seeded and finely sliced
few twists of freshly ground black pepper
I used to use Squid brand fish sauce from Thailand but received some authentic Vietnamese fish sauce from Shoe Lady. All fish sauces vary in strength i.e. some are more pungent or salty so you need to start with less and add more as you go along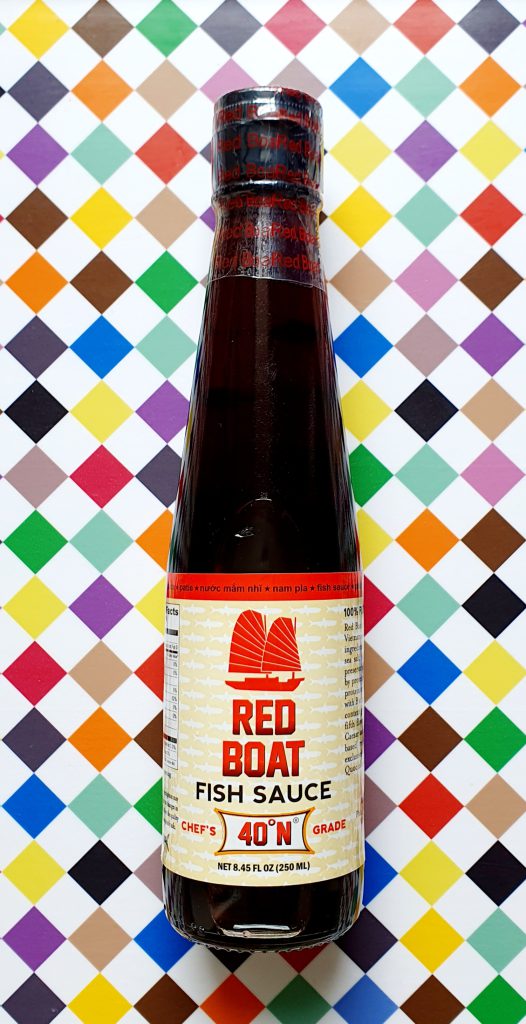 Mix everything in a bottle and keep tasting until you reach a harmonious balance of sweet, sour and salty. Add as many chillies as you like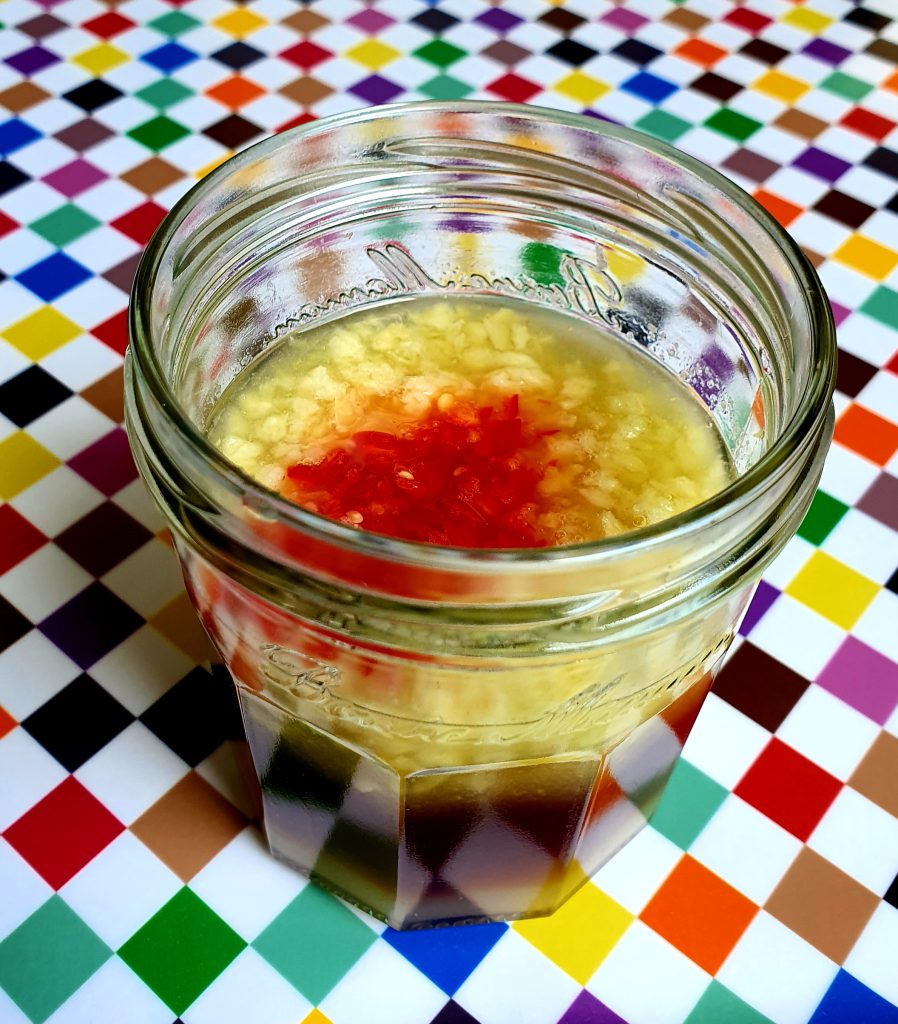 THE SALAD
50 g of bean thread noodles is about right for a small 1-2 person salad. Triple this amount for a larger family-sized salad, and of course add more noodles if you prefer more noodles to vegetables.
Place the noodles in a large bowl and pour over boiling water. Leave for 5 minutes, then drain and rinse under cold water. Make sure all the water has been drained off before using.
Add any quantity you have of shredded carrot, cucumber and even unripe mango.
Add any quantity you have of blanched long beans, sugar snap peas or mange tout.
Add any quantity you have of chopped fresh mint, coriander and Thai basil.
It is difficult to be precise with the vegetables because I had to use up what was in the fridge. If I had some cooked chicken breast or prawns, it would have gone into the salad if I were not serving it as a side dish but as a main dish.
For this salad, this time, we used a combination of shredded carrot, shredded cucumber and blanched sugar snap peas, along with fresh mint, coriander and Thai basil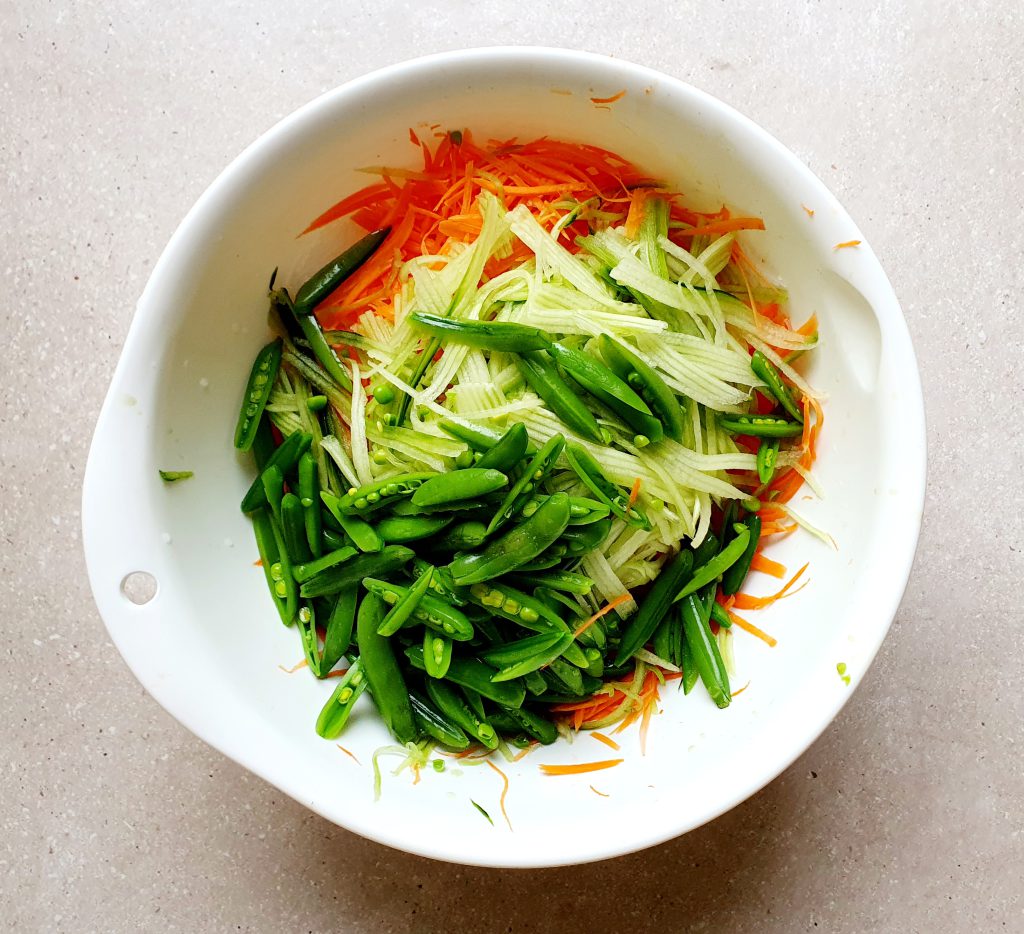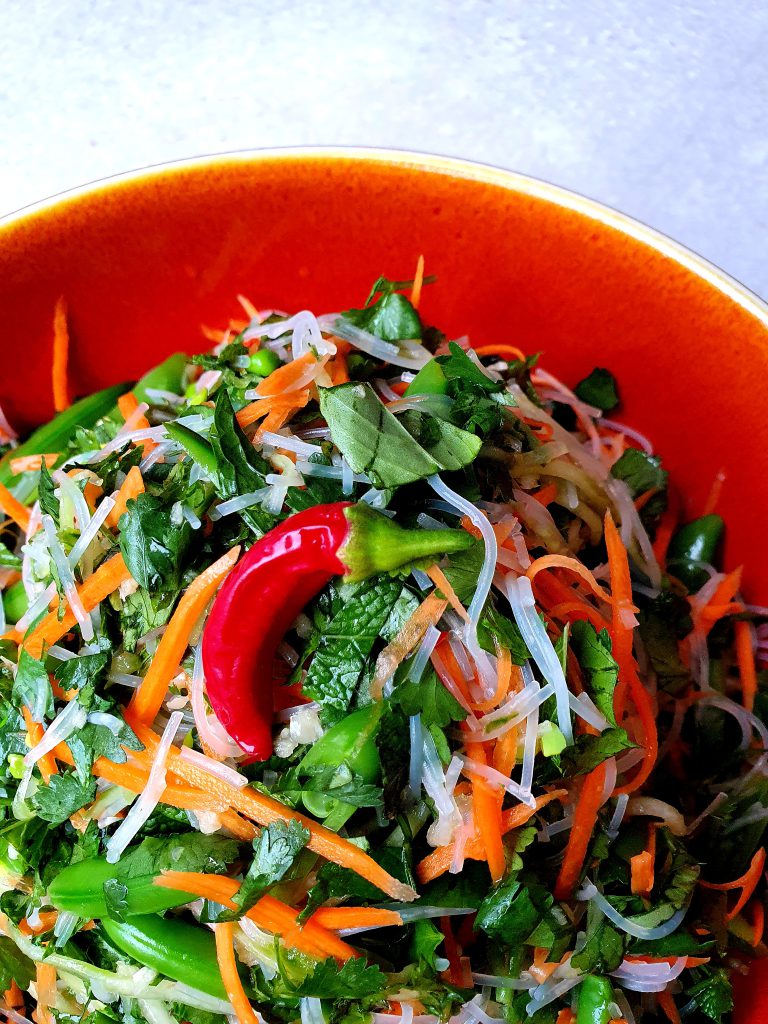 The salad was really good with some grilled salmon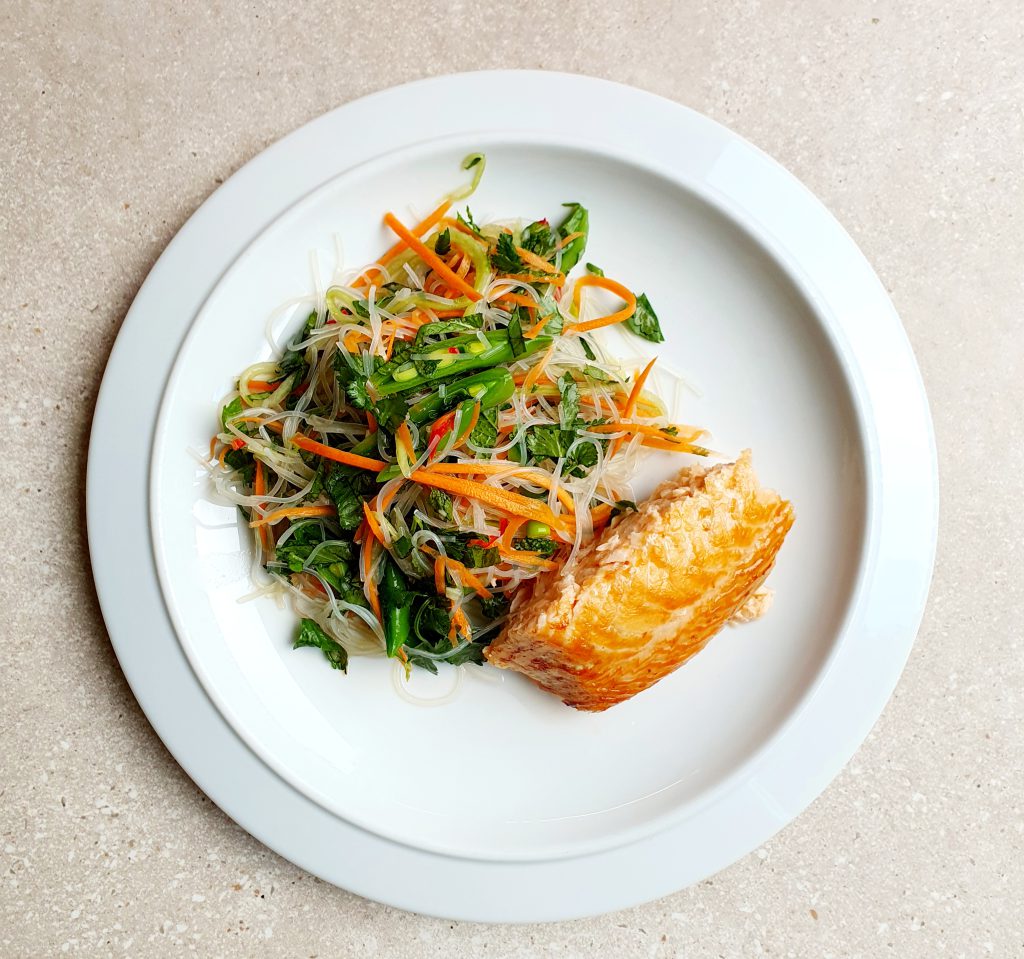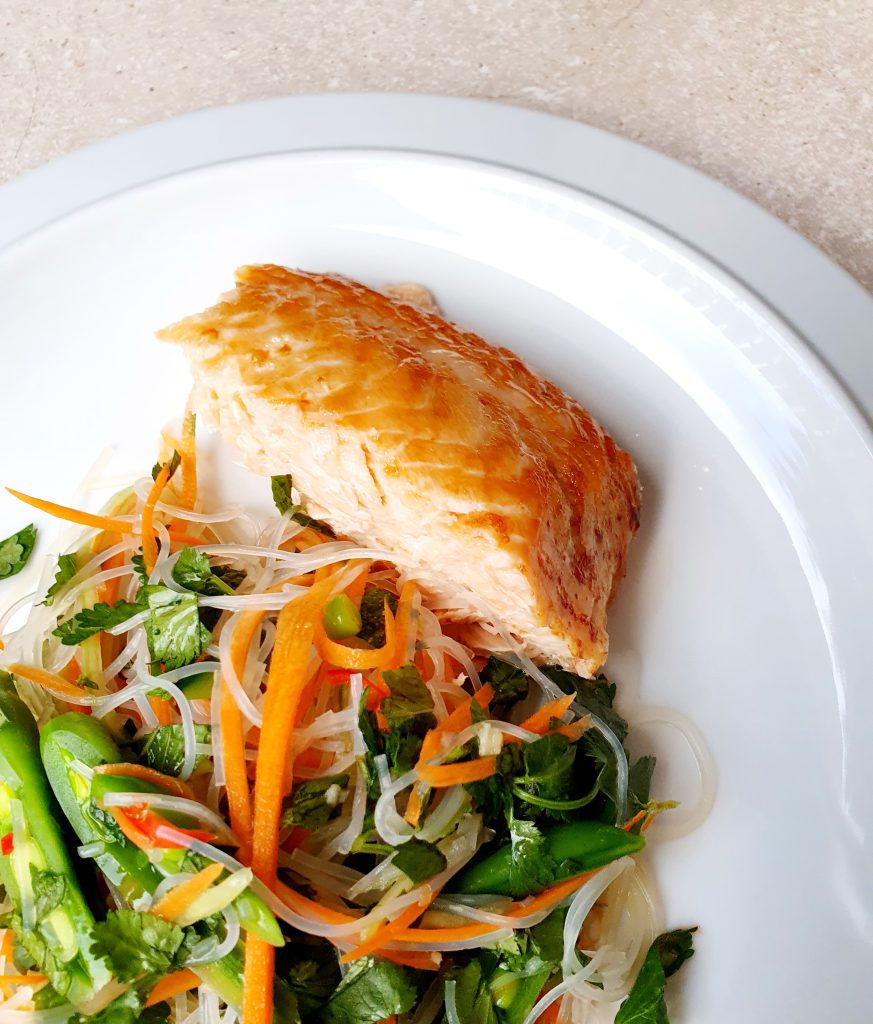 The book:
Noodle by Terry Durack, published by Pavilion Books, ISBN 978-1862053281. This is now out of print but used copies are available through Amazon, or you can read it via Kindle.