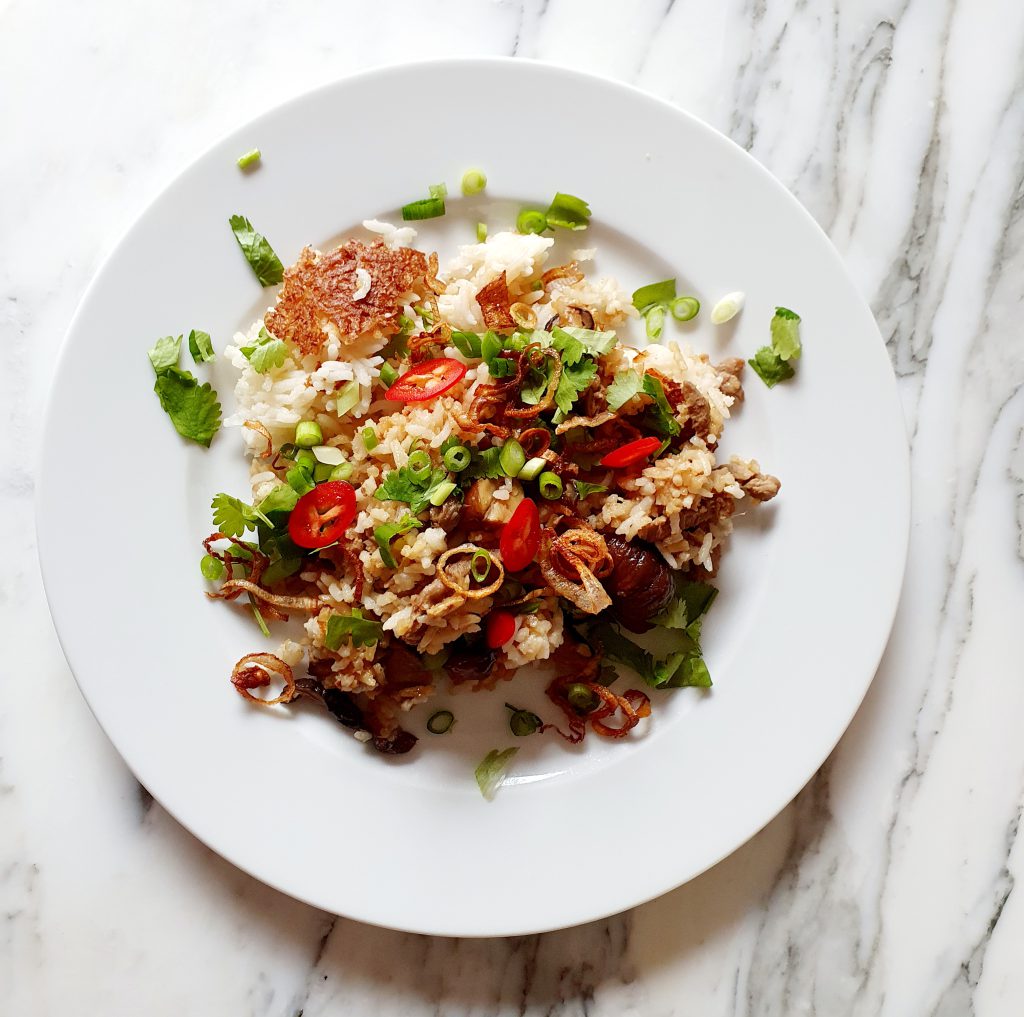 So, tell me how this works again? You made clay pot chicken rice without a clay pot and without chicken? This was Mr Gochugaru's comment as I plated up our lunch.
I have been spending every Thursday morning, for the past seven weeks, studying the Bible and giving a cooking class to Tennis Neighbour. Tennis Neighbour is the person I bump into most often on my way to and from Gail's in Belsize Park, as the tennis club is nearby. She gets slimmer as I get podgier.
Today I attempted Clay Pot Chicken Rice as requested. I am nervous about cooking in a clay pot in case it cracks upon any mishandling on my part, so I used a Le Creuset casserole instead. The plus side was that I could cook a larger portion which covered two meals.
I thought it would be good to use pork this time because I have been eating a lot of chicken recently. A mixture of dried and fresh mushrooms, along with cooked chestnuts, provided a balance to the meat.
The dish was very tasty. The whole point of cooking in a clay pot is to create a crust at the bottom of the pot, which is achievable in the Le Creuset casserole. If you are busy, a simpler method would be to steam the rice in a rice cooker. With modern non-stick surfaces, you would not achieve a crust but then you would not have to stand watch over the stove either.
If you a fan of rice crust, then this article is definitely for you.
The garnishes of deep fried shallots, red chilli, fresh coriander and spring onion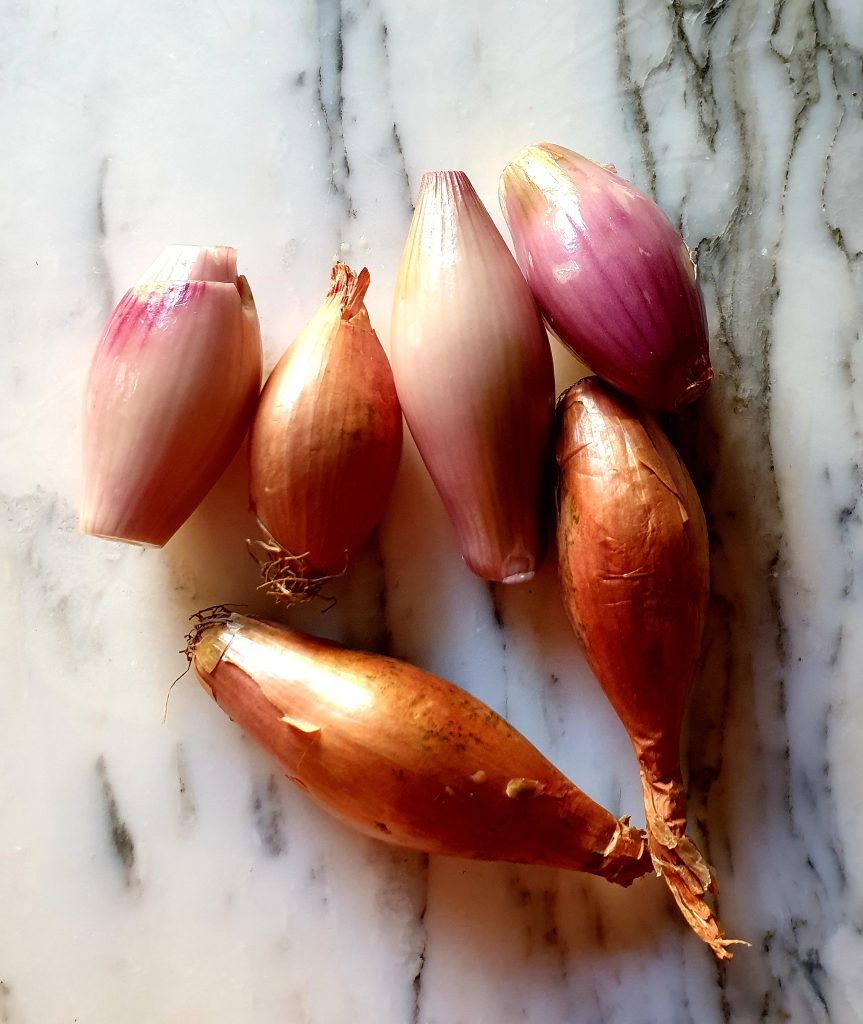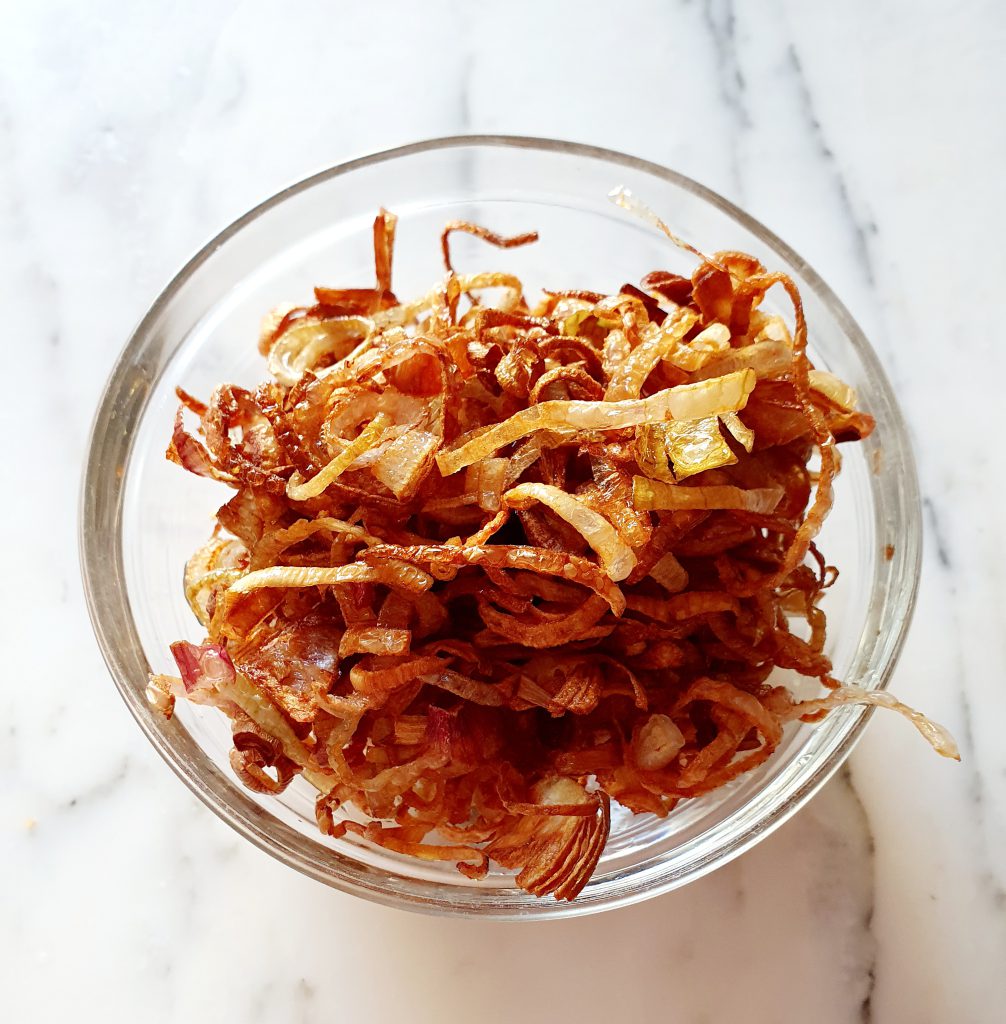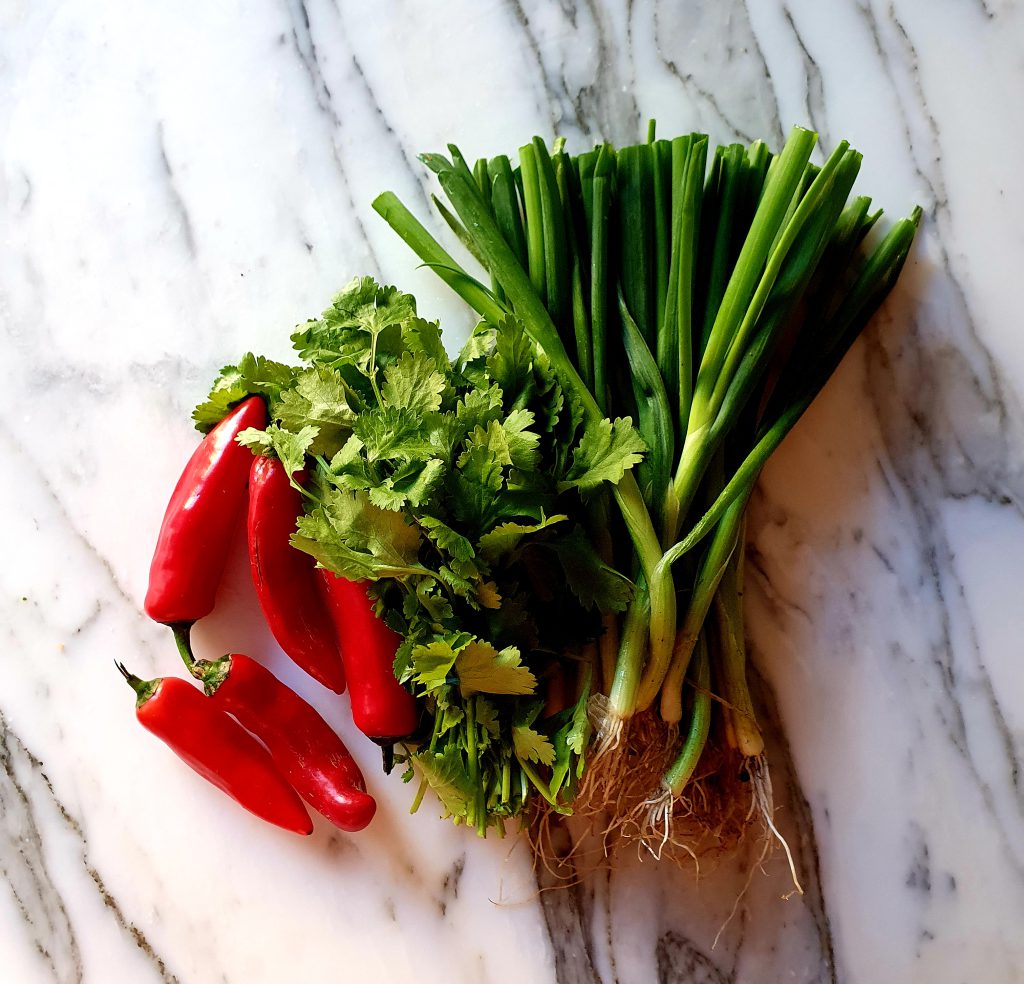 For the Rice (serves 6 – 8):
500 g pork tenderloin or boneless chicken, thinly sliced
500 g long-grain rice, washed until the water runs clear
1.5 litres chicken stock or water
Couple of shallots, thinly sliced and deep-fried in oil until crisp, retaining the shallot oil
7 dried shiitake mushrooms, rehydrated and sliced thinly
300 g fresh mushrooms, thinly sliced (I used king oyster, oyster and shiitake)
200 g cooked chestnuts, cut into halves
1 tablespoon finely grated ginger
4-5 cloves of garlic, finely minced
Fresh coriander, spring onion, red chilli for garnishing
Marinade:
2 tablespoons oyster sauce
2 tablespoons shaoxing rice wine
2 tablespoons light soya sauce
1 tablespoon dark soya sauce
1 tablespoon sesame oil
1 teaspoon unrefined caster sugar
½ teaspoon ground white pepper
How to Make:
Prepare the marinade in a large bowl, add in the sliced pork or chicken, and leave aside.
Whilst the meat is marinading, attend to the other tasks: wash the rice, slice the mushrooms, prepare the garnishes and fry the shallots in oil until crisp.
Heat 2 tablespoons of the shallot oil in a large casserole pot and add in the ginger and garlic. Stir a few times then add in the meat, mushrooms and chestnuts. Fry until cooked and then remove from the pot.
Without cleaning the pot, heat 3 tablespoons of shallot oil and tip in the rice. Stir around a few times then add in the stock or water. Bring to a boil then reduce the heat to a simmer. Cover the pot with a lid and steam for 20 minutes.
At the end of this time, place the cooked meat mixture on top of the mostly-cooked rice. Replace the lid, raise the heat a little and leave to cook for another 10 minutes. This will create a crust at the bottom of the pot.
To serve, add the garnishes of deep-fried shallots, red chilli, spring onion and coriander and bring the whole pot to the table. This is not a fussy dish. I think some broccoli served on the side would be good.
A mixture of dried and fresh mushrooms, along with cooked chestnuts, provide a balance to the meat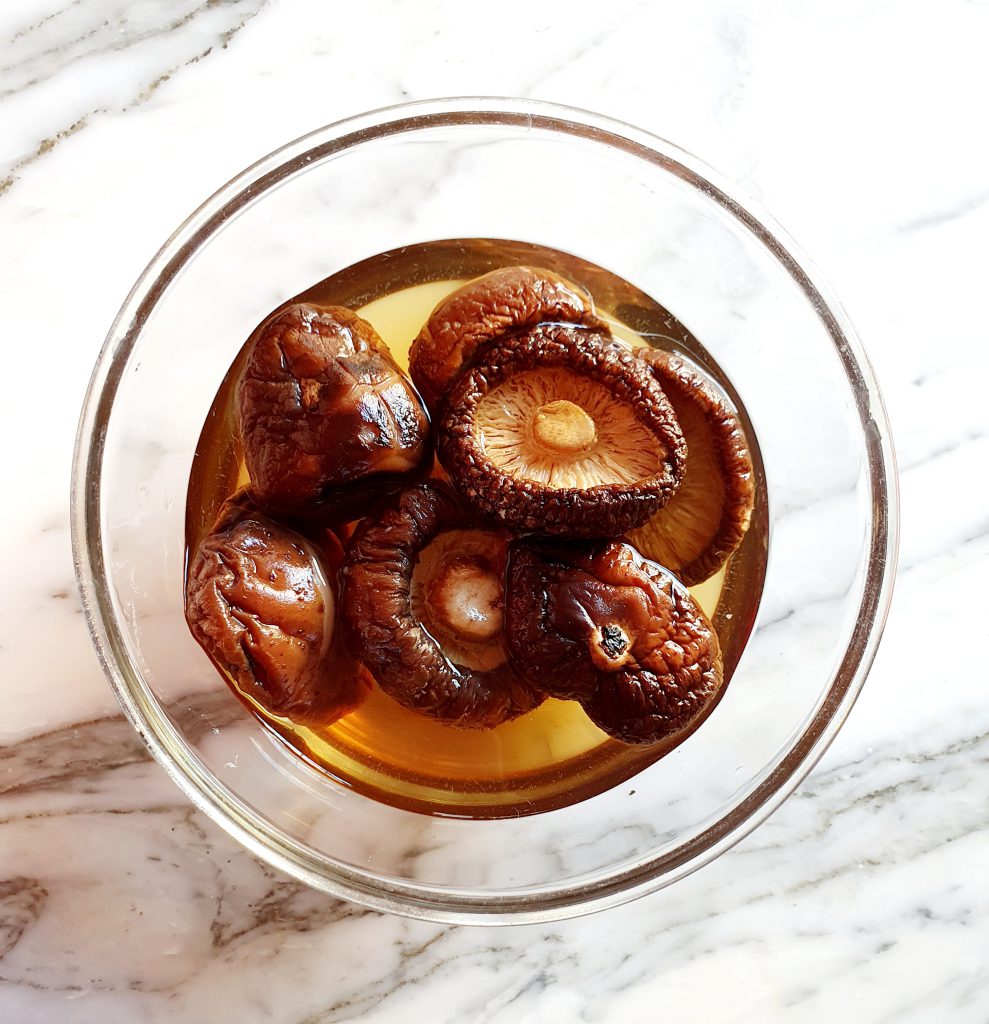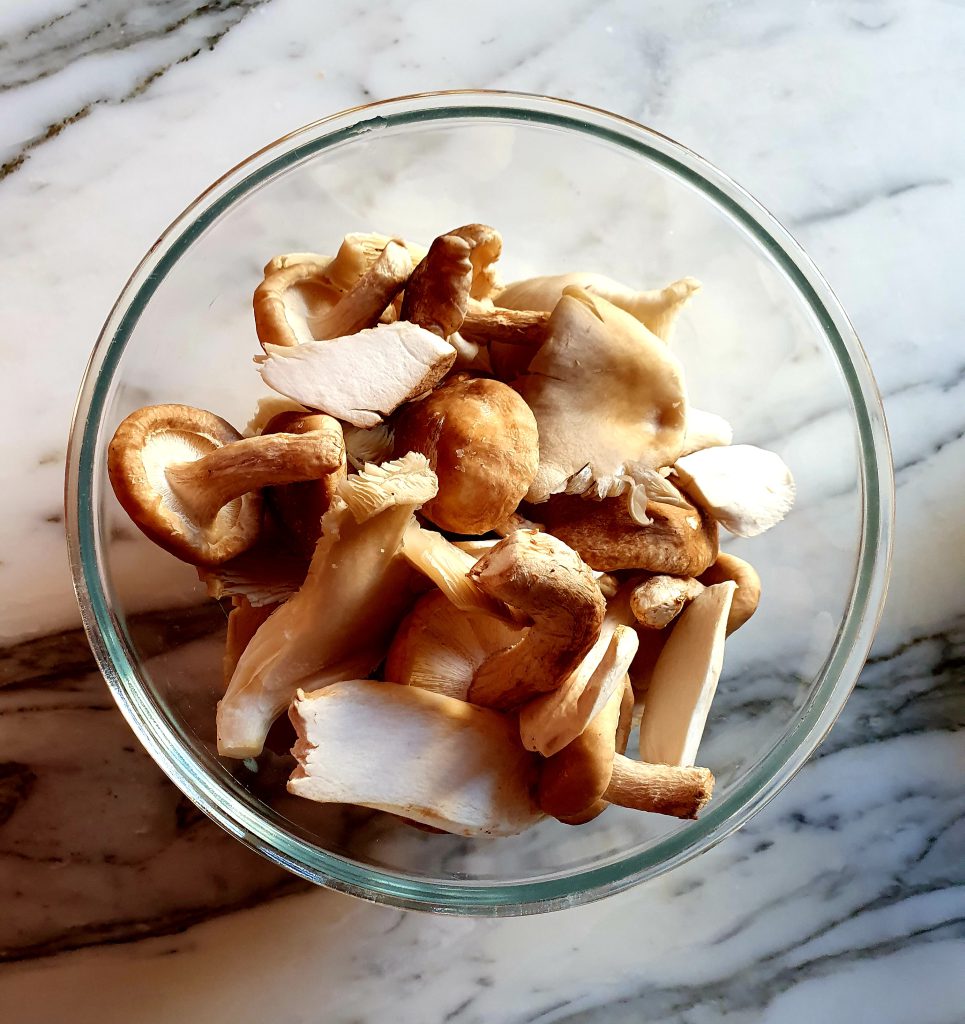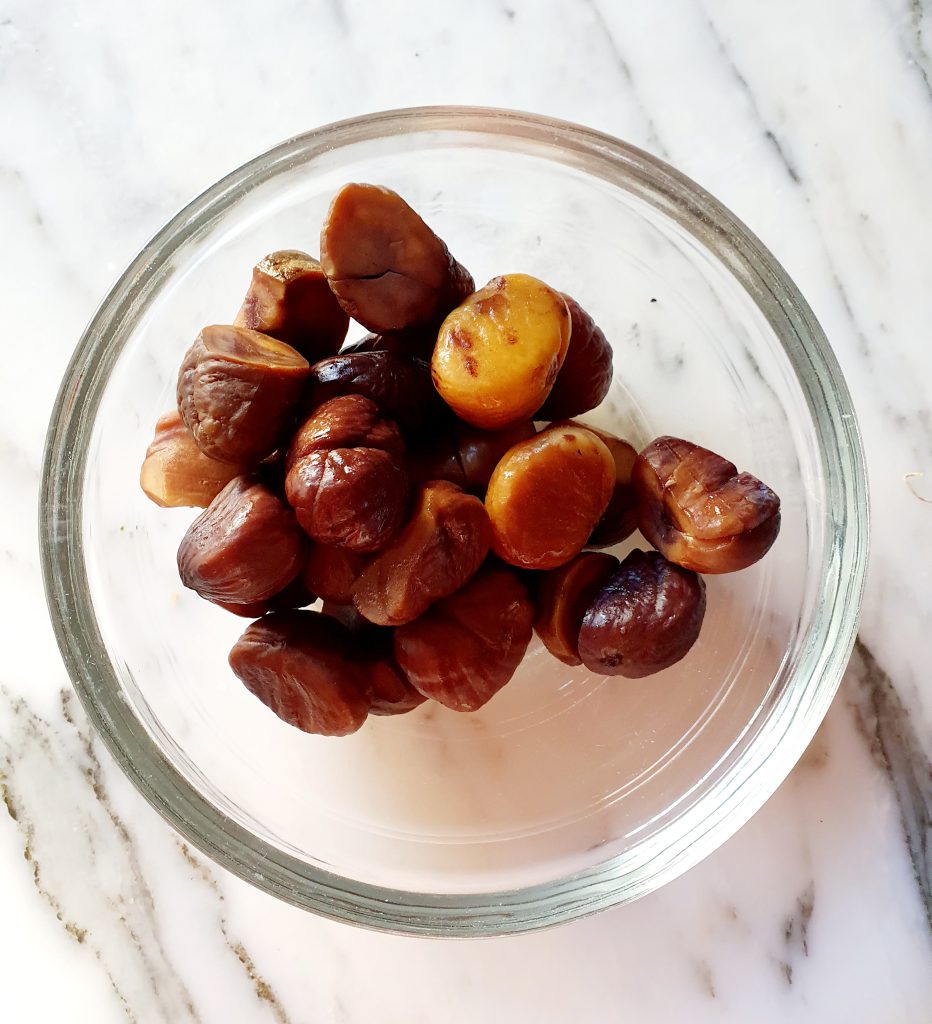 I have been using a marble table top for these photos, pending the arrival of my new Caesarstone worktop. My mother insisted on Italian marble when she installed her dining table and it caused me quite a lot of grief at the time, but now I see its value in being a very suitable background!