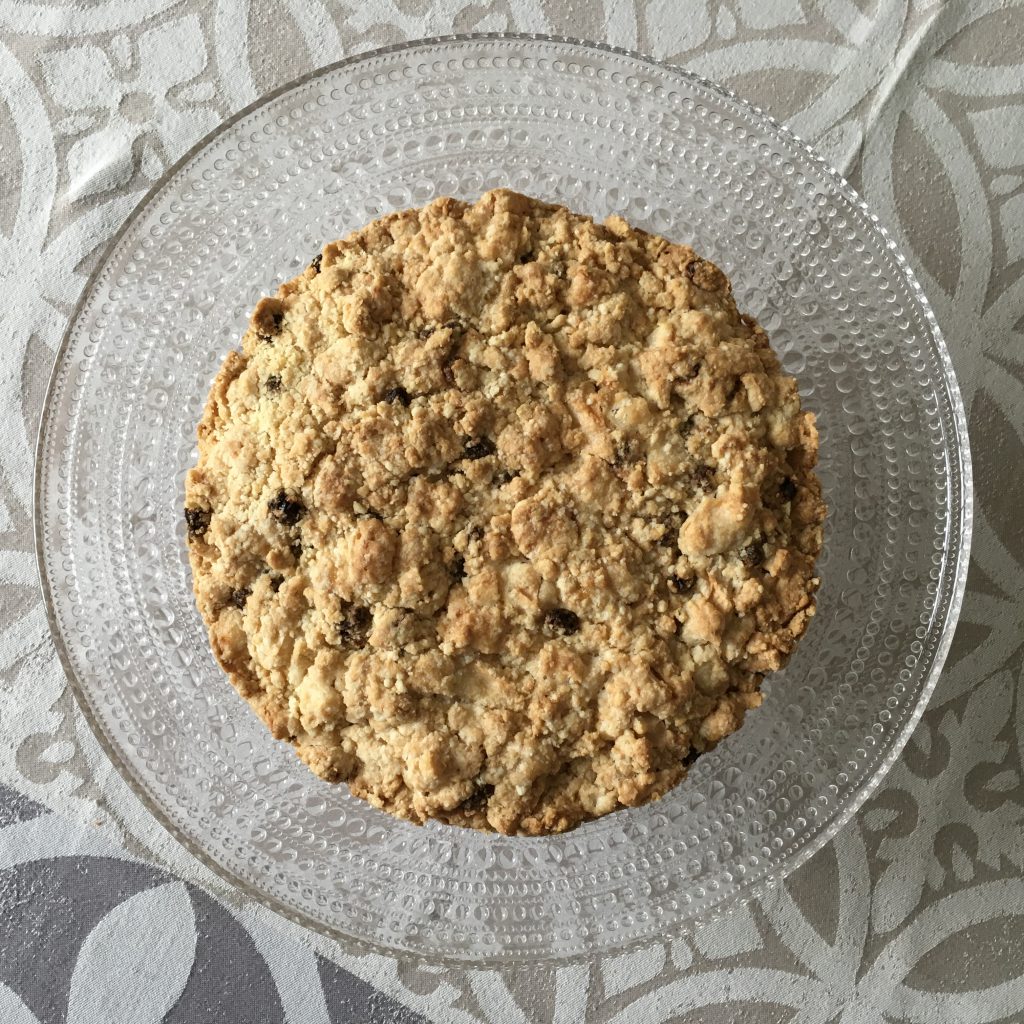 It is a refreshingly grey day but we are happy because the weather this last week has been oppressively hot and humid. Opening the windows this morning all I could say was this is just like Cameron Highlands weather. No wonder the early British colonialists to Malaya had to build hill stations as a respite from the city heat.
I am trying to write up old recipes stored for far too long in a notebook bursting at its seams. On Wednesday I visited the Swiss Cottage farmers' market and picked up some new season Discovery Apples from Perry Court Farm.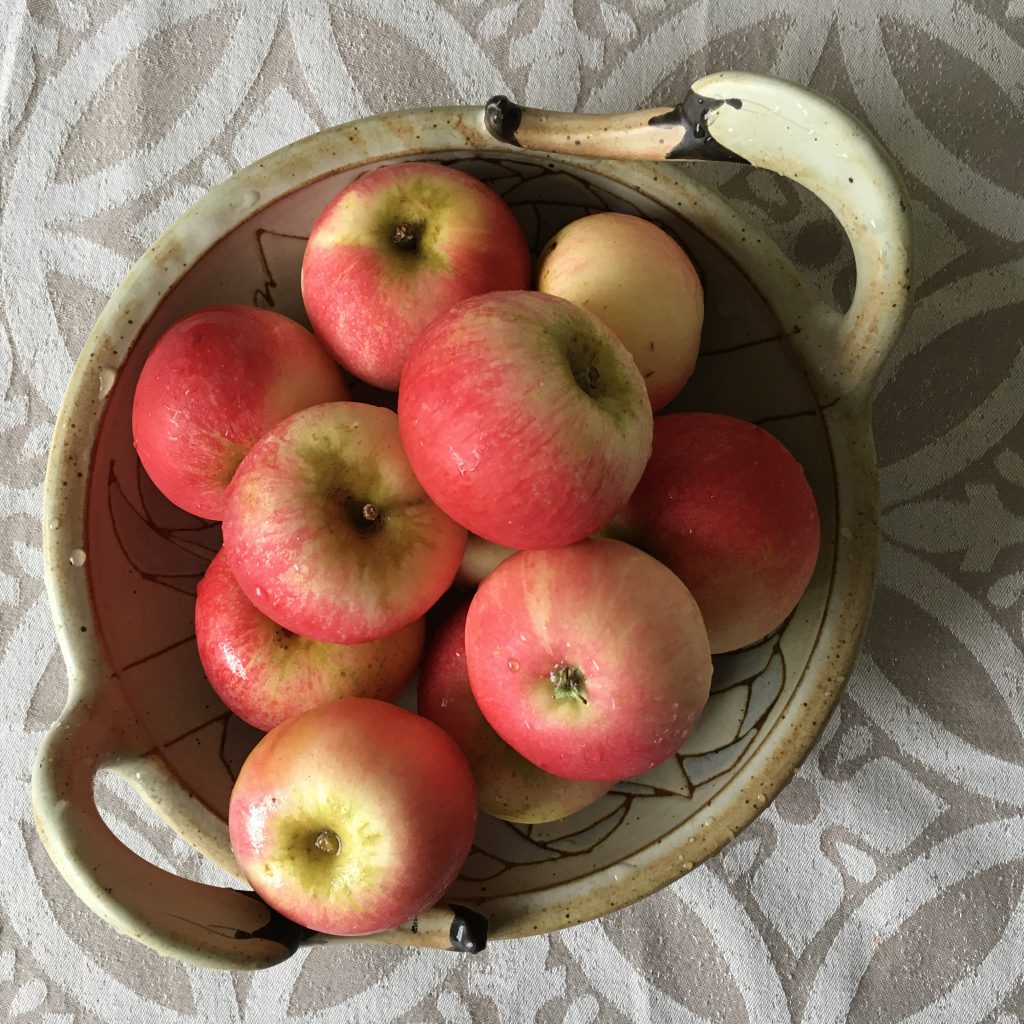 This recipe, from Taste magazine, was a favourite because it can be made very quickly. All you need are some weighing scales, a large mixing bowl and your hands. According to the article in the old days you did not even need an oven, as you cooked the cake on a griddle, a kind of  flat surface heated over a fire.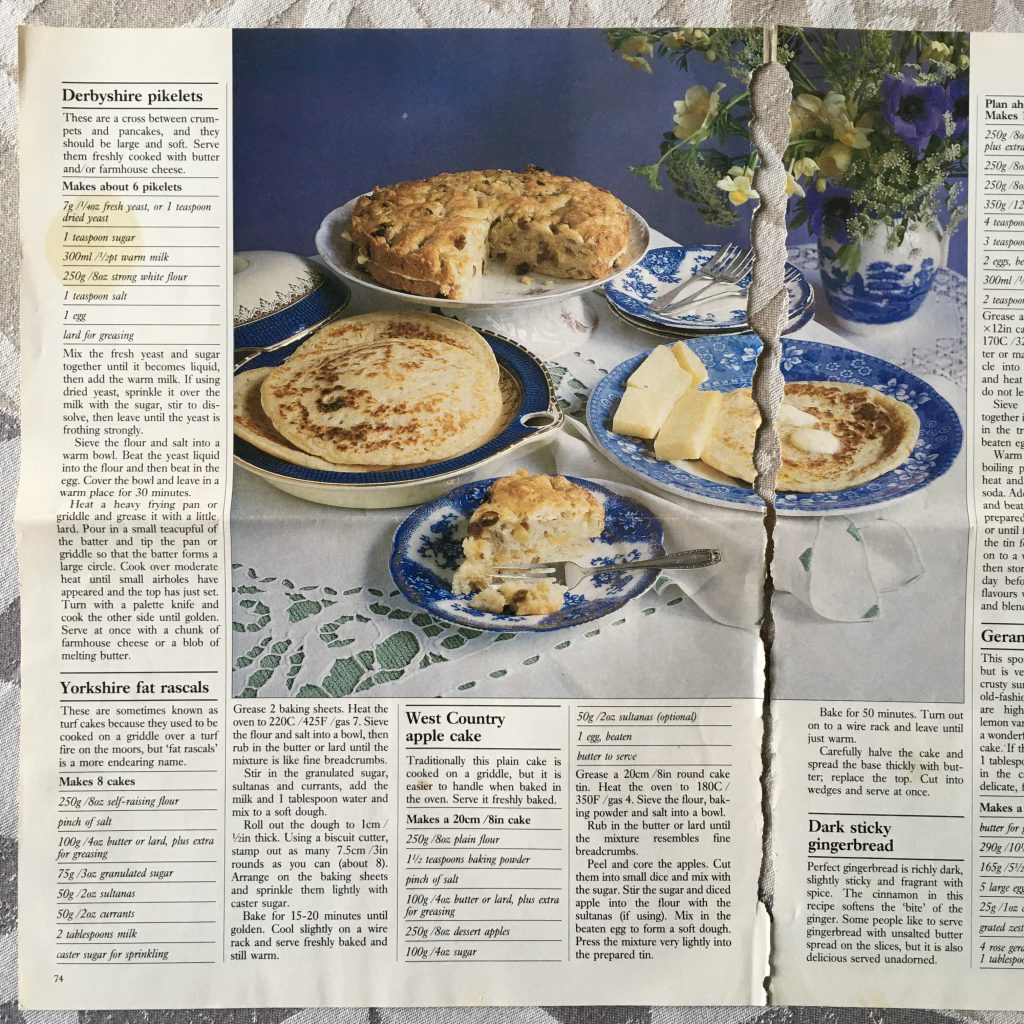 I have re-written the recipe using metric measurements only, but I did start out my baking life using pounds and ounces. Mr Gochugaru and I had not eaten this cake for a very long time and when we had it for tea, we realised just how good it is.
After our second slice of cake we allowed our imaginations to run wild. By way of additions, any of the following would be good: 1 teaspoon of ground cinnamon, 1 teaspoon freshly grated ginger, 1 teaspoon vanilla bean paste (use one only). A sprinkling of 1 tablespoon of granulated or demerara sugar would make the topping even crunchier.
Then we went all out and substituted pear for the apple and dark chocolate chips for the sultanas. You could also make a pear and marzipan variation, and an apple and cranberry version for Christmas.
Mr Gochugaru and I love the Fat Rascals from Betty's in Yorkshire and he said that this cake was not unlike a Fat Rascal in taste if the apples were omitted. I had to tell him then that the same article also gave a recipe for this rock cake-scone hybrid. That will be next week's project.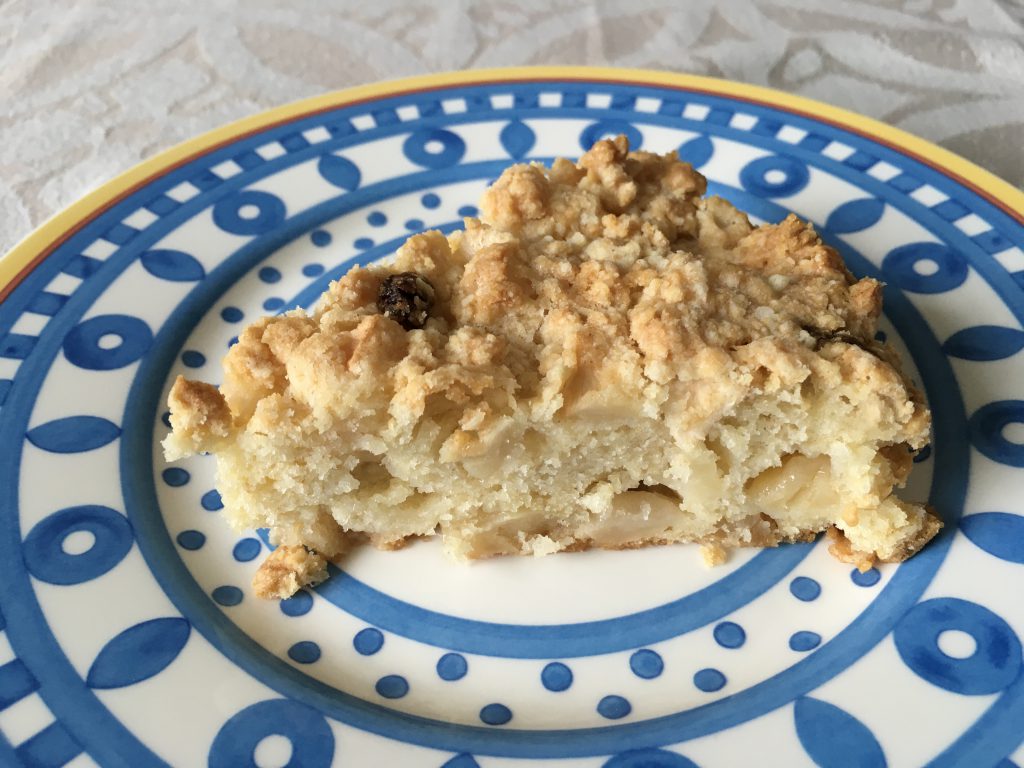 For the Cake:
250 g plain flour
1½ teaspoons baking powder
Pinch of salt
100 g cold unsalted butter, cut into cubes
250 g dessert apples (200 g peeled and cored weight)
100 g unrefined caster sugar
50 g sultanas
1 large egg, beaten
For serving: custard, clotted cream, creme fraiche or vanilla ice cream
You will also need an 8 inch / 20 cm round loose-bottom baking tin, sides greased with butter and bottom lined with baking parchment.
How to Make:
Preheat the oven to 180°C/ 350°F.
Sift the flour, baking powder and salt into a large mixing bowl.
Add the butter and using your fingertips, lightly rub the butter into the flour. You are aiming to bind the flour and butter together until they resemble fresh breadcrumbs. Leave this aside.
Peel and core the apples. Quarter each apple and then cut into cubes. Add the apple to the sugar.
Stir the apples, sugar and sultanas into the flour mixture.
Stir in the egg to form a soft dough.
Tip the mixture into the prepared baking tin and lightly press down to even out the top.
Bake in the preheated oven for 50 minutes.
Cool the cake in the tin for 10 minutes before turning it out onto a large plate. For a real West Country experience, serve with clotted cream.
Stages in making the cake
Rub the butter into the flour until resembles fresh breadcrumbs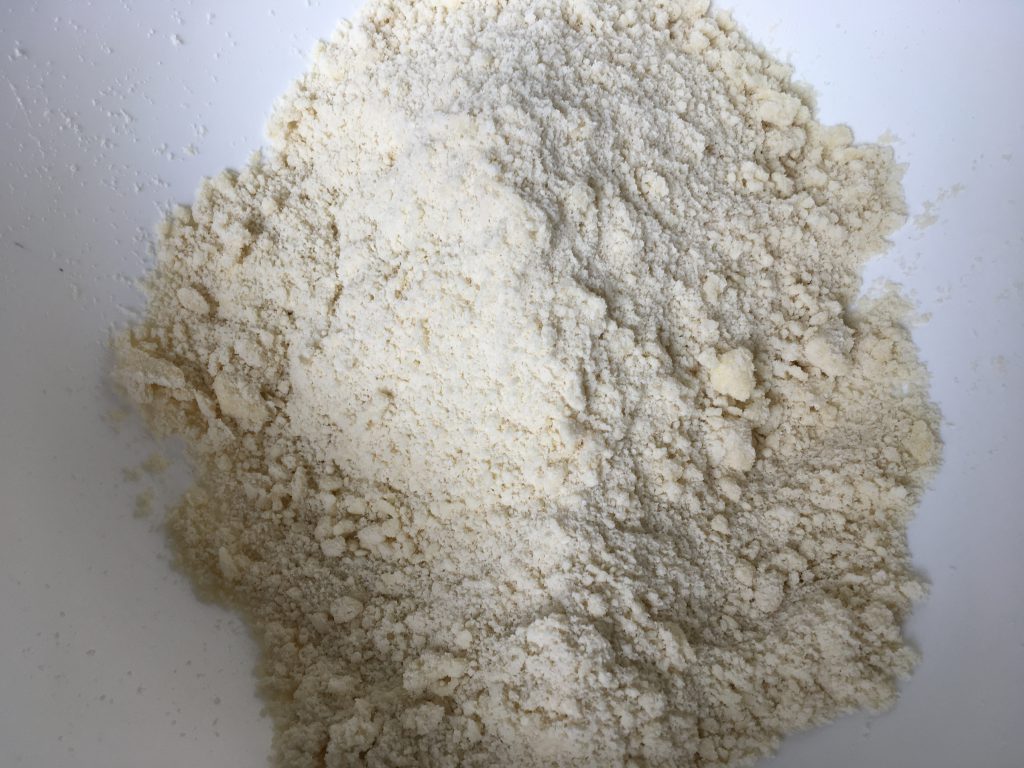 Add the chopped apples to the sugar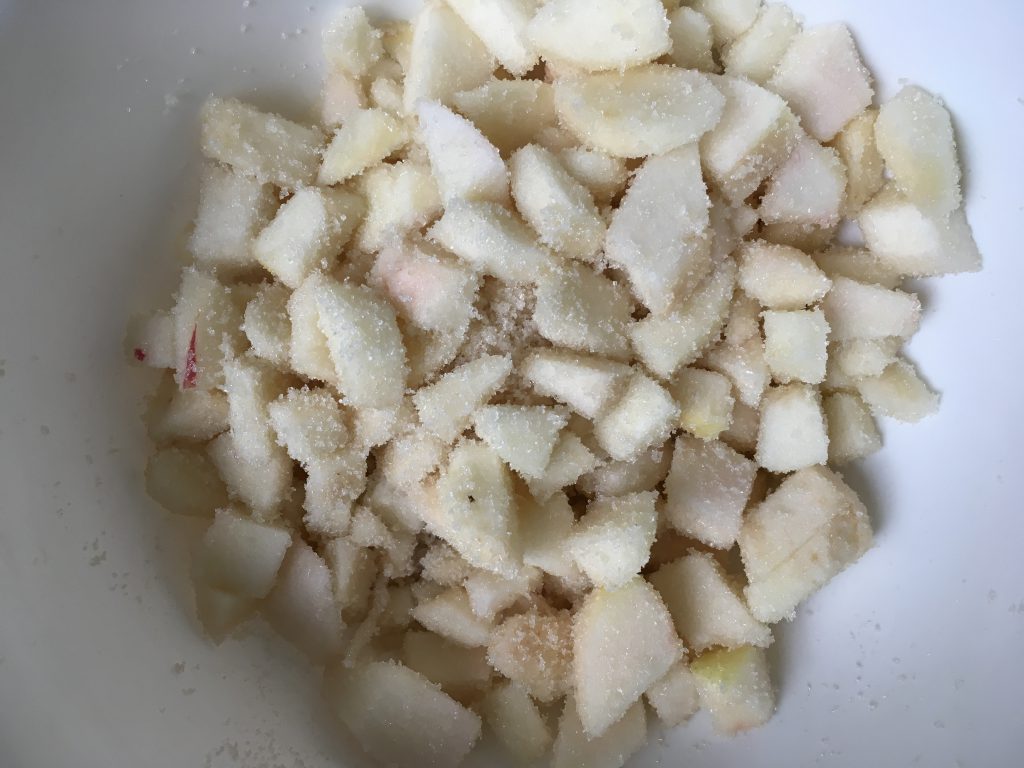 Combine the flour, apples, sugar and sultanas before adding the egg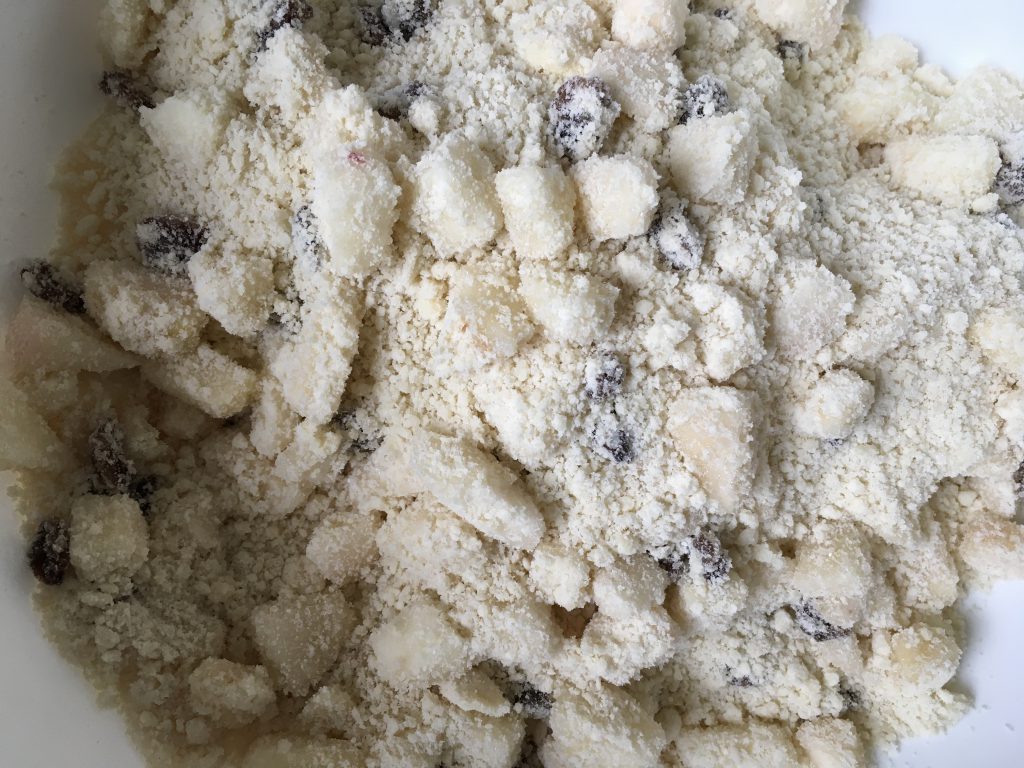 Pressing the cake dough into the baking tin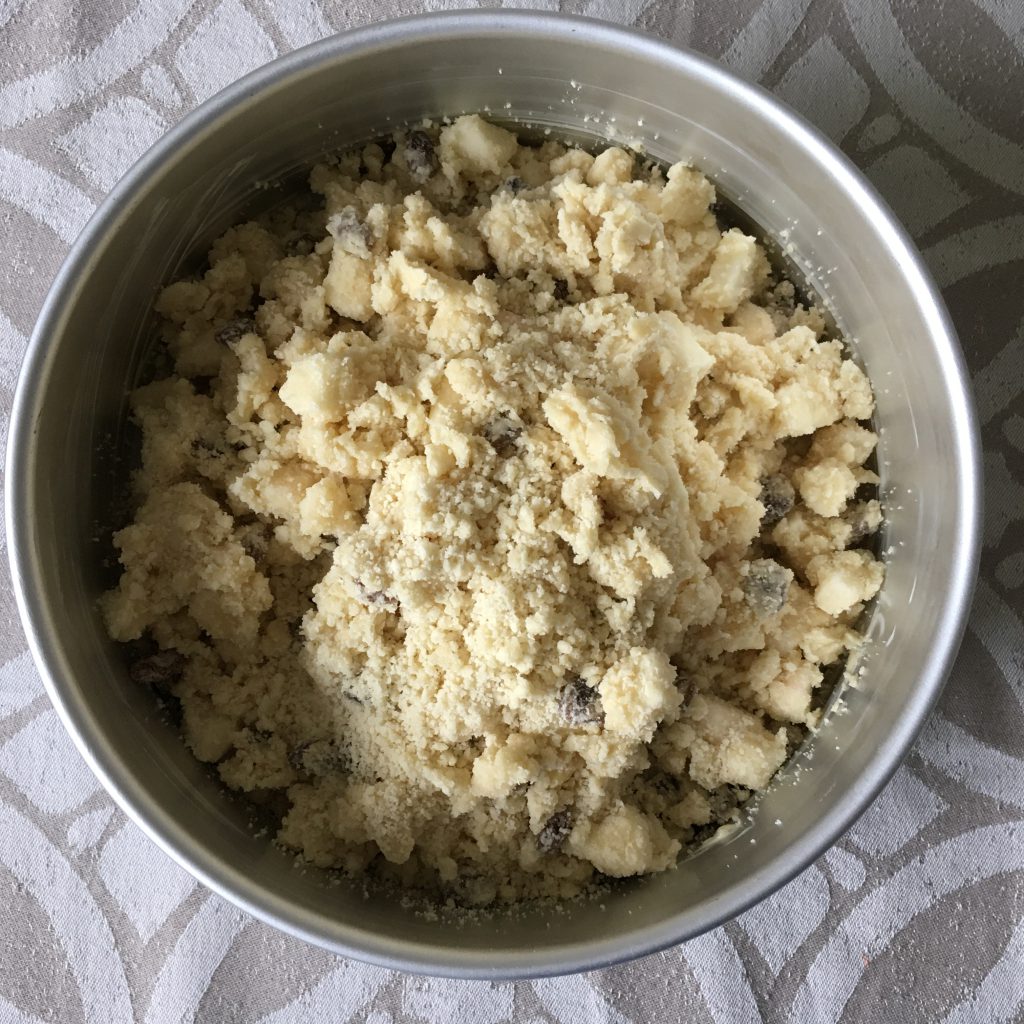 60 minutes later…Bon Appetit!