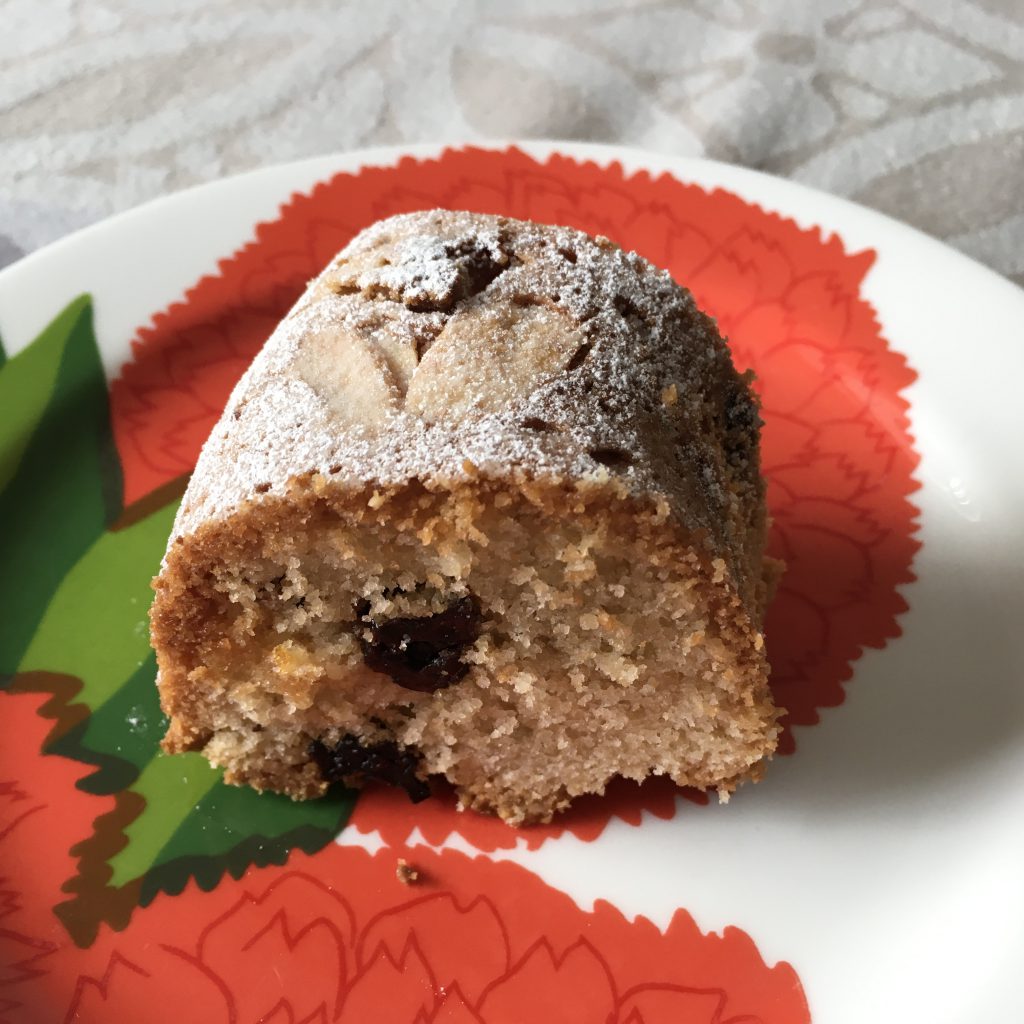 One of the questions I keep asking myself these past weeks is: should I go to Costco? 
Since the lockdown began in March Mr Gochugaru and I have been wary of heading to places where there is either a queue or where large families go shopping together. Costco fits this bill on both accounts.
But Costco being North American, this is where I buy my pecan nuts, maple syrup and tart Montmorency cherries. I am at the tail end of using up the maple syrup and cherries. The pecans were finished some time ago.
Thinking of a cake to make for this afternoon's tea I remembered that a) I had some marzipan to use up and b) Christmas is not so far away. So this is a trial cake for when (not if) we are stuck indoors this Winter because of the expected rise in the Covid-19 infection rate.
I don't mean to be pessimistic, but this mindset of preparation is how several East Asian countries manage to keep their infection rates low and members of the public safe.
Last week I popped into Borough Kitchen and came out with a novel tin which I used for this cake. This 9 inch savarin/ garland/ ring mould is made by Silverwood and is not unlike a bundt tin. However being English it is really plain in design, unlike the intricately patterned bundt tins made by Nordic Ware.
I actually bought this tin to make a Marbled Cake…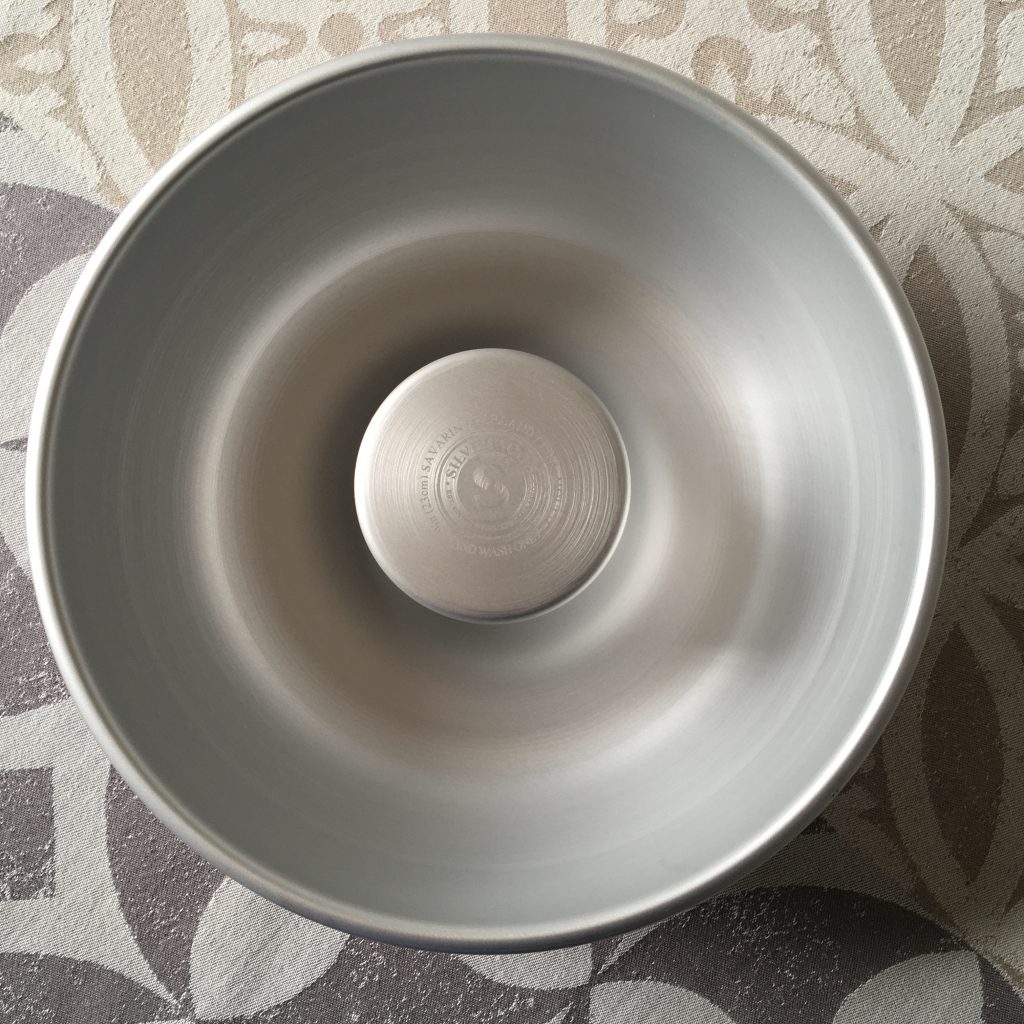 Having made the cake mix I realised that the recipe needs to be upped by 50% in order to fill the tin, so my cake turned out not as high as I had hoped. The recipe below will fill an 8 inch / 20 cm cake tin perfectly. In future I will use 50% more ingredients for this 9 inch / 23 cm ring mould. I would not recommend using a conventional bundt tin because the cherries and marzipan will stick to the sides, making it difficult to unmould.
This is a cake for those who love the taste of almonds, as it uses ground almonds, almond extract and marzipan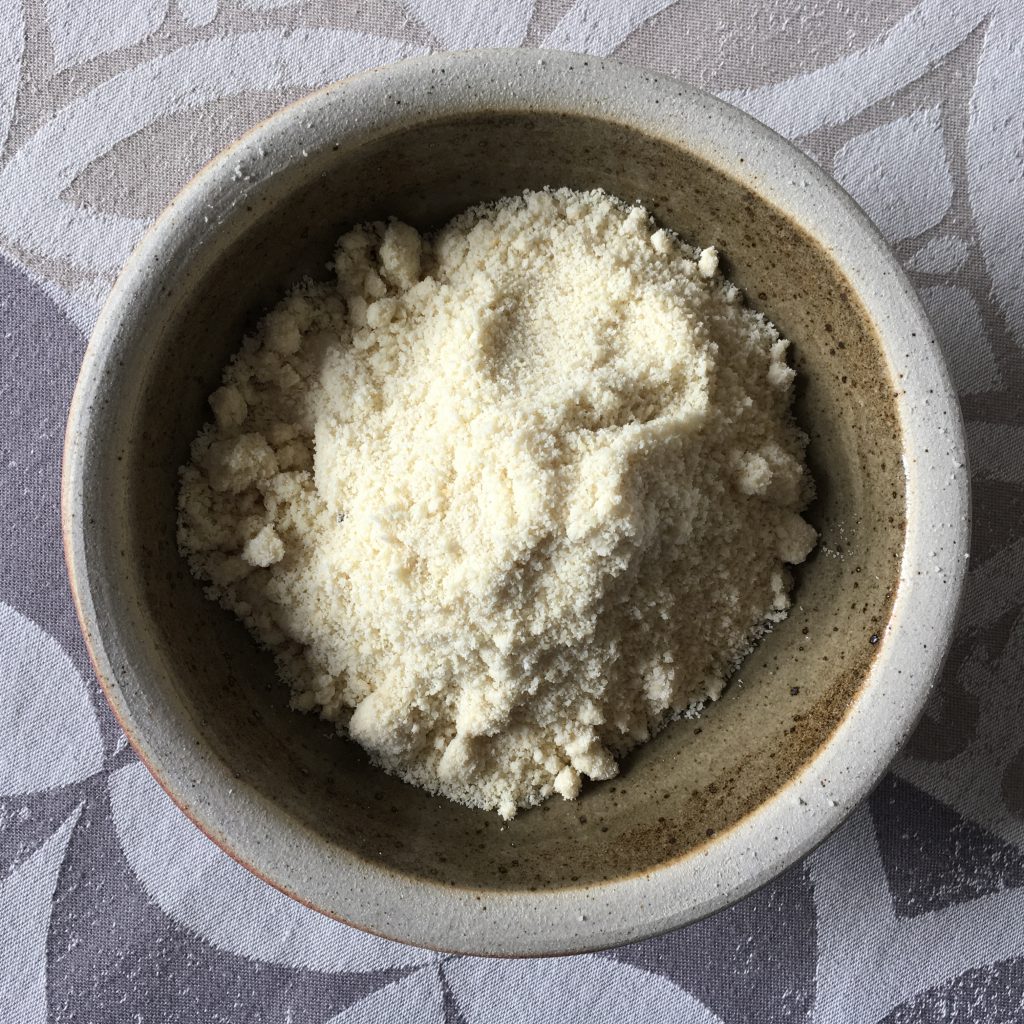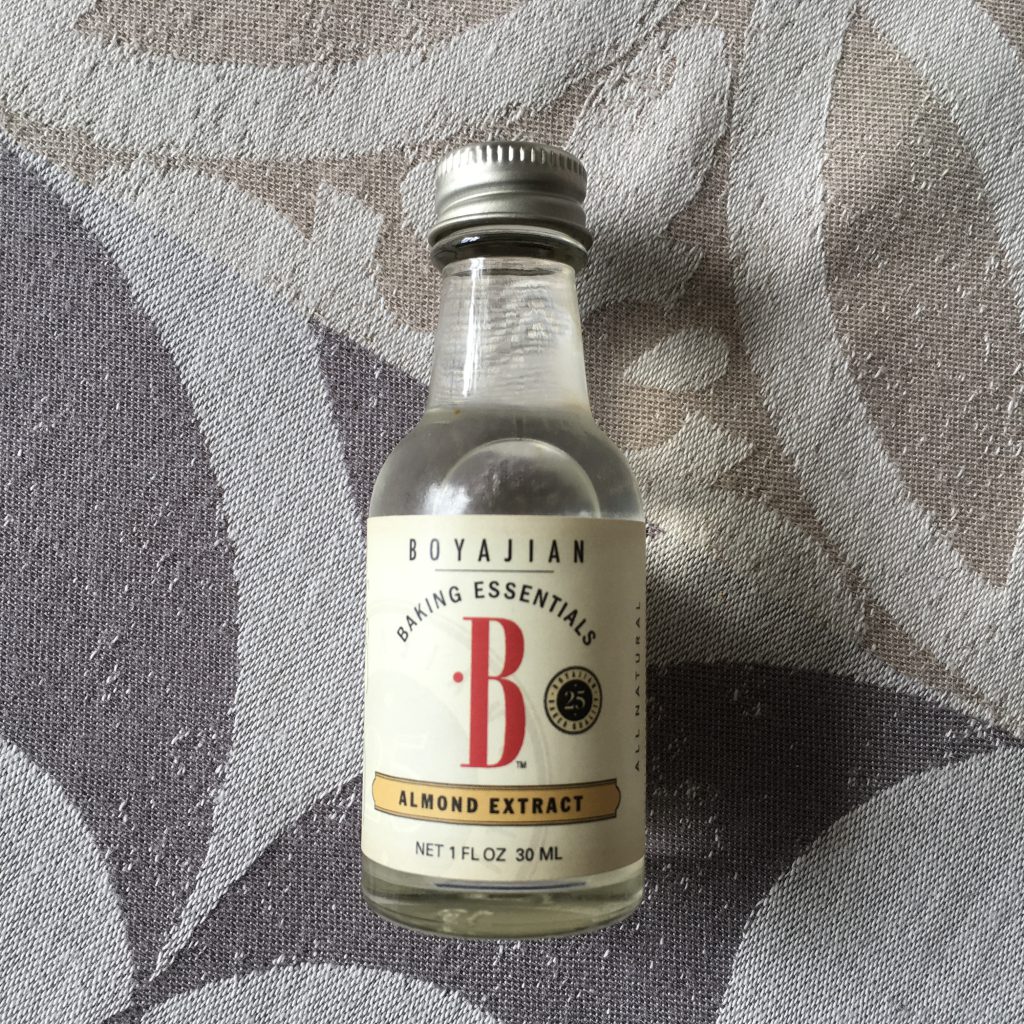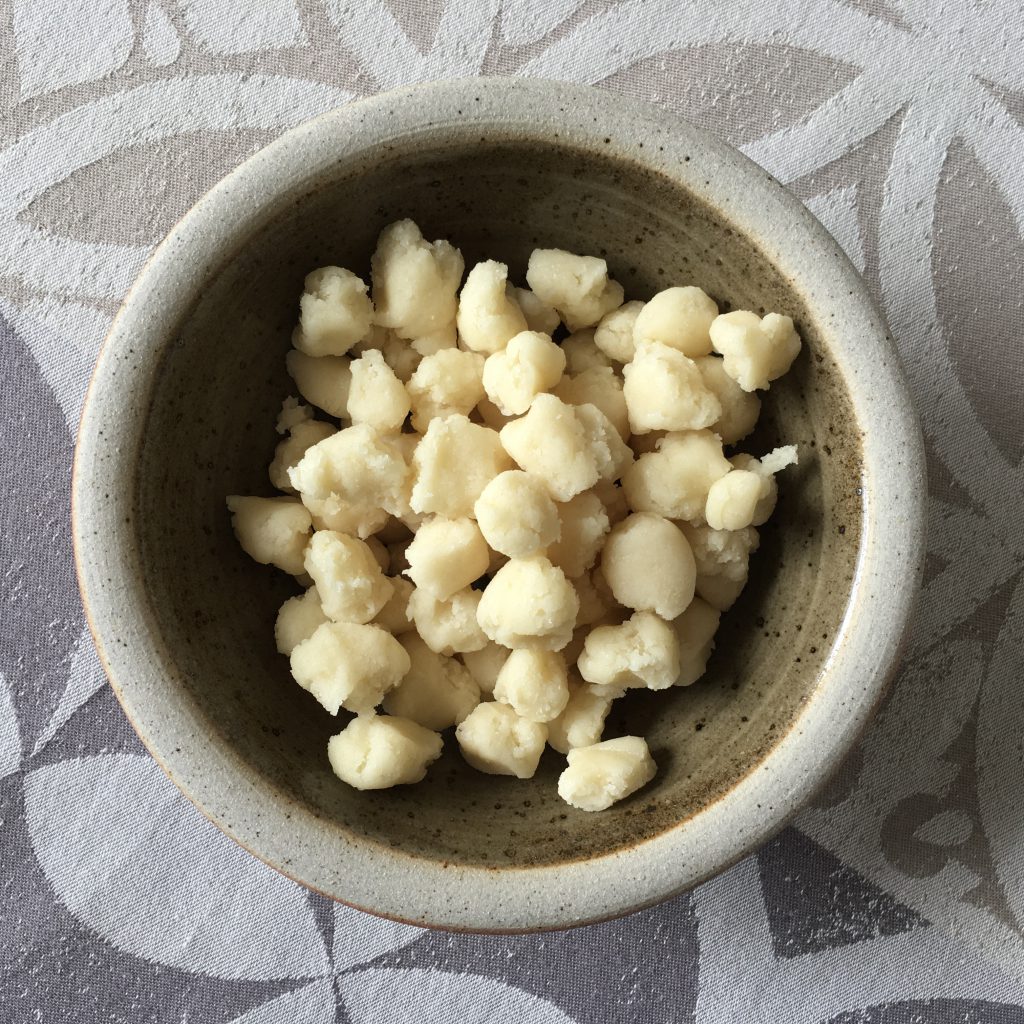 If dried sour cherries (below) are unavailable then dried cranberries would be a good substitute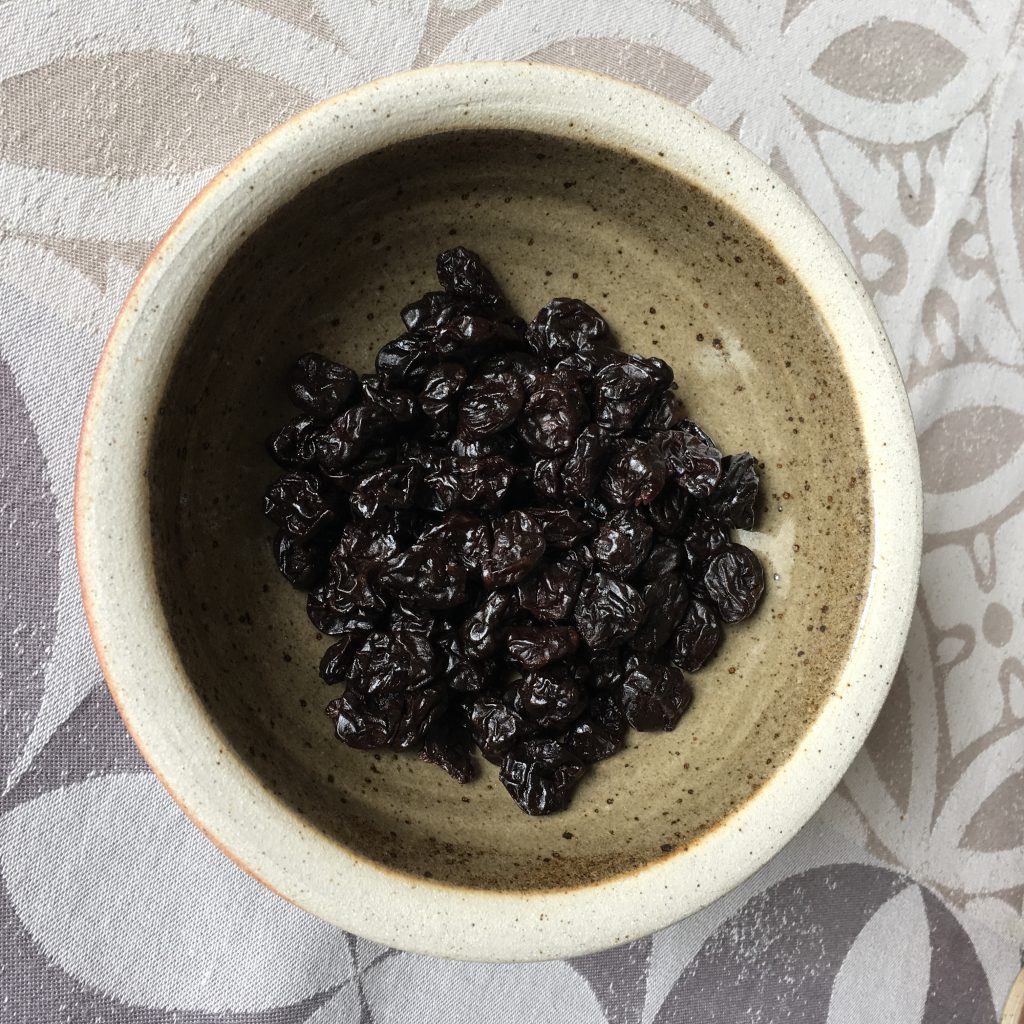 For the Cake:
(use 50% more for a 9 inch / 23 cm ring mould – recipe at the end of the post.)
125 g plain flour
125 g ground almonds
2 teaspoons baking powder
Pinch of fine sea salt
100 g unsalted butter, softened
75 g unrefined caster sugar
3 large eggs (150 g without the shell)
½ teaspoon almond extract (I use Boyajian brand)
100 g dried sour cherries OR dried cranberries
150 g marzipan, pinched and shaped into little balls the size of the cherries/ cranberries
20 g flaked almonds to line the cake tin before baking
You will also need an 8 inch / 20 cm round loose-bottom baking tin, sides greased with butter and bottom lined with baking parchment. If using a ring mould similar to mine, butter very well and dust some plain flour all over the internal surface before using. I used a KitchenAid but a hand-held electric beater will work just as well.
How to Make:
Preheat the oven to 170°C/ 325°F.
Sprinkle the flaked almonds over the bottom of the greased and floured tin.
Sift the flour, ground almonds, baking powder and salt into a large mixing bowl.
Add the butter, sugar, eggs, and almond extract. Beat together for around 20 – 30 seconds until you have a  smooth batter.
Add in the cherries and marzipan and using a spatula, give everything a good mix so the cherries and marzipan are distributed evenly.
Pour the mixture into the prepared baking tin and lightly smooth the top.
Bake in the preheated oven for 50 minutes.
Cool the cake in the tin for 10 minutes before turning it out onto a large plate. If this is Christmas, you should serve this cake with some double cream lightly whipped with a tablespoon or two of cognac added.
Before and after: how a dusting of icing sugar and a festive plate makes all the difference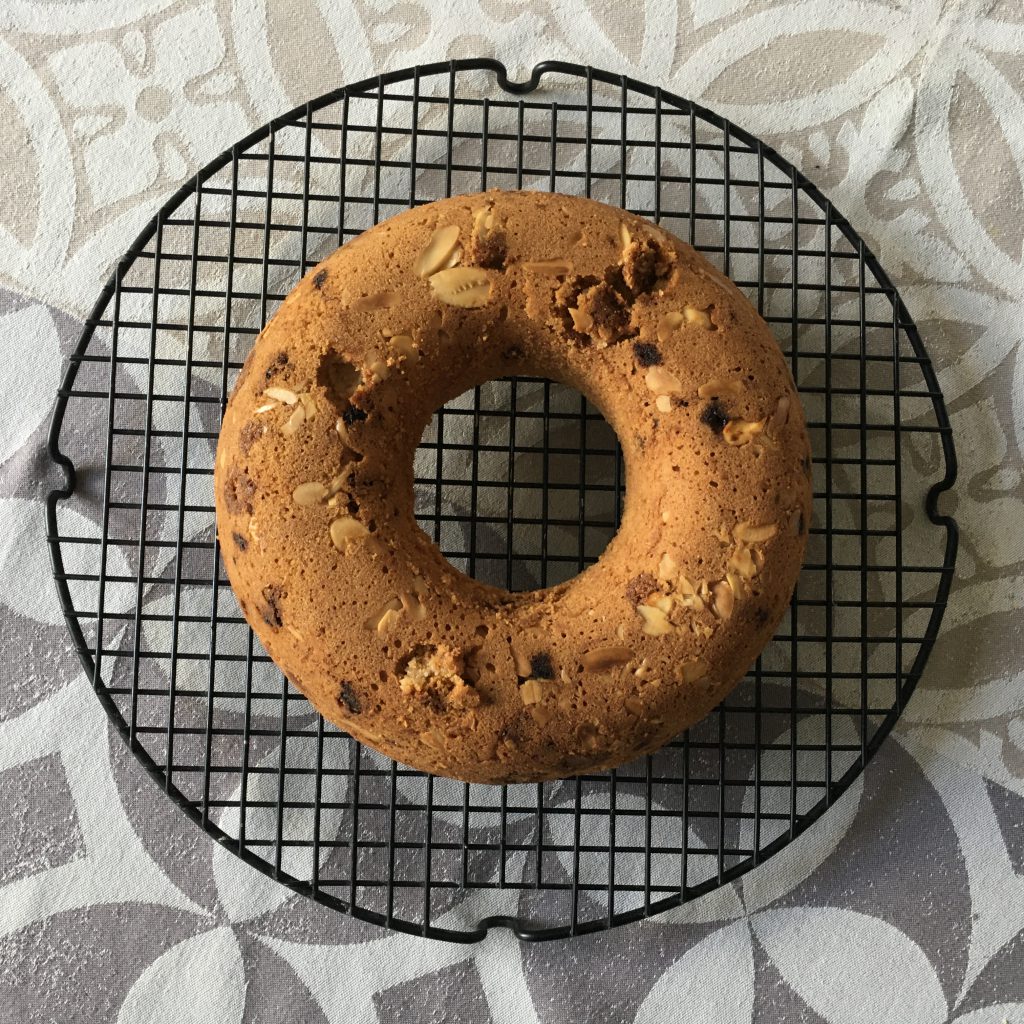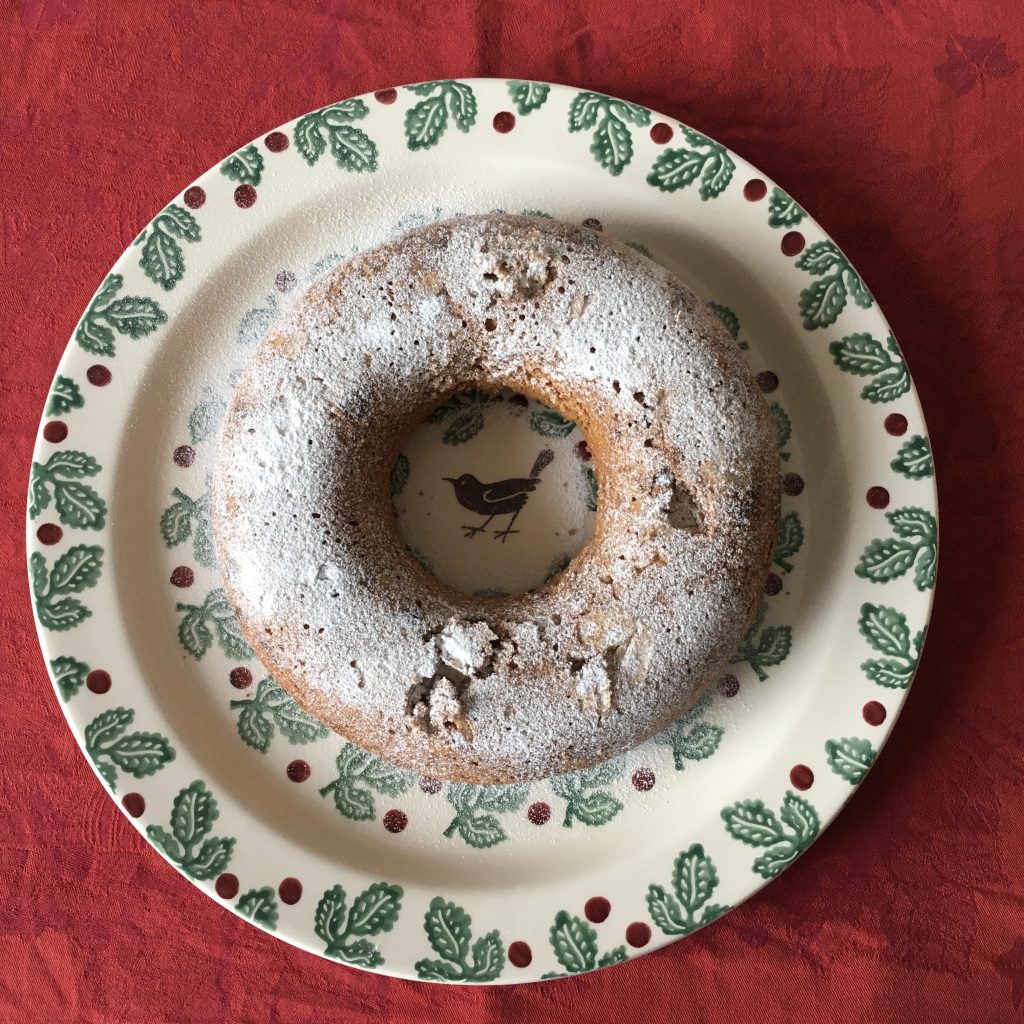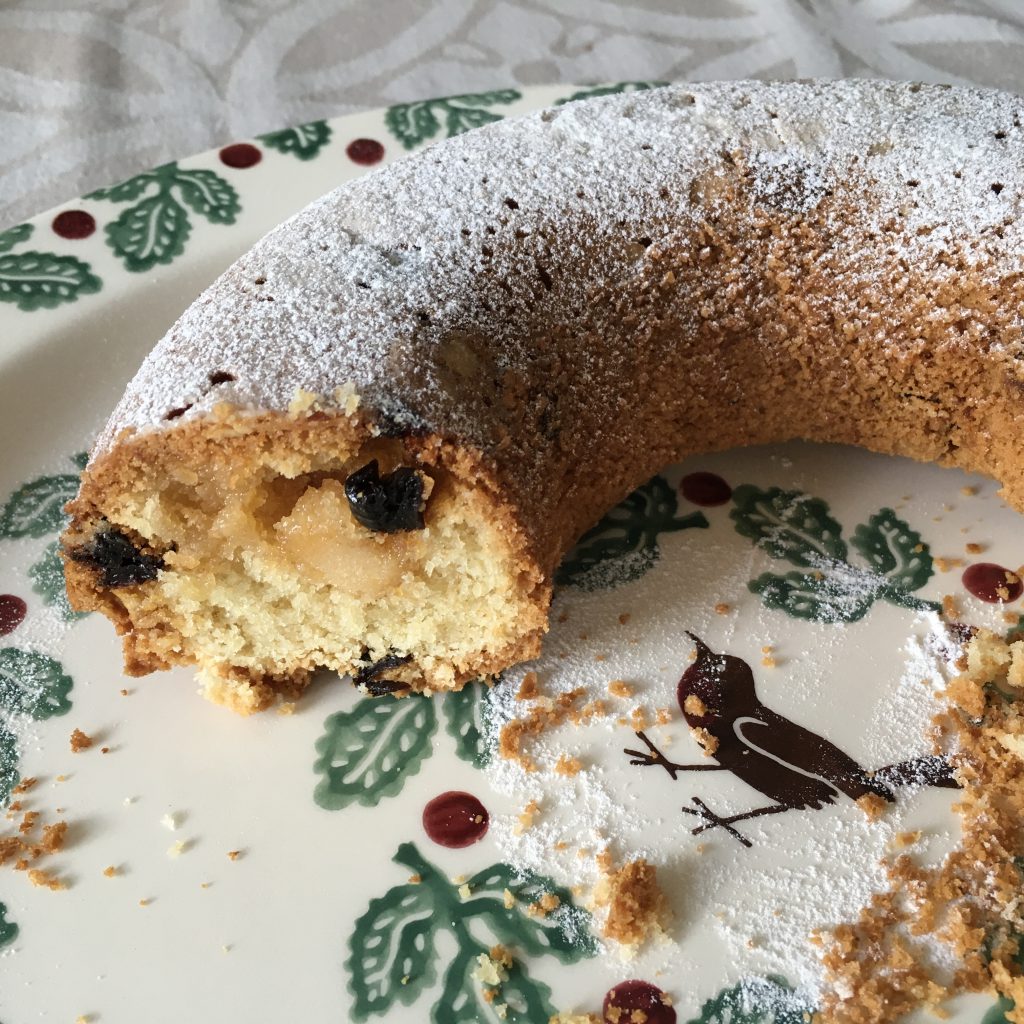 For a 9 inch / 23 cm ring mould (bake for 55 minutes):
185 g plain flour
185 g ground almonds
3 teaspoons baking powder
Pinch of fine sea salt
150 g unsalted butter, softened
115 g unrefined caster sugar
5 medium sized eggs (225 g without the shell)
¾ teaspoon almond extract (I use Boyajian brand)
150 g dried sour cherries OR dried cranberries
225 g marzipan, pinched and shaped into little balls the size of the cherries/ cranberries
30 g flaked almonds to line the cake tin before baking