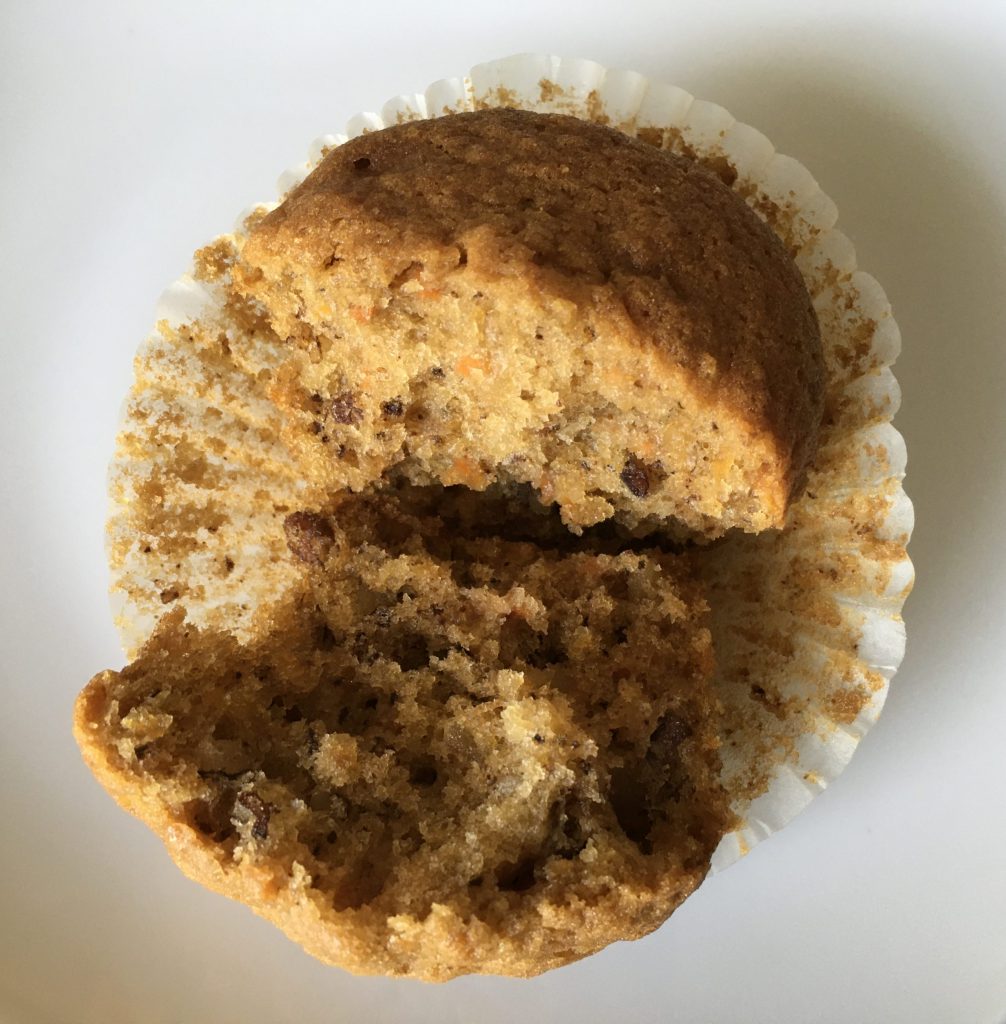 It has been an arduous four to five months. So many parts of the world are still in lockdown. Here in London things are slightly back to normal but it is not exactly business as usual. We have been doing more decluttering and had to pre-book timed slots to send the donations to our local charity shop and the recycling centre. Restaurant reservations require a credit card number as security in case of a no-show.
I have been cooking and baking but have not managed to write up the recipes. Today might be a start back to writing, as I bake some muffins for our neighbours and hairdresser.
I last visited my hairdresser five weeks ago as restrictions for hair salons were lifted. Our family was so happy because we were on the way to becoming hippies.
Sometimes at the end of the day I am too tired to even contemplate Korean drama so we turn to random cooking shows. I watched a rerun of Nigella Lawson talking about her dining table where her friends and family gather for her effortless but delicious meals.
When Ms Lawson added crystallised ginger to her carrot cake, I knew I had to make this for Mr Gochugaru. He loves crystallised ginger especially when covered with dark chocolate. I don't recall ever using crystallised ginger in my baking so I am glad to have found a new ingredient to play around with.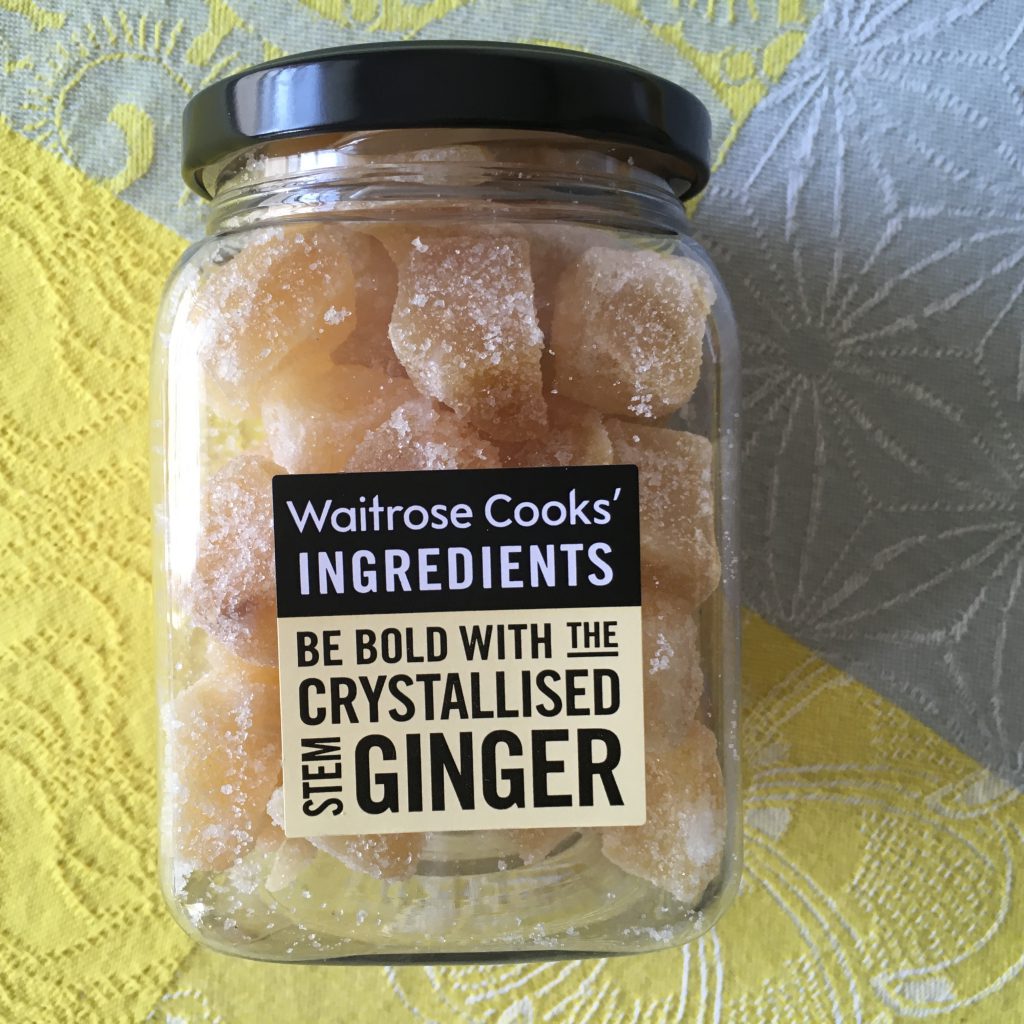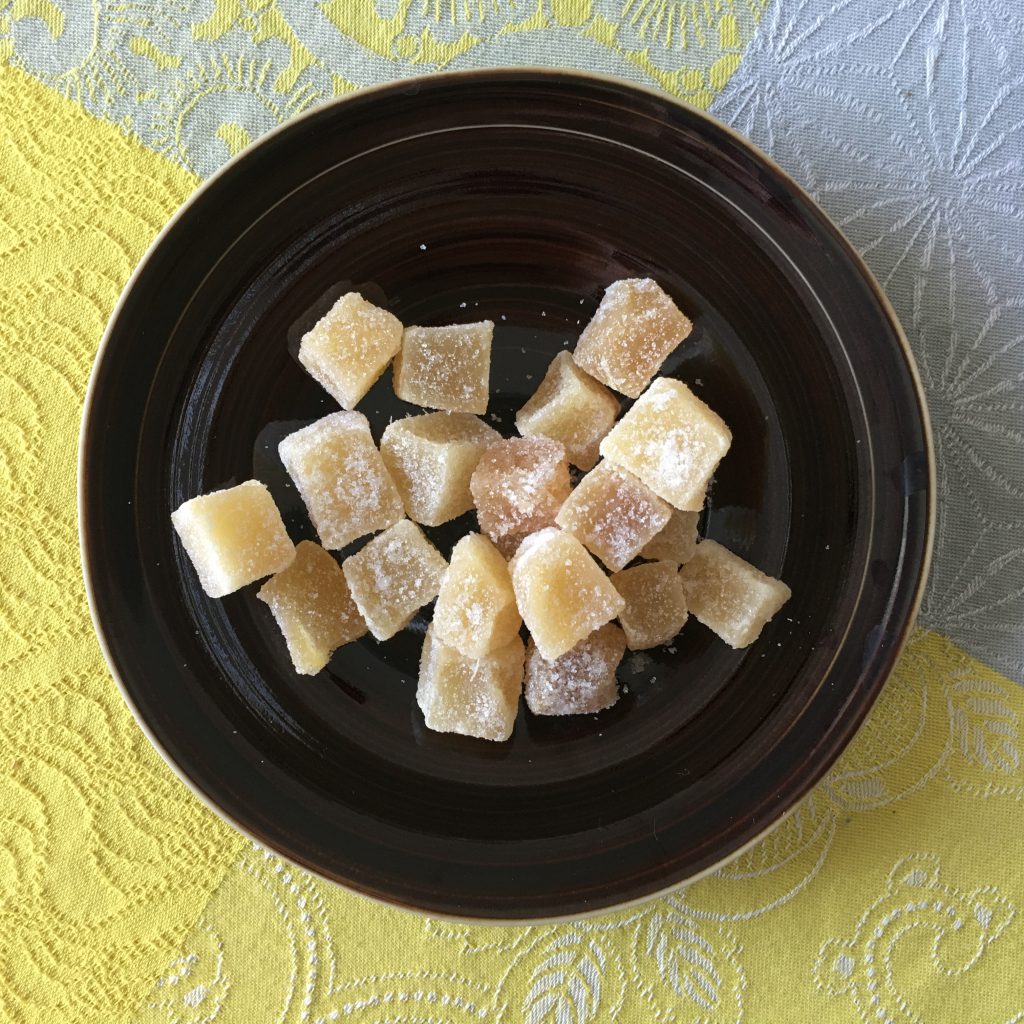 The original recipe, which makes an 8 inch cake, is here and my slightly adapted version is below. As the weather is so hot today I thought to skip the icing and turn the cake into muffins. I actually made 24 muffins because the effort is the same whether you bake one or two trays of cake.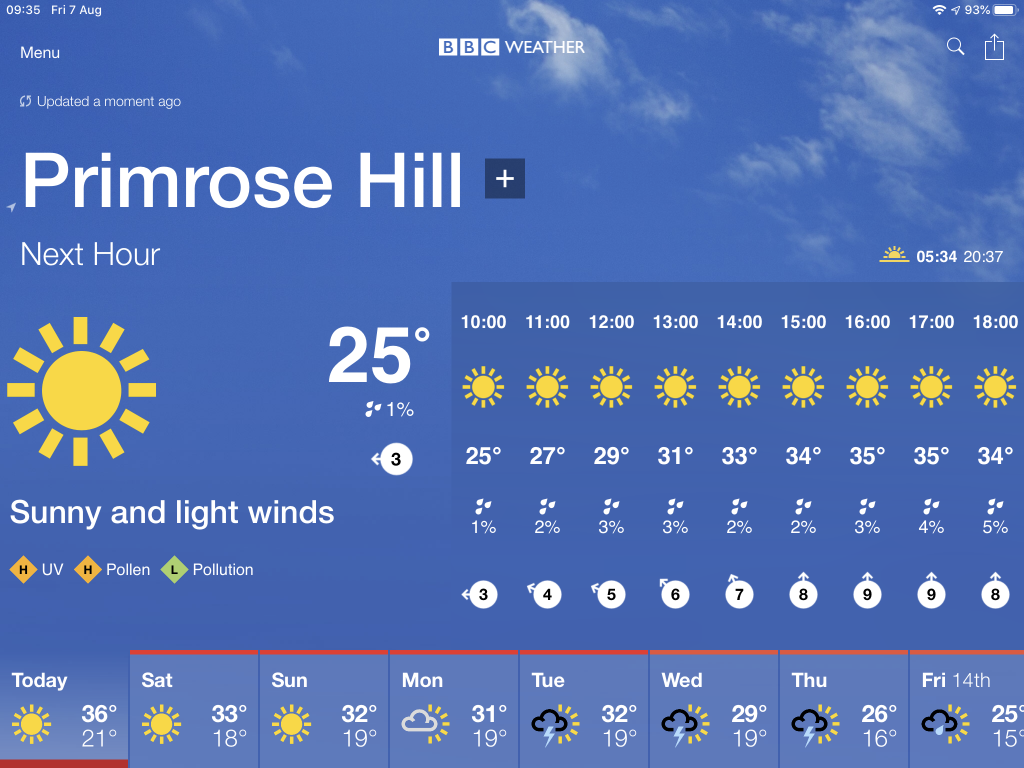 For 12 Muffins:
200 g plain flour
1 teaspoon baking powder
½ teaspoon bicarbonate of soda
1 teaspoon ground ginger
¼ teaspoon fine sea salt
200 g sunflower or grapeseed oil
150 g light brown soft sugar
2 large eggs
200 g carrots, peeled and coarsely grated
100 g walnut or pecan nut pieces, roughly chopped
75 g crystallised ginger, finely chopped
You will also need a 12-hole muffin tray lined with paper muffin/ cupcake cases. I used a KitchenAid but a hand-held electric beater would work just as well. I chopped the carrots. nuts and crystallised ginger using a Thermomix and the timings are at the end of the post.
How to Make:
Preheat the oven to 170°C/ 325°F/ Gas 3.
Sift the flour, baking powder, bicarbonate of soda, ground ginger and salt into a mixing bowl and set aside.
In a separate large mixing bowl, whisk together the oil, sugar eggs and sugar until slightly thickened.
With the motor still running (at medium speed) add in the flour bit by bit. Whisk until you get a smooth batter.
Add the carrots, walnuts/ pecans and crystallised ginger. Using a spatula, gently fold everything together until well mixed.
Spoon the mixture into the prepared muffin cases. It might be easier to use an ice cream scoop.
Bake in the oven for 30 – 35 minutes or until the cake bounces back when touched. A metal skewer inserted in the centre should come out clean.
Remove the muffins from the tray and place on a wire cooling rack to cool completely.
To chop the carrots, nuts and crystallised ginger using a Thermomix, use the following timings.
Carrots, peeled and sliced first: 5 seconds / speed 5 (400 g) or 3 seconds / speed 5 (200g)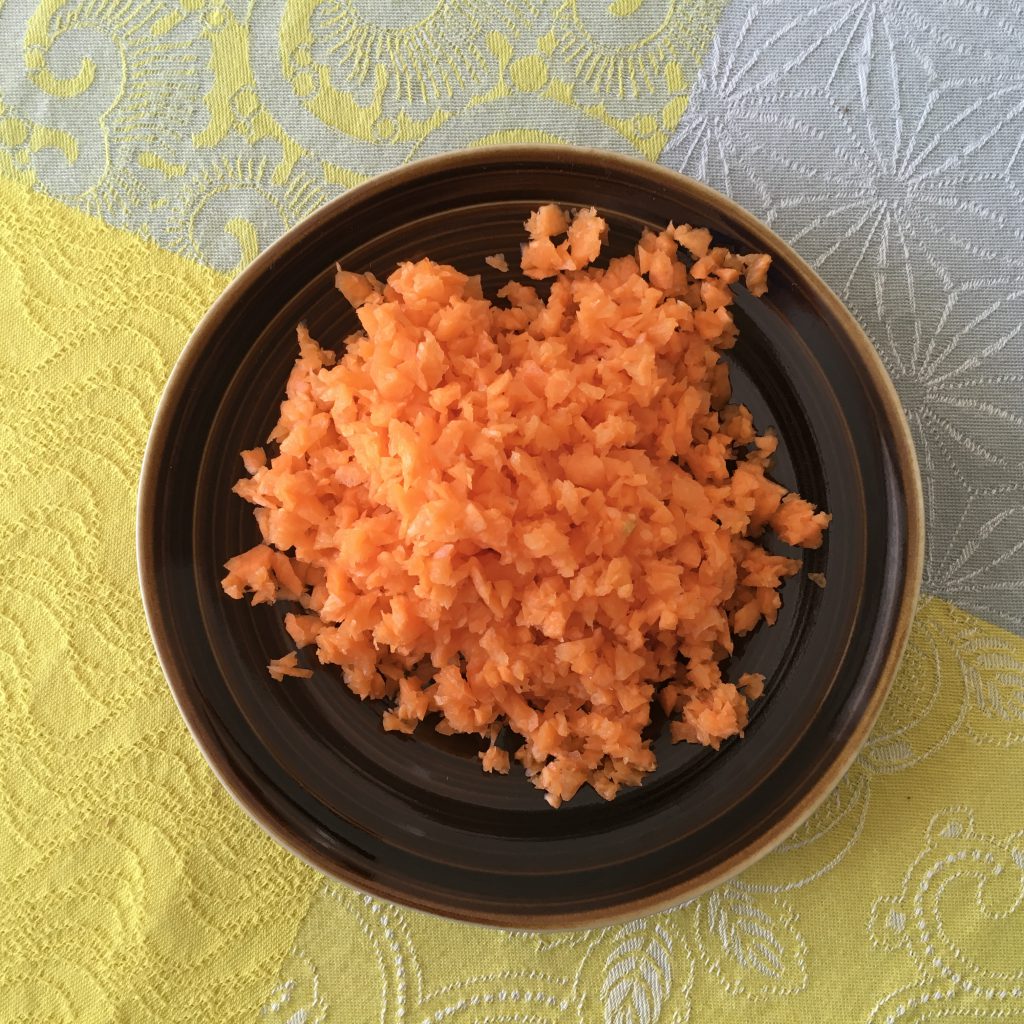 Nuts: 3 seconds / speed 5 (200 g) or 2 seconds / speed 5 (100g)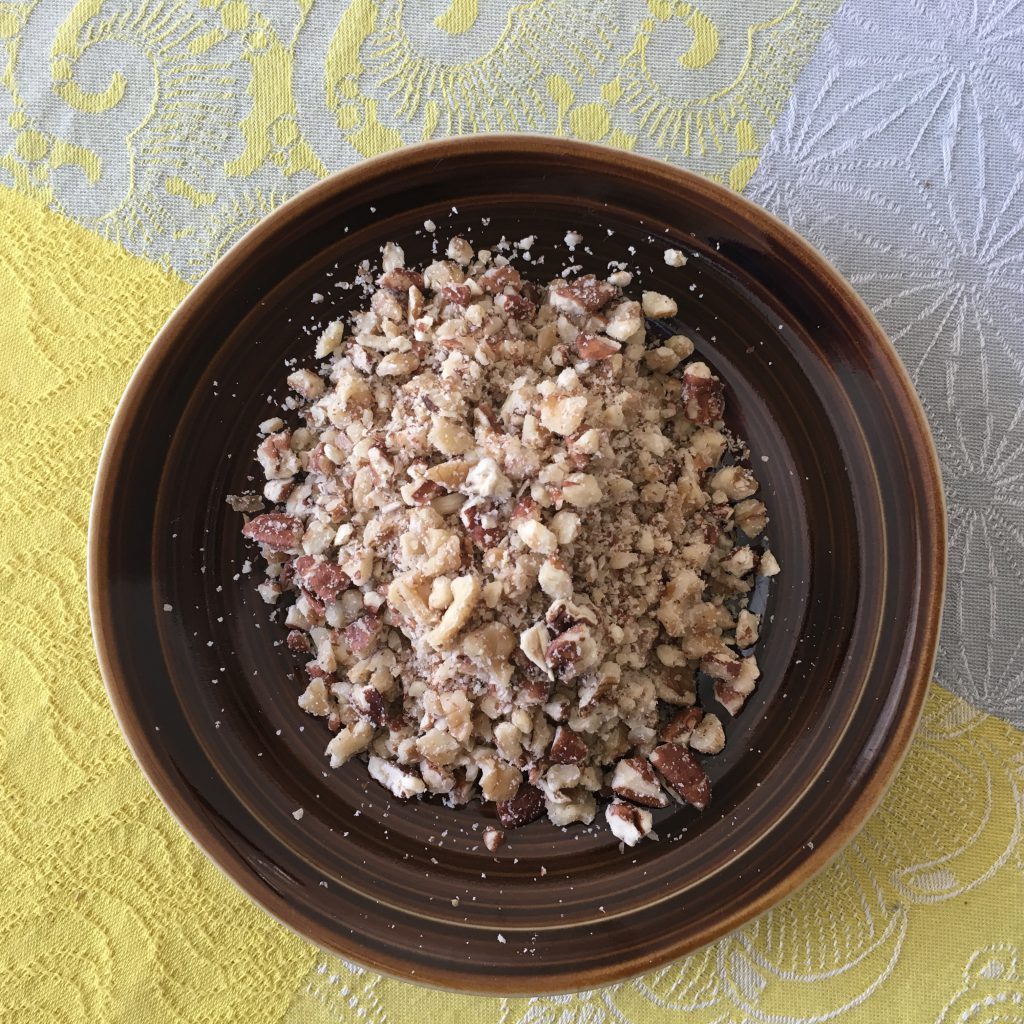 Crystallised ginger: 7 seconds / speed 5 (150 g)  or 5 seconds/ speed 5 (75 g)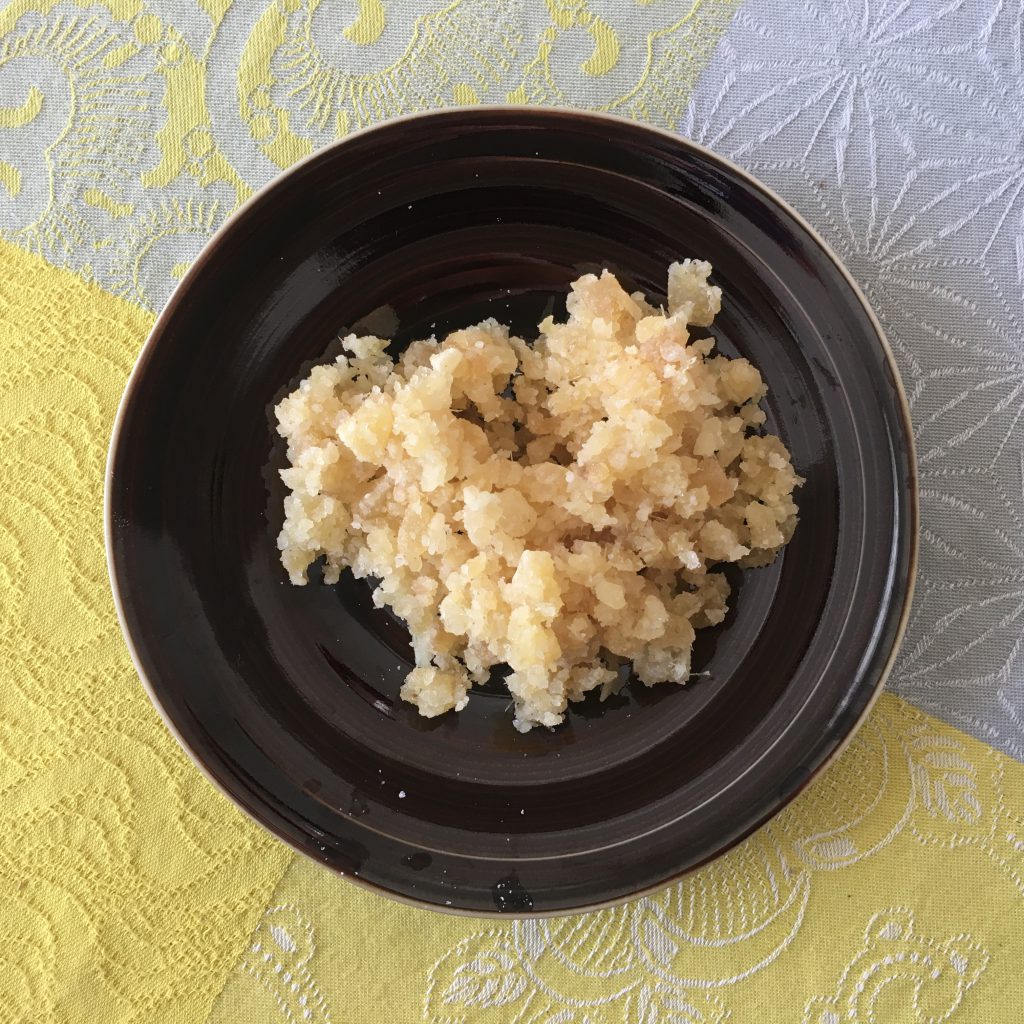 The muffins before baking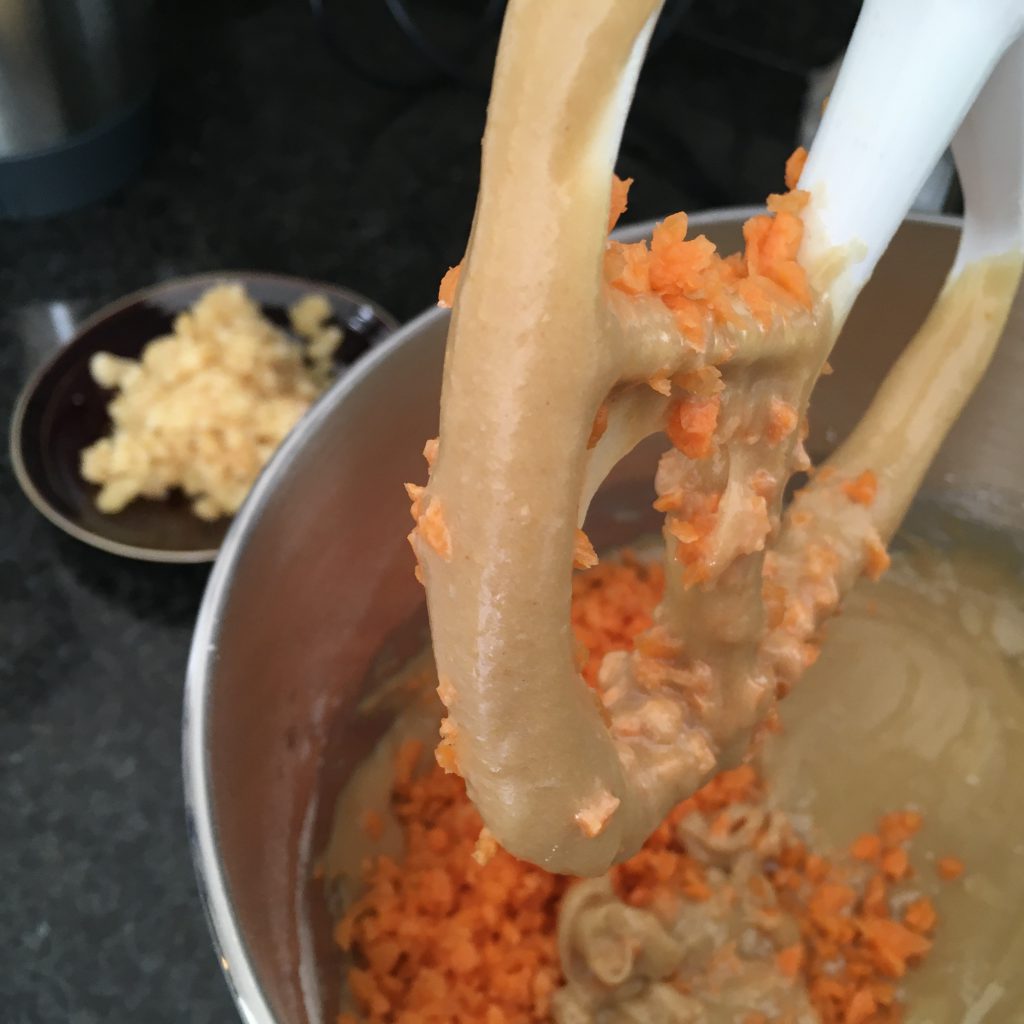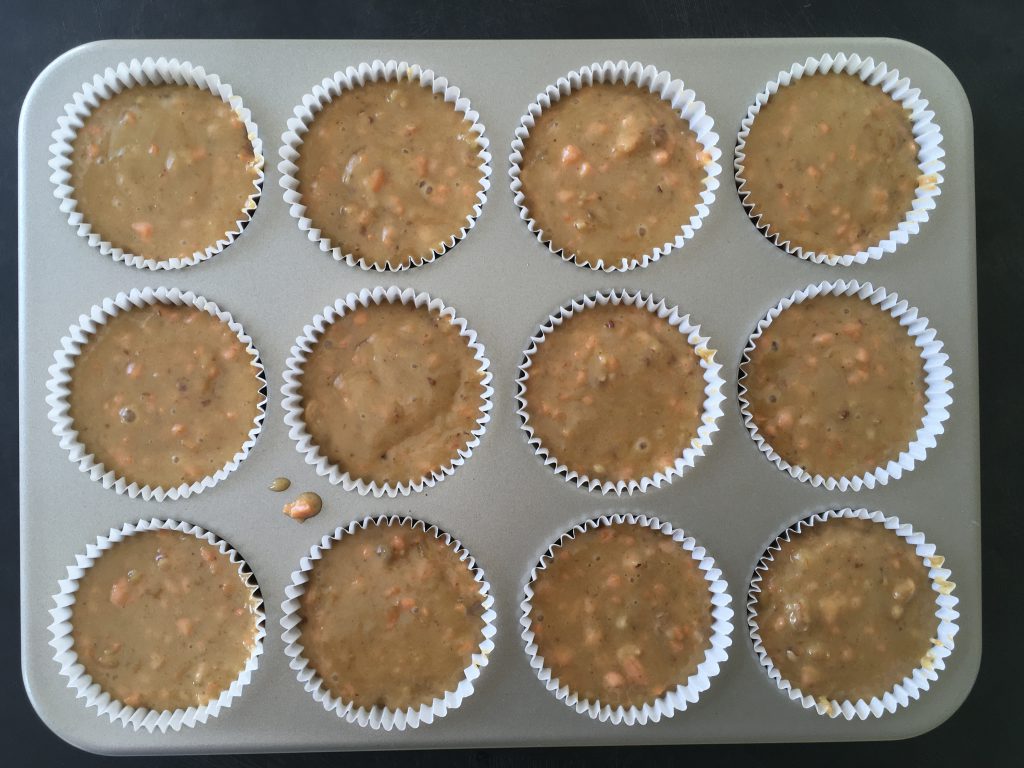 After baking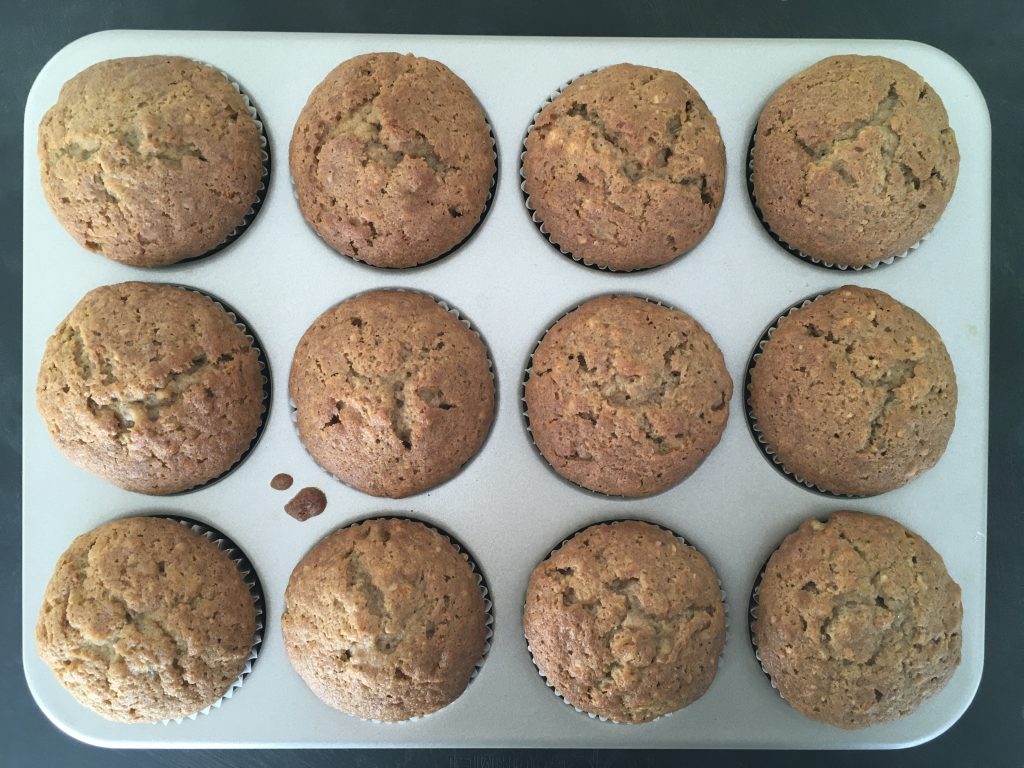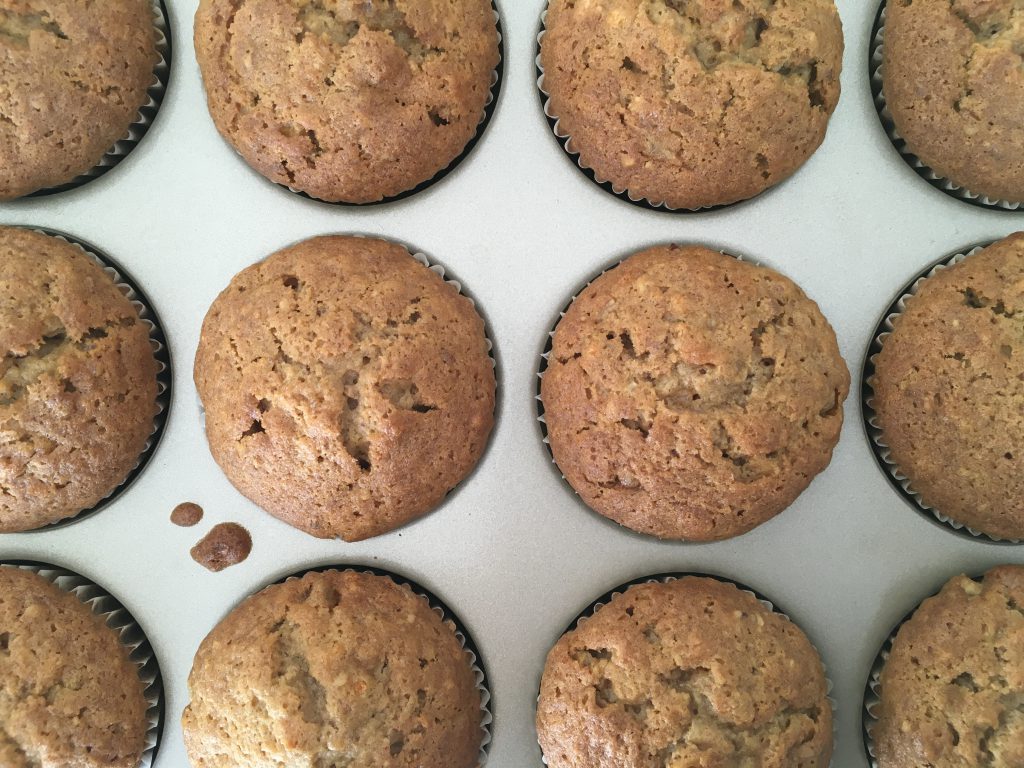 Packed and ready to go to the hair salon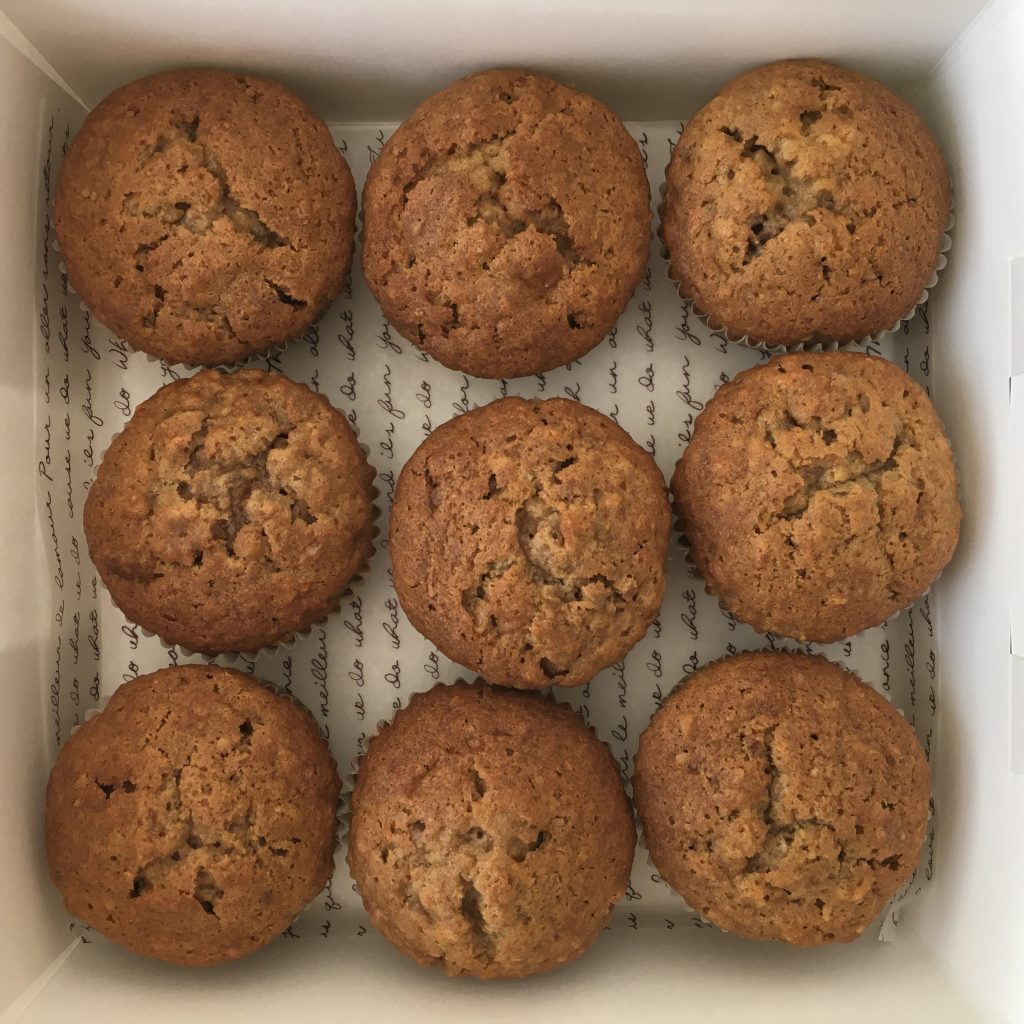 We will be adding these muffins to our picnic lunches this weekend as we head out to Waddesdon Manor and Kew Botanic Gardens. Some wholemeal rolls are in the oven, to be filled with egg mayonnaise or parma ham. Some grapes are chilling in the fridge. Getting through another week is an achievement and we are ready for a breath of fresh air.